*This post may contain affiliate links. This means as an Amazon Associate and affiliate for other products, I earn from qualifying purchases at no extra cost to you.
Coconut Rice Pudding is perfectly sweet, creamy, and satisfying. And now… even better in the Instant Pot! I've been getting more and more requests for yummy dairy free Instant Pot desserts, so I'm glad I can deliver! This is just as good as the original, with a fabulous coconut flavor.
Coconut Rice Pudding
Now if you follow me on Instagram, you know that I have a serious relationship with heavy cream. Man, it just makes everything taste so much better.
But I was determined to make a dairy free version of my famous Instant Pot Vanilla Bean Rice Pudding recipe that we would love and devour, and I did it using just a couple simple substitutions.
Don't be put off by the fact that there's no milk in this recipe- it really is so yummy and creamy! And, you can add some cream to make this recipe even creamier if you want to. Trust me on this one.
Instant Pot Rice Pudding
If you love this recipe, you'll be OBSESSED with my classic Instant Pot Rice Pudding recipe. It has vanilla bean and all the good stuff!
And don't forget this PUMPKIN RICE PUDDING. Oh em geee. It's SO good!
How to make Coconut Rice Pudding
This yummy dairy free dessert uses coconut milk in place of the milk and cream in my original recipe.
Make the rice in the Instant Pot, then add brown sugar and Cream of Coconut to dissolve.
Whisk in half a can of coconut milk (make sure to shake it first!)
Crack two eggs into the remaining coconut milk, and temper them in as a thickener.
Add pure vanilla and top with toasted coconut.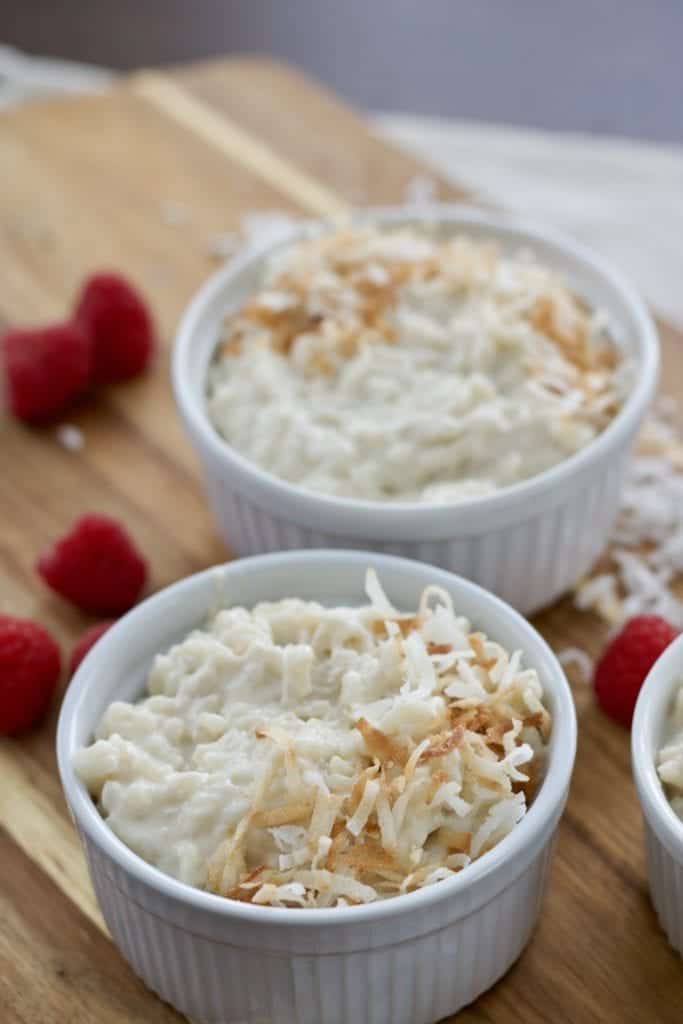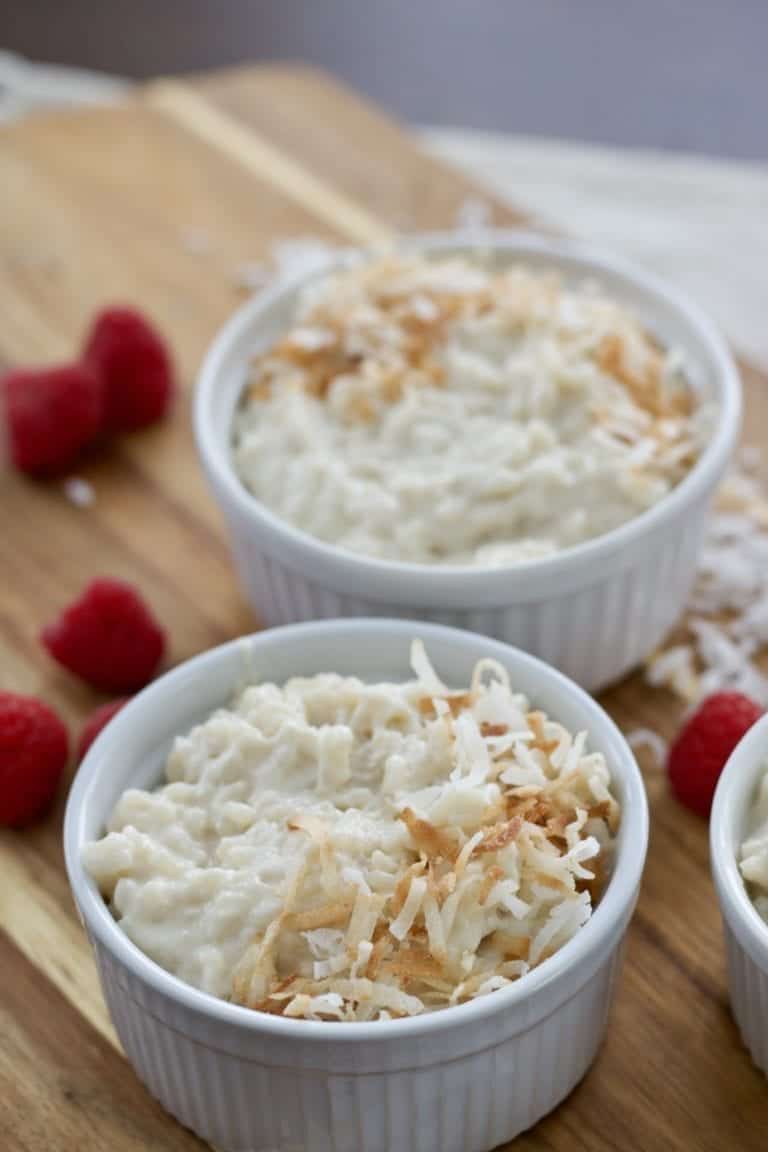 HOW TO SERVE INSTANT POT RICE PUDDING
Serve this dish hot, or cold! I prefer it warm but it's also delicious straight from the fridge cold. Just don't forget a new sprinkling of cinnamon on top of your Instant Pot Rice Pudding!
How long does homemade rice pudding last?
Homemade rice pudding (made on the stove top or Instant Pot) lasts for a maximum of one week in the refrigerator, if you can get it to last that long!
REFRIGERATE RICE PUDDING? HOW TO STORE RICE PUDDING
Rice Pudding should be stored in the fridge when you're not eating it. The rice pudding may be a little thicker when you take it out of the fridge, but all you need to do is add a splash of milk before serving or microwaving.
Can homemade rice pudding be frozen?
Freezing rice pudding is not recommended, but it can be done. The rice pudding may separate and not be as creamy once warmed up. It's so easy to do in the Instant Pot, I recommend making it fresh every time 🙂
If you do want to freeze rice pudding, pour the cooled rice pudding into a large ziploc bag or freezer-safe tupperware container. Remove as much air as possible, then lay flat evenly to freeze in a thin layer. Thaw the pudding overnight or by breaking off small chunks and microwaving/reheating on the stove.
Do you eat rice pudding cold or hot?
There is not right or wrong way to eat rice pudding. I prefer to eat rice pudding warm, topped with cinnamon. But I eat it cold out of the fridge the next day. Try it both ways and see which you prefer!
Is homemade rice pudding fattening?
Rice pudding is not a diet food. It contains white rice, sugar, milk, cream, and sometimes butter. This recipe does not contain dairy, but it is not low fat. Rice pudding is high in carbs and comfort and is a delicious treat!
How do you thicken rice pudding?
There are a couple of ways to thicken rice pudding. You may cook it down and reduce the liquid so it is thicker. This method may make your rice softer than my preferred method, which is to thicken using eggs.
It's important to temper the eggs into the hot rice pudding (whisk into milk and then whisk the milk mixture into the hot mixture), so you don't get scrambled eggs in your dessert!
Rice Pudding with Leftover Rice
You can make this Instant Pot rice pudding recipe with leftover rice! In a small pot or the Instant Pot on low saute, dissolve the sugar with 1/2 cup of the milk. Once the milk is warm and sugar is dissolved, add the rice and stir until warmed through.
From there, follow the directions as written in the recipe! You may need to add slightly more liquid to compensate for the moisture that is lost with leftover rice.
What is Cream of Coconut?
I knew that coconut milk itself wasn't going to give enough coconut flavor since it is very subtle, so I opted for Cream of Coconut. Cream of Coconut is not the same thing as Coconut Cream or Coconut Milk.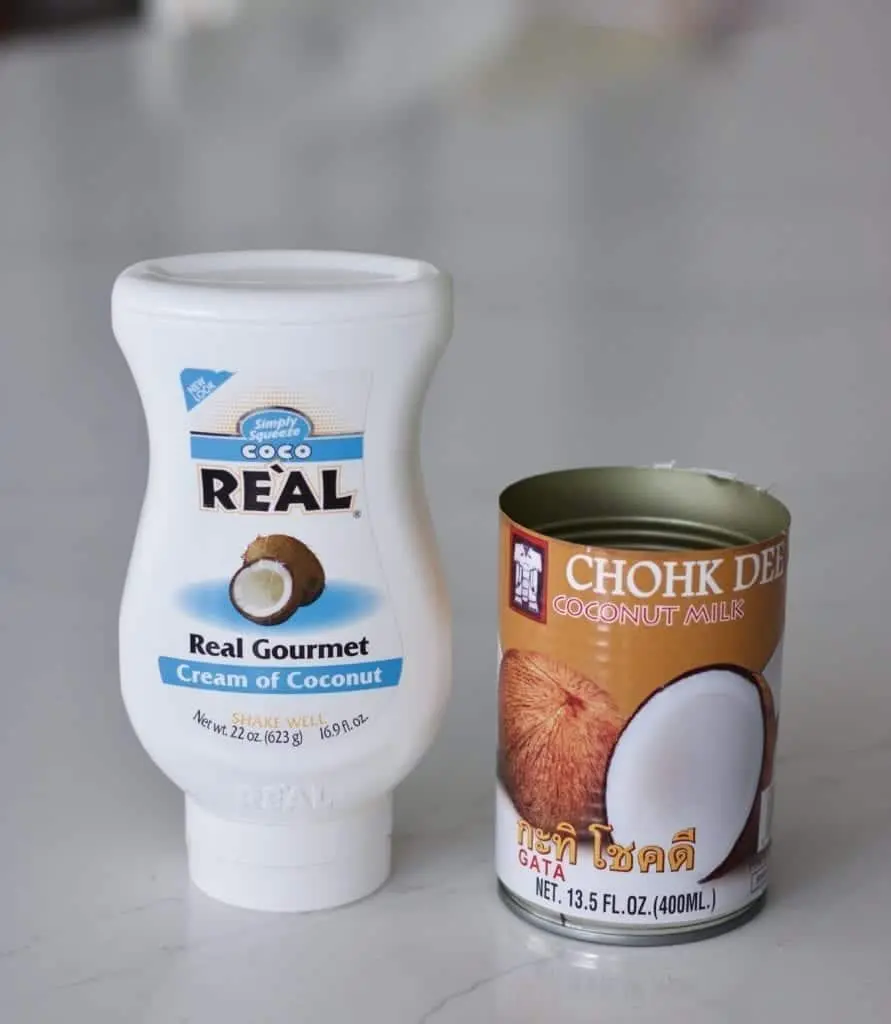 Cream of Coconut is a sweet, thick, syrupy concoction that is typically used in mixed drinks like Pina Coladas or smoothies (it is just sugar and concentrated coconut milk/cream and does not contain dairy or alcohol).
Where to find Cream of Coconut
I find it in a squeeze bottle in the cocktail mixin aisle (does it actually have a name? It's next to the grenadine and club soda). Basically it's like coconut sweetened condensed milk, which you know is riiiight up my alley!
Cream of Coconut Recipes
Ooohh how good would this be in Instant Pot yogurt?! I also love adding Cream of Coconut as my sweetener in Instant Pot oatmeal or in hot chocolate to make coconut hot chocolate!
Check out my Instant Pot Pineapple Coconut Curry that uses cream of coconut in a savory application!
Other ideas: drizzle it over pancakes as syrup, add it to frosting, or in your favorite soda!

Is Cream of Coconut Dairy Free?
Cream of Coconut IS DAIRY FREE. There is some confusion and misleading information on the Internet, but I did my research and talked directly to the company three times to confirm that Cream of Coconut DOES NOT contain dairy.
You know it's good when even Brett says, "Wow… this is really good!" My kids gobbled it up and were reaching for these last couple bowls while I was trying to take pictures. If you want to add more creaminess, you can add some cream or milk, but it won't be dairy free at that point 🙂
Other Yummy Dessert Recipes
Dairy Free Instant Pot Recipes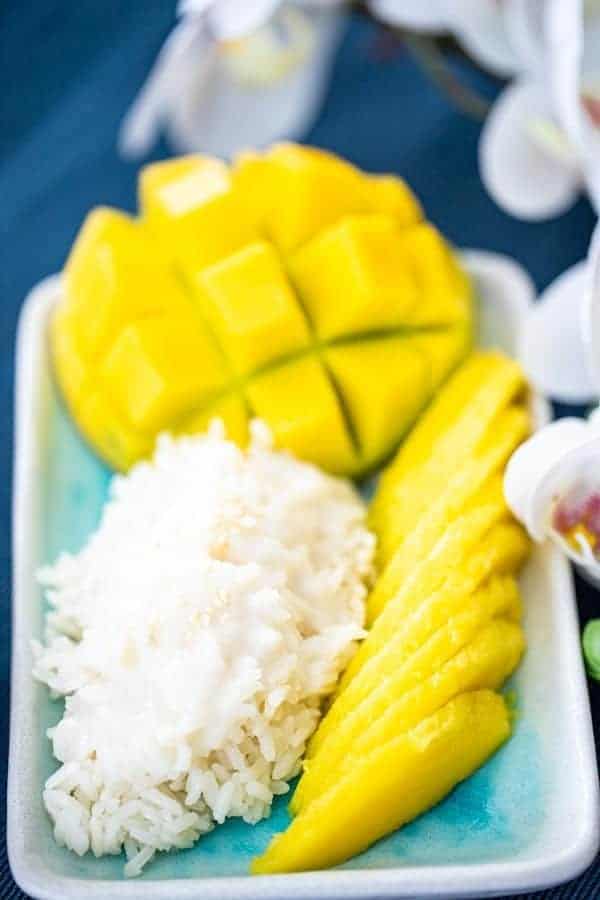 About Lisa
About Lisa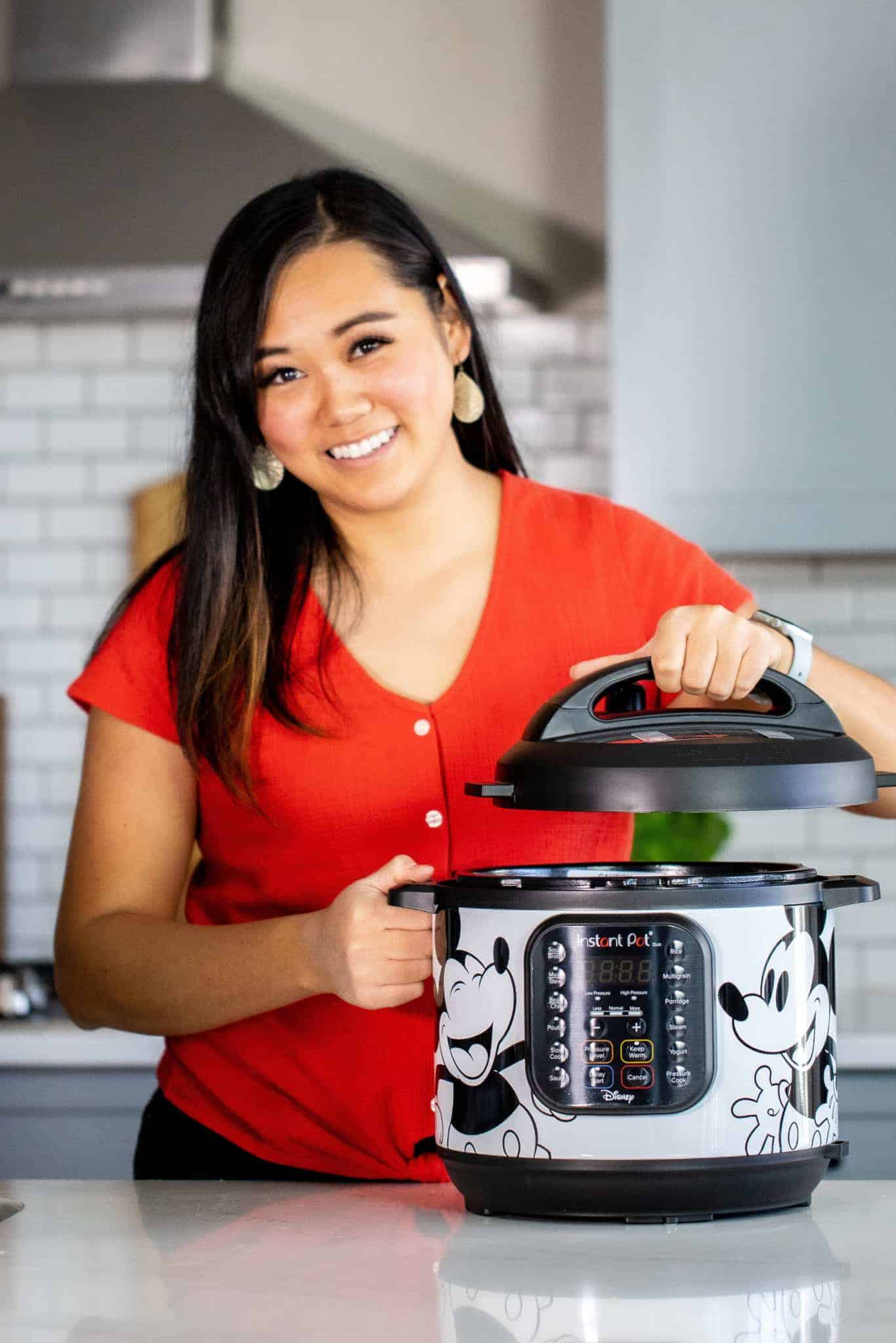 Lisa Childs is the food blogger behind Tried, Tested, and True. Join the hundreds of thousands of people each month that learn from Lisa-
Subscribe to her website, follow her on Instagram at @tried_tested_true, follow her on Pinterest, and find her on Youtube at Tried Tested and True. She is passionate about giving home cooks confidence using their Instant Pots. Make sure to sign up for our email newsletter to hear from personally from her weekly! Learn more about Lisa.
Instant Pot Coconut Rice Pudding
Instant Pot Coconut Rice Pudding is perfectly sweet, creamy, and coconutty! This is just as good as the original, with a slight coconut flavor and no dairy
Ingredients
1 cup White long grain rice
1.5 cups Water
Dash of Salt
1/2 cup Cream of Coconut, or 3/4 cup for sweeter rice pudding
1/4 cup Brown Sugar
2 eggs
13.5 oz Canned Coconut Milk, (1 can)
1 teaspoon Pure Vanilla Extract
Cinnamon, for topping
Toasted Coconut, for topping
Instructions
Preheat the Instant Pot on high Saute. Add rice, water, and salt.
Lock the lid, turn the knob to sealing, and cook on manual high pressure for 3 minutes. Allow a 10 minute natural pressure release, then release the rest of the pressure.
Fluff the rice with a fork, then add sugar and Cream of Coconut. Stir to combine.
Set the Instant Pot to Normal or low Saute, then add about half the can of coconut milk to the rice and stir.
In a liquid measuring cup, add the remaining coconut milk, then crack two eggs into the cup and mix thoroughly to avoid lumps. Slowly pour the egg mixture into the rice mixture while whisking or stirring rapidly.
Cook on low saute for about 5 minutes or until thick (or desired consistency). Turn off the heat, add the vanilla. You can also add some milk or heavy cream for added creaminess and richness if you like (will not be dairy free at this point)
Enjoy with a sprinkle of cinnamon and toasted coconut.
Nutrition Information:
Yield:

5
Serving Size:

1 grams
Amount Per Serving:
Unsaturated Fat:

0g