This is the best Instant Pot Zuppa Toscana recipe with bacon, sausage, potatoes, kale, and cream. Dairy free/Keto/low carb instructions included!
*This post may contain affiliate links. This means as an Amazon Associate and affiliate for other products, I earn from qualifying purchases at no extra cost to you.
Zuppa Toscana is an Italian chicken stock-based soup. It features crumbled Italian sausage, thick cut bacon, potatoes, kale, and heavy cream. It's a little spicy, very hearty, and deliciously creamy!
Filled with savory meats and fresh vegetables, this Olive Garden copycat recipe is ready in less than 30 minutes with an Instant Pot. It's the perfect weeknight feast!
What is Zuppa Toscana Soup?
In Italian, "zuppa" means soup. So "Zuppa Toscana Soup" technically translates to "Tuscan Soup Soup," but hey—this soup wasn't even created in Italy, so we can call it what we want!
In fact, Zuppa Toscana was created and popularized several years ago in the United States by Olive Garden, where it quickly became a menu staple.
The soup has taken on a life of its own ever since, earning itself and its copycats a position in professional and home kitchens alike.
As the name implies, the soup claims the Italian hillside of Tuscany as its inspiration, likely patterning itself from the simple yet luxurious food of the local inhabitants.
It's rich with crumbled Italian sausage, thick cut bacon, potatoes, kale, and heavy cream.
It's a little spicy, very hearty, and deliciously creamy! Paired with a crackling loaf of fresh bread, it's the perfect comfort food.
Copycat Instant Pot Zuppa Toscana Soup Recipe
While the traditional Olive Garden soup is delicious, it's also impossible to eat out every night! I wanted to see if I could make this classic soup easier and healthier at home.
After some experimentation, I'm happy to report that I created my own copycat Zuppa Toscana recipe that I think is even better than the original recipe from Olive Garden!
I also adapted it to my Instant Pot, so I can get the entire soup from prepped to perfect in less than half an hour.
The secret is simple: fresh ingredients and no fillers.
This recipe is piled high with bacon, garlic, onion, broth, and kale, so it doesn't need anything else to be delicious!
Aside from fresh ingredients, there are two key elements to my recipe:
Use russet potatoes. Red and other types of potato don't break down enough, resulting in a watery soup.
Sauté and deglaze. Sautéing your meats in the pan and then deglazing gives magical depth of flavor that's often lacking in crock pot recipes.
Pro tip: Use the "bone broth" made from my Chicken Drumstick recipe to make this recipe or my Chicken Noodle Soup Recipe. The flavor of the broth will be much better and robust!
Keto/low carb Instant Pot Zuppa Toscana
If you're keto but still want to enjoy a hearty bowl of soup, just replace the potatoes with cauliflower! If you want to up the protein, double the sausage.You'll have all of the same luxurious flavor, lots of protein, and hardly any carbs. The cook time will stay the same.
Paleo/Dairy Free Instant Pot Zuppa Toscana
To make this recipe paleo, simply substitute the heavy cream for one of these options:
Coconut cream. You can get coconut cream by refrigerating a can of whole fat coconut milk for an hour or so: the cream will rise to the top where you can skim it off with a spoon.
Almond Milk. Use unsweetened, and not too much or the flavor will be noticeable.
Add 2 extra potatoes to the recipe. After pressure cooking, take about 2 cups of the potatoes out of the Instant Pot, and add it to 2 cups cold chicken broth in a blender. Blend completely, and add back into the soup. Alternatively, you can blend a couple cups of the soup in a separate bowl with an immersion blender.
If you don't care to have the soup be as creamy, simply omit the non-dairy cream and it's still a delicious soup.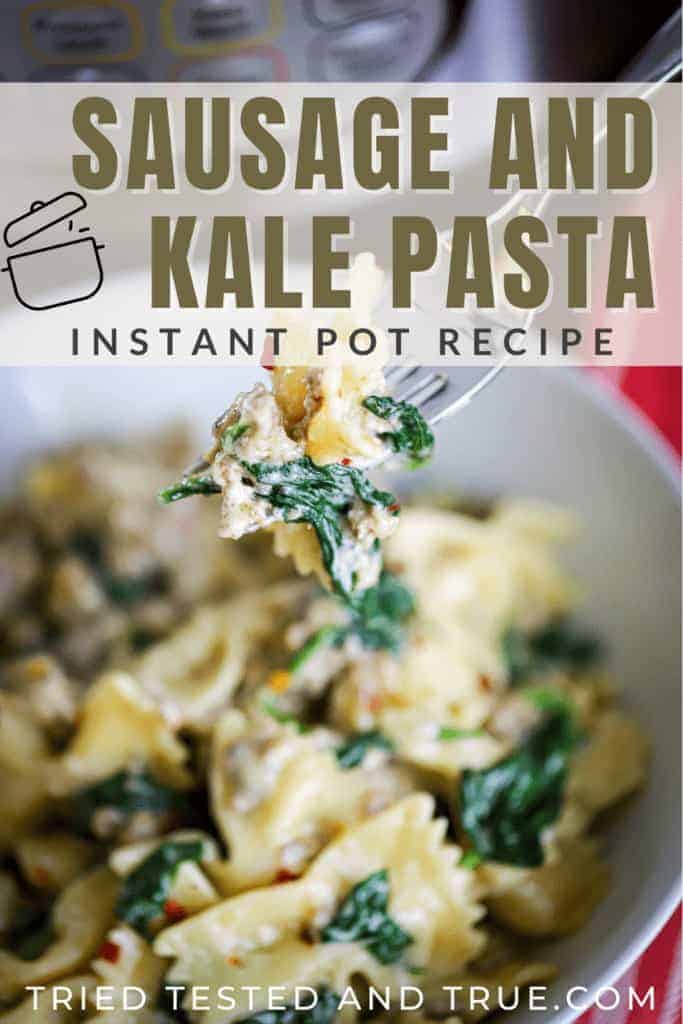 How to make Zuppa Toscana in an Instant Pot
This copycat recipe is SO easy to make—and with your Instant Pot, it's as fast as it is heavenly!
My family eats a lot of this soup, so I like to make it in my 6 quart Instant Pot. If that's too much, you can easily halve the recipe and make it in a 3 quart Instant Pot.
Start by sautéing the bacon and sausage. Keep in mind that the flavor of your soup depends greatly on the type of sausage that you use.
I find that it makes a big difference to use a higher quality sausage—personally, I like the Jimmy Dean brand.
After the meat is cooked, you'll add the rest of the ingredients in layers: first the potatoes, then the kale, then additional seasonings and cream to taste.
Serve and enjoy!
Pro tips for the best Zuppa Toscana
I'm sharing my key tips to make the best Zuppa Toscana!
Everyone has slightly different tastes, but I have found that these tips are the most important to a perfect pot of soup:
Use thick cream and not too much other liquid. This will keep the soup thick and hearty.
Don't peel your potatoes. Slicing the potatoes with their skin on adds extra flavor and color.
Let 'em break. Some of the potatoes will break up while cooking—and that's okay. They thicken the broth a bit and leave these beautiful ribbons of potato floating throughout.
Make extra! This soup is great reheated. I like to put this silicone lid/cover on my soups so I just stick them straight in the fridge as leftovers without having to transfer it to anything. Bonus: it comes with an extra sealing ring.
Garnish with frozen veggies. No, I'm not crazy—this is my favorite tip for kids! The hot soup warms up the frozen veggies, and the frozen veggies cool down the soup so that it won't burn kids' little mouths. Personally, I like to use corn and peas.
Let me know in the comments what tips work best for you!
Other Crowd Pleasers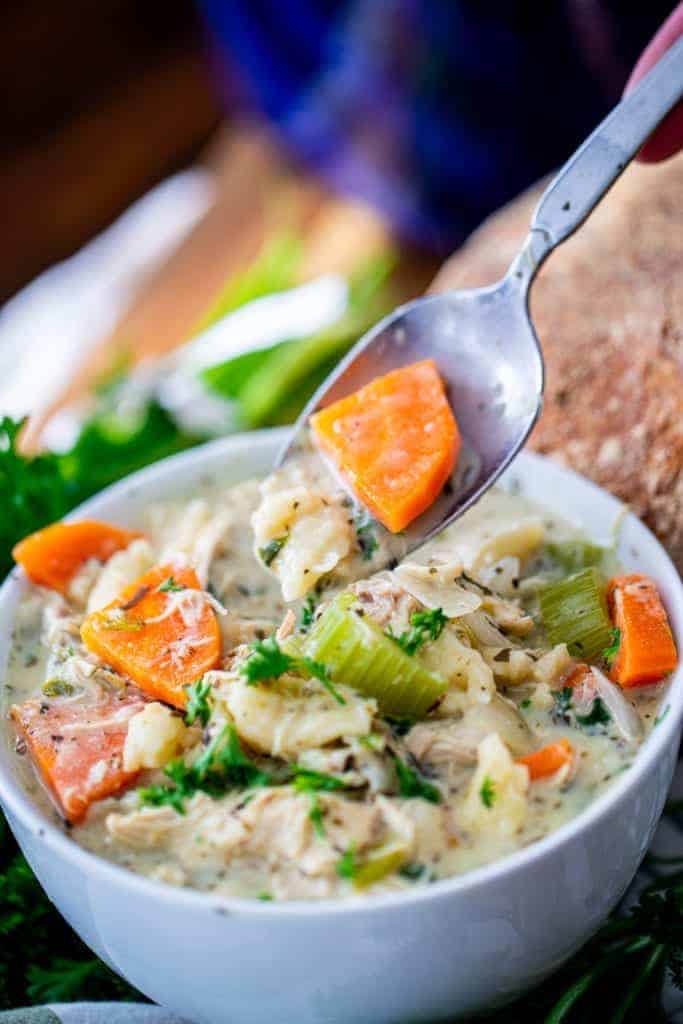 Instant Pot Soup Recipes
PS: Have you tried my most popular recipe ever, The Best Instant Pot Chicken Noodle Soup with Homemade Egg Noodles? Or try my other popular soup recipes like
Olive Garden Copycat: Chicken con Broccoli
I have the yummiest Instant Pot recipe for a discontinued Olive Garden dish called Chicken con Broccoli– you're gonna LOVE it!
Tender noodles, chicken, and broccoli, all hugged in a delicious homemade alfredo sauce!
About Lisa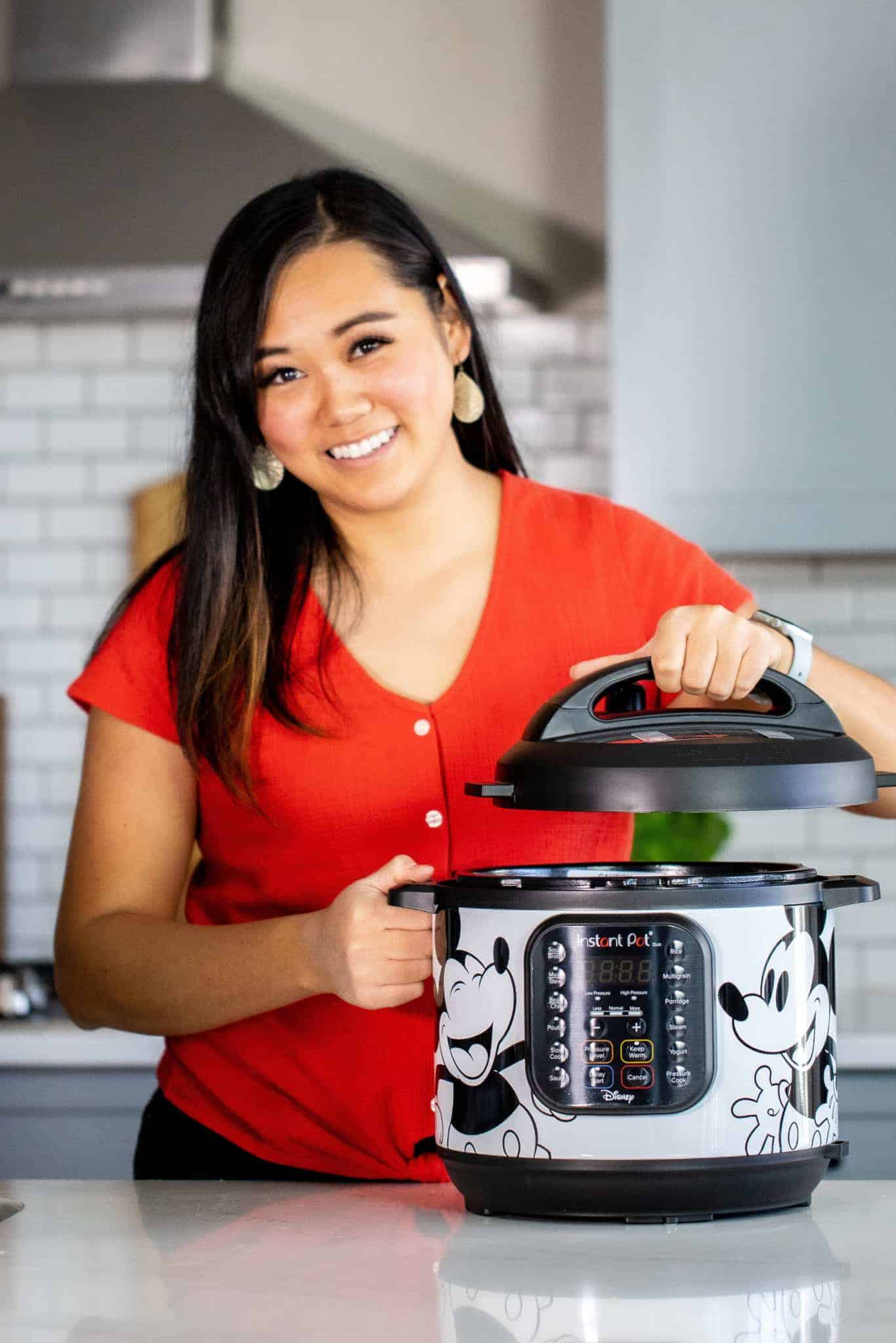 Lisa Childs is the food blogger behind Tried, Tested, and True. Join the hundreds of thousands of people each month that learn from Lisa-
Subscribe to her website, follow her on Instagram at @tried_tested_true, follow her on Pinterest, and find her on Youtube at Tried Tested and True. She is passionate about giving home cooks confidence using their Instant Pots. Make sure to sign up for our email newsletter to hear from personally from her weekly! Learn more about Lisa.
Don't Forget to Pin this Post!
Instant Pot Zuppa Toscana Soup
Natural Pressure Release:
5 minutes
This soup is packed with hearty ingredients and a creamy, slightly spicy broth. A sure crowd pleaser!
Ingredients
1/2 lb. thick cut bacon, diced into lardons
1-2 lb ground italian sausage, mild or hot*
1 large onion, diced
2 tablespoons minced garlic
1 teaspoon salt
1/4 teaspoon black pepper
1/2 teaspoon crushed red pepper flakes
6 cups chicken broth
5-6 small potatoes or 2-3 large russets (About 5 cups total)
1 bunch kale, chiffonade
1 cup heavy cream
Instructions
Preheat the Instant Pot on High Saute. Saute bacon until crisp. Scoop the bacon out & set aside. Drain most of the fat out of the pot (all but about 2 T).
Add the sausage, onion, garlic, salt, pepper, and crushed red pepper. Saute until the sausage is about all the way cooked and the onion is translucent (5-8 minutes).
While sautéing, slice the potatoes in half lengthwise, then again into quarters (as if you were slicing long steak fries that were 1/4 of the potato). Slice into thin triangles and add to the pot.
Add 1 cup of the chicken broth to deglaze the pan. Scrape the cooked bits off the bottom of the pan into the liquid thoroughly. The soup will burn if not properly deglazed. Add the rest of the chicken broth.
Lock the lid, turn the knob to SEALING, and cook on manual high pressure for 1 minute.​
Wash & strip the kale off the thick stems, roll up in a big bundle, & slice into thin ribbons about 1/4 inch. This is called a chiffonade. Break up any large pieces. Massage the kale with you hands for a minute to soften it up.
When the pot beeps and it has completed pressure cooking, carefully release the pressure in short bursts. If you just flip the knob to venting, soup can spew out everywhere through the venting knob, so be careful and do it in bursts at first. After most of the pressure is out, you can flip the knob straight to venting to release the rest of the pressure. It will take a couple minutes for it to fully release pressure.
If you use hot sausage, there will be a red film on top of the soup. You may skim it off if you like. Set the pot to Saute again. Add the bacon & kale. Push the kale into the broth so it is covered. Be careful not to stir too much, or else the potatoes will break up. Simmer until the kale is wilted and cooked through, just 5 minutes or so.
Add heavy cream. Taste the broth, and add additional salt and pepper. Enjoy!
Notes
- *If you'd like a meatier soup, use two pounds of sausage. Add an additional 2 cups of chicken broth and an additional 1/2 cup heavy cream.
- If you would like a keto/high protein/low carb version, replace the potatoes with cauliflower florets and change the cook time to 2 minutes.
- I use my 6 quart, but you can scale this in half and make it in your 3 quart Instant Pot. I also have a single portion of this recipe in my new cookbook (below)
- Freeze the bacon for 20 minutes before slicing to make it easier to slice.
- The flavor of your soup depends greatly on the type of sausage you use. I find it makes a big difference using a higher quality sausage like Jimmy Dean brand. Taste your broth and adjust the seasoning as needed.
- If you like the kale to be really soft, you can add it at the same time as the potatoes and pressure cook the entire thing at once.
- Since I make this for my whole family (kids), I sprinkle my own bowl with additional crushed red pepper to up the spiciness.
- If the flavor is still a little "watery," whisk one tablespoon of Better than Bouillon into 1/2 cup of the soup broth and mix it into the rest of the soup.
-
Recommended Products
As an Amazon Associate and member of other affiliate programs, I earn from qualifying purchases.
Instant Pot Duo Mini 7-in-1 Electric Pressure Cooker, Sterilizer, Slow Cooker, Rice Cooker, Steamer, Saute, Yogurt Maker, and Warmer, 3 Quart, 11 One-Touch Programs

717 Industries Steamer Basket, Stainless Steel Mesh Strainer Compatible Instant Pot Other Pressure Cookers, Fits 6 & 8 Quart Pots (Grey Silicone Handle)
Nutrition Information:
Yield:

6
Serving Size:

6
Amount Per Serving:
Calories:

1467
Total Fat:

113g
Saturated Fat:

43g
Trans Fat:

1g
Unsaturated Fat:

66g
Cholesterol:

266mg
Sodium:

4401mg
Carbohydrates:

45g
Fiber:

4g
Sugar:

10g
Protein:

67g