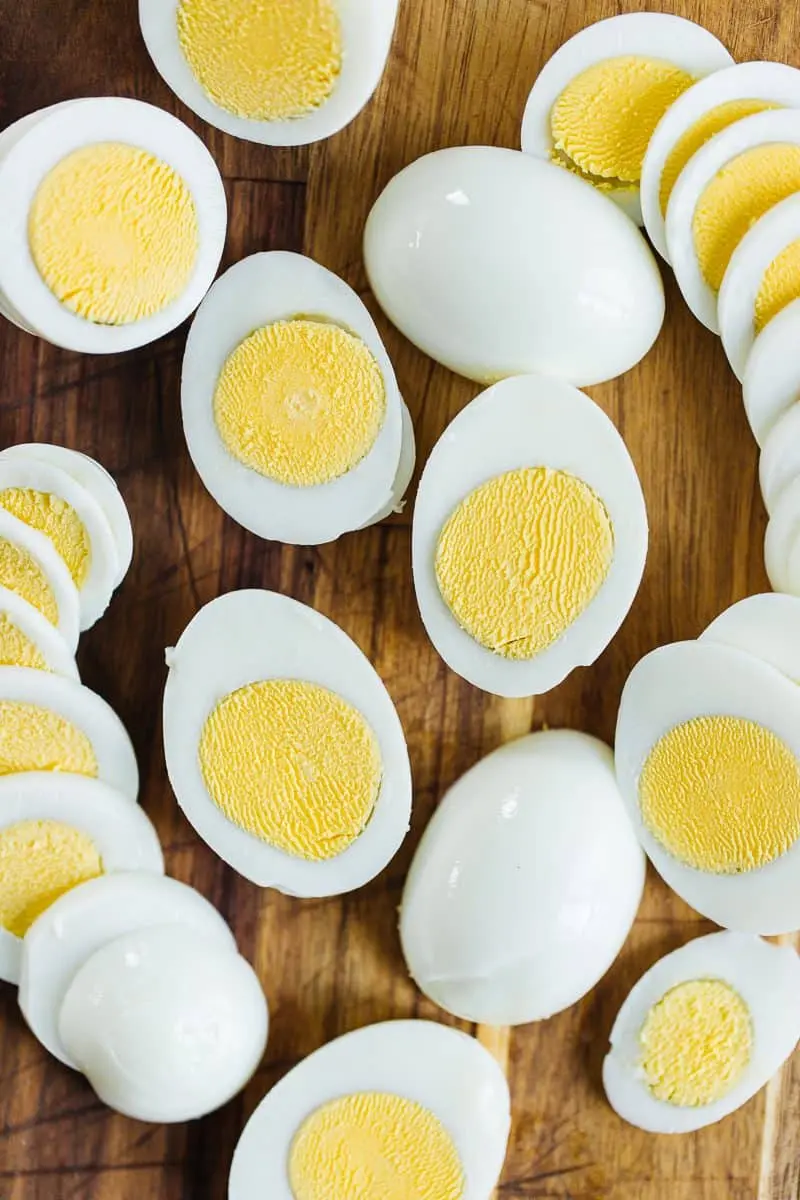 Instant Pot Hard Boiled Eggs
---
This post may contain affiliate links, which means I earn a small commission if you purchase something I recommend - at no additional cost to you! Thank you for supporting this blog!
Instant Pot Hard Boiled Eggs are one food you absolutely NEED to know how to make in your Instant Pot. Today I'll share my preferred method of pressure cooker hard boiled eggs plus all the tips and tricks for the perfect eggs.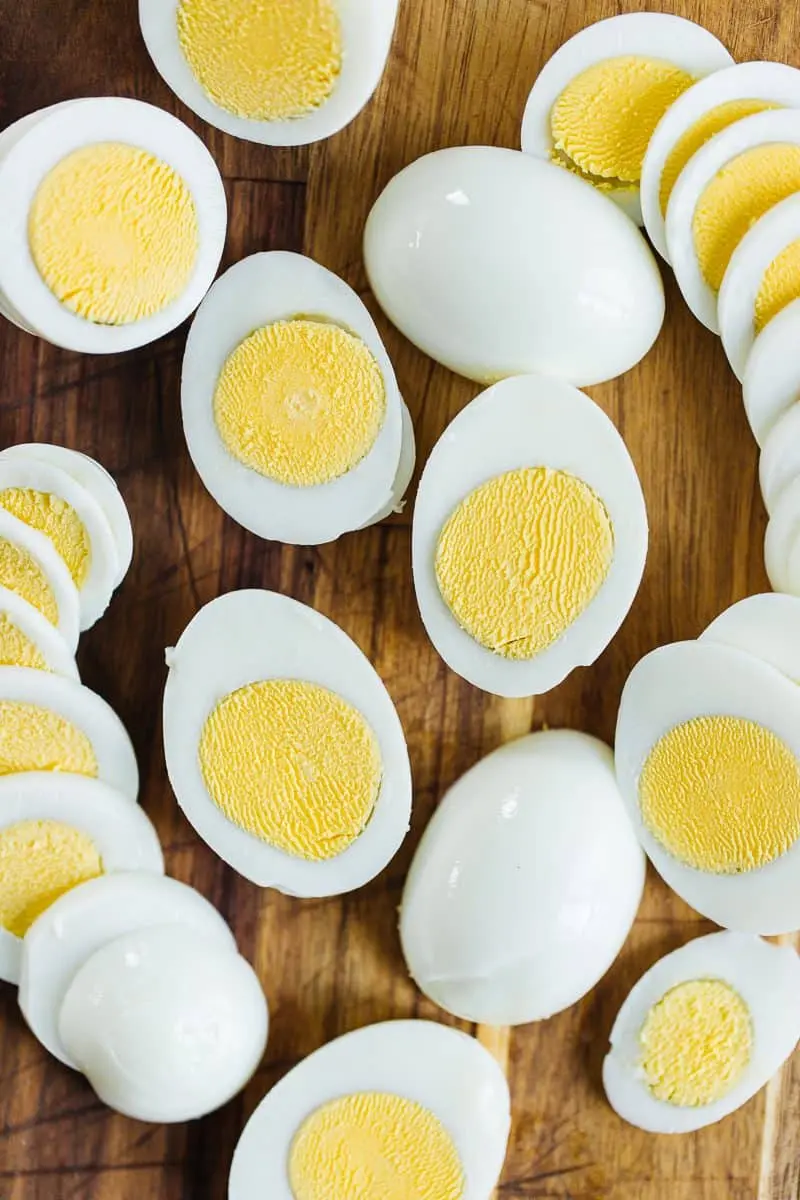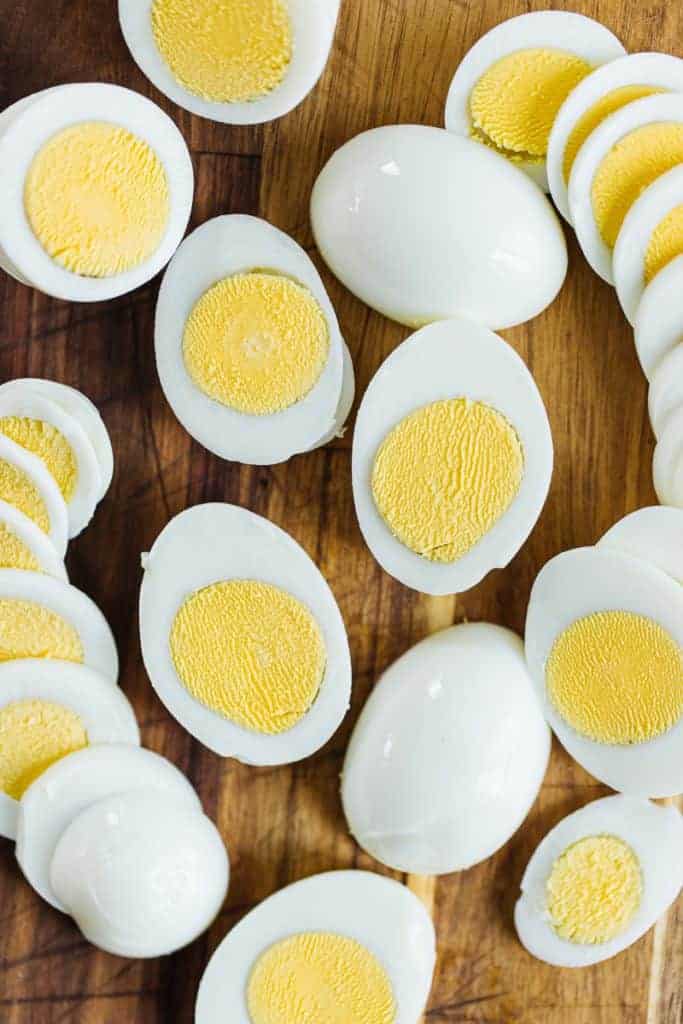 Making eggs in the Instant Pot is a game changer! They are so easy to make, and they PEEL LIKE A DREAM!
There's also a lot of ways it can go wrong, so make sure to read through this whole post to learn all the tips and tricks.
Hard boiled eggs made in the Instant Pot are perfect for making Deviled Eggs with Bacon, Chives, and a Secret Ingredient + 10 Tips!
No need to add salt, vinegar, or other hacks to try and get the eggs to peel. Seriously. After making hard boiled eggs in your Instant Pot, you'll realize that it is worth the money for hard boiled eggs alone!
Breakfast Recipes
My Disclaimer on Pressure Cooker Hard Boiled Eggs
You'll read lots (and lots and lots) of different/conflicting times about hard boiled eggs. Hey, you'll even hear it from me!
The most common being 6/6/6 or 5/5/5 (high pressure minutes/natural pressure release minutes/ice bath).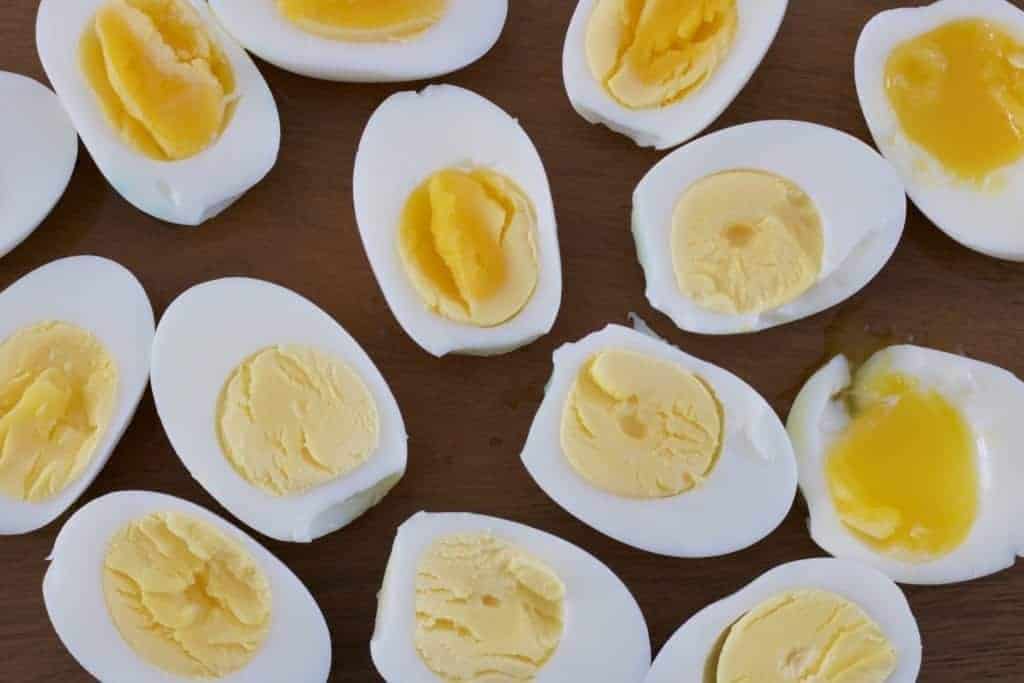 My advice: Don't fixate too much on the time. Start with one of the times I'll recommend, then test it a couple times to find your favorite time!
I'll teach you what steps you should take to find the best way to cook your hard boiled eggs in the Instant Pot!

Why are there so many different times for Instant Pot boiled eggs?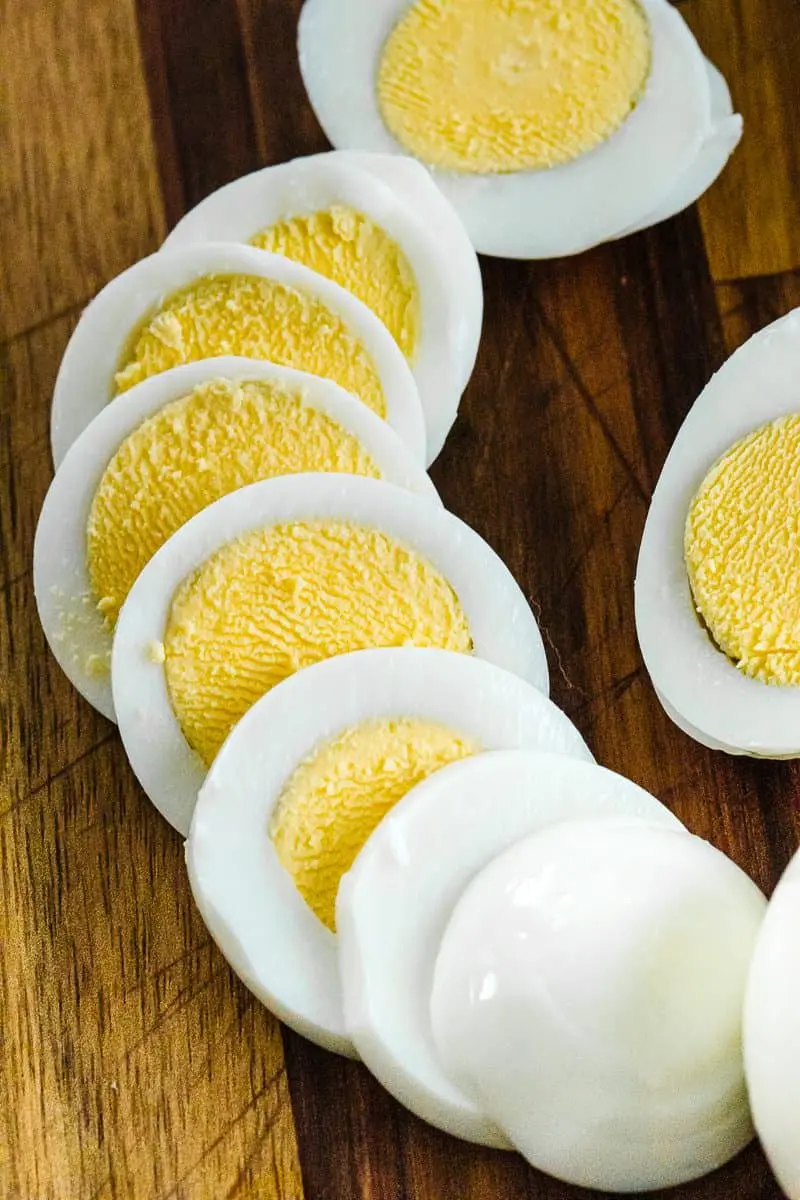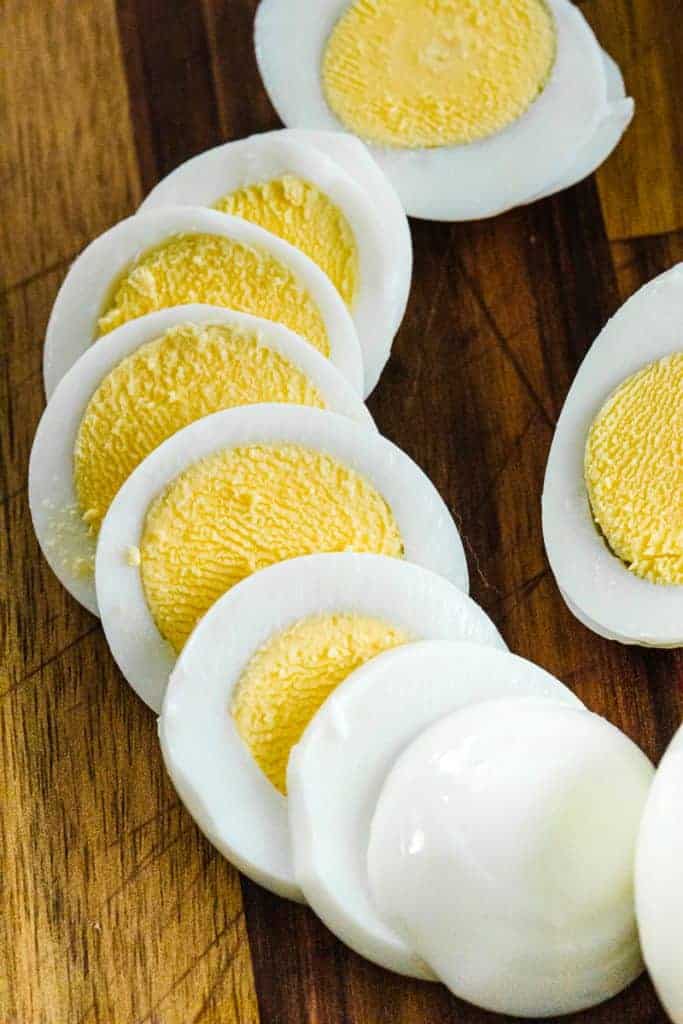 The reason you'll hear different times is because:
1) there are a lot of factors that can affect your eggs, and
2) pressure cookers cook on two ends: the pressure cooking side, and the pressure release side.
The pressure cooking side is the number of minutes you actually set your Instant Pot to (it'll start counting down from this number). The other side is when it is naturally releasing the pressure (it shows an L for LAPSED time and counts up).
Think of it like a sliding scale that you can move to get the same result.
The more intense pressure upfront (like a soda bottle being shaken up), and then the natural release (where you crack the soda bottle open a little bit). The eggs are cooking the entire time, until you cool them down.
What else affects Instant Pot hard boiled eggs?
Isn't this egg slicer so fun? I love it for salads.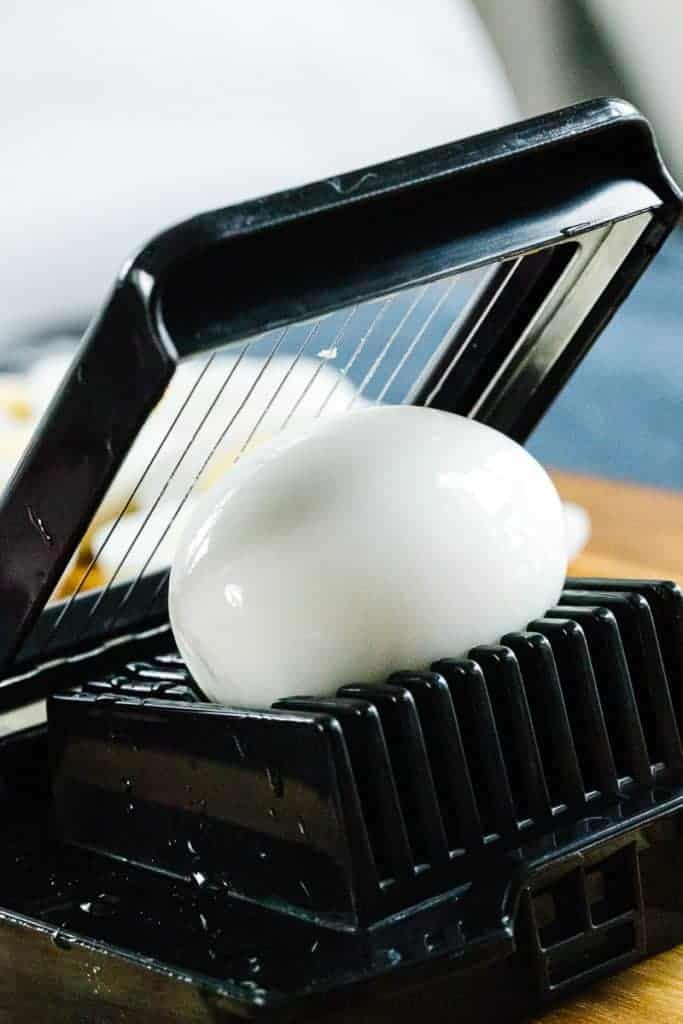 Freshness of eggs
Altitude/location
Size of eggs
Temperature of water
Temperature of Instant Pot
Time it takes to cool eggs
Amount of water in the pot
As you can see, there's a lot of factors that can go into the egg cook times. Don't be alarmed if your get some duds in some batches. It happens to me here and there, and it even happened during my test!
I generally do my eggs a certain time, but I took my Instant Pot a couple hours north to Idaho last year and the time didn't work at all! The altitude changed what works perfectly for me every time at home.
Another factor is the amount and temperature of water in the pot. When there's more water, there's more pressure to release.
Even though I normally recommend using hot water and preheating your pot, the water for eggs should be cool for the best, most consistent results.
Be sure to read my post about why I use less water with delicate foods.
The perfect hard boiled egg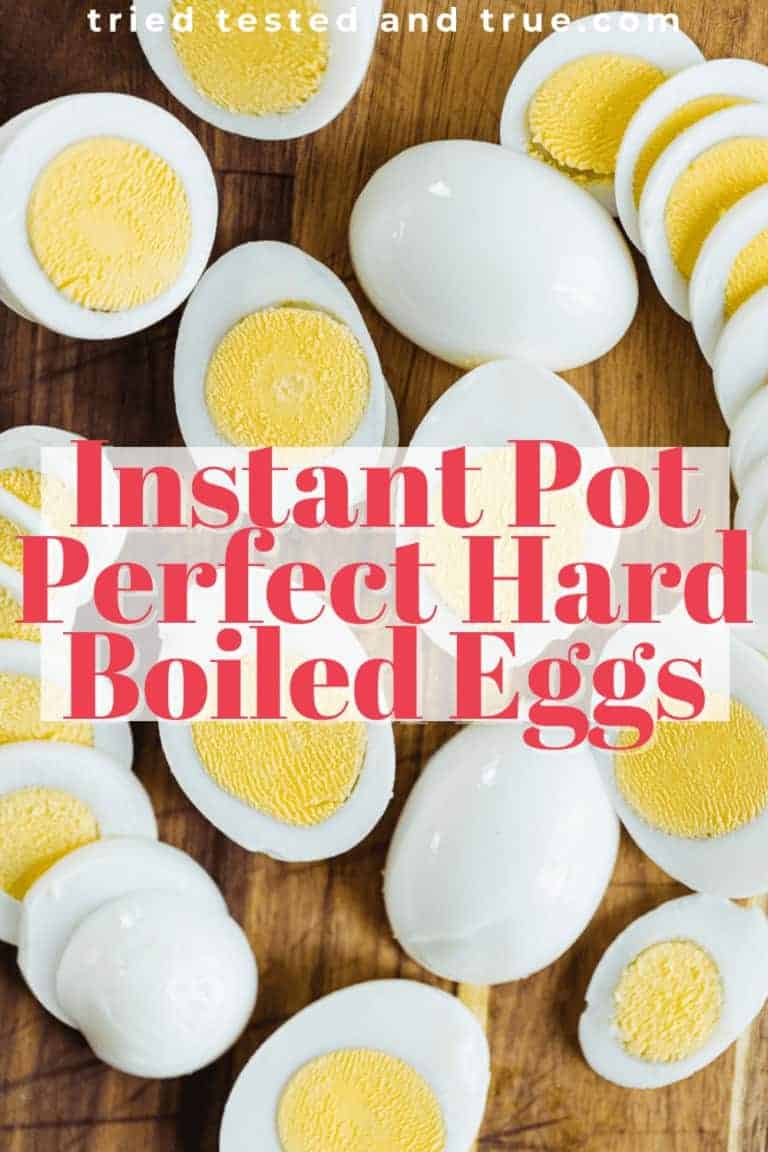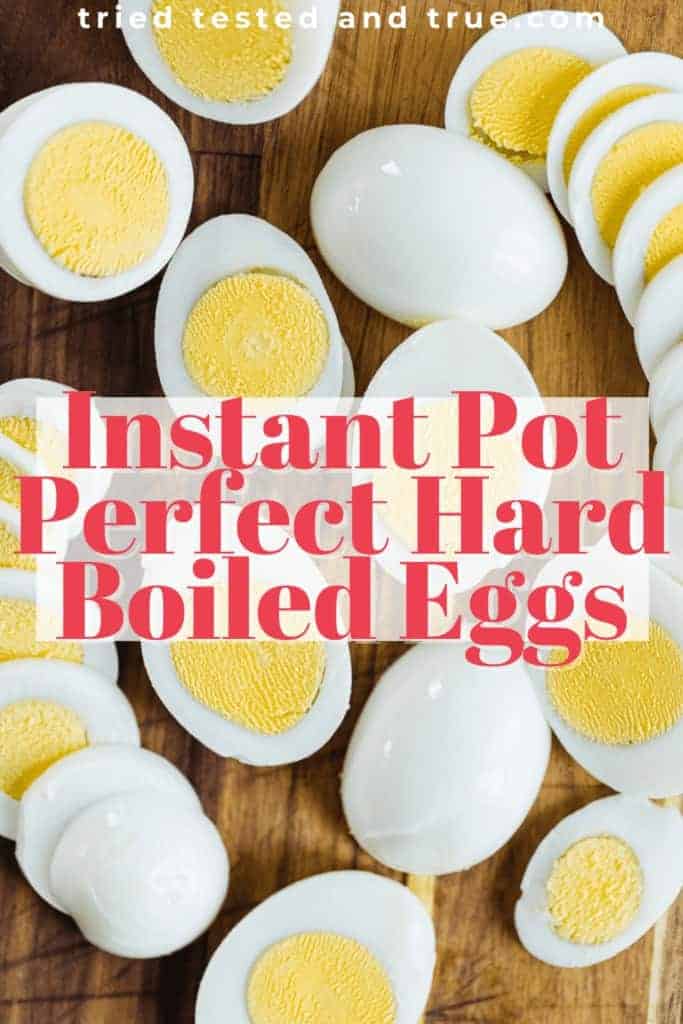 In my opinion, the perfect hard boiled egg has a set but tender white, and a creamy (not chalky) yolk.
There is no gray ring around the yolk, which is indicative of overcooking. Between my tests, I've found my favorite method!
Why I do a 4 minute Natural pressure release
The reason I do 5/4 is because it takes about a minute or so for the pin to drop during the quick release. So by the time I open the lid, it's been releasing pressure for 5 minutes.
If I had waited until it had naturally released pressure for 5 minutes, it would have taken 6 minutes to get the lid off, which is too much for our eggs.
It took me a while to figure out why my eggs were overcooking, even with the 5/5 or 6/6 methods.
How I conducted my Instant Pot Egg test
"Painted" each egg with its cook time with gel food coloring.
I chose 5/4 (5 min high pressure/4 min natural pressure release) and 2/15 because those are the times I've loved and used for years.
Placed 1 egg into my Instant Pot 3 quart duo with a steamer net and 1 cup cold water (I usually use my steamer basket but it doesn't fit in my 3 quart)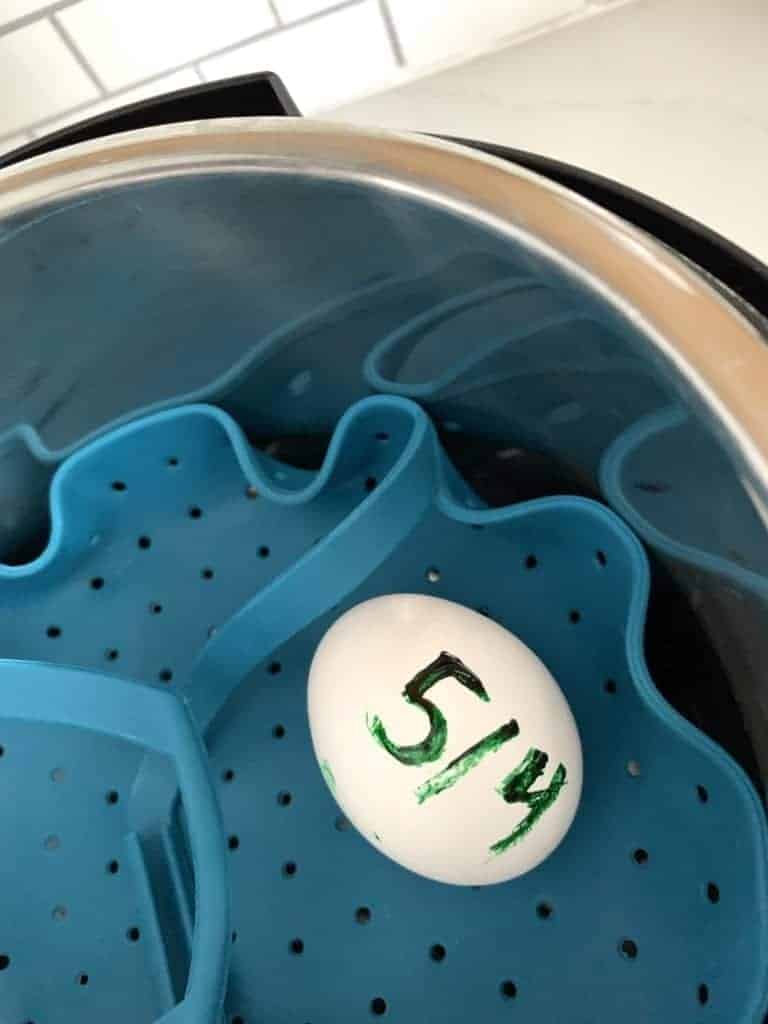 Set the Instant Pot to 5 minutes high pressure (and 2 minutes in the next test).
Let the Instant Pot naturally release pressure for 4 and 15 minutes, respectively.
Placed finished eggs in an ice bath
My Instant Pot Hard Boiled Egg Test Results
Since I tested 5 different ways, plus a redo on two of them, I'll share a table with my results.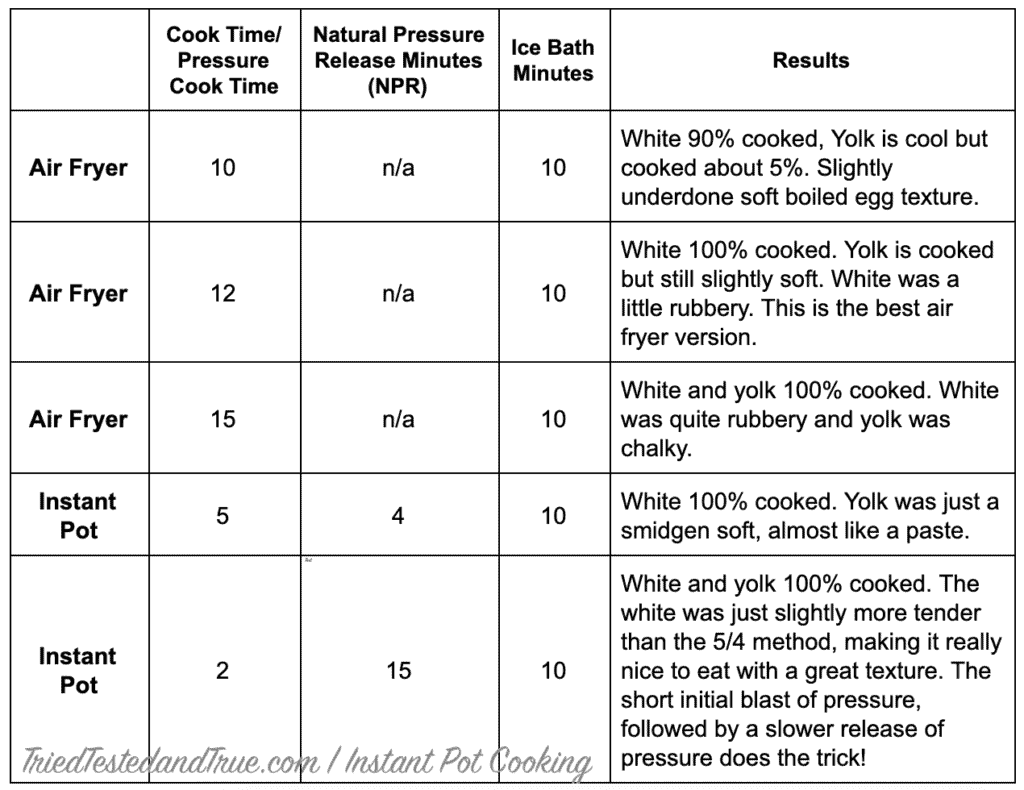 I had to redo the test for the Air Fryer 15 minutes and the Instant Pot 5/4 method because they both came out underdone when I know they shouldn't have.

Truthfully, I have no idea why those eggs were underdone because the 15 minute one cooked the longest. My only guess is that it was because I pulled out two eggs, which disturbed the cooking process.
As for the 5/4, NO IDEA. It worked perfectly the second time and it started in a cold pot with cold water. It was cooked like normal during the second test.
My favorite time for Instant Pot hard boiled eggs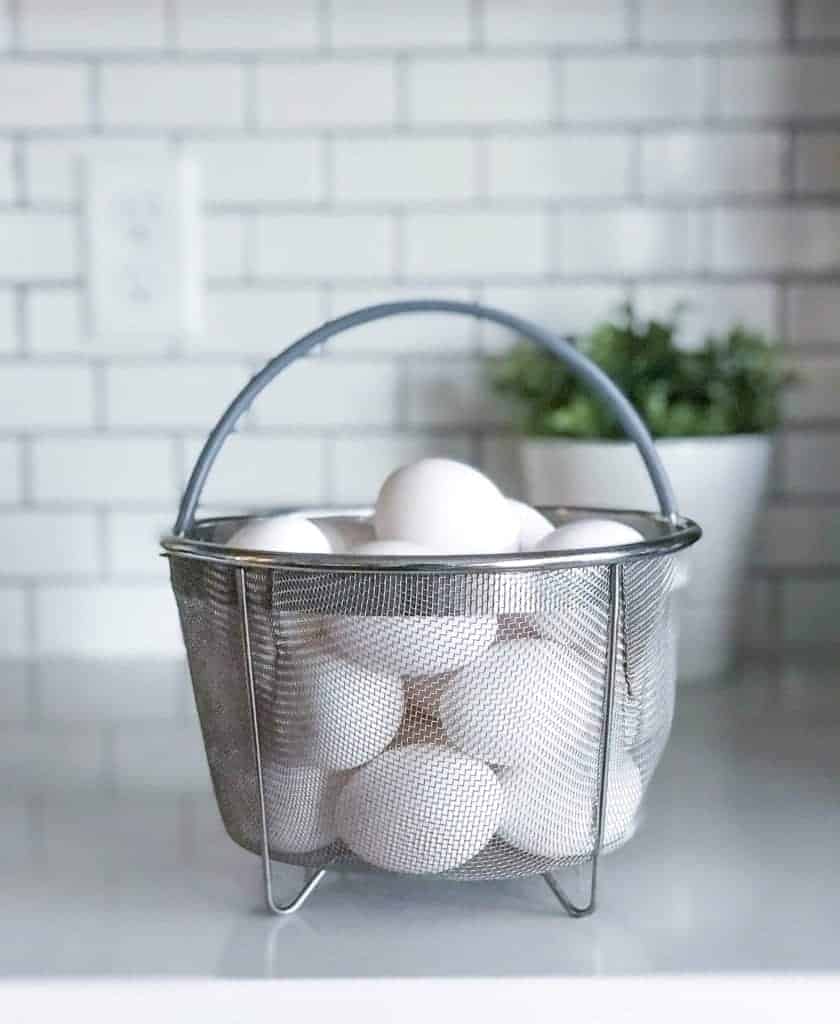 I usually do 5 minutes high pressure with a 4 minute natural pressure release, which I still think is an excellent go-to.
After tasting the eggs side-by-side, the 2/15 eggs were much more tender and not rubbery at all! The 2/15 method is also much more flexible, because the high pressure cooking is only happening for a shorter time.
This will be my preferred method and time from now on.
I always put my eggs in my steamer basket, which fits over 2 dozen eggs. Since my basket doesn't fit into my 3 quart Instant Pot, I use a silicone steamer net.
If you don't have a basket, just place the eggs on top of the trivet.
How to make Instant Pot Hard Boiled Eggs in an egg bite mold
If you prefer not to have to peel your eggs at all, you can use an egg bite mold! I use this a lot in my Cooking for One cookbook, and for Instant Pot Egg Bites with Bacon and Cheddar.
Simply grease your mold with cooking spray, then crack an egg into each slot.
Pour a cup of water into the Instant Pot liner, then add the trivet.
Place the egg mold on top of the trivet. No need to cover the eggs.
Cook the same as hard boiled eggs (5/4 or 2/15).
Carefully remove the mold from the Instant Pot, and invert to a plate. Push down on each mold slot and the egg should pop out. You may need to use a spoon or knife to gently loosen each egg.
Place in the fridge to cool completely as soon as you can. Alternatively, you can place the mold in a bowl of ice or ice water (careful so it doesn't get in the eggs).
Slice and eat! I found the texture of the eggs cooked in the mold to be a bit more rubbery than hard boiled eggs, but it was a fun different way to cook them! This would be a good way to cook egg salad.
Instant Pot Trivet
You may use any sort of trivet to keep the eggs of the bottom of the pot. I use:
Steamer Basket
Trivet
Egg Trivet
Silicone Trivet
Steamer Net
Egg bite mold
Learn everything you need to know about the Instant Pot Trivet.
For links to all these tools, read my post on The Best Instant Pot Accessories to Buy (and avoid!)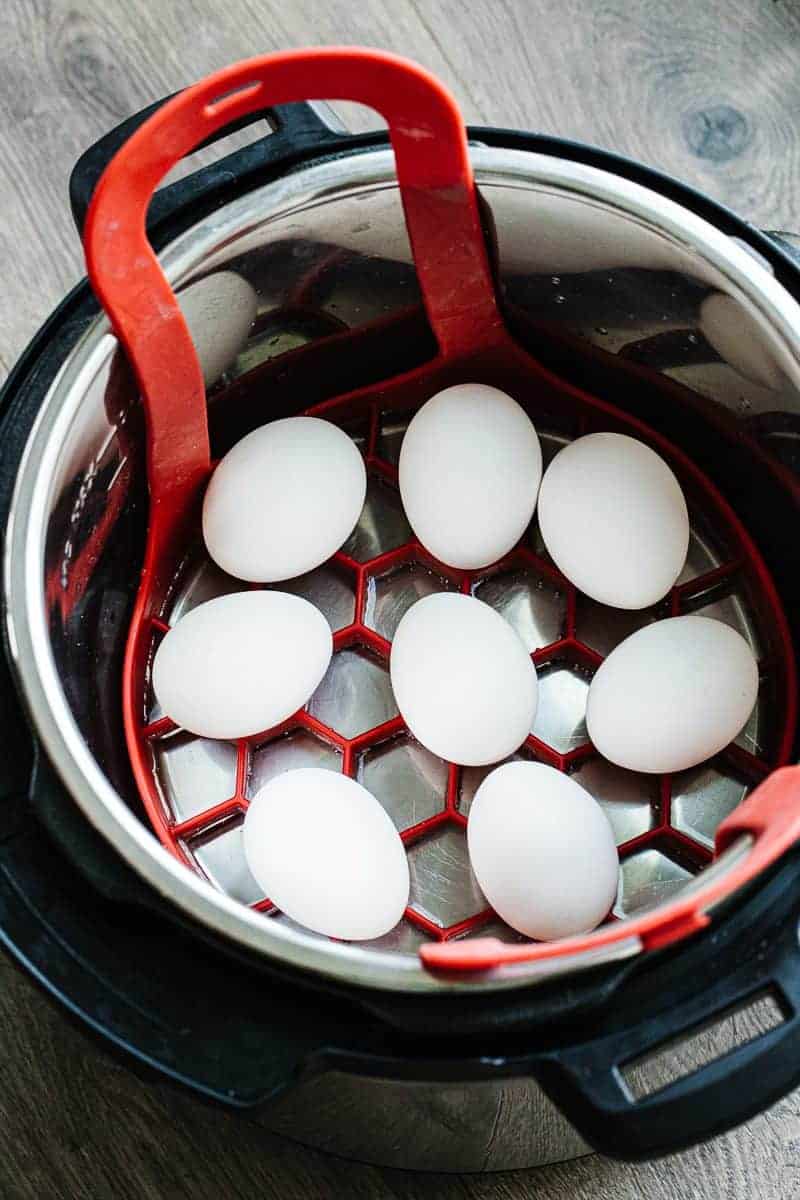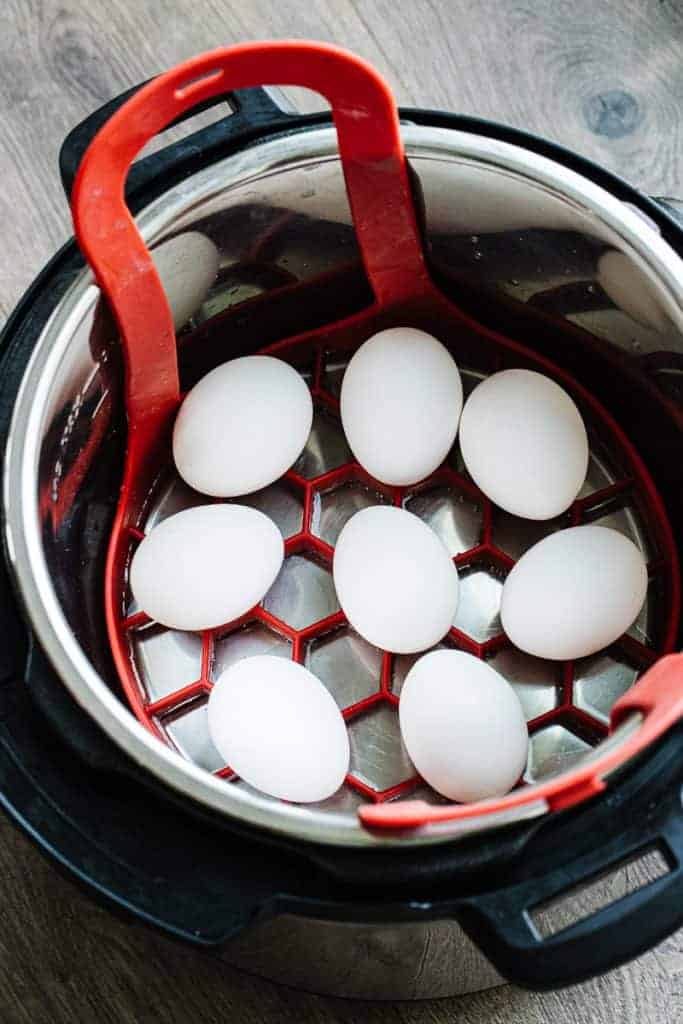 How to peel hard boiled eggs
My favorite hack to peeling hard boiled eggs perfectly is super simple. Just follow these steps:
Take the cooled eggs and tap it on the counter or cutting board on each end (the top and bottom). Tap it about 2-3 times to create some air, but not so much that it crumbles everywhere.
Place the egg on the counter so the ends are facing out.
Place your palm gently but firmly on the egg, then gently roll back and forth. You don't want tons of tiny pieces of shell, just enough to get large chunks of shell to break.
Peel the egg under some running water, and the shell should just fall off in one or two pieces.
Thoughts on Air Fryer Hard Boiled Eggs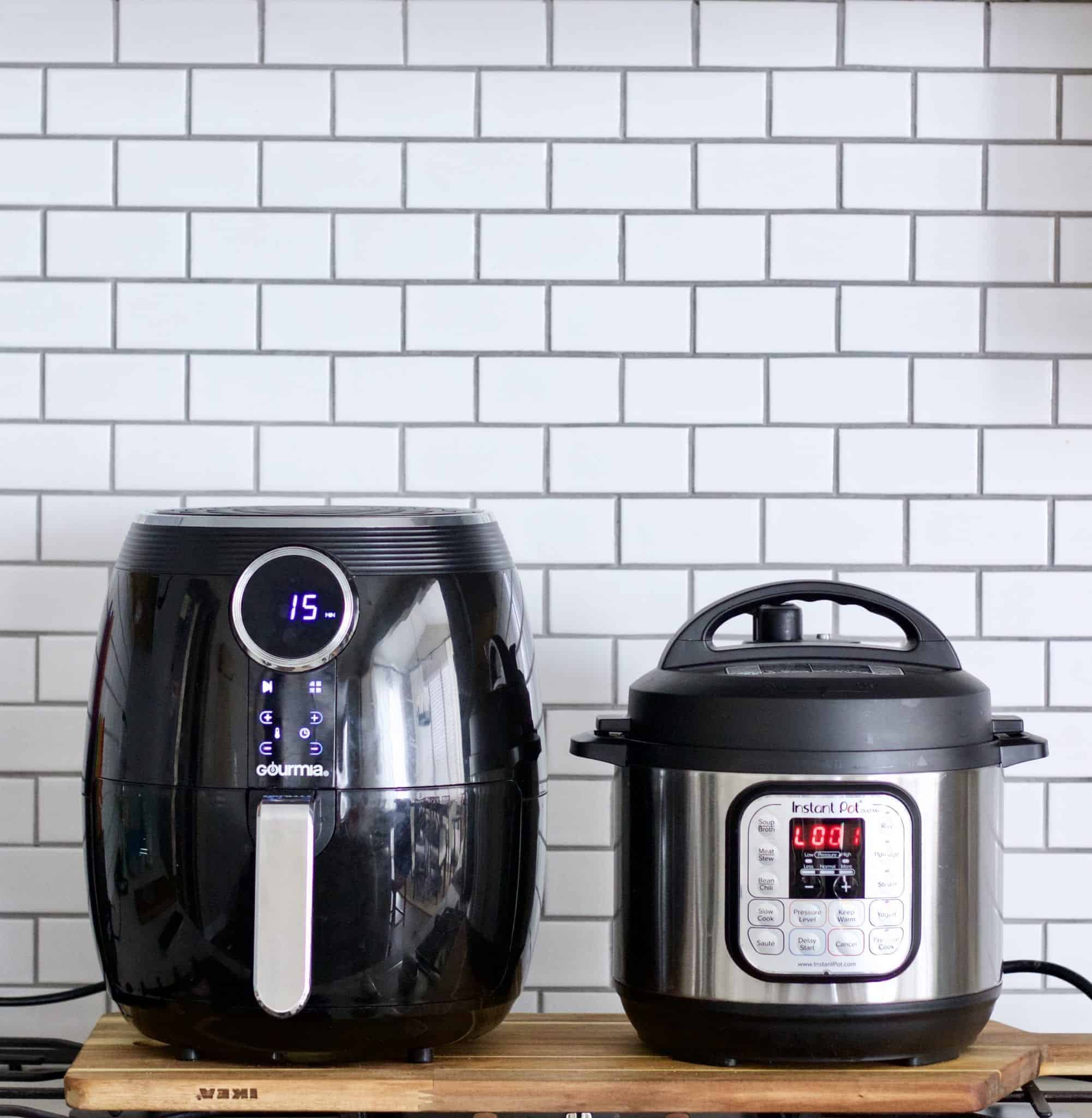 I think if you don't have a pressure cooker, an air fryer is not a bad option for making hard boiled eggs. They DO work, but the only advantage I see to doing them in the air fryer vs. the pressure cooker is that you can pull some out earlier if you want them less cooked.
The eggs were all a bit more rubbery than the Instant Pot eggs, and the shells did have darker spots on them from the more direct heat. So, doable, but not preferred.
I do, however, LOVE air fryer eggs and air fryer sausage or bacon in the air fryer!
Why do I need an Ice bath for Pressure Cooker hard boiled eggs?
It's important to cool your eggs in an ice bath (water with ice in it) as soon as possible after cooking to stop the cooking process as quickly as possible.
Eggs carry a lot of residual heat, which is why you shouldn't ever wait for eggs to "look" done when making them on the stove. Did you know that eggs (scrambled, sunny side up, etc.) keep cooking after they are removed from the pan?
Overcooked eggs are rubbery and gross, so don't do it!
Shocking the eggs in an ice bath also helps them peel easier as it shocks the membrane away from the shell.
No ice, no problem
If you don't have ice, just cover the eggs in cold water or add an ice pack to your water after cooking.
Before I had an ice maker in my freezer, I'd just take the liner straight from the Instant Pot to the sink and rinse the eggs in cold water.
That cooled the pot down, and the initial heat off the eggs. I then kept refilling the liner with more cold water as soon as the water got warmer.
Peeling Instant Pot Hard Boiled Eggs
One of the best reasons to make your eggs in the Instant Pot is because they peel soooo easily. I'll let you read the science explained by my food idol, Alton Brown, here.
You're going to be so amazed at how easily the hard boiled eggs peel after cooking in the Instant Pot! I like to tap each end on the counter, then roll the egg on the counter with a little pressure from my hand.
Then, the peel just falls right off! I usually give it a quick rinse and enjoy with salt.
Of course, if you use your egg bite mold, you don't have to worry about peeling at all!
My final advice
Start with 2/15 or 5/4. Then, open the egg up and see what you think. If you did 2/15 and it's still a bit soft for you, then next time add an additional minute onto the initial pressure cook (3/15).
If you did 5/4 and it's still a bit soft, add 1-2 minutes onto the natural pressure release. After all that, if either of these times produce overcooked eggs, just take a minute off the pressure release side of cooking next time!
Another piece of advice? Find a neighbor or friend that lives close to you and find out what time works for them.
If you're in the same climate and altitude, you'll probably have luck doing what they're doing! Good luck!
Instant Pot Hard Boiled Eggs
Hard boiled eggs in the pressure cooker are incredibly easy to make and peel. In just a couple of minutes, you can meal prep dozens of eggs for a quick and healthy snack.
Ingredients
1 cup Cold Water
12 Eggs, cold from the fridge
Instructions
Pour 1 cup water into the Instant Pot pressure cooker.
Place the eggs in a steamer basket, or on top of the trivet in the Instant Pot to keep them out of the water.
Lock the lid, turn the knob to sealing, and set the Instant Pot to manual high pressure for 2 minutes.
After the 2 minutes is up, allow a 15 minute natural pressure release.
Release the rest of the pressure if the pin hasn't dropped on its own, and open the lid.
Plunge the eggs in an ice bath, or running cool water for at least 10 minutes.
Store the eggs unpeeled in the refrigerator for up to one week.
Notes
I have used this method with farm-fresh eggs (from my mother in law's chickens) and they cooked and peeled perfectly.
If after using this time/method you still have gray rings around the yolks, the eggs are overcooked. Next time, cut the pressure release time to 12-13 minutes.
The most important part of cooking Instant Pot hard boiled eggs is to cool them down immediately in an ice bath. If you don't have ice, get your water super cold using ice packs or freeze some water in a shatter-proof bowl the night before. Cooling the eggs is what shocks the membrane away from the shell to make them easy-peel, and it stops the cooking process so they are not overdone.
Recommended Products
As an Amazon Associate and member of other affiliate programs, I earn from qualifying purchases.
Nutrition Information:
Yield:

6
Serving Size:

1 grams
Amount Per Serving:
Calories:

143
Total Fat:

10g
Saturated Fat:

3g
Trans Fat:

0g
Unsaturated Fat:

6g
Cholesterol:

372mg
Sodium:

144mg
Carbohydrates:

1g
Fiber:

0g
Sugar:

0g
Protein:

13g
---
---
Would everything stay the same for using the 2/15 method in an 8qt?

Hi Rebecca! I'd do 1.5 cups of water in an 8 quart!

Will the 2/15/10 or the 5/4 methods work with extra-large eggs?

I haven't tested them with extra large eggs but I might add an additional minute to the cook time. so 3/15 or 5/5-6. Try it and let me know! if they are still under, add an additional minute to the release time

I only use large eggs and I cooked them 2 minutes, reduced pressure after 15 minutes, and put them in ice water that had ice cubes for 10 minutes. The eggs were perfect and I couldn't believe how easy it was to remove the shells. The eggs were perfect.

Would the time change if using an 8qt?

Do you turn Keep Warm off or keep it on? Thanks.

It stays on keep warm, the default!

Thank you! I saw your video making hard boiled eggs and read what you wrote here. I have a 6 qt. Instant Pot and followed your direction making 1 egg. Cooked it 2 minutes with 1 cup of water, opened the lid in 15 minutes, put egg in ice water for 10 minutes and the peel just slid off. I was so amazed I didn't have to peel bits of stuck on shell. The white was perfect and the yellow was not chalky. I didn't k ow that chalky yellow meant the egg was overcooked.

Thank you SO much for taking the time to comment! So glad it worked well for you! – Lisa

Seriously, the most straightforward explanation of IP hard boiled eggs! I stumbled across one of your YouTube videos the other day and I am so impressed with your advice and thorough and honest research/tips. I noticed Harmon's cream cheese on the cheesecake recipe and figured you're in Utah somewhere… I mention this because I am also in Utah (so I am assuming a similar elevation to yours) and tried the 2/15 method. It worked really well in that it was remarkably simple and hassle free and I have never had an easier time peeling eggs in my life but, somehow my yolks were overcooked. The white was glorious but I had a dark ring around the yolk and everything. They are still yummy according to my egg guzzling husband (seriously, if I let him, he would go full Gaston on the hard boiled eggs every. time. ) I don't have ice so I just put the eggs into a bowl and ran cold water on it constantly until they were cooled down all the way. (I call them cooled when I can take it out of the water and hold it in my closed hand without it feeling warm after a few seconds.) I am using a 6 qt Lux IP with the included trivet and used a cup of water. I may have used room temp water as opposed to cool (I can't remember for sure) but definitely not any warmer. Any ideas how this happened/ how to avoid it in the future? My eggs weren't the freshest they could be (btw, any thoughts on how using eggs straight from the family chickens would effect things?) but they weren't old either. I only did 8 eggs? Again, I wasn't displeased with them but I would also love to taste those picture-perfect creamy yolks for myself… 😁

Hi Stefanie! thanks for commenting! A lot of factors go into the eggs- 99% of the time the 2/15 method works perfectly for me, but on occasion I do get some that are overcooked. My only explanation for this is that it must have something to do with the eggs since I make them at least once a week. that being said, if you read the troubleshooting in the post, I recommend if the eggs come out over using this time, to lessen the release time to 13 or 14 minutes, depending on how overcooked the eggs were. So try 2/13 next time. If they are not quite cooked enough, do 2/14 and they should be perfect. Thanks so much for watching my videos and commenting!

There is a lot of information here but it is very informative. I appreciate the information behind how to best hard boil eggs in an IP so I can make educated adjustments. I made these yesterday using the 2/15/10 timing and they.are.perfect! So perfect that I immediately forwarded the recipe to three friends who have IPs! I followed Lisa's method of hitting the egg on the wide top part to crack the shell and then they slid off after a few peels. They were just as easy to peel today, 24 hours after being cooked! This is definitely going to be my go-to recipe for making hard boiled eggs now!

can you use theL00.00 as a timer for the natural release or use another item as a timer for boiled eyes

You may use another timer, but the natural pressure release timer on the Instant Pot is built in, so i recommend using that (the number after the L)

do you instant recipes for two

Hi Angie! I don't currently have any recipes specifically for two. I do have 175 recipes for one in my cookbook, though!

I just tried your 2/15 method for hard-boiled eggs, and now I never need to read another recipe for them. I'd been so disappointed in all the versions of 5/5/5. I could never get consistent results, in terms of doneness and texture. Today's were cooked to perfection, and so tender and delicious! And, of course, easy-peel. Thanks for this discovery!

Yay! That's great to hear. Thanks, Karen!