Instant Pot Vanilla Bean Rice Pudding is the perfect blend of richness and comfort. Make this simple dessert in minutes, all in the Instant Pot.
*This post may contain affiliate links. This means as an Amazon Associate and affiliate for other products, I earn from qualifying purchases at no extra cost to you.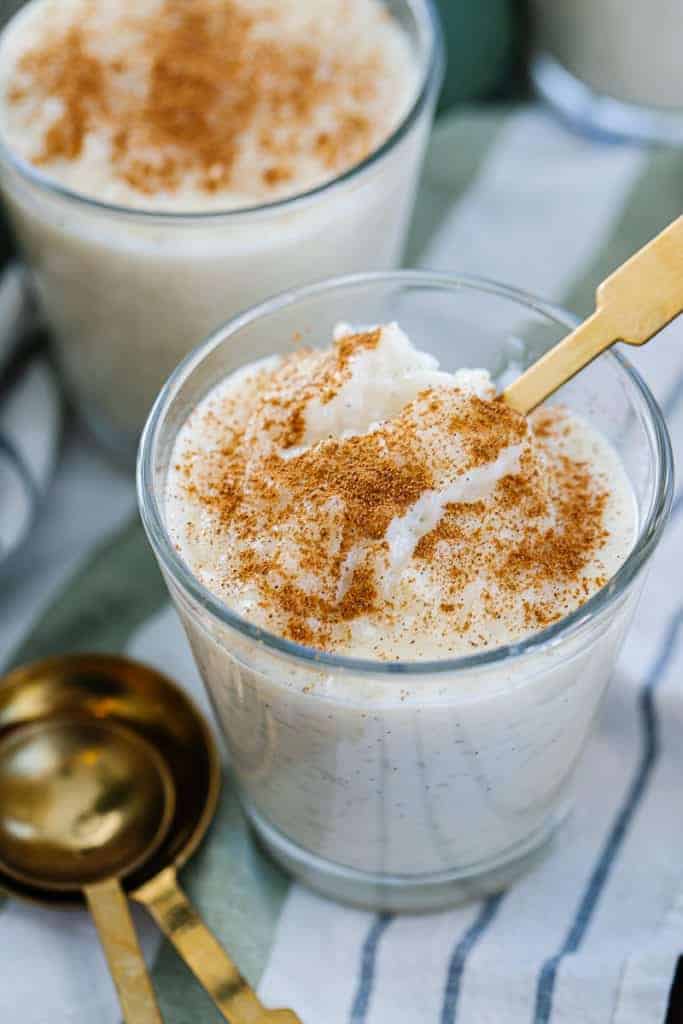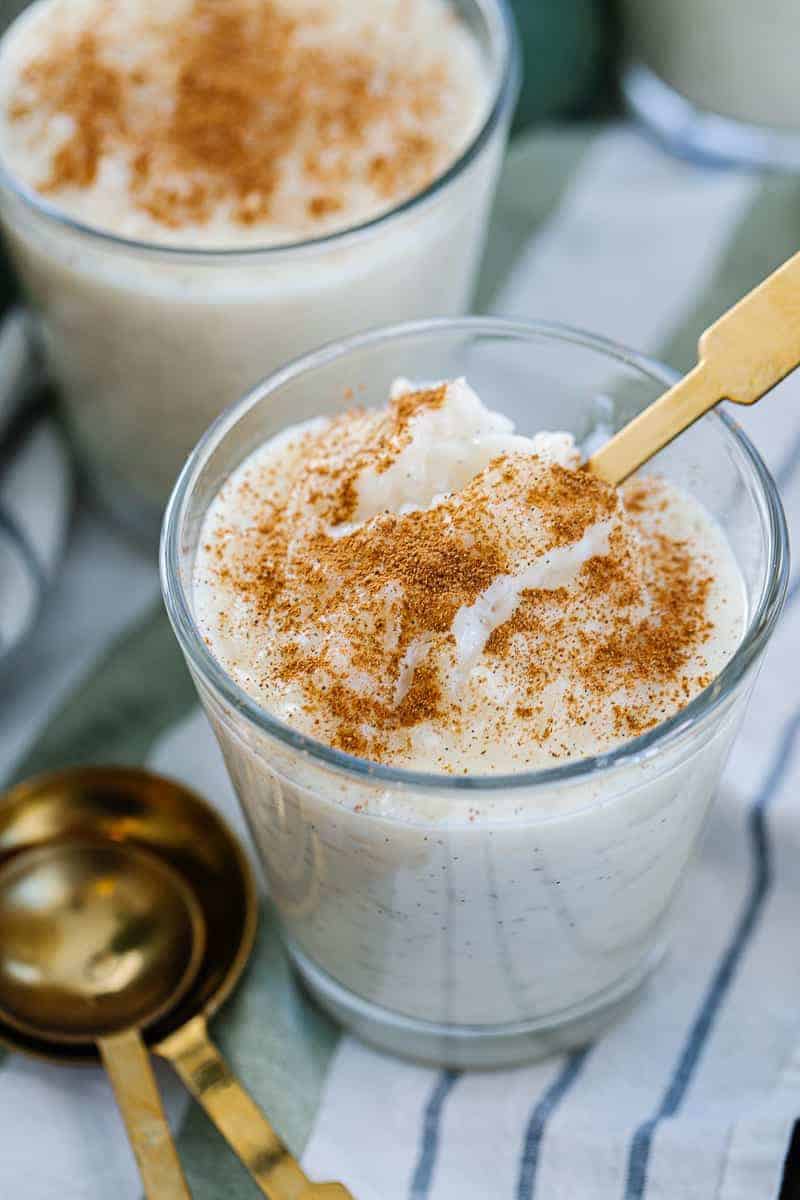 The recipe for this Instant Pot rice pudding is at the end of this post. This post contains all of the frequently asked questions about this recipe and will help answer important questions or common concerns about rice pudding.
The Best Rice Pudding Recipe
I recall one evening several years ago during my first pregnancy when I CRAVED rice pudding. Because I could NOT go to bed without it, I started making rice at 10:30 at night.
I waited a good 20 minutes for the rice to be done, then transferred it over to the stove where I added the milk and all that other good stuff. It took a lot of time and effort, but hey, there's no denying a pregnant woman a craving!
After buying an Instant Pot, this recipe became leaps and bounds easier and faster!
Why you should make Instant Pot Rice Pudding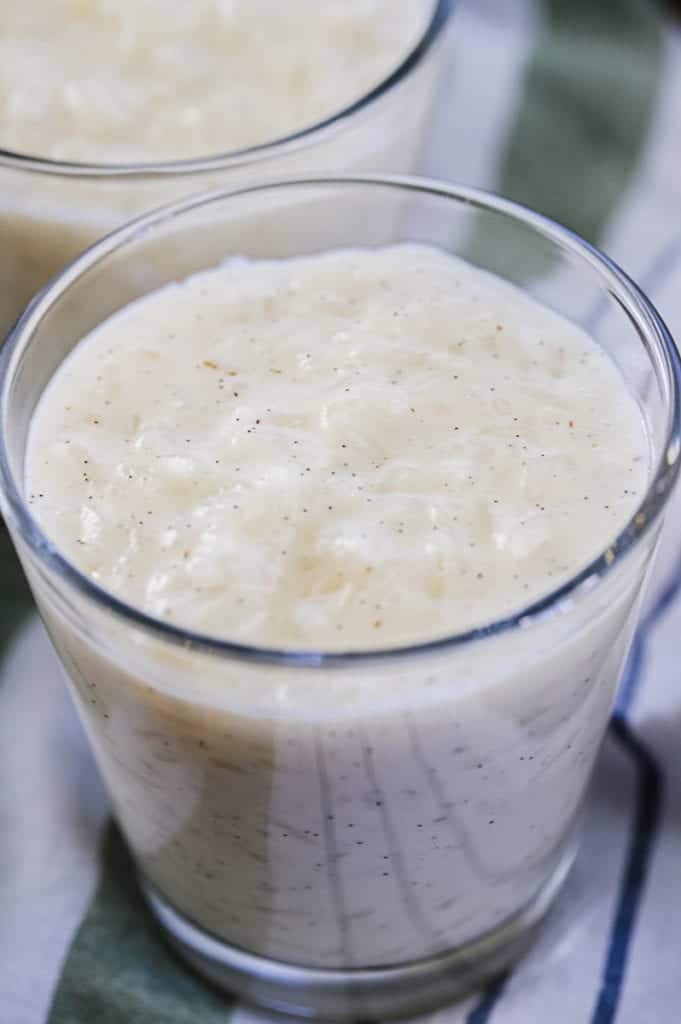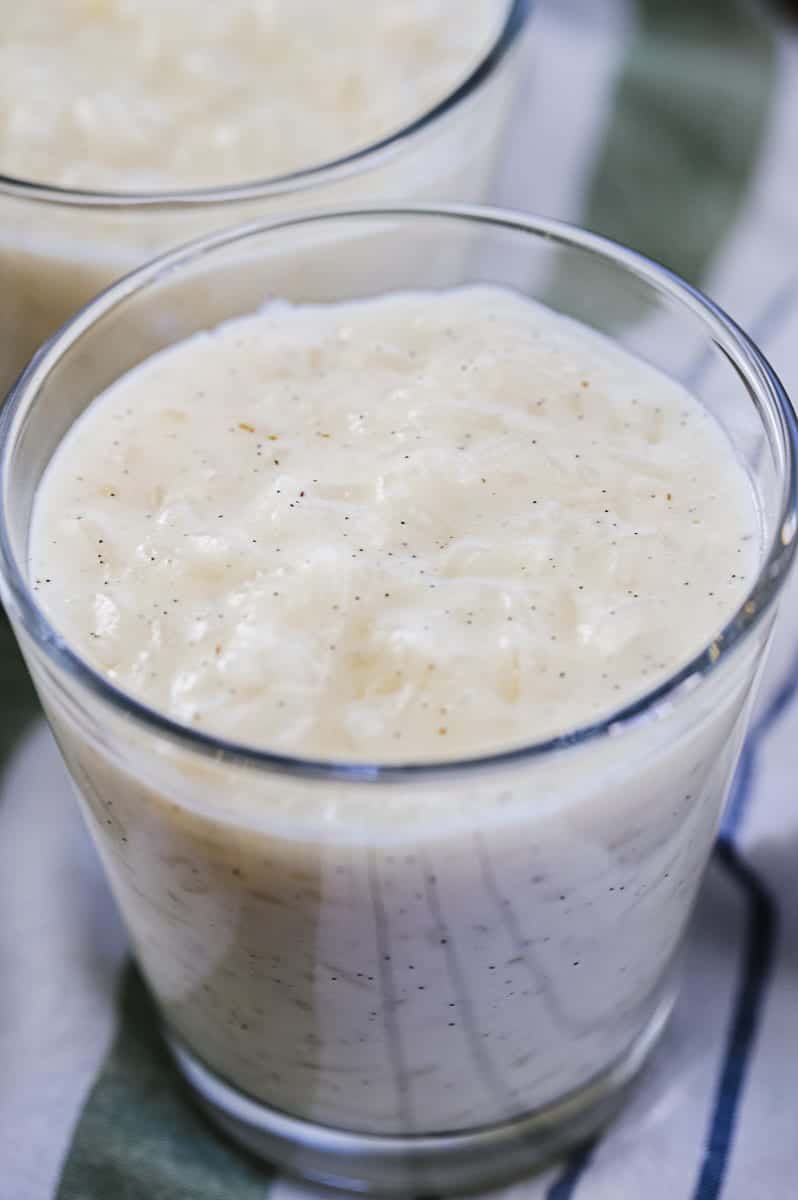 The beauty about doing rice pudding in the Instant Pot is that I can make the rice, and simmer it to thicken all in one pot. The pudding will thicken as it cools. Because it will be thicker the next day, you can always add a splash of milk when you reheat the rice pudding.
The Secret Ingredient for Rice Pudding
The secret to the best rice pudding (and not the slimy stuff you get at the store), is to use a really good quality cream and vanilla. My preference is Vanilla Bean Paste, which makes literally ALL your desserts taste AMAZING like it was made in a fancy bakery.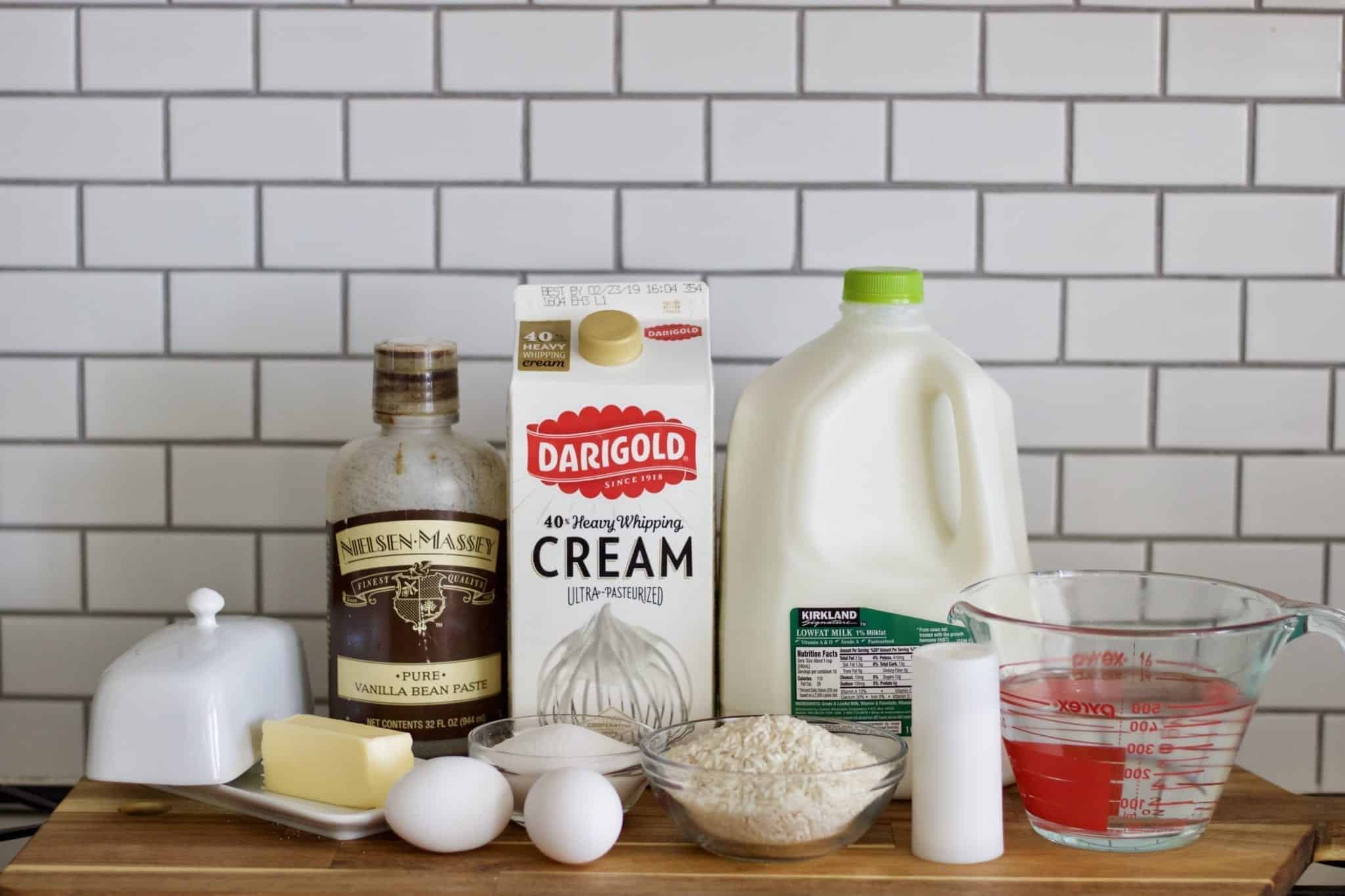 It transforms cookies and syrup into heaven. I have this giant 32oz bottle. Unfortunately, the price of vanilla beans has skyrocketed due to a shortage and it's a little steep. You should try this smaller bottle if you'd like to try it.
I've also found small bottles in most craft stores (like Hobby Lobby or Michaels) and you can use coupons on those. I have seen $5-$9 bottles at Walmart as well. At these three stores, vanilla bean paste is located in the Cake Decorating aisle (not the frosting and sprinkles aisle, the cake and party supply aisle).
In my Youtube video, I had someone say they added vanilla bean ICE CREAM to their rice pudding and it added those gorgeous vanilla bean flecks as well! Genius!
I guarantee you won't go back! I love it to make syrup for our pancakes and in my pastry cream for crepe cakes. Using it in the rice pudding gives it these beautiful black speckles of vanilla bean, and it makes it so special. Try it in my Instant Pot Bread Pudding recipe!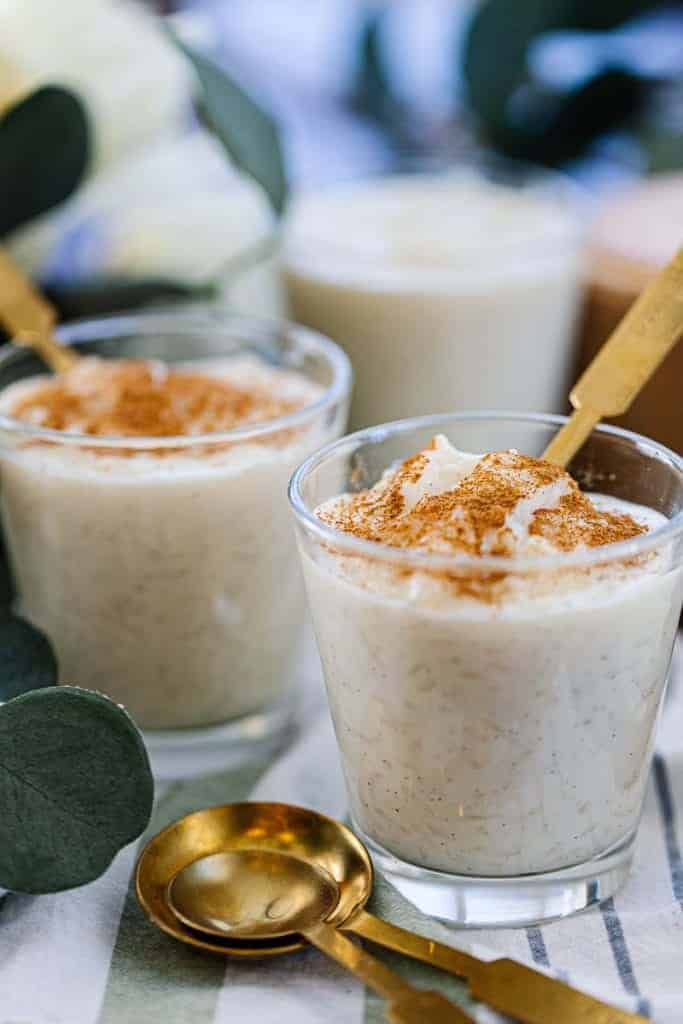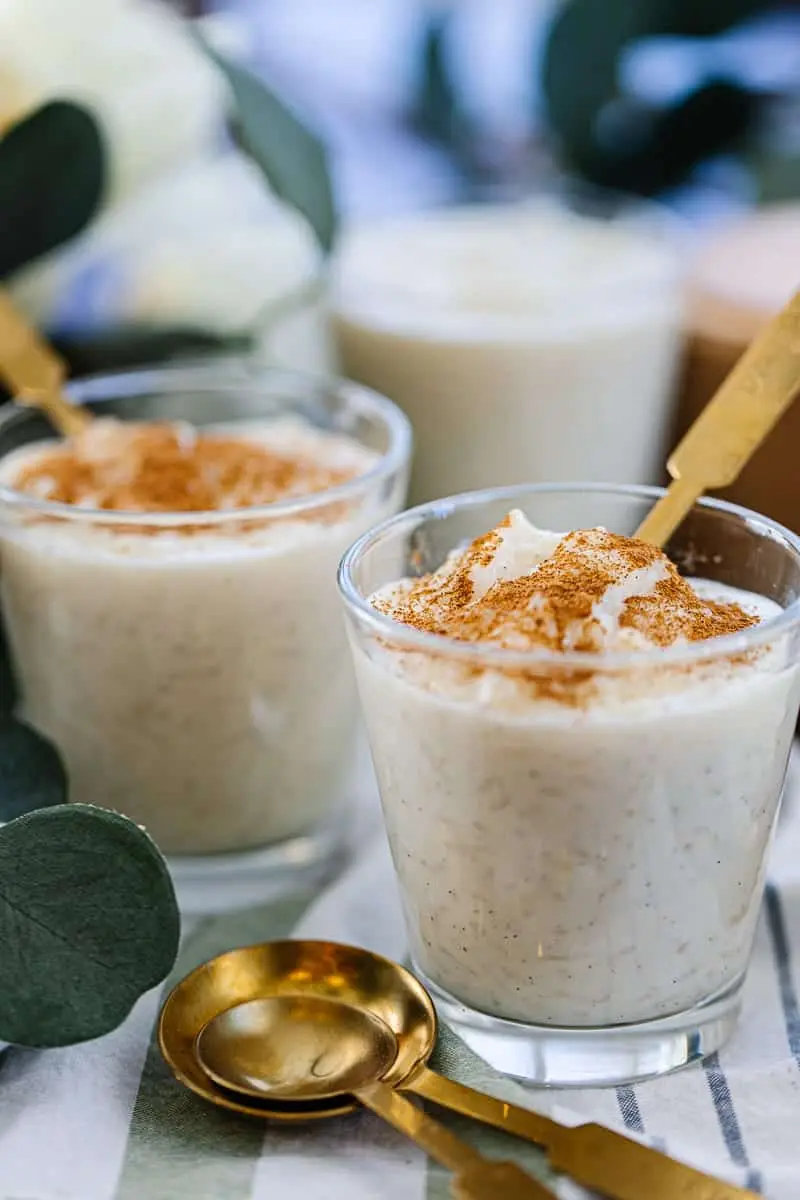 How to make Instant pot Rice Pudding
It's simple to make this quick dessert, thanks to the Instant Pot.
Dump the water and rice into the liner and cook. The cook time for regular long grain rice is 3 minutes with a 10 minute natural pressure release.
After opening the lid, fluff the rice and add the sugar. The sugar will melt into the rice and dissolve.
Add 1.5 cups of milk.
Set the Instant Pot to low or normal Saute.
Whip two eggs into half a cup of milk.
While whisking the hot rice pudding, slowly pour in the egg mixture to temper them in. That way, you don't have any scrambled egg chunks in your rice pudding.
Cook for a couple of minutes, constantly whisking, to thicken.
Add vanilla bean paste (pure vanilla extract is okay to substitute) and turn off the heat.
Add heavy cream and butter.
Enjoy with cinnamon or whatever you like!
HOW TO SERVE INSTANT POT RICE PUDDING
Serve this dish hot, or cold! I prefer it warm but it's also delicious straight from the fridge cold. Just don't forget a new sprinkling of cinnamon on top of your Instant Pot Rice Pudding!
If you like raisins in your rice pudding, add them to the pot the same time you add the first cup of milk so they have time to plump up.
Instant Pot Rice Pudding Condensed Milk
My coconut rice pudding and pumpkin rice pudding use different kinds of sweeteners, but this recipe uses white sugar to sweeten the rice pudding. However, if you want to add another layer of creaminess to your pressure cooker pudding, feel free to use 1/2 cup sweetened condensed milk in place of the sugar in this recipe.
You can add more to taste! And then use the leftover sweetened condensed milk to make a couple portions of Instant Pot Yogurt or Instant Pot Pumpkin Yogurt!
Instant Pot rice Pudding with Half and Half
Half and Half is literally half milk and half cream! You're more than welcome to use it in this rice pudding recipe in place of the milk and/or cream. It WILL be a LOT creamier than if you had used my combination of milk plus cream, so I would suggest using about 50% half and half and 50% milk.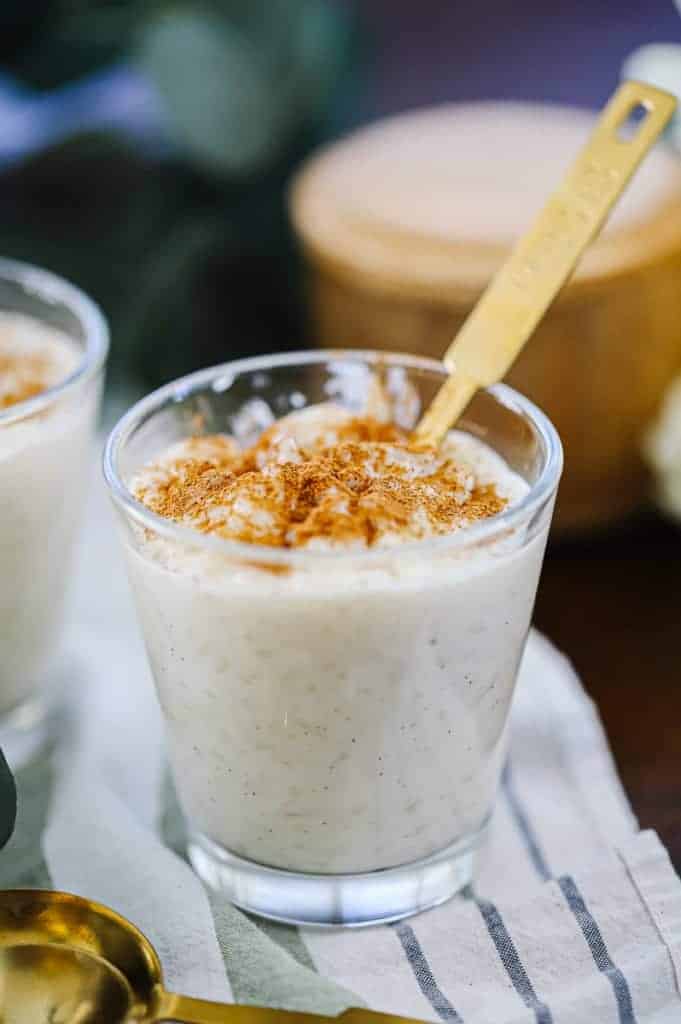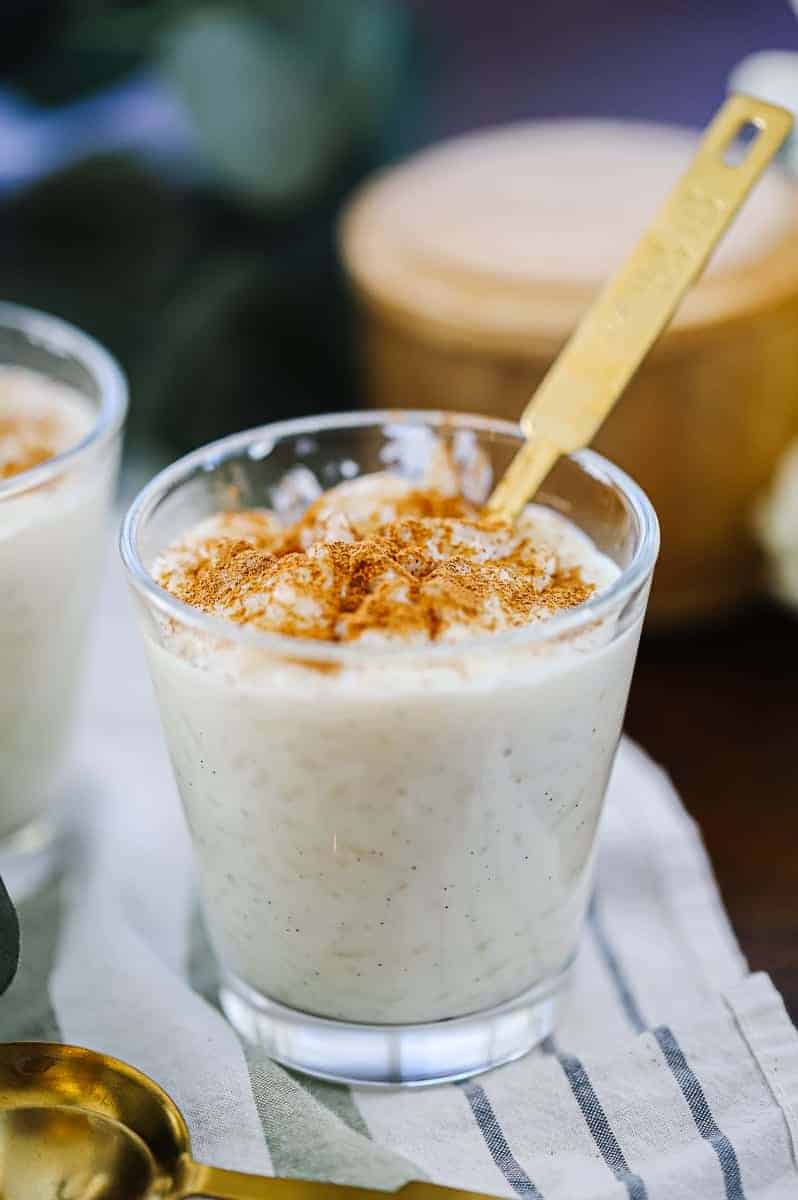 Instant Pot Rice Pudding evaporated Milk
Evaporated milk most often comes in a can and is a shelf-stable milk that's great to keep in the pantry. You may use evaporated milk for any portion of the milk used in this recipe. Evaporated milk is rich and slightly sweet, so it'll work great!
How long does homemade rice pudding last?
Homemade rice pudding (made on the stove top or Instant Pot) lasts for a maximum of one week in the refrigerator, if you can get it to last that long!
REFRIGERATE RICE PUDDING? HOW TO STORE RICE PUDDING
Rice Pudding should be stored in the fridge when you're not eating it. The rice pudding may be a little thicker when you take it out of the fridge, but all you need to do is add a splash of milk before serving or microwaving.
Can homemade rice pudding be frozen?
Freezing rice pudding is not recommended, but it can be done. The rice pudding may separate and not be as creamy once warmed up. It's so easy to do in the Instant Pot, I recommend making it fresh every time 🙂
If you do want to freeze rice pudding, pour the cooled rice pudding into a large ziploc bag or freezer-safe tupperware container. Remove as much air as possible, then lay flat evenly to freeze in a thin layer. Thaw the pudding overnight or by breaking off small chunks and microwaving/reheating on the stove.
Do you eat rice pudding cold or hot?
There is not right or wrong way to eat rice pudding. I prefer to eat rice pudding warm, topped with cinnamon. But I eat it cold out of the fridge the next day. Try it both ways and see which you prefer!
Don't Forget to Pin this Post!
Is homemade rice pudding fattening?
Rice pudding is not a diet food. It contains white rice, sugar, milk, cream, and sometimes butter. Rice pudding is high in carbs and comfort and is a delicious treat!
Best Rice for Rice Pudding
I'm often asked if you can use brown rice, or arborio rice (pudding rice) in this pressure cooker rice pudding recipe. The answer is… you can technically use whatever rice you want. As you can see in the recipe, you start with hot, cooked rice before you add any other ingredients to it.
I prefer to use enriched long grain white rice in my rice pudding recipe. I have also used Jasmine rice with success. Using brown rice will definitely change the flavor and texture of your rice pudding, so you need to be aware of this.
I have used arborio rice for this rice pudding recipe and I'll tell you, I couldn't tell that much of a difference. Since arborio rice is a lot pricier than the other types of rice I use and it wasn't any better or worse, I recommend using long grain rice.
How do I get rice to not stick to the bottom of the pot?
To prevent rice from sticking in your Instant Pot, you need to first, use the correct ratio of water to rice.
Second, you need to ensure you don't leave your rice on the keep warm setting too long. If you do, the water will evaporate out of the venting hole and still be "cooking" at a low temperature and will dry out the rice, causing it to stick.
Read my post on how to make Long Grain White Rice in the Instant Pot.
Watch my video on how to make Jasmine rice in the Instant Pot and Basmati rice in the Instant Pot.
How do you thicken rice pudding?
There are a couple of ways to thicken rice pudding. You may cook it down and reduce the liquid so it is thicker. This method may make your rice softer than my preferred method, which is to thicken using eggs.
It's important to temper the eggs into the hot rice pudding (whisk into milk and then whisk the milk mixture into the hot mixture), so you don't get scrambled eggs in your dessert!
Thickening the rice pudding with eggs gives it a creamy, custardy flavor and texture.
Rice Pudding with Leftover Rice
You can make this Instant Pot rice pudding recipe with leftover rice! In a small pot or the Instant Pot on low saute, dissolve the sugar with 1/2 cup of the milk. Once the milk is warm and sugar is dissolved, add the rice and stir until warmed through.
From there, follow the directions as written in the recipe! You may need to add slightly more liquid to compensate for the moisture that is lost with leftover rice.
Pumpkin Rice Pudding
Don't forget this Pumpkin Rice Pudding recipe. Someone described it as, "SHUT THE FRONT DOOR DELICIOUS!"
Instant Pot Rice Pudding with Coconut Milk
If you want a lighter rice pudding that's every bit as delicious, try my Instant Pot Coconut Rice Pudding that uses coconut milk and another secret coconut ingredient you're gonna LOVE!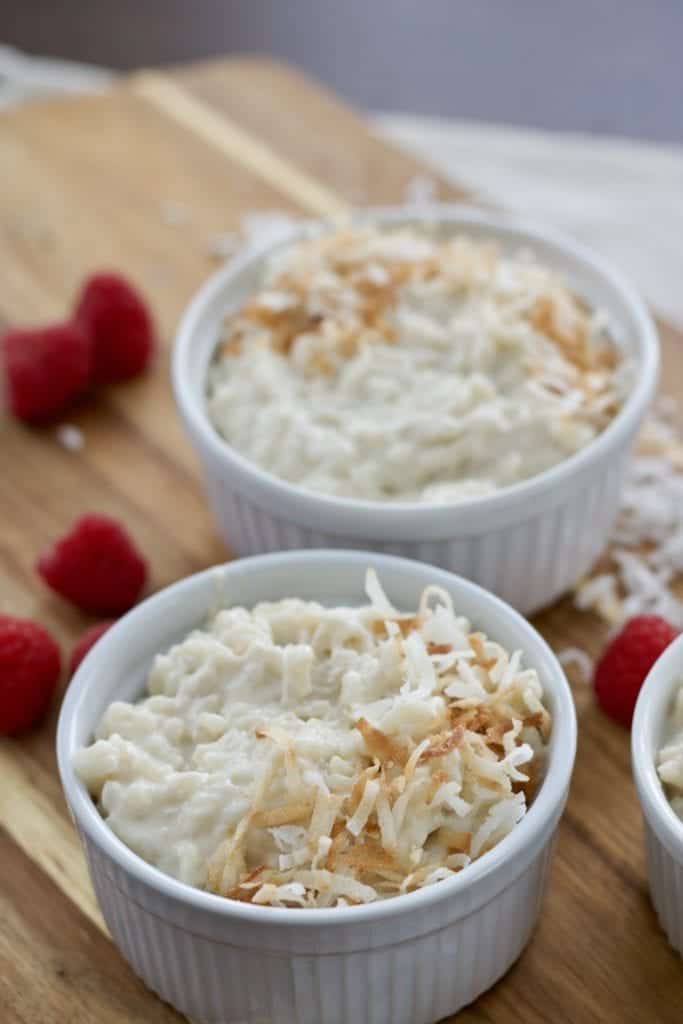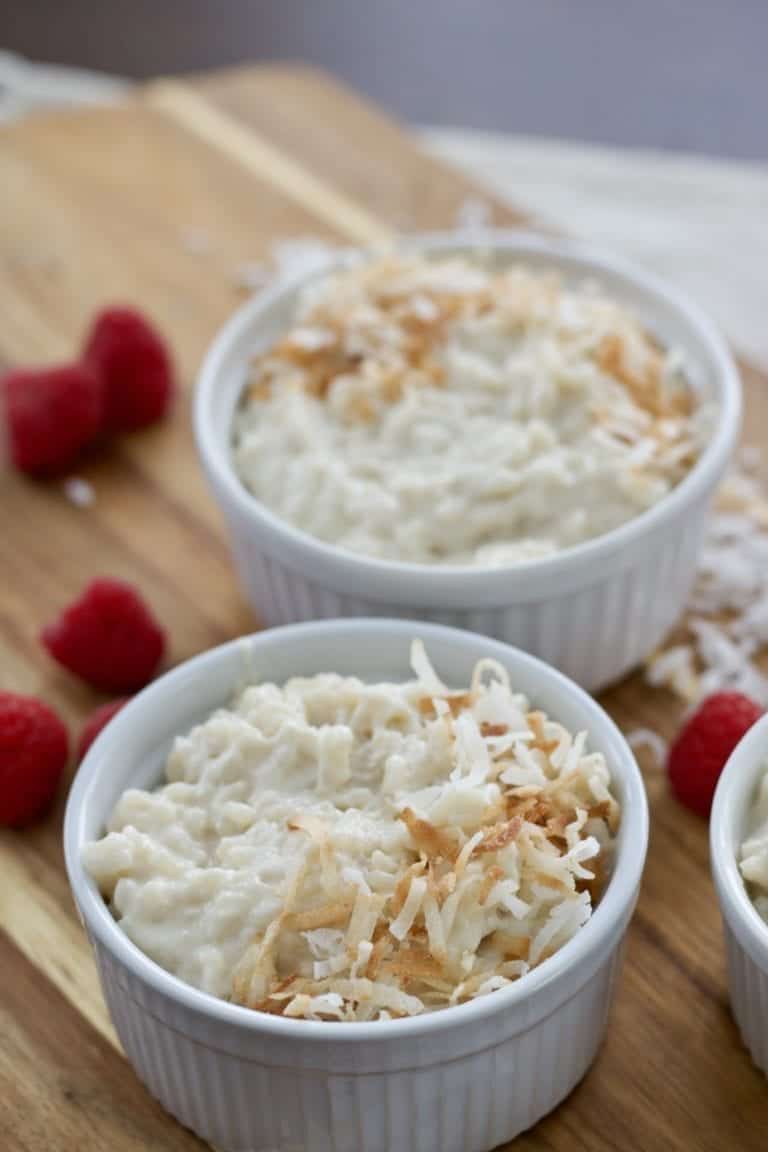 If you're looking for another dairy free option, feel free to replace the milk in this recipe with your favorite non-dairy milk. Almond milk, coconut milk, oat milk, would all work for this rice pudding recipe. You'll just have to adjust the amounts if you like it thicker or thinner.
Instant Pot Dessert Recipes
End a yummy meal (or start one!) with a delicious Instant Pot Dessert.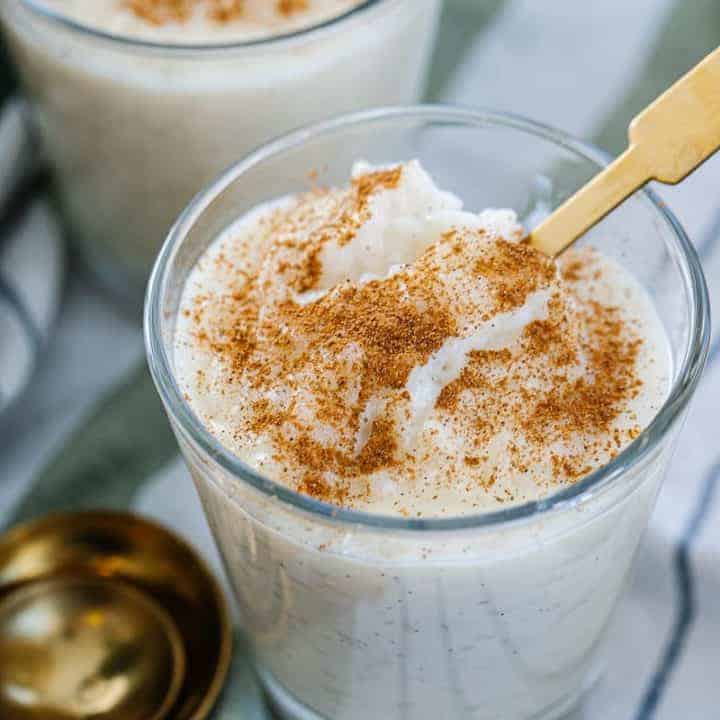 Instant Pot Vanilla Bean Rice Pudding
Instant Pot Vanilla Bean Rice Pudding is the perfect blend of rich, creamy, comforting, and perfectly sweet. Make this simple dessert in minutes, all in the Instant Pot.
Ingredients
1.5 Cups Water
Dash of Salt
1 Cup White Rice, I use regular long grain. Jasmine rice is acceptable
3/4 Cup Sugar
2 Cups Milk, divided (2% or whole is best)
2 Eggs
1 Tablespoon Vanilla Bean Paste
2 Tablespoons Butter
1/4 Cup Heavy Cream
Cinnamon
Instructions
To the Instant Pot, add water, salt, and rice (in that order). Do not stir.
Lock the lid, turn the knob to sealing, and cook on manual high pressure for 3 minutes. Allow a 10 minute natural pressure release, then release the rest of the pressure.
Fluff the rice with a fork, then add sugar and stir to combine.
Set the Instant Pot to Normal Saute, then add 1 1/2 C. Milk and stir.
In a liquid measuring cup, add the remaining 1/2 C. milk, then crack two eggs into the cup and mix thoroughly to avoid lumps. Slowly pour the egg mixture into the rice mixture while whisking or stirring rapidly.
Cook on low saute for about 5 minutes or until thick (or desired consistency). Turn off the heat, add the vanilla bean paste (regular vanilla is ok), butter, and cream. Enjoy with a sprinkle of cinnamon!
Notes
For a dairy free alternative, omit butter/cream/milk and use a non-dairy substitute such as coconut or almond milk! Try my dairy free coconut rice pudding recipe, too!
You may add 1/2 cup of raisins to this recipe, if you like. Add them to the rice pudding when you add the first 1.5 cups of milk.
Recommended Products
As an Amazon Associate and member of other affiliate programs, I earn from qualifying purchases.
Nutrition Information:
Yield:

6
Serving Size:

1 grams
Amount Per Serving:
Calories:

304
Total Fat:

11g
Saturated Fat:

6g
Trans Fat:

0g
Unsaturated Fat:

4g
Cholesterol:

90mg
Sodium:

124mg
Carbohydrates:

45g
Fiber:

0g
Sugar:

30g
Protein:

7g