Instant Pot Vanilla Bean Rice Pudding
---
This post may contain affiliate links, which means I earn a small commission if you purchase something I recommend - at no additional cost to you! Thank you for supporting this blog!
Instant Pot Vanilla Bean Rice Pudding is the perfect blend of richness and comfort. Make this simple dessert in minutes, all in the Instant Pot.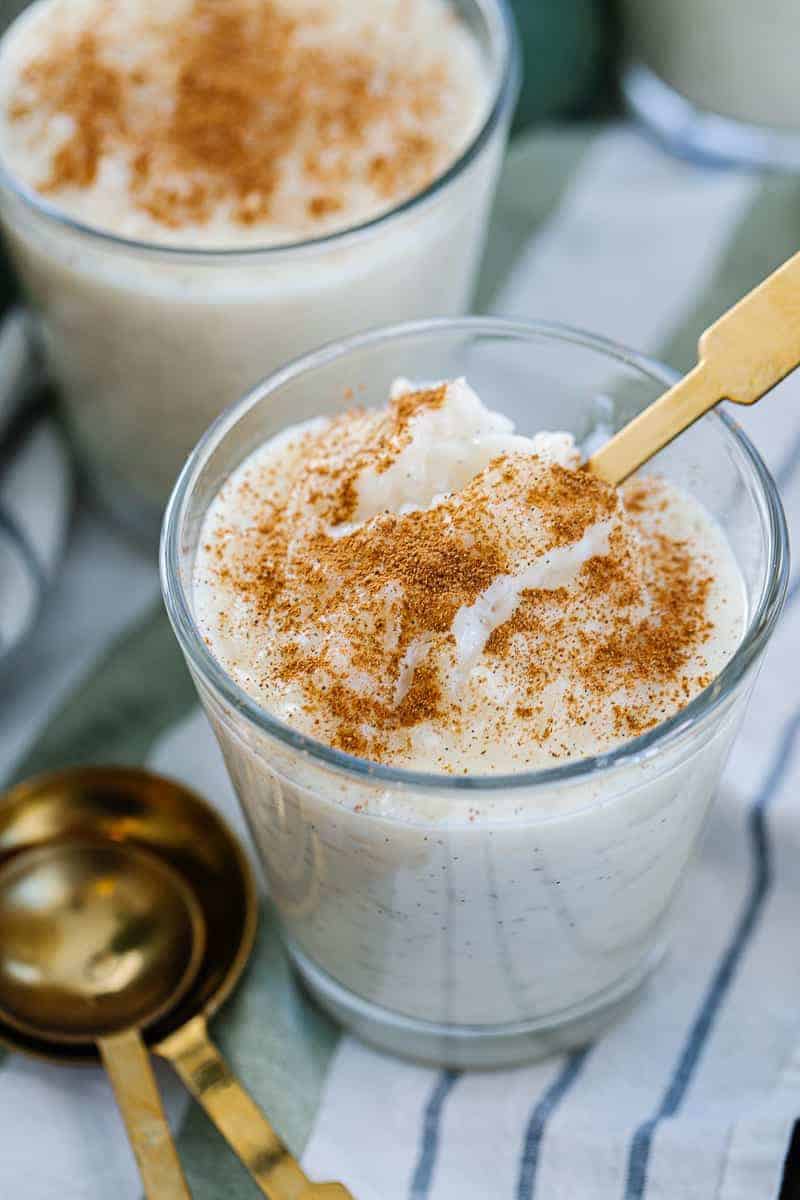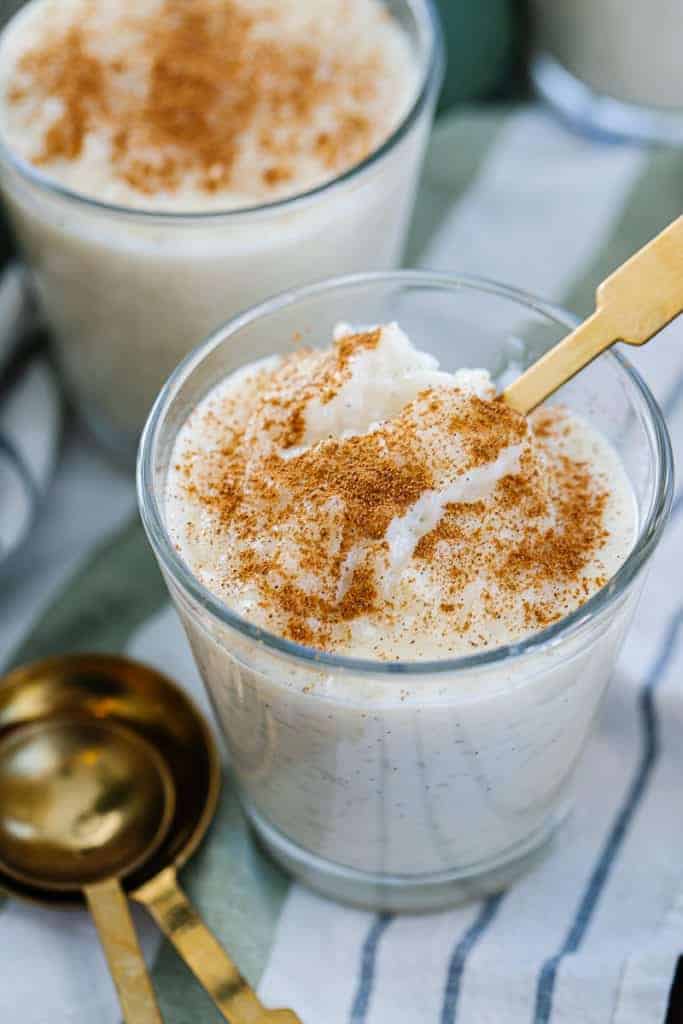 The recipe for Instant Pot rice pudding is at the end of this post. This article contains all the frequently asked questions about this recipe to help answer important questions or common concerns about rice pudding.
THE BEST RICE PUDDING RECIPE
One evening several years ago, during my first pregnancy, I CRAVED rice pudding. I could NOT go to bed without it and started making rice at 10:30pm.
I waited a good twenty minutes for the rice to be done, then transferred it over to the stove and added milk and all the other yummy ingredients. It took a lot of time and effort, but hey, there's no denying a pregnant woman a craving!
The Instant Pot makes this recipe leaps and bounds easier and faster!
Why you should make Instant Pot Rice Pudding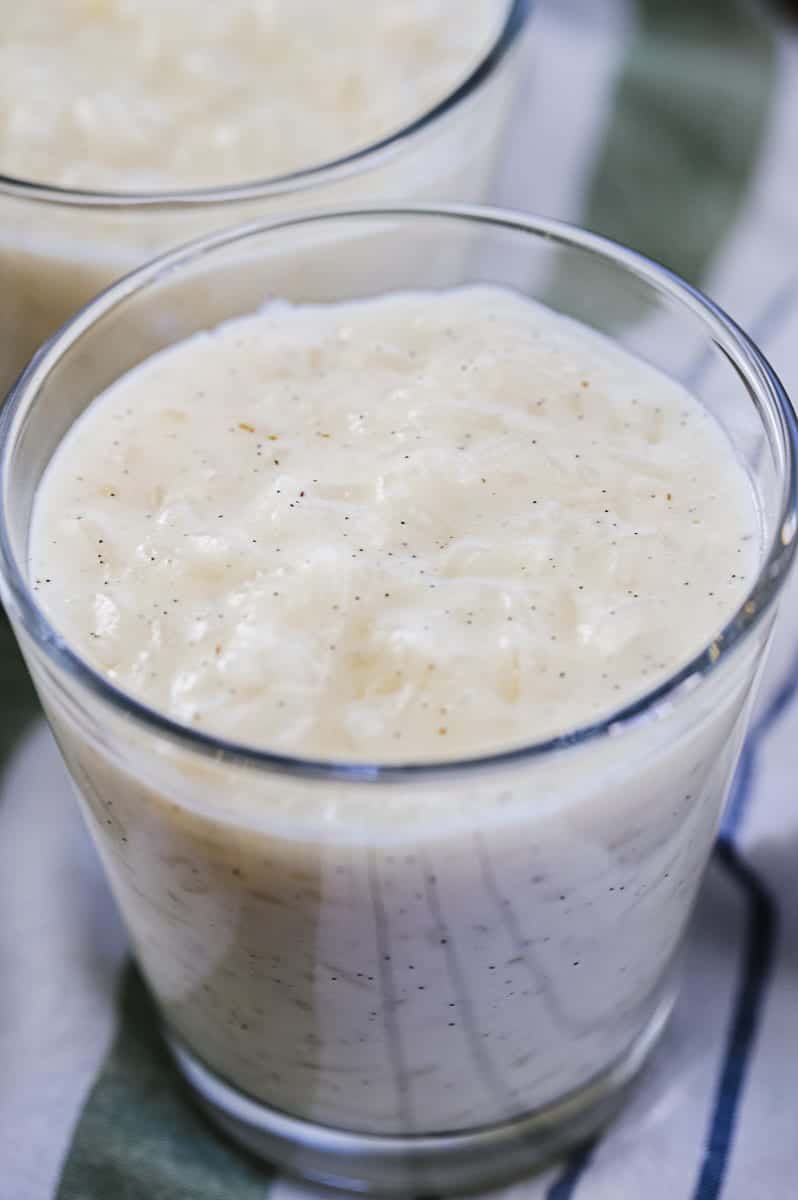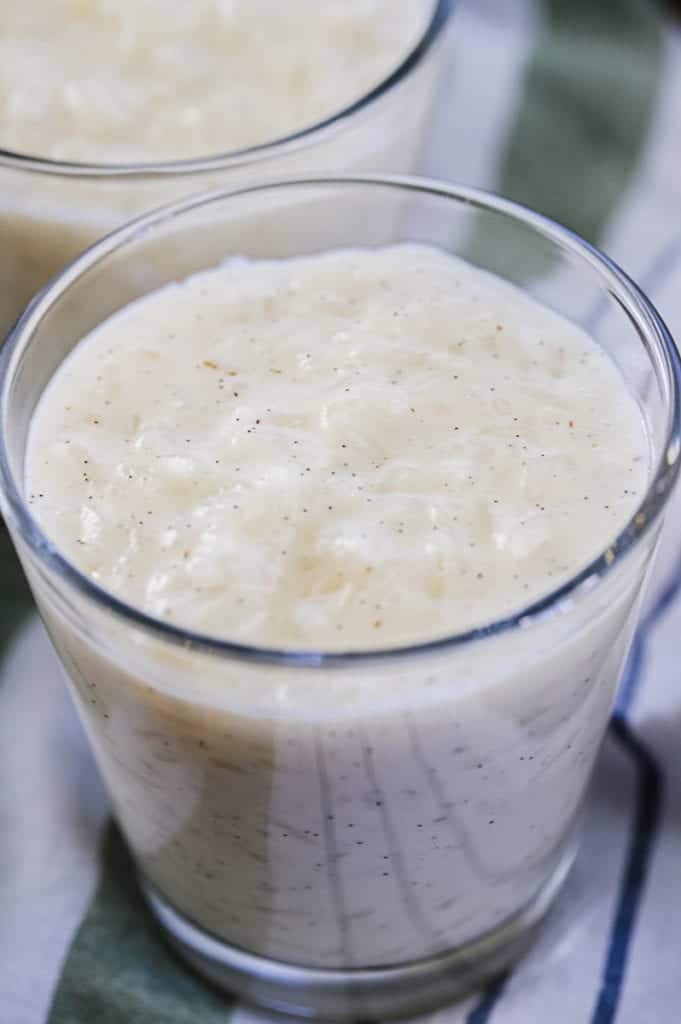 The beauty about doing pressure cooker rice pudding is that it's a one-pot recipe! I can make the rice and simmer it to thicken all in the Instant Pot.
The rice pudding will thicken as it cools. Keep in mind it will be thicker the next day, but you can always add a splash of milk when you reheat it.
THE SECRET INGREDIENT FOR RICE PUDDING
The secret to the best homemade rice pudding (not the slimy stuff you get at the store), is to use a really good quality cream and vanilla.
My preference is Vanilla Bean Paste. It makes literally ALL my desserts taste AMAZING, like they're made in a fancy bakery.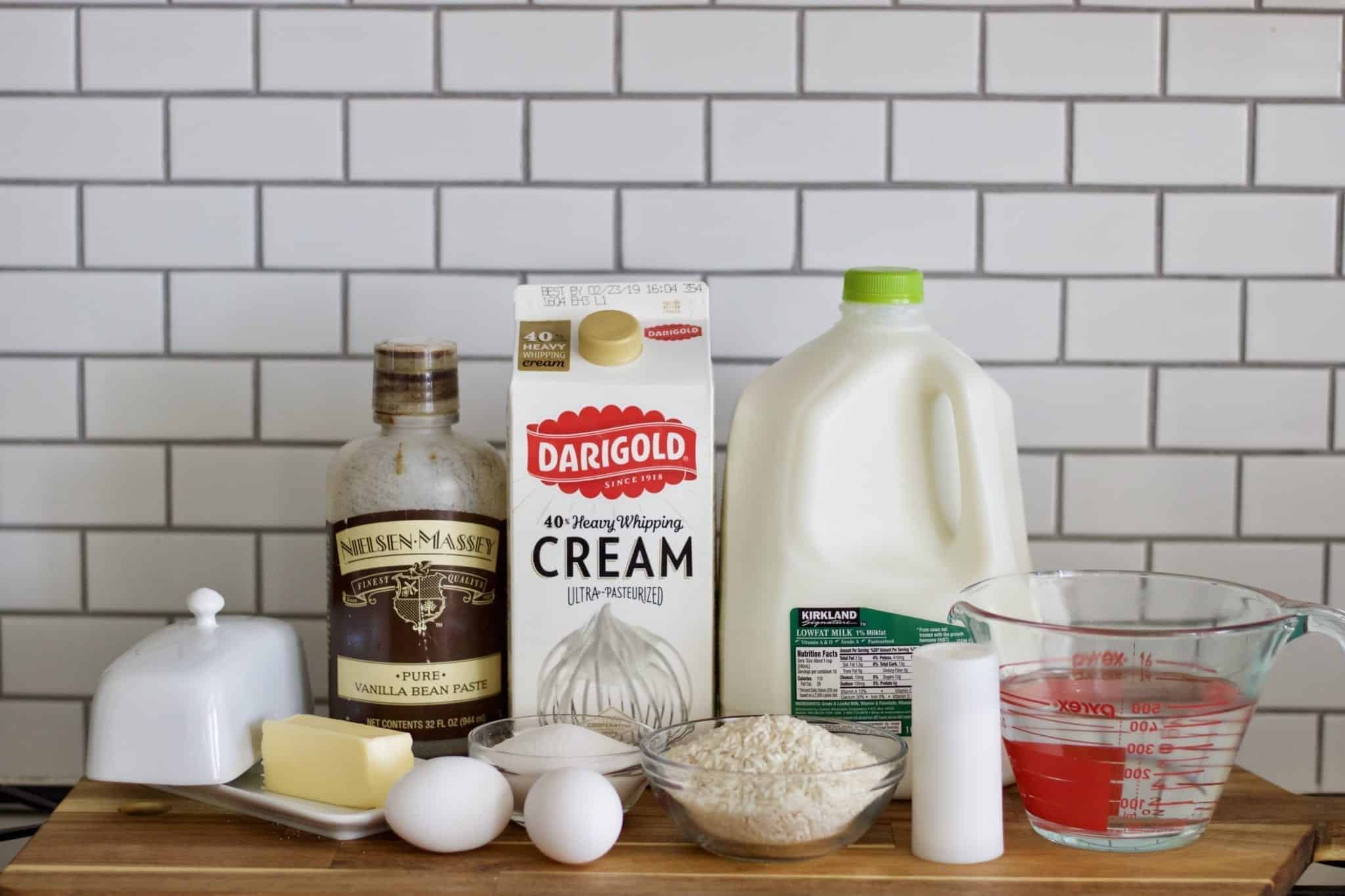 Vanilla bean paste transforms cookies and syrup into heaven. I have this giant 32oz bottle. Unfortunately, the price of vanilla beans has skyrocketed due to a shortage. It's a little steep. Try this smaller bottle to start.
I've also found small bottles in most craft stores (like Hobby Lobby or Michaels) to purchase with coupons. I have also seen five-nine dollar bottles at Walmart.
These three stores carry vanilla bean paste in the cake decorating aisle (not the frosting and sprinkles aisle, but the cake and party supply aisle.)
In my Youtube video, I had someone comment about adding vanilla bean ICE CREAM to rice pudding. That gives those gorgeous vanilla bean flecks as well! Genius!
I guarantee you won't go back! I love to use it for our pancake syrup and in my pastry cream for crepe cakes. Using it in the rice pudding gives it these beautiful black speckles of vanilla bean, and it makes it so special.
Try it in my Instant Pot Bread Pudding recipe!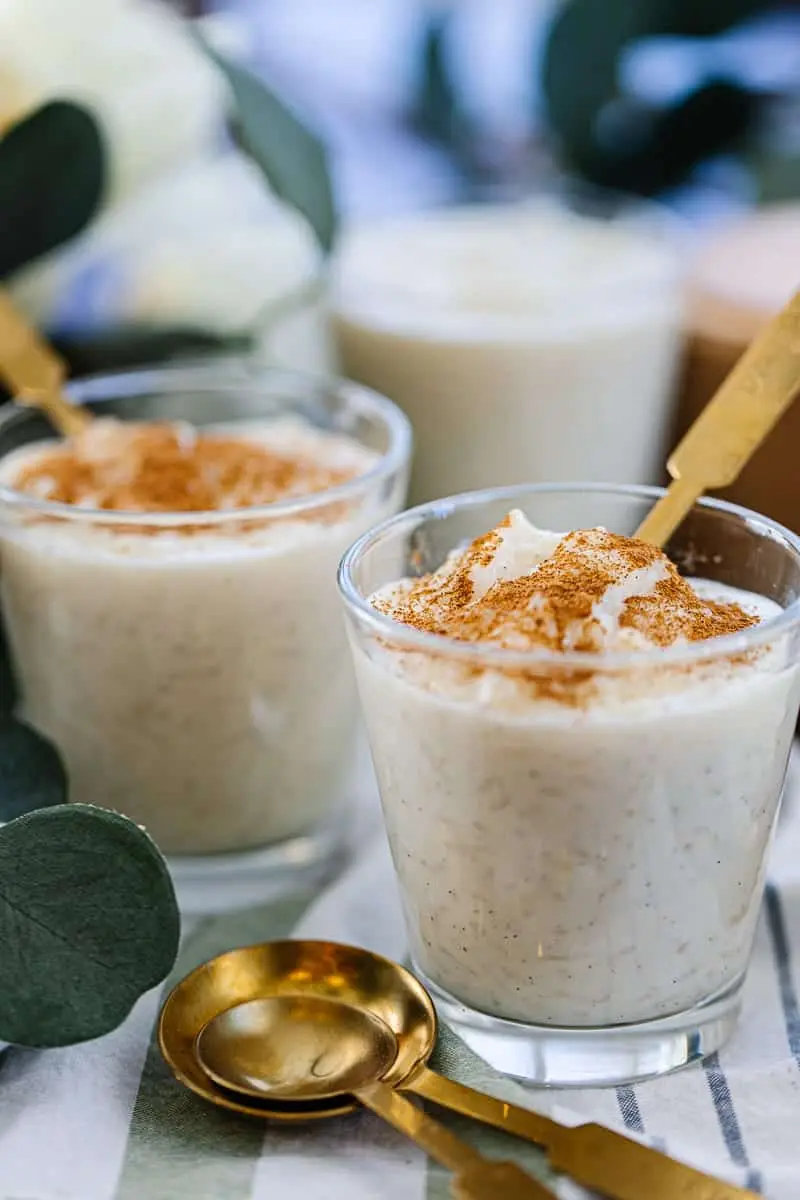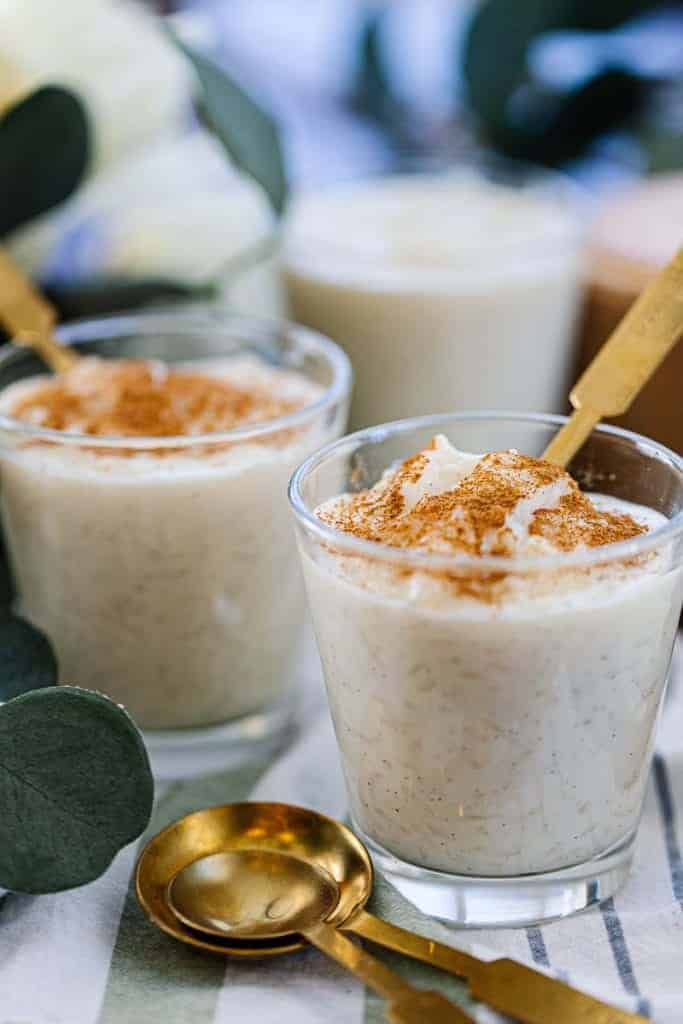 HOW TO MAKE INSTANT POT RICE PUDDING
It's simple to make this quick dessert, thanks to the Instant Pot.
Dump the water and rice into the liner and cook. The cook time for regular long grain rice is 3 minutes with a 10 minute natural pressure release.
After opening the lid, fluff the rice and add the sugar. The sugar will melt into the rice and dissolve.
Add 1 1/2 cups of milk.
Set the Instant Pot to low or normal Saute.
Whip two eggs into half a cup of milk.
While whisking the hot rice pudding, slowly pour in the egg mixture to temper them in. That way, you don't have any scrambled egg chunks in your rice pudding.
Cook for a couple of minutes, constantly whisking, to thicken.
Add vanilla bean paste and turn off the heat. Remember, vanilla bean paste is my secret ingredient, but pure vanilla extract is okay to substitute.
Add heavy cream and butter.
Enjoy with cinnamon or whatever you like!
HOW TO SERVE INSTANT POT RICE PUDDING
Serve this dish hot, or cold! I prefer it warm, but it's also delicious straight from the fridge cold. Just don't forget to sprinkle some cinnamon on top of your Instant Pot Rice Pudding!
If you like raisins in your rice pudding, add them to the pot the same time you add the first cup of milk so they have time to plump up.
INSTANT POT RICE PUDDING CONDENSED MILK
My coconut rice pudding and pumpkin rice pudding use different kinds of sweeteners, but this recipe uses white sugar to sweeten the rice pudding.
However, if you want to add another layer of creaminess to your pressure cooker pudding, feel free to use 1/2 cup sweetened condensed milk in place of the sugar in this recipe.
You can add more or less to taste! Then use the leftover sweetened condensed milk to make a couple portions of Instant Pot Yogurt or Instant Pot Pumpkin Yogurt!
INSTANT POT RICE PUDDING WITH HALF AND HALF
Half and half is literally half milk and half cream! You're more than welcome to use it in this rice pudding recipe in place of the milk and/or cream.
It will be a LOT creamier than my recommended combination of milk plus cream, so I would suggest using about 50% half and half and 50% milk.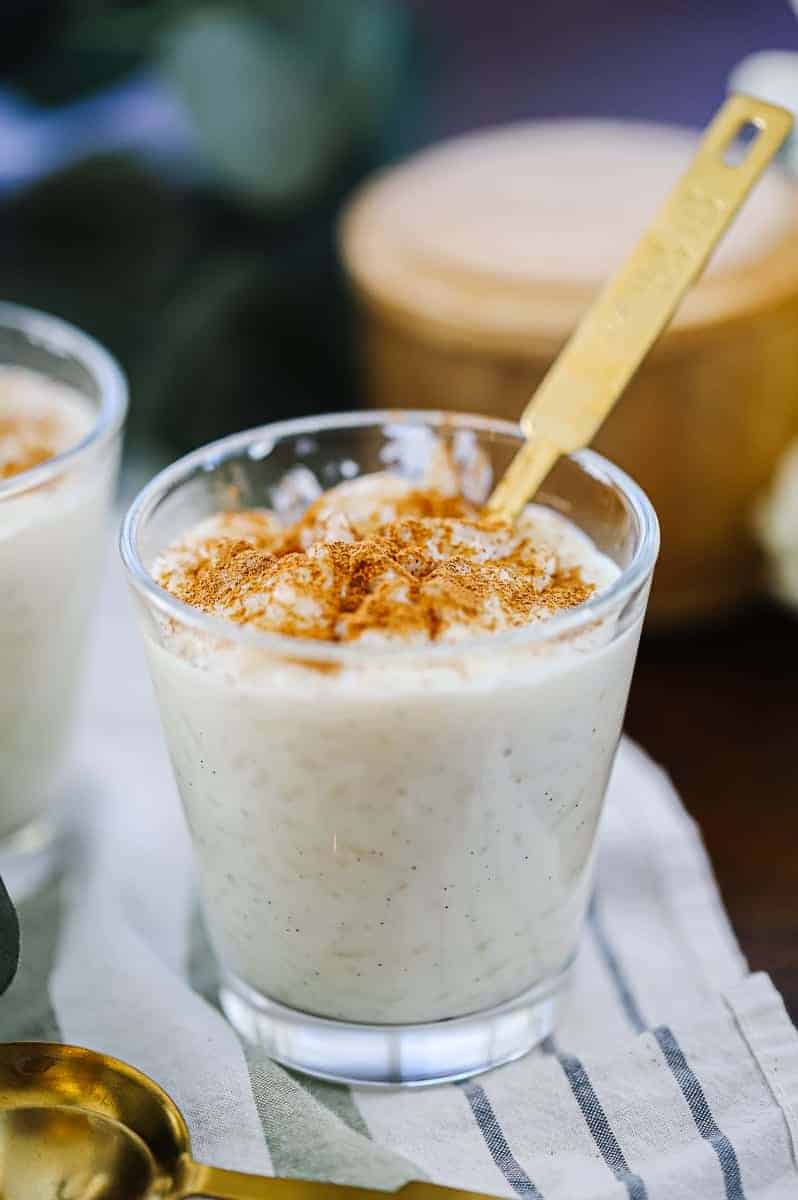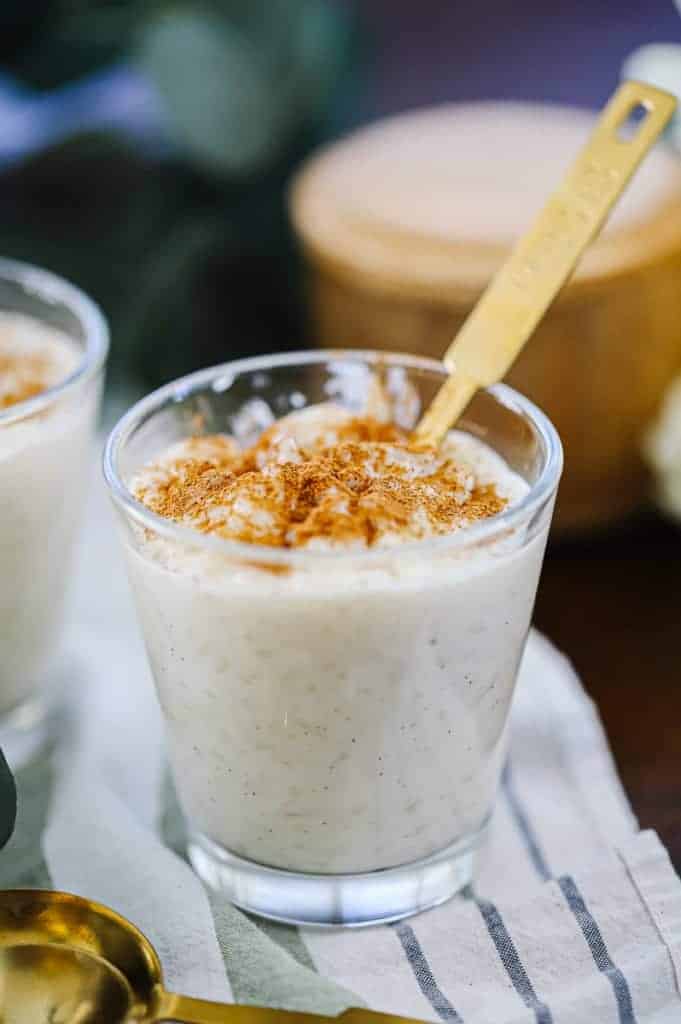 INSTANT POT RICE PUDDING EVAPORATED MILK
Evaporated milk most often comes in a can and is a shelf-stable milk. It's great to keep in the pantry. You can use evaporated milk for any portion of the milk used in this recipe. Evaporated milk is rich and slightly sweet, so it'll work great!
HOW LONG DOES HOMEMADE RICE PUDDING LAST?
Homemade rice pudding (made on the stove top or Instant Pot) lasts for a maximum of one week in the refrigerator. That's if it doesn't all get eaten right away!
REFRIGERATE RICE PUDDING? HOW TO STORE RICE PUDDING
Rice pudding should be stored in the fridge. The rice pudding might be a little thicker when you take it out of the fridge. Just add a splash of milk before serving or microwaving.
CAN HOMEMADE RICE PUDDING BE FROZEN?
Freezing rice pudding is not recommended, but it can be done. The rice pudding may separate and not be as creamy once warmed up. It's so easy to do in the Instant Pot, I recommend making it fresh every time 🙂
If you do want to freeze rice pudding, pour the cooled rice pudding into a large Ziploc bag or freezer-safe storage container. Remove as much air as possible, then lay flat evenly to freeze in a thin layer.
Thaw the pudding overnight or by breaking off small chunks and microwaving or reheating on the stove.
DO YOU EAT RICE PUDDING COLD OR HOT?
There is no right or wrong way to eat rice pudding. I prefer to eat rice pudding warm, topped with cinnamon. But I often eat it cold from the fridge the next day. Try it both ways and see which you prefer!
Don't Forget to Pin this Post!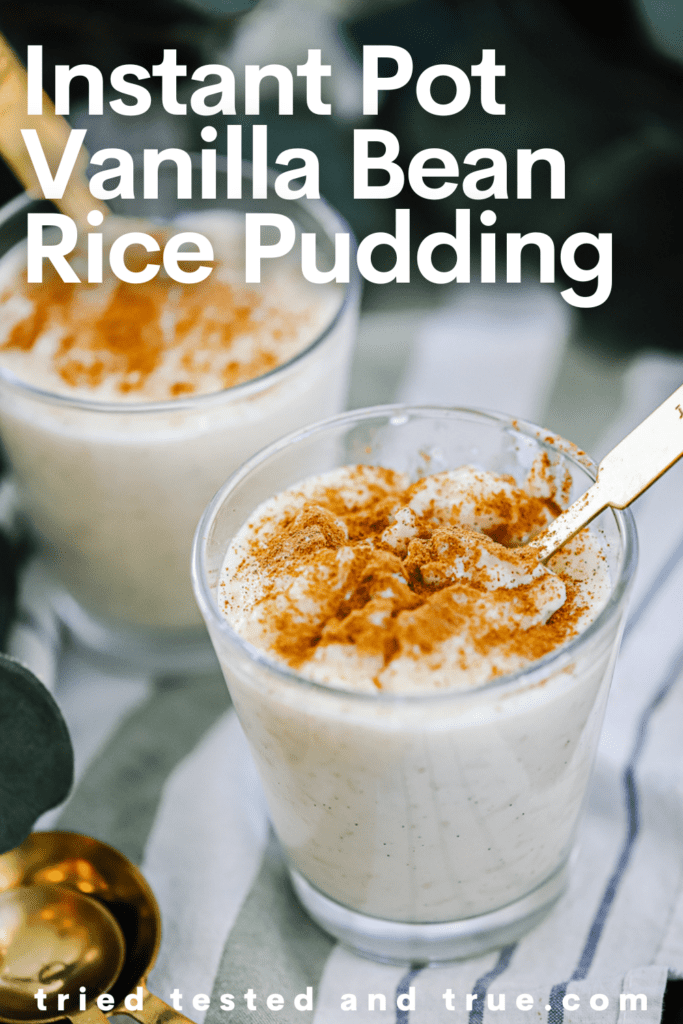 IS HOMEMADE RICE PUDDING FATTENING?
Rice pudding is not a diet food. It contains white rice, sugar, milk, cream, and sometimes butter. Rice pudding is high in carbs and comfort. It's a delicious treat!
BEST RICE FOR RICE PUDDING
I'm often asked if you can use brown rice, or arborio rice (pudding rice), in this pressure cooker rice pudding recipe. Technically, you can use whatever rice you want. The recipe simply starts with hot, cooked rice before adding any other ingredients.
I prefer to use enriched long grain white rice in my rice pudding recipe. I have also used Jasmine rice with success. Using brown rice will definitely change the flavor and texture of your rice pudding, so be aware!
I have used arborio rice for this rice pudding recipe. Honestly, I couldn't tell much of a difference. Since arborio rice is much pricier than the other types of rice, I recommend using long grain rice.
HOW DO I GET RICE TO NOT STICK TO THE BOTTOM OF THE POT?
To prevent rice from sticking in your Instant Pot, you need to first, use the correct ratio of water to rice.
Second, ensure you don't leave your rice on the "keep warm" setting too long. The water will evaporate through the venting hole and slowly cook the rice at a low temperature, drying it out and causing it to stick.
Read my post on how to make Long Grain White Rice in the Instant Pot.
Watch my video on How to Make Jasmine Rice in the Instant Pot and Basmati Rice in the Instant Pot.
HOW DO YOU THICKEN RICE PUDDING?
There are a couple ways to thicken rice pudding. You can cook it down and reduce the liquid so it is thicker. This method may make your rice softer than my preferred method, which is to thicken using eggs.
It's important to temper the eggs into the hot rice pudding (whisk eggs into milk and then whisk the milk mixture into the hot rice), so you don't get scrambled eggs in your dessert!
Thickening the rice pudding with eggs gives it a creamy, custardy flavor and texture.
RICE PUDDING WITH LEFTOVER RICE
You can make this Instant Pot rice pudding recipe with leftover rice! In a small pan or the Instant Pot on low saute, dissolve the sugar with 1/2 cup of the milk. Once the milk is warm and sugar is dissolved, add the rice and stir until warmed through.
From there, follow the directions as written in the recipe! You might need to add slightly more liquid to compensate for the moisture that is lost with leftover rice.
Pumpkin Rice Pudding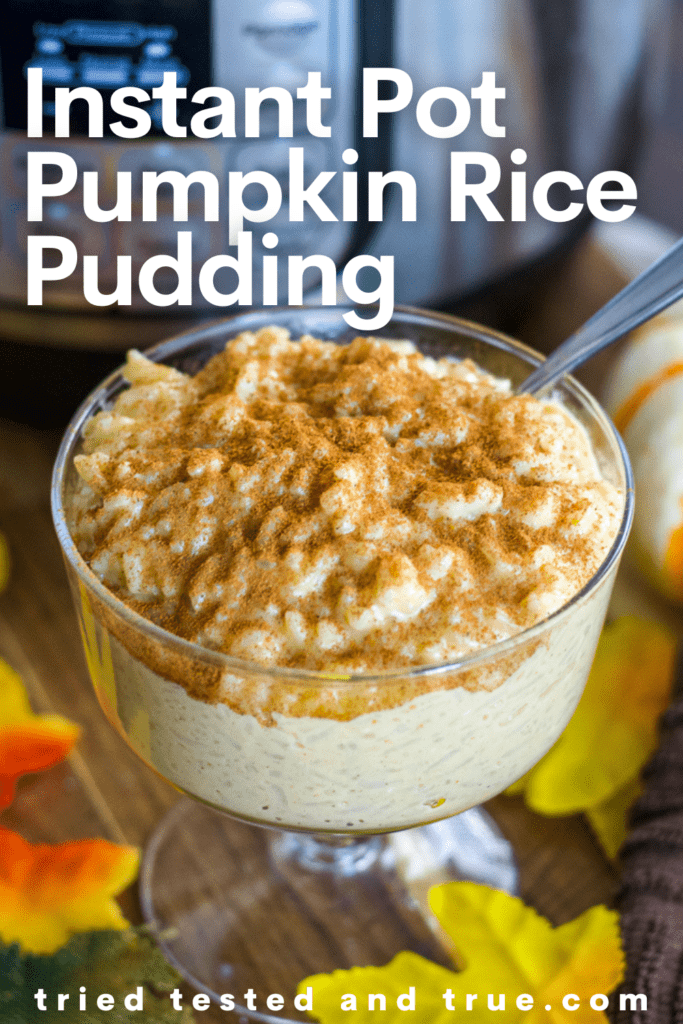 Don't forget this Pumpkin Rice Pudding recipe. One follower described it as, "SHUT THE FRONT DOOR DELICIOUS!"
INSTANT POT RICE PUDDING WITH COCONUT MILK
If you want a lighter rice pudding that's every bit as delicious, try my Instant Pot Coconut Rice Pudding. That recipe uses coconut milk and another secret coconut ingredient you're gonna LOVE!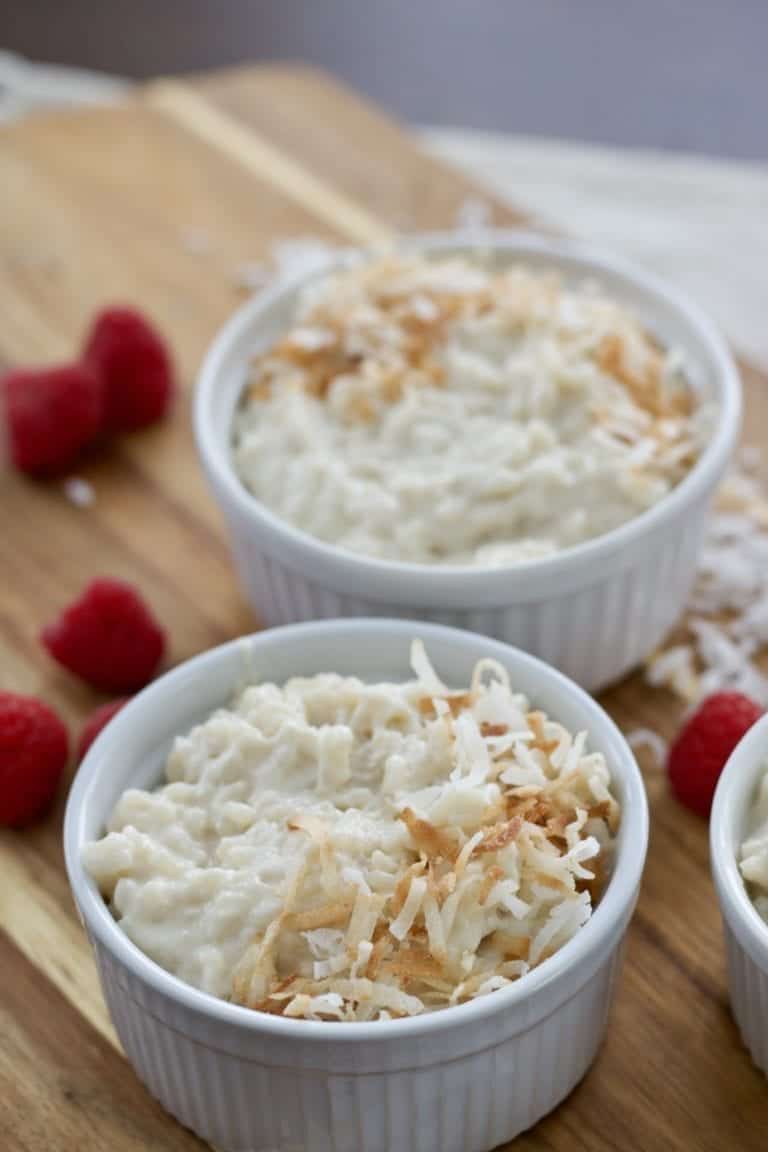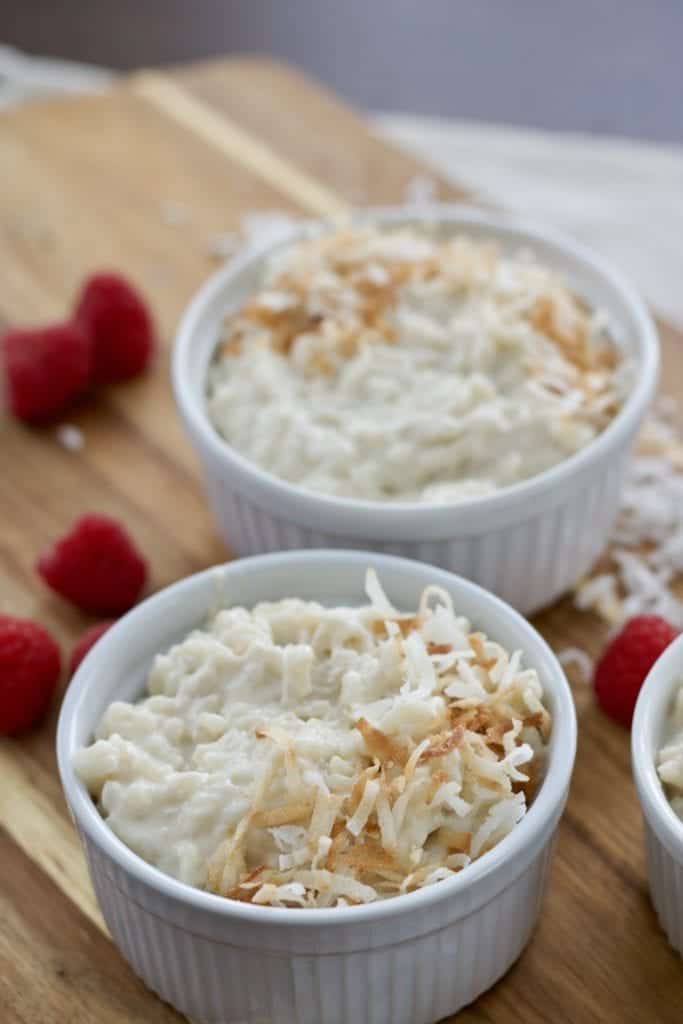 If you're looking for another dairy free option, feel free to replace the milk in this recipe with your favorite non-dairy milk. Almond milk, coconut milk, or oat milk, would all work for this rice pudding recipe. You'll just have to adjust the amounts, depending on your preferred thickness.
INSTANT POT DESSERT RECIPES
End a yummy meal (or start one!) with a delicious Instant Pot Dessert.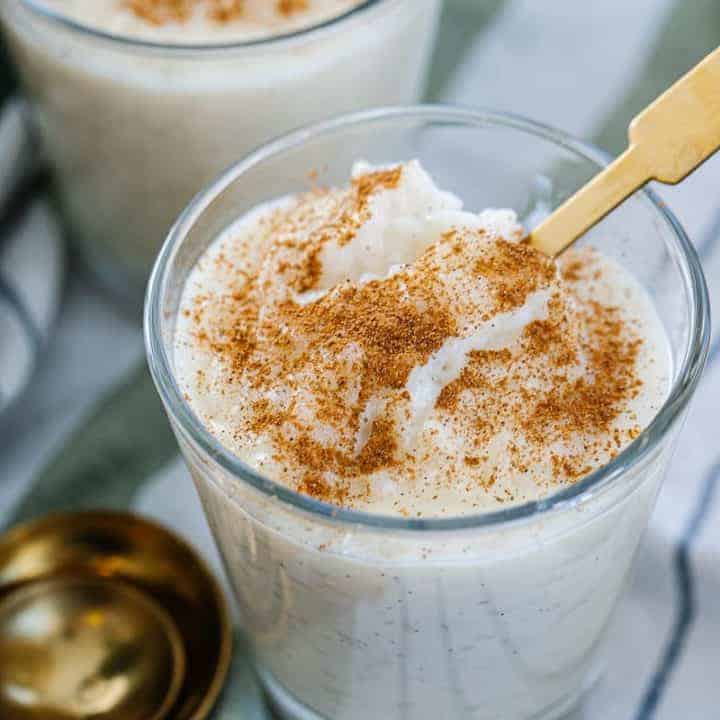 Instant Pot Vanilla Bean Rice Pudding
Instant Pot Vanilla Bean Rice Pudding is the perfect blend of rich, creamy, comforting, and perfectly sweet. Make this simple dessert in minutes, all in the Instant Pot.
Print
Pin
Rate
INGREDIENTS
1 1/2

cups

water

dash of salt

1

cup

white rice

I use regular long grain. Jasmine rice works well too.

3/4

cup

sugar

2

cups

milk

divided (2% or whole is best)

2

eggs

1

tablespoon

vanilla bean paste

2

tablespoons

butter

1/4

cup

heavy cream

cinnamon
INSTRUCTIONS
To the Instant Pot, add water, salt, and rice (in that order.) Do not stir.

Lock the lid, turn the knob to Sealing, and cook on Manual High pressure for 3 minutes. Allow a 10 minute natural pressure release, then release the rest of the pressure.

Fluff the rice with a fork, then add sugar and stir to combine.

Set the Instant Pot to normal Saute, then add 1 1/2 cups milk and stir.

In a liquid measuring cup, add the remaining 1/2 cup milk, then crack two eggs into the milk and mix thoroughly to avoid lumps. Slowly pour the egg mixture into the rice mixture while whisking or stirring rapidly. 

Cook on low Saute for about 5 minutes or until thick (or desired consistency.) Turn off the heat, add the vanilla bean paste (regular vanilla is ok), butter, and cream. Enjoy with a sprinkle of cinnamon!
NOTES
For a dairy free alternative, omit butter/cream/milk and use a non-dairy substitute such as coconut or almond milk! Try my dairy free coconut rice pudding recipe, too!
You can add 1/2 cup of raisins to this recipe, if you like. Add them to the rice pudding when you add the first 1 1/2 cups of milk.
NUTRITION
Serving:
1
grams
|
Calories:
304
kcal
|
Carbohydrates:
45
g
|
Protein:
7
g
|
Fat:
11
g
|
Saturated Fat:
6
g
|
Polyunsaturated Fat:
4
g
|
Cholesterol:
90
mg
|
Sodium:
124
mg
|
Sugar:
30
g
---
---
Rae, THANK YOU so much for trying it and sharing your review!! You're the first comment ever on my new blog and I am freaking out! Haha! We LOVE this rice pudding too. Thank you!!

Thank you for your comment about the vanilla paste. I was wondering if anyone else had tried it with vanilla. I too have Mexican vaii buy at the Hispanic grocery store and don't have time to go out and find the paste. I'm excited to try it.

Lisa silly question but is this uncooked rice? And can you sub vanilla bean extract for paste?

Hi Monica! Thanks for visiting! Not a silly question at all. It is uncooked, raw rice. You can substitute regular vanilla just fine 🙂 Thanks!

Can I double this recipe in the instant pot! We love it!

Hi Tami! I'm so glad you love it! It's a favorite in our house too. You can absolutely double this recipe. The cook time stays the same! 🙂 Thanks for stopping by!! – Lisa

Hi. Is "T." Short for tsp or tbsp?

Hi Derek! It's Tablespoon. I've updated the recipe in case someone else has the same question! 🙂 T=Tablespoon, t=teaspoon 🙂 Thanks for reading! – Lisa


We doubled the recipe and OH MY GOSH, it was wonderful! My daughter who has never used the instant pot before made it and she was so proud of herself. That recipe is a definite keeper! Thank you so much for sharing all of your delicious recipes!


We doubled the recipe and OH MY GOSH, it was wonderful! My daughter who has never used the instant pot before made it and she was so proud of herself. That recipe is a definite keeper! Thank you so much for sharing all of your delicious recipes!


We doubled the recipe and OH MY GOSH, it was wonderful! My daughter who has never used the instant pot before made it and she was so proud of herself. That recipe is a definite keeper! Thank you so much for sharing all of your delicious recipes!


We doubled the recipe and OH MY GOSH, it was wonderful! My daughter who has never used the instant pot before made it and she was so proud of herself. That recipe is a definite keeper! Thank you so much for sharing all of your delicious recipes!


We doubled the recipe and OH MY GOSH, it was wonderful! My daughter who has never used the instant pot before made it and she was so proud of herself. That recipe is a definite keeper! Thank you so much for sharing all of your delicious recipes!

Aww I'm so so happy that you enjoyed it! It's one of our absolute favorites! Thank you! – Lisa


Fantastic! So good and super easy!


Fantastic! So good and super easy!


Fantastic! So good and super easy!


Fantastic! So good and super easy!


Fantastic! So good and super easy!

Thanks so much, Katie! glad you enjoyed it! – Lisa


I grew up eating my rice pudding and this hands down is the best recipe out there. So, so Yummy! You will not be disappointed if you try this recipe. It will be your go to recipe.


I grew up eating my rice pudding and this hands down is the best recipe out there. So, so Yummy! You will not be disappointed if you try this recipe. It will be your go to recipe.


I grew up eating my rice pudding and this hands down is the best recipe out there. So, so Yummy! You will not be disappointed if you try this recipe. It will be your go to recipe.


I grew up eating my rice pudding and this hands down is the best recipe out there. So, so Yummy! You will not be disappointed if you try this recipe. It will be your go to recipe.


I grew up eating my rice pudding and this hands down is the best recipe out there. So, so Yummy! You will not be disappointed if you try this recipe. It will be your go to recipe.

Thank you so much, Nicole!! We love it too!! – Lisa


This is insanely good! It was gone before it even had a chance to cool. Everyone had a little taste, then a big taste, then a bowl, then…..you know the rest of the story: it was gone and they were asking for more. And you know what? This was so easy and quick, we started over and made more right away. Maybe this time we'll get a chance to try it cold😂.
Thank you Lisa!! This is just irresistible.


This is insanely good! It was gone before it even had a chance to cool. Everyone had a little taste, then a big taste, then a bowl, then…..you know the rest of the story: it was gone and they were asking for more. And you know what? This was so easy and quick, we started over and made more right away. Maybe this time we'll get a chance to try it cold😂.
Thank you Lisa!! This is just irresistible.


This is insanely good! It was gone before it even had a chance to cool. Everyone had a little taste, then a big taste, then a bowl, then…..you know the rest of the story: it was gone and they were asking for more. And you know what? This was so easy and quick, we started over and made more right away. Maybe this time we'll get a chance to try it cold😂.
Thank you Lisa!! This is just irresistible.


This is insanely good! It was gone before it even had a chance to cool. Everyone had a little taste, then a big taste, then a bowl, then…..you know the rest of the story: it was gone and they were asking for more. And you know what? This was so easy and quick, we started over and made more right away. Maybe this time we'll get a chance to try it cold😂.
Thank you Lisa!! This is just irresistible.


This is insanely good! It was gone before it even had a chance to cool. Everyone had a little taste, then a big taste, then a bowl, then…..you know the rest of the story: it was gone and they were asking for more. And you know what? This was so easy and quick, we started over and made more right away. Maybe this time we'll get a chance to try it cold😂.
Thank you Lisa!! This is just irresistible.

Whilst the rice pudding was nice enough I felt that it was a tad dry. I was wondering what I should do next time to rectify this as I followed the recipe exactly on this occasion.

If you felt it was dry, I'd add another splash or milk or cream and then not simmer as long.


This was the best rice pudding I've ever had. Thank you for this wonderful recipe and directions. I'm still new to the IP and I was so proud of myself after making this. I cooked the rice for an extra minute (4 min) because I'm at high altitude and I used regular vanilla extract. I will be making this often.This weekend I'm trying your yogurt recipe, I can't wait!


This was the best rice pudding I've ever had. Thank you for this wonderful recipe and directions. I'm still new to the IP and I was so proud of myself after making this. I cooked the rice for an extra minute (4 min) because I'm at high altitude and I used regular vanilla extract. I will be making this often.This weekend I'm trying your yogurt recipe, I can't wait!


This was the best rice pudding I've ever had. Thank you for this wonderful recipe and directions. I'm still new to the IP and I was so proud of myself after making this. I cooked the rice for an extra minute (4 min) because I'm at high altitude and I used regular vanilla extract. I will be making this often.This weekend I'm trying your yogurt recipe, I can't wait!


This was the best rice pudding I've ever had. Thank you for this wonderful recipe and directions. I'm still new to the IP and I was so proud of myself after making this. I cooked the rice for an extra minute (4 min) because I'm at high altitude and I used regular vanilla extract. I will be making this often.This weekend I'm trying your yogurt recipe, I can't wait!


This was the best rice pudding I've ever had. Thank you for this wonderful recipe and directions. I'm still new to the IP and I was so proud of myself after making this. I cooked the rice for an extra minute (4 min) because I'm at high altitude and I used regular vanilla extract. I will be making this often.This weekend I'm trying your yogurt recipe, I can't wait!

Thank you so much! My son loves this and asks me to make it weekly. So glad you liked it!

Can I use brown rice instead? Does it have to cook longer, or is it all the same

If it is short or medium grain brown rice, the time will be much, much longer. If it looks like white rice, just brown, add 2 extra minutes to the cooktime!

How much Vanilla would I use if I don't have the vanilla bean paste?

Did you have to alter your recipe at all to convert from the stovetop to instant pot?

If you'd like to make this recipe on the stove top, cook your rice as you normally do (on the stove or a rice cooker) and then no, you don't have to change any of the ingredient quantities!


Please could you give me the amounts/ ingredients list..I can't seem to find it here or its not showing
Thanks!

Hello, the recipe card is at the bottom of the page, directly above where you left this comment. You can also always push the Jump to Recipe button at the top of the page that I provide as a courtesy to my readers.


This is soooo good and easy too!! My family finished it up before it had tome to cool down, including my husband who doesn't like rice pudding. Thank you so much Lisa for sharing this! I will definitely be making this again.


This is soooo good and easy too!! My family finished it up before it had tome to cool down, including my husband who doesn't like rice pudding. Thank you so much Lisa for sharing this! I will definitely be making this again.


This recipe was tasty with just the right consistency. It had a bit too much sugar for my liking, so I added some clementine zest and juice to balance out the sweetness. Will definitely make it again!


This recipe was tasty with just the right consistency. It had a bit too much sugar for my liking, so I added some clementine zest and juice to balance out the sweetness. Will definitely make it again!


I made this last night and it was so good! This was such a great dessert to eat after dinner and it was quick and easy. I have a feeling I'll be making this often.


I made this last night and it was so good! This was such a great dessert to eat after dinner and it was quick and easy. I have a feeling I'll be making this often.


Please could you give me the amounts/ ingredients list..I can't seem to find it here or its not showing
Thanks!


Please could you give me the amounts/ ingredients list..I can't seem to find it here or its not showing
Thanks!

This was so easy to make and really good. I will cut the recipe in half next time since it's only 2 of us here. Will definitely make again though. Comes together easily and quickly.

I used you recipe and my mother and I loved it! I want to double the recipe to 2 cups of rice but do I have to double everything else?

Hi Briana,

I'm so glad you and your mother liked this recipe!
Yes, if you'd like to use 2 cups of rice, you should double all the other ingredients as well.

Enjoy,
Sin

Thank you! So for Instance when I set the Instant pot to normal sauté then add 2 1/2 C instead of 1 1/2 C.

Double of 1 1/2 cups is 3 cups. So to double the recipe, you would start by adding 2 cups of rice and 3 cups of water.

Thank you for your recipe! My son has an egg allergy. Any suggestions for a substitute?

Thanks!!
Jenn

you can omit the egg and just reduce the pudding down a little longer to thicken it up!

I don't, but feel free to if you like