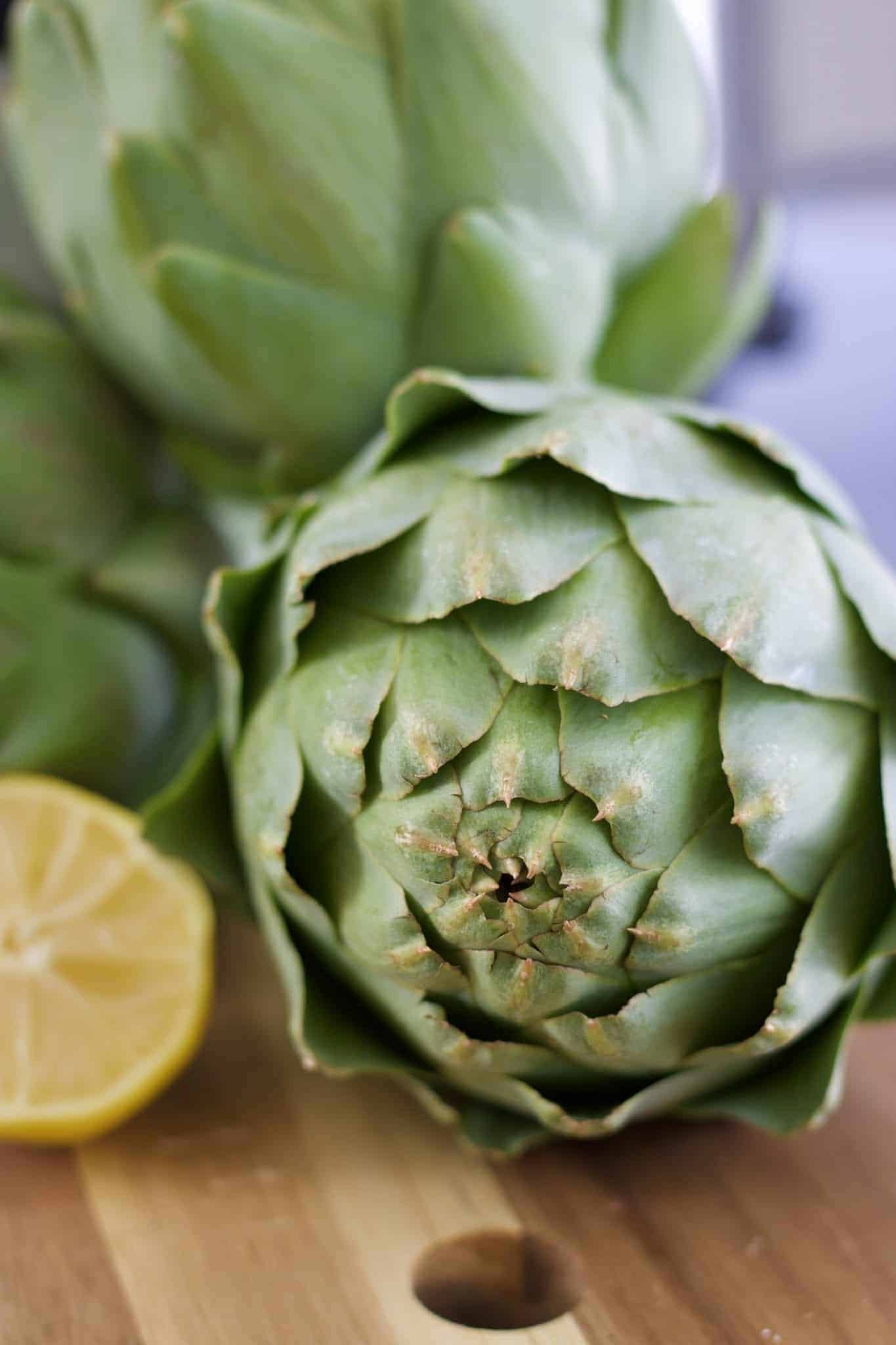 This post may contain affiliate links, which means I earn a small commission if you purchase something I recommend - at no additional cost to you! Thank you for supporting this blog!
Instant Pot Artichokes are easy, healthy, and so fun to eat—once you get the hang of them. And making artichokes in an Instant Pot can cut down the (long) cooking time by up to half compared to conventional boiling.
What on earth are artichokes (and how do you eat them)?
In very unscientific terms, an artichoke is a big green bud. It actually turns into a really lovely purple flower if left unpicked!
In my world, though, it's a delicious appetizer. Steamed, each petal becomes soft and tender, and a perfect vehicle for extra flavors. 
If you have never eaten an artichoke, fear not! They are soon to be a new dinnertime favorite. Cooked correctly, artichokes have a rich, subtle flavor and creamy texture.
They pair wonderfully with all sorts of dipping sauces, though a touch of melted butter and some salt is classic (and my favorite).
How to cook artichokes in an Instant Pot
When I first tried to make steamed artichokes in my Instant Pot, I was beyond confused.
I'd heard that pressure cooker artichokes were supposed to be so easy and yummy, but the ones I'd made were awful! Apparently, it was because I'd undercooked them!
Now that I've figured out exactly how to cook artichokes in the Instant Pot, I am beyond in love with these pretty petals—and fully on board with the hype.
Follow along for a thorough step-by-step on cooking artichokes in an Instant Pot, or check out my video!
How to eat an artichoke
Believe it or not, I had to Google the above phrase before and after my first attempt.
From my stint on YouTube university, I learned that once they are cooked, you peel the layers off one by one like opening a present. At that point, you dip them in a sauce/butter/salt. Then, pull any flesh off between your teeth!
Once you get to the heart, you cut it up and eat it! Sounds simple enough, right?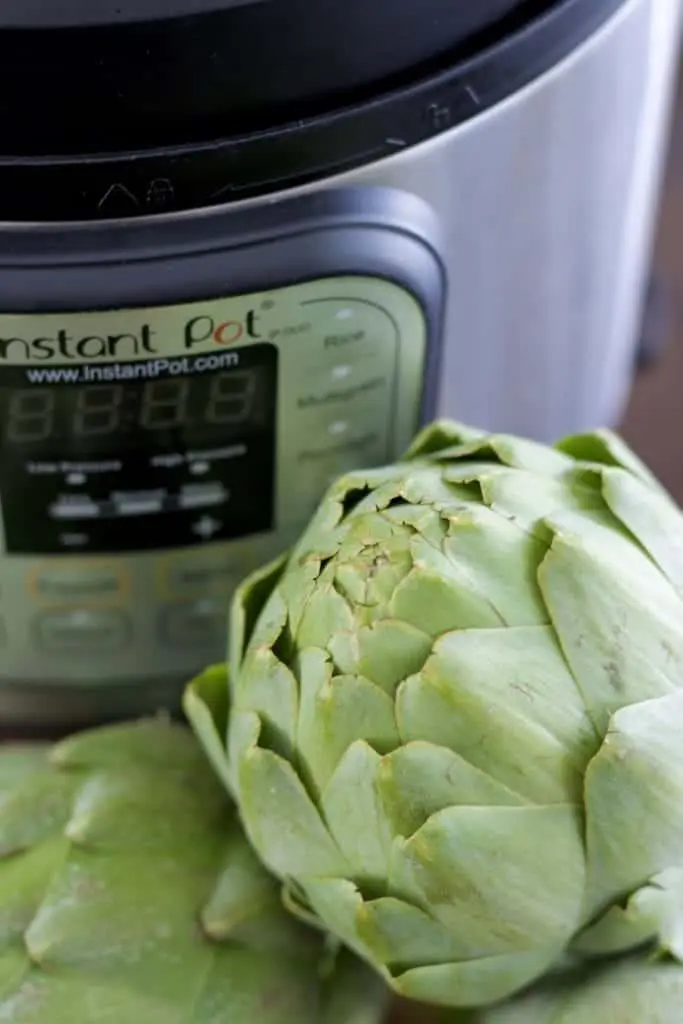 Cook Artichokes Long Enough!
Well, like I mentioned before, if you don't cook them long enough, there's NOTHING TO EAT! So, you need to ensure they cook long enough, lest you end up sad and hungry like me. Womp womp.
Each artichoke (depending on the size and cook) has maybe 1/4-1/2 cup of total meat that's edible. Your discard pile looks like a lot of waste.
When you get to the heart, there is a layer of fuzzy hair on top of the heart. You scrape that off with a spoon, then eat the gray, firm heart in a couple bites!
EDITED TO ADD: I cooked my 1.25 pound artichoke for 40 minutes and it had soooo much more meat than the smaller ones, obviously. But I think the longer cook time also gave more meat to eat. I got to eat about halfway up each petal! So keep in mind that an additional couple minutes would probably help if you don't think they have enough meat to them.
Pressure Cooking Artichokes
Pressure cooking artichokes cuts the cook time by almost half over boiling or baking. Steaming artichokes also prevent them from getting too waterlogged or dry.
My artichokes I purchased at Costco came in a four-pack. Two of the artichokes were .86-.89 pounds. The other two were 1.2-1.25 pounds (raw, untrimmed).
The cook time will vary depending on the size of your artichokes, but I would err on the generous side of cooking. I don't think they could really be THAT overcooked.
UNDERCOOKING will be so much worse than overcooking in this instance, so add a couple minutes if you're worried.
If you don't mind putting them back in the Instant Pot and cooking longer if they are undercooked, then do that. But if you don't have time, this is my recommendation.
Read my experience below.
How to make Instant Pot Artichokes
STEP 1: PREP INSTANT POT ARTICHOKES
Before you do anything else, add a cup of water into your Instant Pot. Then, add the trivet or a steamer basket. I like to use my 6 quart instant pot just because they're so big.
Next, weigh your artichokes so that you'll know how long to cook them later on. Try to buy artichokes that are all the same size!
If you're using a 3 quart Instant Pot to make your artichokes, you'll be able to fit 1-2 artichokes. Wash your artichokes carefully under cool running water. Then, trim off the pointy barbs on the leaves—they can really hurt!
With a sharp knife, cut the top 1/4-1/3 off the top, as well as the bottom 1/2 inch of the stem.
Trimming is not completely necessary, but the leaves can be quite sharp and swear-word inducing if you're not prepared for it's poke.
Optional Step 2: Stuff artichokes
If you're feeling confident or just want something slightly fancier, check out my recipe for Instant Pot Stuffed Artichokes! They are absolutely divine and just a touch more rich than these, without too much extra effort.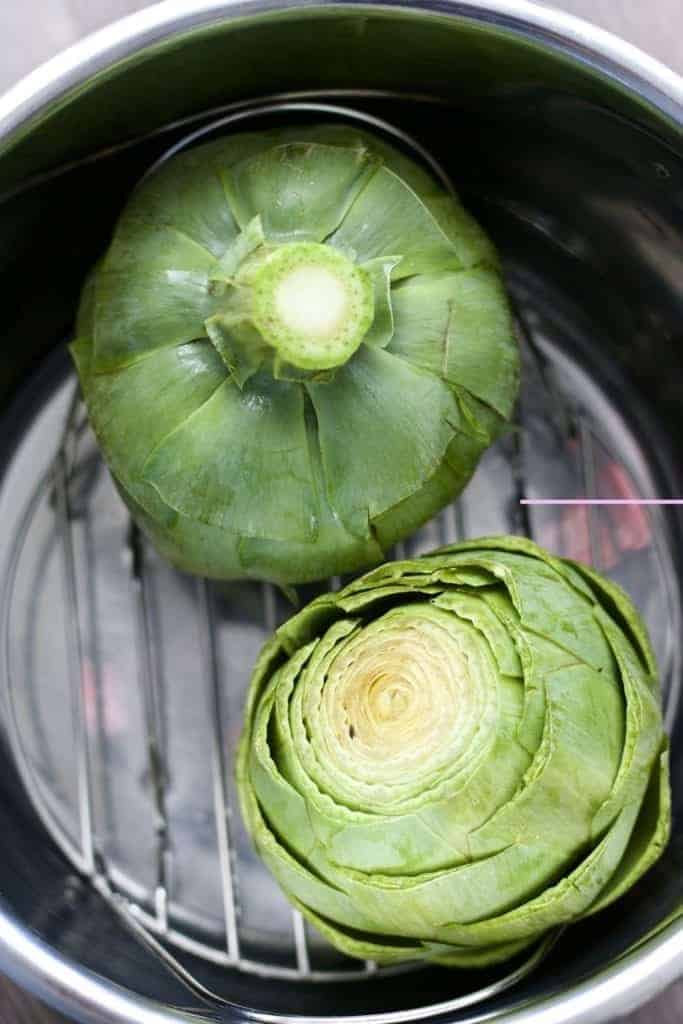 Step 3: Adjust artichoke cook time in Instant Pot
Place the artichokes (stuffed or unstuffed) into your Instant Pot. For unstuffed artichokes, I didn't notice any difference between placing them cut side up or down.
Lock the lid, turn the knob to sealing, and cook on manual high pressure for 25-40 minutes.
Now.
A few words about cooking times.
Every stuffed artichoke recipe seems to have a different opinion for what cooking time is best.
So, I've tested and tweaked until I found my sweet spot: 45 minutes for a 1lb artichoke. That translates roughly to about 30 minutes for a .85lb artichoke. 
Remember this: never undercook your artichokes!
UNDERCOOKING will be so much worse than overcooking in this instance, so add a couple minutes if you're worried. If you don't mind putting them back in the Instant Pot and cooking longer if they are undercooked, then do that.
The key to steaming artichokes in an Instant Pot is to let them cook long enough—especially for a large artichoke.
The first time, I cooked my .86 lb artichoke for 15 minutes. After a quick release, I cut it in half to test the doneness.
It was still quite firm in the middle and the outer leaves had a little resistance. I placed them back in the pressure cooker and cooked an additional 5 minutes. They were better, but still not perfect.
I reheated an artichoke from this batch in the microwave the next day for 3 minutes, which yielded the results I wanted. This confirmed to me that they needed even longer than 20 minutes of cook time in the Instant Pot.
I cooked the 1.25lb artichoke for 40 minutes. The stem was quite soft, but the middle was absolutely PERFECT. I think the .86 lb one could have done 30 and been perfect. I got to eat about 50% more with the longer cook time.
Step 4: Serve and enjoy!
After pressure cooking your artichokes, carefully remove them to a serving plate using tongs. I do not recommend removing the artichokes with your hands, as they're incredibly hot.
Drizzle with lemon juice or butter, or make your own dipping sauce. These delicacies are best served piping hot!
EATING AN ARTICHOKE FOR BEGINNERS
Starting from the outer layer of leaves, peel off a petal. Then, scrape the inside gently along your front teeth. Discard the top of the petal, snag another, and repeat.
I like to keep an extra bowl or plate on hand for these discarded petals, just like I would for crab or shrimp.
That's it! Eating an artichoke is that easy.
CAN YOU EAT THE ARTICHOKE CHOKE?
Once you've eaten all of the outer leaves, you'll come to a fuzzy section at the center. This is called the choke, and it guards the most delicious part of the artichoke: the heart.
The choke is like a furry, fibrous flower at the base of the artichoke. Don't eat the choke!!
Carefully but firmly scrape off the choke with a spoon and throw it into your discarded petal bowl.
What to serve with artichokes
In my family, we often eat a big ol' stack of artichokes for dinner and call it good. But, that's probably atypical! Here are some of my favorite pairings:
Instant Pot Vegetable Dishes
If you're looking for more vegetable dishes, check out:
Instant Pot Artichokes
Instant Pot Artichokes are a fun and unique food/eating experience! Pressure cooking artichokes cuts the cooking time down to almost half the time as conventional boiling or baking, which is sooo nice. Artichokes are also a healthy and fun appetizer or snack to share!
Ingredients
2 Large, Fresh Artichokes (.85-1.25lb)
1 Cup Water
Melted Butter, Salt, Lemon Juice, or Garlic Aioli for dipping
Instructions
Wash and clean artichokes by rinsing under water and removing any dead or wilted leaves.
Using a sharp knife, cut the top 1/4-1/3 off the top of the artichoke, as well as the bottom 1/2 inch of the stem.
Trim the out leaves with a sharp knife or kitchen shears, if desired.
Place one cup of water into the Instant Pot with a trivet, steamer rack, or steamer basket. Place the artichokes on the trivet/rack/basket (does not matter which side is facing up).
Lock the lid, turn the knob to SEALING, and cook on manual high pressure for 20 minutes for small-medium artichokes, 25 minutes for medium to large, and 30-40 for extra large artichokes.
After pressure cooking, perform a quick release by turning the sealing knob to venting.
Carefully remove the artichokes with tongs to a plate, and let cool slightly before serving. Enjoy with melted butter, salt, lemon juice, or your favorite aioli.
Recommended Products
As an Amazon Associate and member of other affiliate programs, I earn from qualifying purchases.
Nutrition Information:
Yield:

2
Serving Size:

1 grams
Amount Per Serving:
Unsaturated Fat:

0g
---
---
Hi Michael! I've made that mistake before! But I also know that artichokes vary sooo much in size that some smaller ones may be done at 15 minutes, especially if cut in half. If they aren't cooked enough, just put them back in the instant pot and cook for additional time! – Lisa

First time cooking artichokes in an instant pot. Mine weighed .75 lb, and I cooked it for 23 minutes. It was perfect. Glad I read this—otherwise I would not have cooked it long enough. My mom always served melted butter, but I'm a fan of homemade mayo or aioli. Kenji Lopez-Alt has a great recipe for 2 minute mayo/aioli on Serious Eats, made with a stick blender. Well worth the 2 minutes it takes to make it—I don't use store-bought mayo anymore. Thanks for this recipe.

Sounds delicious! I love aioli but haven't made it with artichokes yet! Thanks for reading and commenting!!

Taking our first try at artichokes tonight. I set the timer for 40 minutes; wish us luck.