Fruity Pebble Rice Krispies
---
This post may contain affiliate links, which means I earn a small commission if you purchase something I recommend - at no additional cost to you! Thank you for supporting this blog!
Fruity Pebble Rice Krispies are a family favorite no matter the season. Vibrant and fun, they're perfect for a family game night or friendly gathering (and so easy that you won't have to think twice).
Fruity Pebble Rice Krispies
You may know these delicious fun snacks by a variety or combination of names. They go by fruity cereal bars, fruity pebble rice crispy treats, rice krispie squares, snap crackle pop, or marshmallow treats.
Whatever you call them, they're so fun and delicious! The smell of Fruity Pebbles just takes me back to my childhood, but these treats aren't just for kids—adults and children alike LOVE them!
Fruity Pebble Rice Crispy Treat Recipe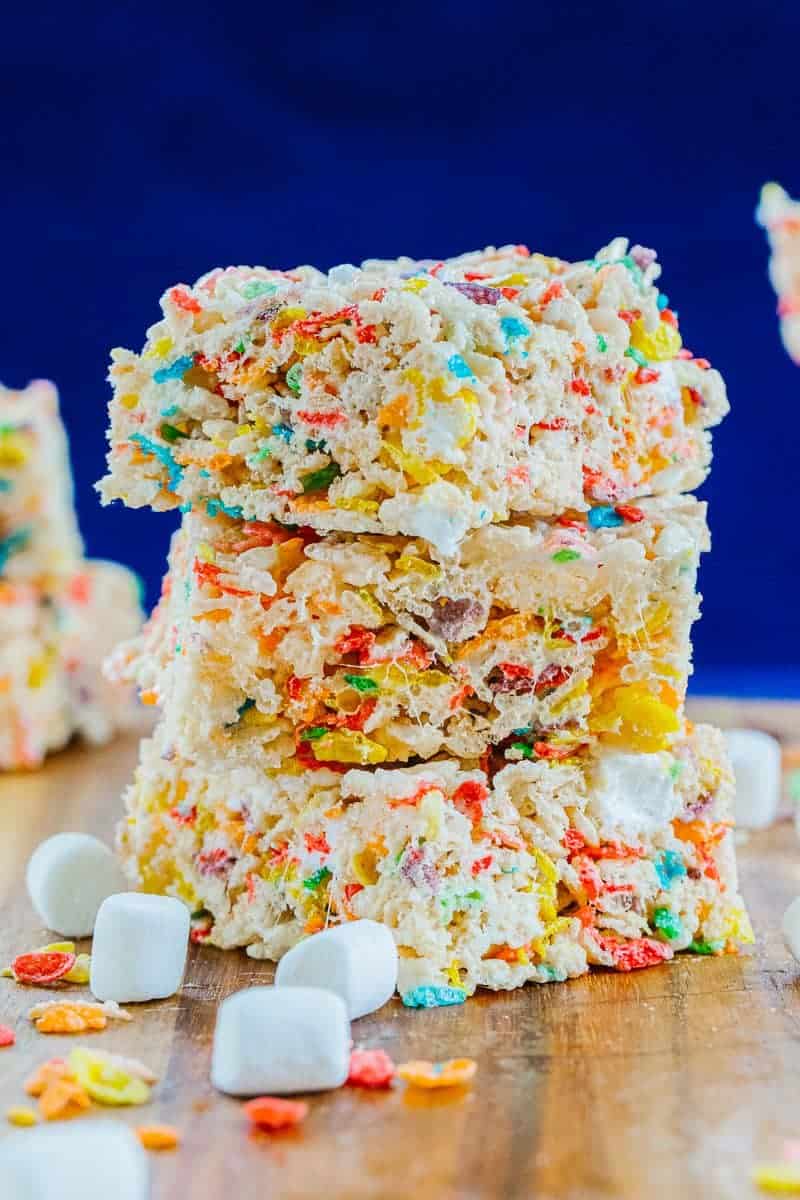 This recipe uses a combination of regular puffed rice cereal (the blue box that says Rice Krispies) and Fruity Pebbles cereal. I find that using all Fruity Pebbles is way too sweet, so that's why I like the combination of fruity and plain krispies.
The plain Rice Krispies are also much fluffier than the somewhat flat Fruity Pebbles, so adding them gives that nice fluffy texture to the treats.
Tips for the best Fruity Pebble Rice Crispy Treats
A fun way to dress these rice crispy treats up is to add mini marshmallows to the mix. These minis help to keep the treats soft, and adds bulk. They also add another interesting textural element.
Since the fruity pebble cereal has so much flavor, I don't add vanilla to the melted marshmallows, but you can add a teaspoon if you wish!
Mix the cereals together in a large bowl before you add it to the marshmallow mixture. This helps evenly distribute the cereal and prevent over-mixing and crushing the cereal.
One of my favorite tips to prevent the warm, sticky marshmallow mixture from sticking to your hands is to press them into the pan using wet hands. Not grease! Just dip your fingers in a little clean water, and nothing will stick!
Finally, I love to drizzle or dunk my rice krispie treats with melted white chocolate for extra deliciousness and flavor, but you can omit this step if you prefer.
Ingredients for Fruity Pebble Rice Krispie Treats
A bag of large, regular sized marshmallows (10 oz)
Butter
Rice Krispies cereal
Fruity Pebble cereal
Mini marshmallows (optional)
White chocolate (optional)
Variations for Fruity Pebble Rice Krispie Treats
The options for variation with these krispie treats are only as limited as your imagination.
Try switching up the kind of pebbles or krispies that you use in the treats, how you top them, or even fun mix-ins.
No matter how you switch them up, just make them the same way as the original recipe and they'll turn out wonderfully.
I recommend using a ratio of 4 cups plain cereal and 2 cups of flavored or sugary cereal.
You might add in chopped freeze-dried strawberries or fruit-flavored mini marshmallows for an extra fruity punch. Chocoholic? Add some mini white chocolate chips for extra richness.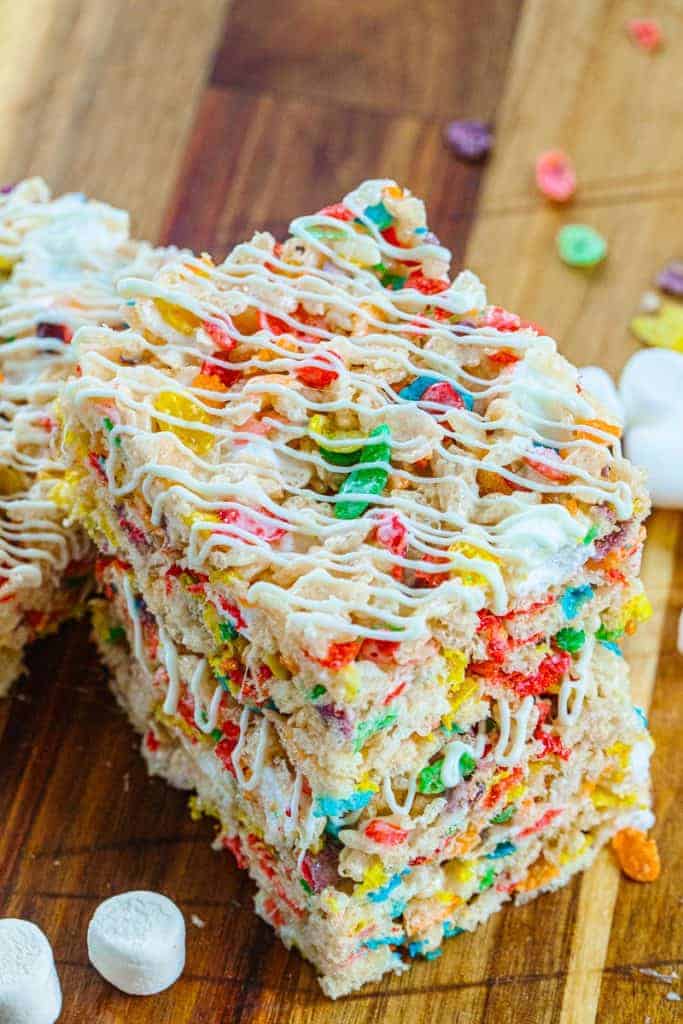 Cocoa Krispie Treats
Try swapping out fruity pebbles for cocoa pebbles! You can use Kellogg's Cocoa Krispies or Post Cocoa Pebbles (the brand doesn't matter). Just repeat the same steps as above and you'll be left with delicious, chocolatey krispie treats.
You can top these with a drizzle of any kind of chocolate depending on the flavor and style that you want.
They'd also be delicious with mini chocolate chips mixed right in, or maybe some mini PB chips or a drizzle of PB right on top.
Flavored Krispie Treats
How about Birthday Cake Krispie Treats? Cookies and Cream Krispie Treats?
Between Post and Kellogg's, you can find all kinds of yummy flavors to use in these krispie treats.
Both of these flavors are quite sweet, so I still recommend using a combination of plain and flavored pebbles.
Seasonal Krispie Treats
Did you know that Kellogg's sells seasonal rice krispies? They release red and green krispies for Christmas and pastel krispies in the spring. These krispies aren't flavored, though, so either expect them to be a bit less sweet or pair them up with a flavored cereal. Cookies and Cream Krispies have a mild color, so they're great as a showcase for more vibrant colors!
If you loved these, you'll also love…
Fruity Pebble Rice Krispies
Fruity Pebble Rice Krispies are a family favorite no matter the season. Vibrant and fun, they're perfect for a family game night or friendly gathering (and so easy that you won't have to think twice).
Print
Pin
Rate
INGREDIENTS
3

tablespoons

butter

10.5

oz

marshmallows

usually one standard sized bag or 35 large marshmallows

1/2

teaspoon

vanilla

1/4

teaspoon

salt

4

cups

Rice Krispie or puffed rice cereal

unsweetened

2

cups

Fruity Pebble cereal

1 1/2

cups

mini marshmallows

1/4

cup

white chocolate

melted
INSTRUCTIONS
Grease a 9×13 pan with butter or non-stick spray.

In a large, deep pot over medium low heat, add the butter and stir until melted. Add the full-sized marshmallows and stir. Allow the marshmallows to melt completely without browning or burning, stirring occasionally. Reduce the heat if there is any browning or boiling.

Turn off the heat, then add vanilla and salt. Stir to combine.

In a separate large bowl, combine the cereals and mix until combined.

Add the cereal and carefully fold into the marshmallow mixture. Once the cereal is completely mixed into the marshmallows, quickly fold in the mini marshmallows.

Immediately transfer the mixture to the pan and gently pat the mixture down using fingers dipped in water to prevent sticking.

Drizzle with white chocolate, then let set for about 2-3 hours. Cut into squares using a very sharp or serrated knife, then serve.
NOTES
These fruity pebble rice krispy treats will keep for 7-10 days if kept in an airtight container.
NUTRITION
Serving:
1
g
|
Calories:
180
kcal
|
Carbohydrates:
36
g
|
Protein:
2
g
|
Fat:
4
g
|
Saturated Fat:
2
g
|
Polyunsaturated Fat:
1
g
|
Cholesterol:
7
mg
|
Sodium:
124
mg
|
Sugar:
19
g
---
---