12 Ways to Use an Instant Pot Steamer Basket
---
This post may contain affiliate links, which means I earn a small commission if you purchase something I recommend - at no additional cost to you! Thank you for supporting this blog!
An Instant Pot Steamer Basket is the #1 Instant Pot or pressure cooker accessory I recommend. I'll give you the lowdown on how to use the Instant Pot Steamer Basket over a dozen different ways!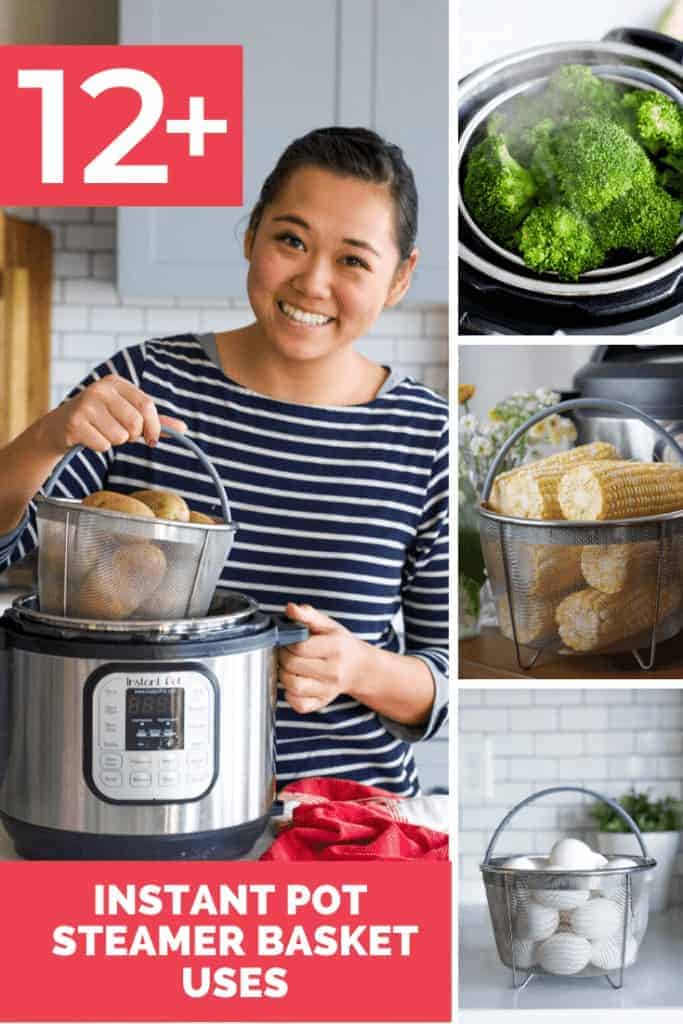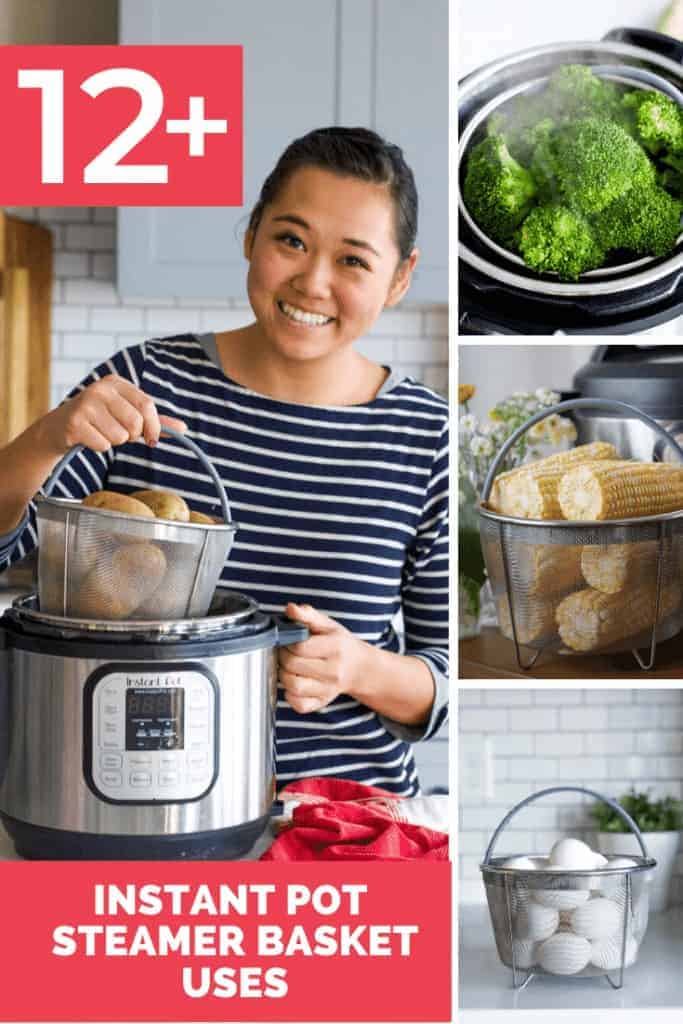 Best Steamer Basket to buy
I have a preferred steamer basket, but as long as the steamer basket is heat/oven/pressure safe, it can be used in a pressure cooker.
There are two main types of steamer basket:
Mesh/Stainless Steel Basket
Silicone Basket
The stainless/mesh baskets that I have are really solid. They're most similar to metal colanders, but unlike a colander, they have straight edges/sides and a handle. This is what I have, but it does take up space in your kitchen.
If you're short on space, you can always store your steamer basket inside of the Instant Pot when not in use.
The silicone baskets are really nice and great for smaller spaces. I go more in depth about silicone baskets below.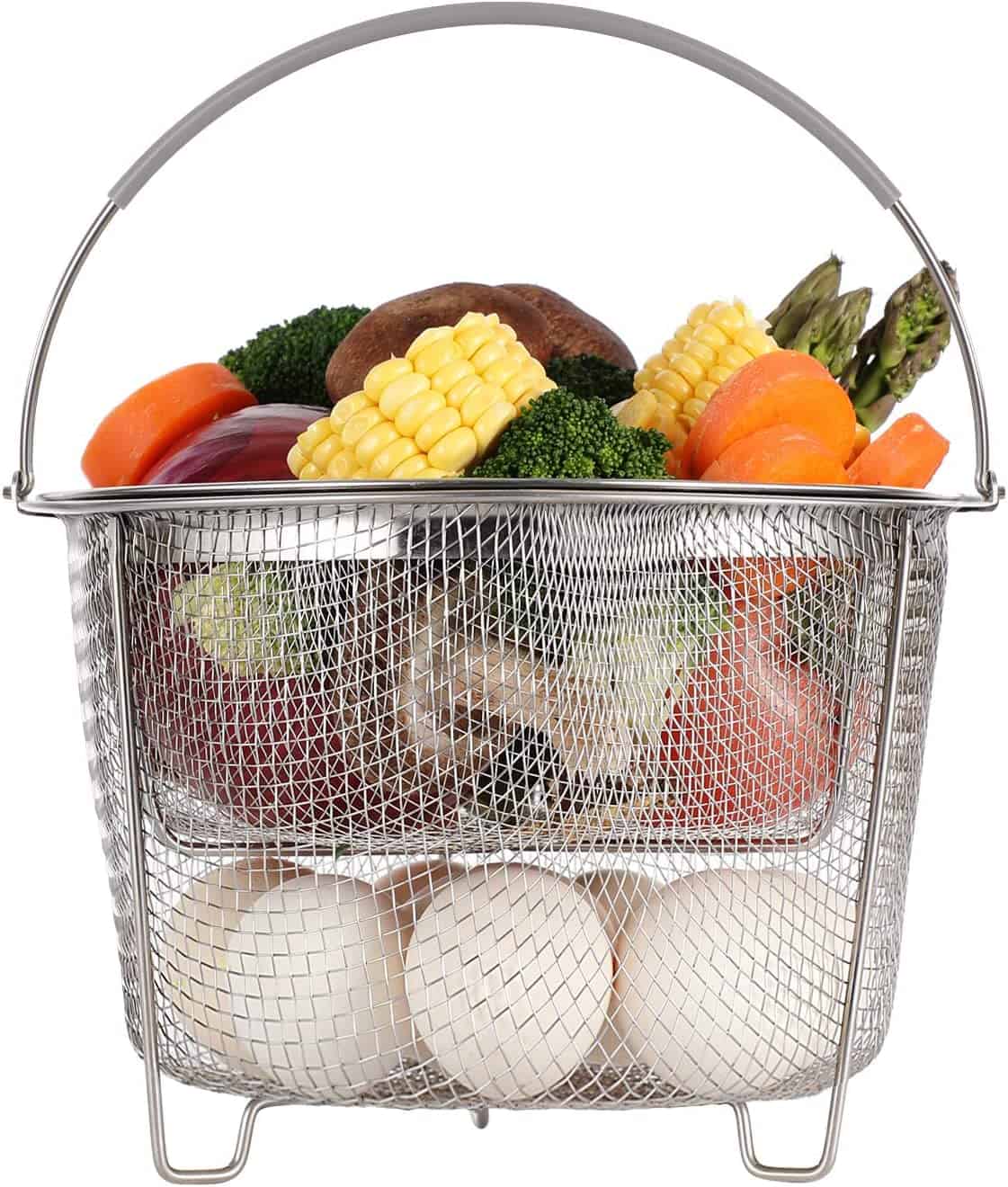 Top Rated Steamer Baskets on Amazon
Is a steamer the same as a trivet?
No.
A trivet is a separate tool that usually comes with a pressure cooker to keep food off the bottom of the pot.
It can work in place of a steamer basket for some foods, but it usually isn't as convenient.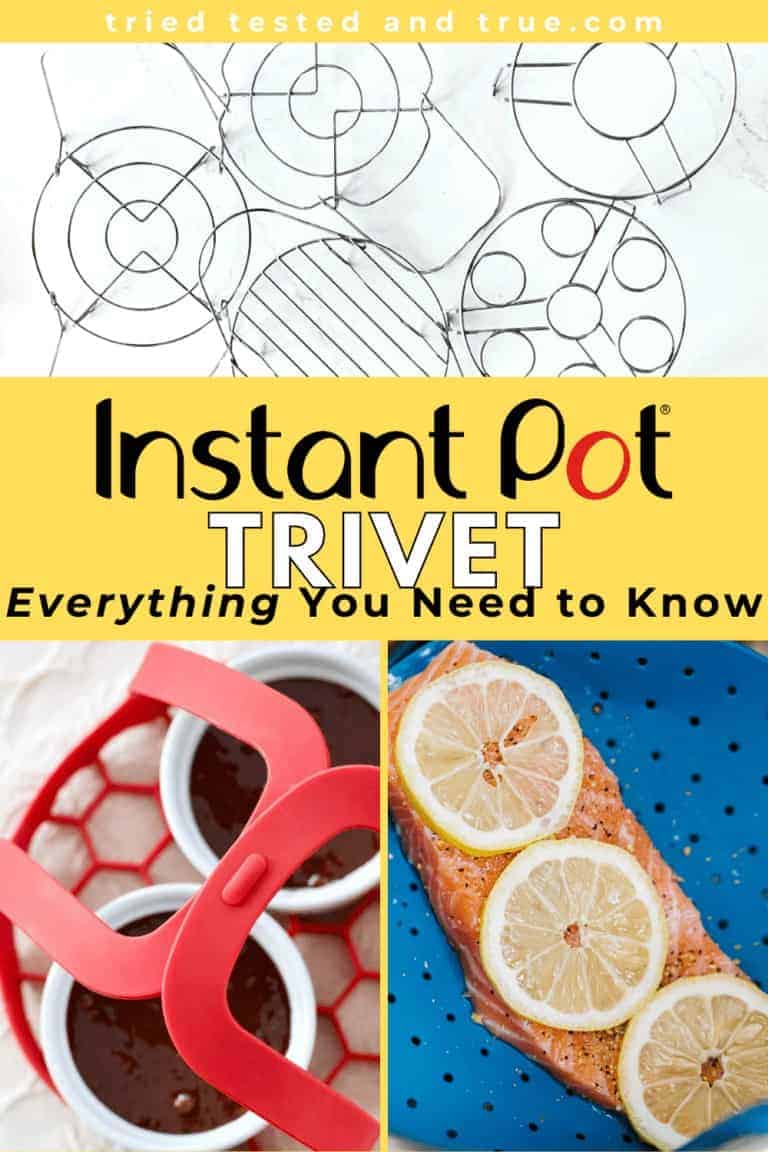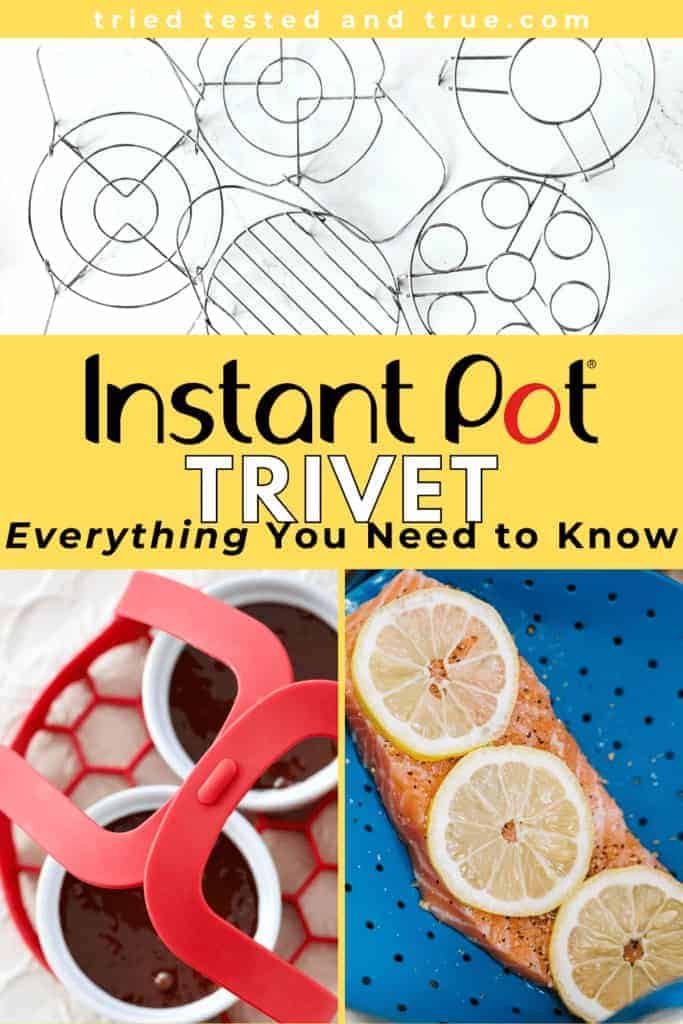 To learn more about the Instant Pot trivet, read our full guide on Everything You Need to Know About the Instant Pot Trivet.
Instant Pot Steamer Basket
Like I said, out of all the instant pot accessories you could buy, the steamer basket is the best one because you can use it in so many different, practical ways (and it will fit 6 or 8 quart pots!)
It's best to choose an Instant Pot Steamer basket that can withstand being pressure cooked and not fall apart. The one I've linked is my favorite steamer basket because it is incredibly high quality.
This mesh steamer basket is stainless steel so it does NOT rust, nor does it have silicone "noodles" covering the legs, which easily trap food/bacteria that you cannot get out. They also honor a LIFETIME guarantee, so they will replace it if anything happens to it.
I've tried a couple other baskets, and I promise they are not near the quality. My basket has lasted me years with no sign of wear! (2022 update: About 5 years after I got my basket, I had an issue with a piece of the basket that was coming loose. I emailed the company, and they sent me a replacement right away!).
Additionally, it's important to note that you're better off getting this one-tool-does-all basket — you don't need a specific vegetable steamer for your Instant Pot; rather, get this simple basket that can do it all.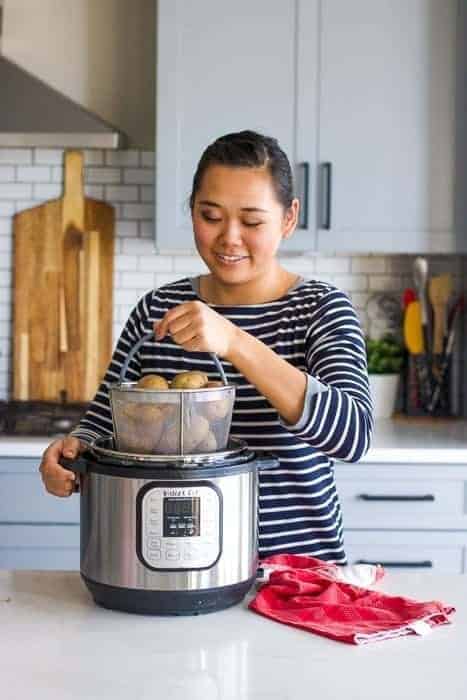 Silicone Steamer Basket
Many people enjoy using an Instant Pot silicone steamer basket over a metal steamer basket.
When I first started using the Instant Pot, there were no silicone baskets. Now, there are so many options for silicone steamer baskets.
The pros of using a silicone basket:
The collapsible varieties are perfect for storage.
You can save space in your cupboards.
Nonstick
Dishwasher safe
Fits 6 or 8 quart Instant Pots/pressure cookers
No rusting, denting, or tearing
Cons of the silicone steamer baskets:
If the contents of the basket are super heavy, it may cause strain and break the handles
It's a pro and a con, but when the basket is flexible, it can be not as sturdy for very heavy items and sag
Some models do not have high walls, so you can't put very much in the basket. Make sure to pick a basket that can hold everything you want it to.
Not as "see through" as a mesh basket
Cleaning the Instant Pot Steamer Basket
I find my steamer basket incredibly easy to clean because it is dishwasher safe on the top or bottom rack. It's also simple to clean with a scrubby and dish soap.
I do strongly recommend cleaning the steamer basket as soon as you're finished using it to avoid letting any food get stuck in the mesh.
STEAMING IN THE INSTANT POT
You might think steaming in the Instant Pot could be tricky — it's not. Really, it's one of the simplest ways I've found to make delicious, healthy food, fast.
An Instant Pot steamer insert allows you to just drop some of your favorite veggies into the Instant Pot and cook them quickly, thereby preserving lots of the nutrients present when the veggies are fresh (so long as you don't overcook!).
I mentioned that my Instant Pot steam basket is versatile — here's my top 12 recipes that are simple and oh-so-easy to throw together using your steamer basket.
#12: Instant Pot Artichokes
Steamer baskets are great for large foods that you'd otherwise have to fish out with tongs or teetering on the trivet. You can just place a couple artichokes in the basket, then pull them straight out after cooking!
If you're looking to dress things up a notch, try my Instant Pot Stuffed Artichokes! They're still quite simple, but they're deceptively impressive — perfect for dinner parties or holidays.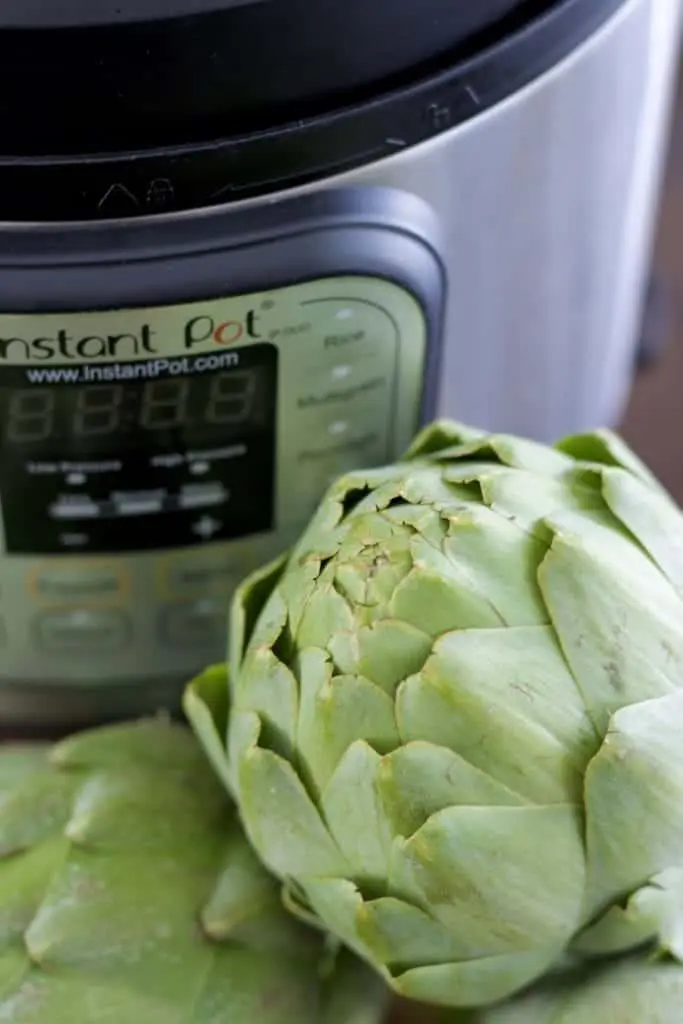 #11: Instant Pot Sweet Potatoes
The Instant Pot is incredible for steaming sweet potatoes because often, they otherwise take over an hour in the oven! No one has time for that!
Stack a couple whole or chopped sweet potatoes and place them in the steamer basket, then cook for about 10-30 minutes, depending on the size.
I always err on the generous side with sweet potatoes and add a couple minutes because having undercooked food in the Instant Pot is THE WORST.
I use this method for my Instant Pot Sweet Potato Casserole. It's better than Ruth's Chris' recipe, in my opinion!
#10: Instant Pot Mashed Potatoes
Instant Pot Mashed Potatoes are a holiday or weekly staple. You'll NEVER make them on the stove after you do them in the Instant Pot! I load up my steamer basket with russet potatoes, then take them to the sink to rinse/clean. It's nice to just do it all in one!
If you'd rather have regular "baked" potatoes made in the pressure cooker, it's so easy to do in a steamer basket! Read my recipe for Instant Pot Baked Potatoes.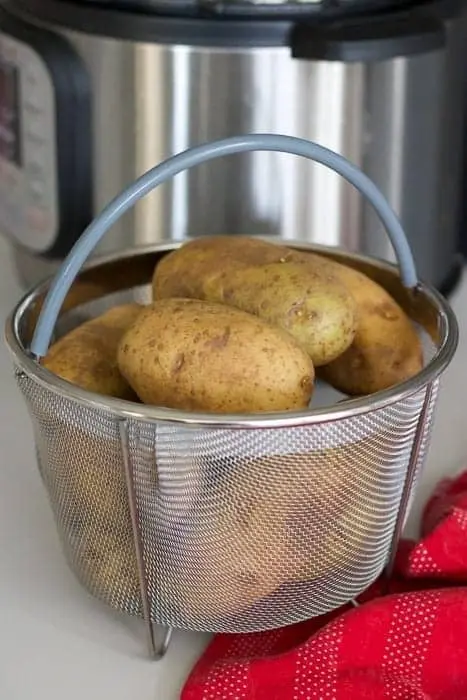 Another awesome use of your Instant Pot Steamer Basket is to use it for SALT POTATOES! The steamer basket is perfect because you'd otherwise have to pour a very hot, very heavy pot of boiling water and potatoes into a colander.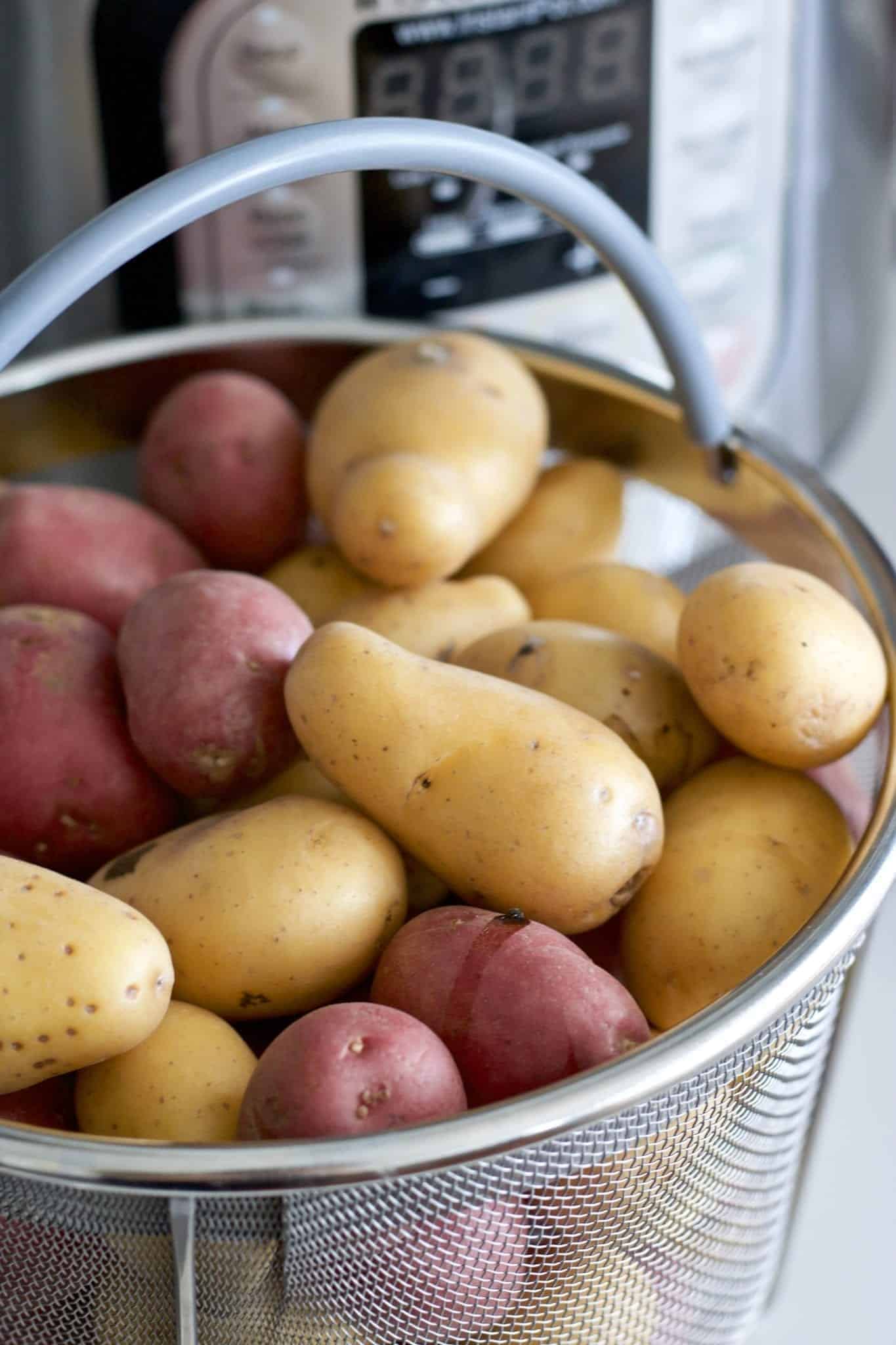 Using your steamer basket, simply add your potatoes (give them a quick rinse first), and put them into your Instant Pot. Check out my Salt Potato recipe for an easy, impressive side that's sure to please kids and critics alike.
#9: Instant Pot Ribs
I like using my steamer basket for Instant Pot BBQ ribs! That way, I don't have to worry about them falling apart or getting them out with tongs from the hot liquid.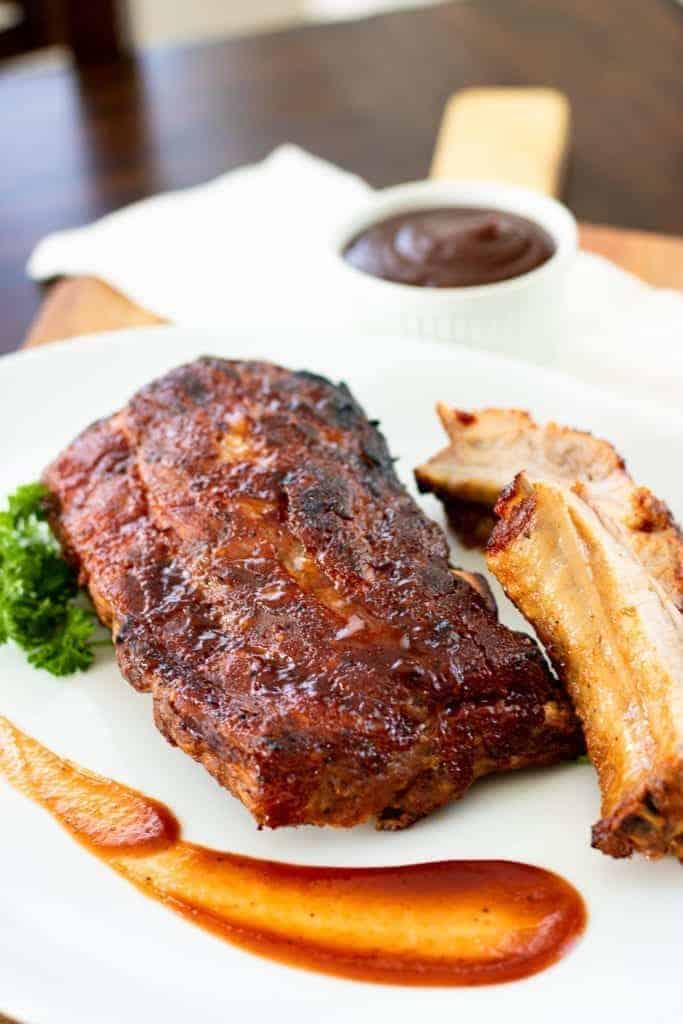 I just cut each rack into quarters, and line them on their sides around the basket. It makes it really easy!
If you're looking for a really simple recipe, try my Country Style Ribs — they use four flexible ingredients and they're done in less than an hour (with very minimal effort on your part — just toss, dump, and cook).
#8: Instant Pot Steamer Basket As a Colander
The nice thing about this Steamer Basket is that it doubles as a colander. You can use it to keep berries fresh for up to three weeks!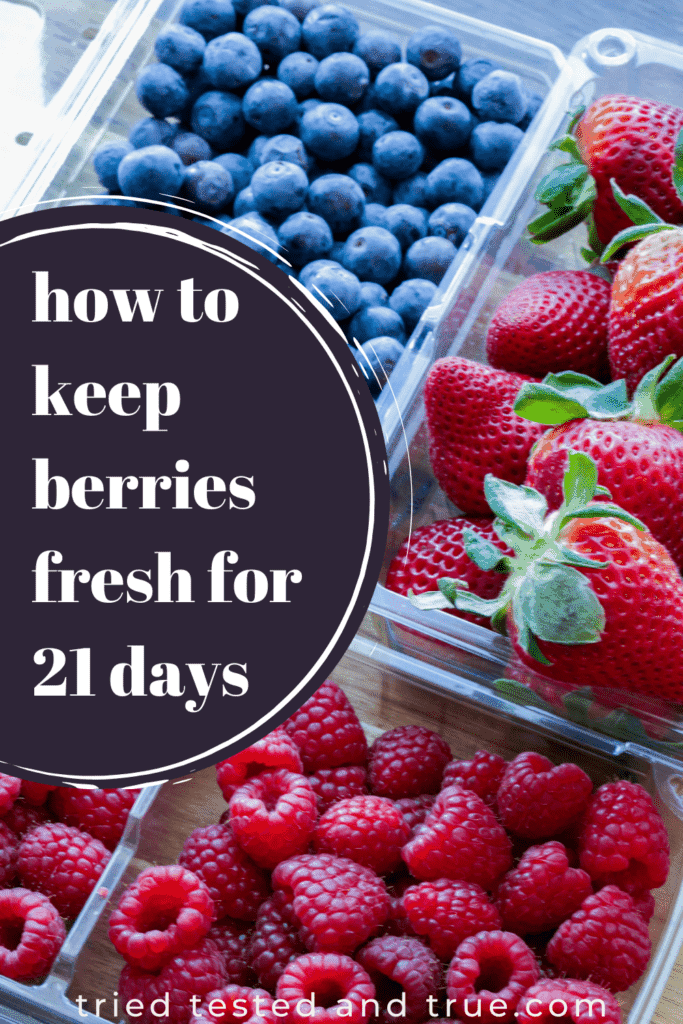 I typically do this in my salad spinner because it has a "colander" that fits into its base, but if you don't have that, you can use this steamer basket and your Instant Pot liner!
#7: Instant Pot Boiled Eggs
You'll never go back to boiling eggs on the stove after you make boiled eggs in the Instant Pot. This steamer basket fits over 2 dozen eggs!
I remove the basket straight out of the pot because the handle is cool enough to handle after just a couple of seconds. Then, I'll take the basket to the sink to rinse and cool down.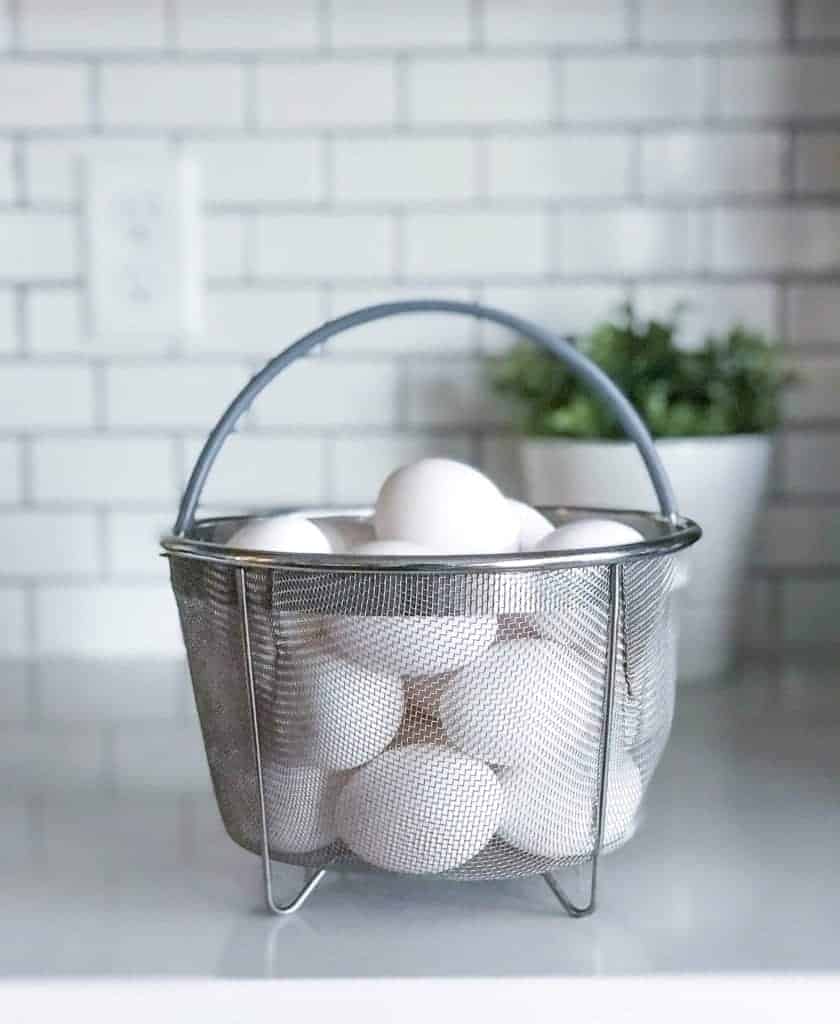 Check out Instant Pot Hard Boiled Eggs and Whipped Cream Bacon Deviled Eggs.
#6: Instant Pot Carrots
I have a slightly sweet carrot recipe, but you could make up to a couple bags of baby carrots or chopped carrots in your Instant Pot steamer basket.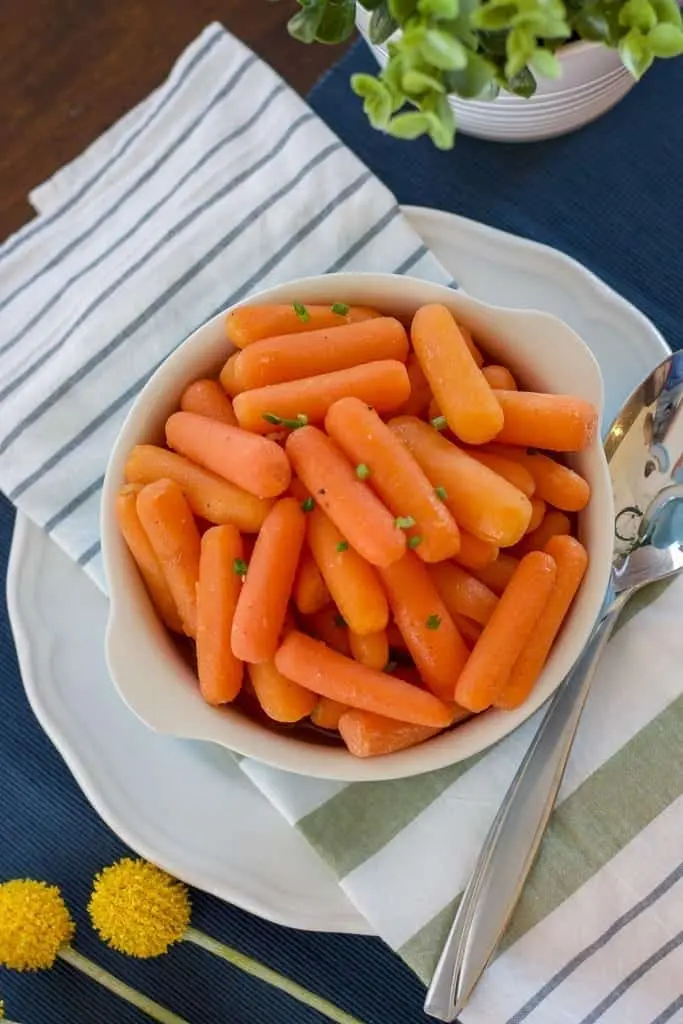 Just add a cup of water to the pot and cook for 3-5 minutes, depending on the quantity and firmness you like your carrots.
#5: Instant Pot Spaghetti Squash
Pressure cooker spaghetti squash
is amazing because like sweet potatoes, spaghetti squash usually takes a long time to bake in the oven. The Instant Pot makes it a breeze to get a healthy vegetable in a snap.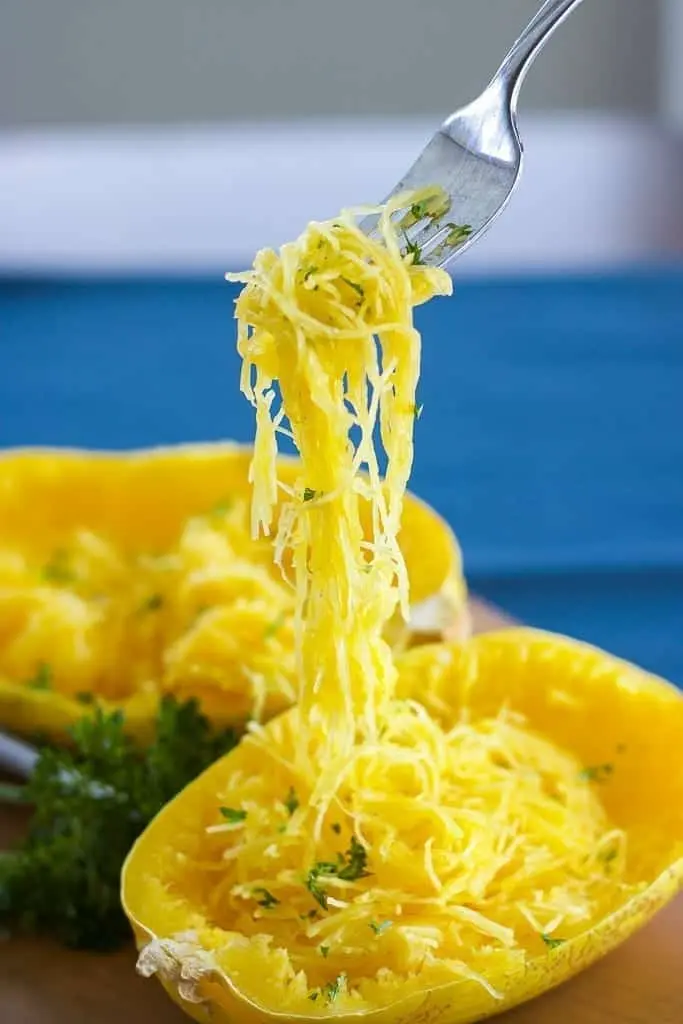 You could cook the spaghetti squash in the Instant Pot steamer basket whole, or cut in half! It is so great to do it this way so then you don't have to deal with spaghetti squash spilling out or dropping it with tongs.
#4: Instant Pot Green Beans
If you're noticing a trend, vegetables (or anything that is steamed or boiled, really!) do incredibly well in the Instant Pot. Try pressure cooking plain green beans in the steamer basket for a quick and healthy side dish.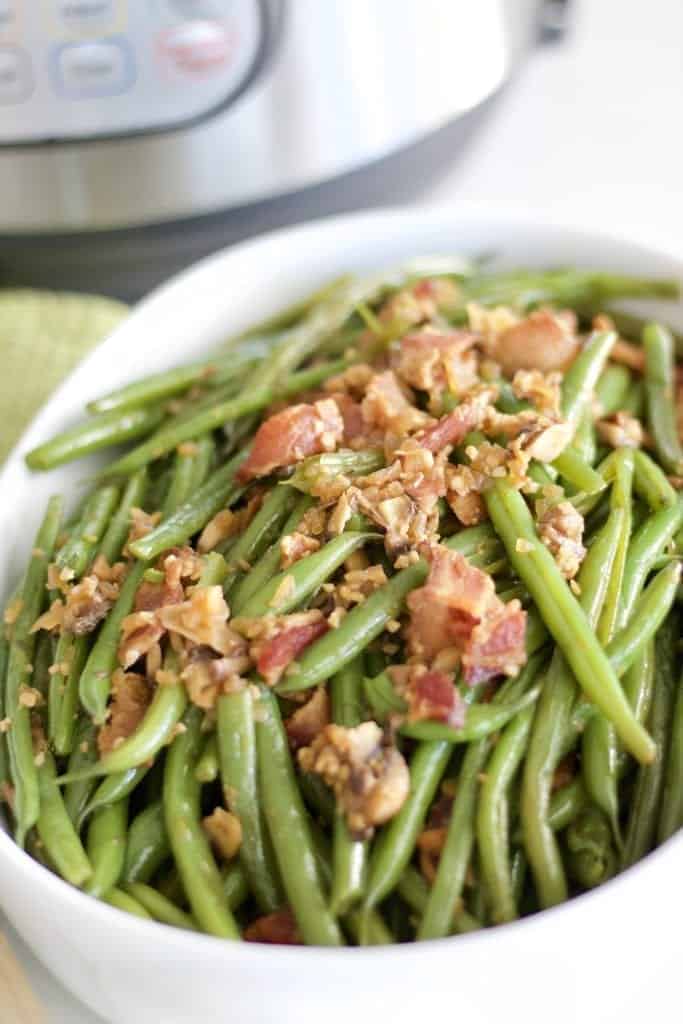 I made these for my Instant Pot class just plain pressure cooked green beans and then added some garlic butter on top! So simple! You could also just do a simple squeeze of lemon and a dash of salt.
Try my famous Instant Pot Bacon Green Beans!
#3: Instant Pot Corn on the Cob
If you have an Instant Pot, please do not ever make corn on the stove! Just pop the ears in your Instant Pot steamer basket and make them in there in just a couple minutes!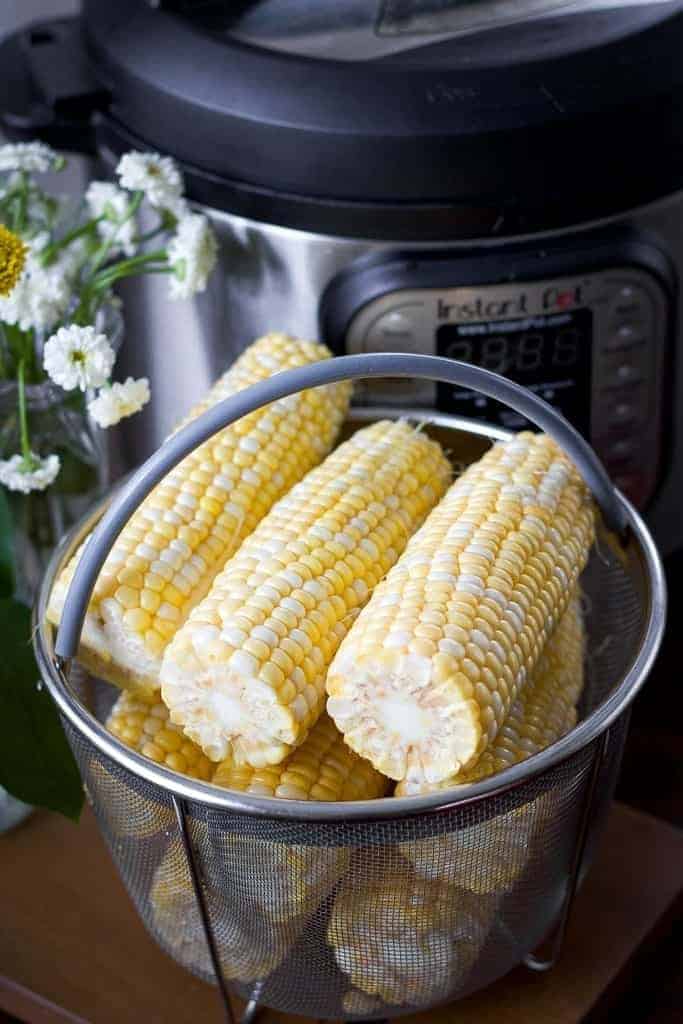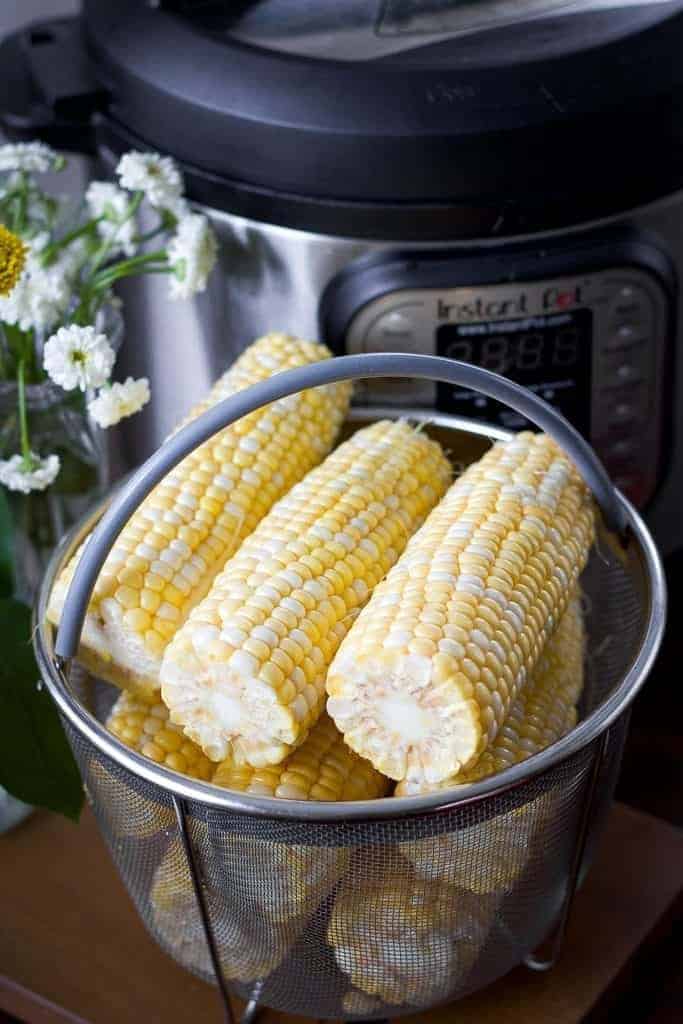 Making them in the basket helps so none of the corn sits in the water, and you can just pull them out as soon as they're done cooking. I don't like leaving the corn in the pot too long after cooking, or else it tastes overcooked (like canned corn).
#2: Instant Pot Bone Broth
I actually love this use for the steamer basket so much because it helps avoid straining a giant pot of boiling liquid.
Place all the bones and vegetable scraps in the basket, and make the bone broth like normal (pressure cook for 120 minutes with a full natural pressure release).
When it's finished, pull the basket out and that's it! G E N I U S !
#1: Instant Pot Steamer Basket Broccoli
I use my steamer basket the most to make Instant Pot Broccoli. This is one situation in which you really need the basket for the most ideal, perfectly-cooked broccoli.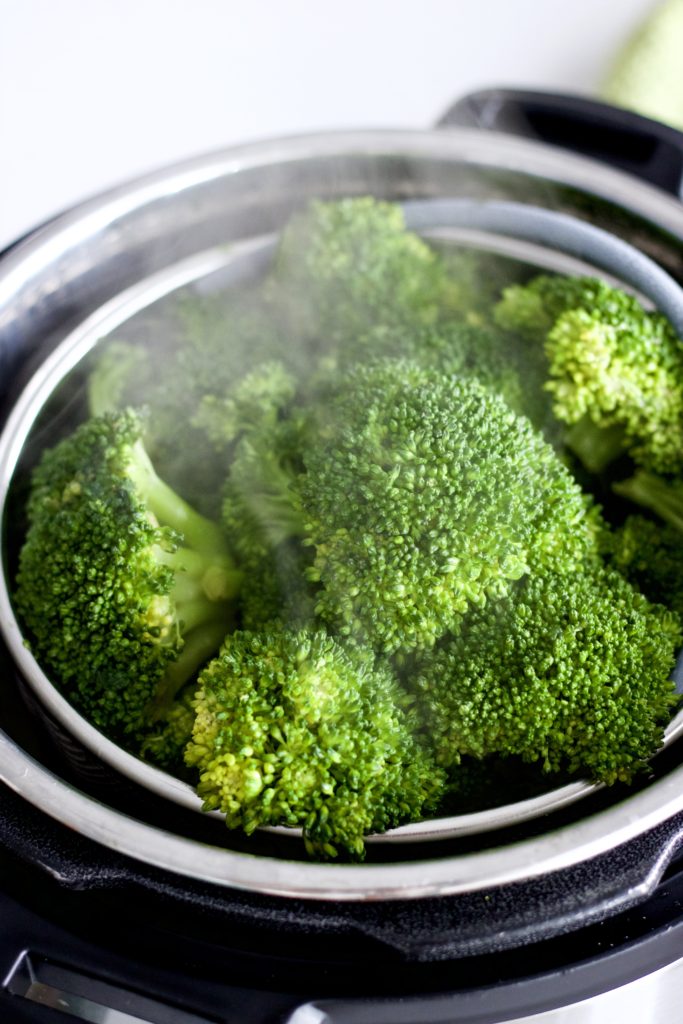 We consume so much broccoli each week, and the Instant Pot and Instant Pot steamer basket make it so much easier. One and done!
BONUS: Don't forget to check out my post on the Best Instant Pot Accessories to buy and AVOID!)
---
---
I am grateful for my daughter Ellyette. She was a my everything. I was diagnosed with Peripartum cardiomyopathy and she came three weeks early and saved me! I am now on a health journey and am working to lose weight and get healthy! I would use this basket for
1. Making yummy healthy vegetables
2. Boiling eggs
3. Making potatoes because who doesn't love potatoes

I would use a steamer basket for a whole chicken (first one I did fell apart!), bone broth for sure, potatoes, and pretty much anything! I don't have children of my own so I'm thankful for all the kiddos I babysit for!

Ah I would love to win a steamer basket! I would use it to make the perfect eggs, steam broccoli to serve a little lemon juice, and sweet potatoes for the holidayyyys!

This year I am so grateful for my little family! We welcomed our first baby in September and she has changed my world! I am so grateful for motherhood and all the adventures that it has brought to my life!!

Potatoes, sweet potatoes and ribs.
Im grateful for my husband because he's the first guy who really loves me and I've had a few bad ones before him.

I would use it for broccoli, corn on the cob and sweet potatoes, all things my three kids like. I'm grateful for my little sister who comes over once a week to help me with my kids, she showers them, helps with homework and puts them to bed. She then helps me clean up and talks to me. Adult conversation is one of my favorite things cuz I don't get it often.

I would use a steamer basket for veggies, eggs, I definitely trying it out on spaghetti squash since it's something I've been wanting to do it for a while but don't want to spend all the extra time making it in the oven. I'm especially thankful for my husband as this past year he has been the Sole Provider for us and he's been exceptionally caring and understanding now that we are pregnant and expecting her first little one in May. Also thankful for this pregnancy and that we were able to get pregnant and that everything has been going very well and it's so far the baby is healthy and everything's right on track

I would love to have a steamer basket! You are an inspiration!

I'd love the steamer basket for eggs, veggies and your amazing berry hack! (Works every time- thanks!) What I'm most thankful for is simply the health of my family and myself. Without that, nothing else matters. Happy thanksgiving to you and yours!

I would use the steamer basket for sweet potatoes, hard boiled eggs, broccoli, and carrots! I am thankful for vets and advancements in medicine that have provided me with a few extra weeks with my terminally ill dog. She's been loving my instant pot dishes!

I would use the basket for potatoes, eggs and broccoli. While I am always most thankful for the health of my loved ones, especially my kids, I am most thankful for another year with my mother.

Hi Lisa! Such great ideas on how I can get more use out of my instant pot. I would definitely use the steamer basket for hard boiled eggs, broccoli, and I'm dying to make my own broths. This year I've been super grateful for my host teachers guiding and teaching me how to become a great teacher as I'm working to get my teaching license and masters degree. The Instant Pot dinners have been a huge help through this process.

I would use the basket for carrots! For sure! My daughter loves "soft carrots" as she calls them. Also potato's and broccoli!
I am grateful for my husband, he is the most understanding supportive person I have ever met and is my rock.
Love following your Instagram!!

I love all your recipes and tips Lisa! If I won the basket I would use it for frozen tamales, eggs and veggies. I am so thankful for my husband and kids. My husband is hard working and our kids kids mean everything to me.

Hello! We eat a ton of Broccoli so I would use it for that, eggs and cauliflower. I have heard of people steaming tamales… I really want to try but a bit nervous. Have you done them?
I am thankful for my husband who works everyday so that I can stay home with my kids.

Hmmmm… what three things would I use the steamer basket for:
1. Eggs (once you hard boil eggs in an IP, you'll never do it any other way!)
2. Artichokes (I love them and never thought to pressure cook them!)
3. Corn on the Cob (my kids LOVE corn on the cob!)

What am I thankful for? The obvious answer, of course, is my family. But, I'm thankful for life experiences. Are they always good? No, I have suffered some very traumatic things in my 46 years. But, I am thankful because I have learned from them and I have grown because of them!!
Happy Thanksgiving Lisa!!

1. Bone Broth/stock
2. Eggs
3. Vegetables
I'm extremely happy to have my sister in my life. She has gone through some medical issues and is doing well! I love her with all my heart!

I didn't even know this product existed. I would use it for broccoli, cauliflower, corn, hard boiled eggs plus so much more. This season I'm most grateful for my husband who encourages me to try new things. Both of my girls got married this year leaving me with lots of time on my hands. I'm also very grateful for bloggers like yourself that share their knowledge and tutorials with us. They have opened up a whole new world this year for me. Thank you!

Eggs, potatoes, carrots, broccoli, all of the veggies😁. Right now I am so thankful for schooling! As much as it stresses me out I am grateful to be increasing my knowledge and skills!

Eggs, broccoli, and green beans! And I'm grateful for fuzzy socks. I live in them during the winter!

I would use this for potatoes, eggs and veggies. So grateful for my savior who without him nothing iwould be possible.

I would use it for spaghetti squash, broccoli and I want to try a whole chicken!

I am thankful for my mom. She steps in and loves on my kiddos all the time, and is always there for us! They really don't make them better than her!

What a great giveaway! I'd use the steamer basket for broccoli, eggs, and potatoes. Those are staples in our home. I'm grateful for my family. Especially the challenges and adventures that come with learning how to keep kids alive and happy. Thanks for this opportunity!

I would love to get a steamer basket! My mother in law gave me her instant pot when I moved out of her house, and I have been using it almost every day! I would use the basket fot broccoli (mine and my son's favorite), potatoes (because who doesn't love potatoes?!) And carrots!
I am so thankful for my husband and my in laws. They took us in as newly weds to help us get on our feet, provided love and support, and are just amazing people. My mother in law is so selfless, I wish I could be more like her!
My husvand is also amazing (probably learned it from his mother) and selfless. He is such a hard worker, spends almost all day on his feet, but goes out of his way to rub my back, or play with the kids, no matter how tired he is!

Hi!:) I would use the steamer basket most often for broccoli, red potatos and baby carrots. I am super thankful for my 10 month old baby girl. She was unplanned and unexpected and has ended up being the best thing that has ever happened to me! She is amazing! Thank you for all your awesome recipes and Instagram posts!

I would love a steamer basket for both regular potatoes & sweet potatoes & it would be awesome for corn on the cob.
I am grateful that my mother will be coming home after being in a assisted living facility for the last 4 weeks while I recovered from emergency surgery. I am waiting until she comes home to make her Thanksgiving 🦃.

I haven't used the steamer basket as I don't yet own one! I would definitely use the steamer basket to make broccoli, eggs and potatoes.

I am so very thankful for my 3 daughters! Each one has a distinctly different personality but together they make our family complete. Our family has been through so many ups and downs over the past couple of years since my husband suffered a 3rd concussion. Through it all, our teenage/pre-teen girls have adapted to many changes and have brought so much joy in the midst of suffering. ❤️

I would use it for sweet potatoes (I'm obsessed), broccoli and bone broth.
I'm so grateful for my kids because they are the reason to keep going!. And for my friends and their support and love!

I would use the steamer basket most for 1) eggs, 2) allll the veggies, 3) potatoes! (Some may include this with veggies, but I feel potatoes need their very own category, I love me some potatoes!!)

And I'm especially grateful for my husband this year. I'm pregnant with our second child and due very soon (been pregnant for half of our marriage, which means super tired and super nauseous) and he just takes care of everything without a thought or complaint, and still finds time to make me feel loved and cared for! He is also the best dad to our older daughter and 90% of the time is just laughing with her amidst all his other adult responsibilities!

I would use the steamer basket for broccoli, sweet potatoes, and those salt potatoes I'm dying to try! I'm thankful for my son, who just turned 5. My husband is in the military and currently stationed away from us, and our son has been such a trooper through all the change. Thank you for all of your wonderful posts – I have truly learned SO much from you!

Top three…🤔
1. Sweet potatoes (we love these in the instant pot. I cook them with beef roast instead of carrots and regular potatoes)
2. Spaghetti squash
3. Eggs
Bonus…a colander! Who doesn't love a multi purpose accessory 😍

So thankful for my family. My sister has been a huge support and has helped me through some tough times. Grateful for her. I would use the basket for eggs, veggies and potatoes.

I would use it for eggs, potatoes, and corn on the cob! Thankful for my 5 month old baby who is healthy and happy!

I am thankful for so many things it is hard to pick. Of course my family who stands with me and by me at all times. I am grateful for friends that see I need a break and are always willing to step in, and I am thankful of so many people all around who show me there is so much good in the world.

The steamer basket would be great to do better so many things I already do, potatoes, eggs, veggies, and I had never thought about doing ribs

Wow! A steamer basket has been an accessory on my list for a bit, and now I'm reminded why. What an awesome chance! Thanks Lisa! I would use the steamer basket for broccoli (I absolutely love broccoli) and potatoes, lots and lots of potatoes, the most often, but I'd love to do some corn on the cob in my IP too! I am thankful for unwavering love and support from friends and family. I have been through a lot of life change in the past year and knowing that you have that love and support makes changes easier and more exciting (and it just makes life easier to have a community of people).

Id use it for spaghetti squash, potatoes, and eggs. I am grateful for overall good health.

I would use a steamer basket for broccoli, ribs, and eggs, for sure! I am thankful for so many things! We moved this past year to be closer to our family. I am so very grateful to be able to worship with them each week and to share life with them. What a blessing! I am also thankful for you and all of the wonderful information you share! Keep up the good work!

I would use the steamer for potatoes, sweet potatoes and broccoli for my little one so she will start eating veggies 🤣. I am super thankful for my friends and family because it was a very rough month and will be a rough next few months emotionally since i just went through my second miscarriage. I'm thankful for my 1 year old daughter tho who is such a blessing too!

Thank you for this opportunity! I'd use the basket for potatoes, eggs, and vegetables. This basket would help us to eat more healthily! I'm so thankful for learning new things, for people who share their knowledge, and for the excitement that comes from learning new things!

Hi Lisa
I do most of the cooking in our home as for one love to cook, and my wife prefers not. Some days this can be very tough though after a busy day at work. Since buying the instant pot it has made this task a little easier. I would love a steamer basket to make things like potatoes,eggs and vegetables.
I love my wife as for all the other things see does around the house and keeps my clothes clean , also see puts up with me. LOL

I would use the basket for potatoes, corn and broccoli. I am grateful for our freedoms and for those who serve in the military to bless our lives and freedoms. :):)

I have been wanting a steamer basket for a while! I think they are a great addition to the Instantpot. Normally I use my standard steamer thing, like you would use for the stovetop, over my trivet in my pot. Its tedious to get out and I often burn my wrist doing so. Id definitely be using this basket for veggies, eggs, and rinsing my berriers so they last longer. This year was miserable for crops (Thanks, polar vortex!) And often my berries came home rotted from the store.

This year I'm extremely thankful for my family. We spent this year moving my mother across the country closer to us since shes getting older. She doesnt like the snow here but it doesnt outweigh being near her children. This is going to be the first time in 5 years I get to spend the holidays with her and I couldnt be happier!

I would use it for hard-boiled eggs, whole chickens, and veggies. I am thankful for the Internet because it opens the World's knowledge to me, including your blog.

Love these ideas!

I want to use this for big things like potatoes and corn and steamed veggies!

I'm thankful for my instant pot!!!

I would use the steamer basket to cook some of these amazing recipes on your post.
I am most thankful for my Faith, my family and their health.

I would definitely use this to cook eggs 🥚 and broccoli 🥦 because those are staples in our house (and two of the few things my son will eat!) but I'd definitely like to try making spaghetti squash with this. I've been trying to reduce my carb intake so I've been incorporating more spaghetti squash in place of pasta. I always get nervous cutting the squash for fear that I'll hurt myself so I love that I could throw the thing into the steamer whole!

This year, I'm especially grateful for my husband who has really stepped up with house chores and toddler duty since I returned to work full time since our son was born. I was fortunate to stay at home with our son for the first 2 years but I was itching to go back to work and my husband supported me in that decision and has really helped out with our son to make my transition back to work easier, ❤️

Lisa, Great post! I'm excited to get a steamer basket to cook sweet potatoes, green beans and eggs. (can't wait to try your sweet potato casserole!). I am grateful for people like you who share their talents and recipes with others. My favorite thing is to read, print, and try new recipes. I like to learn new ways to use my instant pot. Your instant pot yogurt recipe is a staple at our house. Happy Thanksgiving!

I would definitely make green beans, broccoli and hard boiled eggs. I'd also love to try the bone broth and spaghetti squash!
I am thankful for my mother-in-law. She has been so helpful these past couple months with everything. My parents went on a mission to New York and I have four little kids and always depended on my mom so much. She comes to my house weekly and just helps my kids with reading, does projects with them, cleans my houses, helps decorate, helps make Halloween costumes, let's me run to the store with no kids, whatever I am needing. She has been a huge blessing to our family!

I would love to try veggies, eggs and shrimp in the basket. I am grateful for the ability to walk after a long ankle surgery.

I will be honest, this has been a tough TOUGH year for us as a family but you're right, we have so much to be grateful for and it's so easy to forget the simple things when times get tough. I'm thankful for my two beautiful children, ages 4 and 2, who give my life purpose and challenge me every day to be a better person. My husband who puts up with me (haha). A roof over my head. A car to drive. Clothes on my back. Good health. And just life itself. <3
If I had this steamer basket I'm sure I would use it for boiled eggs, homemade bone broth, and I'm dying to try your salt potatoes so I'm sure that would be happening too!

I would use the steamer for the broccoli 🥦, eggs 🥚, and green beans. I've always been to cheap to pull the trigger on the steamer. Lol 😂
There are many things I'm thankful for. One thing especially this year is for my younger sister. She has struggled for years with depression and an eating disorder. She has wanted to give up several times but just continues to fight. She has been in a treatment facility twice in the last three months which is hard but I'm so thankful she's choosing to stay. I'm so proud of her and her example. She's a fighter and I'm so thankful. I don't know what I would do without her.

I would use the steamer basket for veggies, potatoes, making broth, and probably a host of other things! Thanks for all the great ideas on how to use it.

I am thankful for my family's health- I've had some struggles in the last couple weeks and it has made me more aware of how blessed we are with good health- and that mine could be worse.

Hi Lisa!!! I am so thankful for my babies and my family and friends and new friends and internet friends!! Im thankful that I get to fly everywhere (I'm in japan for the twins bday!) and experience wonderful cultures! I'm also thankful for all the blessings that come my way, big or small!

I've always wanted this steamer basket from the day I first started following you! Idk why I never got it but this may be a chance to!!
I would loveee to make……
1. broccoli for crab broccoli salad!!
2. Potatoes for mashed potatoes because I always have to rinse it and it really sucks!
3. Whole chickens so I don't have to strain all the bones in another container!!
. I know u said 3 but I also wanna do eggs! And carrots and corn! Everything u make!!!!

Thank you for always posting amazing things!

Thank you for posting about the steamer basket. I would use it for potatoes, veggies, and eggs. 😋 I'm grateful for my life and everything that I have. I'm grateful for my husband. He's the most loving, caring, talented person anyone could ever ask for. I'm grateful for each of my children. They have brought so much happiness into my life.

Hello Lisa! I would use the steamer basket for eggs, carrots, & broccoli or green beans 🙂 I am thankful this year for the progress my husband and I made on our goal to be debt free! We have scrimped and saved and ate at home A LOT (so very thankful for your instant pot recipes & tips!!) but looking back it was worth it because we are halfway there & I never thought we would be this close in only a year. Would love to have a steamer basket to make even more meals this coming year! Thank you for all you do and Merry Christmas!

Love this post!! My three that I'd use my basket for… 1. Potatoes! Sweet and Others! 2. Eggs!! I love making eggs in my IP. 3. I've been on the bone broth making train lately so a basket to catch all that stuff will be perfect!

This year I'm thankful for Change. Change to be in a different environment. Change to get to know my relatives that were once far away. Change to embrace the good times and the struggles and still keep smiling. 😊

My basket would be used for a number things. Broccoli, bone broth, eggs. Ultimately I would love to use it for the sweet potatoes that I use in my dogs homemade food. I am most Thankful for my friend Rachel Ross! She is my one friend that I could always count on to be healthy with via exercising, hiking, walking and eating. She gifted me my instant pot..so if I won the basket I would definitely gift the basket to her.