Chocolate covered strawberries are the easiest dessert that looks way classier than the work required. Not only are they normally easy to make, but using the Instant Pot as a double boiler makes it even easier!
*This post may contain affiliate links. This means as an Amazon Associate and affiliate for other products, I earn from qualifying purchases at no extra cost to you.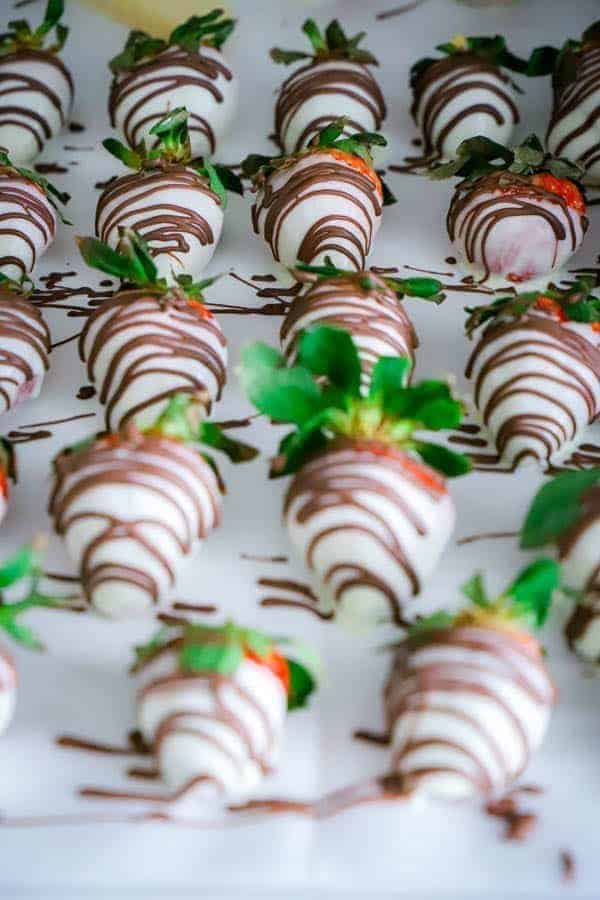 If you've never made chocolate covered strawberries before, this will become your go-to dessert when you need to bring a dessert somewhere! I've also included some awesome Instant Pot baby shower food ideas!
What is a Double Boiler?
A double boiler is composed of a pot of gently simmering water and a larger bowl that sits on top of it.
Because the water doesn't touch the upper bowl, the ingredients get the perfect amount of heat to melt or cook.
The purpose of a double boiler is to use indirect heat to gently heat delicate foods like sauces, custards, and chocolate that can easily burn.
How to Melt Chocolate in the Instant Pot
The Instant Pot can be used as a genius double boiler, perfect for candy-making! Plus, you don't want to stand in front of the stove to do it or you're on the go. Now, you can have melted chocolate on the table or countertop! Wouldn't that be great for a fun fondue night?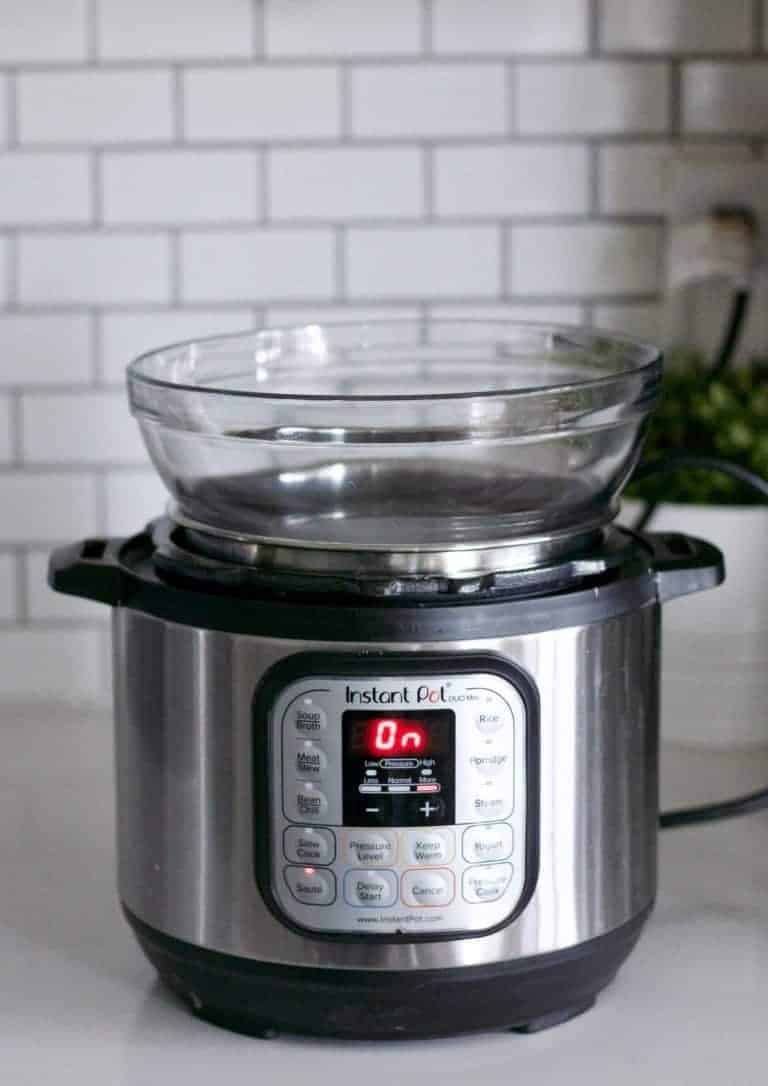 How to Make Chocolate Covered Strawberries
Like I said, making chocolate covered strawberries is super easy and simple. It makes a great party favor or dessert to bring to a party or family dinner.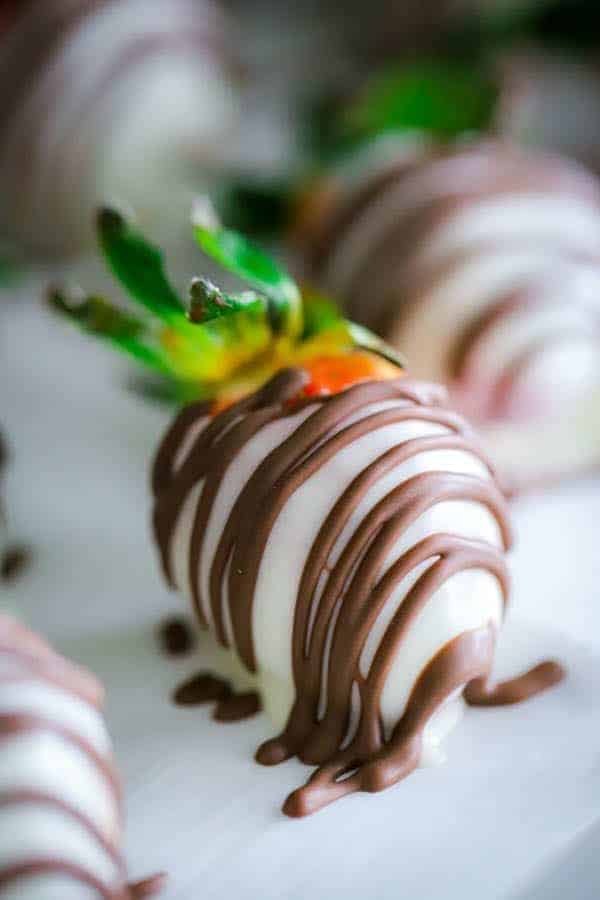 Start by making the double boiler in the Instant Pot. Add 2 cups of water to the Instant Pot, and set the pot to low saute. Find a large glass bowl that fits over the edge of the Instant Pot liner.
The bowl must be large enough so it doesn't drop into the liner and get stuck, or fall in and touch the water.
White or Milk Chocolate Covered Strawberries
When making chocolate covered anything, it's best NOT to use chocolate chips. That's right. Chocolate chips were created to keep their shape, not melt.
The best chocolate to use for chocolate covered strawberries is a melting chocolate like milk or white almond bark. My absolute favorite brand is the Ghiradelli melting chocolate. It's insane.
The best place to find it is during the holidays at Sam's Club (red and blue bag). Otherwise, it's kind of pricey to buy at the grocery store.
Add your melting chocolate to the bowl in whatever quantity you need. As the chocolate melts, stir it around with a whisk or rubber spatula to keep it evenly heated.
If the bowl starts rattling or it gets too hot, turn the Instant Pot off or to the Keep Warm function.
Preparing Strawberries for Dipping
Now to the berries! First, prepare the strawberries by washing and drying thoroughly. Because the berries need to be completely dry, I recommend washing the berries at least the night before.
If moisture gets in the chocolate, it can seize, which you definitely don't want! Chocolate that gets water in it will be gritty and clumpy.
Check out my post on the Everlasting Berry Hack to keep berries from molding for up to 20 days!
Dip washed and dried strawberries in the chocolate. I like to use a fork or corn cob holder to hold the strawberry. Just stick it right on the top and swirl it into the chocolate.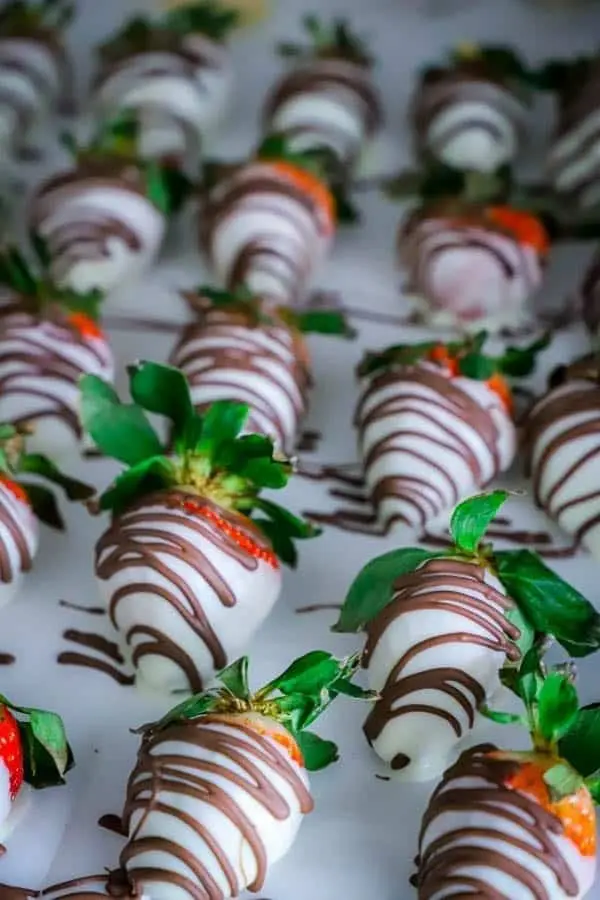 Next, tap it against the edge of the bowl to remove any excess chocolate. Lastly, place the chocolate covered strawberry on a cookie sheet covered with wax/parchment paper. I like using a nonstick silicone baking sheet.
Decorating Chocolate Covered Strawberries
Now these look great as is, but I wanted to make them a little more festive for the party!
After I dipped all the berries, I took the remaining chocolate and added some food coloring. I transferred the blue chocolate into a small Ziploc and cut the corner off to do a little drizzle. Perfecto!
You can also sprinkle some sprinkles, chopped nuts, or use a different type of chocolate to decorate.
I bought some of these coconut sugar wafers and they were DIVINE dipped in white chocolate!
Baby Shower/Bridal Shower Food
I served these beautiful chocolate covered strawberries as dessert for a baby shower. Initially, I was going to make a homemade ombre macaron tower, but I got so busy that I didn't have time 😂.
Just typing that sounds so obnoxious… Macarons are tricky and time consuming with a high risk of failure.
On top of everything else I had going on, I knew I had to simplify! I'm glad I thought to make these because they are equally crowd-pleasing and a million times easier!
I served these alongside:
Some of my other Instant Pot Recipes that would be great for a shower or party:
It was a fun, festive, springy, light menu for all the women that attended. I think these types of foods would be awesome for your next baby or bridal shower you're hosting!
About Lisa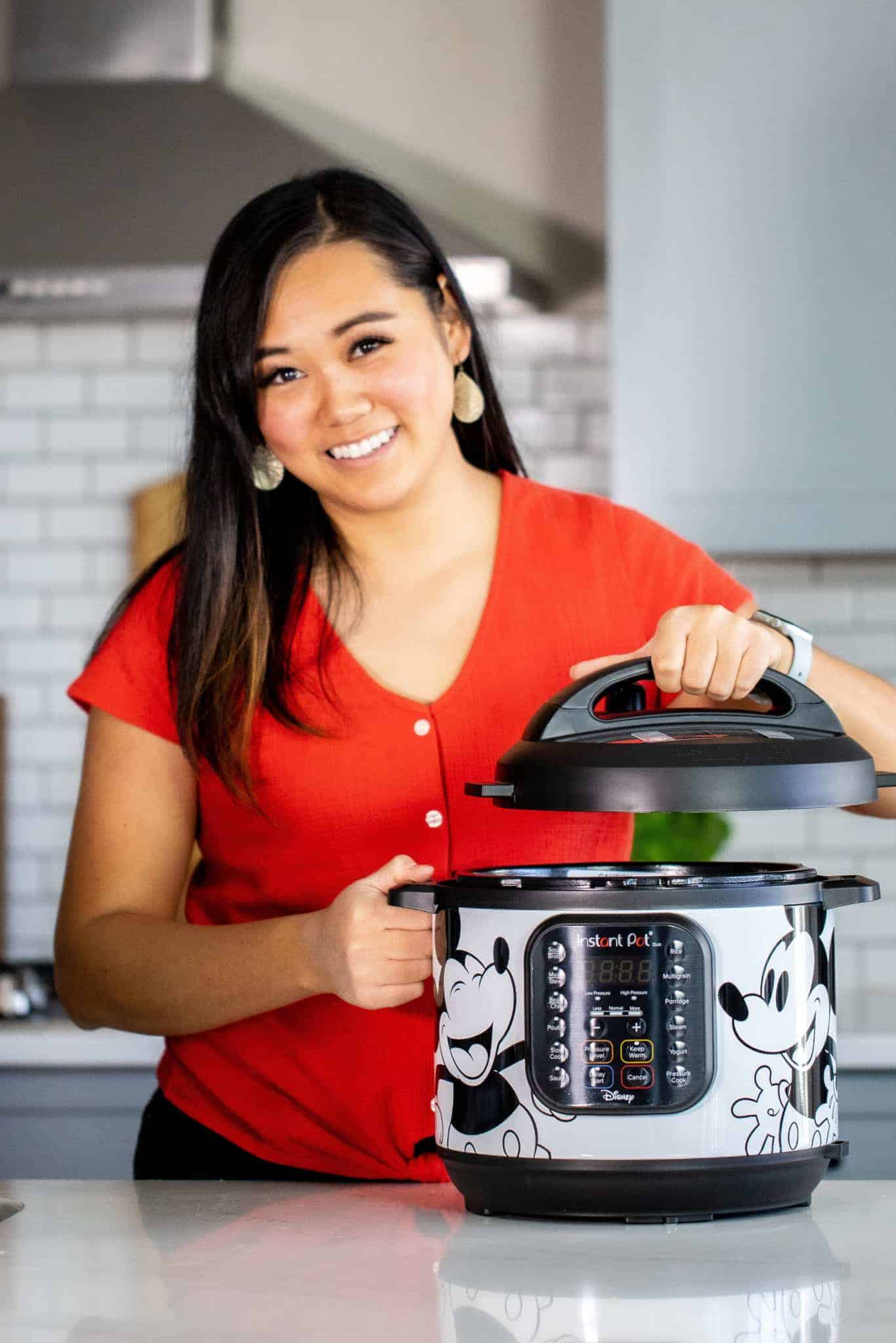 Lisa Childs is the food blogger behind Tried, Tested, and True. Join the hundreds of thousands of people each month that learn from Lisa-
Subscribe to her website, follow her on Instagram at @tried_tested_true, follow her on Pinterest, and find her on Youtube at Tried Tested and True. She is passionate about giving home cooks confidence using their Instant Pots. Make sure to sign up for our email newsletter to hear from personally from her weekly! Learn more about Lisa.
Chocolate Covered Strawberries (Instant Pot)
Using the Instant Pot as a double boiler makes these Chocolate Covered Strawberries super simple and easy! Perfect for your next party!
Ingredients
2 cups water
1/2 pound White or Milk Chocolate Almond Bark or dipping chocolate
2 pounds Fresh Strawberries, washed and dried
Instructions
Prepare berries the night before dipping or at least 3 hours before by washing and removing any berries with soft spots or dirty leaves. Dry completely. The berries cannot be wet or they will seize your chocolate.
Add 2 cups of water to the Instant Pot. Set on Low Saute.
Place a large glass bowl that fits over the edge of the Instant Pot liner on top of the Instant Pot.
Add Almond bark to the bowl and let melt, about 5 minutes. Stir constantly until melted. Adjust the heat on the Instant Pot to OFF or KEEP WARM if the bowl starts rattling or it gets too hot.
Pierce a strawberry through the stem with a fork or small skewer. Dip each berry into the chocolate and swirl to cover. Tap the excess chocolate off into the bowl, and place on a piece of parchment paper or silicone baking mat.
Drizzle with additional chocolate, sprinkles, nuts, or other toppings to decorate, if desired.
Let cool until set, about 10 minutes. Enjoy immediately or the day of dipping. Store in an airtight container lined with a paper towel in the refrigerator.
Recommended Products
As an Amazon Associate and member of other affiliate programs, I earn from qualifying purchases.
Nutrition Information:
Serving Size:

1 grams
Amount Per Serving:
Unsaturated Fat:

0g