Instant Pot Frozen Chicken + Strawberry BBQ Chicken Salad
---
This post may contain affiliate links, which means I earn a small commission if you purchase something I recommend - at no additional cost to you! Thank you for supporting this blog!
Instant Pot Frozen Chicken is a game changer. There's no thawing, defrosting, or boiling necessary! Just stick some frozen chicken in the Instant Pot, and it's ready in about 25 minutes!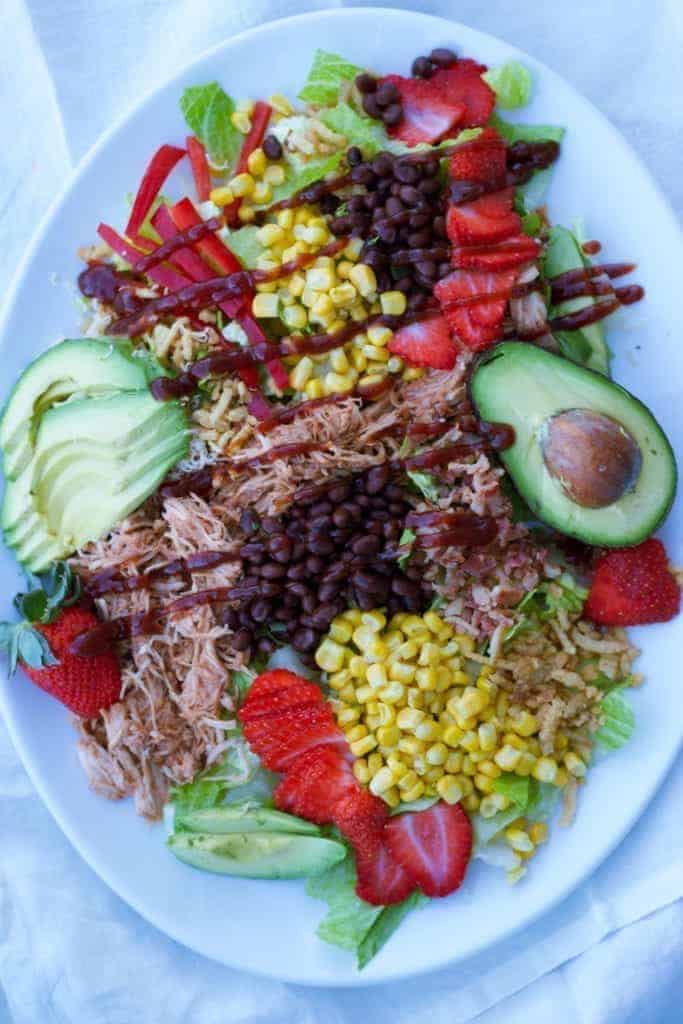 You can use shredded chicken in enchiladas, soup, sandwiches, rice bowls, or salads like this yummy strawberry BBQ chicken salad I'll share with you today!
If you like this recipe, you'll love my super simple Chicken Drumstick recipe! Dinner will be on the table in less than 30 minutes!
Instant Pot Frozen Chicken
The fact that the Instant Pot can cook frozen chicken so quickly is one of its many talents. If you forget to stick chicken in the Crockpot (what, you still use that!?) you can have this done in 30 minutes. You can use fresh chicken as well! (It'll take the same amount of time).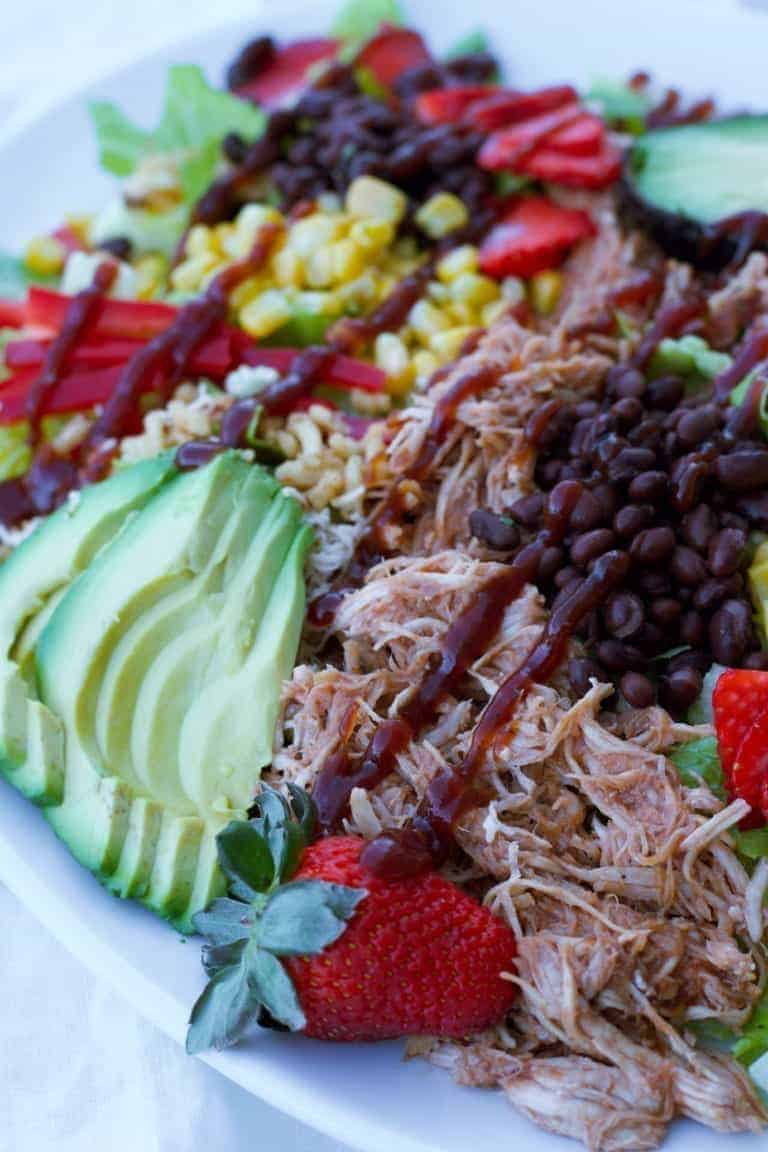 Frozen Chicken (and meats in general) give off a lot of liquid while pressure cooking. Because of that, you'll notice your chicken is quite a bit smaller after cooking than before you put it in and it's in a lot of liquid.
You might also notice some weird chunks and impurities in or on your chicken after cooking. This happens with chicken period, but it's more pronounced in your Instant Pot when pressure cooking chicken.
I usually pick off what I can, and leave the rest. It is not harmful at all (albeit being unappetizing to look at sometimes).
How to flavor Instant Pot shredded chicken
Instant Pot Shredded chicken is so versatile! You can flavor it with any kind of sauce or ingredients. I almost always add a little extra flavoring into the cooking liquid (instead of using straight water) to infuse a little extra flavor.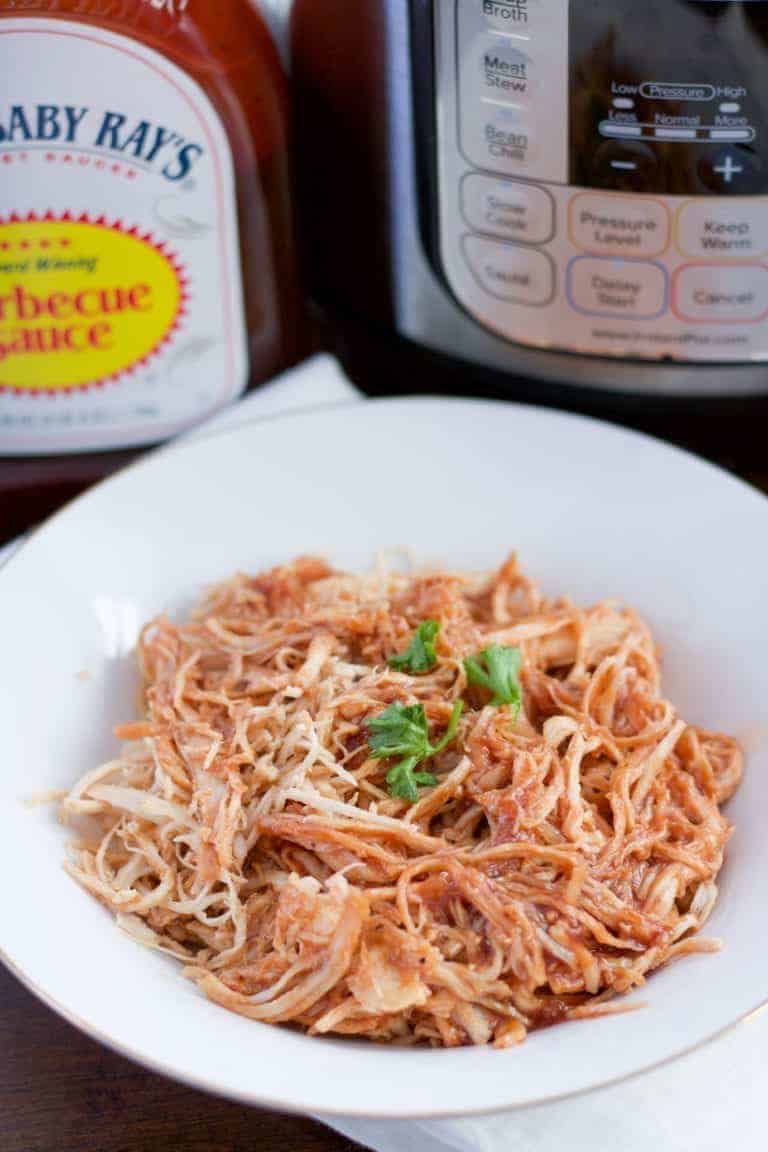 BBQ sauce, marinara sauce, salsa, hot sauce, etc. are all great. You just can't use anything too thick as the primary cooking liquid, because it needs to be able to boil and create enough steam to come to pressure.
If the cooking liquid is too thick, you'll receive a burn notice and it will not come to pressure.
If you want to keep it neutral, you can just use water and salt/pepper on top of the frozen chicken. Make sure you don't add all your flavor into the Instant Pot, or else it'll get very diluted.
It's best to add the bulk of the flavor after pressure cooking.
How to make Instant Pot shredded Chicken using frozen meat
Add your chicken pieces to the Instant Pot. It's best to use pieces that are similar in size (not one giant one and one smaller one). I like to use my trivet, but it's not absolutely necessary.
Read my post about the top 10 accessories for Instant Pot Cooking, plus which ones to avoid!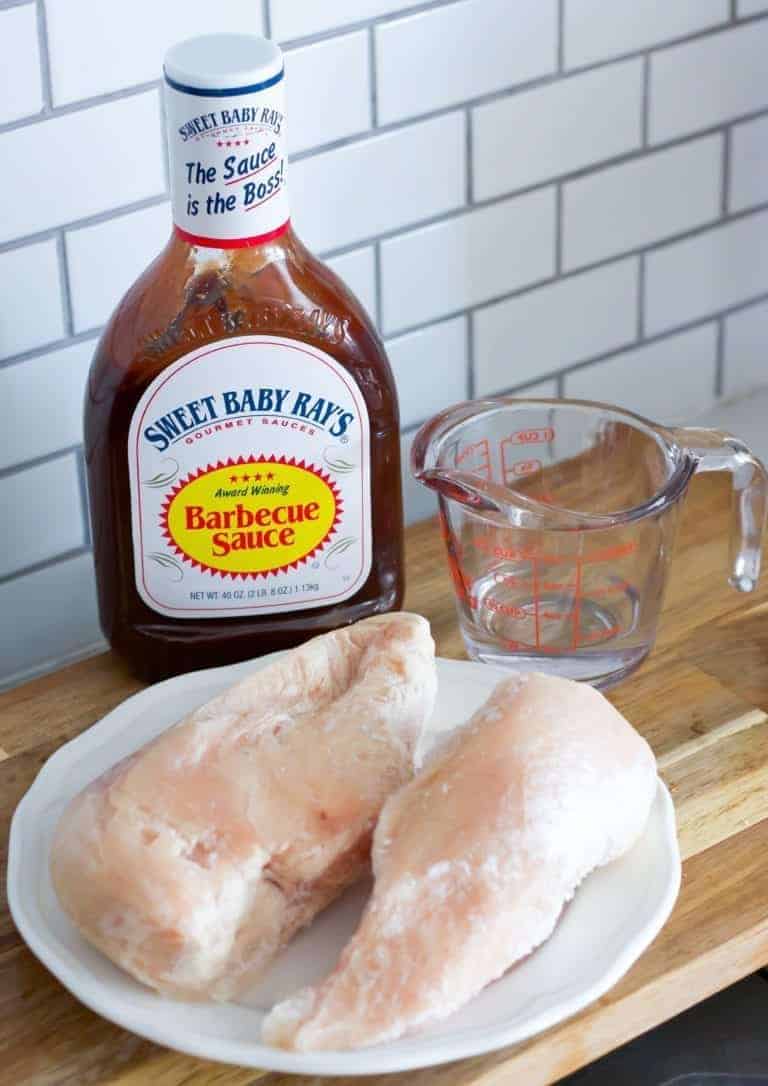 Then, add the liquid. I use ¼-½ cup maximum when cooking chicken in my 3 quart and 6 quart Instant Pots, because I only need enough for it to come to pressure. The rest of the liquid will come out of the chicken.
Lock the lid, and cook for 20-25 minutes. It's best to allow a natural pressure release for at least 10 minutes to avoid drying the meat out. I rarely do, but technically it is best.
Tip for Shredding Chicken in seconds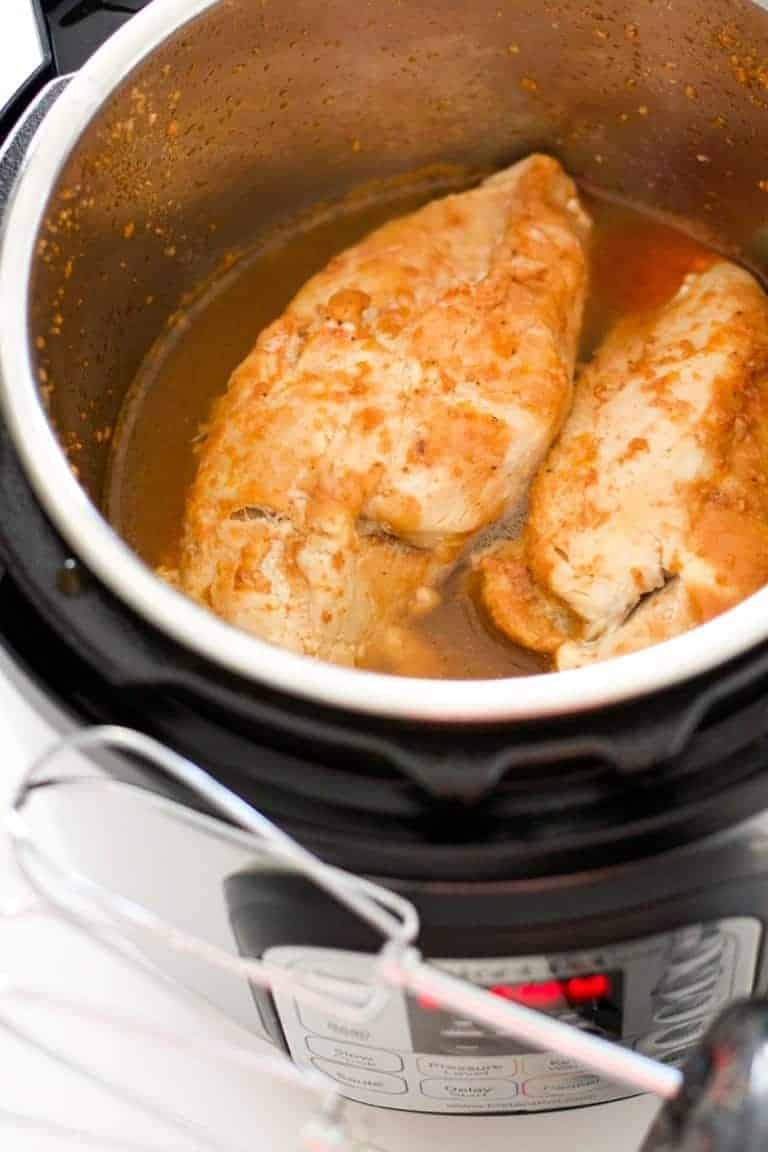 To quickly shred frozen chicken, Take the chicken out, then drain the cooking liquid into a liquid measuring cup. I always reserve some so I can add it back in while shredding.
Next, put the chicken back into the Instant Pot and shred using a hand mixer or two forks! The chicken can look dry while shredding, which is when I'll pour in some of the cooking liquid. Have you ever used a hand mixer to shred chicken?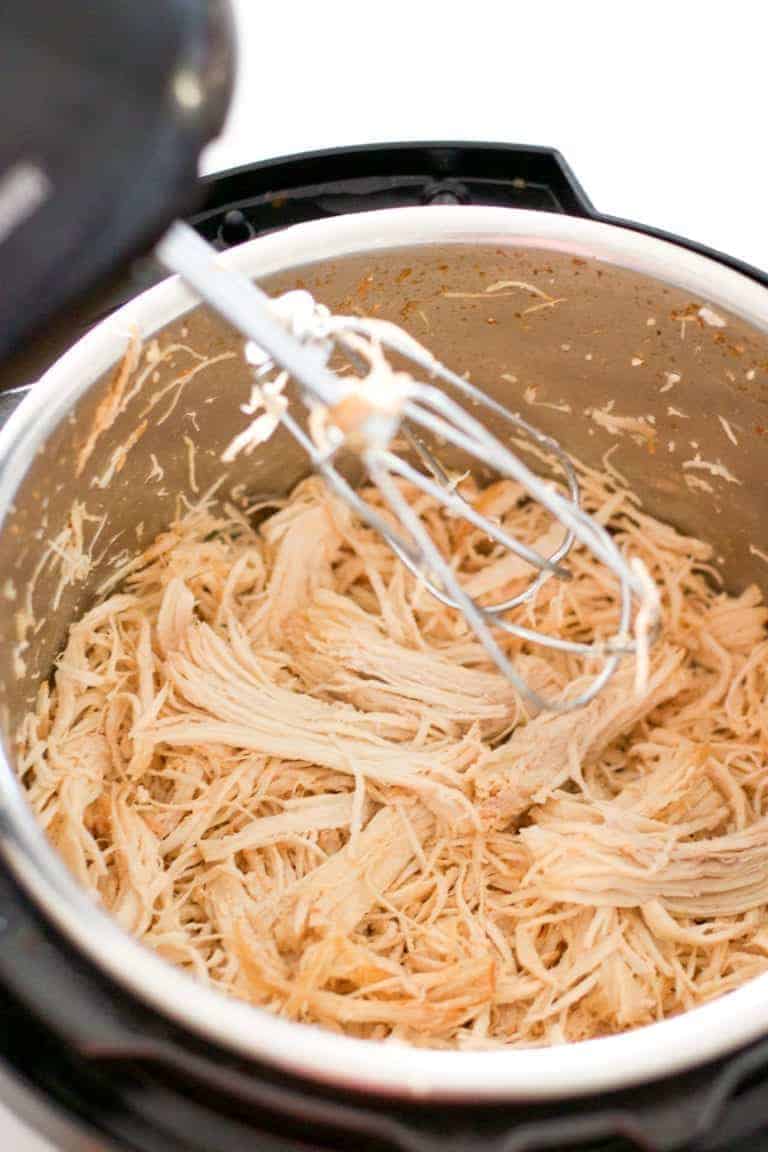 After that, I'll add whatever sauce I'm using the chicken for. BBQ sauce or buffalo sauce for salads, or cream cheese, black beans, and green chiles for enchilada filling.
Strawberry BBQ Chicken Salad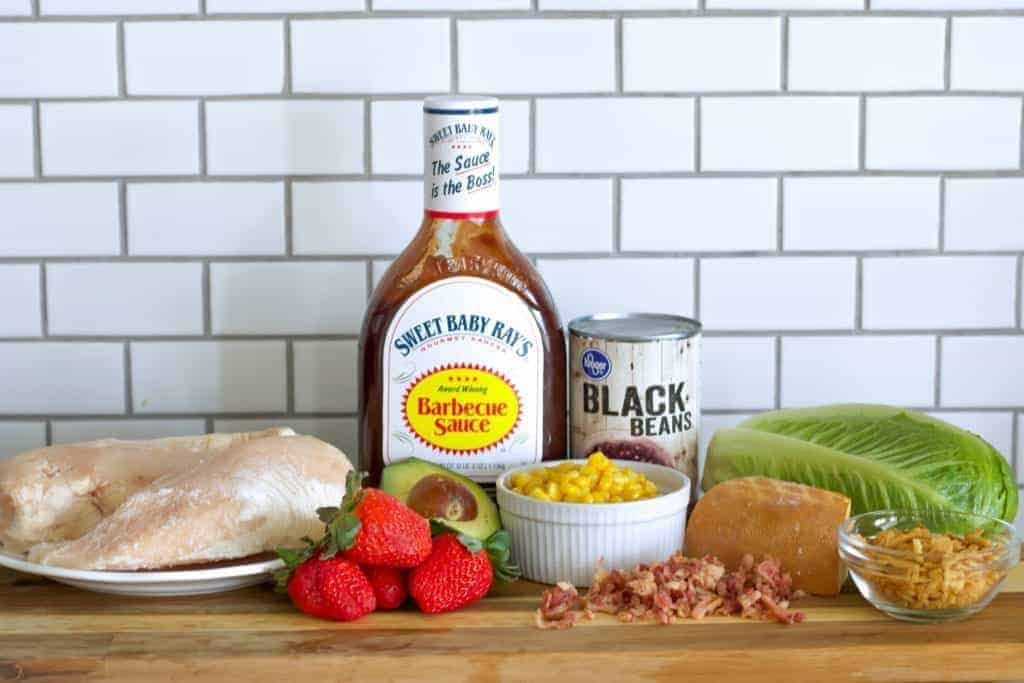 When I made the bbq chicken, I used a bit of apple juice as the cooking liquid and squeezed some Sweet Baby Ray's barbeque sauce right on the chicken.
I'll use a little hot sauce in the cooking liquid when I'm making Shredded Buffalo Chicken for lettuce wraps/salad or Buffalo Chicken Dip.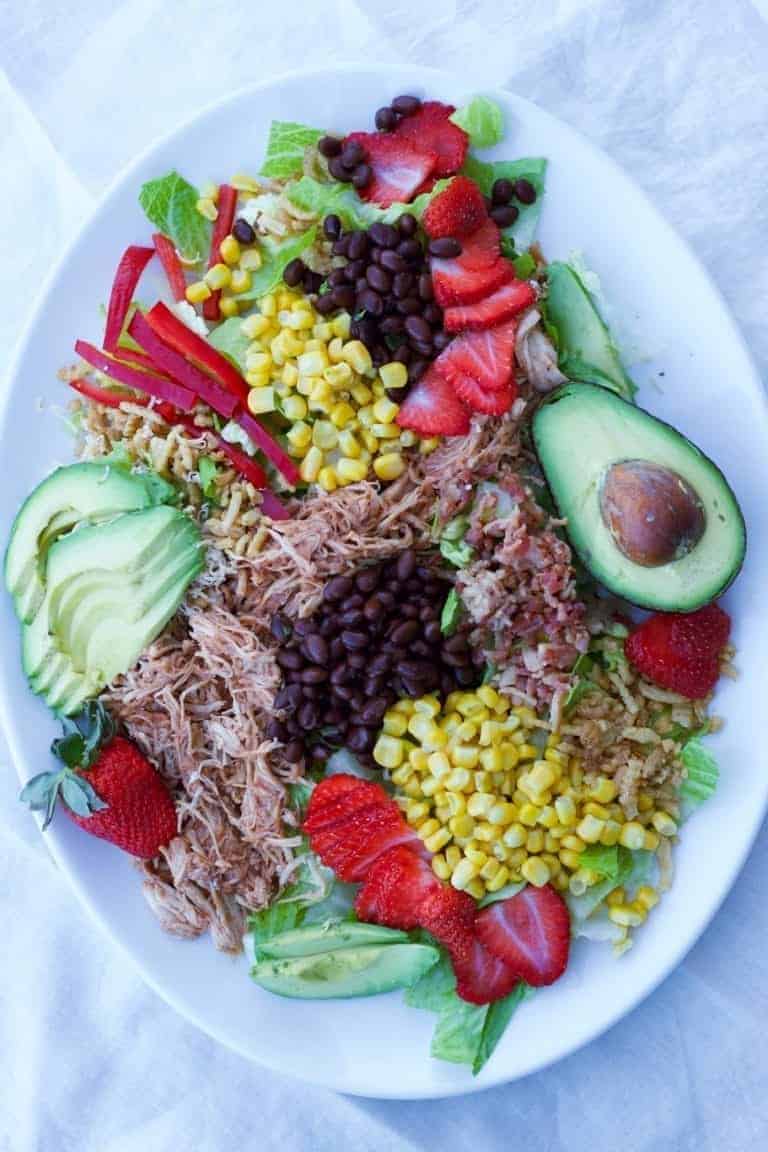 This salad is soooo yummy, hearty, and beautiful! I pack the salad with shredded chicken and bbq sauce, fresh strawberries, bacon, smoked gouda, black beans, corn, crispy onions, and avocado.
I like it without dressing (the sauce is enough), but it's really yummy with poppyseed or ranch dressing. This strawberry bbq chicken salad is always a crowd pleaser!
Instant Pot Shredded Chicken + BBQ Strawberry Chicken Salad
Instant Pot Shredded Chicken from frozen: no thawing, defrosting, or boiling necessary! From frozen to shredded in about 30 minutes!
Print
Pin
Rate
INGREDIENTS
1/4-1/2

cup

water or other cooking liquid

2

frozen chicken breasts

frozen or fresh
BBQ Strawberry Chicken Salad
Instant Pot shredded chicken

1

head Romaine lettuce

chopped

1/2

can black beans

rinsed and drained

1/2

pint

fresh strawberries

washed and sliced

1

cup

BBQ sauce

1

cup

corn

fresh or frozen, do not used canned

1

cup

shredded cheese

I like smoked gouda

1/2

cup

bacon bits

1/2

cup

crispy fried onions

1

avocado

sliced
INSTRUCTIONS
Instant Pot Shredded Chicken
Combine liquid and chicken on top of the trivet in the Instant Pot. I use 1/4 cup for my 3 quart Instant Pot, and 1/3-1/2 cup for my 6 quart. I suggest 1/2-3/4 cup for 8 quart Instant Pots. Add any additional flavorings such as a squeeze of bbq sauce or salsa, if using

Lock the lid, turn the knob to SEALING, and cook on manual high pressure for 20-25 minutes. Allow a natural pressure release of at least 10 minutes. 

Open the lid, and remove chicken and trivet. Drain the liquid into a liquid measuring cup. Return the chicken to the pot and shred using a hand mixer or two forks, adding additional cooking liquid 1 tablespoon at a time as necessary for moisture. Flavor with any additional sauces or ingredients. Serve or use in any application for shredded chicken!
BBQ Strawberry Chicken Salad
Arrange lettuce in a bowl or large platter. Add toppings on top of lettuce, along with the chicken. Serve with extra bbq sauce or ranch/poppyseed dressing. Enjoy immediately! 
NUTRITION
---
---
Hi Katie! it depends on what I'm making, but I mentioned some in my post such as salsa, sauces, chicken broth, or apple juice! – Lisa

Lisa! I just love you and your amazing videos. I am doing a Relief Society Dinner with your wonderful recipes. I am giving them a link to get to your YouTube Channel and your website as well. You have inspired me and I want others to know about you!

Thanks so much for being here and sharing!