This post may contain affiliate links, which means I earn a small commission if you purchase something I recommend - at no additional cost to you! Thank you for supporting this blog!
Instant Pot Kalua Pork is probably the easiest, most flavorful Instant Pot Pork recipe ever! You're only 3 ingredients away (okay, 4 with water) from the most tender, fall-apart, flavorful, Aloha-inducing pork ever!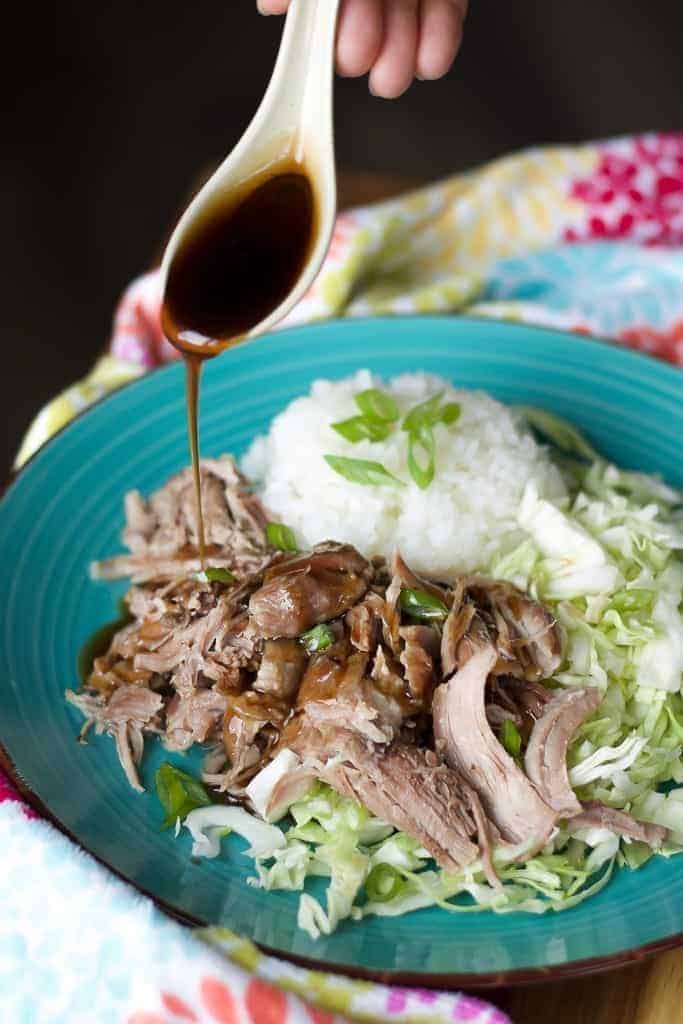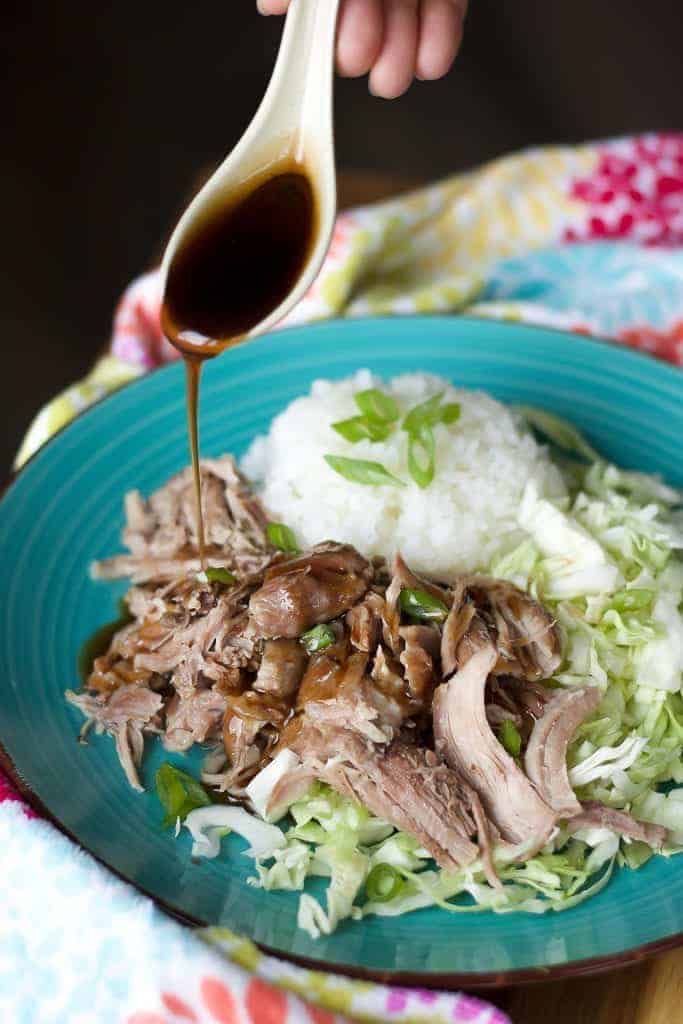 What is Kalua Pork or Kalua Pig?
Kalua Pork (or Kalua Pig) is a Hawaiian dish, traditionally a whole pig that is wrapped in banana leaves and slow-cooked underground until it so tender you want to cry.
The flavor of Kalua Pork is predominantly a salty, smoky, umami flavor. Done in the Instant Pot, it creates a ton of natural The flavor of this traditional kalua pig is predominantly salty, smoky, and umami.
Cooked in the Instant Pot, the Hawaiian pork exudes a ton of natural juices that make the pork just as tender and as the traditional method, but without having to roast an entire banana leaf-wrapped pig in your backyard!
You might hear about this recipe (or variations) being called Hawaiian Pulled Pork, Hawaiian Pig Roast, Lau Lau, Luau Pork, or just salty pulled pork.
Meat options: pork butt vs. pork shoulder
Pork butt (often called Boston butt) isn't actually from the buttocks of the pig. Both pork butt and pork shoulder come from the shoulder of the pig (so the terms are a bit misleading).
Pork butt is the option that's most marbled with fat, but the shoulder (often called picnic shoulder or picnic roast) is still well-marbled and also works great for this recipe.
I prefer to purchase my pork butt or shoulder with the bone in because that bone lends more flavor. With that said, you may purchase either bone-in or boneless cuts for this recipe and both will turn out well!
When I tested this recipe, I used a bone-in pork butt and left the bone in after cutting to extract more flavor.Try my one-pot Pork Tenderloin and Butternut Squash Mashed Potato recipe if you like pork!
Ingredients for Kalua Pork
The great thing about Kalua Pork is that it relies heavily on the natural flavor of the pork.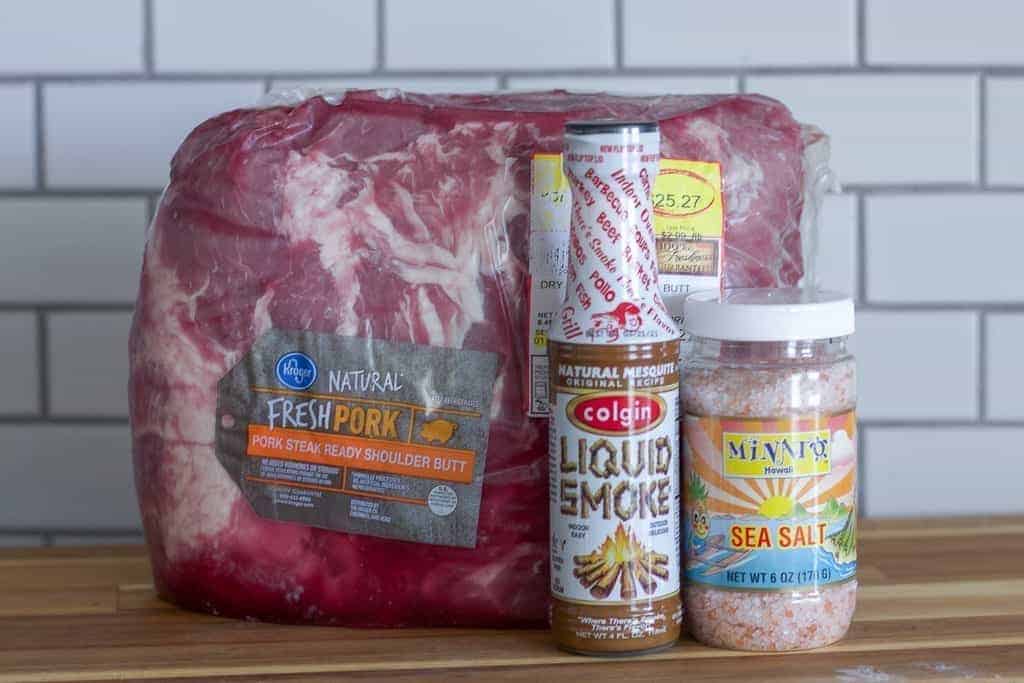 The ingredients for Instant Pot Kalua Pork are a Pork Butt or Pork Shoulder, Hawaiian Salt (no, it cannot be substituted for the same result), and Liquid Smoke.
Liquid Smoke is amazing at adding flavor!! I can't wait to start adding it to my Instant Pot Ribs recipe!
If you like this recipe, you'll love my super simple Chicken Drumstick recipe! Dinner will be on the table in less than 30 minutes!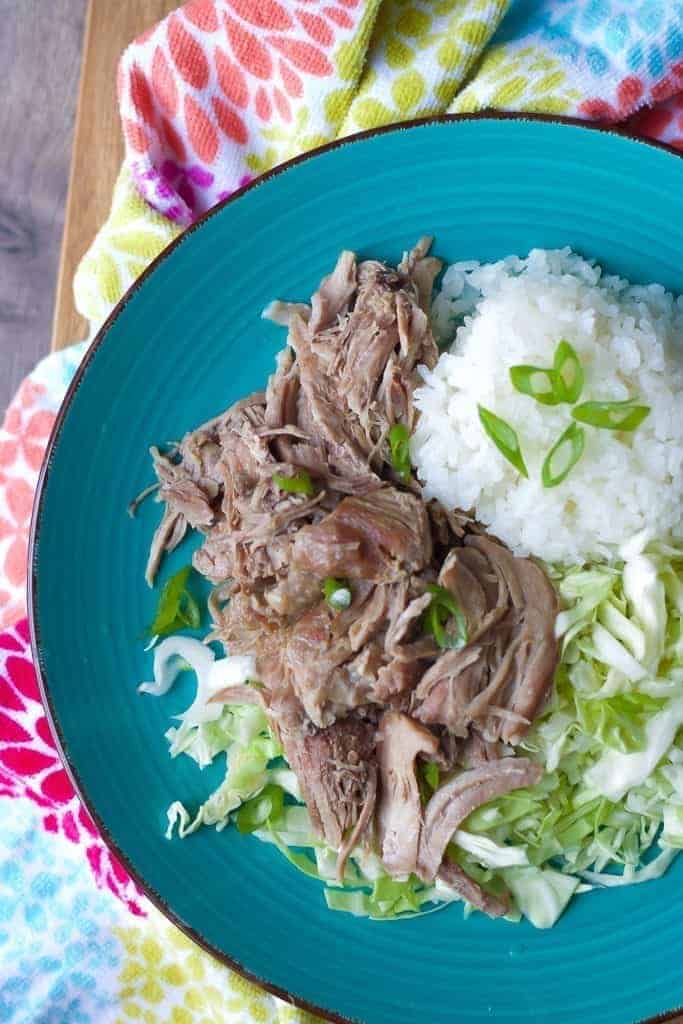 How to make Instant Pot Kalua Pork
The beauty of this recipe for Kalua Pork is that there is no searing required!
First, take the pork roast out of the package, and rinse it under cold running water. Using a large, sharp knife, slice the pork into large, uniform chunks.
If you're using a bone-in cut, slice around the bone and keep it as its own chunk. The bone will slide right out after cooking.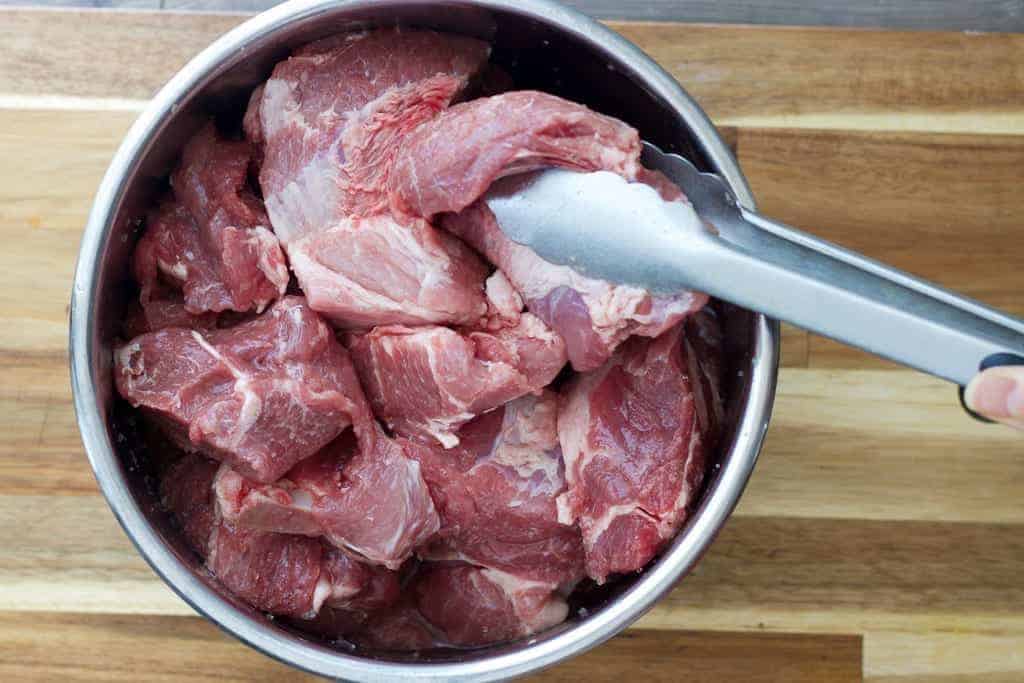 Next, add all the ingredients into the Instant Pot (pork, water, Hawaiian salt, and liquid smoke). I like to use this silicone lid to cover the Instant Pot and let this marinate overnight for optimal flavor. If you're short on time, you don't have to do this step.
After marinating, Add the liner to the Instant Pot base, set for 2 hours (120 minutes), and forget!
how to make Instant Pot rice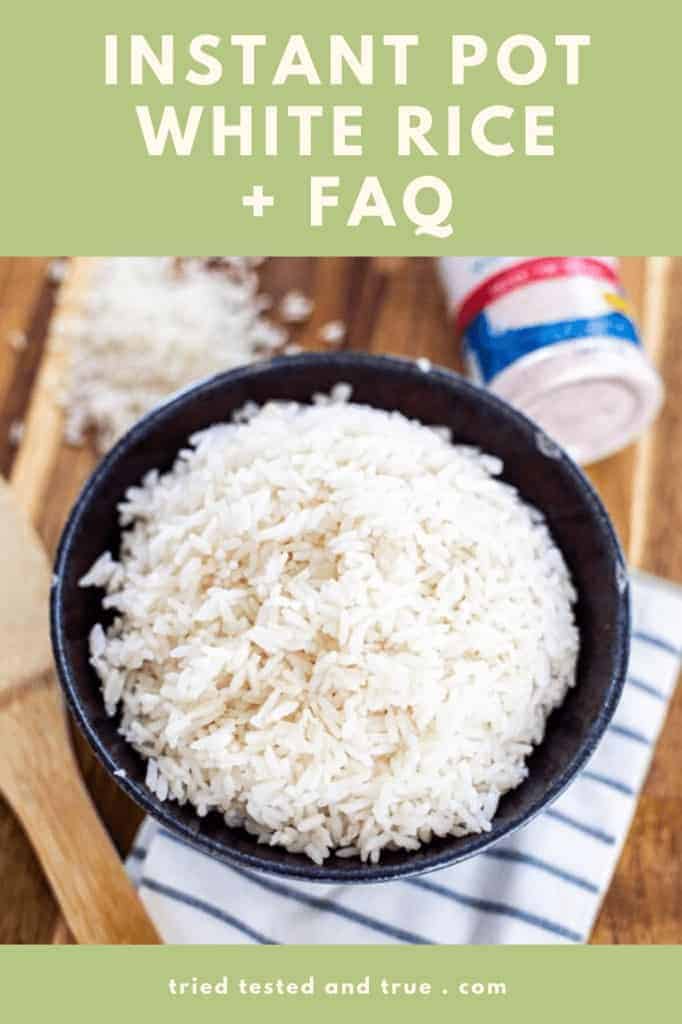 It's super easy to make rice in the Instant Pot- which this recipe goes great with! Check out all these Instant Pot Rice recipes and choose your favorite to pair with this Kalua Pork recipe:
Kalua Pork and Cabbage
Kalua Pig is best served with sticky rice and shaved cabbage, in my opinion. Wash and thinly (THINLY) slice up cabbage, and serve the lusciously tender and juicy pork on top.
Brett and the kids enjoyed it with some teriyaki sauce (like my Instant Pot Teriyaki Chicken Legs), but I prefer it plain to get the best natural flavor.
To prepare the cabbage, remove any wilted or dirty outer leaves from the cabbage. Slice it in half, then cut out the hard, white core.
Place the cabbage cut-side down on a cutting board, then slice as thinly as you can from the top of the cabbage towards the bottom core.
Place the cabbage cut-side down on a cutting board, then slice as thinly as you can from the top of the cabbage towards the bottom core.
I've found that using a mandolin makes this process a lot easier—I definitely recommend investing in one if you haven't yet! This chopper has several attachments (including a mandolin attachment) and I swear by it.
If this recipe leaves you craving more cabbage, I have you covered! Check out my recipe for Instant Pot Cabbage—it covers a no-fail recipe and several variations for when you're feeling creative!
You're also welcome to simple add the cabbage to the pork after it is done pressure cooking, and let is pressure cook for an additional 1-2 minutes, or simmer on saute mode until the cabbage is tender.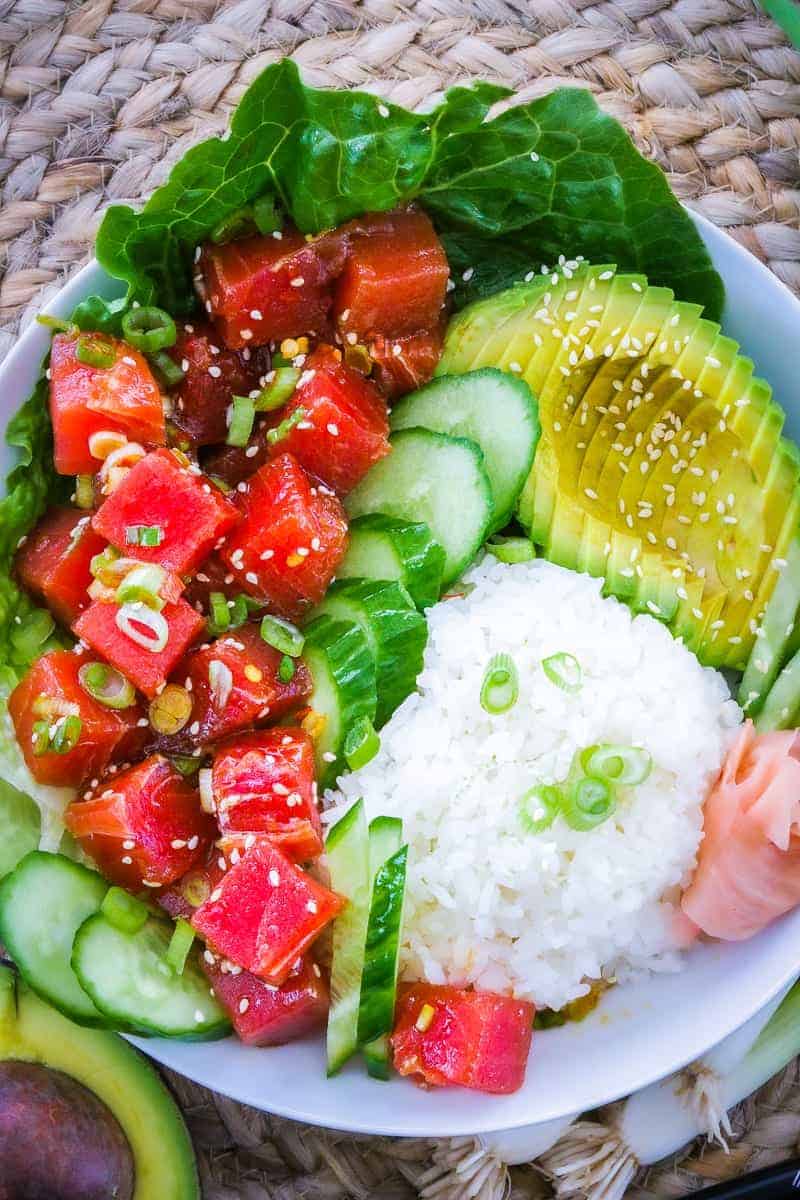 If you love Hawaiian food, you'll love my quick and easy Tuna Poke Bowl recipe or Fresh Pineapple Ginger Lemonade
Leftover Instant Pot Kalua Pork
Because this recipe for Kalua Pork makes a TON and is quite neutral (neutral—not lacking!) in flavor, you can use the leftovers for so many things!
I froze some Kalua pork flat in a gallon-sized bag so I could use it in enchiladas, sliders, quesadillas, nachos, fried rice, stir fry, sandwiches, and just plain. I added bbq sauce and used it as bbq pork, too.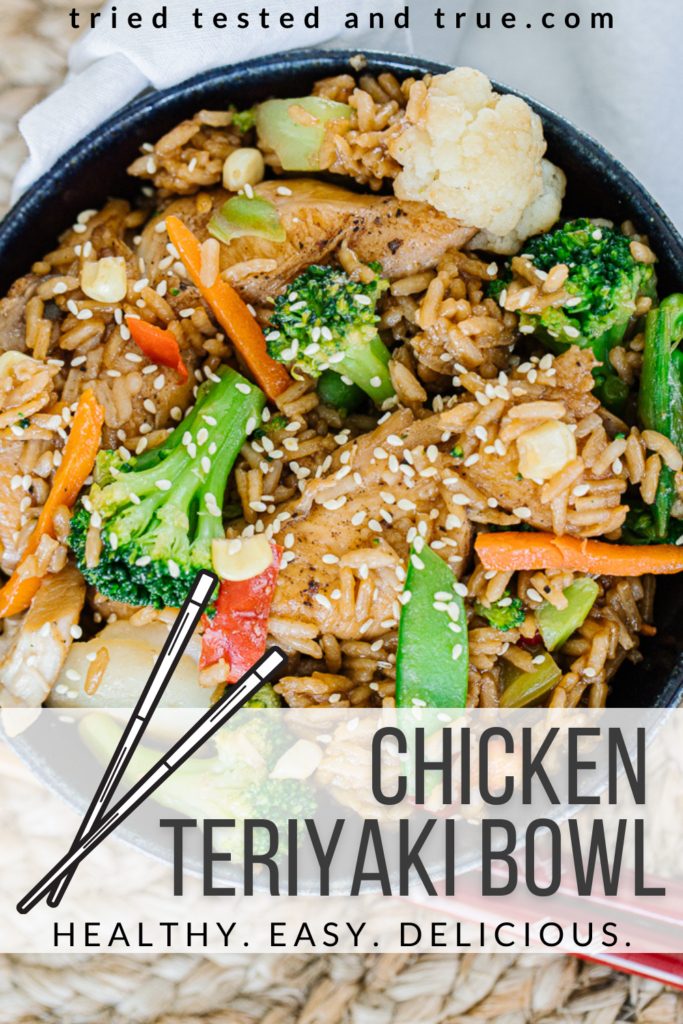 What to serve with Kalua Pork
You're going to LOVE this Instant Pot Kalua Pork recipe. It is so savory, salty, flavorful, and simple! Let me know in the comments if you try it!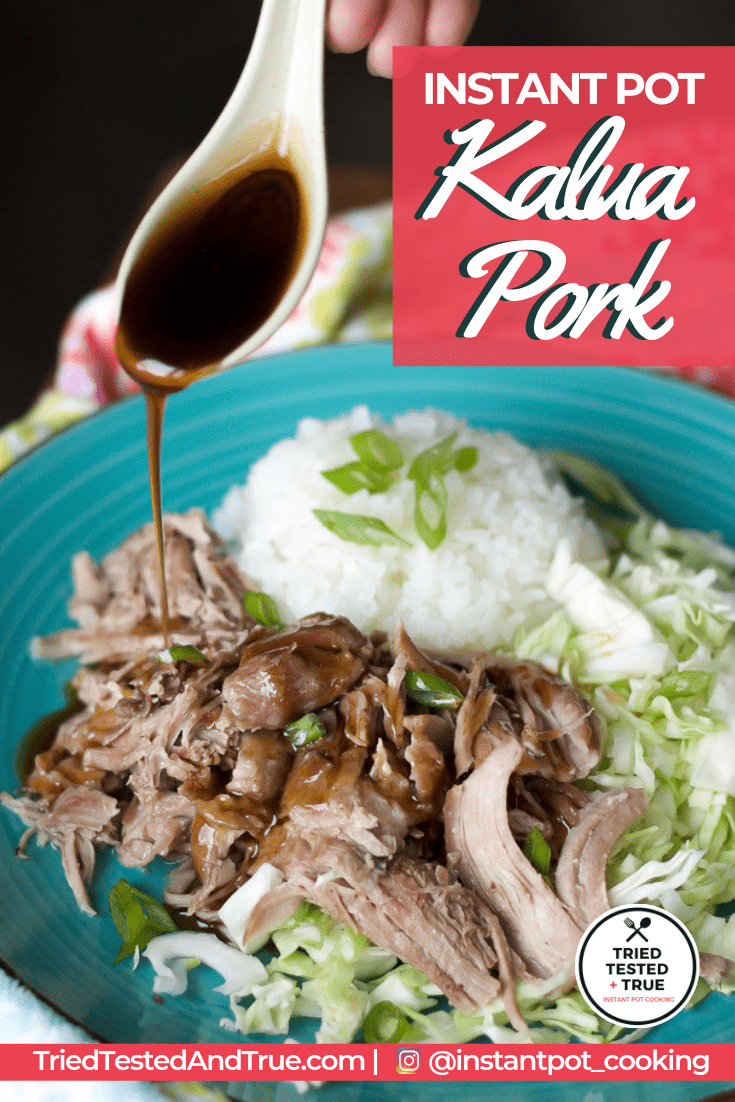 Instant Pot Kalua Pork
Instant Pot Kalua Pork is the easiest, most flavorful Instant Pot Pork recipe ever. You're only 3 ingredients away from the most tender, fall-apart, flavorful, Aloha-inducing pork ever!
Print
Pin
Rate
INGREDIENTS
8 1/2

pound

Boston butt pork roast or picnic shoulder

bone in pork butt preferred

1/4

cup

Hawaiian sea salt

2

tablespoons

liquid smoke

1 1/2

cups

water

divided
INSTRUCTIONS
Rinse the pork roast and cut it into large, uniform chunks, keeping the bone intact. Leave the bone as it's own chunk with meat left on it.

Add all pork pieces to the Instant Pot liner. Add 1/2 cup water, liquid smoke, and Hawaiian sea salt. Toss to coat, then cover and refrigerate overnight (or at least 8 hours.)

Place the Instant Pot liner into the base of the Instant Pot. Add 1 cup of water to the meat. Lock the lid, turn the sealing knob to the Sealing position, then cook on Manual or Pressure Cook for 120 minutes and a full natural pressure release (or 30 minutes.)

Because the Instant Pot liner was cold from the fridge, it will take a while for it to come to pressure. Allot at least 30 minutes on the pressure building side and the natural pressure release on top of the 120 cook time.

Open the lid, and remove pork to a large serving dish. Pour some of the cooking liquid over the top of the meat to keep it moist. Sprinkle with additional salt to taste and serve with rice and shredded cabbage.

This meat would also be delicious served as a sandwich or slider with slaw, teriyaki sauce, or bbq sauce.
NUTRITION
Serving:
4
oz
|
Calories:
543
kcal
|
Protein:
47
g
|
Fat:
38
g
|
Saturated Fat:
14
g
|
Polyunsaturated Fat:
20
g
|
Cholesterol:
175
mg
|
Sodium:
1406
mg
---
---
That sounds delicious! Thanks for stopping by, Keith!

I think this recipe is very testy. I like it.. thanks for your content

You can also cut the cabbage into bit size peices and mix together until wilted. And it makes for a great burger with the teriyaki sauce.

Yummy! I love mixin it up with cabbage too!

This pork is so good! I'm usually big on adding sauces, but I liked this meat best plain; it is very flavorful. I followed all instructions and got a burn notice before the pot could come to pressure. So I took out all the meat and put it in a large bowl, scraped the bottom of the instant pot with a wooden spoon, added the trivet that came with the instant pot, returned the meat to the pot. Then I set the pot to pressure cook for 2 hours and everything turned out great.

I would like to use this recipe cut down for my 3 qt Instapot. I do not have a larger one. Would you suggest amounts to fit it? Same cook time? Thanks.

Hi Shaylee. This is a large cut of meat so if you cut it down to fit your 3 quart, I would probably recommend 90 minutes or even 60 if it is not bone-in. Let us know if you tried it!

Fabulous recipe! After reading the reviews i used chicken broth instead of water and placed the marinaded meat in a trivet while pressure cooking. My whole family loved it!!!

Hi Lisa, if I am unable to get hold of any liquid smoke, what can I use as a substitute?

Hi Joey. I recommend using a smoked paprika or chipotle powder for smokiness (though it will change the flavor). If you don't have the smoke, I wouldn't worry too much about it and then just season with a little additional salt and pepper after pressure cooking. The smoke is pretty important to the flavor to mimic authentic kalua pork though, so keep that in mind.

So delicious! tender and flavorful! Thank you for this recipe- so easy! I did reduce the liquid smoke to 1 tbsp because I was worried it would be too overpowering. It also seemed like a lot of salt so I only did 1/8 cup salt and added later, to taste. After taking out the pork, I added roughly chopped cabbage and did 2min HP Quick release.
Question: what's the best way to reheat without drying out the meat?

Sounds great, Josephine! I recommend reheating the meat in some of the cooking liquid to keep it moist.

The link to Amazon for the Hawaiian Sea Salt shows that it is unavailable. What other brand would you recommend? Should it be course or fine?

The one i use is course salt. I've also found hawaiian salt for sale at Walmart in the asian aisle! But you can use kosher salt in a pinch. If you use regular table salt, it will be way too salty!

I made this today and it is easy and delicious. I will be making it again.