The Best Instant Pot Ribs
---
This post may contain affiliate links, which means I earn a small commission if you purchase something I recommend - at no additional cost to you! Thank you for supporting this blog!
Meet your new family favorite meal. These no fail Instant Pot ribs are falling-off-the-bone good in less than an hour with—no smoker needed!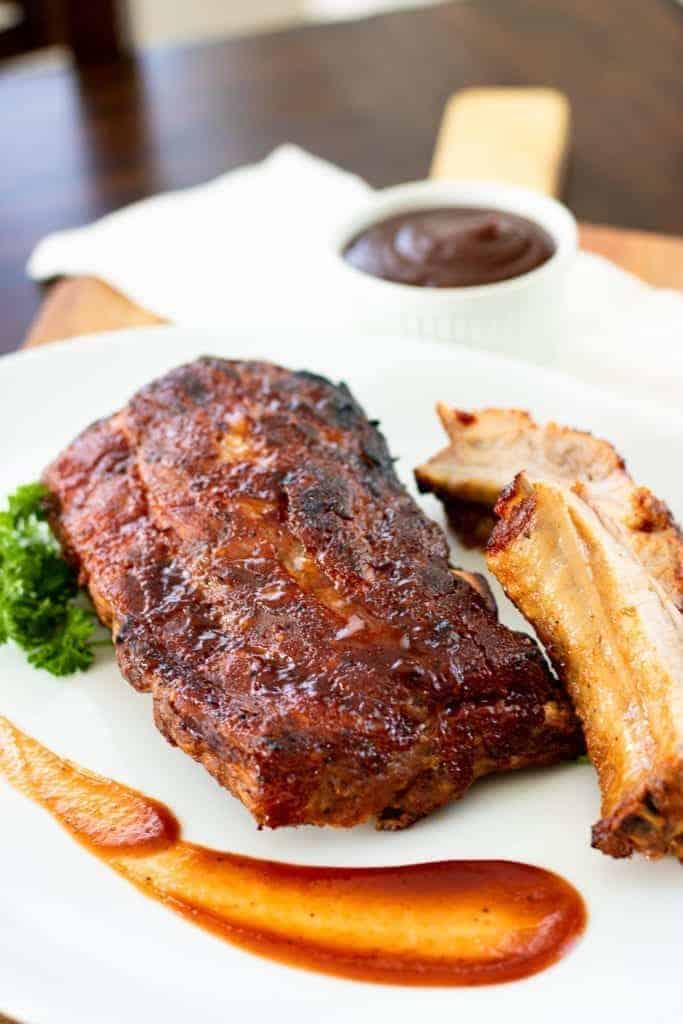 This recipe: easy, crowd pleasing, and fast
I'd never made ribs before I got my Instant Pot. It seemed too intimidating because I didn't have a grill or a smoker, and I didn't want to boil them forever.
Really though, if you feel like you've only had fails in your Instant Pot, or if you think you suck at cooking, TRY THESE!
These Instant Pot ribs are simple to make, yummy to eat, and SO impressive to share!
Instant Pot ribs would go great with Instant Pot Mashed Potatoes and Instant Pot Bacon Green Beans, Instant Pot Salt Potatoes, Instant Pot Baked Potatoes or Instant Pot Broccoli, don't you think?
What kind of ribs for an Instant Pot?
If you don't make ribs often, you might find your head spinning as you look through the meat aisle at your grocery store. Here's the quick breakdown:
Pork: Baby back, spareribs, and St. Louis-style ribs. Pork ribs are the most common cuts as they tend to be milder in flavor.
Beef: Short and back ribs. These short ribs are often made into beef brisket and feature a relatively strong, meaty flavor.
Of all ribs, baby back and spareribs are the two most popular cuts.
Instant Pot baby back ribs
Baby back ribs are from the upper portion of the ribcage. They're relatively small and feed only about 2 people per rack. They're a bit pricey, but they're also lean and oh-so-tender—definitely worth the cost!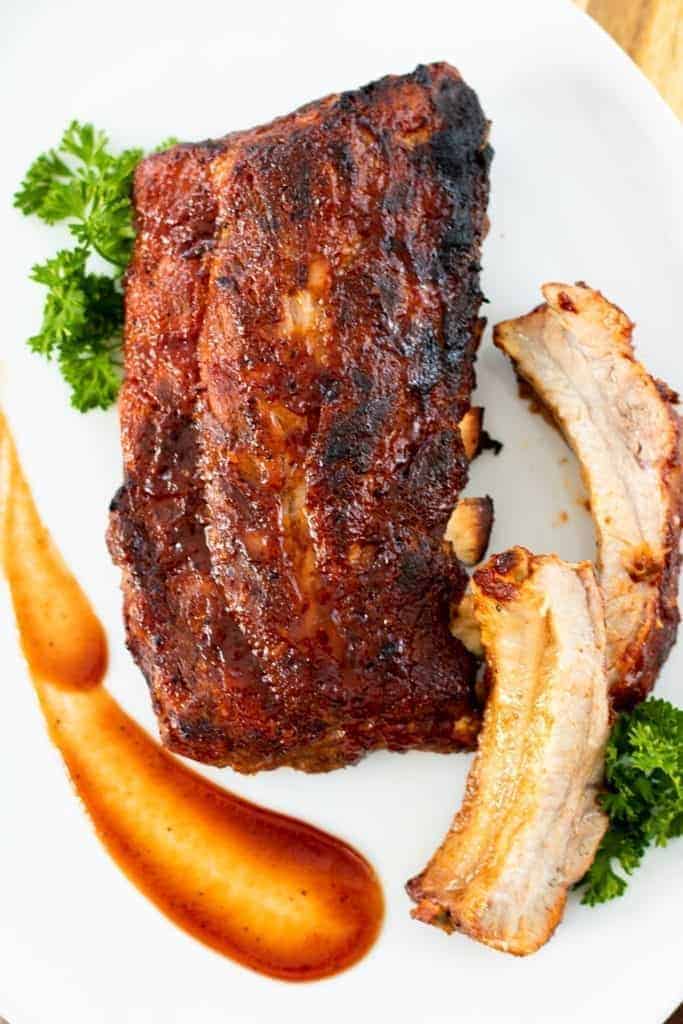 Instant Pot spareribs
Spareribs are larger than baby back ribs. Cut from the underside of the ribcage, they have significantly more meat and fat. If cooked correctly, all of that fat can make some incredible favor! Spareribs are dang good, and they're a great option if you want to keep prices down.
Which ribs are best for you?
One of the great things about this recipe is that it really doesn't matter what kind of ribs you use. The recipe is so simple that you can easily make it a few different times trying different kinds of ribs—and they're going to turn out delicious no matter what!
I personally like the baby back ribs sold at Costco. They come 3 in a package and are a super good deal. If you purchase the baby back ribs at Costco, they also come with the back membrane removed which is one less step for you!
If you want more details, check out this article on pork ribs or this one on beef ribs.
What size Instant Pot for ribs?
I usually cut these ribs in smaller pieces, either half or quarters depending on how many portions I want to serve. But you can make these Instant Pot ribs in any size Instant Pot as long as you can fit them all in there!
A 3 quart Instant Pot may not fit an entire rack of ribs unless you cut them into two-piece portions. This recipe works great in a 6 quart Instant Pot or an 8 quart Instant Pot.
How to make the BEST Instant Pot ribs
I'd never made ribs before I got my Instant Pot. It seemed too intimidating because I didn't have a grill or a smoker, and I didn't want to figure out how to grill them forever. Sound familiar?
These ribs from your Instant Pot won't be exactly the same as ribs that are smoked for hours and hours, but they will be crowd-pleasing—guaranteed. And best of all, they're ready in only an hour!
Prep your ribs
Step 1: Prepare!
This step is simple, but important! You'll always want to rinse your ribs clean and pat them dry.
Next, remove the shiny membrane on the bottom side of the ribs. This membrane is not good to eat, and it's important to remove it! Just grab it with a paper towel and pull.
If you like, chop the ribs into halves or quarters.
Next up, seasoning.
Instant Pot ribs: dry vs wet rubs
Step 2: Season your ribs.
A wet rub is the same base mix of seasonings as a dry rub, only it's supplemented by liquid(s) like apple juice, vinegar, oil, liquid smoke, etc. to create a thick paste. For an Instant Pot, I like to use a sort of hybrid of the two:
First, add all of the liquid ingredients to a gallon sized ziploc bag. Then, add the dry seasonings to the bag, mix, then add the ribs to the bag and squish them to mix. This will make a sort of marinade that creates amazing flavor!
I have a delicious recipe for a homemade rib rub included in this recipe card, but feel free to use a premade dry rub! Add the liquid ingredients from the recipe to the marinating bag first, then sprinkle the ribs generally with your dry rub of choice.
If you're short on time, skip the marinade and just add the liquid ingredients directly into the Instant Pot, placing your dry rubbed ribs on top of the trivet.
Whether or not you decide to marinate the ribs is up to you. They can be marinated in a plastic bag for up to two days before cooking, or they can be cooked immediately. I've found that the ribs that have been marinated have slightly more flavor, but I've done them both ways and they are both fantastic.
How long to cook ribs in the Instant Pot
You'll find recipes all over the internet for Instant Pot ribs giving times from 25-60 minutes. I've tested these multiple times and my favorite time is 40-45 minutes (depending on how big or meaty they are).
If you'd like more meatier, chewier ribs, just cook them for less time. If you want them super super tender, cook them for longer.
Instant Pot country style ribs
If you like this recipe, you'll love these Instant Pot country style ribs. They're actually not rib meat, but that's what they're called. In fact, country style "ribs" are completely boneless strips of shoulder meat. Ribs or not, they're super cheap, easy, and so satisfying!
If you like this recipe, you'll love my super simple Chicken Drumstick recipe! Dinner will be on the table in less than 30 minutes!
Fail-proof Instant Pot sides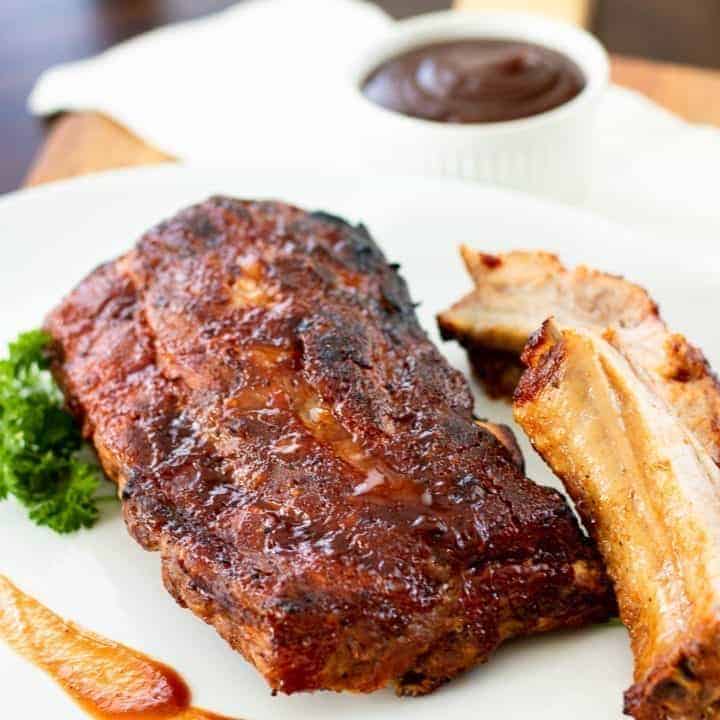 Instant Pot Ribs
These Instant Pot BBQ Ribs will easily become a family favorite meal! The Ribs cook in the Instant Pot for about 30-40 minutes, and in less than an hour you've got fall-off-the-bone ribs! This is a no-fail Instant Pot recipe!
Print
Pin
Rate
INGREDIENTS
One Rack of Ribs

Your Favorite BBQ Sauce

1/2

Cup

of your Favorite Dry Rub

or my homemade rub below
Dry Rub
1/4

C.

Brown Sugar

2

Tablespoons

Smoked Paprika

1

Tablespoon

Kosher Salt

1

Tablespoon

Chili Powder

1

Tablespoon

Onion Powder

1

Tablespoon

Garlic Powder
Liquid Ingredients
1

C.

Apple Juice

1.5 cups for 8 quart Instant Pot

1

Tablespoon

Apple Cider Vinegar

1

Tablespoon

Soy Sauce

1/2

Tablespoon

Liquid Smoke

or, bbq sauce
INSTRUCTIONS
Marinated Ribs (Preferred Method)
Combine all liquid and dry ingredients in a gallon sized Ziploc bag.

Add cleaned and washed ribs (with membrane removed) into the bag and squish all over.

Let marinade in the refrigerator overnight or at least 6 hours and up to 2 days.

When ready to cook, add the trivet to the Instant Pot and dump the entire bag into the Instant Pot.

Stack the ribs on the trivet to allow as much circulation as possible. You can stand them up, or stack on top of one another.

Lock the lid, and turn the knob to sealing. Cook on manual high pressure for 40-45 minutes.

Allow at least 10 minutes for a natural pressure release. Arrange ribs on a foil-lined baking sheet and sprinkle additional dry rub along with a smear of your favorite bbq sauce. Broil for 5-8 minutes to get nice and caramelized.

Quick Method

Clean and wash ribs, then pat dry

Turn the ribs over and peel the shiny membrane off the bottom side of the ribs. Find a corner of it on the edge and grab it with a paper towel and pull. I've found that the ones I get at a normal grocery store always have the membrane, but the ones I got at Costco already had it removed. This is a super tough part that won't cook down, so it's important to take it off.

Sprinkle liberally with dry rub

Cut the rack of ribs in half, or quarters, if you like. You can leave the rack whole as well.

In the pot, combine liquid ingredients.

Stack the ribs on the trivet to allow as much circulation as possible. You can stand them up, or stack on top of one another.

Lock the lid, and turn the knob to sealing. Cook on manual high pressure for 40-45 minutes.

Allow at least 10 minutes for a natural pressure release. Arrange ribs on a foil-lined baking sheet and sprinkle additional dry rub along with a smear of your favorite bbq sauce. Broil for 5-8 minutes to get nice and caramelized.
NOTES
This recipe can be doubled or tripled (I can fit about 3 racks of ribs in my 8 quart). The liquid ingredients and quantity stays the same, the rub recipe may be doubled, and the time stays the same.
I usually serve 1/2 rack of ribs per person as a main dish, or 1/4 rack of ribs if there are a lot of sides or other main proteins. The smaller racks of ribs I buy at the grocery store usually feed two, but the large racks of ribs I get at Costco serve 4.
This recipe freezes very well. Add all ingredients to a ziploc bag and freeze the bag in the Instant Pot liner so it keeps its shape. Once frozen, you can remove from the liner and store in the freezer. When ready to cook, run the bag under warm running water to easily remove it from the bag. Add 1/2 cup of water to the Instant Pot, along with the frozen ribs and sauce and cook for 45 minutes with a 10 minute natural pressure release.
NUTRITION
Serving:
1
g
|
Calories:
149
kcal
|
Carbohydrates:
28
g
|
Protein:
4
g
|
Fat:
4
g
|
Saturated Fat:
1
g
|
Polyunsaturated Fat:
2
g
|
Cholesterol:
9
mg
|
Sodium:
1972
mg
|
Fiber:
3
g
|
Sugar:
20
g
---
---
OH MY GOSH Thank you so much, Michelle! I'm so glad you guys liked them. I also love how easy they are, even though you'd never know it! Thank you for taking the time comment!!

Hi! On your Instagram post you showed which Costco ribs you buy that already has the membrane off… could you please insert a pix on here? Thanks!!! Love the new website!

Hi Amy! Costco only sells one kind of rib. The skew is 33936 Pork Loin Back Ribs Baby RackRibs is what they are called! (well, they sell one raw and one raw and preseasoned in their prepared foods section by the sandwich trays). Both of them have the membrane off!

Hi, can i use paprika instead of smoke paprika? Thanks

Hello! Certainly you can use paprika! Thanks for visiting- Lisa

Hi, thank you for this recipe. Can I use more than one rack of ribs at the same time?

Hi Jam! Yes, you may put in however many will fit! Thanks for reading! – Lisa

What kind of bbq sauce do you use?


Absolutely delicious! Raves all around! Finally found a recipe that made the ribs not only tasty, but so tender! Many many thanks Lisa!

Lori, you're so sweet!! Thank you so much for stopping by and for your kind messages here and on Instagram:) So glad you guys enjoyed them! – Lisa

I've never been a ribs fan, and of course I've never cooked ribs. But these look amazing and easy. I just bought the whole rack from costco and want to cook them all for dinner with friends. Should I just double up all the ingredients? Or only the dry rub?


My ribs were dry. I followed the recipe exactly and my husband said they tasted good that were dry. I have no idea why. I went for 40 minutes and 10 minutes with NPR. 🙁

Hi Laura, I'm sorry your ribs turned out dry! Did you maybe cut them into smaller pieces than directed or broil longer than directed? The other thing would be letting them sit out or cool down- that will all cause dryness and will need some extra basting. – Lisa

Tried this and it tasted good! There's a lot of liquid left – is there anything you can do with it so it's not wasted? I tasted it and it seems too sour to turn into gravy. Do you just throw it away?

Hi Anna! I wouldn't recommend using it for anything else. It's usually the liquid that would be evaporated out if you smoked or baked it, so it's not anything of substantial value. But I always let it cool down and then skim the fat off the top before draining down the sink. – Lisa

Hi Lisa! I'd like to make this recipe but definitely for a much smaller portion since it's just for my husband and I. How much time would you cut back to if it was say ~8-10 ribs? Thanks! Excited to try this out and let you know!

Hi Monica! Thank you so much for your comment and sorry for the delay! One rack of ribs is a perfect portion size for two people, in my opinion. Even when the portion is smaller, the cook time will still stay the same. Good luck! – Lisa

Hi! Can I broil in the AF? If so what temperature and how long?

Thank you!

Absolutely! You won't be able to do them all at once, but I always warm them up the next day in the AF on 400 degrees for about 5-10 minutes.


I love, love, LOVED this rib recipe!! They turned out so delicious. Thank you!!

THANK YOU so much, Madison!! I'm so glad you liked them too!

Just bought 1st instant pot and am not good in the kitchen. For the spareribs and future recipes on your site, does T stand for teaspoon or tablespoon. Sorry but a cold I'm not. So I'm sure I gave some of you a good laugh for the day. I'll let y'all know how they come out lol

No problem! T is Tablespoon and t is teaspoon


I made these tonight and loved them. I was pleasantly surprised how they turned out. I cooked them for 40 minutes and natural released them for 10 min. Next time I think I will let it go for 45 min. I will be making these again.

awesome! Thanks so much for making and reviewing, chuck!

I made the ribs and they were delicious but a little dry. I made a full rack cut in half and cooked the ribs 40 minutes. I have an Instant Pot air fryer lid and after I used barbecue sauce on the ribs, I used the air fryer lid and cooked at 400 for 6 minutes.
I will definitely make ribs again using your recipe.