Everything You Need to Know About the Instant Pot Trivet
---
This post may contain affiliate links, which means I earn a small commission if you purchase something I recommend - at no additional cost to you! Thank you for supporting this blog!
The Instant Pot trivet is a key accessory used in many recipes. I break down everything about the Instant Pot trivet—what it is, how to use it, helpful tips, and alternative accessories. Learn everything you need to know about this round steam rack!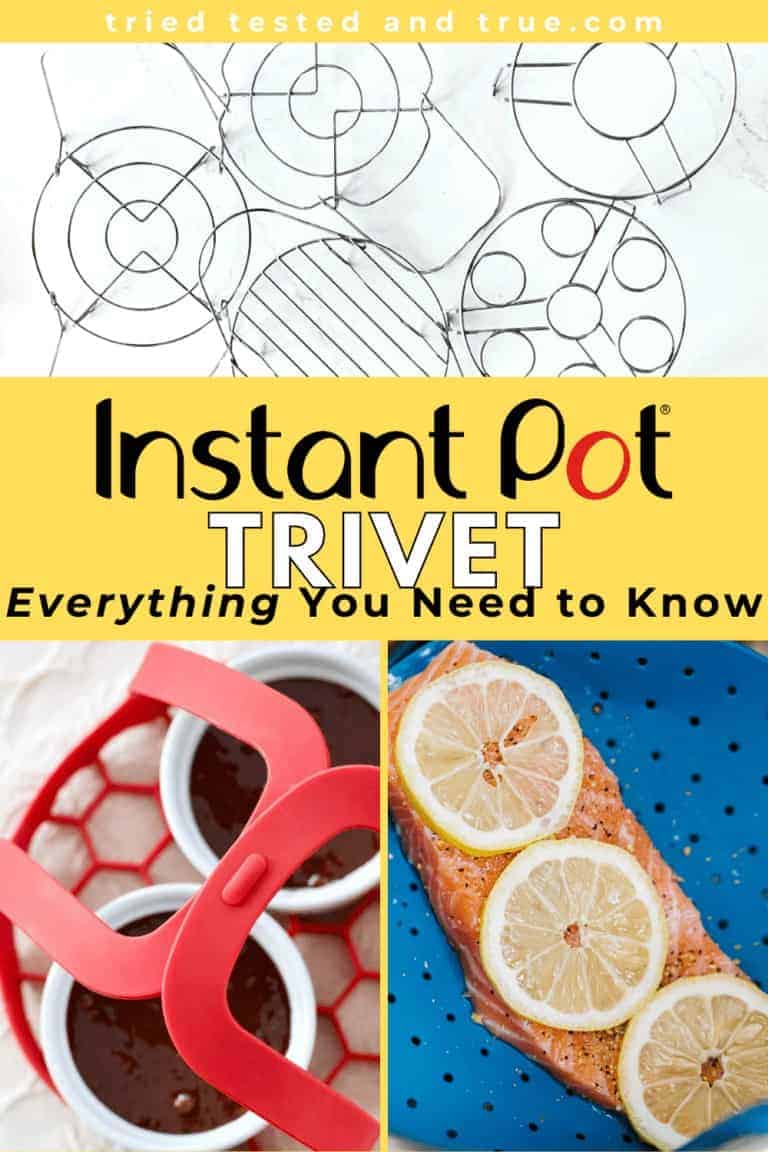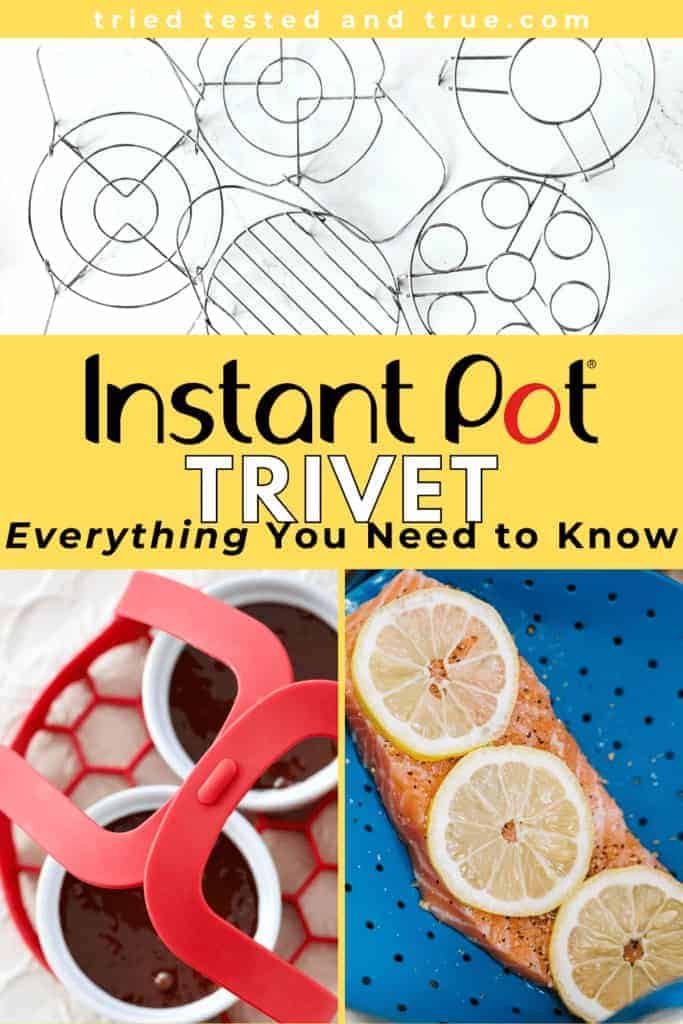 If you just unboxed your Instant Pot, you'll find a few extra items included, such as a rice paddle, soup ladle, measuring cup, and a round wire rack with collapsible sides.
That round metal insert is called a trivet (pronounced: triv-et).
Many Instant Pot recipes call for the trivet. Let me explain everything you need to know about this key accessory!
What is a trivet?
The Instant Pot is an electric pressure cooker. It uses pressurized steam to cook the food inside. Therefore, every single recipe requires liquid for the Instant Pot to come to pressure and cook.
The Instant Pot trivet is designed to elevate ingredients above the liquid. There are many recipes we don't want to mix with the cooking liquid, such as delicate foods like salmon and eggs, or desserts. (Soggy cheesecake…yuck!)
It's a versatile accessory for a variety of different recipes. That's why it's included with your Instant Pot!
Does the Instant Pot come with a trivet?
Yes! If you have an Instant Pot, you have a trivet. Every Instant Pot model should include a stainless steel trivet rack that fits perfectly inside the liner.
Since I have 8 or 9 Instant Pots, I've found that the design of the trivet actually changes based on the size and model of your pot. No matter what it looks like, they'll all have the same function!
Even if your electric pressure cooker isn't an Instant Pot brand, it will almost always come with one. If you don't have one or have lost one, you can always purchase a metal or silicone trivet for your Instant Pot separately.
Watch my Instant Pot 101 series for everything you could possibly need to know about how to use your Instant Pot! This video series includes great tips for beginners to ensure you have success using your Instant Pot.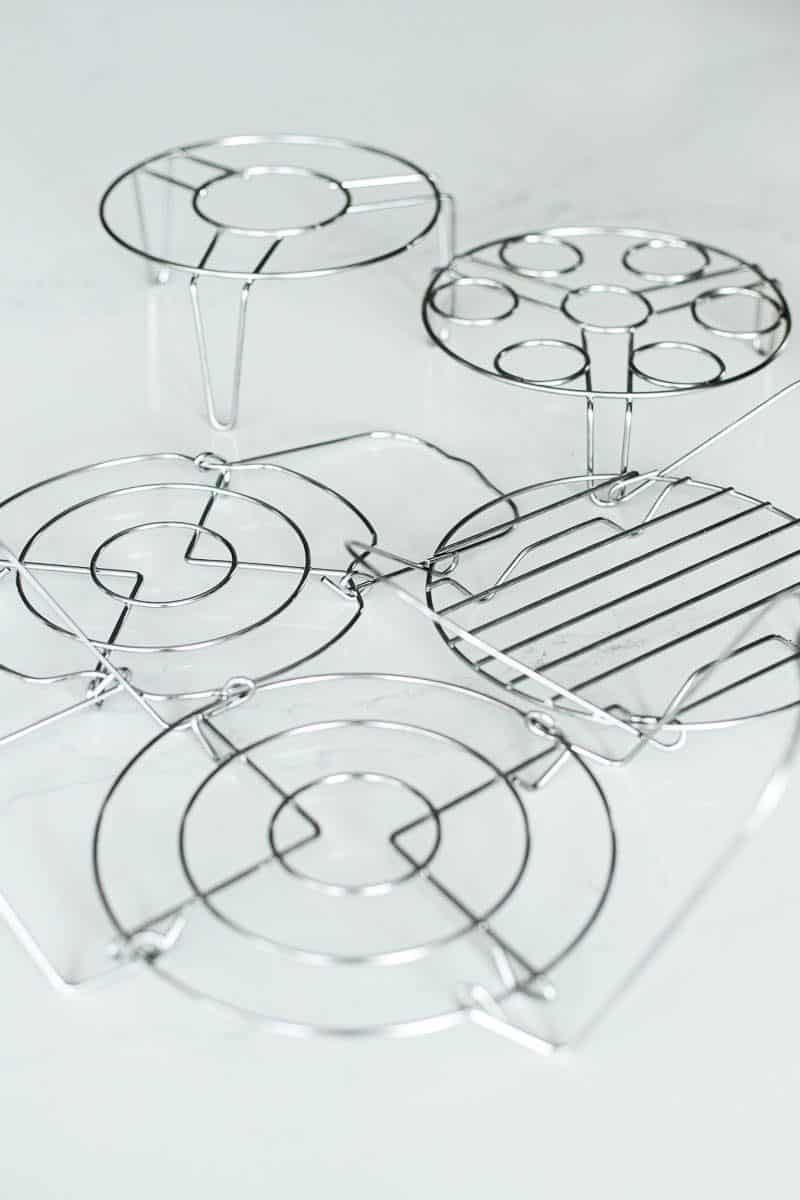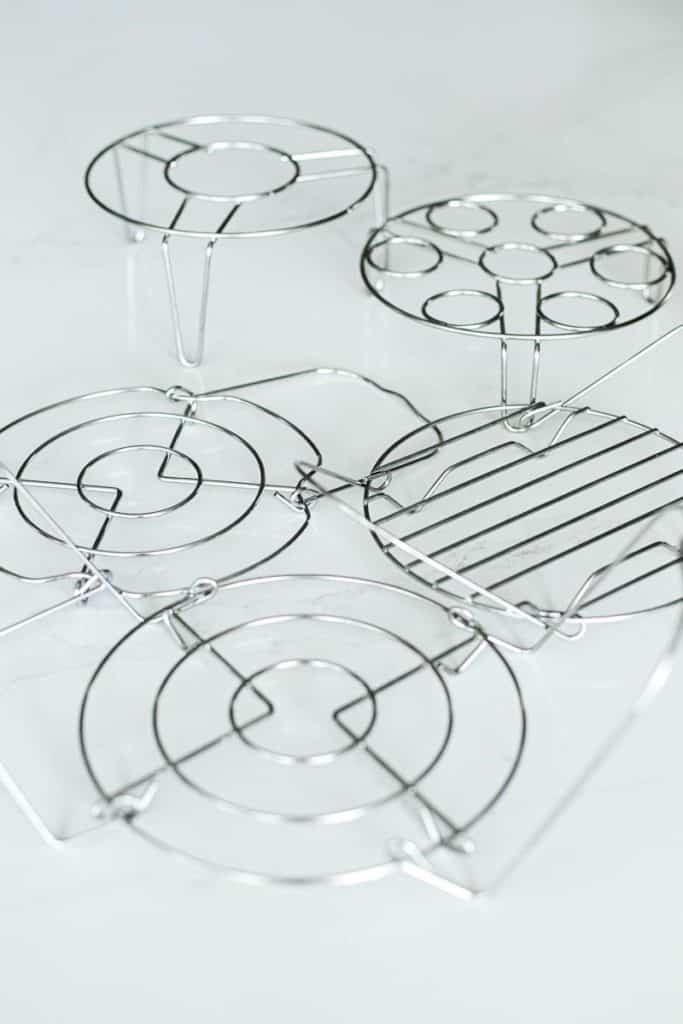 What is a trivet used for?
The Instant Pot trivet is typically used for two basic purposes: pressure steaming or pot-in-pot cooking.
Pressure steaming
Many recipes cook large ingredients that won't fall through the wire rack on top of the trivet. This method is helpful when you need to keep delicate foods out of the boiling liquid, such as fish or eggs.
It also keeps recipes from sitting in the cooking liquid and getting soggy, such as vegetables, meat, or desserts.
Some foods absorb a lot of liquid and can burn to the bottom of the pot, such as the potatoes in my mashed potatoes or Low Country Boil recipes. Using the trivet prevents having to deal with the burn notice.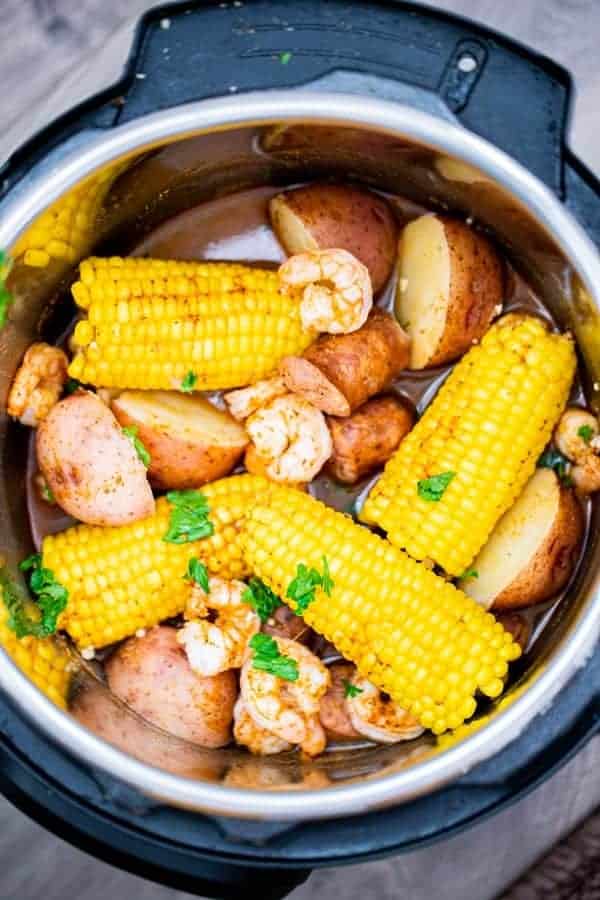 There are some recipes where I prefer the taste and texture of steamed food over boiled.
For example, corn on the cob when overcooked or submerged in the cooking liquid can taste like canned corn vs. fresh (which is a big difference!) Same with artichokes steamed in the Instant Pot vs. boiled.
I also use the Instant Pot trivet when I make individual portions of Instant Pot yogurt.
Pot-in-pot cooking
Pot-in-pot (PIP) cooking simply means cooking the food in a separate, oven-safe container on top of the trivet in the Instant Pot.
The steam generated from the cooking liquid below the steam rack pressurizes to cook the food.
There are several reasons to use the PIP method:
Cook two separate dishes with similar cook times at once! For example, making white rice in a bowl on top of the trivet while chicken cooks below.
"Bake" desserts in the pressure cooker! I use the pot-in-pot method for desserts, such as Chocolate Lava Cakes, Cheesecake, and Instant Pot Crème Brulee.
Portion control! Pot-in-pot cooking uses smaller dishes (cake pans, miniature Bundt pans, mason jars, and ramekins) to make personalized portions. Check out this method in my new Instant Pot Mini Key Lime Pie recipe!
How to put trivet in Instant Pot?
The Instant Pot trivet is a round wire rack with collapsible sides. It fits in the bottom of the Instant Pot liner with the sides up.
The sides function as useful handles to easily lift food from the Instant Pot. They are not sturdy enough to function as legs, so do not turn the collapsible handles to stand below the trivet.
How to use Instant Pot trivet?
There are three basic steps to successfully use the Instant Pot trivet:
Place the trivet in the Instant Pot liner.
Pour liquid into the liner. (There are large gaps in the trivet. This will allow the liquid to drain through and sit underneath the trivet on the bottom of the Instant Pot liner.)
Place the ingredients on top of the trivet, or place the oven-safe container (for pot-in-pot cooking) on top of the trivet.
Once the ingredients are on top of the trivet, seal the Instant Pot and follow the recipe for appropriate cook times.
Can I wash the Instant Pot trivet in the dishwasher?
Yes! The Instant Pot trivet is easy to clean. I simply rinse off any food stuck in the wire rack, then wash on the top shelf of the dishwasher.
Don't forget to sign up for my email list to receive a FREE comprehensive guide on How to Clean Your Instant Pot and how to avoid pesky, lingering smells!
You can also watch my Youtube video on How to Clean Your Instant Pot!
Instant Pot Trivet Substitute
There are several Instant Pot accessories with a similar function to the original trivet. However, I recommend using your Instant Pot and original trivet for a while BEFORE investing in other accessories.
This will help you determine what you actually cook in the Instant Pot and what additional accessories you're lacking. That way you can purchase the best items for you, so they won't sit unused in your kitchen.
Find a complete breakdown of Instant Pot accessories here!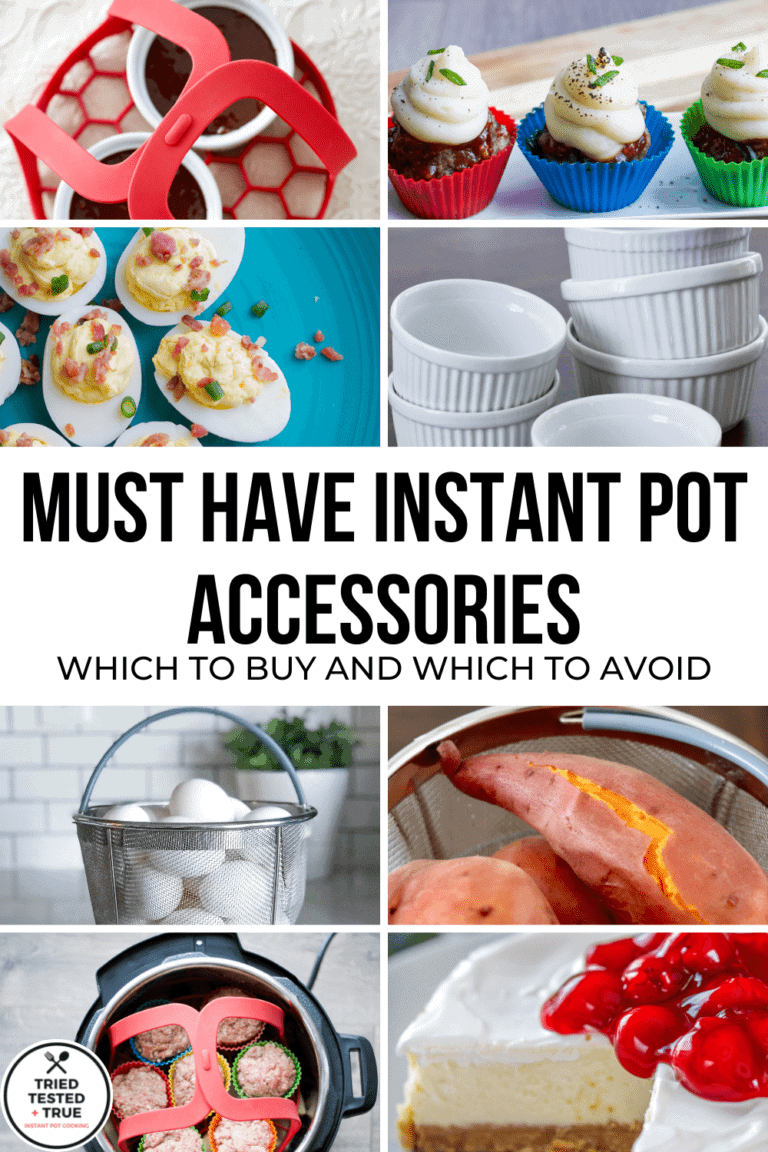 Let me explain the Instant Pot accessories that serve as a substitute to the trivet!
Trivet
Pros: It's free and included with every Instant Pot! It's that important.
Cons: The Instant Pot trivet is like a grate that sits on top of the liquid. It has large gaps, which might cause smaller foods to fall into the cooking liquid and get soggy. Sometimes you have to manually remove the food with tongs one by one.
Uses: Pot-in-pot cooking, boiled eggs, some meats, artichokes, and veggies, such as corn on the cob.
Tall Trivet
This is literally a trivet with taller legs.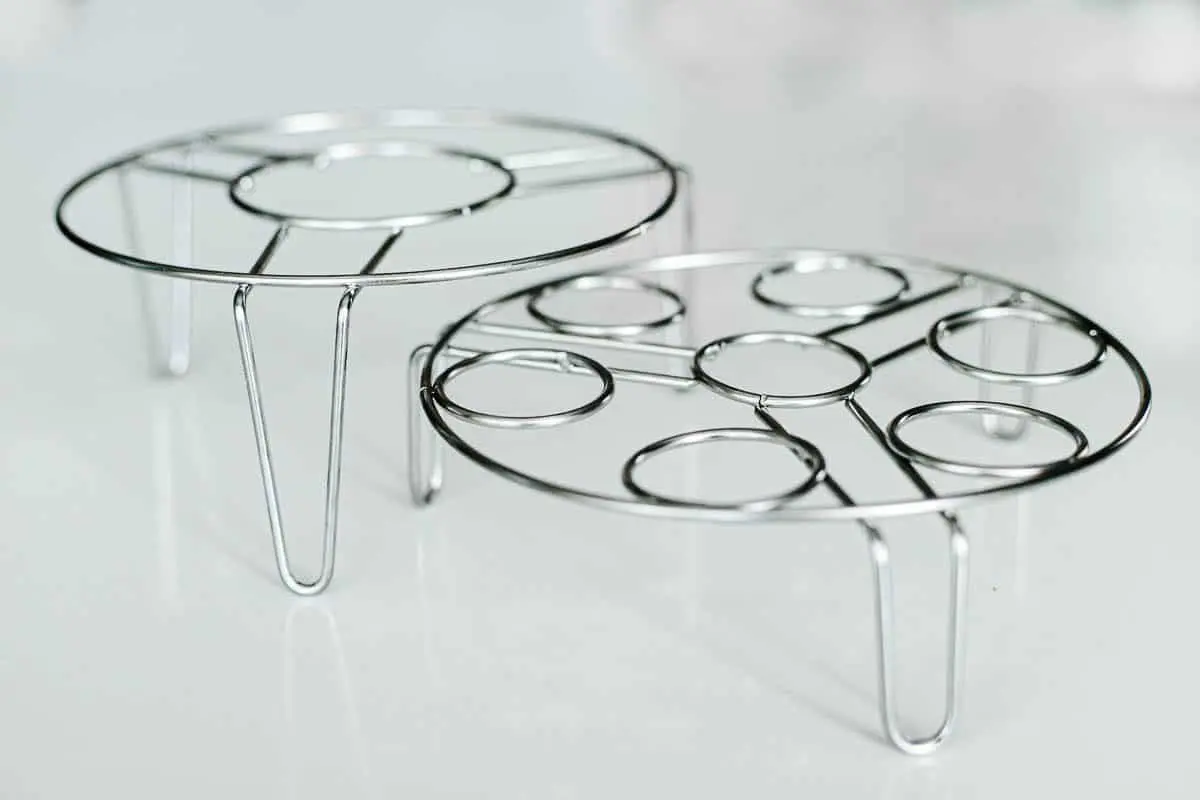 Pros: It's useful for pot-in-pot cooking when you have more food at the bottom of the pot. For example, you can use the shorter, included trivet for one layer of a cake. Then stack the taller trivet on top of that for your top cake layer. I use this method for my Instant Pot Carrot Cake.
Cons: Unless you make a lot of pot-in-pot recipes, you probably won't use it very much. I don't recommend this accessory as a gift, as it's not a must-have for every Instant Pot owner.
Uses: Pot-in-pot cooking.
Steamer Basket
This is my most useful, versatile accessory! If you only purchase one accessory, I recommend the steamer basket. It's a heavy-duty mesh basket with a silicone handle. Perfect for quickly rinsing ingredients and taking recipes in and out of the Instant Pot.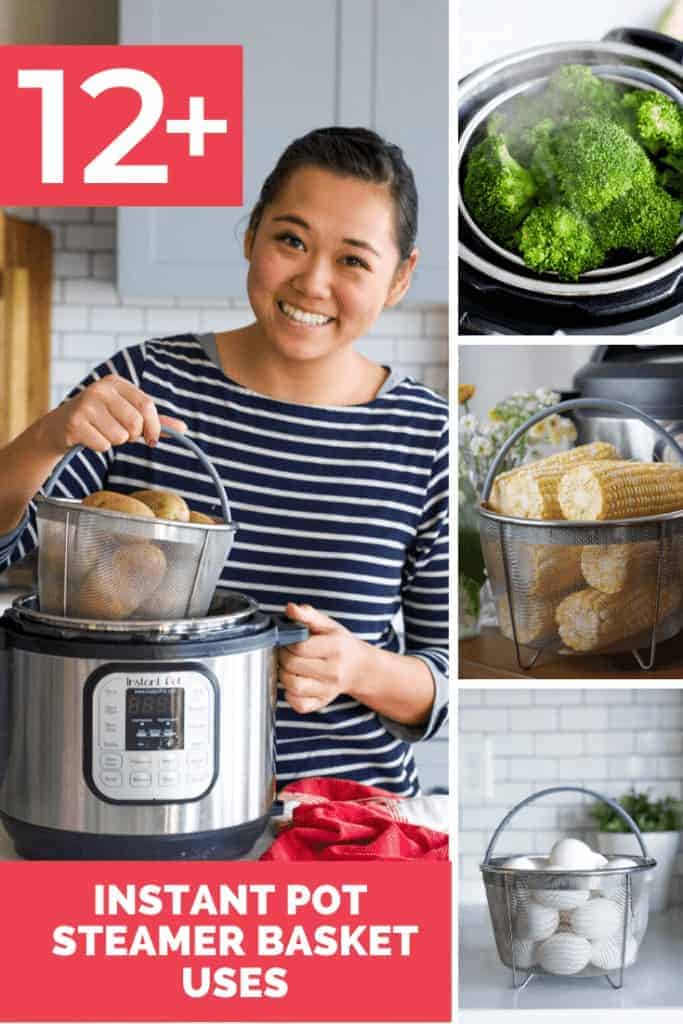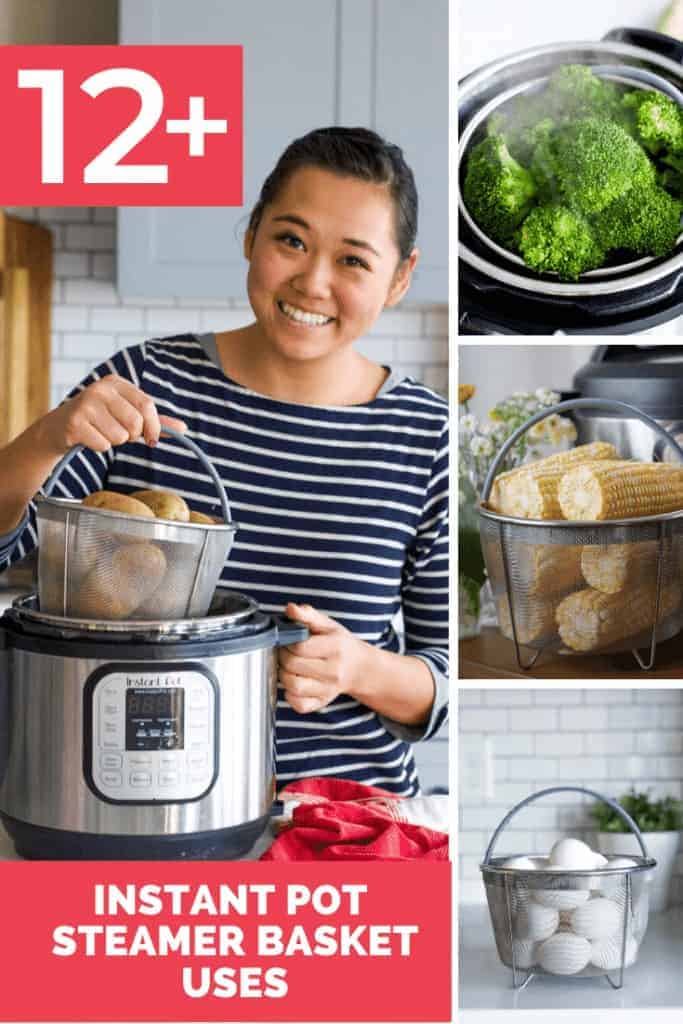 Pros: It's sturdy and dishwasher safe. I like this basket because it has stainless steel feet. The baskets with non-removable silicone feet have crevices that sit in the cooking liquid, creating opportunity for bacteria and germs to thrive.
Cons: It can be hard to clean occasionally, but it usually comes out of my dishwasher sparkling!
Uses: Check out my post on the 12+ Uses for your Instant Pot Steamer Basket!
Steamer Net
The steamer net is different from the basket because it isn't a sturdy basket that can be easily removed. I use it in my 3 quart Instant Pot for small foods that might fall through the trivet.
I find that it's the perfect fit for a 3 quart pot—a basket would take up too much space. It can be useful to lift up items in the 6 quart Instant Pot, such as spaghetti squash, Instant Pot Salmon, or cake pans for cheesecake or carrot cake.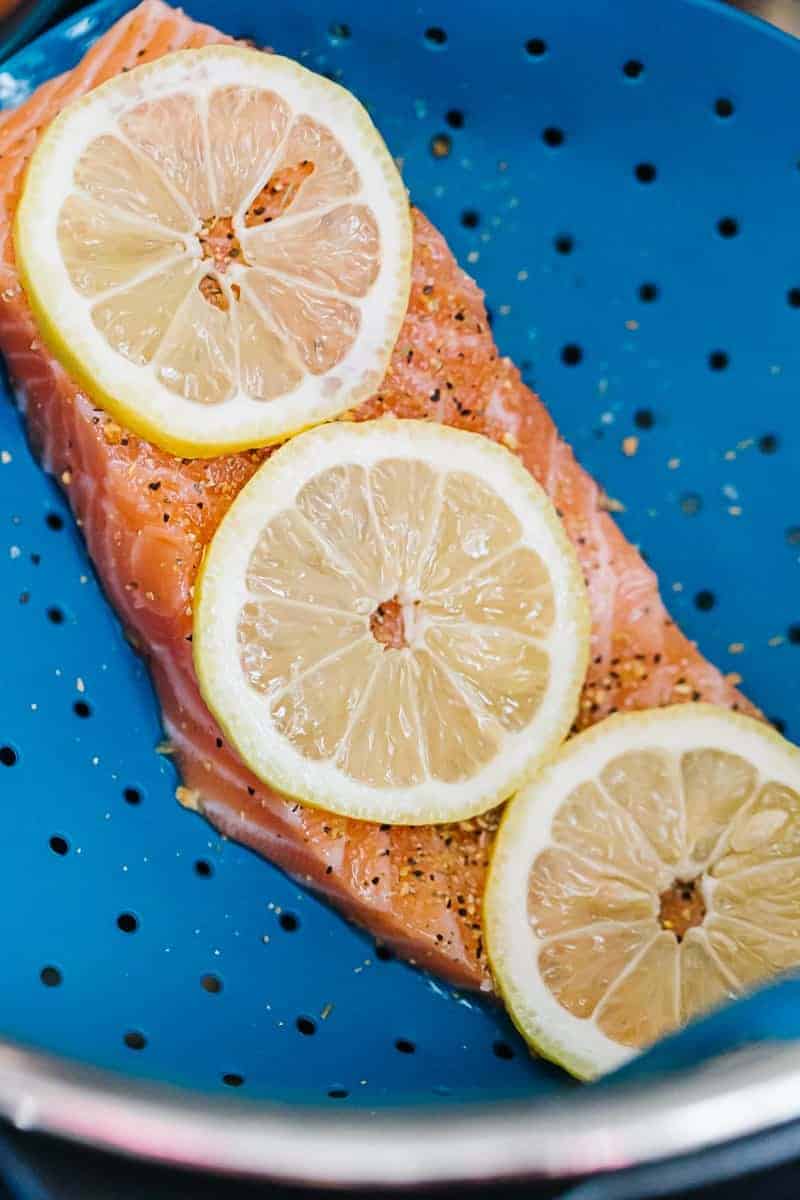 Pros: It's flexible, dishwasher safe, and small storage footprint. It fits in the 3 quart Instant Pot. It's inexpensive, perfect for a "beginner" accessory, before you decide on investing in a steamer basket.
Cons: It's not very sturdy.
Uses: Veggies, large meats like salmon, makeshift pot-in-pot holder, holding large vegetables like corn or spaghetti squash.
Silicone Pressure Cooking Sling
This tool is designed specifically for pot-in-pot cooking to help lift things out of the Instant Pot.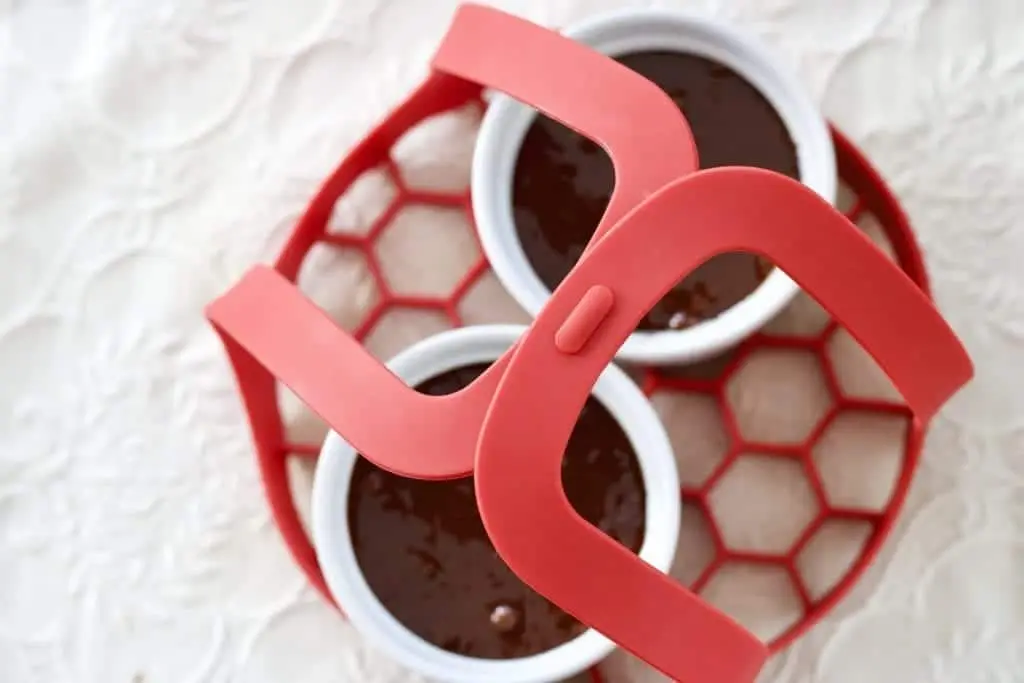 Do you have to use trivet in Instant Pot?
There are many Instant Pot recipes that don't require the trivet. Dishes that mix or blend all the ingredients together don't typically use a trivet, such as soups, chili, yogurt, or applesauce.
Just pay attention to the specific recipe you're making. It should specify whether or not you need the trivet.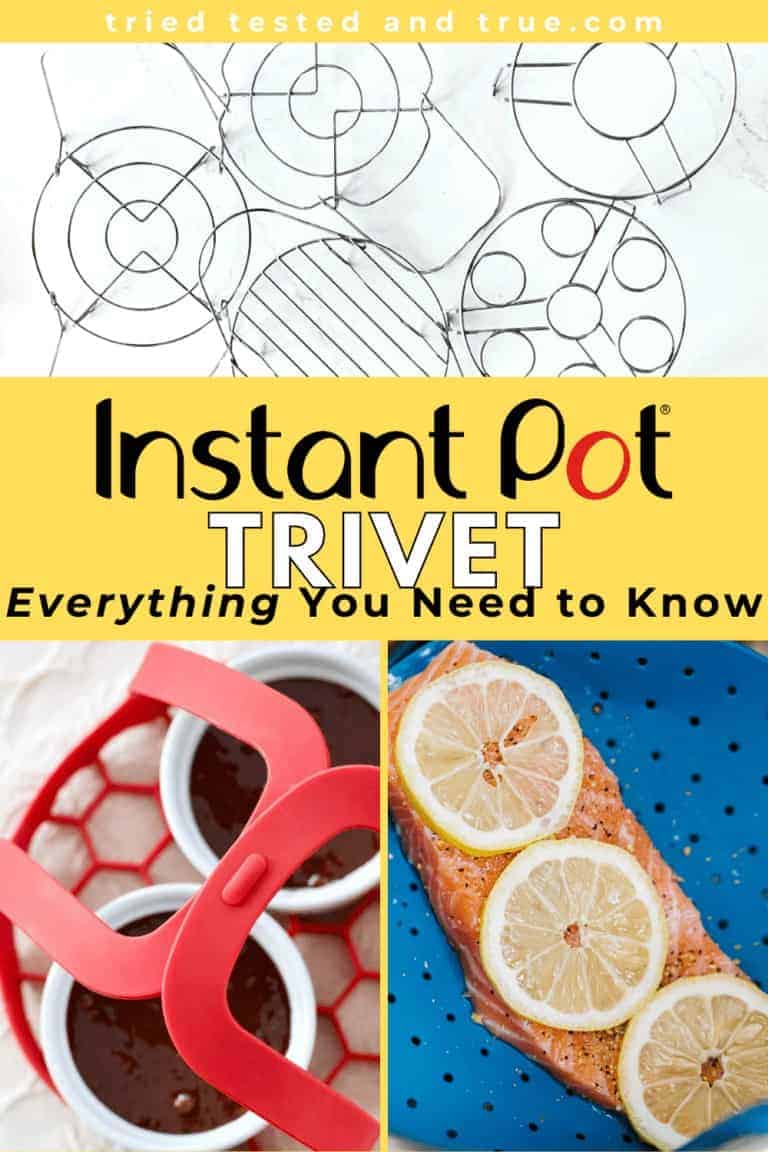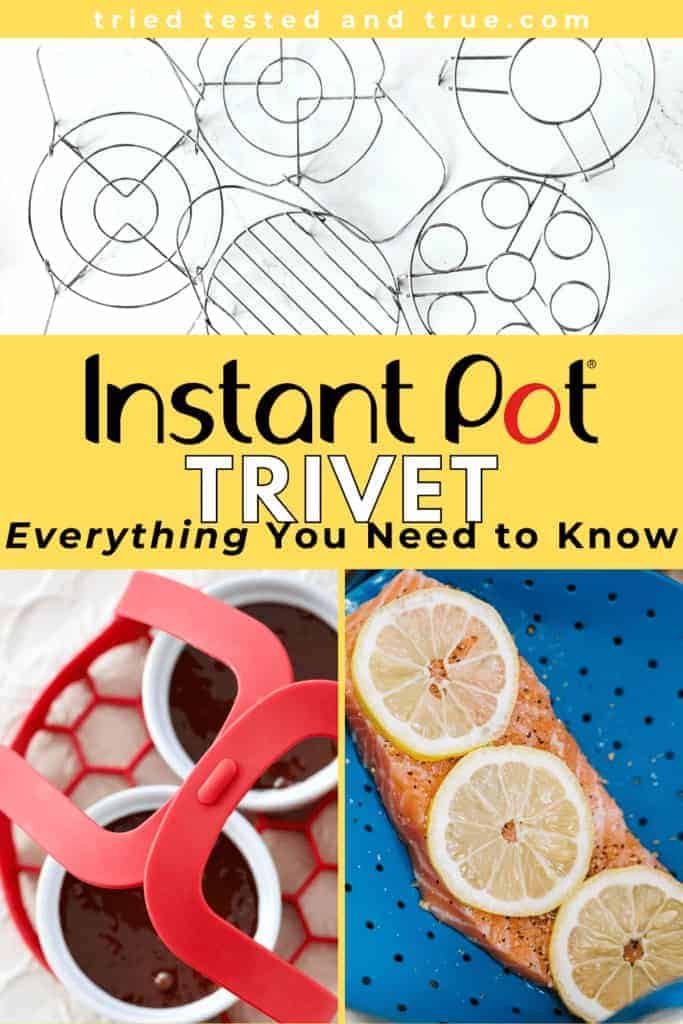 ---
---
Claud, your comment made my entire week! Thank you so much!!! I'm so glad my content has been helpful for you. One of my dearest friends growing up lived in South Africa and I always have wanted to visit. I hope you have a great day. Thanks for taking the time to leave such a kind note! – Lisa