Easy Instant Pot Mango Sticky Rice
---
This post may contain affiliate links, which means I earn a small commission if you purchase something I recommend - at no additional cost to you! Thank you for supporting this blog!
This simple and easy Instant Pot Mango Sticky Rice Recipe is a delicious dessert with minimal ingredients. Sticky rice, smooth coconut sauce, and fresh, ripe mango make this a savory and refreshing dessert. It's also gluten and dairy free.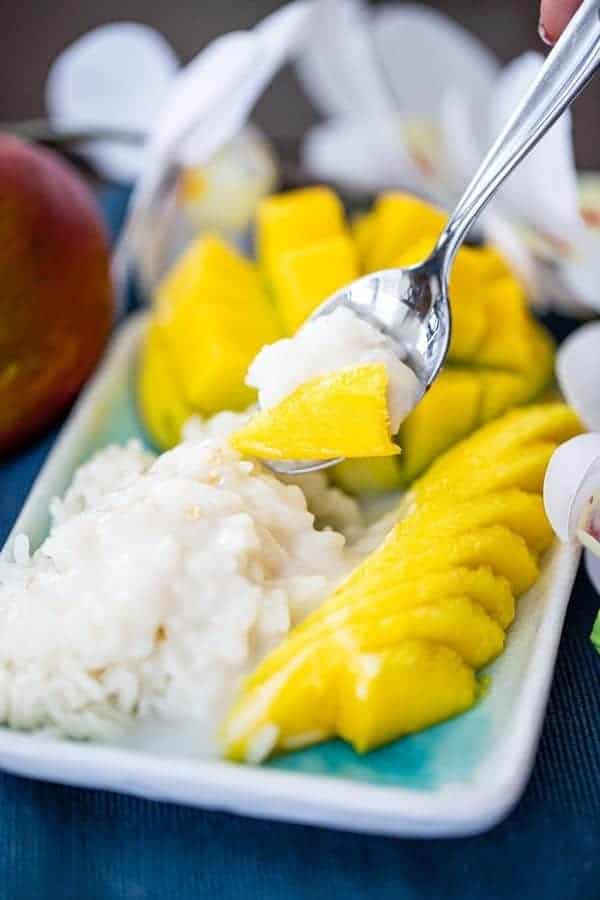 What is mango sticky rice?
Mango sticky rice is a traditional Thai dessert of glutinous sticky rice that's sometimes a bit salty and served with a thick and sweet coconut milk sauce, eaten with fresh, ripe mangoes.
It's an incredible blend of flavors and the pop of fresh mango just rounds out the dish perfectly.
If you don't love mangoes, I suggest using fresh pineapple, guava, strawberries, or another juicy fruit.
What Rice is used for sticky rice?
This Easy Instant Pot Mango Sticky Rice recipe is a little bit simplified and uses regular white, basmati, or jasmine rice, so you don't have to go out and purchase any special kind of rice.
If you want to use sweet Thai sticky rice, you'll have to go to an Asian grocery store. I have instructions on how to make this recipe with sweet Thai rice on this Instagram reel.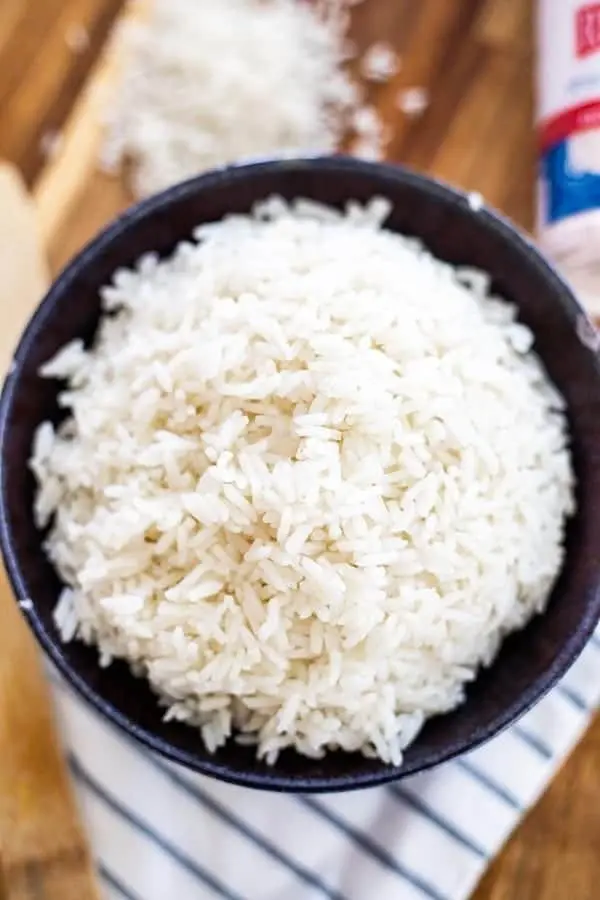 You might also like How to make perfect Instant Pot White Rice
What's the best coconut milk to use?
I love to use the Chohk Dee or Chaokoh brand of coconut milk for any of my coconut recipes, such as my (dairy free) Instant Pot Coconut Rice Pudding or my Instant Pot Pineapple Chicken Curry Recipe.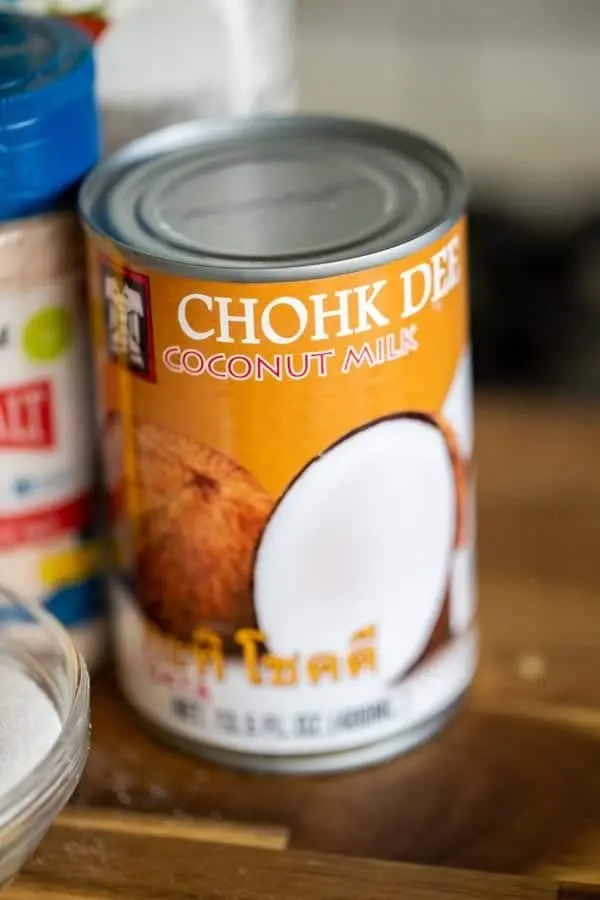 I've also used Thai Kitchen and Aroy-D brands with good results.
Ensure that your coconut milk for your Mango Sticky Rice is unsweetened and Full-Fat.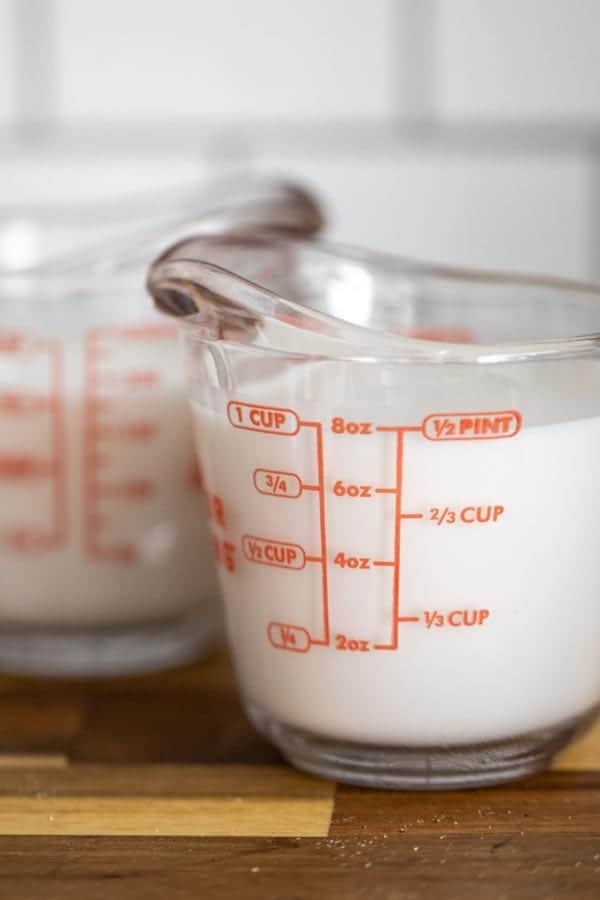 Do not use the refrigerated kind of coconut milk that is specifically designed for drinking. The canned kind with the cap of coconut cream is best.
Always shake your can up as much as you can to incorporate the coconut cream into the coconut milk.
Ingredients for mango sticky rice
For this easy and simplified mango sticky rice recipe, I use only a couple simple ingredients that can be found at any grocery store:
Long Grain White Rice or Jasmine Rice
Canned Coconut Milk
Water
Salt
Sugar
Cornstarch
Fresh, Ripe Mango
Milk or cream to thin, if desired (optional and not dairy free)
Is Mango sticky rice served hot or cold?
Easy Instant Pot Mango Sticky Rice can be served warm straight from the pot if you like a rice pudding type dessert, room temperature (my preference), or cold.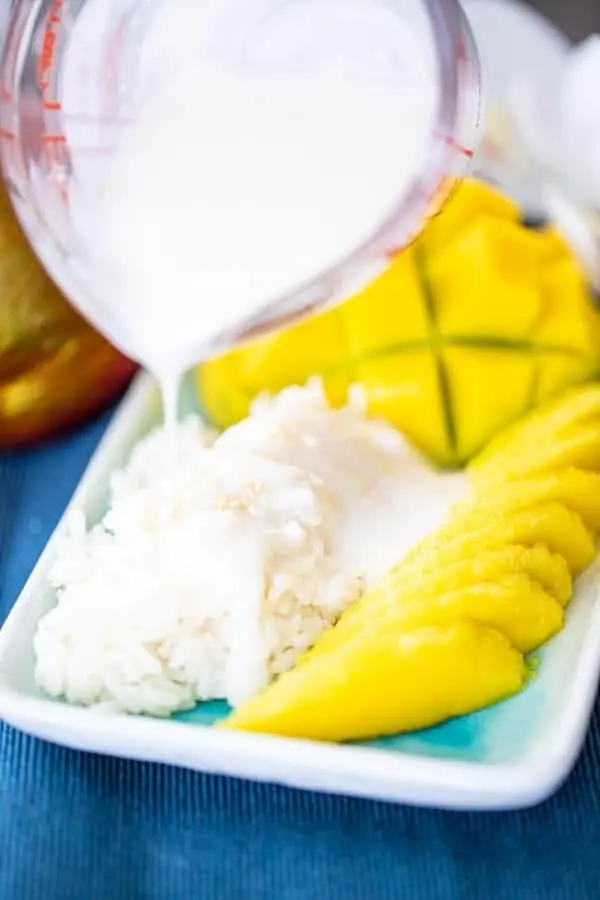 The texture and flavors will vary depending on the temperature you serve your mango sticky rice.
I like mine at room temperature with cold mangoes, so the rice is thick and sticky, with the smooth sauce and fresh mangoes.
How long can I keep mango sticky rice?
Leftover Mango Sticky Rice can be kept in the fridge for 4-5 days. I prefer to warm up the rice and sauce separately, and serve with fresh cold mangoes.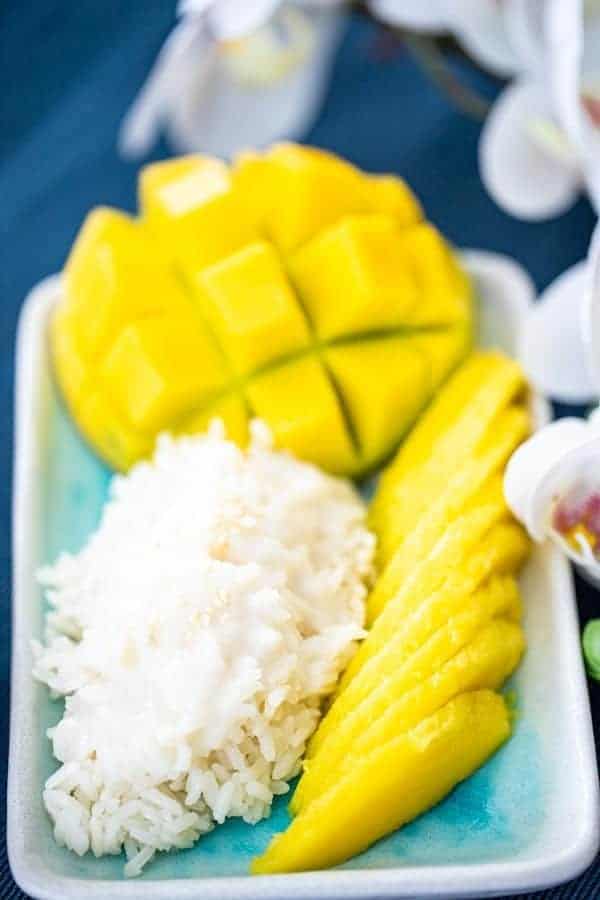 How to make mango sticky rice
Making Mango Sticky Rice is super easy in the Instant Pot and is made in just a couple simple steps:
Cook your rice in the Instant Pot with water, salt, and coconut milk.
While the rice is cooking, make the sauce using the leftover coconut milk that didn't go in the Instant Pot by combining the coconut milk, sugar, and salt in a small pot until boiling, then thicken with a cornstarch slurry.
After the rice is cooking, stir in a some of the sauce into the rice and replace the lid on the Instant Pot so the rice can continue to cool, steam, and absorb the coconut sauce.
Spoon the rice mixture onto a plate or bowl and serve with the fresh mangoes and additional sauce.
Like this dairy free instant pot recipe? You'll love: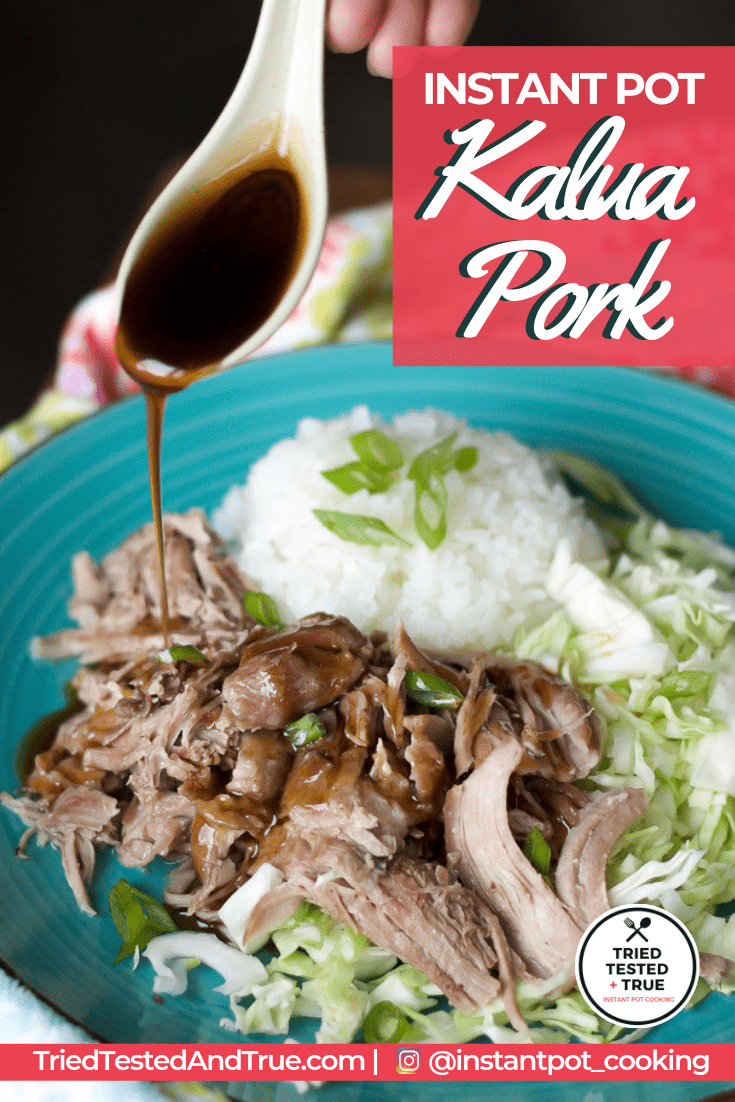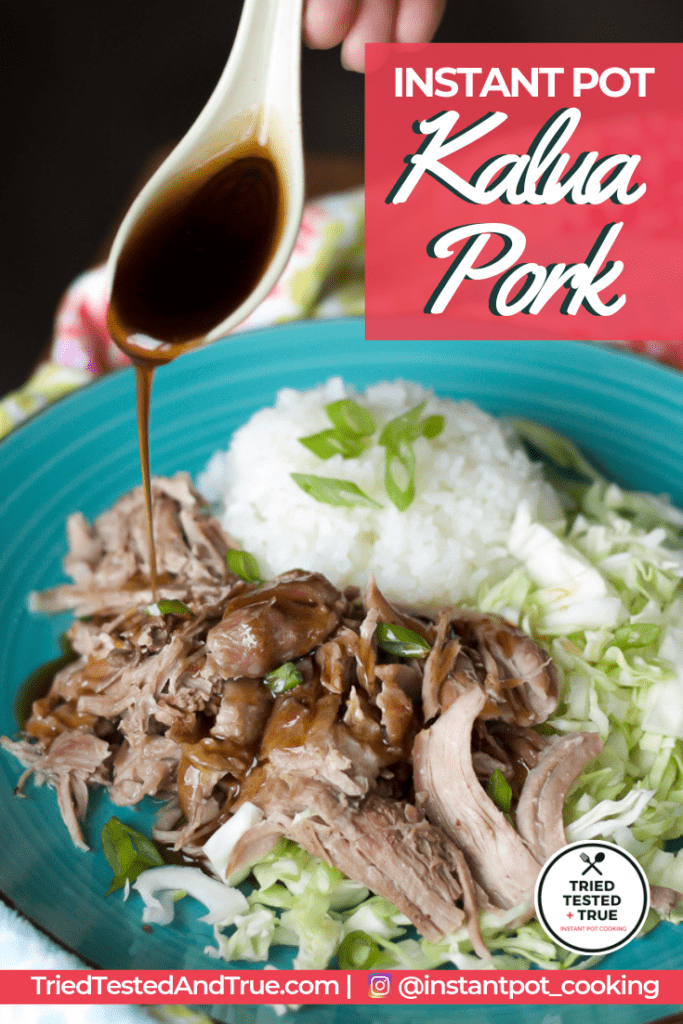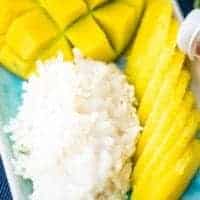 Easy Instant Pot Mango Sticky Rice
This simple and easy Instant Pot Mango Sticky Rice Recipe is delicious dessert with minimal ingredients. Sticky rice, smooth sauce, and sweet, fresh mangoes make the perfect combination in your mouth! It's also gluten and dairy free.
Print
Pin
Rate
INGREDIENTS
Sticky Rice
1

cup

long grain white or Jasmine rice

1/2

cup

coconut milk

unsweetened and full fat

1

cup

water

1/8

teaspoon

salt
Coconut Sauce
1 1/2

cup

coconut milk

measure 1/2 cup out of a can of coconut milk to cook the rice, and use the remainder to make the sauce

1/4

cup

sugar

to taste (some prefer a saltier sauce or a sweeter sauce)

1/8

teaspoon

salt

1

tablespoon

cornstarch

1

tablespoon

cold water
Other Ingredients
1

large ripe mango

sliced or diced

toasted sesame seeds or toasted coconut

for garnish (optional)
INSTRUCTIONS
To the Instant Pot pressure cooker, add rice, 1/2 cup coconut milk, 1 cup water, and salt. Stir. Lock the lid, turn the knob to SEALING, then pressure cook for 3 minutes on high pressure with a 10 minute natural pressure release.

While the rice is cooking, make the sauce. In a separate small pot over medium heat, combine remaining coconut milk, sugar, and salt. Bring to a boil for 1 minute. Make a cornstarch slurry with cornstarch and cold water, then whisk into the boiling coconut milk until thick. Remove from the heat.

Open the Instant Pot and fluff the rice with a rice paddle. add 1/2 cup of the coconut sauce into the rice and stir completely. Turn off or unplug the Instant Pot, then replace the lid on the Instant Pot and allow to cool and absorb the sauce for 10 minutes.

Scoop out rice into a bowl or on a plate, and serve with mango. Top with additional coconut sauce, sesame seeds, and/or coconut, if desired.
NOTES
Taste the coconut sauce before adding the cornstarch slurry to make sure the sweetness is right for you. I prefer to let the sweetness come from the fresh mango, but if your mangoes are not that ripe, you may consider adding an additional teaspoon or tablespoon of sugar to meet your taste.
If the coconut sauce is too thick for your taste, you may thin with a little water or milk (if you use milk, it will not be dairy free.)
May be served warm, room temperature, or cold.
NUTRITION
Serving:
1
g
|
Calories:
698
kcal
|
Carbohydrates:
84
g
|
Protein:
9
g
|
Fat:
40
g
|
Saturated Fat:
31
g
|
Polyunsaturated Fat:
8
g
|
Sodium:
398
mg
|
Fiber:
9
g
|
Sugar:
43
g
---
---
Hi Olivia,
This is the same ratio I use to make all my rice dishes and I've never gotten the burn notice! Weird! Did you add the 1/4 cup of water to the coconut milk and rice? There also may be a leak in your seal or the knob may not have been in the sealing position, which would cause the liquid to evaporate and leak out, giving you a burn notice.


Followed the recipe twice. Burned twice. The rice mixture is too thick for the instant pot. While I appreciate Lisa trying to make the recipe easy and simple, it needs improvement. Giving this 2-2.5 stars because the coconut mixture came out ok so this recipe got me half the way there. Looking forward to a revised recipe

Loved this recipe, but the instructions were contradictory. In the recipe card, it says use 1/2 cup of coconut milk for the rice and 1 cup water. Earlier in the text, it says use 1 cup coconut milk and 1/4 cup water in the text, using the remainder of the coconut milk for the sauce.

I ended up making it with the 1/2 cup of coconut milk and 1 cup rice, using the remainder 1.25 cups of coconut milk for the sauce as originally listed, and I was very happy with the results. I did add about 1/2 and not 1/4 of the sauce to reabsorb in the rice, yielding a solid 3/4 cup of sauce which was perfect for us.

Hi Cecily! Thanks so much for the feedback! This recipe has gone under a couple different iterations, and it looks like we missed some edits on the recipe card. I will retest this recipe again just to ensure it is perfect, but I have edited the card for clarity. Thank you so much for brining it to my attention. I'm glad you enjoyed it!