Black Bean and Corn Salad
---
This post may contain affiliate links, which means I earn a small commission if you purchase something I recommend - at no additional cost to you! Thank you for supporting this blog!
Black Bean and Corn Salad is an easy and simple summer corn salad recipe that uses fresh, sweet corn, savory black beans, creamy avocado, crunchy bell peppers, and a tangy vinaigrette. I use my Instant Pot to quickly cook the corn perfectly.
healthy black bean and corn salad
I created this healthy black bean and corn salad recipe over 10 years ago on my little personal blogspot blog that everyone had. I was 16!
Needless to say, I've learned a lot since then! But the recipe remains almost the exact same as when I created it 10 years ago. I actually make it every single year for Pioneer day, which is a Utah holiday called the 24th of July.
Because of this, I always refer to this salad/salsa as "Tasty 24th Salsa" and shared it on a tv segment on KSL's Studio 5.
I always switch between calling this salsa or a salad, what do you think?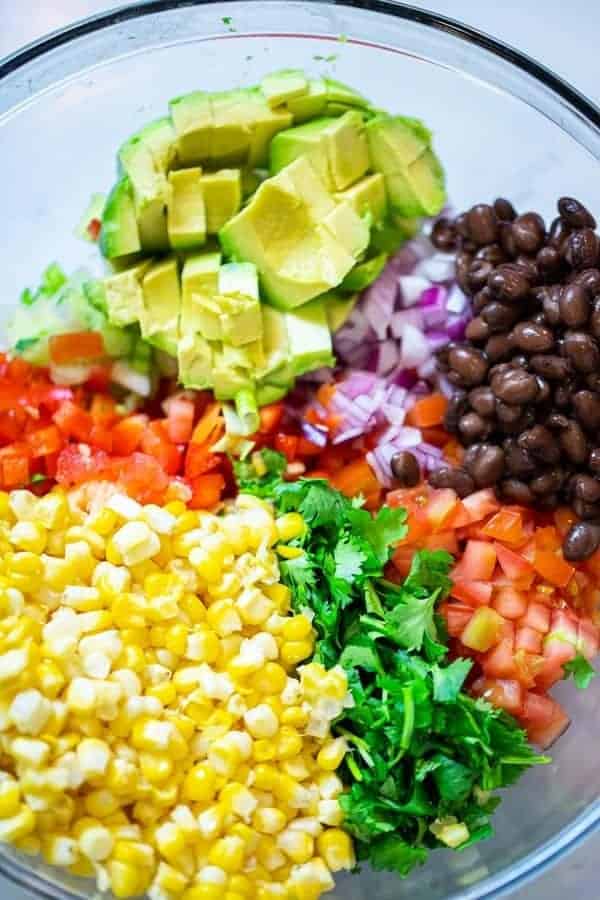 How to serve this summer corn salad
Here are some fun ways to enjoy this salad/salsa (or the leftovers):
Eat with loaded nachos
Use as a salsa over tacos or fajitas
Eat with potato or tortilla chips
Toss with grilled and cubed steak or chicken for an easy full meal
Spoon over grilled fish, chicken, steak, pork, or any other yummy protein
Add another can of black beans for added fiber and protein and use it as a vegetarian taco filling
Served inside Healthy Instant Pot Taco Lettuce Wraps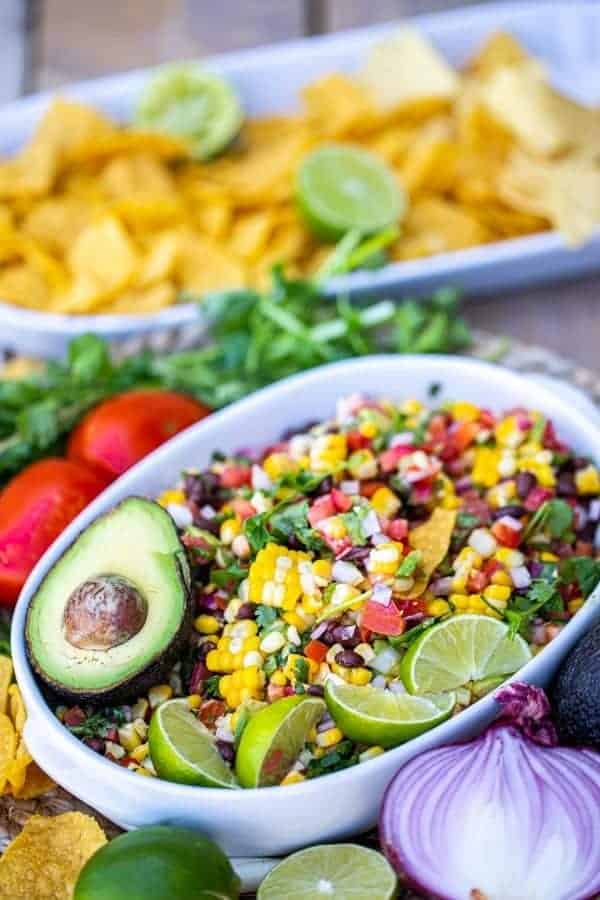 Instant Pot Summer Recipes
If you like this recipe, you'll love these 23+ Awesome Summer Instant Pot Recipes!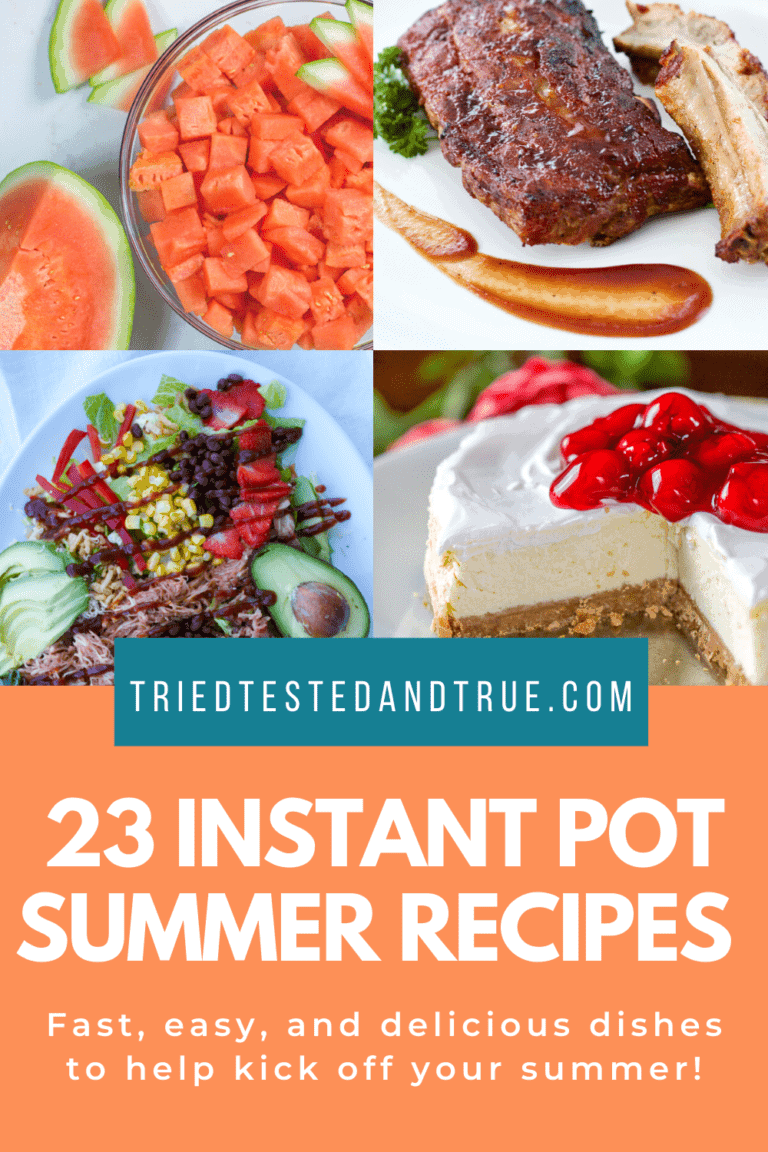 This recipe would be a perfect accompaniment to Instant Pot Chicken Legs from Fresh or Frozen or Instant Pot Country Style Ribs.
If you're searching for more Instant Pot appetizers, check out this recipe for Instant Pot Stuffed Artichokes!
black bean and corn salad make-ahead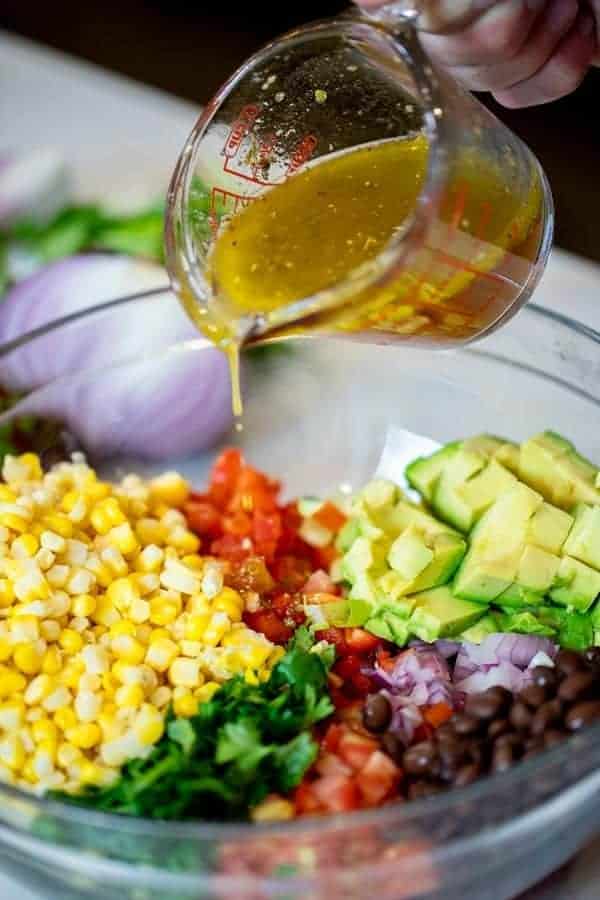 Since this salad contains a citrusy vinaigrette, it actually preserves the salad really well and it's fine to make ahead!
The only caveat is that the avocados may start to get a bit mushy and turn the salad slightly brown, so I recommend adding them fresh shortly before serving.
Tools to help you make black bean and corn salad
Instant Pot for Corn on the Cob
Make sure you use your Instant Pot to quickly and perfectly cook the corn. This is the Instant Pot I have, but you can make this recipe with or without an Instant Pot.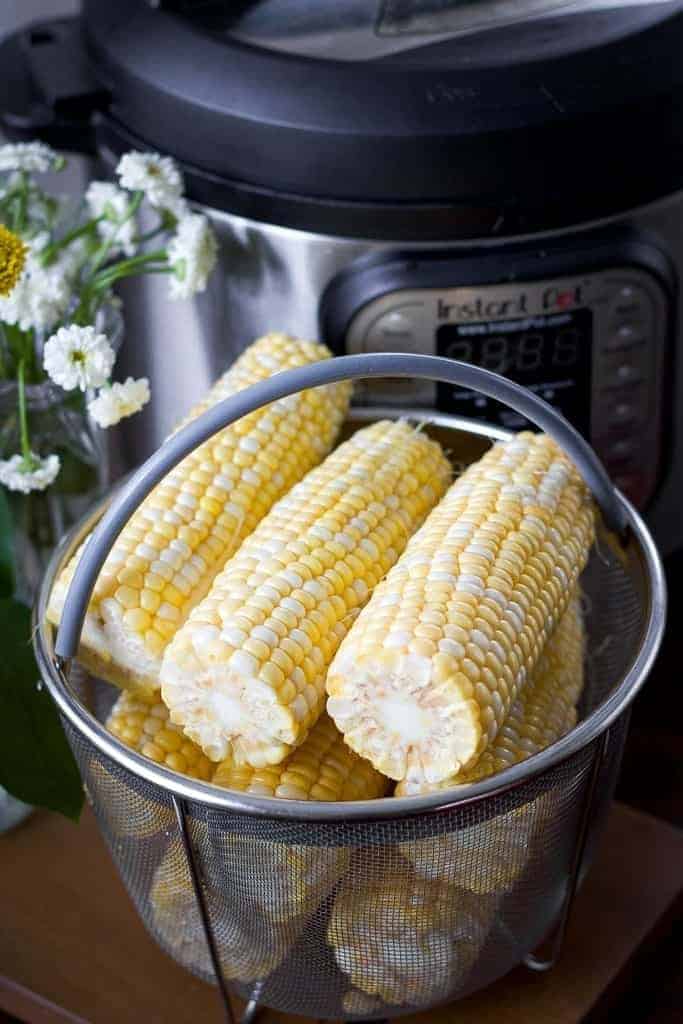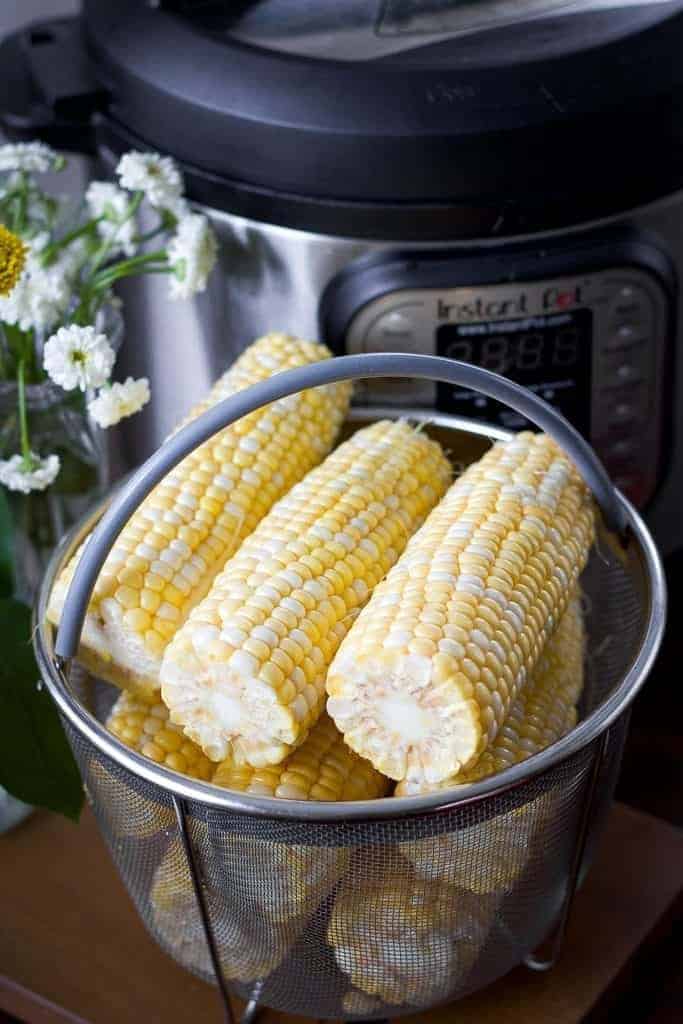 Instant Pot Steamer basket for corn on the cob
Instant Pot Corn on the Cob is on repeat at my house all summer! You can pressure cook corn either in a steamer basket or on top of the trivet. You just want to keep them out of the water.
I will usually just chop off the top and bottom of the corn so it fits in my pot better, and then cook them with the husk on. After pressure cooking, the corn just slides right out! I find this easier and not as messy over peeling them before.
If you purchase corn that has already been shucked, you can cook them on the trivet or a steamer basket. This Instant Pot steamer basket is my favorite high quality Instant Pot accessory.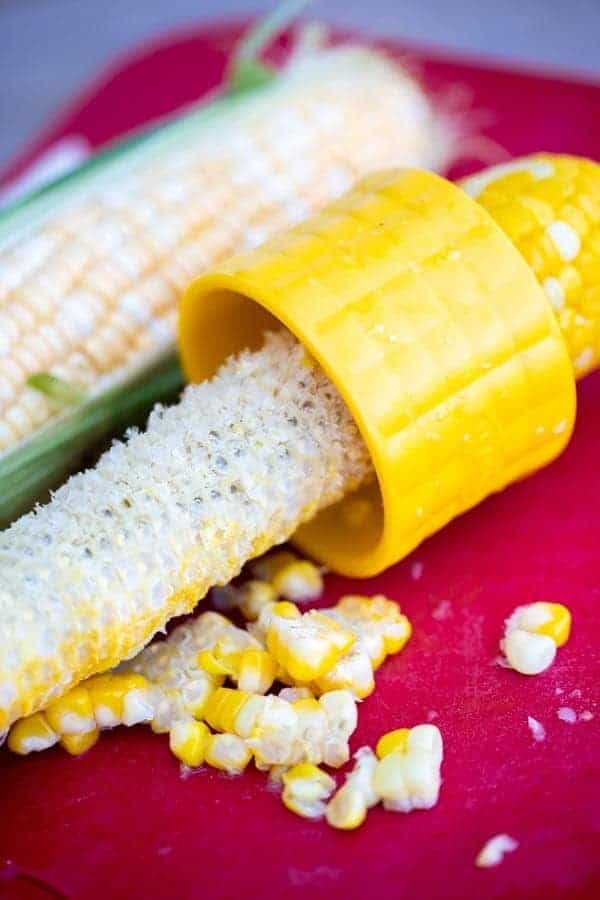 Corn on the Cob Stripper
I also use this awesome new tool to help make this summer corn salad INCREDIBLY easy! Usually, I don't like single use tools, but this corn stripper is AMAZING.
I was able to get the corn off of 4 ears of corn in about a minute. And it did an incredible job of taking the corn off without waste!
SO satisfying.
Veggie Chopper
I also invested in this veggie chopper to make this recipe (the one I have with more blades is currently unavailable, but this it the same chopper and cheaper because it has less blades), and let me tell you- it's a GAME CHANGER!
It helped me make this salsa in like… 15 minutes vs. 45 that I usually spent just… C H O P P I N G forever.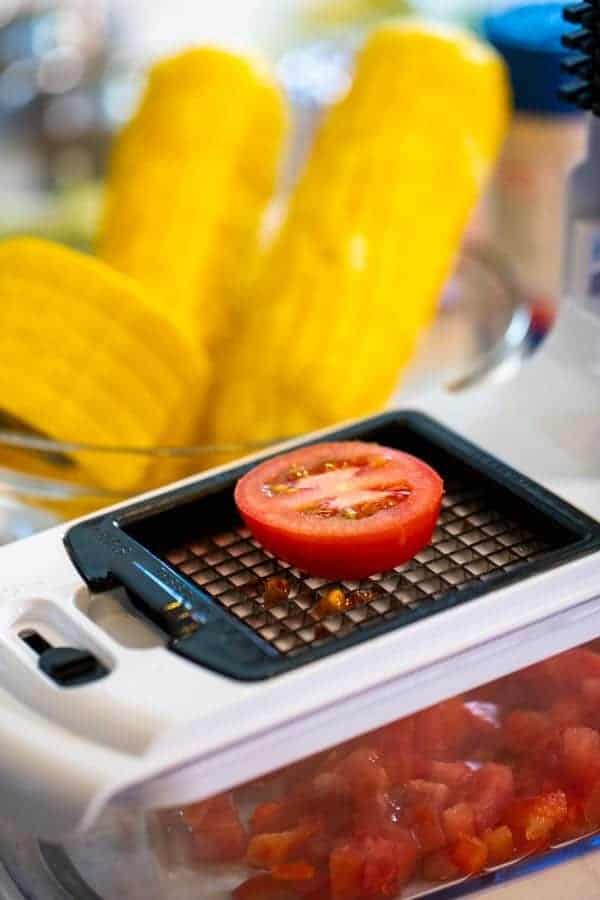 I couldn't believe I went this long without this tool in my kitchen and now I use it all the time.
I bought the bigger package with more blades because it also doubles as a mandolin, which is amazing to use for pickled cucumbers, au gratin potatoes, or anything that needs to be sliced thinly.
Air Fryer Tortilla Chips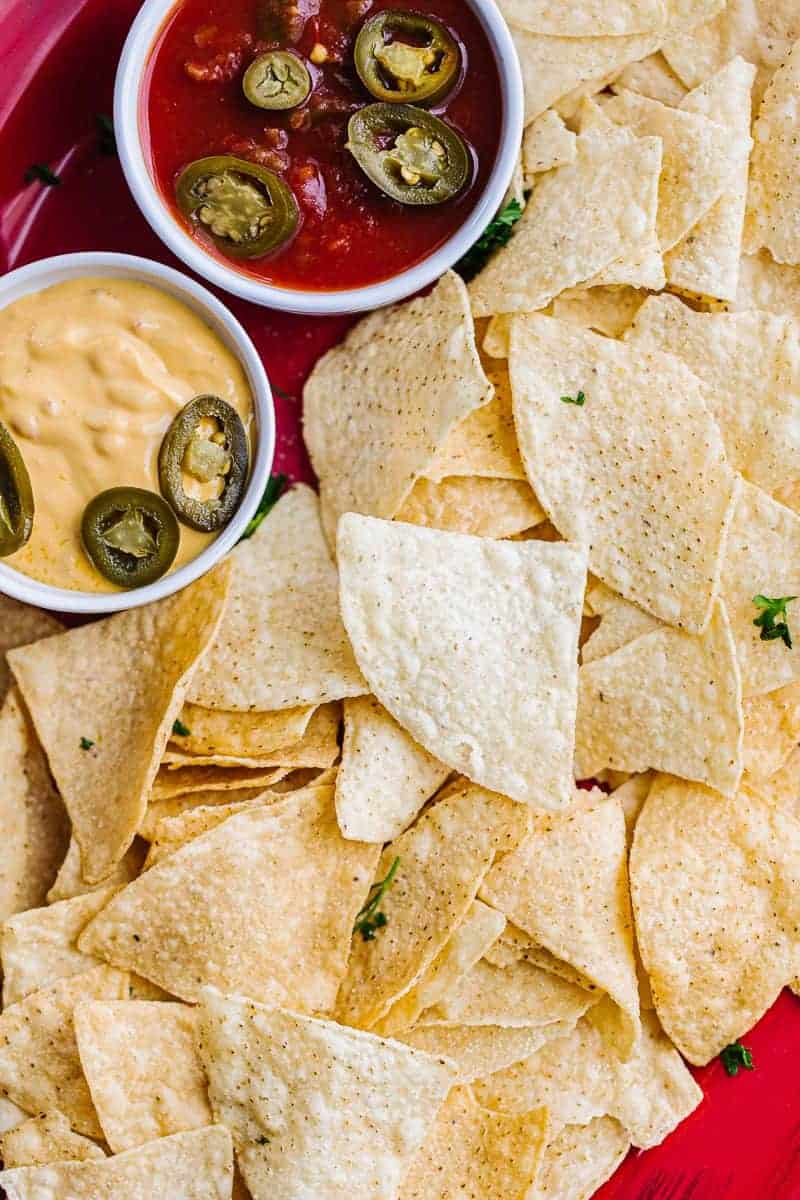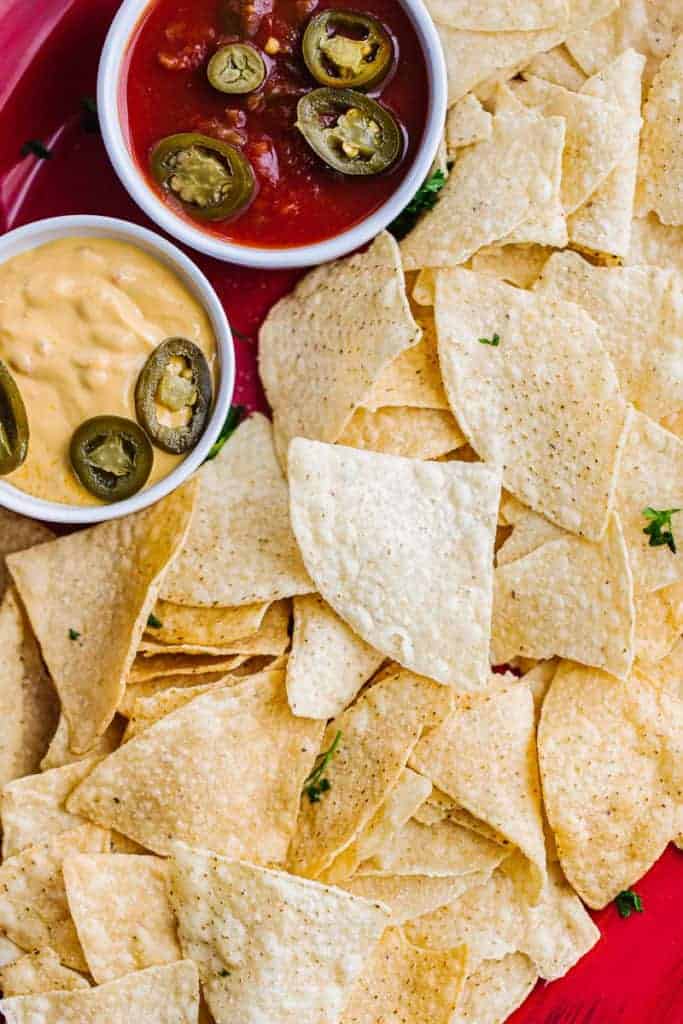 The best way to have this incredible corn and black bean salad is with air fried tortilla chips!! Wow, these are SO good. I add a secret ingredient to make them even more delicious.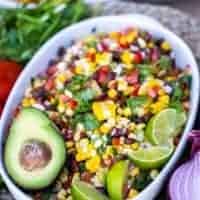 Black Bean and Corn Salad
Black Bean and Corn Salad is an easy and simple summer corn salad recipe that uses fresh, sweet corn, savory black beans, creamy avocado, crunchy bell peppers, and a tangy vinaigrette. I use my Instant Pot to quickly cook the corn perfectly.
Print
Pin
Rate
INGREDIENTS
4

Roma tomatoes

finely diced

4

ears fresh corn

cut off the cob

1

red bell pepper

finely diced

1/2

medium red onion

finely diced

2

stalks green onion

finely diced

2

avocados

diced

1

can black beans

drained and rinsed

1/3

bunch cilantro

chopped
Vinaigrette
2

limes

juiced

1/2

large lemon

juiced

3

tablespoons

olive oil

1/3

cup

red wine vinegar

1

teaspoon

oregano

1-2

teaspoons

salt
INSTRUCTIONS
Add the trivet and 1 cup of water to the Instant Pot. Stack corn on the cob (peeled or unpeeled) on top of the trivet (or, use a steamer basket). Cook for 3 minutes on high pressure with a quick release. Remove from the Instant Pot and immediately place in an ice bath or under cold running water to cool. Husk the corn (if you haven't already), the cut the corn off the cob.

Alternatively, blanch the corn for 5-10 minutes in a pot of boiling water and remove immediately to cold running water. Let cool completely, then cut the corn off the cob.

While the corn is cooking, mix together the vinaigrette by combining the lemon and lime juice, red wine vinegar, and oregano, and salt. While whisking constantly, pour a thin stream of olive oil into the vinegar mixture until completely combined.

In a large bowl, gently combine all ingredients. Chill in refrigerator for about 2-4 hours until flavors have married together.

Enjoy with tortilla chips, on top of protein, or on its own as a salad.
NOTES
If you cook the corn in the husk, the corn will pop right out of the peel without being stuck to the silk. I find it it much easier to do it this way (just make sure they are cool enough to handle after cooking!)
This salad recipe is most visually appealing the first day while all the colors are bright and happy, but tastes better the next day when the flavors have settled together.
If you don't have time to marinate in the refrigerator before serving, combine all the ingredients (including avocado) at the same time and serve.
Toast your tortilla chips in the air fryer for about 5 minutes at 375 degrees and squeeze a lime on them for the best chips ever!
You are going to LOVE This easy summer salad. There's only one black bean and corn salad we enjoy every July at my house. Hope it'll become a family tradition for you, too!
---
---
Hi Sher! Thanks for watching!
This is the link to the chopper– it is AMAZING! https://amzn.to/2Dhj767 I cook the chips in the air fryer for about 3-5 minutes, depending on how dark I want them. I like to let them go a little longer so they get a little crisper! I then just squeeze a little bit of lime juice- i never measure it! Enjoy!