*This post may contain affiliate links. This means as an Amazon Associate and affiliate for other products, I earn from qualifying purchases at no extra cost to you.
If you're thinking about which Instant Pot to buy, I'll answer all your questions to help you pick the the best Instant Pot for you or your family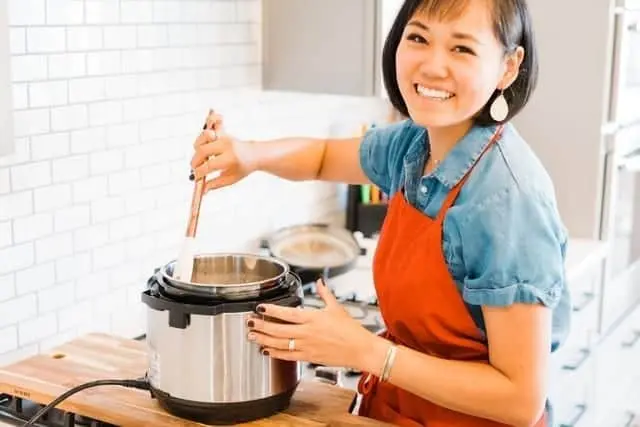 I currently own 8 Instant Pots, and have been cooking in them for over 4.5 years. In the time since I purchased my first Instant Pot, I've literally made it my job to develop recipes and share all things Instant Pot. I hope you'll trust my recommendations!
What is an Instant Pot?
Instant Pot is a name brand of electric pressure cooker. There are lots of other brands out there, but a lot of people use the term "Instant Pot" the same way we call all tissues "Kleenex," plastic containers "Tupperware," and jeans "Levis."
Which Instant Pot To Buy
This article will only be talking about Instant Pot brand pressure cookers. My recommendation is based on what I believe is the best product for the best price for most situations.
What kind of Instant Pots are there?
Instant Pot carries different models, colors, sizes, and designs of their electric pressure cookers. They currently offer the following:
I know it's a lot of options, but I'll help you break it down.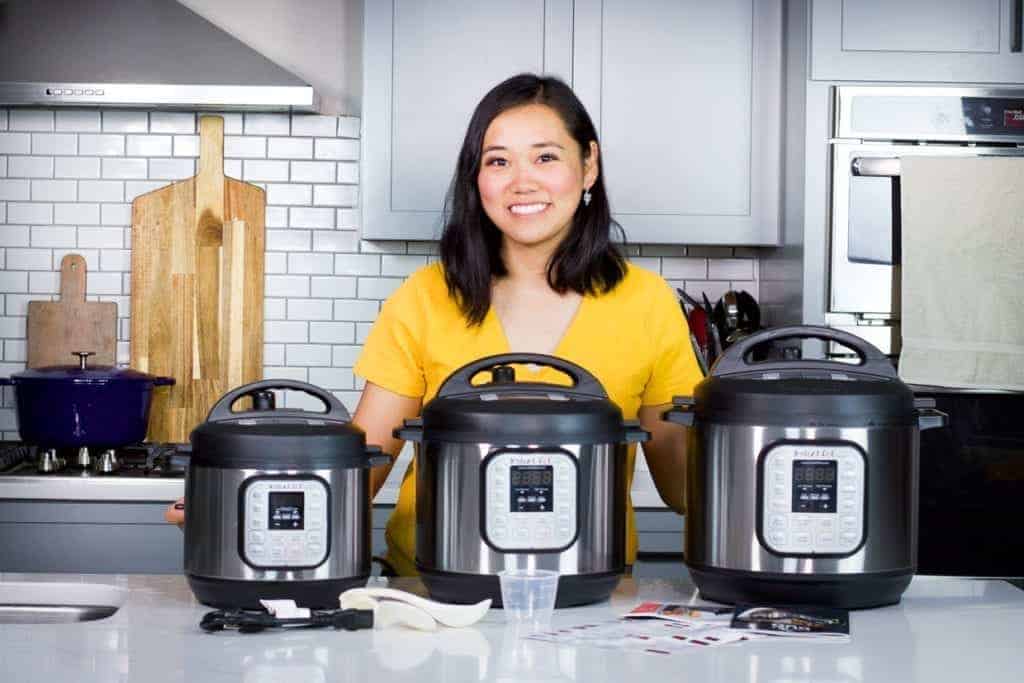 What is the difference in the instant pot models?
KEY FEATURE: The most affordable Instant Pot with no bells or whistles.
Does not have a low pressure or yogurt function, nor does the lid stand on the base.
The most basic Instant Pot out of all the models.
No customizable programs.
Available in 3, 6, and 8 quart sizes.
You can get this in the Pioneer Woman line.
Non detachable cord.
Doesn't have a "handle." Instead, it has an opening/ridge to open the lid.
Should I buy an Instant Pot Lux?
The Instant Pot Lux is best for someone who understands pressure cooking and will only use their Instant Pot sparingly for basic recipes. I personally don't recommend this model because you may end up buying another Instant Pot with the features you want. I'm a big believer in investing in the right product the first time, so you're not spending double.
KEY FEATURE: Has a high and low pressure option, yogurt function (the 7 in the "7-in-1"), Lid that stands on the base on either side (see photo a little bit further in this post)
Comes in a myriad of colors like white, black, teal, etc.
Comes in 3, 6, and 8 quart sizes.
Detachable cord on 3 and 6 quart, not on 8. This is standard between all models below.
This is the model I own 4 of.
Should I buy the Instant Pot Duo?
I love my Instant Pot duos and find I have everything I want and need from them. This is the best Instant Pot to buy for the money and features, in my opinion. Using the manual buttons, you can cook anything you want. If you're interested in advanced features like Sous Vide, or want the added convenience of extras that help minimize errors, I recommend you look through the rest of this list and see what you need/want.
Adds the Egg, Cake, and Sterilize button presets to the Instant Pot Duo. Not having these presets does NOT mean you can't do eggs/cake in an Instant Pot. They are, just as advertised, PRESET times that you can just push. Once you learn how to use your Instant Pot and get comfortable with it though, you'll quickly realize that you almost NEVER, EVER use the presets. So don't let the presets scare or convince you either way.
Comes in a couple jewel tone colors (eggplant, cobalt, and cinnamon)
Available in 6 and 8 quart sizes.
KEY FEATURE: This lid adds a new feature that automatically closes the sealing knob so you don't ever need to worry about forgetting to seal.
Includes the Yogurt and Easy Steam release feature.
Available in 3, 6, 8, and the monstrous 10 quart size.
The first in the line that features a bright blue display screen.
KEY FEATURE: Everything you love about the Instant Pot Duo, but with an integrated Sous Vide feature
Includes the Yogurt setting and 13 presets.
Only comes in the 6 quart size.
KEY FEATURES: Quick Cool Lid quickens the pressure release time, Sous Vide, Easy-seal lid, and Diffused Steam Release takes the fear out of releasing the pressure.
The stainless steel inner pot has handles and is designed to go from your stove top to the Instant Pot (or vice versa).
Touted as "Most innovative Instant Pot"
Large LCD display.
Includes an extra sealing ring, Easy-seal lid, cooking progress indicator, easy steam release feature, diffused steam release, easy-grip handles on the pot.
Comes in 6 or 8 quart sizes.
KEY FEATURE: Doubles as an air fryer with an attached air fryer lid.
DOES NOT HAVE YOGURT FEATURE.
Easy Seal Lid takes the thought out of sealing.
Doesn't come with a lot of the more "advanced" features or bells and whistles- no special stuff with the lid/sealing/steam release.
Only comes in 8 quart size.
Should I buy the Duo Crisp?
Full disclosure: I do not currently have this exact model, but I do have a similar air fryer lid attachment that I've had for about a year, so my thoughts are coming from the experience I had with that.
So… this may be a little controversial, but…
I hate my air fryer lid!
Here are my pros and cons:
Air Fryer Lid Review
First, the cons:
It's bulky… big… and dare I say it? UGLY!
Clunky to use and store.
Incredibly annoying to clean all the different parts.
Only comes in 8 quart size.
In my experience, the air fryer lids don't get all the way under the food and doesn't crisp as well as a standalone air fryer.
Pros:
It's a two in one product, but I feel like the pressure cooker and air fryer are both inferior versions of their true potential. A regular Instant Pot is better and a regular air fryer is better. It's like 2-in-1 shampoo and conditioner. It's convenient, but it's probably better to just buy both.
Can easily broil small amounts of food that may require it after being pressure cooked
Good if you're only using the air fryer occasionally and for small quantities of food.
Includes the Sous Vide feature (kindof random, huh!?)
Final thoughts on the air fryer lid
If you can't already tell, I'm not a huge fan of the air fryer lid on top of the pressure cooker. A lot of people hear about it and get super excited because they think they'll get the best of both worlds. In reality, you're probably getting a little less of both worlds and you may be unhappy with your purchase.
I use my air fryer probably more than my Instant Pot.
You read that right- I use it multiple times a day, for almost everything that needs to be reheated. In some ways, it has replaced my microwave because I get a much better result when reheating my food.
What to air fry
I use it for cooking frozen sausage patties for my kids every morning- they come out AMAZINGLY delicious in it! Have you tried reheating pizza in the air fryer? Oh my gosh, it's like it's fresh out of the oven. No more soggy or rock hard crust!
I use it to warm up tortilla chips before we eat them- squeeze a little lime on those babies and OH MY. They taste freshly fried! Make an easy snack of Cream cheese wontons or Cookie dough wontons and you'll gain 5 pounds but be super happy!
My point is, I use it ALL the time. I even have a special shelf in my pantry with an outlet so I can have it plugged in at all times.
Why I don't recommend the air fryer lid
If you use the Instant Pot air fryer, you have to have the Instant Pot out just to use the air fryer. And then, you have to CLEAN the entire liner and everything just to use the air fryer.
Look at that huge thing. And remember it's also an 8 quart. Do you really want to use that huge thing multiple times a day, and then have to clean it out when you want to use the pressure cooker? No thanks!
It's also only ever going to crisp the very top layer of whatever you put in the Instant Pot liner. There's no way to shake the stuff inside the liner without manually going in and turning it (annoying!).
With the air fryer, you need room to actually get good results so it can crisp all surfaces. It's just like crisping something in the oven- if you overcrowd your cookie sheet too much, you won't get a very good result.
When to purchase the Instant Pot Crisp
I would personally only get the Instant Pot Duo Crisp if you have no intention of ever using the Instant Pot to proof bread dough or make yogurt, and if you're only going to be air frying VERY small quantities of food. Emphasis on the VERY SMALL.
For reference, my air fryer can fit three, almost four pieces of pizza. the Instant Pot could only do one.
Which air fryer to buy
A standalone air fryer is not too expensive, and you'll be happier with both your appliances over having one that can't do either thing very well. This is the air fryer I have and it's amazing. I made a mistake and bought a smaller one first. Don't do this- start with a 5-6 quart or you'll end up buying a bigger one later.
KEY FEATURE: Basically the Viva with a fancier screen so you can see the process of the cook. The screen tells you when the pot is preheating, pressure cooking, and coming down in pressure.
Comes with an extra sealing ring.
Easy Seal Lid.
Sous Vide and Yogurt feature.
Easy Steam release feature.
Allows custom temperature control for saute and slow cook options.
It also has the "Ultra" option, which gives you complete control of the pressure cooking conditions.
Allows slightly more robust time options on pressure cooking.
No Sous Vide.
Smart lid with the automatic sealing knob, and the central dial to control the Instant Pot.
KEY FEATURE: The main draw is that you can control the Instant Pot with your smartphone.
Allows sous vide through the app (not on the interface).
There is no sterilize feature but it is the only Instant Pot that comes with silicone mitts (kind of funny!)
KEY FEATURE: has the highest pressure PSI among all Instant Pots, matching traditional stovetop pressure cookers.
Most high-tech looking display with touchscreen.
Stainless steel exterior body.
KEY FEATURE: This is also the only model that can safely pressure can foods.
Release the sealing knob with a touch of the touchscreen (you can tell it to do a pulse, quick release, or natural pressure release).
Instant Pot Lux or Duo?
The main two Instant Pots that most people decide between are the Lux and Duo as they are the most affordable and popular options. Most people will start thinking about getting an Instant Pot because they see the Lux version on sale.
Let me tell you this: I do not recommend that you purchase the Instant Pot Lux. It is the base model Instant Pot that does not have a yogurt setting, low pressure setting, or a place to set the lid.
You may think that these aren't that big of a deal, but I promise that the lid alone should convince you to spend the additional couple dollars. Even if you don't think you'll need the yogurt function, I promise you'll use it eventually! You can use the yogurt setting for proofing bread dough in half the time!
How to use your Instant Pot
After you get your Instant Pot, make sure you watch my Instant Pot 101 series on Youtube, starting with this video! It has amazing analogies to help you understand your Instant Pot!
I have a full, free course to help you feel comfortable and confident using your Instant Pot!
Which size instant pot is the best?
Most Instant Pot models (models above) come in varying sizes: 3, 5, 6, 8, and 10 quart. Some models are only available in the 6 quart size.
The 3, 6, and 8 quart Instant Pots are the most popular for different reasons. Here's my recommendation regarding Instant Pot sizes:
The 6 quart is what most individuals and families will want to get. Yes, even individuals or couples.
The 6 quart Instant Pot is like a 2 slice toaster. It's the standard. Sure, you can find some toasters for one slice and some for 4 or 8 slices, but most people will need and use a normal, 2 slice toaster.
For your first Instant Pot, I recommend the 6 quart size unless you have a family with more than 7-9 people, in which I'd recommend starting with the 8 quart.
But I'm only cooking for a couple people! Do I still need a 6 quart?
If you're cooking for a 1-2 people, you may think that a 6 quart Instant Pot is too big. Don't worry, it's not. It's the standard size that almost all recipes you'll find are tested on, and you'll be able to actually fit everything in the pot.
A three quart Instant Pot doesn't even fit a large frozen chicken breast sometimes. You'll also find it difficult to make or halve recipes for soup, or make something like ribs. I recommend the 3 quart as a second Instant Pot for side dishes or extra small portions.
Is 6 quart instant pot big enough?
Yes, the 6 quart Instant Pot will be big enough for most cooking needs. Unless you do a lot of pressure cooking and incredibly comfortable with Instant Pot cooking, I'd recommend not starting with an 8 quart.
The 6 quart instant pot is big enough, unless you are constantly cooking for 8+ people.
8 quart Instant Pot
The 8 quart Instant Pot is… HUGE!
Like… REALLY BIG.
I have one but have only used it once when I was preparing food for my Instant Pot event where I made food for 70 people.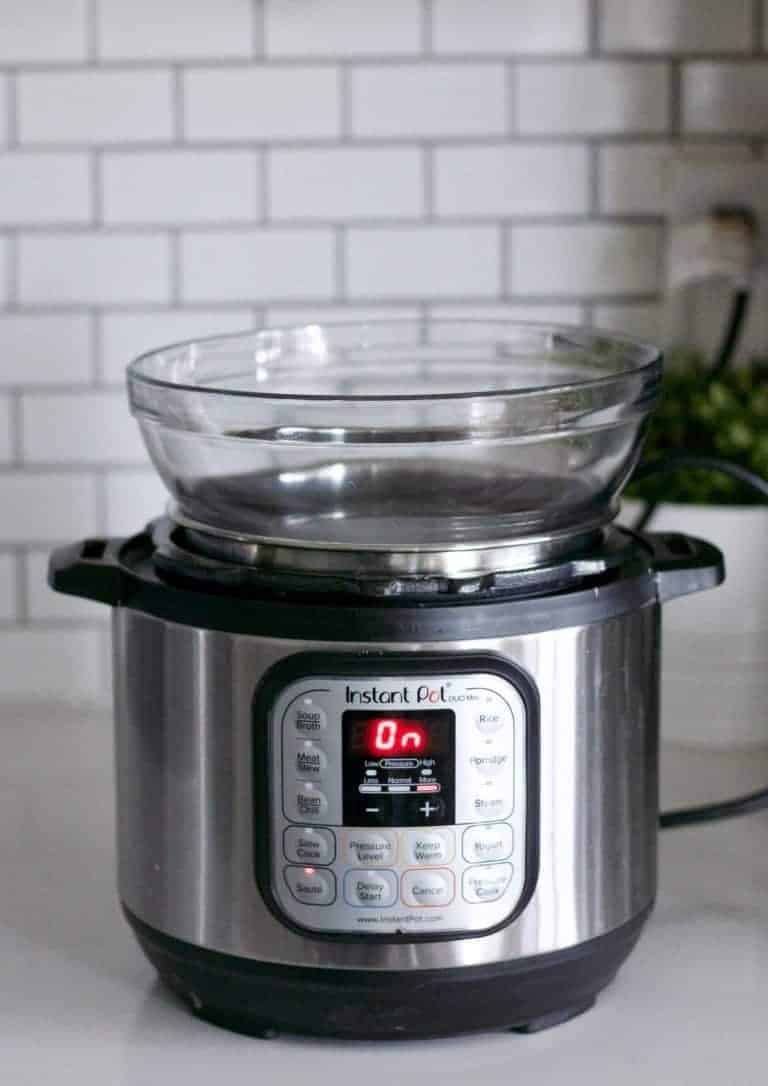 The 8 quart can be a little finicky sometimes with the liquid and times because of its large size, so the 6 is definitely the best to start with. It takes more liquid and it takes MUCH longer to come to pressure. I don't find it practical for everyday use.
On the same note, I cannot even imagine how big the 10 quart Instant Pot is! I feel like that would only work for ginormous parties (where you're the only one bringing the food!) or for something that you'll need to cook multiple large cuts of meat. I'm really unsure of who would need something like this!
3 Quart Instant Pot
The 3 quart Instant Pot is a wonderful, cute, adorable little guy. I love to use the 3 quart for making all my sides while the 6 quart(s) do the heavy lifting.
It is currently being used to make Instant Pot yogurt, which is a weekly staple at our home. When you make yogurt, the Instant Pot is out of commission for at least 8 hours, plus if you put the liner in the fridge, it's really like a whole 24 hours.
Because of this, it's really nice to have the 3 quart in addition to a 6 quart Instant Pot for families with less than 5-6 people. This is because I believe the 3 quart can handle side dishes (like Instant Pot Broccoli or Cilantro Lime Rice) for that many people.
My recommendation for a 3 quart Instant Pot
I don't recommend the 3 quart Instant Pot as your first Instant Pot because it isn't big enough to handle larger cuts of meat (even a single frozen chicken breast could be too big), batches of soup, or most recipes that are developed for the Instant Pot.
Best time and place to buy an Instant Pot
Instant Pots go on sale the deepest on Amazon Prime Day (mid-July) and Black Friday (the day after Thanksgiving).
I am constantly tracking prices for all Instant Pot models, so make sure you're following me on Instagram so you don't miss any deals! I know what is a good deal and I won't share anything that I wouldn't buy myself.
Having multiple Instant Pots
I started with one 6 quart Instant Pot. The more I used it, the more I wanted another one! Because I have a small family (2 adults and 2 kids), I opted to buy a 3 quart.
Then, I purchased another 6 quart so I could use both at the same time to make things like Instant Pot Ribs in one, and a large batch of mashed potatoes or salt potatoes in the other. The 3 quart is also in the background making broccoli, corn on the cob, yogurt, or bacon green beans.
My recommendation is to use your 6 quart duo, then you'll know over time if you need or want another one! You'll know if you need a 3, another 6, or 8 quart for the types of things you're wanting to make.
What's the best instant pot to buy?
All this information is to tell you that my final recommendation on which Instant Pot to Buy.
If you are reading this post, you are obviously interested in purchasing your first Instant Pot and are a beginner.
For any beginner, I recommend getting the Instant Pot Duo 7-in-1 in the 6 quart size.
This is the best Instant Pot to get as a beginner because it'll do everything you need it to do. If you're a more intermediate or advanced cook and understand how to use the Instant Pot, you probably know the features your current pot is lacking and will be able to identify which model you need or want.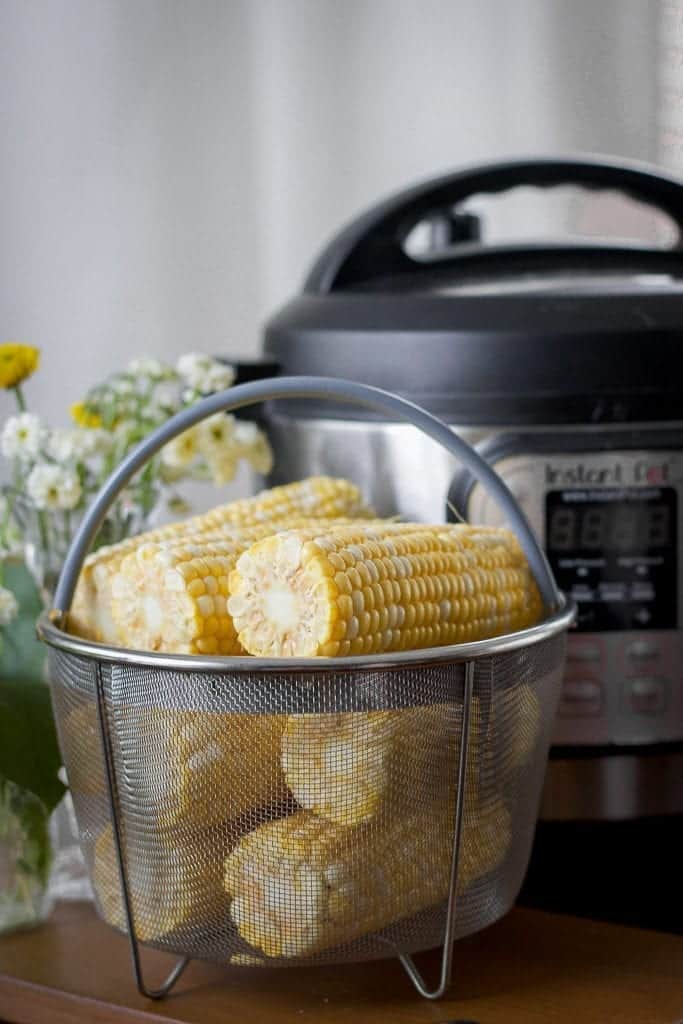 Caveat to buying the Instant Pot Duo
Unless you see any feature that you really want or need from the list of major differences above, the Instant Pot Duo will be able to fulfill all your needs!
The only caveat to this advice is if you see a fancier model on sale that costs less than the Instant Pot Duo.
99% of recipes on the Internet (mine included) are created and tested in 6 quart Instant Pots, which will give you the most consistent successful results. Of course most of these recipes will work in smaller or larger Instant Pots, but just note that they may have some variability.
What accessories do I need for my instant pot?
When you purchase or order your Instant Pot, you may be tempted to go out and buy a whole bunch of accessories. DON'T DO IT without reading my post first! I promise, it'll save you some money and time!
Read my comprehensive post on the top 10 best Instant Pot accessories to buy (and avoid!). I give some weird advice, so I hope you'll read it before getting stressed out about it!
Also check out my friend Jennie's post on best accessories for 3 quart Instant Pots!
Best Instant Pot Recipes for Beginners
Now that you know the Best Instant Pot to Buy, I hope you'll come back and tell me what you got and what you made! What was the first thing you made in your Instant Pot?
Don't forget to follow me on social media! Find me on Facebook HERE or on Instagram @InstantPot_Cooking