Instant Pot Lemon Garlic Chicken and Rice
---
This post may contain affiliate links, which means I earn a small commission if you purchase something I recommend - at no additional cost to you! Thank you for supporting this blog!
Lemon Garlic Chicken and Rice is a super simple one pot meal made in the Instant Pot using easy to find ingredients that the whole family will love.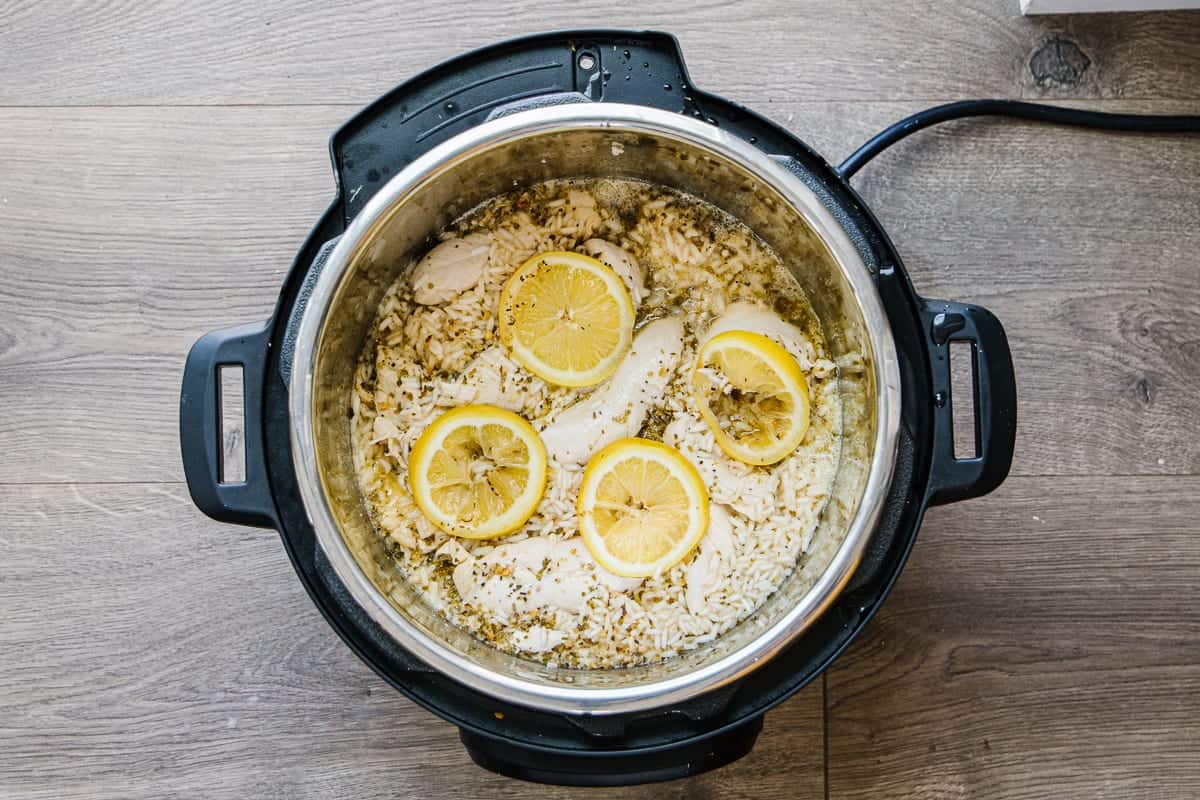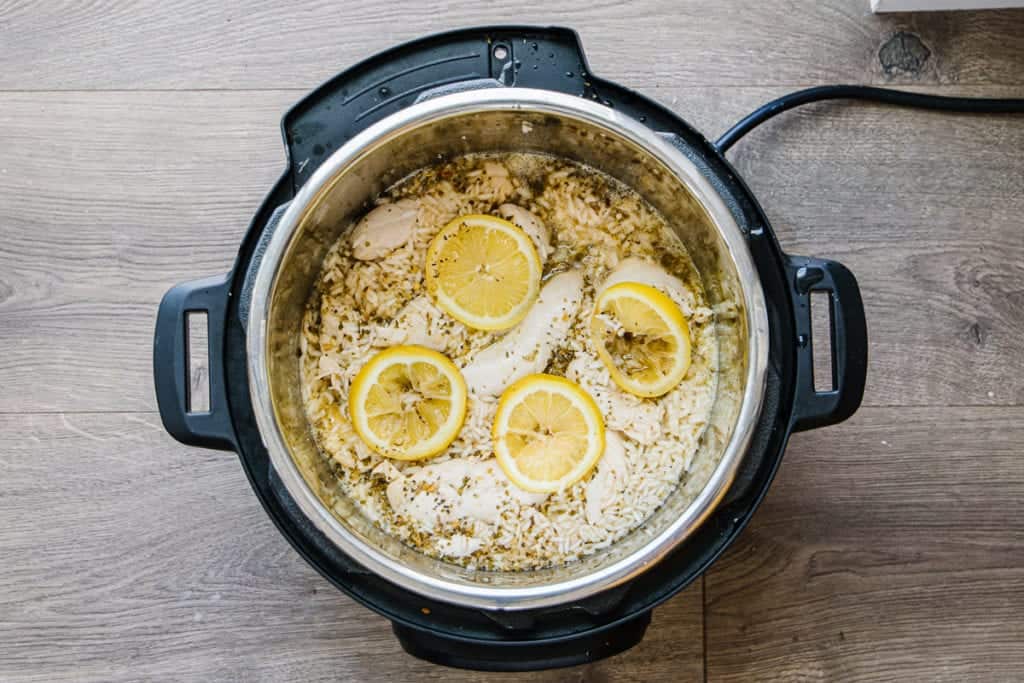 Add Broccoli for a Complete Meal!
I served with Instant Pot Broccoli. However, last time I made it I just added chopped broccoli florets straight into the pot after opening the lid.
Then, I replaced the lid and let the residual heat steam the broccoli for about 5-8 minutes until tender. ONE POT MEAL!
If you like this recipe, you'll love my super simple Chicken Drumstick recipe! Dinner will be on the table in less than 30 minutes!
Instant Pot One Pot Meals
Instant Pot One Pot Meals are meals that can be "dumped" into the Instant Pot and produce 75-100% of the entire meal. Some of these dishes are good on their own, and some may be nice with a vegetable side dish.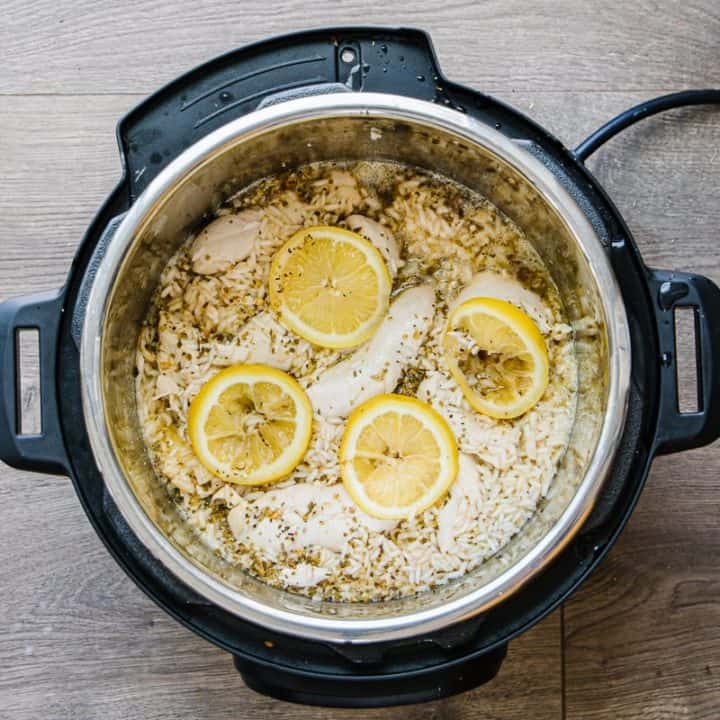 Instant Pot Chicken Thighs with Lemon Garlic Rice Pilaf
This easy, weeknight 30 minute meal is perfect for busy families. Lemon rice, tender chicken thighs, and fresh broccoli is a healthy and fast dinner made even easier as an Instant Pot Dump Meal
Print
Pin
Rate
INGREDIENTS
6

Frozen Boneless Skinless Chicken Thighs

1.5

Cups

long grain white rice

2

Tablespoons

Butter

1

Teaspoon

Better than Bouillon

Chicken

1

Cup

Hot Water

3

Tablespoons

Italian or white balsamic citrus basil dressing

substitute with 1 T. each lemon juice and olive oil mixed with 1 teaspoon italian seasoning

2

Teaspoons

Minced Garlic

Juice and zest of one lemon

1

Teaspoon

Parsley Flakes

2

Teaspoons

Oregano

1

Teaspoon

Garlic Powder

Salt and Pepper

to taste

Broccoli Florets

Optional
INSTRUCTIONS
Add butter (or oil if you're wanting dairy free) to the Instant Pot on High Saute.

Allow the butter to slightly brown and get fragrant. Dump in the rice and stir to coat and get toasty, 3-5 minutes.

In a liquid measuring cup, mix together water with Better than Bouillon (you can just use chicken broth if you have it). To the cup, add lemon juice, 2 teaspoons of garlic, and salad dressing or substitution (I used White Balsamic Citrus Basil salad dressing from Costco)

Stir the liquid into the rice. Ensure there aren't any burned bits of rice to the bottom of the pot. Then, layer frozen boneless skinless chicken thighs on top of the rice. Top the chicken with garlic powder, pepper, oregano, lemon slices, and parsley. 

Lock the lid, turn the knob to sealing, and cook on manual high pressure for 10 minutes with a 5 minutes natural pressure release. I served with Instant Pot Broccoli. I thought it was really yummy topped with some more lemon juice, lemon zest, and a little fresh salt right on top.

Optional: After opening the lid, the first time, add uncooked small broccoli florets right on top of the chicken and rice. Replace the lid, and let steam in the residual heat for 5-10 minutes until cooked through, depending on the size of florets. Then stir and serve.
NUTRITION
---
---
Nothing needs to be adjusted!! Unless they are bone in, I'd add 3-5 minutes!

I got the dreaded " burn" notice. Tried adding more water since it was not a 1/1 ratio. Still the rice burned. Maybe the oil dressing?

Dang, I'm sorry you got the burn notice! I've made this 4 times and never gotten a burn notice. Please ensure you're properly deglazing the pot with the liquid and scraping all the rice off the bottom of the pot. Don't stir after adding the rice. I hope you'll try it again and have a successful attempt! – Lisa

This comment slightly confuses me. You say to deglaze but then say don't stir after adding in the rice. Can you explain please? Thnx

I just tried making this tonight and while it's tasty, I also got a burn notice. Do you rinse your rice before using it in your instant pot? I figured it might reduce the starch which in turn would reduce he likelihood of burning. Or maybe 1 cup of water isn't enough for the amount of rice? I have an 8 quart if that matters. Looking forward to trying it out again so any tips would be appreciated. Thanks!

Hello! I do not rinse the rice before cooking. I toast it a little first. The amount of liquid may have to vary depending on your chicken. The frozen chicken thighs used in this recipe "leech" a lot of the liquid needed as it melts and cooks, which is why I only used 1 cup of liquid. If your chicken is different, feel free to add an additional 1/2 cup of liquid!

We have the 6 qt. Duo and 3 qt. mini. How do I adjust these recipes for the mini? RV people (unless they have large families) use the mini (it's a storage issue for the RV's). Just found you, love what you do and am sending other Motor home, Trailer and 5th wheeler campers to you.

Hi! Everything would be the same, except you might not be able to fit as many pieces of chicken in your pot! If you do and the chicken is stacked, I'd add on just a couple extra minutes to ensure the chicken is cooked all the way!


Good to know that works too! I learn so much from you as well! Keep it up great post.


Good to know that works too! I learn so much from you as well! Keep it up great post.


Good to know that works too! I learn so much from you as well! Keep it up great post.

Does it matter what kind of rice I use? Recipe doesn't specify and only have short grain brown rice at home at the moment. Thanks!

Hi Diane. Long grain white rice will work best for this recipe. Short grain brown rice takes much, much longer to cook so it won't work with the liquid and cook time in this recipe.


Excellent, fast and easy. We used chicken tenderloins, and garlic butter.

I just realized this is for boneless/skinless..can I use thighs with skin and bone? I just sent my son to the store to get fresh lemons 🍋 🤦‍♀️

Hi Ashley, did you end up trying it? If you were using fresh chicken thighs (bone-in and skin-on), the 15 minutes cooking should have been adequate. If you use frozen bone-in chicken thighs, I'd increase the cooking time to 15 minutes with a 5-10 minute npr. This recipe is getting a huge revamp this fall, where we will include all this information. Thanks for writing in!

@Lisa Childs, I did make it..but the chicken did not cook all the way..rice tasted amazing tho! I am trying it again tonight..with the correct chicken!

I got a burn notice too..didn't get it the first time but this time I did..I realized the first time I made it(with skin & bone in chicken) I didn't set the pressure cook to high..it was on normal..so I did high this time and it gave me the burn notice..and I followed what it says online to do..and did a quick release and added another cup of water..did normal not high and within a few minutes I got a burn notice..I have no clue what I'm doing wrong..I've used tons of your recipes and this is the first one I've had issues with