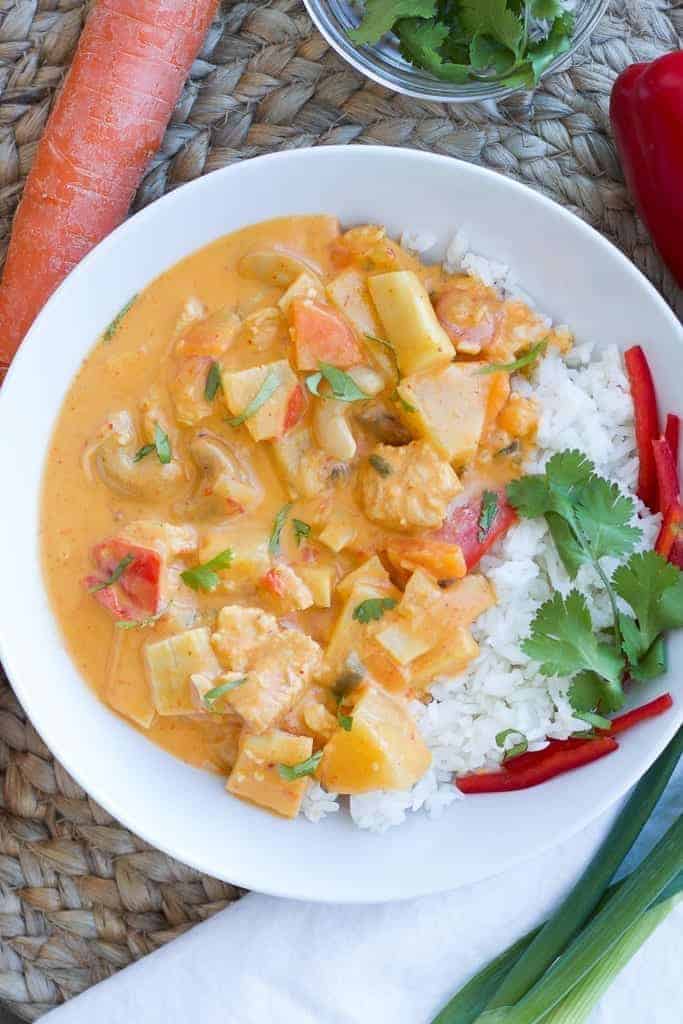 Pineapple Coconut Chicken Curry (Instant Pot)
---
This post may contain affiliate links, which means I earn a small commission if you purchase something I recommend - at no additional cost to you! Thank you for supporting this blog!
Pineapple Coconut Chicken Curry is one of the best things I have ever made. It's sweet, spicy, dairy free, and extremely satisfying — this Instant Pot chicken curry recipe is going to be my new staple.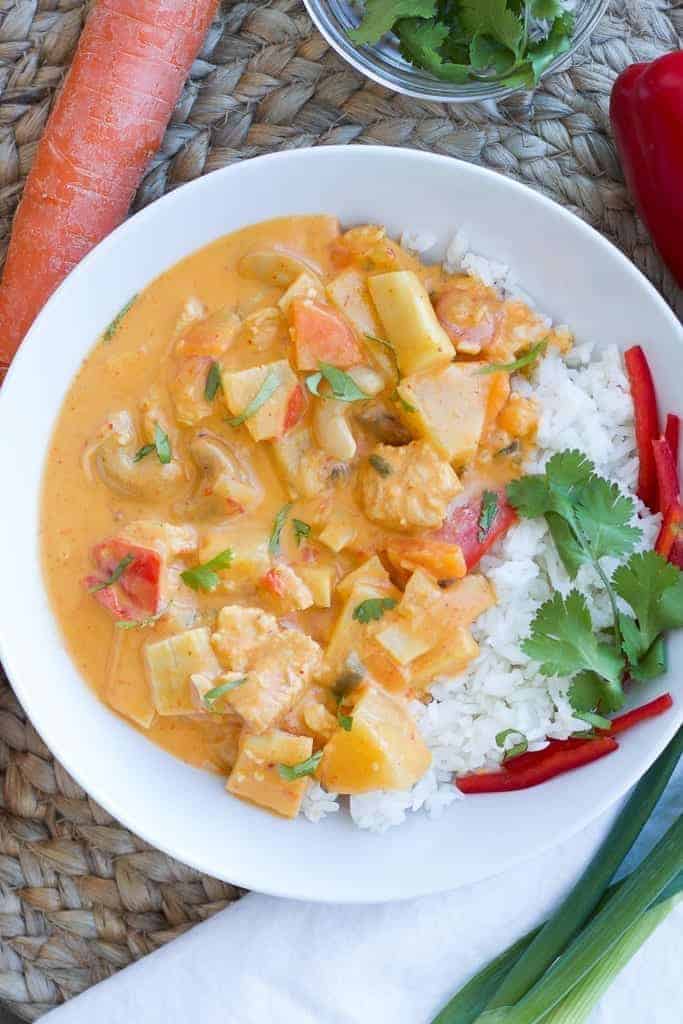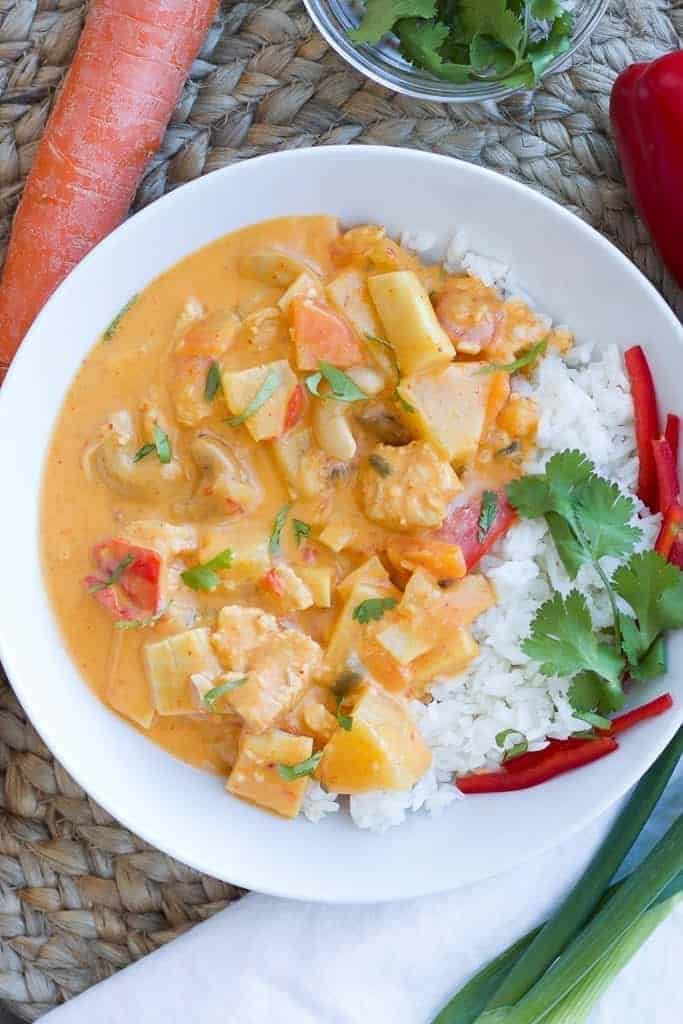 Simply Thai Pineapple Curry Recipe
About a year ago, my team at work went to Simply Thai in Draper, Utah for lunch. I didn't have super high expectations and ordered the pineapple curry — or Gang Khua Sub Pa Rod.
I've since returned many times just for this pineapple chicken curry. The base is perfectly coconutty and very sweet (not at all what I was expecting), with chunks of tender chicken and juicy pineapple.
My recipe is quite a bit spicier than Simply Thai's due to personal preference.
To account for that, I've noted in my recipe that you should start with about 1/4-1/2 of the called-for curry paste, then add in more to taste after pressure cooking.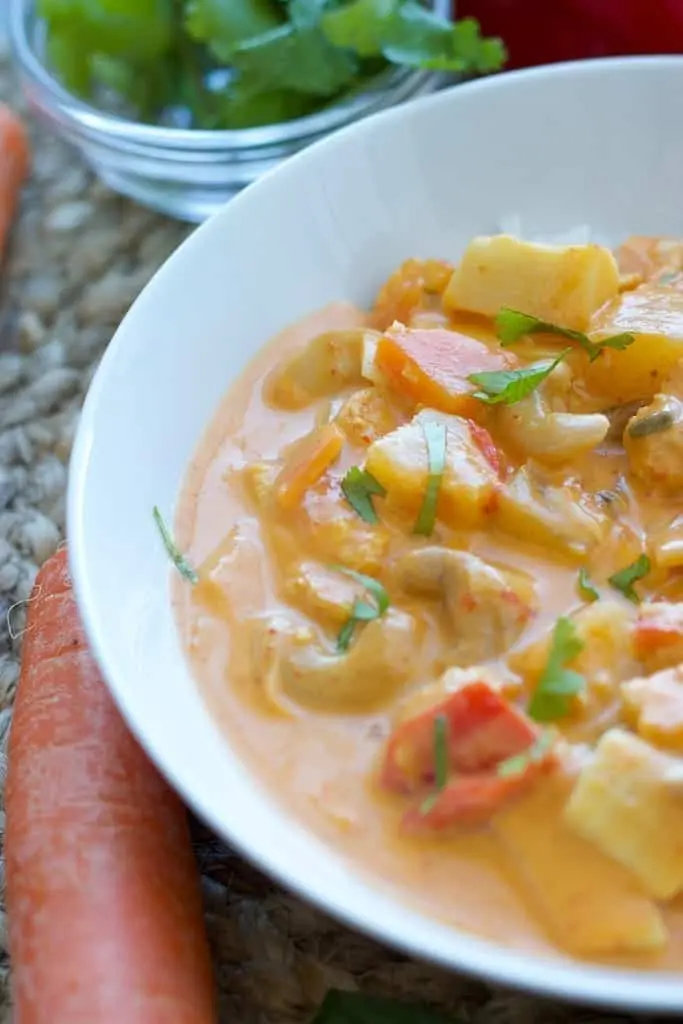 More Asian Recipes
PINEAPPLE CURRY INGREDIENTS
Simply Thai's pineapple curry uses chicken or shrimp as its protein, then pairs that protein with a curry of coconut milk, pineapple, carrots, bell peppers, Thai basil, baby corn, tomatoes, onions and cashews.
For my Instant Pot chicken curry, I tailored the veggies to my taste, but kept the signature red curry base and pineapple chunks.
At its core, curry consists of four things: the curry base; the protein; the add-ins like veggies, potatoes, or (in this case!) pineapple; and the liquid.
This recipe is for a beautifully flavorful and easy chicken curry with coconut milk, so that liquid will be full-fat coconut milk.
You may also choose to use a thickener, like corn starch, to add a heartier consistency to your coconut pineapple curry.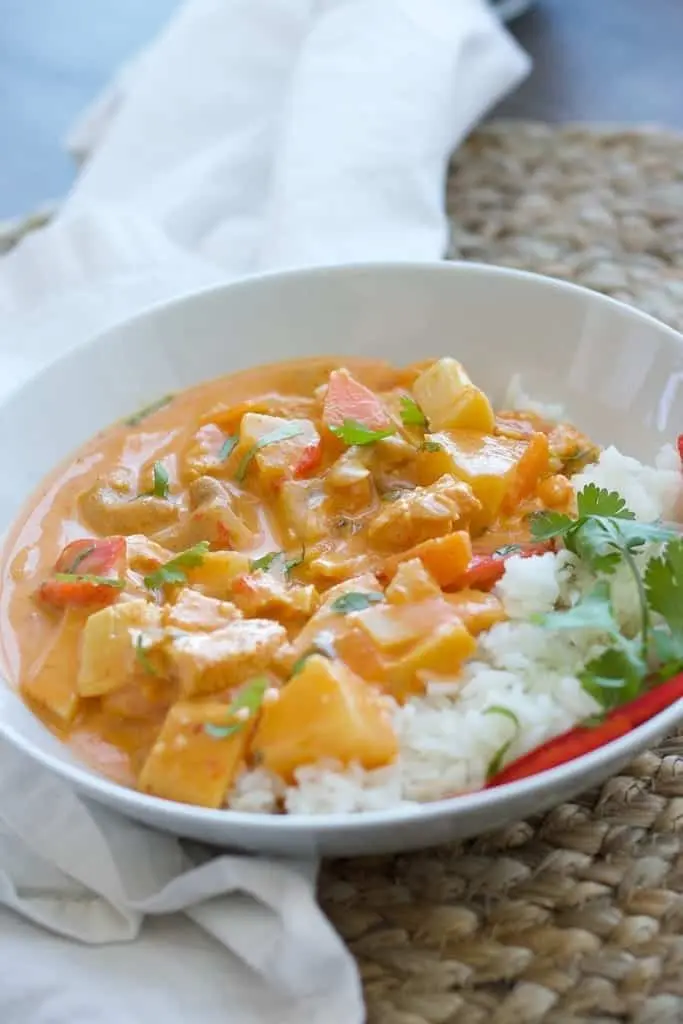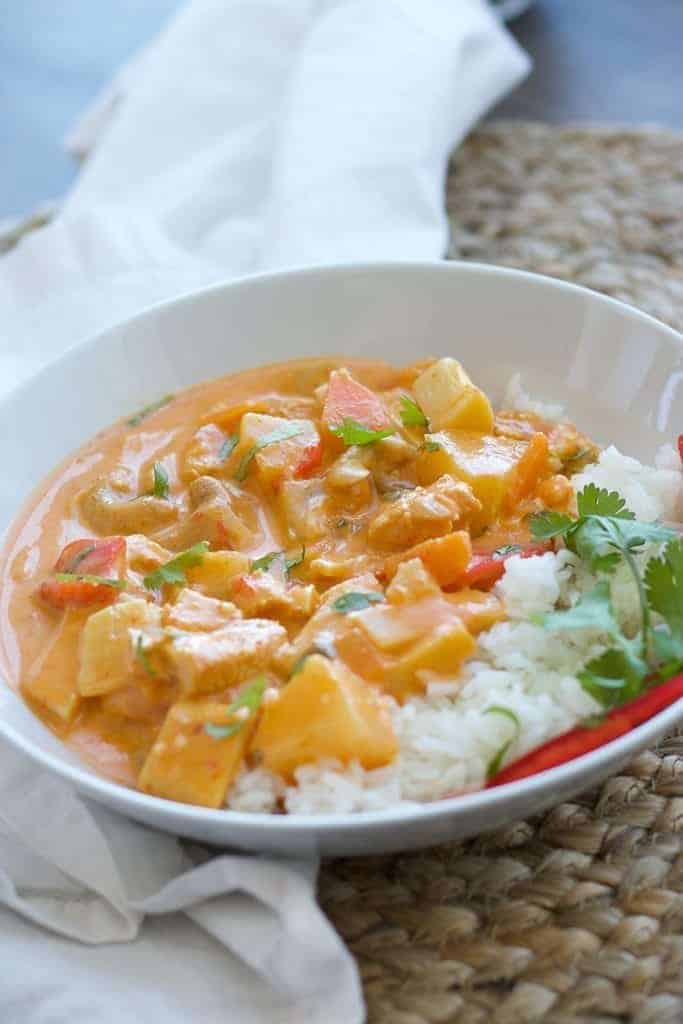 CURRY BASE
The curry base is composed of five simple ingredients: red curry paste, fresh garlic, fresh ginger, onion and coconut oil.
Fresh garlic and ginger are the best by far, as they give the best flavor, but powders will do in a pinch.
Because the curry paste is the main flavoring agent, make sure you get a good one. Personally, I recommend Maesri red curry paste.
CURRY PASTE VS. CURRY POWDER
I do not recommend using curry powder in place of curry paste in this recipe.
There's a lot of complexity to the realm of curry pastes and powders, but a general rule of thumb is that curry pastes go well with Thai curries (like this one), while curry powders lend themselves better to Indian curries.
Technically, you can use curry powder as a substitute for red curry paste, but the end flavor of your curry will be noticeably different.
For this pineapple coconut chicken curry, I strongly recommend you use the Maesri red curry paste.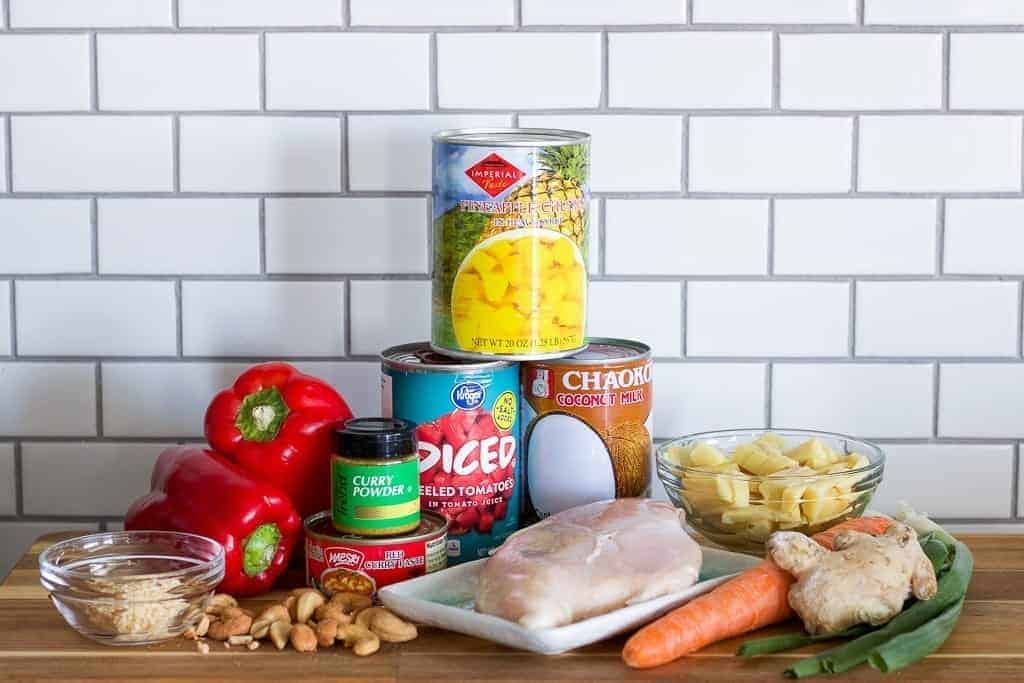 What is Red Curry Paste Made of?
Red curry paste is made from dried red chilies, garlic, shallot, salt, lemongrass, sugar, kaffir lime, galangal, and spices (usually coriander seeds, cumin, and cardamom).
The actual process of making your own red curry paste can be fairly time consuming, so I don't recommend it unless you're really passionate about curry!
The premade jars in the grocery store are bestsellers for a reason — you won't go wrong using an off-the-shelf curry paste.
Maesri Curry Paste
When I picked out my Maesri red curry at the store, I did so because it was the smallest container at the best price.
Come to find out, it has 4.7 stars and over 100 raving reviews on Amazon!
Maesri curry paste IS spicy, so if you are sensitive to spice, please use HALF or less while cooking and then add in more after pressure cooking.
However, don't use less than 1/3 as the curry paste is what gives the Instant Pot curry its flavor!
PROTEIN
For the protein, I like to use chicken breasts that've been thinly sliced about the grain. Simply Thai offered a shrimp option, which is definitely something that you can do at home as well.
And note — if you're vegetarian or just prefer to omit meat, this pineapple coconut chicken curry does not technically require a protein.
I like to add it to balance my meal, but it's by no means necessary. Feel free to make your Instant Pot chicken coconut curry with just veggies!
VEGETABLES & CREAM
I filled my recipe with simple vegetables. We skipped the tomato and the baby corn that Simply Thai used because we don't love them, but feel free to include them in your own Instant Pot curry!
Here's a quick breakdown of the veggies:
Red bell pepper
Sliced bamboo shoots
Carrots
(Diced tomato)
(Baby corn)
The fruit:
Pineapple chunks or tidbits in heavy syrup, NOT DRAINED
Other:
Canned coconut milk
Cream of coconut
Whole cashews
You'll want to be sure that you buy canned coconut milk — not the refrigerated kind! It should come in a regular 12 oz can, and if possible, it should be full-fat as well. The curry does not work as well if you use the carton coconut milk — that kind of coconut milk is a completely different product, and its flavor is nowhere near as strong.
You can omit the cashews if you don't love them. Personally, I find that they have such a lovely, meaty bite to them in soups and stews, which I adore.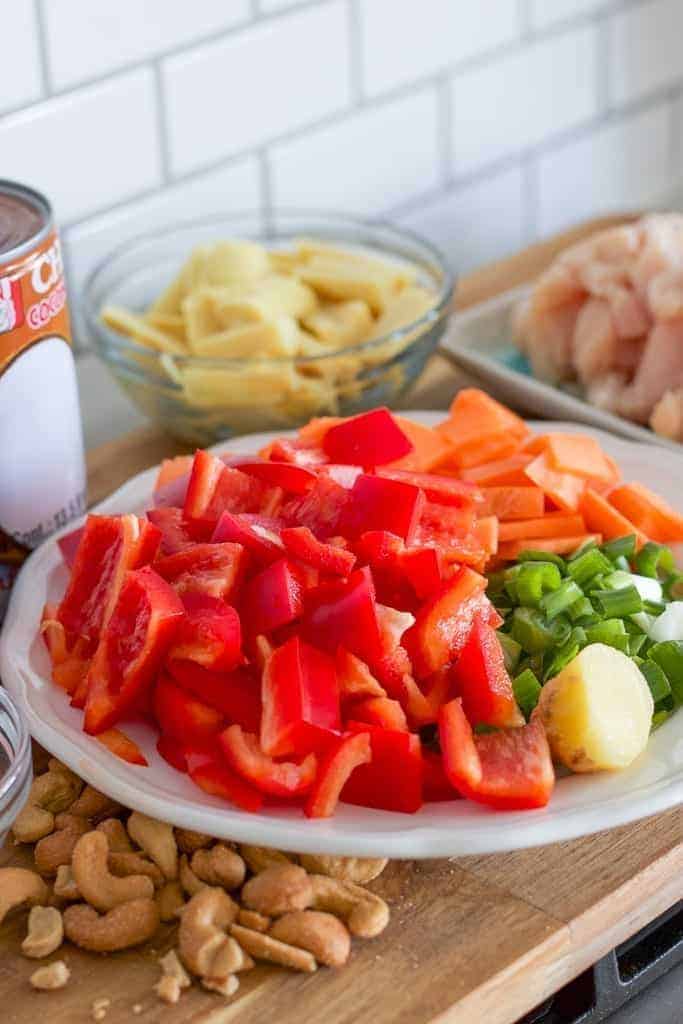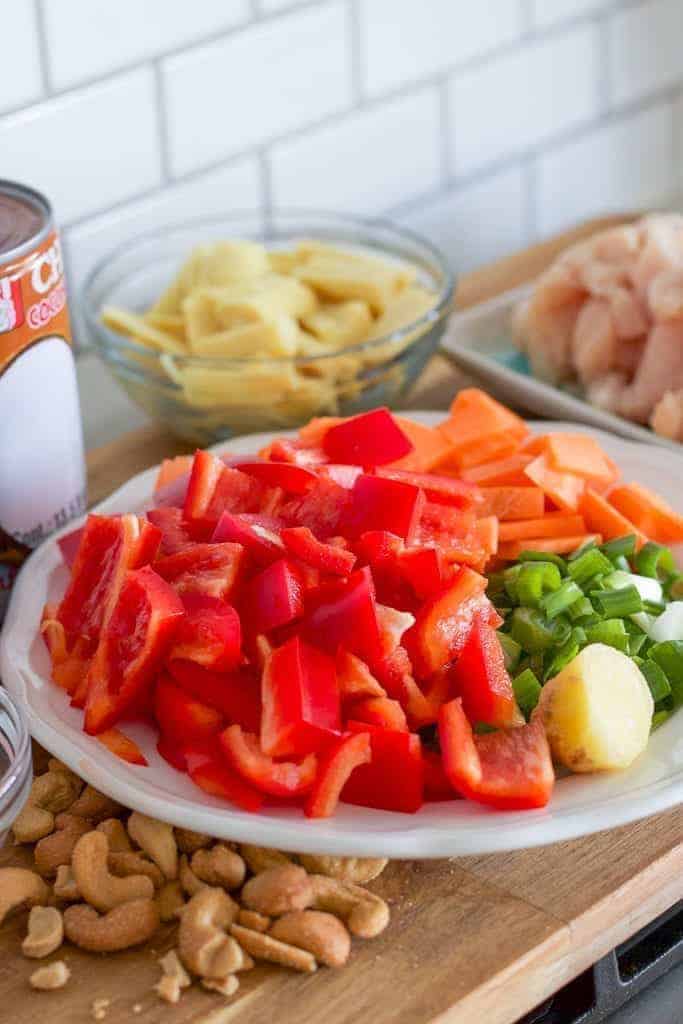 What is Cream of Coconut?
Curry recipes typically call for some amount of white or brown sugar, but I used Cream of Coconut instead to add intense coconut flavor plus that sweetness.
And please note: I mean Cream of Coconut, not coconut cream — they're two different things.
If you don't use Cream of Coconut, the curry will not have as potent of a coconut flavor — so don't substitute it!
And note as well that Cream of Coconut is a dairy-free sweetener, so we can keep this a dairy-free curry recipe.
You can also use Cream of Coconut in Coconut Rice Pudding, Instant Pot Oatmeal, Orange Coconut Cream Soda, hot chocolate, drinks, frosting, desserts, or as syrup!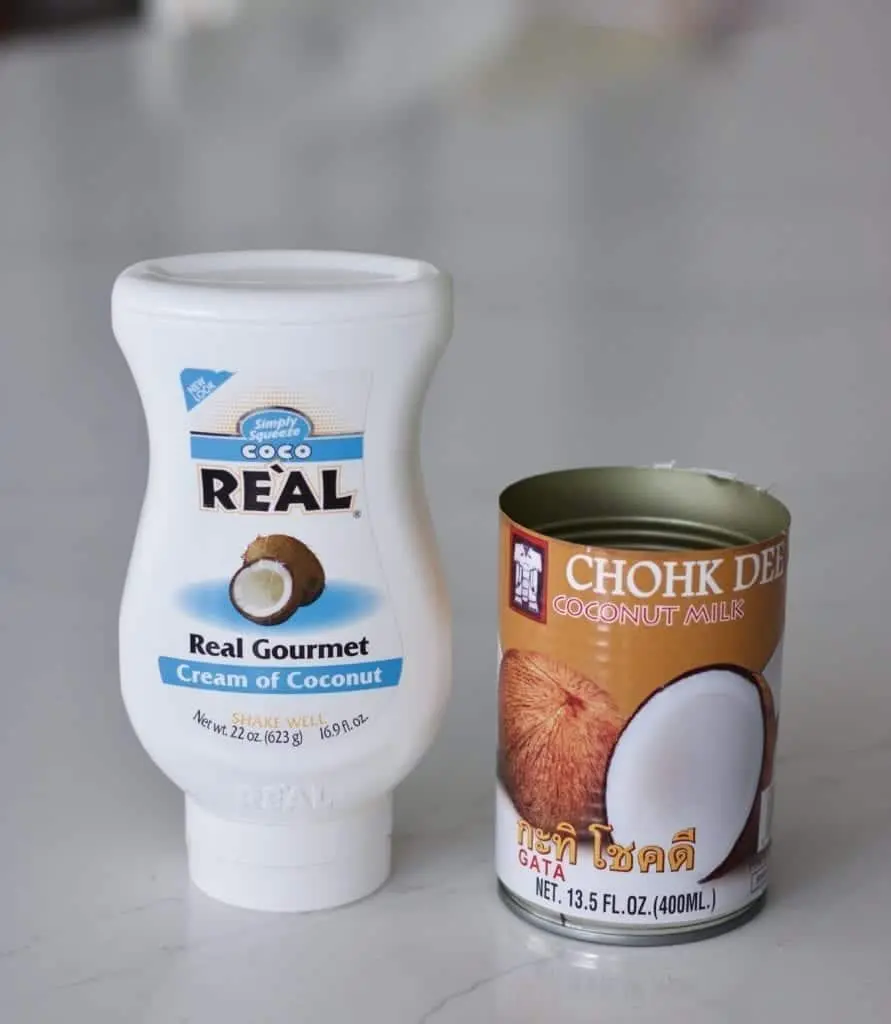 HOW TO MAKE INSTANT POT CURRY
As I explained earlier, the first vital step to making curry is to fry the curry paste, garlic, ginger, and onions in some oil. Sauteing the curry paste brings out those intense flavors and aromas.
Turn your Instant Pot on to High Saute for about 3-5 minutes, stirring constantly, until the mixture is incredibly fragrant and the onions are soft.
Next, add in the chicken. Let that cook for a couple of minutes until the chicken is mostly cooked. Then, dump in the vegetables, pineapple, cashews, and coconut milk.
Lock the lid, and it's time to pressure cook — all you'll need is five minutes.
After it's done pressure cooking, the chicken is cooked through so you can safely taste the broth and add the Cream of Coconut to sweeten everything to taste.
At this point, if you like, you can thicken the curry with some cornstarch.
Mix together the cornstarch and cold water to make a slurry. Then, while stirring, add in the slurry to the simmering curry to thicken.
Start with one tablespoon of cornstarch slurry and stir it in, then slowly add more one tablespoon at a time until the pineapple chicken curry has reached your ideal consistency.
Turn off heat and serve immediately over fresh, fluffy Jasmine rice.
STOVETOP PINEAPPLE COCONUT CHICKEN CURRY INSTRUCTIONS
If you don't have an Instant Pot, you can still make this amazing curry on your stove! I prefer to use the Instant Pot as it cuts down on a lot of that simmering time, but the conventional stovetop method certainly works — and the process is quite similar.
To cook, saute the curry paste, aromatics, and onion in a large pot until very fragrant, about 3-5 minutes. Stir constantly.
Add the chicken and cook until 90% cooked. Add the rest of the ingredients besides the cornstarch and stir. Cover with a lid, and let simmer for 15-20 minutes, or until the vegetables are tender.
Taste, then add more Cream of Coconut or curry paste to taste. Thicken with a cornstarch slurry, if desired. Serve over Jasmine rice.
HOW DO YOU THICKEN A CURRY?
I use a quick cornstarch slurry to thicken the curry ever so slightly. All I do is whisk some cornstarch into some cold water and then mix it into the curry. We spooned it over Jasmine rice and it was delectable!
While it's not technically necessary to add a thickener to your curry, I feel that it adds a nice heartiness to the end product.
HOW TO MAKE RICE IN THE INSTANT POT
It's super easy to make rice in the Instant Pot. The most popular varieties of rice are Instant Pot Long Grain White Rice, Perfect Instant Pot Basmati Rice, and Instant Pot Jasmine Rice.
If you like brown rice or a different kind of rice, I have an article on Instant Pot Rice 7 Ways.
For this recipe, I recommend using Jasmine rice.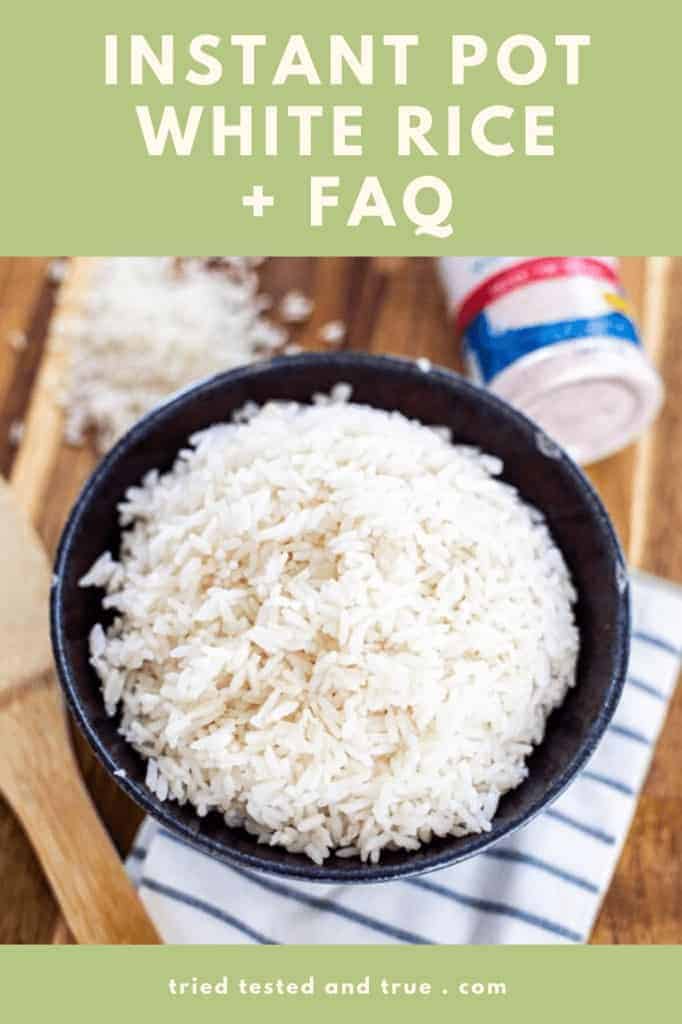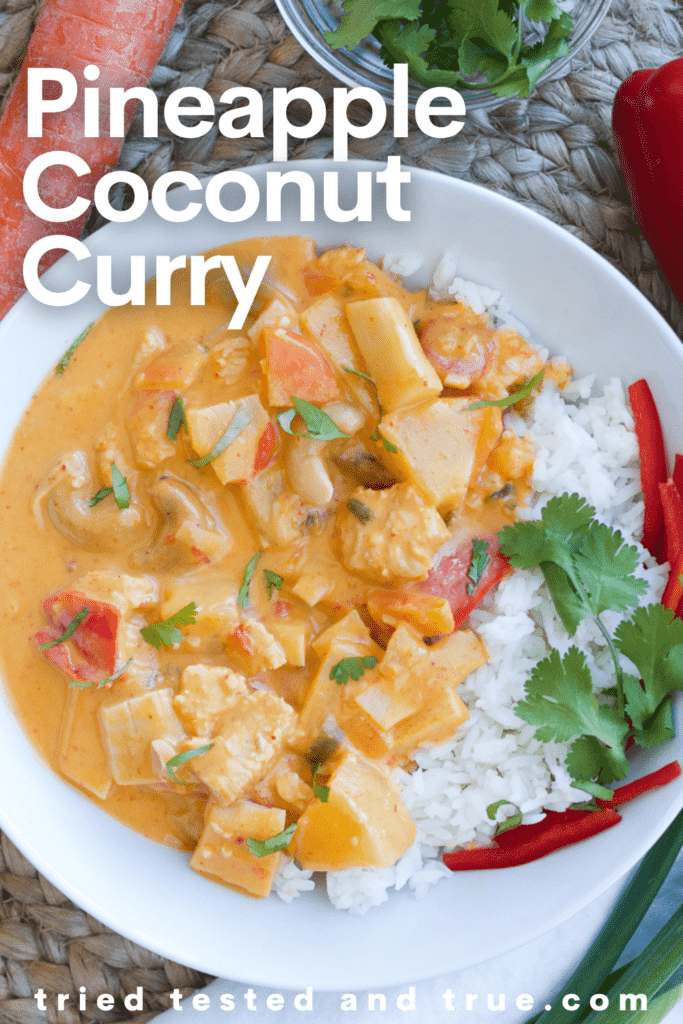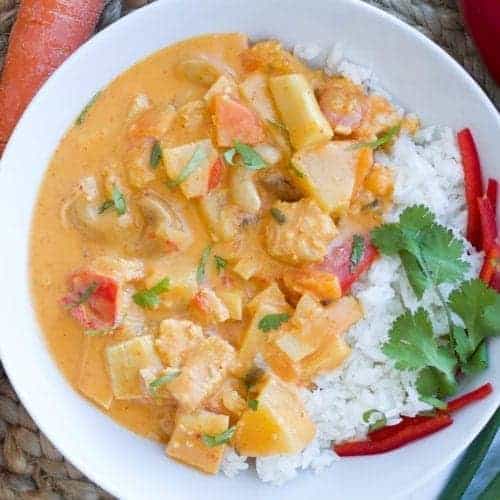 Instant Pot Pineapple Chicken Curry
This Instant Pot Curry recipe has creamy coconut, tender chicken, spicy curry, and sweet pineapple that is a restaurant copycat!
Ingredients
1, 4 oz Maesri Red Curry Paste (see notes)
1 tablespoon Fresh Garlic, minced
1 tablespoon Fresh Ginger, grated
1/2 medium Onion, sliced
2 tablespoons Oil (Coconut, vegetable, canola, etc.)
1 large Chicken Breast, thinly sliced against the grain
1 large Red Bell Pepper, chopped
1/2 cup Sliced Bamboo Shoots
1 cup Carrots, thinly sliced
1, 20 oz can Pineapple Chunks or Tidbits in Heavy Syrup, NOT DRAINED
2, 13.5 oz cans Coconut Milk, Shaken
1/2 cup Cream of Coconut
1/2 cup Whole Cashews
3 tablespoons Cornstarch
3 tablespoons Cold Water
Instructions
Press the Saute button on the Instant Pot and adjust to High. When it reads HOT, add the oil and wait 1 minute, or until shiny.
Fry the curry paste, garlic, ginger, and onions in the hot oil until fragrant and onions are tender (about 5 minutes).
Add chicken, the rest of the vegetables, pineapples and juice, coconut milk, and cashews. Stir to coat everything in the paste and onion mixture.
Turn OFF saute mode. Place the lid on the Instant Pot, turn the knob to SEALING, and pressure cook on Manual High Pressure for 5 minutes.
Carefully perform a quick release in short bursts until the pin drops on the lid.
Open the lid and stir.
Turn on High Saute to return the curry to a simmer (adjust to low if it boils too rapidly).
Add 1/4 cup Cream of Coconut, then taste again. If you'd like it sweeter, add the remaining 1/4 cup. I used 1/2 cup with the entire can of curry paste.
Mix together cornstarch and cold water to make a slurry. While stirring, add in the slurry to the simmering curry to thicken. Add an additional tablespoon of cornstarch slurry at a time to make it as thick as you'd like.
Turn off heat and serve immediately over rice.
Notes
Use 1/4-1/2 of the can of curry paste for less spice, and the whole can for a medium spiciness level. I use the whole can.
Nutrition Information:
Yield:

6
Serving Size:

1 grams
Amount Per Serving:
Calories:

569
Total Fat:

38g
Saturated Fat:

24g
Trans Fat:

0g
Unsaturated Fat:

12g
Cholesterol:

39mg
Sodium:

587mg
Carbohydrates:

52g
Fiber:

4g
Sugar:

29g
Protein:

12g
---
---