*This post may contain affiliate links. This means as an Amazon Associate and affiliate for other products, I earn from qualifying purchases at no extra cost to you.
Instant Pot Pineapple Chicken Curry with coconut is one of the best things I have EVER made. This Instant Pot curry recipe is going to be my new curry staple. It's sweet, spicy, dairy free, and extremely satisfying.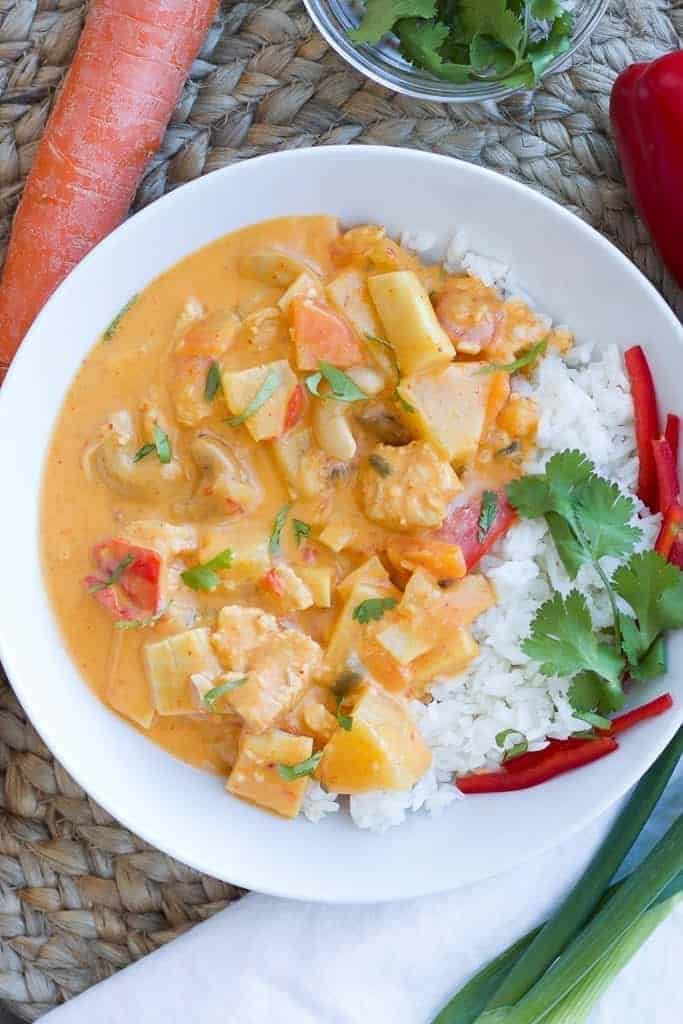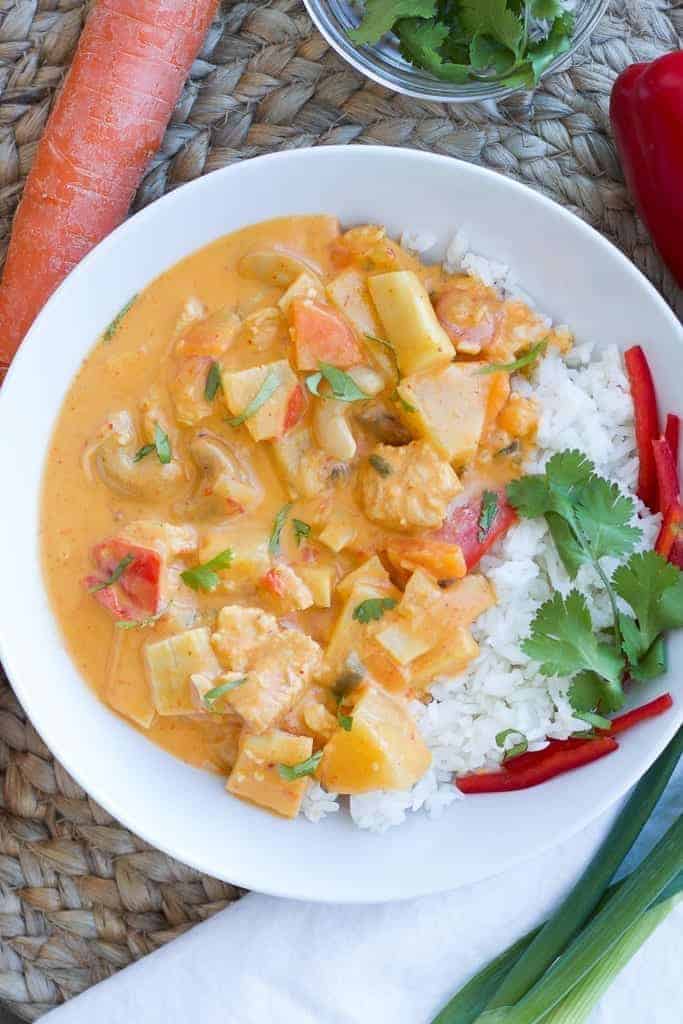 Simply Thai Pineapple Curry Recipe
About a year ago, my team at work went to Simply Thai in Draper for lunch. I didn't have super high expectations and ordered the Pineapple Curry or Gang Khua Sub Pa Rod.
I've since returned many times just for this curry. The base is perfectly coconutty and very sweet (not at all what I was expecting), with chunks of tender chicken and juicy pineapple.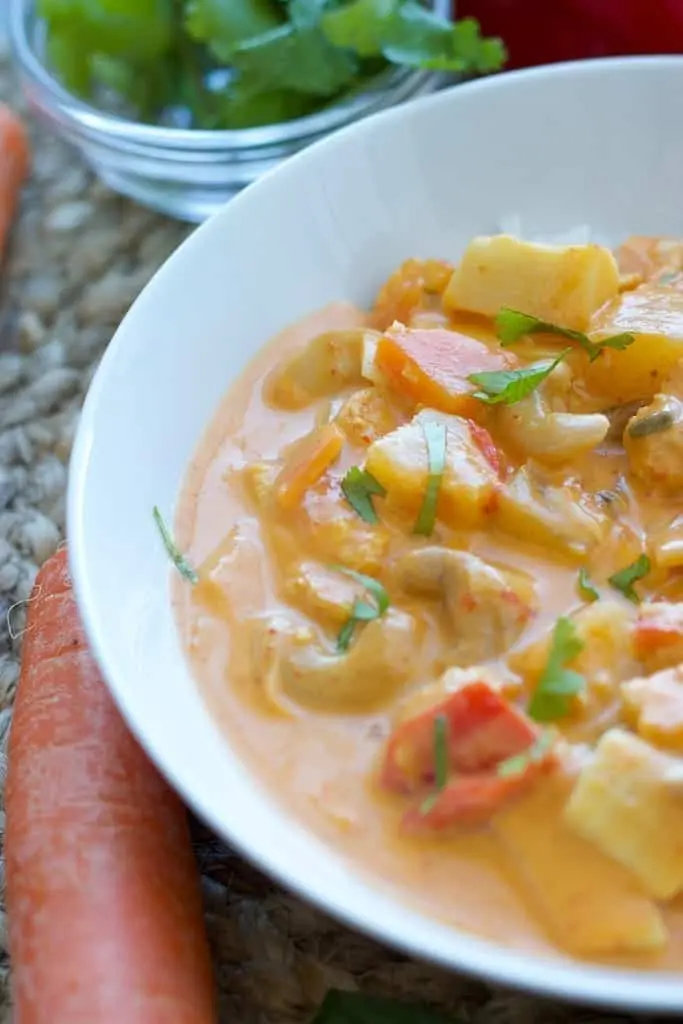 My recipe is quite a bit spicier than Simply Thai's due to personal preference. In my recipe, I've noted that you should start with about 1/4-1/2 of the curry paste, then add in more after pressure cooking to taste.
Asian Recipes
Instant Pot Curry Inspiration
I was at the Asian market the other day picking up ingredients for my Hot and Sour soup and Cream Cheese Wontons when I walked past the curry aisle. Instantly, I knew I wanted to make my favorite curry!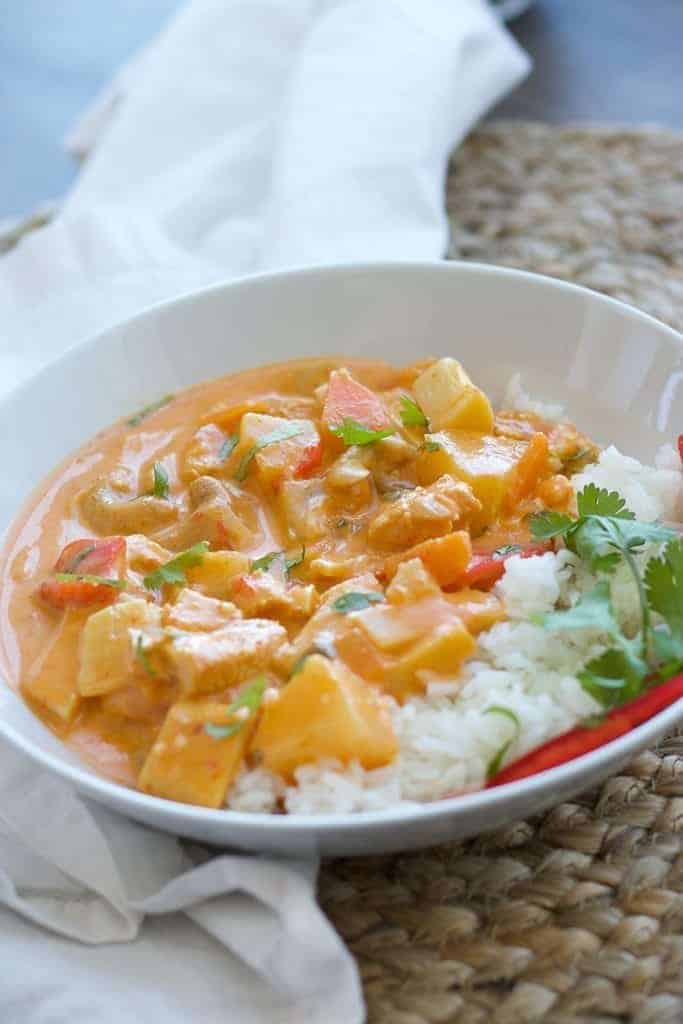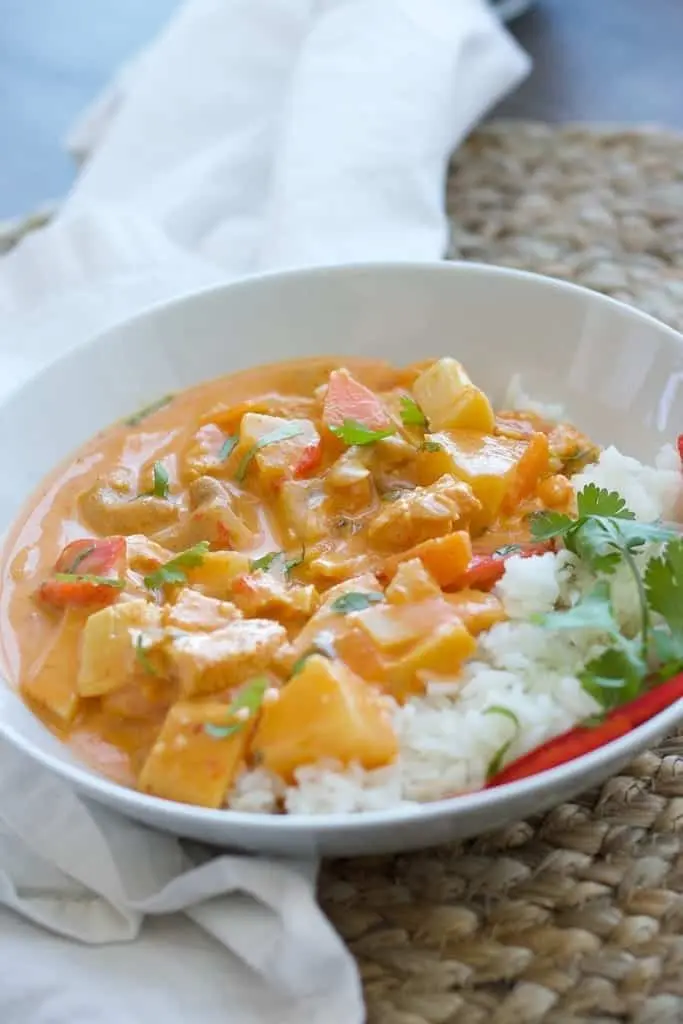 ANYWAY! Back to the curry aisle. First, I went to Simply Thai's website and found the menu description. It read:
"Choice of chicken or shrimp in a mild curry with coconut milk, pineapple, carrots, bell peppers, Thai basil, baby corn, tomatoes, onions and cashew garnish."
Pineapple Curry Ingredients
Great! I picked up the smallest container of red curry paste I could find, along with some simple vegetables and coconut milk. We skipped the tomato and the baby corn because we don't love them.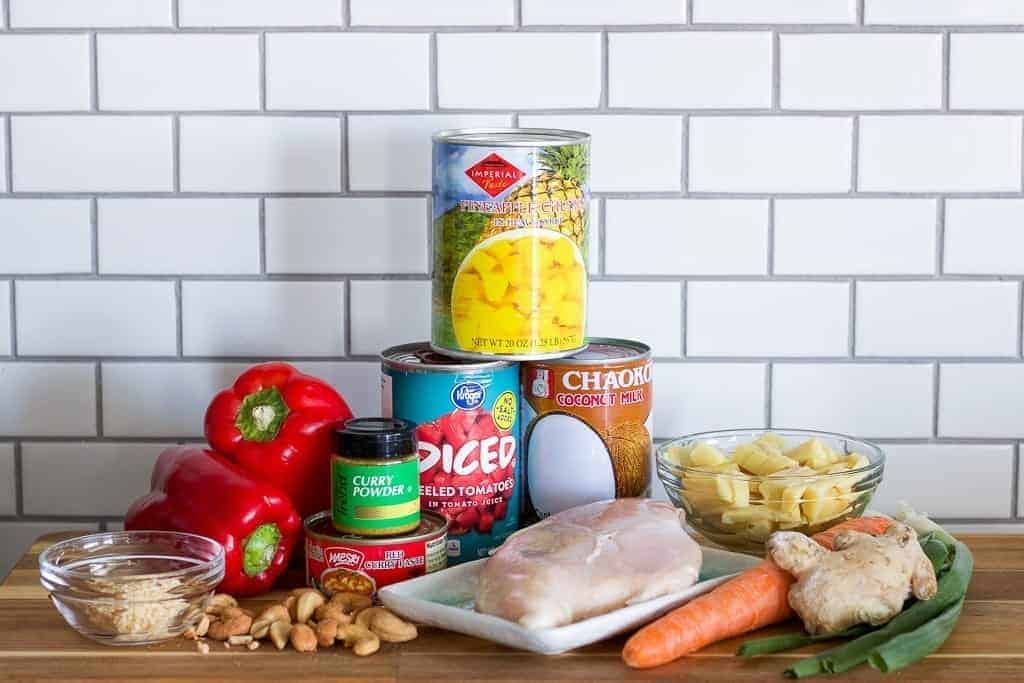 The cashews have such a lovely, meaty bite to them in soups and stews, which I love. However, they can be omitted if you don't love them.
How to make Instant Pot Curry
What is Red Curry Paste Made of?
Maesri curry paste is made from: dried red chilies, garlic, shallot, salt, lemongrass, sugar, kaffir lime, galangal, and spices (corriander seeds, cumin, cardamom).
Maesri Curry Paste
The first vital step to making curry is to fry the curry paste, garlic, ginger, and onions in some oil. Sauteing the curry paste (or powder in Indian cooking) bring out those intense flavors and aromas.
I do this in my Instant Pot on high saute for about 3-5 minutes until incredibly fragrant and the onions are soft, stirring constantly. Because the paste is the main flavoring agent, make sure you get a good one.
I used this Maesri Red Curry Paste in my curry. When I picked it at the store, I did so because it was the smallest container at the best price. Come to find out, it has 4.7 stars and over 100 raving reviews on Amazon as the best curry paste!
This curry paste IS spicy, so if you are sensitive to spice, please use HALF or less while currying and then add in more after pressure cooking. Don't use less than 1/3, as the curry paste is what gives the Instant Pot curry its flavor!
Can I use Curry Powder Instead of Curry Paste?
I do not recommending using curry powder in place of paste in this recipe. Flavors vary so much in this pineapple curry recipe, so I highly recommend you use the Maesri Red Curry Paste.
Chicken, vegetables, and sweetener
Next, add in chicken that has been thinly sliced against the grain. I'll let that cook for a couple of minutes until the chicken is mostly cooked. Then, dump in the vegetables, pineapple, cashews, and coconut milk.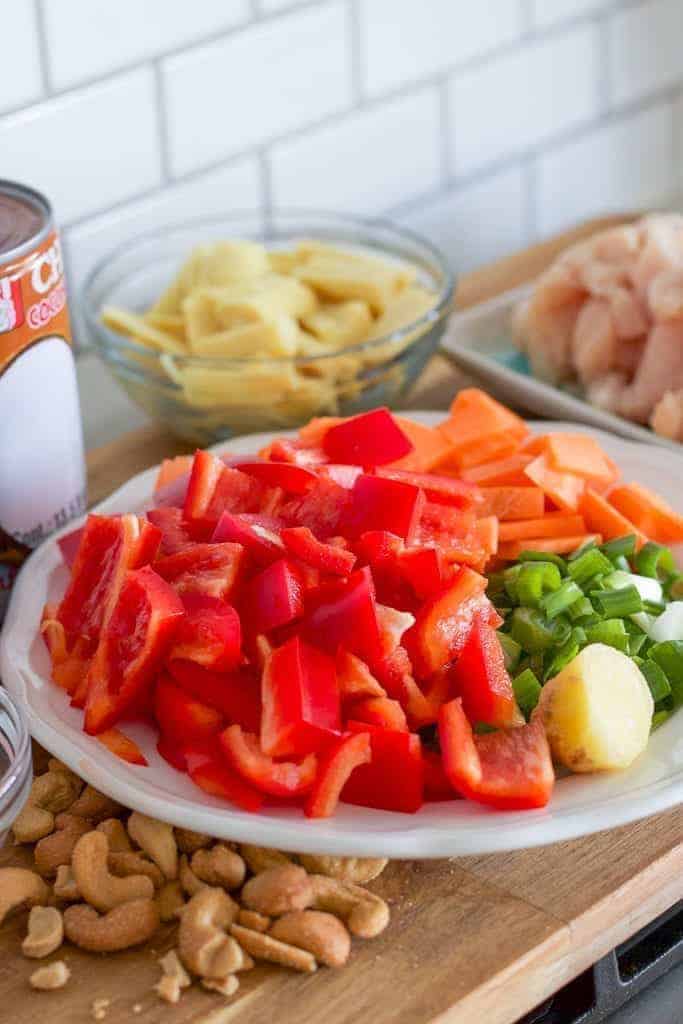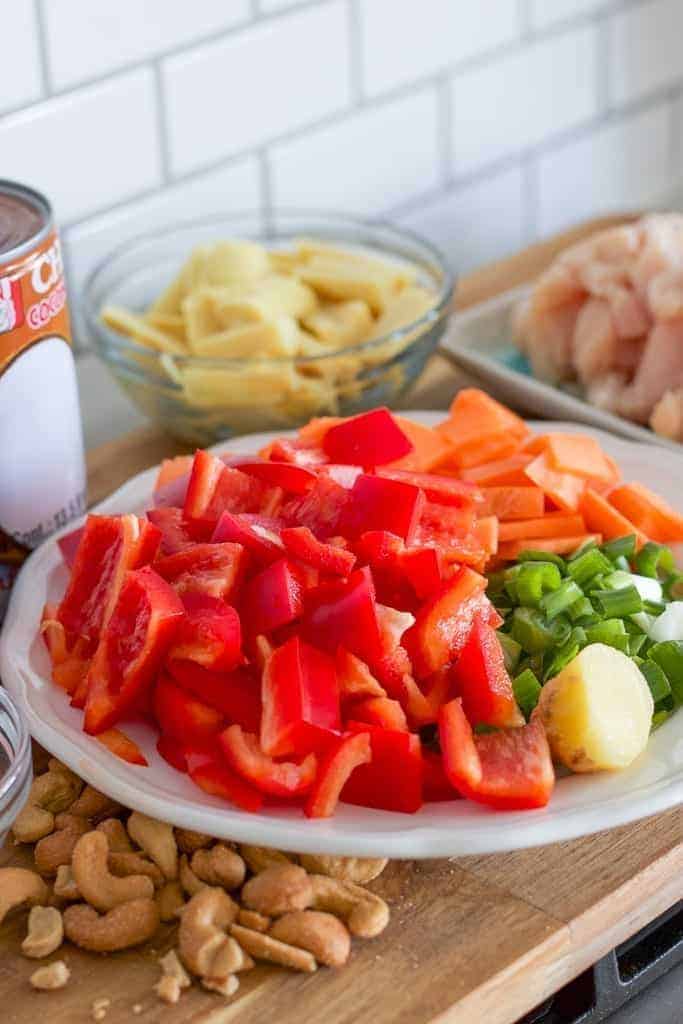 I used red bell pepper, bamboo shoots, and carrots, though you can add your favorite vegetables as well! Lock the lid and it's time to pressure cook!
After it's done pressure cooking, I know the chicken is cooked through so I taste the broth and add the sweetener.
What is Cream of Coconut?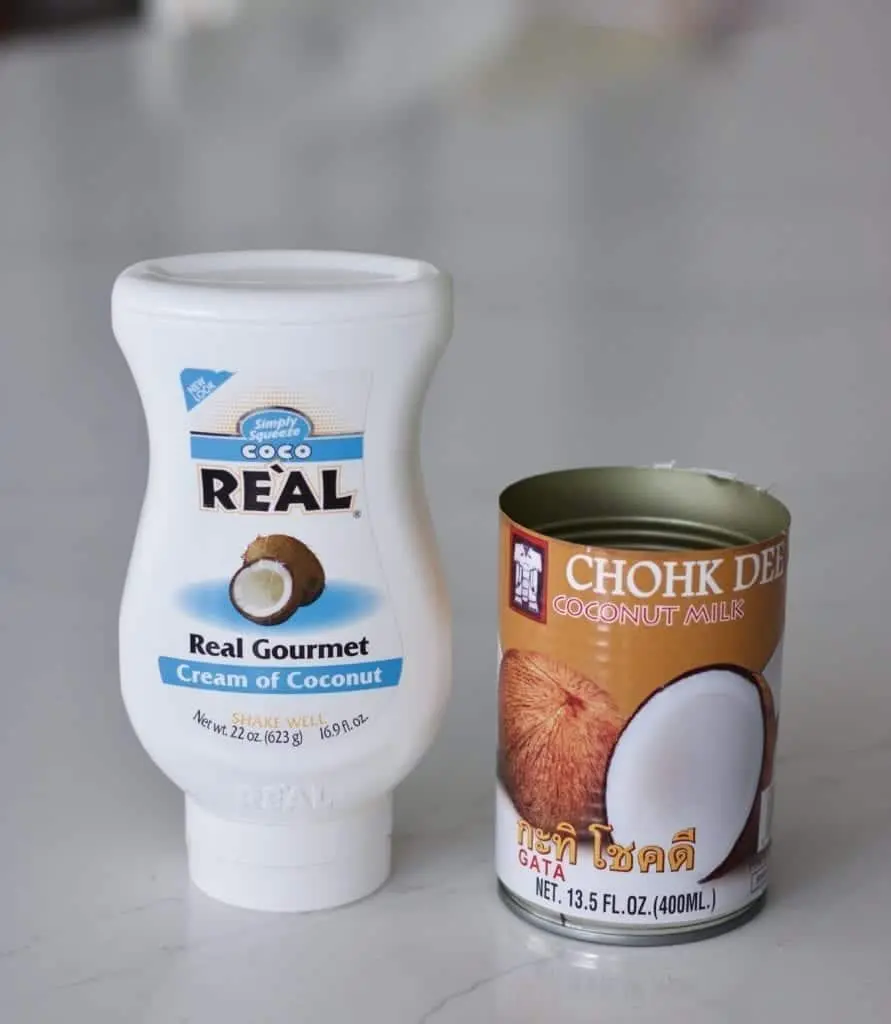 Curry recipes typically call for some amount of white or brown sugar, but I used f to add intense coconut flavor plus the sweetness. If you don't use the COC, it will not have as potent of a coconut flavor so don't substitute it. This sweetener is dairy free!
Use Cream of Coconut in Coconut Rice Pudding, Instant Pot Oatmeal, Orange Coconut Cream Soda, hot chocolate, drinks, in frosting, desserts, or as syrup!
How to Make Rice in the Instant Pot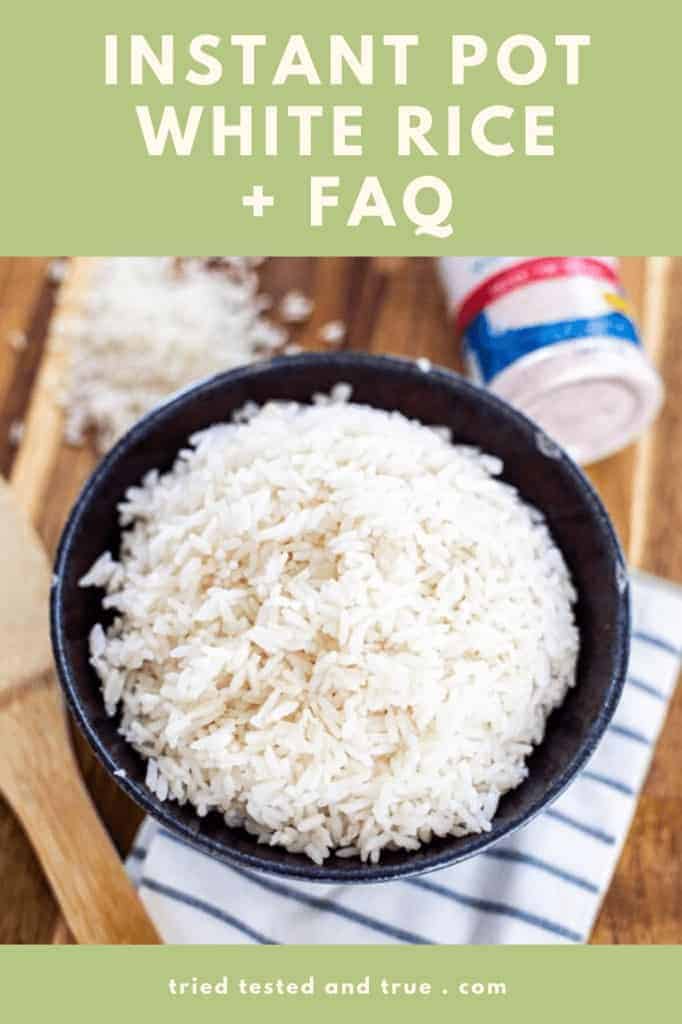 It's super easy to make rice in the Instant Pot- check out the recipe for Instant Pot rice or, Instant Pot Rice 7 Ways.
How do you thicken a curry?
Lastly, I made a quick cornstarch slurry to thicken the curry ever so slightly. All I do is whisk some cornstarch into some cold water and then mix it into the curry. We spooned it over Jasmine rice and it was delectable!
I cooked the Jasmine rice in my 3 quart Instant Pot for 3 min high pressure with a 10 minute release. 1 cup rice to 1 1/4 cup water ratio.
Stovetop Pineapple Coconut Chicken Curry Instructions
If you don't have an Instant Pot, you can still make this amazing curry on your stove. Fry the curry paste, aromatics, and onion in a large pot until very fragrant, about 3-5 minutes. Stir constantly.
Add the chicken and cook until 90% cooked. Add the rest of the ingredients besides the cornstarch and stir. Cover with a lid, and let simmer 15-20 minutes, or until the vegetables are tender.
Taste, then add more Cream of Coconut or curry paste to taste. Thicken with a cornstarch slurry, if desired. Serve over Jasmine rice.
Recipe for Pineapple Coconut Chicken Curry
If I enjoy something at a restaurant, I love the challenge of recreating it at home (and usually it tastes even better!) I hope you'll try this delicious recipe for Pineapple Coconut Chicken Curry!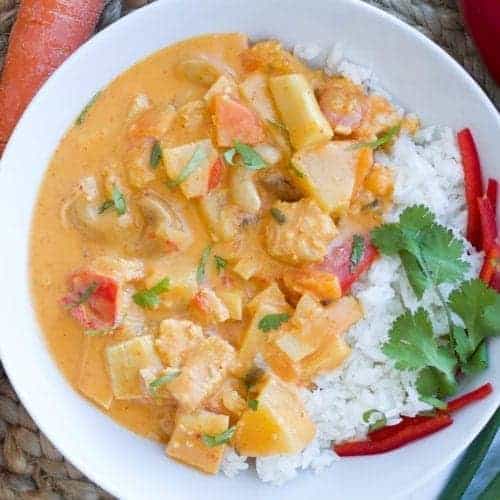 Instant Pot Pineapple Chicken Curry
This Instant Pot Curry recipe has creamy coconut, tender chicken, spicy curry, and sweet pineapple that is a restaurant copycat!
Ingredients
1-4 oz Maesri Red Curry Paste
1 tbsp Fresh Garlic, minced
1 tbsp Fresh Ginger, grated
1/2 medium Onion, sliced
2 tbsp Oil, Coconut, vegetable, or canola
1 large Chicken Breast, thinly sliced about the grain
1 large Red Bell Pepper, chopped
1/2 cup Sliced Bamboo Shoots
1 cup Carrots, thinly sliced
1 20 oz can Pineapple Chunks or Tidbits in Heavy Syrup, NOT DRAINED
2 13.5 oz cans Coconut Milk, Shaken
1/2 cup Cream of Coconut
1/2 cup Whole Cashews
3 tbsp Cornstarch
3 tbsp Cold Water
Instructions
Press the Saute button on the Instant Pot and adjust to High. When it reads HOT, fry the curry paste, garlic, ginger, and onions in oil until fragrant and onions are tender. Use 1/4-1/2 the can for less spice and the whole can for a medium spiciness level. I use the whole can.
Add chicken and saute until coated and no longer pink. Add in the rest of the vegetables, pineapples and juice, coconut milk, cashews, and stir to combine.
Turn OFF saute mode. Lock the lid, turn the knob to SEALING, and cook on manual high pressure for 5 minutes. Carefully perform a quick release in short bursts.
Open the lid, stir, and taste. Turn on High Saute again.
Add 1/4 cup Cream of Coconut, then taste again. If you'd like it sweeter, add the remaining 1/4 cup. I used 1/2 cup with the entire can of curry paste and enjoyed it like that.
Mix together cornstarch and cold water to make a slurry. While stirring, add in the slurry to the simmering curry to thicken. Add an additional tablespoon of cornstarch slurry at a time to make it as thick as you like. Turn off heat and serve immediately over rice.
Nutrition Information:
Yield:

6
Serving Size:

1 grams
Amount Per Serving:
Unsaturated Fat:

0g