Instant Pot Salt Potatoes from Syracuse/Upstate, New York
---
This post may contain affiliate links, which means I earn a small commission if you purchase something I recommend - at no additional cost to you! Thank you for supporting this blog!
Instant Pot Salt Potatoes are a huge cultural summer staple in Syracuse, New York. The "recipe" is literally just potatoes boiled in salt water! These salt potatoes are creamy, smooth, and perfectly salty.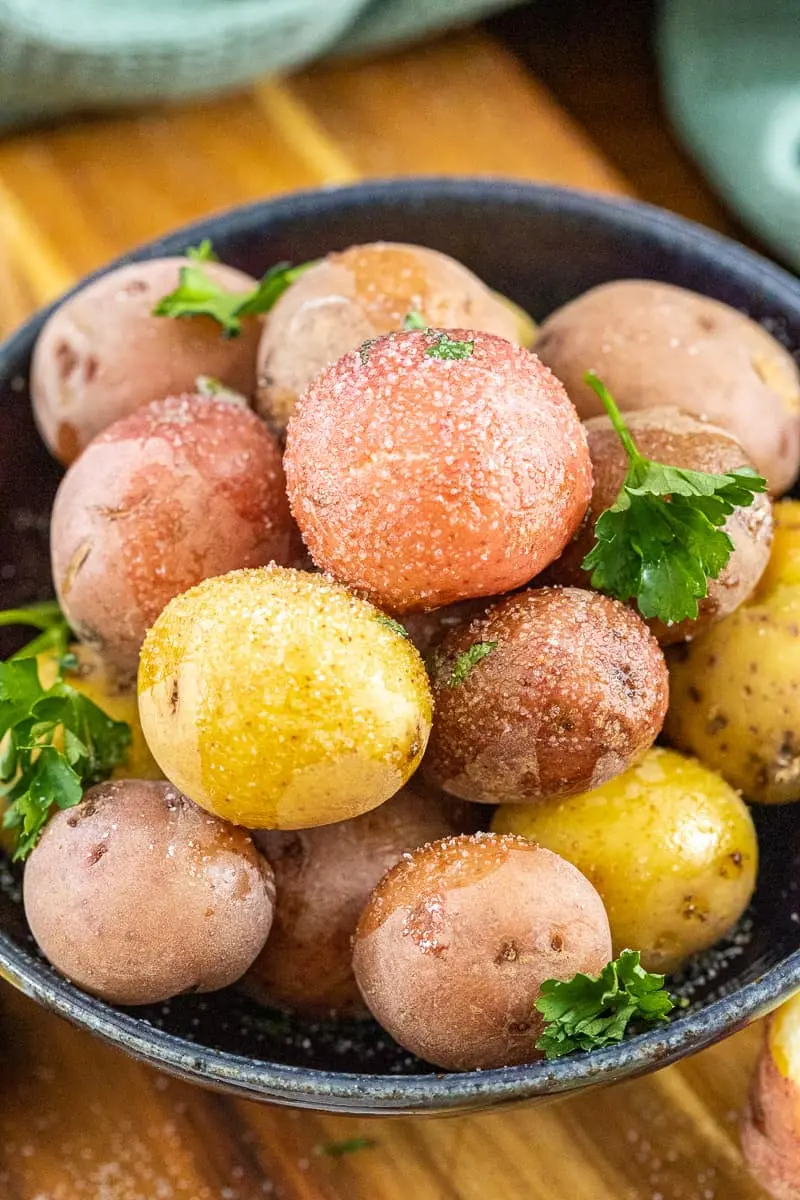 What are salt potatoes?
Salt potatoes are, literally, potatoes boiled in salt water. Salt potatoes originated in Syracuse, New York—a place that's apparently the mecca of salt springs and production. Not surprisingly, these potatoes are also known as Syracuse salt potatoes.
Back in the day, Irish salt miners would bring a bag of small potatoes (baby potatoes or Syracuse new potatoes) to work and then boil them right there in the salt spring.
Since then, these salty potatoes have become woven into the culture of upstate New York. Families transitioned from cooking them in salt springs to cooking them in pressure cookers, and now we can cook them even faster in our Instant Pots!
These Instant Pot Irish potatoes are perfect for any occasion—from weeknight dinner to Thanksgiving feast.
What do Instant Pot Salt Potatoes taste like?
Salt potatoes taste like perfectly fluffy clouds with just the right amount of salt and a surprisingly creamy texture. The taut, salt-coated skin, prevents excess water from leaking inside the potato—which means that the inside texture is much more similar to that of a baked potato.
It's the ideal salted potato recipe: simple, salty, savory.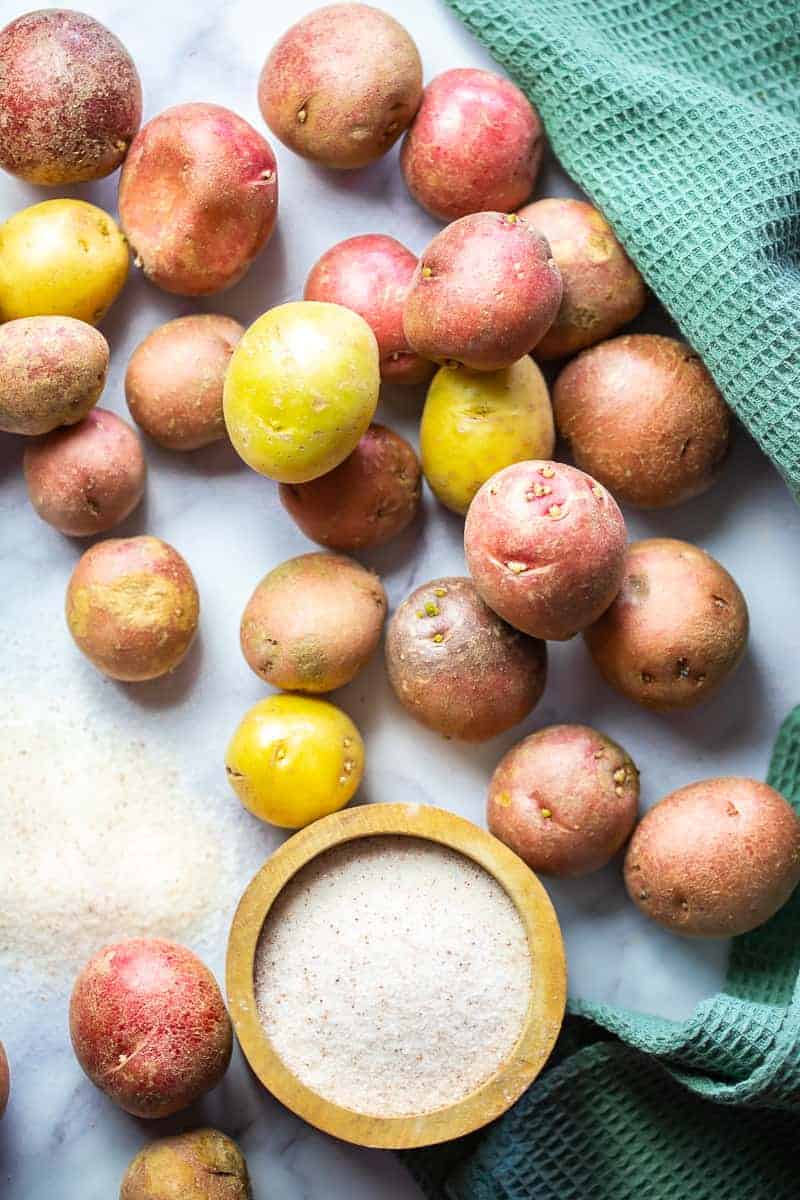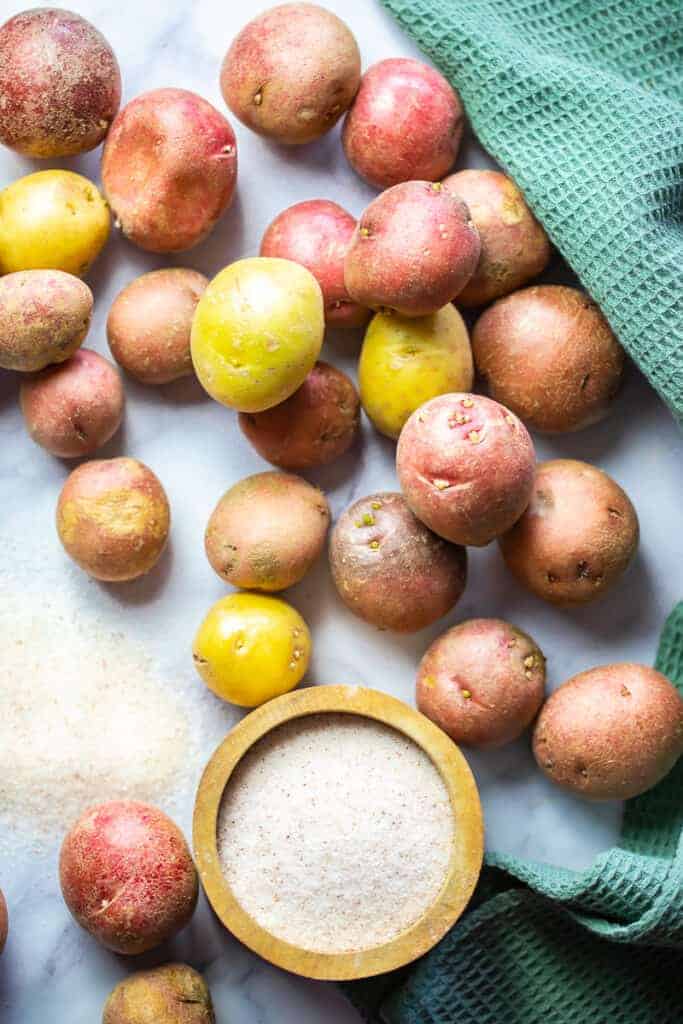 Are salt potatoes too salty?
I was worried about the potatoes being too salty, but they turned out exactly how wiki said they would. The potatoes were not waterlogged, and instead, they were quite creamy.
The skin kind of "popped" when I bit into each little potato, and as they dried, they formed a perfectly salty little dusting on the outside. Not too salty at all!
The salt doesn't get absorbed into the potatoes. They just magically create the perfect salt bath to flavor and tenderize the potatoes, which makes them irresistible! Don't worry- you won't be ingesting a cup of salt!
HOW HEALTHY IS IT TO EAT BOILED POTATOES WITH SALT
Believe it or not, these boiled salted potatoes are actually quite healthy! Salt, in moderate quantities, is essential to keep your body functioning properly (especially when you use high quality salt!).
"Indulging" in these salted potatoes may feel like a guilty pleasure, but there's nothing guilty about it. Potatoes are packed with fiber and antioxidants, and their skins (made perfect by the salt cooking method) are especially loaded with important vitamins and minerals.
What Salt to use for instant Pot salt potatoes
I used the cheap, fine grain salt so it would dissolve quickly. Don't use your expensive pink Himalayan sea salt for this one! (Use that in my Kalua Pork recipe!). You may also use kosher salt.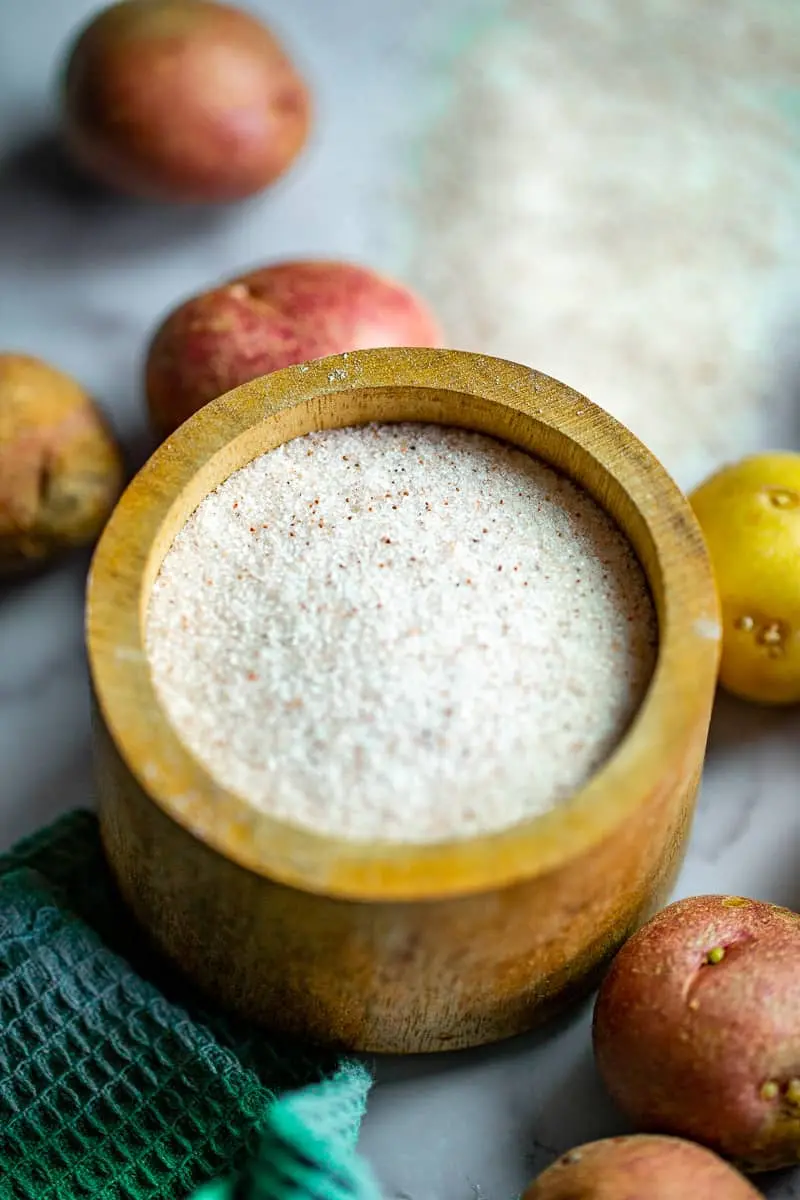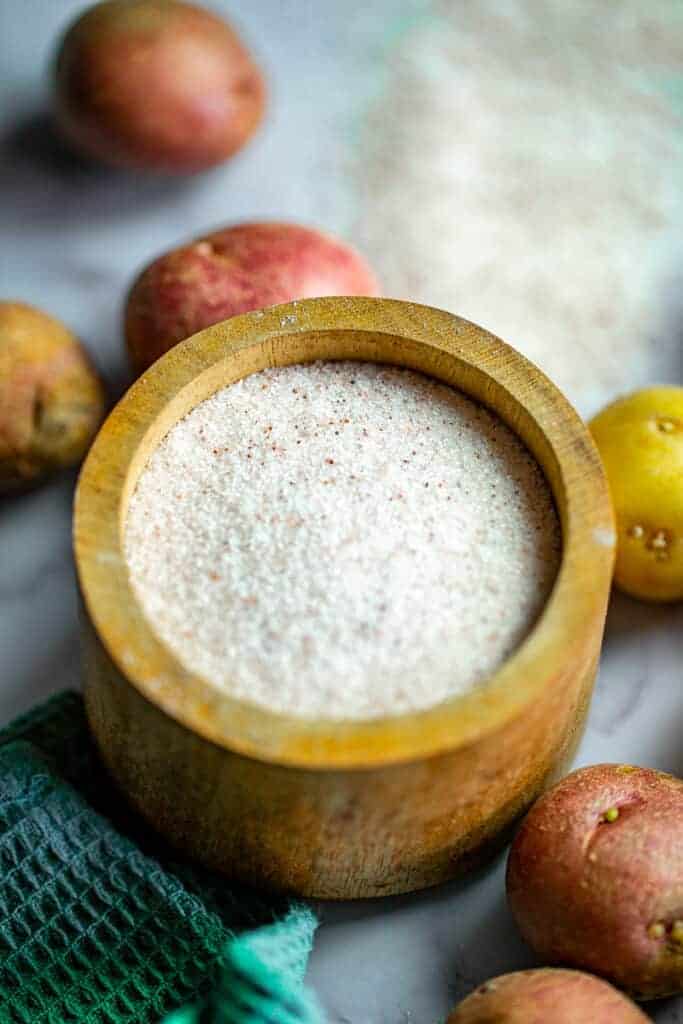 REdmond Real Salt
My absolute favorite salt on planet earth is Redmond Real Salt. I know it sounds insane that you can be a salt snob, but I have become… a salt snob.
Redmond Real Salt comes from ancient salt mines locally here in Utah, and the salt is truly superior to any other salt I've ever had! It includes natural minerals and has a cult following. You can use my link above and the code IPCOOKING for a discount!
I purchase my salt in a 25lb bag, so I use it for my salt potato cooking water. However, if you only have a smaller container, I would honestly recommend using your cheap table salt and then use the Redmond salt as the finishing salt after you add the butter.
How to make Instant pot salt potatoes
When designing this recipe, I looked up authentic, traditional cooking methods for salt potatoes. Most suggested boiling potatoes for 30ish minutes with one pound of salt per every four pounds of potatoes.
That's a lot of salt!
I used a bag of gourmet mini potatoes I found at Costco. They were super tiny and ranged in size from a bouncy ball to a fingerling potato.
First, I set the Instant Pot to High Saute with about two cups water and the salt. I only put a little bit of water in to help dissolve the salt before adding the rest of the water. If you're in a hurry, you can skip this step with good results. Don't stress about it.
The first time, I used 1/4 cup salt (because 1 cup felt like a lot), but I thought they weren't quite flavorful enough. The next time, I used a full cup of salt and preferred the taste and texture much more.
I've since experimented with different amounts of salt and find that a minimum of 1/2 cup of salt works best.
Salt Potatoes in Steamer Basket
To cook, pour the potatoes into your steamer basket and wash them right in the basket. Then, place the basket in the Instant Pot and add enough water to cover. This allows you to quickly and carefully drain the potatoes much more easily.
When I made the potatoes, I ended up with about 12 cups of water total (with the water that was already in the bottom). The amount you use will vary depending on how many potatoes you have.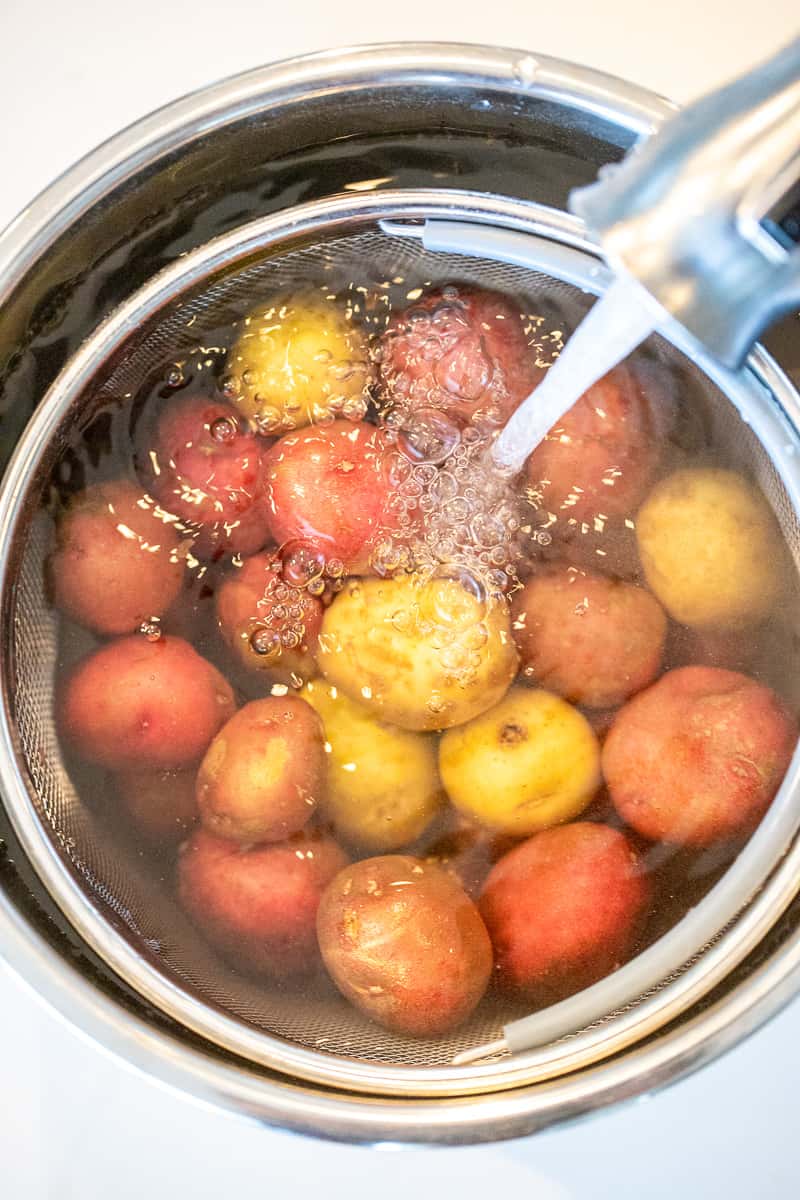 Cook the potatoes on manual high pressure for 5 minutes with a 10-minute natural pressure release. Then, I lifted the steamer basket right out and set it on a plate to drip.
While experimenting with times, I previously recommended a 5 minute cook time with a quick release. I actually think that adding a bit of a natural pressure release adds a little more tenderness to the potatoes.
Please keep in mind that this time was for tiny, almost bite-sized potatoes. If yours are bigger, please add time accordingly!
These cute little potatoes are so pretty! I served them drizzled with melted butter and sprinkled with fresh parsley and additional kosher salt or Redmond real salt. You could also use a seasoned salt for some variety.
How to make Instant Pot Salt Potatoes without a Steamer Basket
You don't have to have a steamer basket to make these Instant Pot potatoes. If you don't have one, you can just put the potatoes straight in the liner with the water and salt.
You'll need less water to cover the potatoes but you should use the same amount of salt.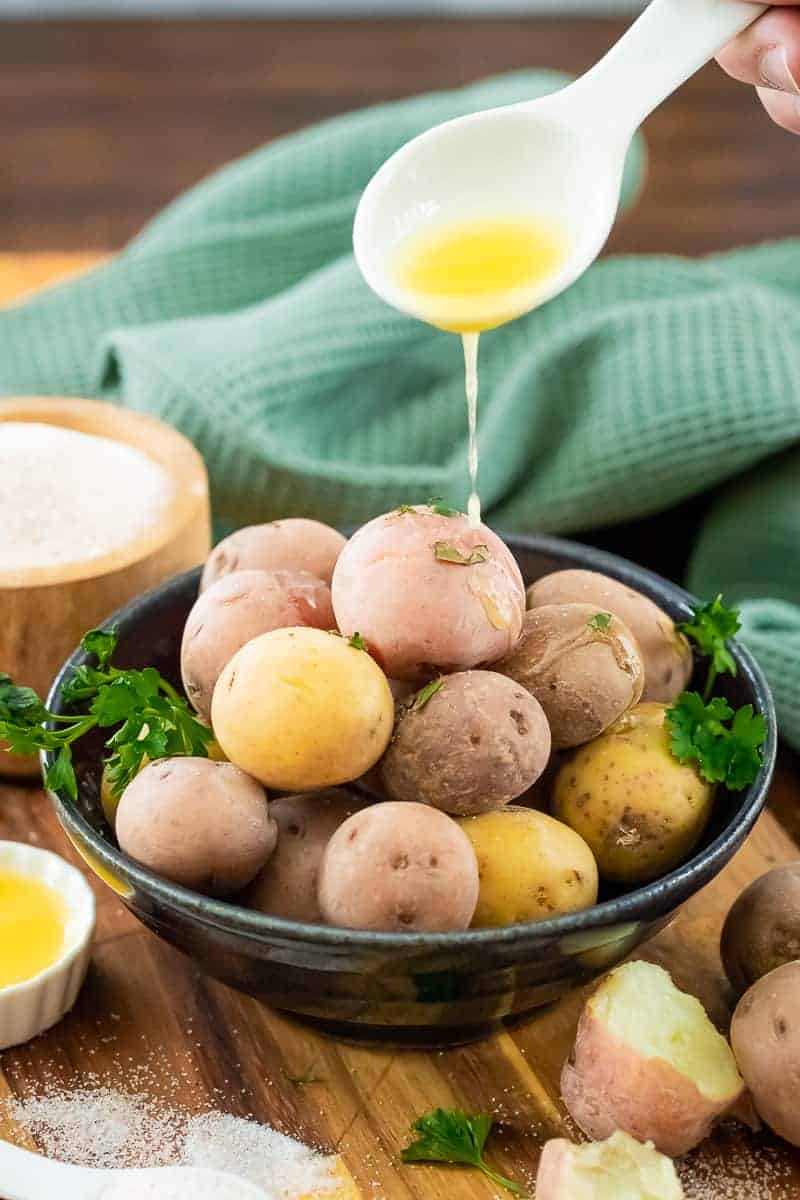 What to serve with Instant Pot Salt Potatoes
These potatoes were so creamy and fun to eat. I just popped them into my mouth—even my baby loved them! The recommended way to serve Instant Pot salt potatoes is to drizzle them with melted butter and a dash of a lovely finishing salt.
I also love serving salt potatoes with herbs or herbed butters—try sprinkling some freshly-chopped rosemary or thyme on top of melted butter for a simple (yet satisfying) boost of flavor.
I suggest serving them with any main protein for dinners like steak or my BBQ Instant Pot Ribs, or on a charcuterie board/fondue plate!
If you like this recipe, you'll love my super simple Chicken Drumstick recipe! Dinner will be on the table in less than 30 minutes!
You can serve these salt potatoes in place of any other potato dish (like mashed potatoes or cheesy baked potatoes). I hope you'll try them out! They were really yummy, and the easiest potato side dish recipe.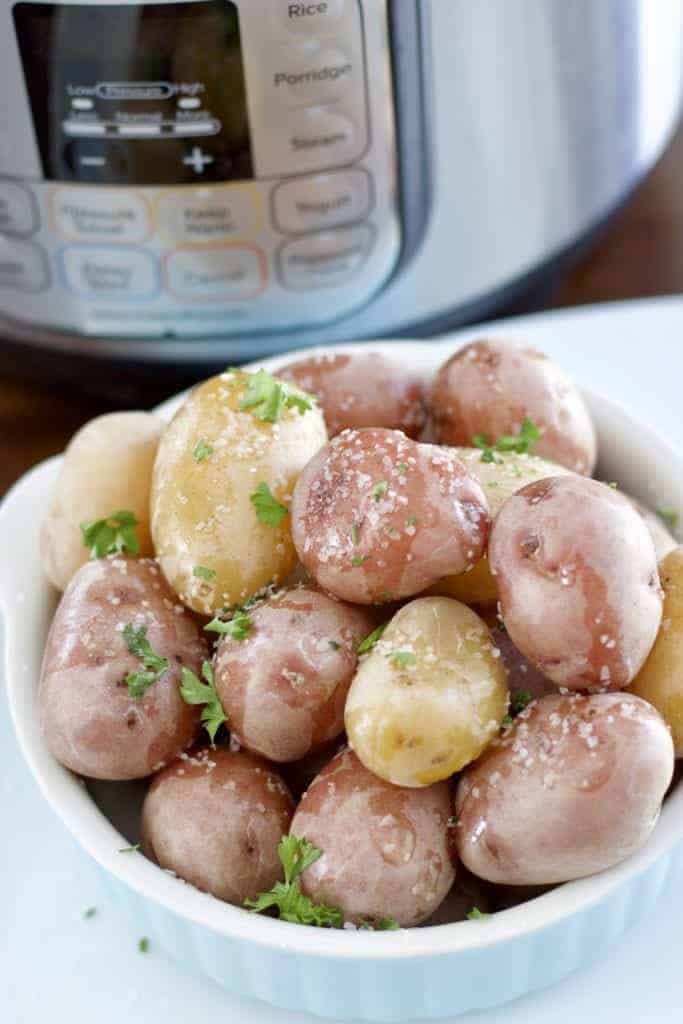 Air Fryer Salt Potatoes
These salt potatoes would be perfect for Valentines dinner, Easter brunch, or Sunday dinner.
I crisped some up in my air fryer (400º for 2-4 minutes, shaking between) and served them as home fries with a veggie omelette for breakfast. So good.
I don't think these would be great mashed or cut into a soup because there would be a LOT of skin.
HOW TO MAKE SALT POTATOES IN THE OVEN
There isn't really a great way to make salt potatoes in the oven. But, that doesn't mean that you have to sacrifice the fluffy texture of baked potatoes! One of the best things about salt potatoes is that they have an astoundingly fluffy, creamy texture—without an oven!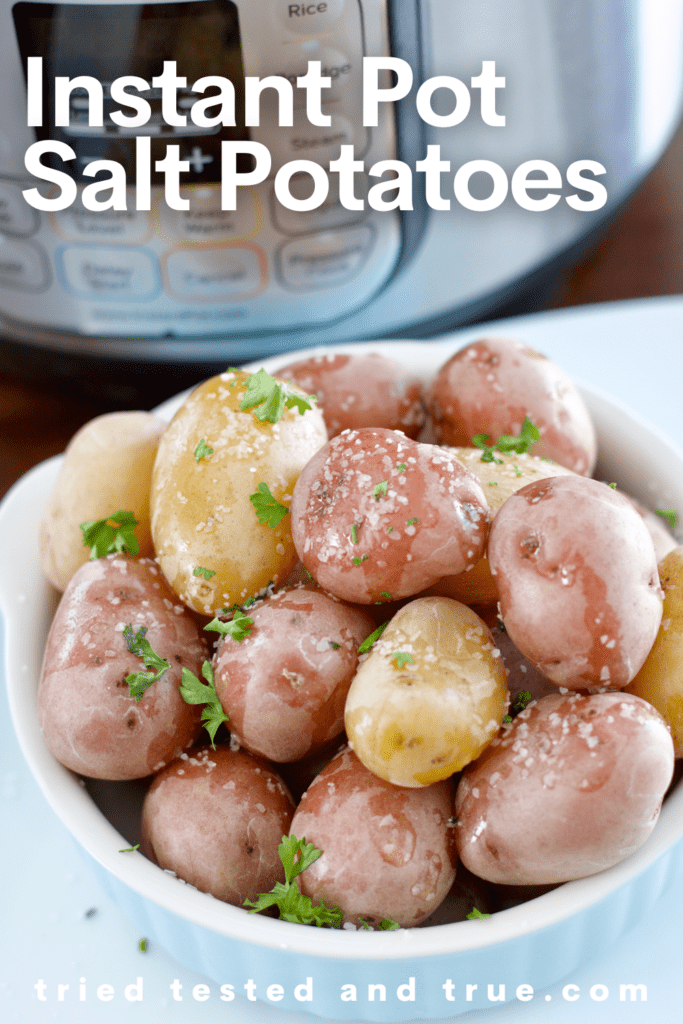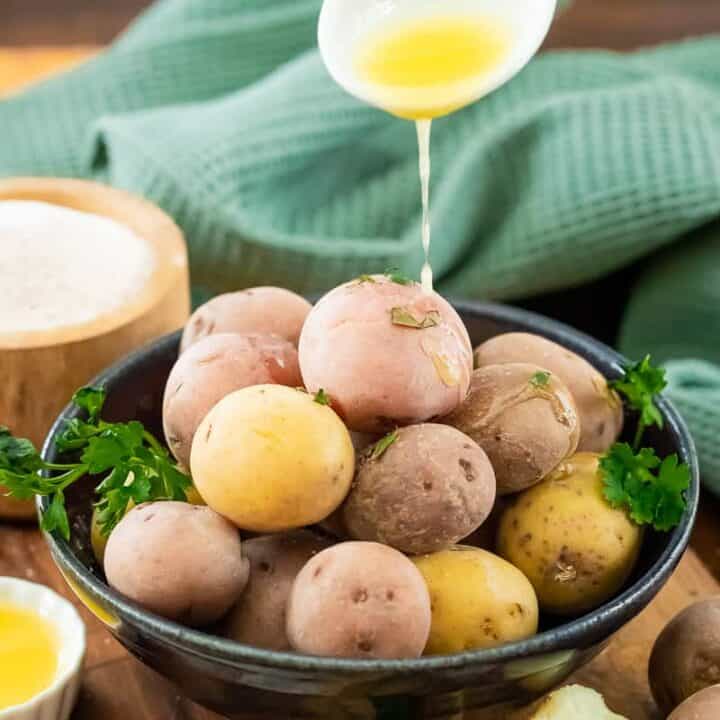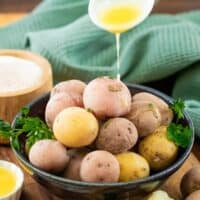 Instant Pot Salt Potatoes from Syracuse, New York
Small, creamy, salty potatoes that are native to Syracuse, New York. This is the easiest potato side dish ever!
Print
Pin
Rate
INGREDIENTS
2 1/2

pounds

mini potatoes

1

cup

fine grain salt

12–15 cups water to cover potatoes

1/2

cup

butter or olive oil

Kosher salt to taste

fresh parsley to taste

pepper to taste
INSTRUCTIONS
Place the potatoes into a steamer basket or colander and wash/rinse.

Place the basket into the Instant Pot liner and add the salt and enough water to cover the potatoes. Alternatively, wash the potatoes in a colander and pour them into the Instant Pot liner.

Lock the lid, turn the knob to sealing, and cook on manual high pressure for 5 minutes, adding more time for potatoes larger than bite-sized. Allow a 10 minute natural pressure release, then release the rest of the pressure by turning the knob from sealing to venting (if the pin has not already dropped).

Open the lid. Using a heat proof mit, carefully lift the steamer basket out of the water and drip dry for about 2-5 minutes. Alternatively, carefully drain the water and potatoes into a colander.

Pour the potatoes into a serving bowl and drizzle with melted butter (or olive oil for dairy free.)

Sprinkle with additional kosher salt and fresh chopped parsley for a beautiful presentation!
VIDEO
NOTES
An earlier version of this recipe used to recommend a 5 minute pressure cooking time with a quick release. I have since updated my recommendation to add an additional 10 minute natural pressure release. This helps to tenderize and potatoes even more, resulting in an ultra creamy consistency. In a pinch, you can definitely do the 5 minutes with a quick release and still get great results; however, if you have the time, I do recommend the natural pressure release.
My favorite salt to use is Redmond Real Salt—once you use it, you'll never be able to go back to table salt! Use my code IPCOOKING for a discount!
I used "Delectable Delights Gourmet Fresh Medley Potatoes" for my mini potatoes purchased at Costco, but any mini potato medley will work great.
Many have asked me if they can re-use or repurpose the cooking water after pressure cooking. I do not recommend you re-use this water because the water will be dirty and may even have some scum from the potatoes after cooking. If you're worried about the cost, I recommend you buy a pound of salt at a dollar store or grocery store. The cost is usually a dollar or less for the salt.
NUTRITION
Serving:
1
grams
|
Calories:
359
kcal
|
Carbohydrates:
46
g
|
Protein:
6
g
|
Fat:
18
g
|
Saturated Fat:
10
g
|
Polyunsaturated Fat:
7
g
|
Trans Fat:
1
g
|
Cholesterol:
41
mg
|
Sodium:
19060
mg
|
Fiber:
5
g
|
Sugar:
3
g
---
---

Hi! I have made these 3 times now, I apologize that it took me so long to leave a comment. This recipe is so simple & delicious, We eat keto in our family and these are the only non-keto luxury we allow ourselves. thanks so much!


Hi! I have made these 3 times now, I apologize that it took me so long to leave a comment. This recipe is so simple & delicious, We eat keto in our family and these are the only non-keto luxury we allow ourselves. thanks so much!

Aww yay, thanks so much for commenting and rating, Becky!! We love them too!! – Lisa


These are without a doubt a new go to for me! So good and SO easy! Thank you!


These are without a doubt a new go to for me! So good and SO easy! Thank you!


These are without a doubt a new go to for me! So good and SO easy! Thank you!

Thanks Nicole!! I love that they're so easy too!!


SO BUTTERY, SALTY, & CREAMY, Best salt potatoes recipe and ~so~ easy. Been making these like once a week and they never disappoint.


SO BUTTERY, SALTY, & CREAMY, Best salt potatoes recipe and ~so~ easy. Been making these like once a week and they never disappoint.


SO BUTTERY, SALTY, & CREAMY, Best salt potatoes recipe and ~so~ easy. Been making these like once a week and they never disappoint.

As long as the ratio is the same and the potatoes are completely covered, then you can adjust as necessary! I only did a handful of potatoes for my family for easter and I used about a quarter of the water and salt. They just need to be covered!

The video shows adding salt on top of the potatoes then hot water. But the recipe says to dissolve the salt on water on sauté mode before adding potatoes. Which is it?!?

Hi Amy, you can honestly do either! The directions in the recipe just ensure the salt dissolves all the way. I was being lazy when I recorded that video you're referring to and it will work either way!

I'm a salt snob, too! Redmond Real Salt is my favorite. Yeah, it does sound weird to actually type that out, but I can taste a difference. Anyway, I am definitely going to make these potatoes for Easter Brunch. Thanks!

Looking forward to trying these! Is it possible to double the recipe?

Yes absolutely! You don't need to double the salt, though!


I decided to give these potatoes a try to have with our Easter dinner. I am so glad that I gave them a try! They are perfectly flavored, perfectly tender, and oh so good. I used Redmond's real salt!


These were delicious and so easy to make.