*This post may contain affiliate links. This means as an Amazon Associate and affiliate for other products, I earn from qualifying purchases at no extra cost to you.
I love this easy recipe for Instant Pot chicken teriyaki bowls because it's so fast and packed full of veggies and protein! It's the perfect busy weeknight meal for one or the whole family.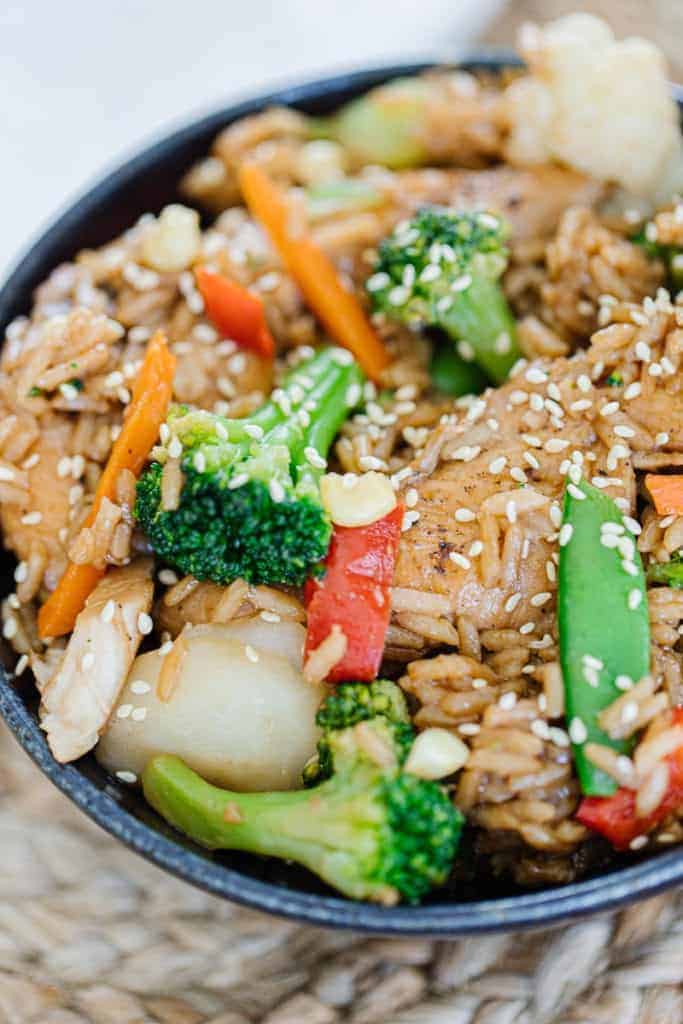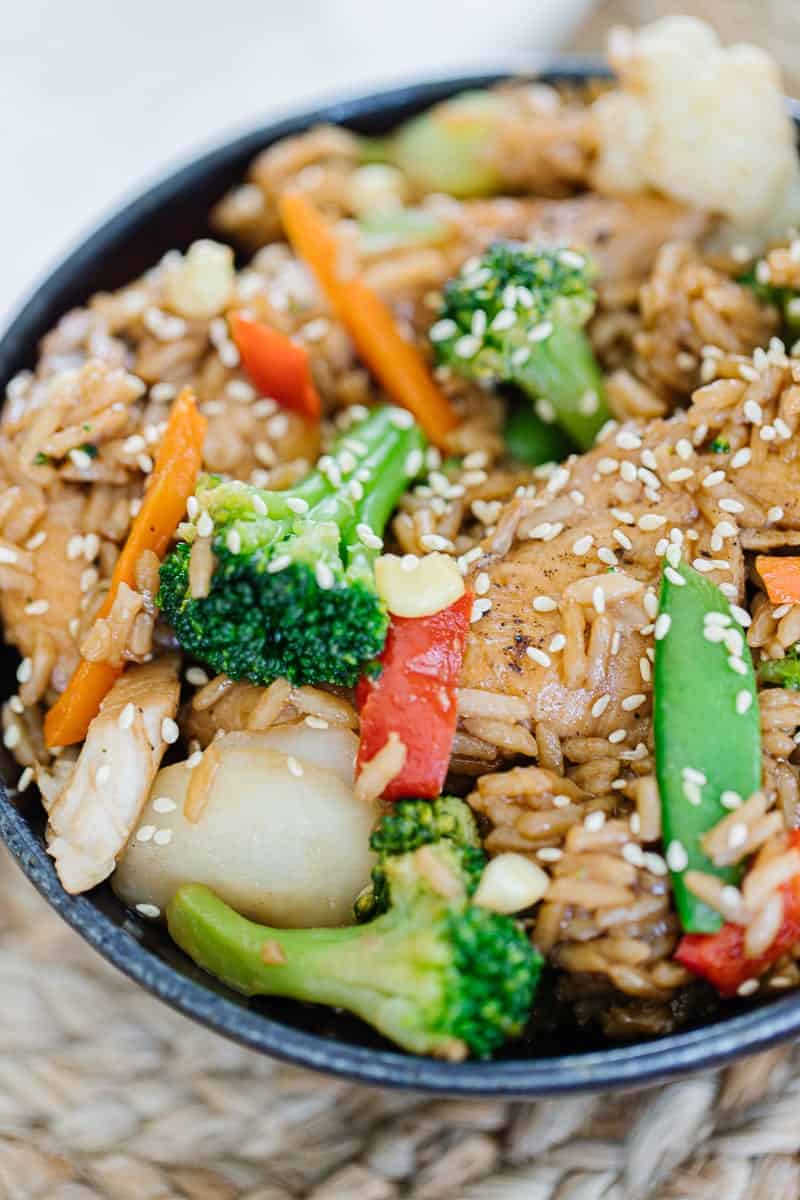 How to make Instant Pot teriyaki chicken bowls
This recipe for a chicken teriyaki bowl needs to immediately become a part of your weeknight repertoire. You know those nights when you're just exhausted and ordering out sounds so easy and yummy?
Life hack: this is the meal that you'd order out, except it's a lot cheaper, healthier, and yummier! And it takes about the same amount of time to make as it would to order from your local Japanese takeout. Trust me: it's a recipe to memorize.
What kind of chicken should I use?
My personal favorite cut of chicken for these teriyaki bowls is the tenderloin. Chicken tenderloins are hard to dry out, they're inexpensive, and they're very tender! Additionally, the cooking time for tenderloins matches perfectly with the cooking time for rice.
It's okay to use a different cut of chicken (like breast or thigh), but you'll want to make sure that you cut larger pieces down to a size similar to a tenderloin—a strip that's about an inch or two in width, max. This will ensure that you don't overcook your rice while trying to cook your chicken!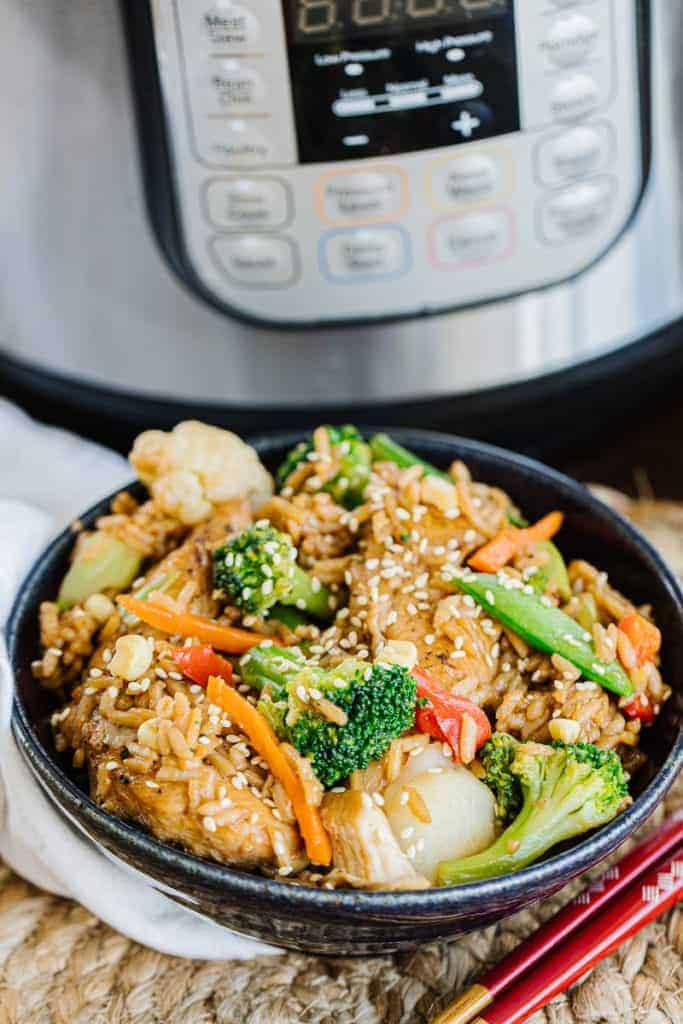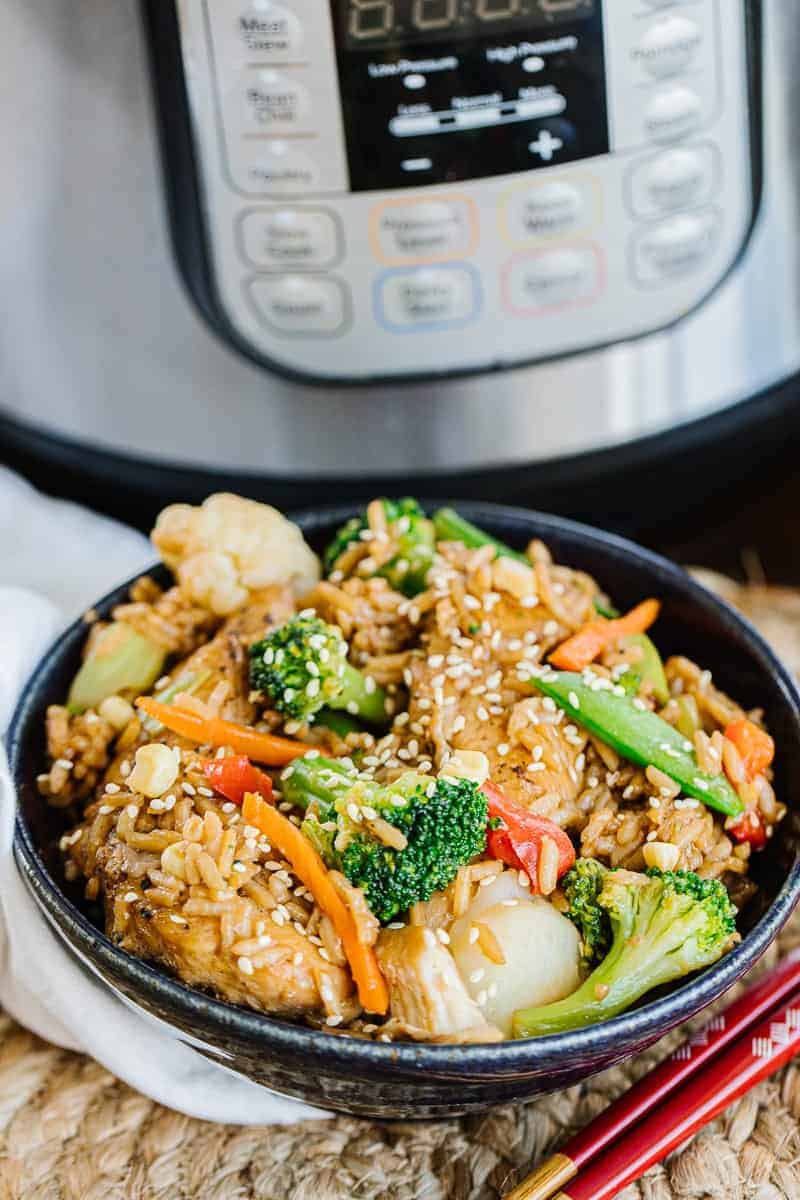 Can I freeze Instant Pot chicken teriyaki bowls?
These bowls are great freezer meals! If you're going to freeze multiple servings, pop each serving into a freezer container (I use these), then let each bowl rest, lid off, until it cools down. If you don't do this, you'll get a bunch of condensation frozen as ice on the top of the container.
Once the bowls have cooled off, just close the lid and they're good to freeze for up to a month!
How to make Instant Pot Chicken Teriyaki
You know I like to keep my recipes easy, so here's the drill for these Instant Pot chicken teriyaki bowls:
Heat, season, sear, stir.
And here's the slightly more in-depth version: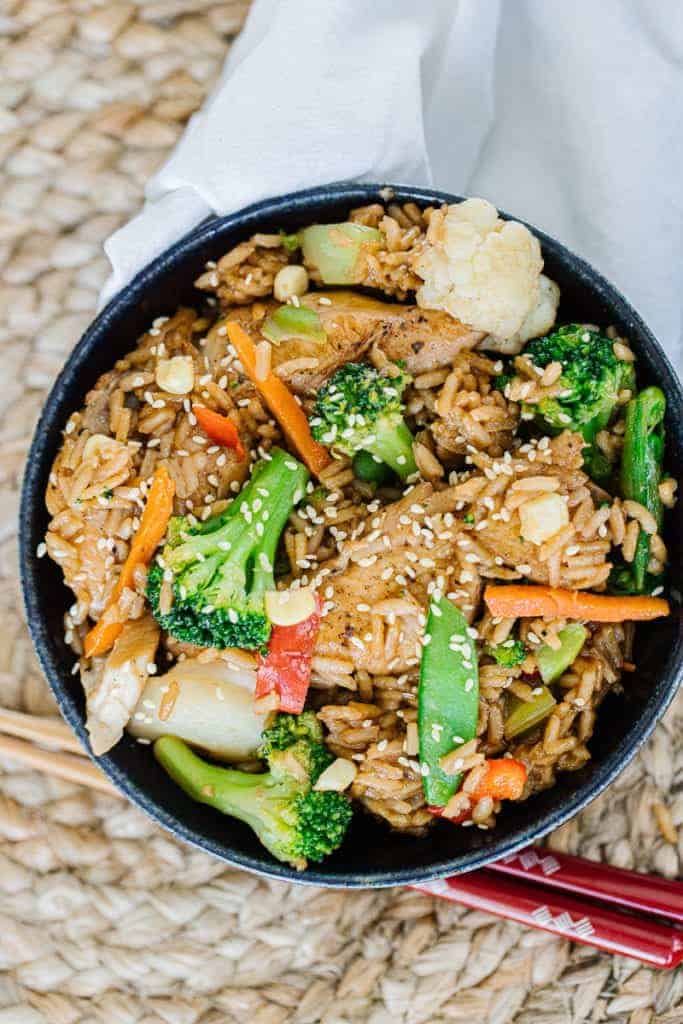 Start off by seasoning your chicken while your Instant Pot heats up (set to High Saute). I find that my 6 Quart Instant Pot Duo fits everything perfectly. Once the oil is hot, add the chicken and sear it in that nice, hot oil. This adds amazing flavor!
Next, you'll remove the chicken to a different plate, deglaze the pan with some water or chicken broth, and add in your rice. Layer your chicken back on top, add some teriyaki sauce, and cook! Once the rice is done, you'll add in some frozen veggies and just let those steam for a bit with a quick stir into the rice.
And that's it! Easy as pie (easier, actually), definitely healthier than pie, and almost as yummy.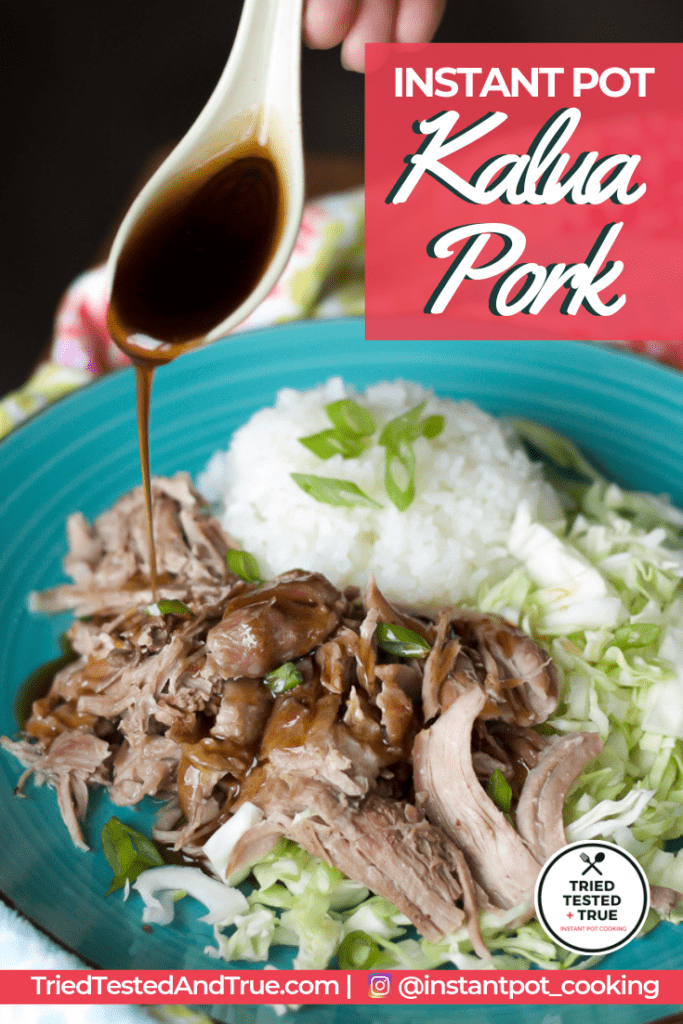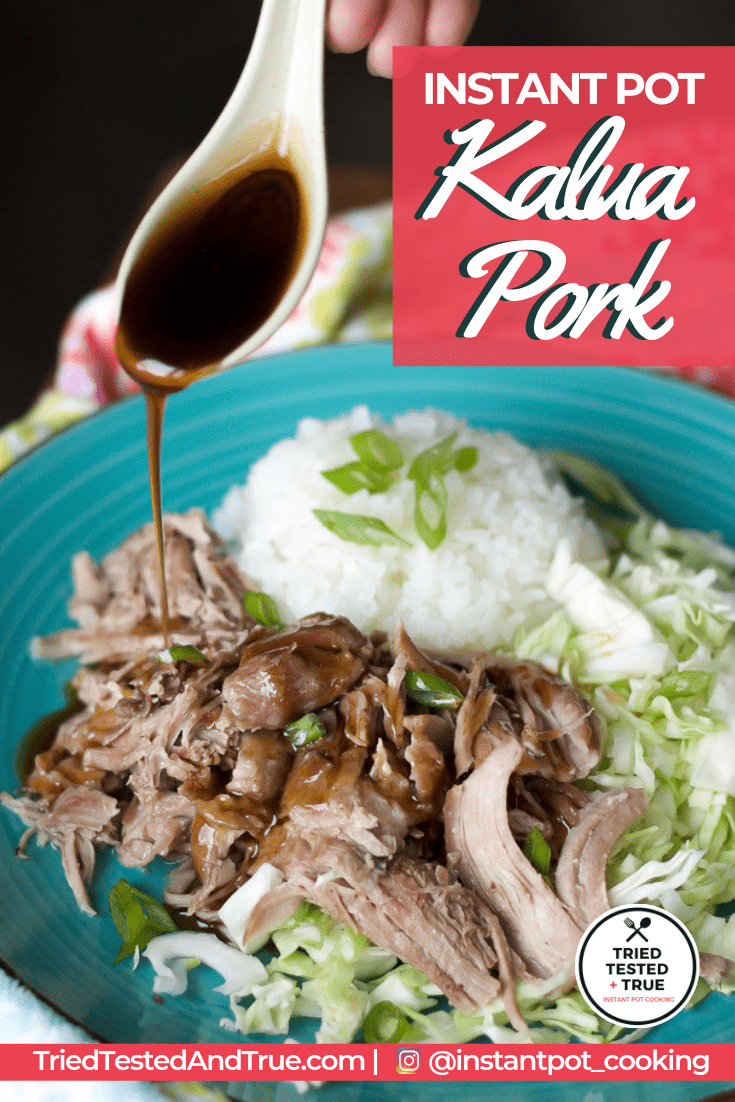 About Lisa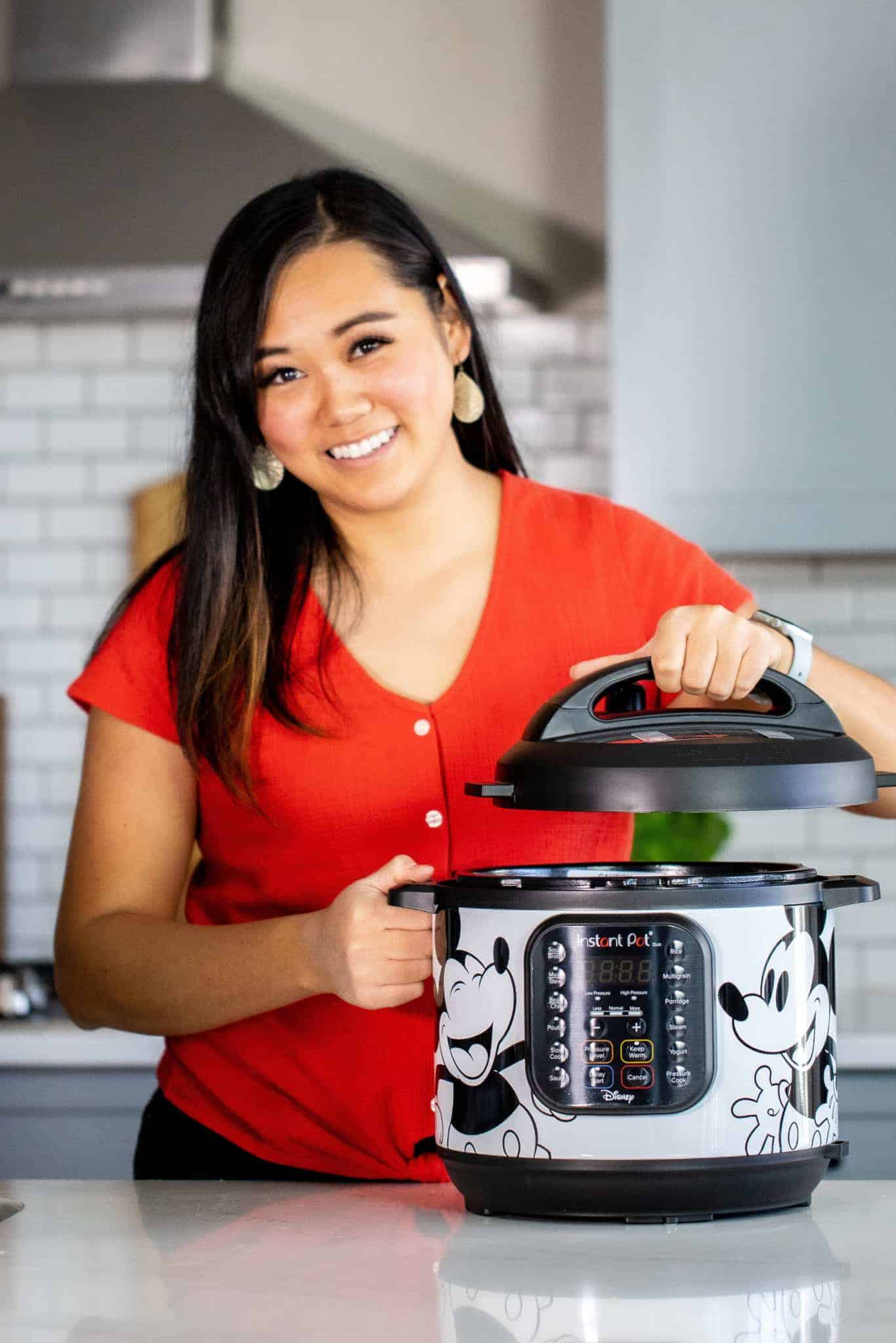 Lisa Childs is the food blogger behind Tried, Tested, and True. Join the hundreds of thousands of people each month that learn from Lisa-
Subscribe to her website, follow her on Instagram at @tried_tested_true, follow her on Pinterest, and find her on Youtube at Tried Tested and True. She is passionate about giving home cooks confidence using their Instant Pots. Make sure to sign up for our email newsletter to hear from personally from her weekly! Learn more about Lisa.
More easy weeknight dinner recipes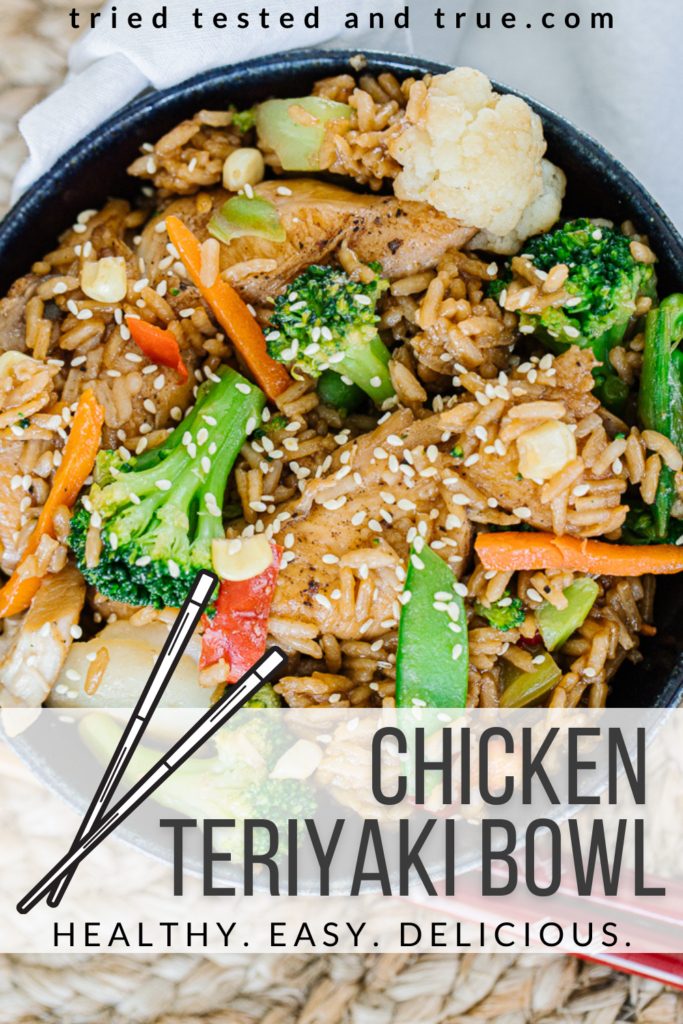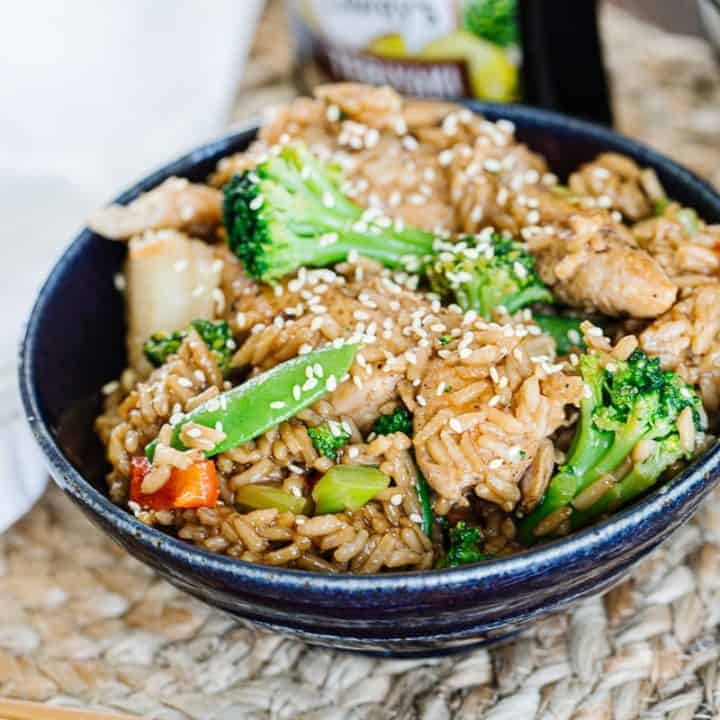 Instant Pot Chicken Teriyaki Bowl
I love this easy Instant Pot recipe for chicken teriyaki bowls because it's so fast and packed full of veggies and protein! It's the perfect busy weeknight meal for one or the whole family.
Ingredients
1 tablespoon olive oil
1 pound chicken tenderloins
2 teaspoons salt
2 teaspoons garlic powder
1 1/2 teaspoons ginger powder
1 teaspoon pepper
1 1/2 cups water or chicken broth
1 cup long grain white rice
1/2 cup teriyaki sauce*
3 cups frozen stir fry veggie mix**
sesame seeds, for garnish
Instructions
Heat Instant Pot to High Sauté and add olive oil.
Season chicken on both sides with salt, garlic powder, ginger powder, and pepper (salt to taste).
When the oil is hot and shiny, add the seasoned chicken and sear for 3 minutes on each side.
Remove chicken to a plate.
Deglaze pot with water or chicken broth, then use a spatula or wooden spoon to scrape the browned bits from the bottom of the pot.
Add rice and stir into the broth or water, then lay the cooked chicken on top of the rice. Pour any reserved juices from the plate into the pot.
Drizzle teriyaki sauce over top of the chicken; DO NOT MIX.
Close the lid, turn knob to Sealing, then press the Manual or Pressure Cook button and adjust the time to 5 minutes. Allow a 10 minute natural pressure release (the Instant Pot will display L0:10), then turn the sealing knob from sealing to venting and open the lid.
Quickly add frozen vegetables and stir. Replace the lid and let steam through using the residual heat for about 5 minutes. Do not use the steam setting. Open the lid and ensure the vegetables are warmed through, then serve with extra teriyaki sauce and sesame seeds, if desired.
Notes
To save time, you may skip searing the chicken (though searing the chicken does add additional flavor). Add the oil, rice and liquid to the Instant Pot® and lay the raw, seasoned chicken tenderloins on top of the rice. Drizzle the teriyaki sauce on top of the chicken, then proceed with the recipe as written on step 8.
*You may use your favorite homemade or store-bought teriyaki sauce.
**If you prefer to use fresh vegetables, I suggest cooking them separately and adding them to the cooked chicken and rice, omitting step 9.
Recommended Products
As an Amazon Associate and member of other affiliate programs, I earn from qualifying purchases.
Nutrition Information:
Yield:

4
Serving Size:

1
Amount Per Serving:
Calories:

607
Total Fat:

30g
Saturated Fat:

7g
Trans Fat:

0g
Unsaturated Fat:

20g
Cholesterol:

168mg
Sodium:

3239mg
Carbohydrates:

20g
Fiber:

5g
Sugar:

9g
Protein:

63g