*This post may contain affiliate links. This means as an Amazon Associate and affiliate for other products, I earn from qualifying purchases at no extra cost to you.
This Shabu Shabu recipe is one of our favorite Japanese dishes! And now, even easier in the Instant Pot! Instant Pot Shabu Shabu is incredibly healthy, easy, fun, and fresh.
what is shabu shabu?
If you've never heard of Shabu Shabu, don't be scared! It's basically Japanese fondue and I know a LOT of Americans that LOVE it! It seems foreign, but you'll easily fall in love with this Instant Pot Shabu Shabu recipe!
You enjoy shabu shabu by dipping thinly sliced meats and vegetables in a boiling broth to cook, then dip in a delectably citrusy soy sauce called Ponzu (pōwn-zoo).
"Shabu Shabu" is actually an onomatopoeia (a word that is formed by the associated sound) of the paper-thin meat swishing in the boiling broth.
homemade shabu shabu recipe
There's a fun new Shabu Shabu restaurant in SLC that we really like, but if we can't make it there, we make homemade shabu shabu! We love making our Shabu Shabu recipe at home in the Instant Pot on saute mode. That way, you don't have to purchase any special equipment.
Traditionally, Shabu Shabu is served in a beautiful clay pot on a portable burner. If you make it in the Instant Pot, it's a super easy shabu shabu recipe!
In this post, you'll learn how to make shabu shabu, how to cook shabu shabu, and the best shabu shabu ingredients and sauce.
How to Make homemade Shabu Shabu Video
Key Shabu Shabu Ingredients
In general, these are the ingredients you need for Shabu Shabu. The ingredients should be cut and prepared to cook as quickly as possible.
Shabu Shabu Broth recipe
Shabu Shabu Sauce Recipe
Shabu Shabu Ingredients
how to cook shabu shabu recipe
How to Eat Shabu Shabu
The best part about this Shabu Shabu recipe is that you can eat a ton without it feeling heavy, and it's just a FUN eating experience!
We always keep the pot pretty full of ingredients, so there's always something hot and fresh to take out and enjoy. Who knew it would be so easy to make shabu shabu at home?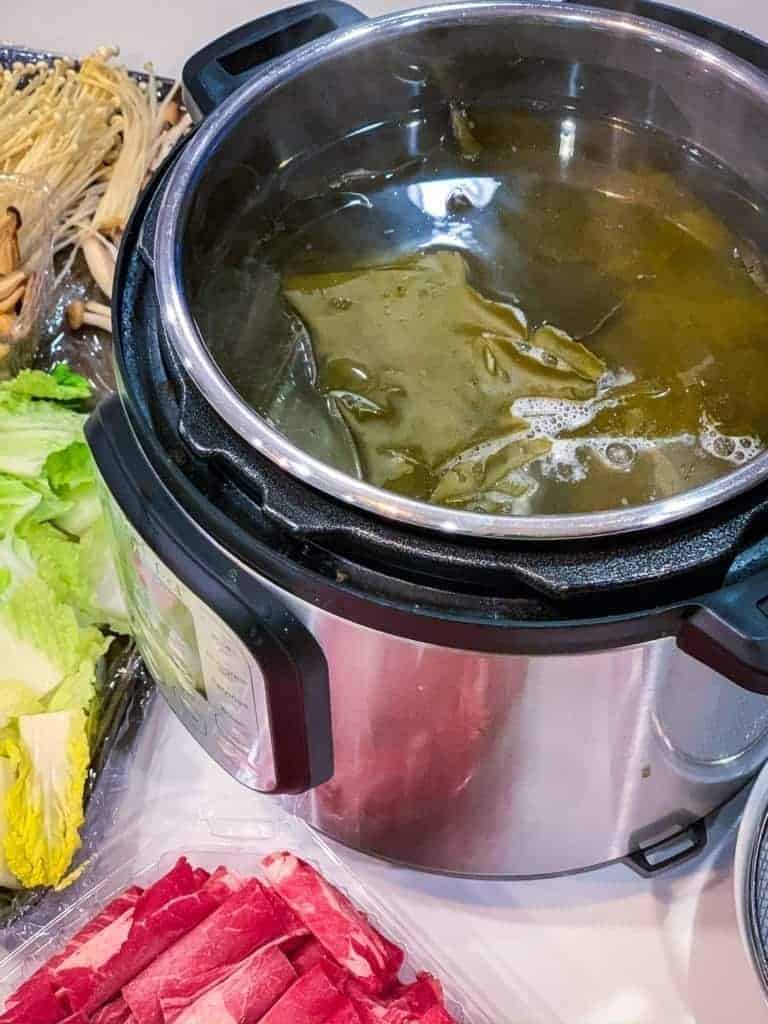 shabu shabu broth recipe
Kombu (kelp) usually flavors Shabu shabu broth, but I never worry if I don't have it! It really doesn't make a huge difference. Just add a splash of soy sauce and some green onion to the water for an easy shabu shabu broth recipe.
Next to the Instant Pot, I like to have a "drip bowl" that is a shallow bowl with a flat strainer/net on top. That way, I can use a large spider net or tongs to take out a lot of food at once for the whole table, and it drips on top of the strainer into that bowl.
If you take your bite directly from the Instant Pot to your ponzu, your ponzu will become diluted much faster. When your ponzu becomes diluted, just discard it and get a fresh serving!
shabu shabu broth recipe spicy
If you are at the Asian market anyway, you can find a lot of Chinese flavored broth mixes and concentrates to use in your shabu shabu, though this makes it more Chinese and less Japanese.
Chinese hot pot has a much richer, flavored broth to dip your ingredients into. If you like spicy foods, you could definitely get one of those as well!
Leftover shabu shabu Ingredients
If you happen to have any leftover ingredients and don't plan on doing shabu shabu again the next night, just throw everything into the Instant Pot to cook for a couple minutes.
Remove the food out of the Instant Pot with a skimmer. Let it drain, then put it in a tupperware and enjoy it the next day with a fresh bowl of ponzu to dip! Or, you could make a delicious stir fry with the ingredients, too!
Other Asian or Asian Inspired Recipes you might enjoy
Instant Pot Shabu Shabu
Total Time:
1 hour
20 minutes
Homemade Shabu Shabu is one of our favorite Japanese dishes! And now, even easier in the Instant Pot! Instant Pot Shabu Shabu is incredibly healthy, low fat, easy, fun, and fresh.
Ingredients
Broth
Sauces
Shabu Shabu Ingredients
.75-1 lb per person, Thinly sliced Shabu Shabu meat (we like beef and pork, but you can get any special shabu shabu meat like lamb and/or seafood or fishcakes)
1 Large Napa Cabbage, washed and cut into 2 inch pieces
14 oz Silken Tofu, cut into 1.5 inch squares
1 bunch Green Onions, cut into 2 inch pieces
Carrots (I like to get the fattest carrot I can find, then take a vegetable peeler and press down really hard to make long but thin ribbons of carrots. Roll them into little rosettes and they are SO pretty on your serving tray! They add such a beautiful pop of color and flavor!)
1 package Shirataki (Harusame) Noodles or any other kind of noodle (Udon noodles are great!)
200 gram package of Enoki Mushrooms
One bunch Beech Mushrooms (brown)
One bunch Seafood Mushrooms
2 Cups Dried Shitake Mushrooms, reyhdrated and rinsed
Instructions
Fill up your Instant Pot liner with water to the max line and set the Instant Pot to high saute. The pot should be at the table or wherever you will be eating. This is a collaborative, interaction dining experience!
Clean/wash and prepare your ingredients. Mushrooms need to have the bottoms removed that have dirt on them, dry noodles should be placed in a cup or plate, carrots should be thinly sliced or shaved, cabbage should be cut into 2-3 inch pieces, and everything arranged on a platter.
10 minutes before serving, remove meat from the freezer and assemble on a separate tray or platter. The meat should be semi-frozen for easiest preparation, otherwise the meat will all stick together.
Once the water starts simmering, add a piece of kombu to flavor. If you do not have kombu, just add a splash of soy sauce, dashi seasoning, and/or green onions to flavor the broth. You can also purchase Chinese-style broth seasonings which are usually spicy and much more potent.
Each place setting should have two or three small bowls (about the size of ramekins). One that is empty for dripping/ gathering food, and two more (one with 1/2 cup ponzu and the other with 1/2 cup goma). Each person should also have chopsticks or small tongs.
Once the water starts boiling you're ready to gather and eat! Add in some of the larger pieces of vegetable that will take the longest to cook (cabbage, noodles, large mushrooms). Don't overcrowd the pot, though! We have done this with two Instant Pots on the table at once!
Using chopsticks or mini tongs, grab a piece of meat and swish it in the boiling water. It will only take a moment to cook!
Take out the meat, along with some of the veggies when they are cooked through.
Place the freshly cooked food in an empty bowl to "drip" (I actually scoop everything out and put it in a communal serving dish that has a flat net/strainer type rack so things drip better)
Grab the perfect bite (my favorite bite is napa cabbage, pork, and noodles with some pieces of shitake mushrooms) and dip it into your separate small ponzu bowl.
Devour, then repeat!
Notes
If your Instant Pot turns off (it will automatically after 30 minutes, press the CANCEL button and press the SAUTE button again.
When your ponzu or goma sauce gets diluted, dump the bowl and grab a fresh one! I start with 1/2 cup, but plan on about 1 cup per person.
Once you start making the meat, you will notice a foam start to appear on the surface of the water. These are just impurities from the meat that float to the top and it is not harmful to eat. However, you may prefer to skim off this foam with a special scoop.
Recommended Products
As an Amazon Associate and member of other affiliate programs, I earn from qualifying purchases.
Nutrition Information:
Yield:

4
Serving Size:

1
Amount Per Serving:
Calories:

364
Total Fat:

15g
Saturated Fat:

4g
Trans Fat:

0g
Unsaturated Fat:

9g
Cholesterol:

65mg
Sodium:

465mg
Carbohydrates:

26g
Net Carbohydrates:

0g
Fiber:

5g
Sugar:

6g
Sugar Alcohols:

0g
Protein:

36g