This post may contain affiliate links, which means I earn a small commission if you purchase something I recommend - at no additional cost to you! Thank you for supporting this blog!
Instant Pot Clam Chowder is the perfect creamy soup recipe- it's packed with buttery soft potatoes, easy-to-find canned clams, smoky bacon, and of course, heavy cream!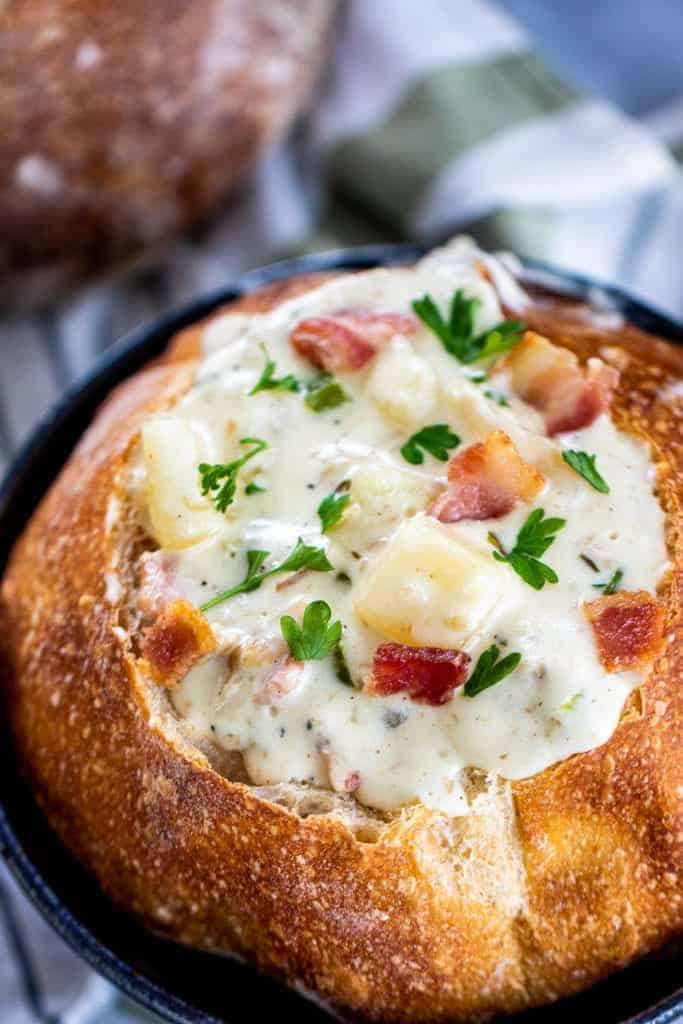 With a few simple ingredients and my Instant Pot's help, I recreated this iconic soup in a fraction of the time as it would take on the stove.
Ingredients for Instant Pot® Clam Chowder
Thick cut bacon
Red potatoes
Onion
Celery
Chicken broth
Clam juice (juice from the can or a jar)
White cooking wine
Flour
Heavy Cream
Chopped canned clams
Spices: salt, pepper, thyme, bay leaves
How to Make Clam Chowder in Instant Pot?
Making clam chowder in your pressure cooker takes only three general steps. I'll walk you through how to create the perfect Instant Pot Clam Chowder recipe right from home.
Saute the bacon and vegetables
First, you'll use the saute feature to crisp up the bacon pieces. I recommend freezing your bacon for 15-20 minutes before you slice it into lardons. It will cut much easier and cleaner this way.
Scoop out the bacon, and add the rest of the potatoes, onion, celery, and spices.
I prefer red potatoes in this clam chowder recipe since they add beautiful color and flavor over russet potatoes.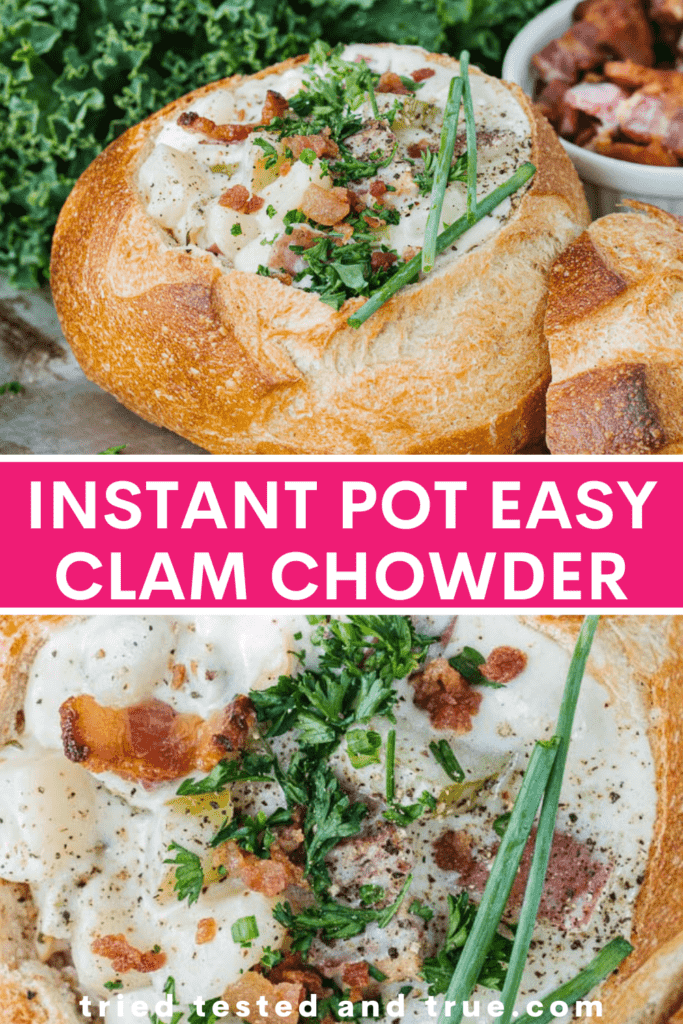 Pressure cook the clam chowder
Add in the liquids and pressure cook for only 3 minutes. The pressure cook time is only 3 minutes because the vegetables only require a short time in the pressure cooker.
Thicken the clam chowder
Stir in the roux (flour and cream) to thicken, then add the clams to warm through and top with bacon. It's that easy to make Instant Pot® clam chowder at home!
How Long Should I Cook Clam Chowder in Instant Pot?
Traditional clam chowder recipes can take almost an hour from start to finish.
However, using an Instant Pot cuts down on the time significantly because the vegetables don't need to simmer for 20-30 minutes to get soft.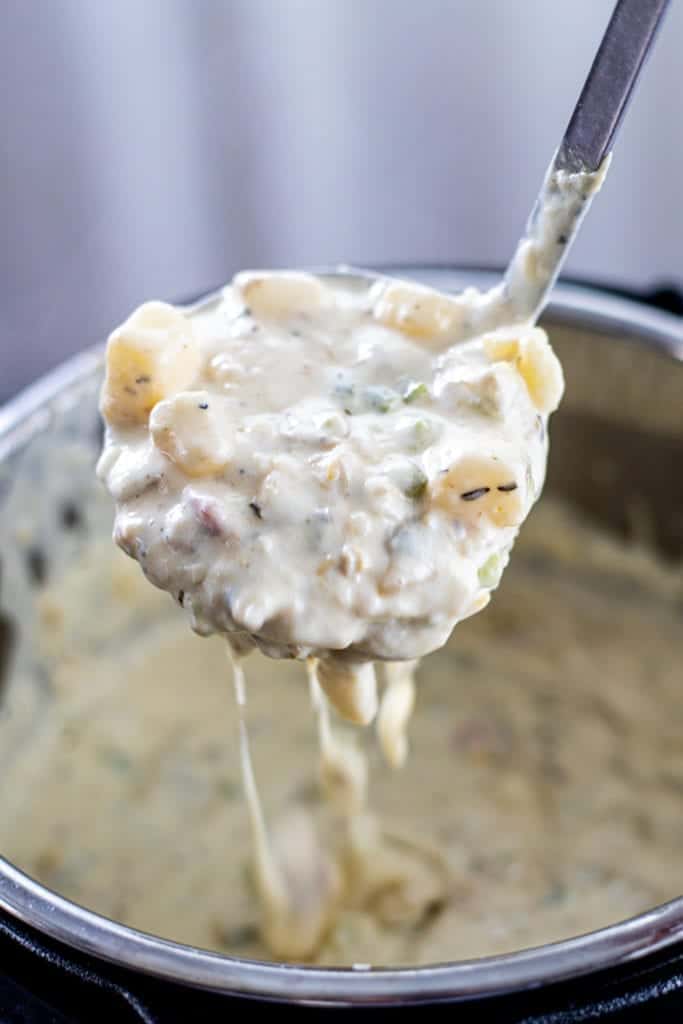 My Instant Pot Clam Chowder was cooked in only 3 minutes of pressure cooking!
All without compromising any delicious clam chowder flavor.
With bacon as the perfect topping, it also turned out to be an excellent soup for kids to enjoy.
If you prefer, stir the bacon into the soup with the clams!
What Kind of Bread Goes Well with Clam Chowder?
It's important to know what kind of bread goes well with clam chowder to compliment the flavors and textures of the soup.
Whenever I eat a soup like Instant Pot Clam Chowder that has many of the same soft or chewy textures, I love pairing it with a slice of crusty bread to give some textural contrast.
If you don't have crusty bread, I recommend serving with crackers or even crushed croutons, in a pinch!
Here are a couple of my favorite breads to eat with clam chowder:
Sourdough loaves, baguettes, bread bowls, or rolls
Sourdough is a very popular and classic pairing with clam chowder. The slightly acidic flavor and the tender and but crusty crumb on sourdough bread are perfect!
Bread Bowls for Clam Chowder
With my Instant Pot Clam Chowder recipe, I love making homemade sourdough bread bowls. Not only was it a different way to serve the meal, but it was the perfect bread to go with the clam chowder.
If you don't want to make your own bread bowls, they are usually easy to find in the bakery section of your grocery store.
What is the Difference Between Boston and Manhattan Clam Chowder?
Boston Clam Chowder (also known as New England clam chowder) has had its beef with long-time rival, Manhattan clam chowder since the 1930s.
So what's the big difference?
I did some digging and found a key difference between Boston and Manhattan clam chowders that starts at the base of it all.
Boston Clam Chowder
Traditionally Boston Clam Chowder is made with milk or cream and includes clams, potatoes, onions, and often salted pork, like bacon (like this recipe!).
Manhattan Clam Chowder
Manhattan clam chowder, on the other hand, has a red tomato base to its soup. This clam chowder version has a thinner broth than its Bostonian cousin and includes various vegetables such as carrots, onion, celery, and potatoes.
More like a stew, in my opinion!
Personally, when I think about clam chowder, I'm thinking of that white, creamy thick soup that's topped with oyster crackers and crispy bacon. For my Instant Pot Clam Chowder, I am team Boston and I know you will be, too!
Do You Add Milk to Clam Chowder?
If you're going for the New England version, then you'll definitely add milk or cream. Milk will create the creaminess in the soup, but the broth will be much thinner and the flavor will be a little weaker.
I personally prefer cream (duh!) because it'll give me a thicker broth that is so much richer in flavor than milk. Why use milk when you can use cream? 🙂
Dairy-free New England clam chowder
Making New England clam chowder without any dairy will definitely alter the flavor. However, I've heard a variety of different dairy alternatives to milk that have been used for clam chowder recipes.
While I have not tested these substitutions, these are my recommendations to make clam chowder dairy-free:
Add pureed cauliflower to the soup broth to thicken and give that milky look
Substitute cream with a neutral-flavored dairy alternative such as coconut milk
Add an extra cup or two of potatoes while pressure cooking, remove two cups of the vegetable mixture, and blend in a blender or with an immersion blender. Add this mixture back into the soup to thicken.
Check out my other dairy-free Instant Pot recipes here.
How Do You Add Flavor to Clam Chowder?
The best way you can add flavor to your clam chowder is by using the right quality ingredients.
The most important ingredients in this clam chowder recipe are the bacon (to add smokiness and salt), clam juice and clams (I recommend Bumblebee chopped clams in clam juice), heavy cream, and red potatoes.
Red potatoes add a lot of flavor to clam chowder. When I make this recipe with russet potatoes, it is noticeably more bland and I have to compensate by using more salt.
Do not be afraid to add generous amounts of salt and pepper to clam chowder recipes. Recipes that have a lot of dairy and ingredients like potatoes that absorb flavor require more salt than you may think.
When in doubt, add a little more salt. (this is my favorite salt and the only one I use. Use IPCOOKING for 15% off!)
Instant Pot Soup Recipes
Don't forget to try some of my other insanely delicious, easy, popular soup recipes! Seriously, don't go another week without making the Chicken Noodle Soup!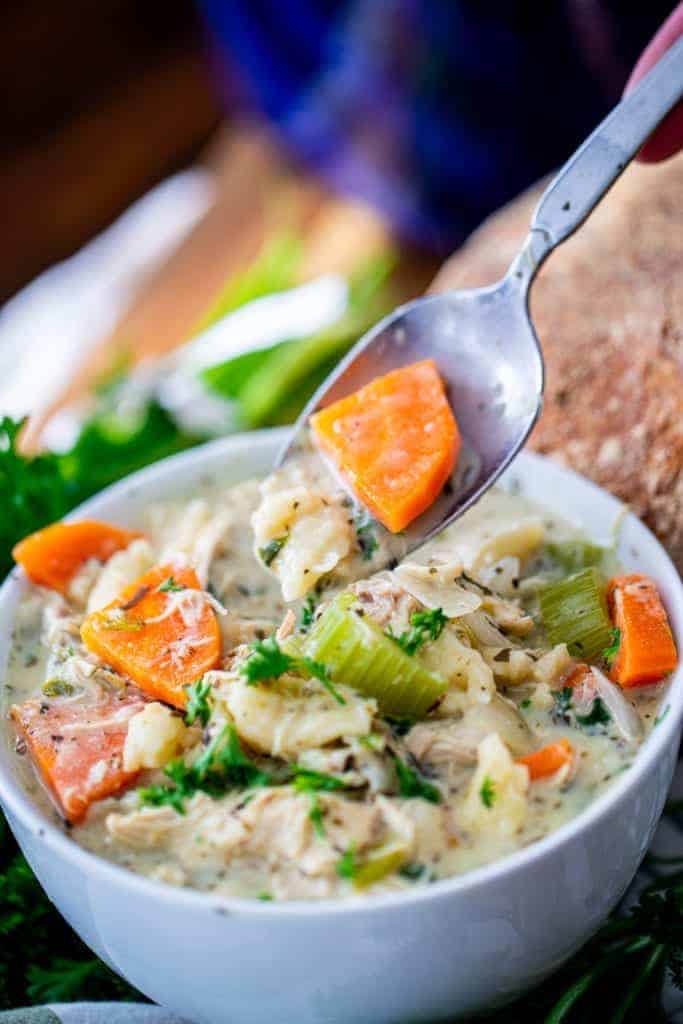 You'll love this Instant Pot Clam Chowder recipe so much- let me know if you make it!
New England Clam Chowder
Smoky bacon, chewy clams, and chunks of potato that simply melt in your mouth will make you fall in love with this soup!
Print
Pin
Rate
INGREDIENTS
3

slices

thick cut bacon

chopped

5

cups

red potatoes

diced

1/2

cup

onion

diced

1

cup

celery

diced

3

teaspoons

salt

3/4

teaspoon

pepper

3/4

teaspoon

thyme

1 1/2

cups

chicken broth

1 1/4

cups

clam juice

juice from 6.5 oz and 10 oz cans of clams

3

tablespoon

white cooking wine

1

bay leaf

6

tablespoons

flour

3

cups

heavy cream

1 1/2

cups

16.5 oz chopped clams (clams from one 6.5 oz can and 10 oz can)

2

tablespoons

parsley

chopped
INSTRUCTIONS
Press the saute button on the Instant Pot® and adjust to high. Add bacon and let saute until crispy and the fat has rendered down, about 5 minutes. Remove the bacon with a slotted spoon and set aside.

To the hot bacon fat, add potatoes, onion, celery, salt, pepper, and thyme. Let saute for one minute, then deglaze the pot with chicken broth, clam juice, and white wine. Scrape the bottom of the pot to get all the browned bits off the bottom, then add the bay leaf. Turn off Saute mode.

Close the lid, turn the knob to Sealing.

Press Manual or Pressure Cook button and adjust time to 3 minutes.

When the timer beeps, turn the knob from venting to sealing, then remove the lid. Turn saute mode back on to high.

Whisk the flour into the heavy cream until completely combined and pour into the soup while mixing. Bring the soup back up to a boil, then turn off the heat. Remove the bay leaf and stir in the clams. Scoop into a bowl and serve topped with parsley and bacon.
NOTES
Make sure you use thick cut bacon, or there won't be adequate fat left in the pan to saute the vegetables.
NUTRITION
Serving:
1
g
|
Calories:
684
kcal
|
Carbohydrates:
51
g
|
Protein:
17
g
|
Fat:
46
g
|
Saturated Fat:
28
g
|
Polyunsaturated Fat:
14
g
|
Trans Fat:
1
g
|
Cholesterol:
157
mg
|
Sodium:
1822
mg
|
Fiber:
4
g
|
Sugar:
8
g
---
---

This was restaurant quality chowder! I like a hearty soup with a lot more potatoes so I would double the amount of potatoes next time but it was delicious.


Great fall soup!. Easy to find ingredients at just about any store. I sub in fair life whole milk for higher protein content. Kids love this one and disappears fast at my house!

I just discovered your YouTube Channel and subsequently your website. I'm loving the things I'm finding. I want to try so many things. We are a family of two and this seems like a lot of a good thing, however, I don't want to miss out. I'm wondering if this recipe could be cut in half (or quartered) without sacrificing the flavor or the risk of not having enough broth/liquid in the finished chowder.

Hello! Yes, this recipe would halve perfectly with great results.