Instant Pot Chicken Enchilada Soup
---
This post may contain affiliate links, which means I earn a small commission if you purchase something I recommend - at no additional cost to you! Thank you for supporting this blog!
Instant Pot Chicken Enchilada Soup is as easy as they come, and just as filling. This soup can be prepped up to two months in advance, then cooked from frozen.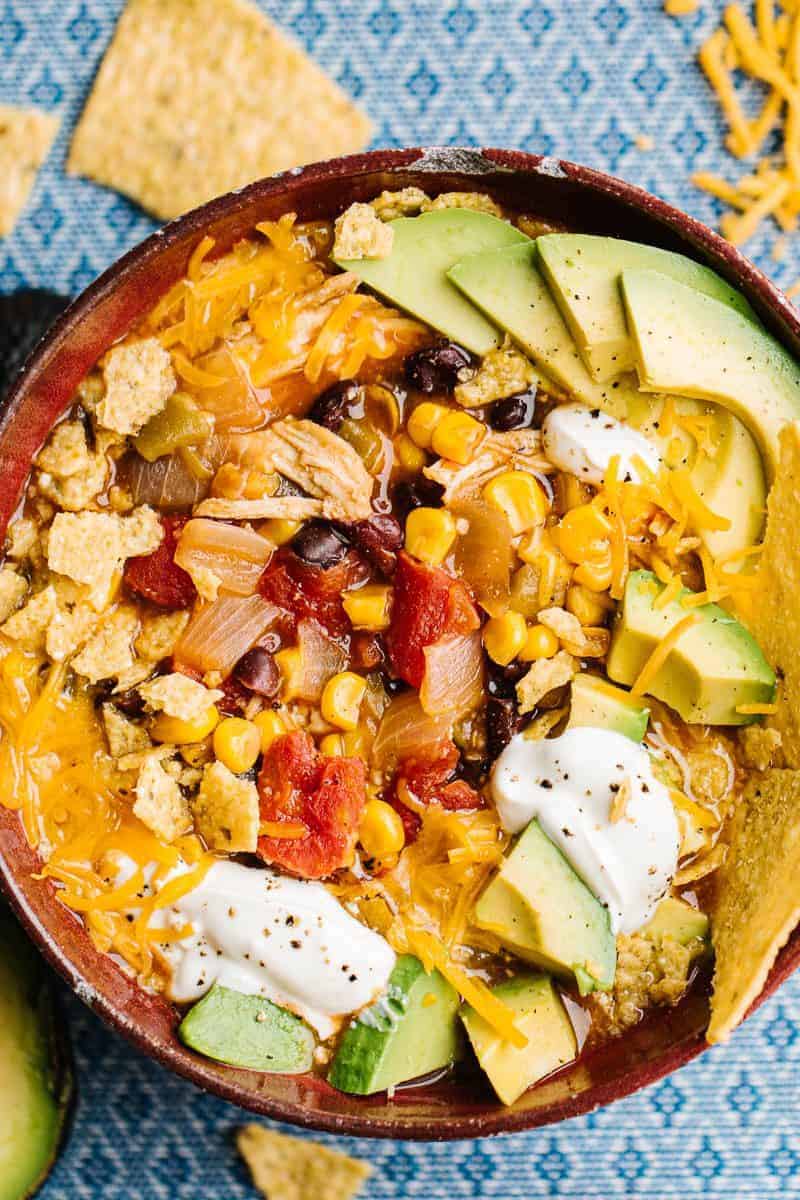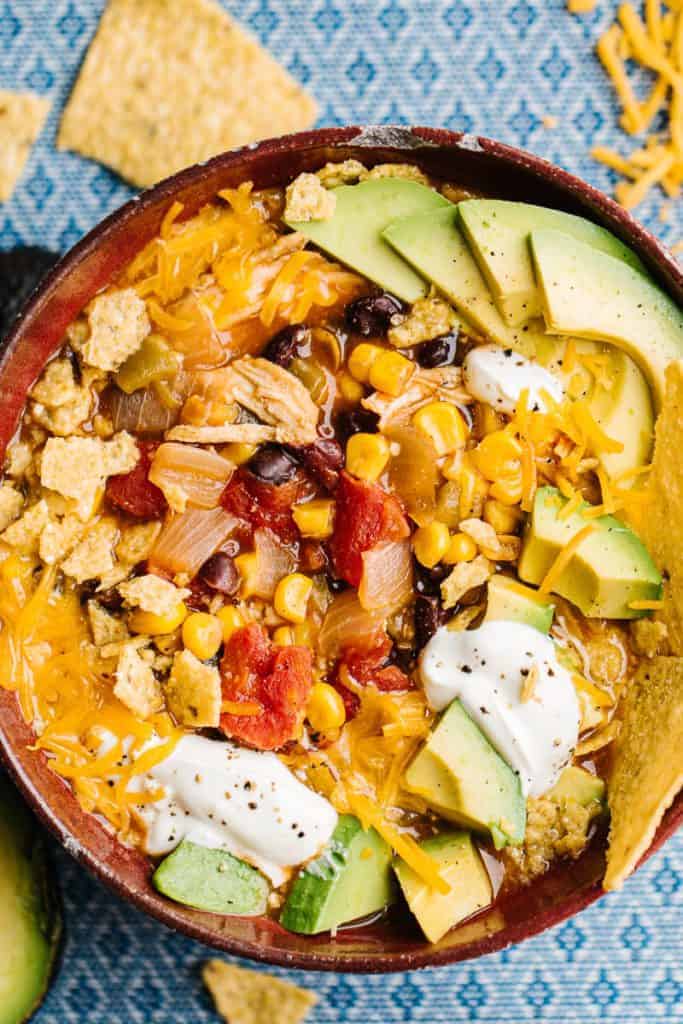 Instant Pot Chicken Enchilada Soup
Chicken Enchilada Soup is a super easy way to get all of your favorite enchilada flavors into one bowl. It's healthy, fresh, and perfectly customizable. Extra toppings on the side mean that you can customize right down to each individual serving!
I like to make my enchilada soup a bit cheesy with shredded taco blend cheese and a squeeze of fresh lime. Though it doesn't need a side, you could serve it with Cilantro Lime Rice or Black Bean Corn Salad on the side.
Keep reading and I'll answer some frequently asked questions and share more great variations on this easy soup recipe.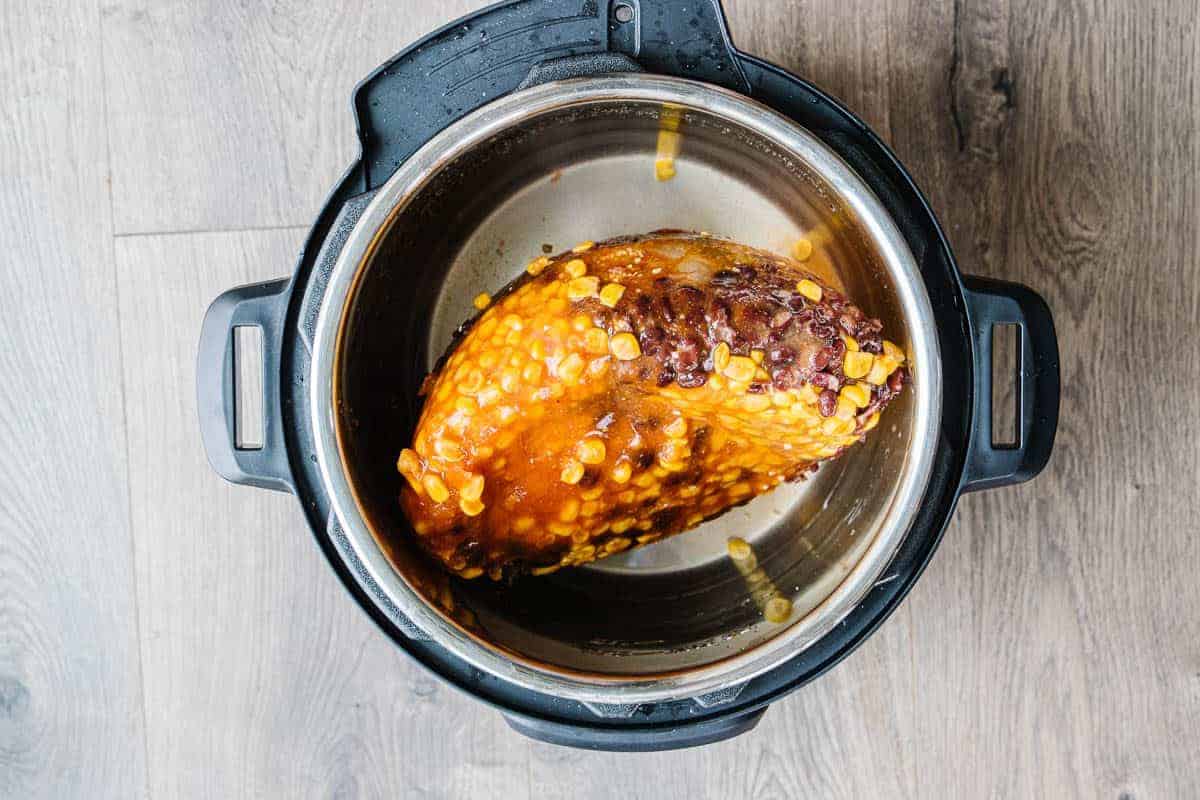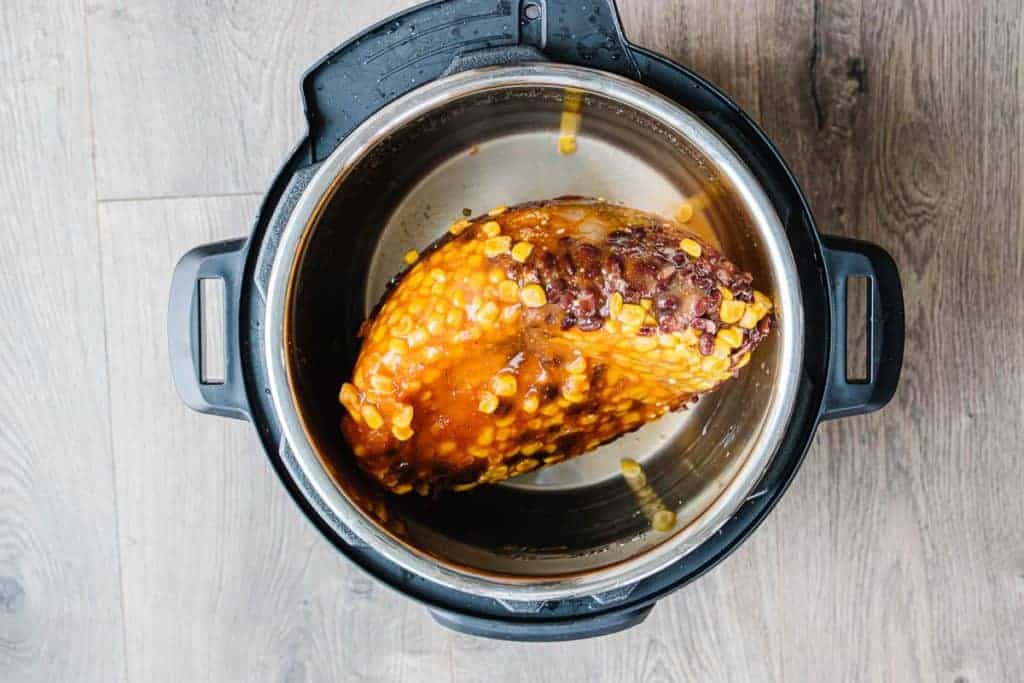 How to make Freezer Meal Soup
Putting together a freezer soup is one of the quickest and easiest ways that I've found to meal prep. Usually, I like to make at least two batches of whatever soup I'm working on because it's just so easy! My friends over at Six Sister's Stuff are the queens of Instant Pot freezer meals!
To make a freezer meal soup, you'll need three things: the soup's ingredients, gallon-sized freezer bags, and bag holders. Bag holders aren't technically necessary, but they make life a lot easier.
To actually assemble the freezer soup, start by checking the recipe that you want to prep. Usually most of the ingredients will go directly into the freezer bag, but you'll want to check to see if one or two ingredients are added at the last minute (and don't go into the freezer bag).
Note: If you're making a recipe that has lots of liquid, be sure to freeze the bag so that the eventual frozen block will fit into your Instant Pot once you're ready to cook!
It might be helpful to place the freezer bag into a bowl or Instant Pot liner while it's freezing. Otherwise, you'll end up with a frozen brick that won't fit into your Instant Pot when you're ready to cook.
If you like the idea of freezer meal soups, check out my Potato Ham Chowder, Baked Potato Soup, and Lasagna Soup! They're all beyond delicious—and beyond easy to prepare.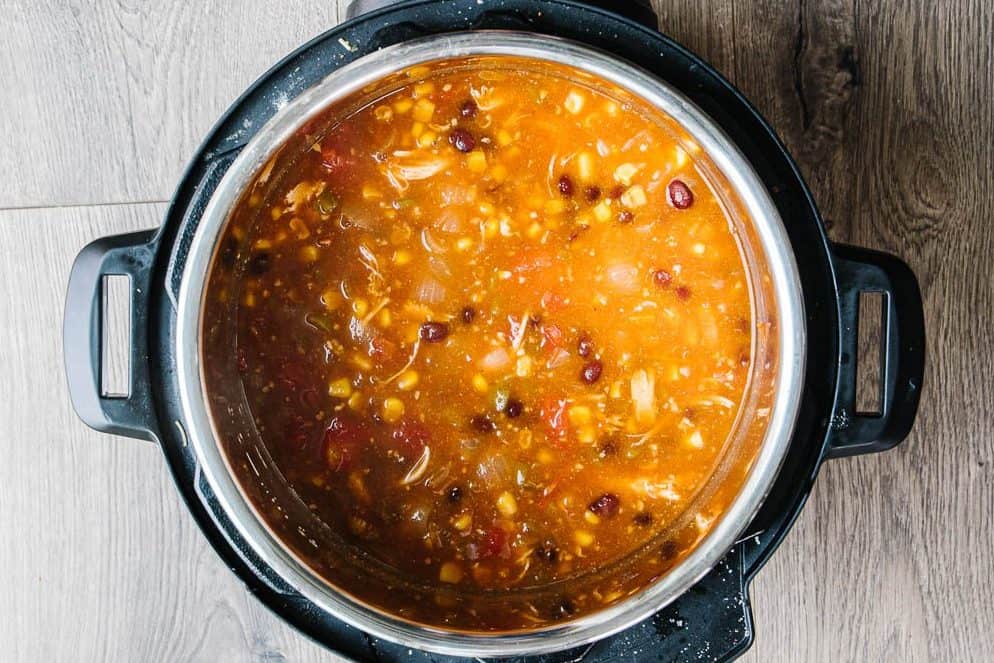 How to make Instant Pot Chicken Enchilada Soup
First, add one cup of water to the Instant Pot, then gently slide in the frozen ingredients. You can also make this recipe from fresh ingredients, in which case you just add them all directly to the Instant Pot.
If the frozen ingredients won't come out of the bag easily, try this. Double check the seal on the bag and then run it gently under hot water. This should loosen up the ingredients inside so that they slide right out. Seal the Instant Pot.
At this point, the cook time depends on how you'd like to cook your chicken. If you're cooking whole, raw chicken breasts (as per the original recipe), cook on high for 30 minutes with a quick release.
If your chicken breast is chopped into smaller pieces (like quarters), cook the soup for 20 minutes with a quick release.
When you're using rotisserie chicken, then the soup only needs 10 minutes on high in the Instant Pot with a quick release.
Once the soup is done cooking, I like to shred up the chicken breast. Don't worry if it's not completely done in the middle. Just shred it up, add it back to the soup, and cook on saute mode for about 5 minutes or until the chicken is no longer pink. It's ready to serve!
I like to top with avocados, corn chips, and fresh sour cream. Feel free to top with whatever you like (just don't skip the lime).
Speaking of cooking chicken in an Instant Pot, my Instant Pot Chicken Legs recipe. I also collected my favorite 101 Instant Pot Chicken Recipes into one place for easy reference. if you love this recipe, you'll definitely love those!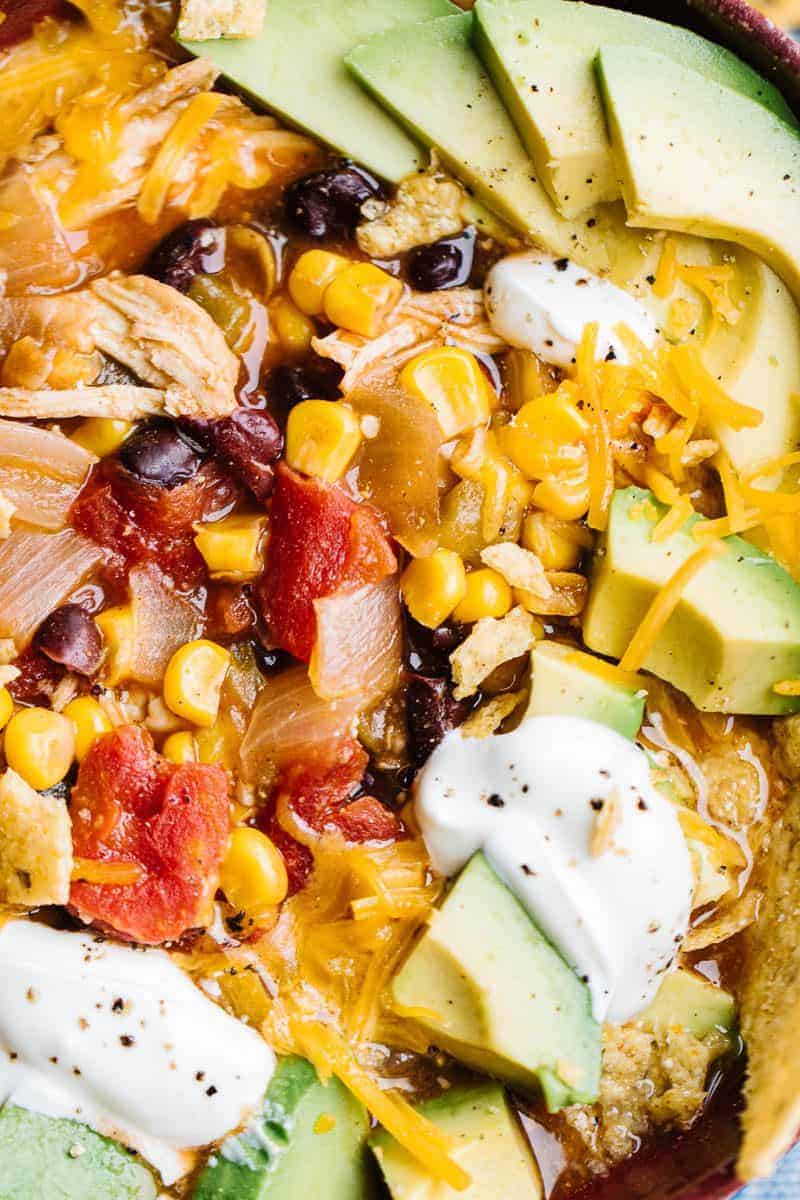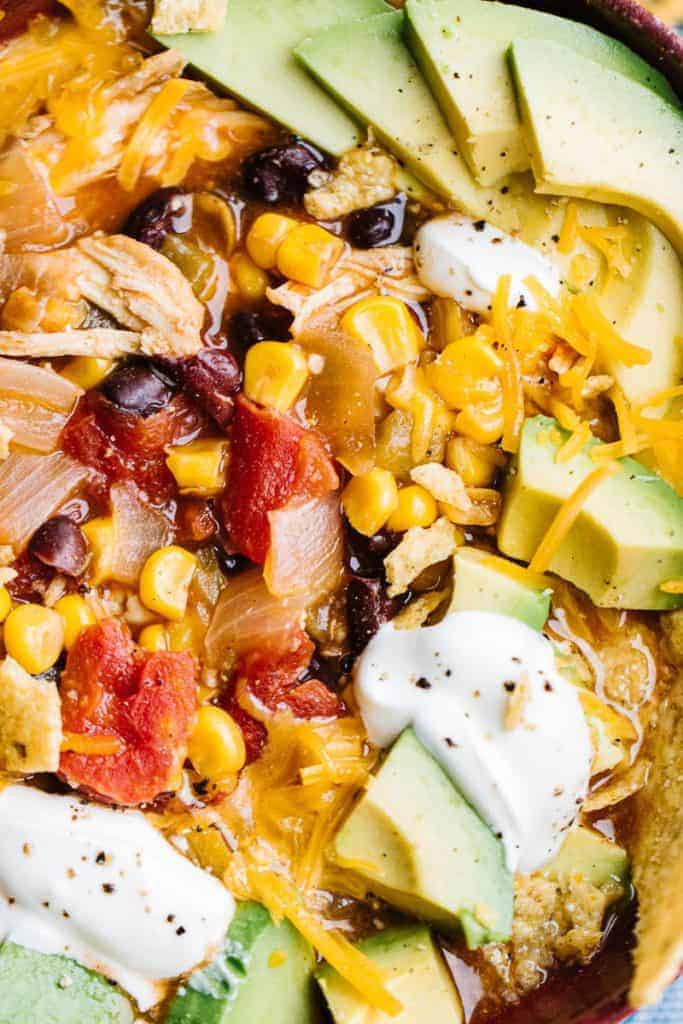 Is Instant Pot Chicken Enchilada Soup Dairy-Free?
As written, this recipe is dairy free—so long as you don't top your bowl with sour cream at the end! The creamy cream cheese version is not dairy free, but the other variations are.
Looking for more dairy free goodness? Try my Instant Pot Chicken Fajitas!
Variations on Instant Pot Enchilada Soup
Green Enchilada Soup in the Instant Pot
Instead of using red enchilada sauce in the recipe, replace it with your favorite green enchilada sauce. So much of the flavor will change, and it requires so little effort on your end!
Creamy chicken enchilada soup
Lots of people love Instant Pot chicken enchilada soup with cream cheese! When mixed into the soup, the cream cheese makes it smooth and creamy—perfect for a fall afternoon or nippy winter evening.
After pressure cooking, add 4–8 ounces of softened cream cheese into the soup and mix. You can also mix ½ to 1 cup of sour cream into the enchilada soup to make it creamy. Don't have either? Stir in ¼ to ½ cup heavy cream into the finished soup for a pot of creamy heaven.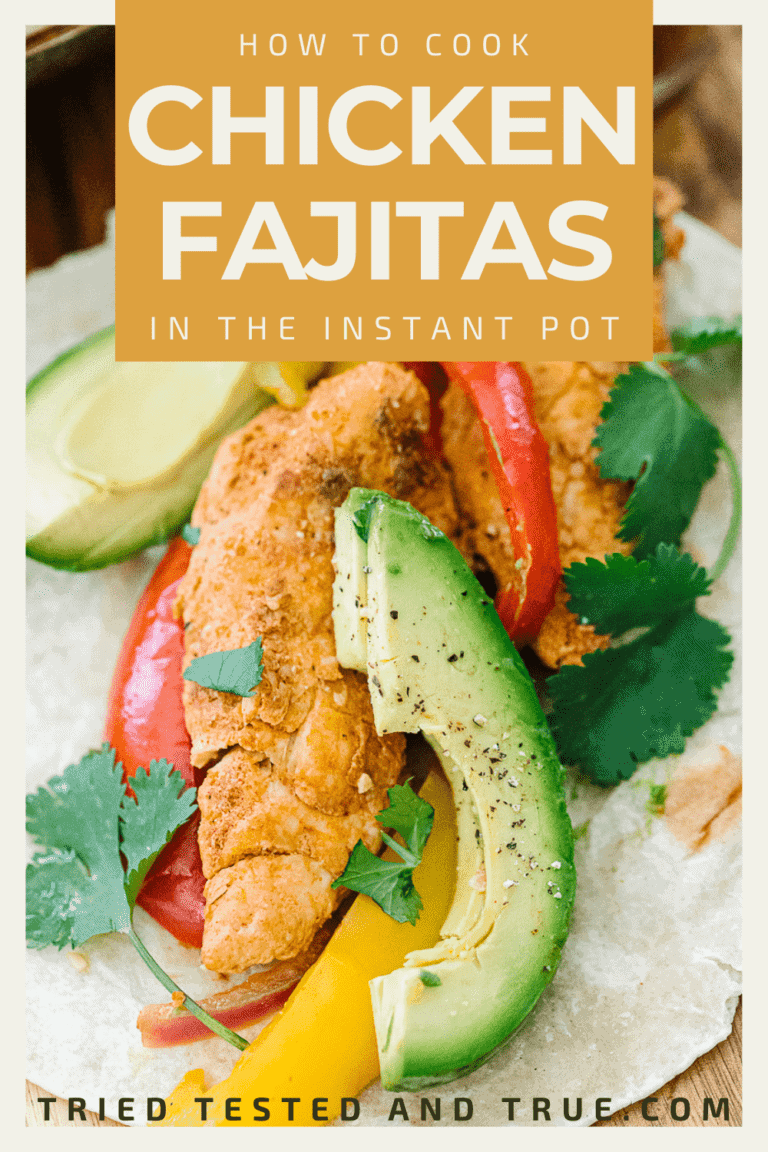 Instant Pot Enchilada Soup with Frozen Chicken
Instead of using fresh chicken breasts, you can also use: fresh or frozen chicken thighs, chicken tenderloins, or frozen chicken breasts.
If you use frozen chicken, follow the same instructions as using fresh chicken. If you'd like to make your freezer meal chicken enchilada soup with frozen chicken breasts, just pop the frozen chicken into the bag instead of fresh! No extra steps required.
Vegetarian Enchilada Soup
To make this Instant Pot enchilada soup recipe vegetarian, replace the chicken broth with vegetable broth or water. Replace chicken with an additional can of beans and another of corn.
If you aren't vegetarian but want to add more veggies to your diet, try my Healthy Taco Lettuce Wraps. They're clean, easy, and delicious!
If you loved this recipe, you'll also love…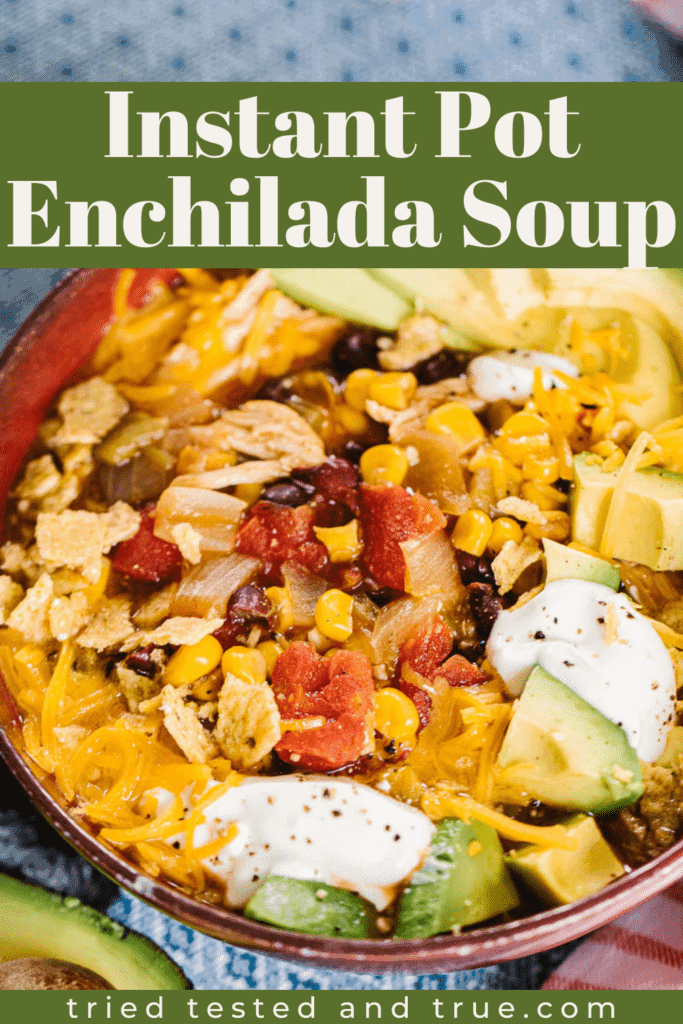 Soup Recipes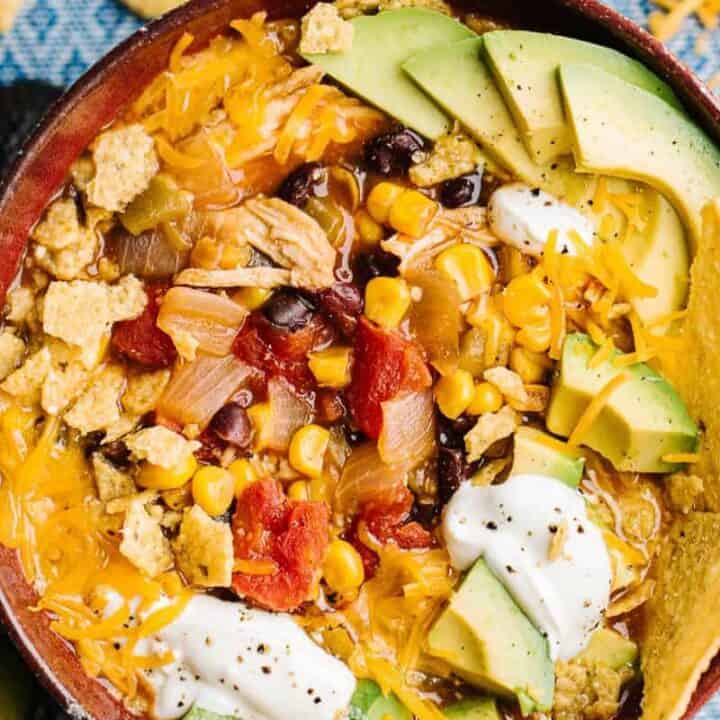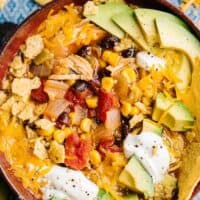 Instant Pot Chicken Enchilada Soup
Instant Pot Enchilada Soup is as easy as they come, and just as filling. This soup can be prepped up to two months in advance.
Print
Pin
Rate
INGREDIENTS
1

large chicken breast

fresh or frozen (about 1 pound)

1,

14.5 ounce can corn

, drained

1,

14.5 ounce can black beans

, drained & rinsed

1

can diced tomatoes

1,

4 ounce can chopped green chilies

14

ounces

red enchilada sauce

(1/2 of large 28 ounce can)

1/2

onion

diced

1

tablespoon

minced garlic

1/2

teaspoon

cumin

1

cup

water

juice of one fresh lime

tortilla chips/strips,

cheese, cilantro, avocado, and sour cream for serving
INSTRUCTIONS
Freezer meal instructions:
Label bag with additional ingredients ("1 cup water, juice from 1-2 limes, and toppings such as cheese, tortilla strips, avocado, sour cream") and cooking instructions ("Pour contents of bag and 1 cup of water into the Instant Pot. Cook for 30 minutes with a quick release. Add lime juice. Shred chicken and serve with toppings").

Add all ingredients except water, lime juice, and toppings to the bag, then freeze in a round bowl smaller than your Instant Pot liner or squish the bag into a round mound.

When ready to cook, dump ingredients into the Instant Pot and add water.

Cook 30 minutes, quick release, then remove chicken and chop or shred. Put back into the Instant Pot and stir with lime juice.

Serve with crushed tortilla strips and other toppings as desired.
Not freezer meal instructions:
Add everything directly to the Instant Pot except lime juice and toppings.

Lock the lid, turn the knob to sealing, and cook on manual high pressure for 30 minutes. Turn the knob for a quick release, then remove the lid and stir.

Remove the chicken and chop or shred- return to the soup. Stir in lime juice, then serve with crushed tortilla strips and other toppings as desired.
NOTES
You'll notice this recipe does not contain salt. That's because every enchilada sauce contains varying amounts of salt and different flavor. The brand of sauce you choose will greatly impact the finished dish. If after pressure cooking you feel your soup lacks flavor, add salt to taste. You can also use chicken flavored Better then Bouillon paste to greatly improve the flavor. The soup is also meant to be served with crushed tortilla chips on top, which contain a lot of salt, which is why I did not include it in the soup. Season to taste.
I suggest you do not skip the lime, as it adds a lot of flavor at the very end of pressure cooking.
Since I usually purchase a large can of enchilada sauce to make this recipe, I will use half the can for one dinner one night, and then make a freezer meal with the other half. You can also use a smaller can of enchilada sauce or use the entire large can, if you prefer.
---
---