This post may contain affiliate links, which means I earn a small commission if you purchase something I recommend - at no additional cost to you! Thank you for supporting this blog!
My Tuna Poke Bowl recipe is fresh, easy, and absolutely mouthwatering. It's also incredibly healthy—packed with satisfying protein and heart healthy omega-3s, it's a dream for your taste buds AND your body!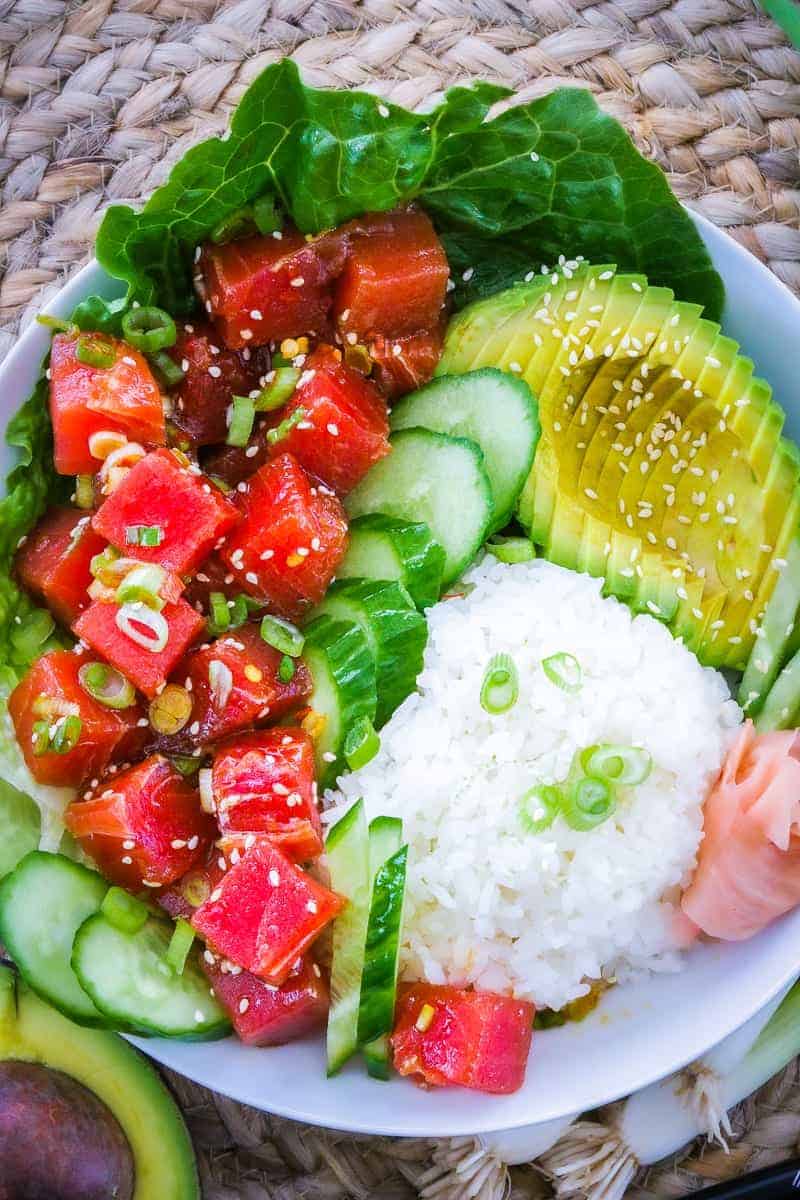 What is a poke bowl?
Poke: if it's popular enough that even People magazine and Today are talking about it, it's gotta be something worth eating!
Tuna poke, ahi poke, spicy poke, Hawaiian poke—let me break it all down for you.
"Poke" means "to slice or cut" in Hawaiian. Poke bowls are native to Hawaii, where they've been common since the late 1800s. So if you're hearing talk of "Hawaiian poke," that's why.
Thankfully, the past decade has brought poke bowls to a relatively wide distribution on the mainland.
At its core, a poke bowl is a bed of rice topped with marianted, fresh cubed fish and sprinkled with seasonings. These days? You can customize it however you like. While it's traditionally made with Ahi (aka Yellowfin Tuna), it's just as delicious with salmon, shrimp, or even tofu.
Spicy poke just means that there's a delicious spicy sauce drizzled on top.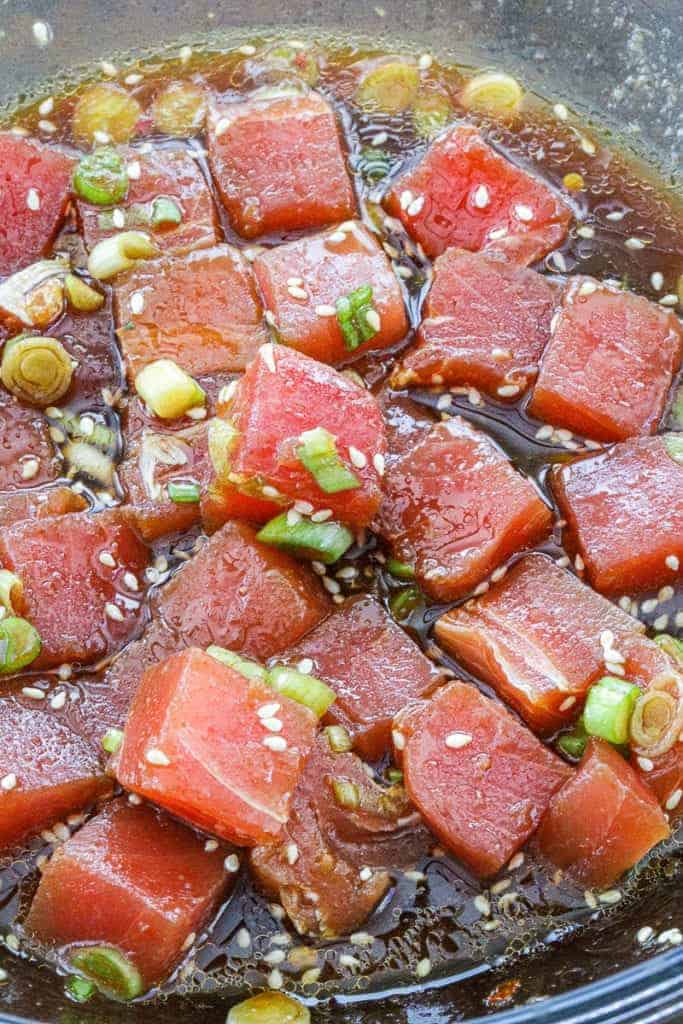 Tuna poke pronunciation
Good question. However tempting it might be to call it a poke bowl (as in poke-it-with-a-stick), don't cave. It's poh-KAY.
Asian Recipes
Poke bowl ingredients
While I like to use relatively traditional ingredients, the sky's the limit with poke bowl recipes. Want to go low-carb? Swap out the rice base for cauliflower rice, seaweed salad, or zoodles.
For toppings, I like to use sliced cucumber, avocado, and any other veggies that I have on hand. You can also experiment with edamame, pickled veggies, wilted greens, mango, or just about anything else that strikes your fancy. Make it your own!
If I'm adding lots of fresh veggies, I often use this chopper to dice everything up quickly, evenly, and easily.
It's also really important to marinate the fish before you eat it; that's what's going to give your poke bowl a rich, umami flavor.
My marinade hinges on soy sauce, sesame oil, green onions, and fresh ginger.
How to select the right fish
Two words: sushi grade! It doesn't really matter what kind of fish you use (I like salmon, too) so long as it's sushi grade. Raw fish is healthy and wonderful, but it's also dangerous if it's not high quality.
Fresh is best! Buy from a local fish market if you can. Sometimes, you can find grocery stores that sell sashimi-grade. Ask the butcher for help! I purchase mine at Ocean Mart in Utah.
If you're not in a coastal city, you'll almost always find it frozen. You can easily defrost it overnight in the fridge, or wrapped and placed in cold water.
What kind of rice is best for poke bowls?
Short grain Japanese sushi rice is the crème de la crème. If you don't happen to have that lying around your pantry, fret not—regular white, Instant Pot Jasmine Rice, Perfect Instant Pot Basmati Rice, or brown rice work just fine!
Hot rice or cold?
Personally, I prefer warm rice. It creates a yummy contrast with the cold fish that warms my heart and belly alike!
I always rinse my rice before cooking it, and I make it in this rice cooker. It's so much easier than a regular pot!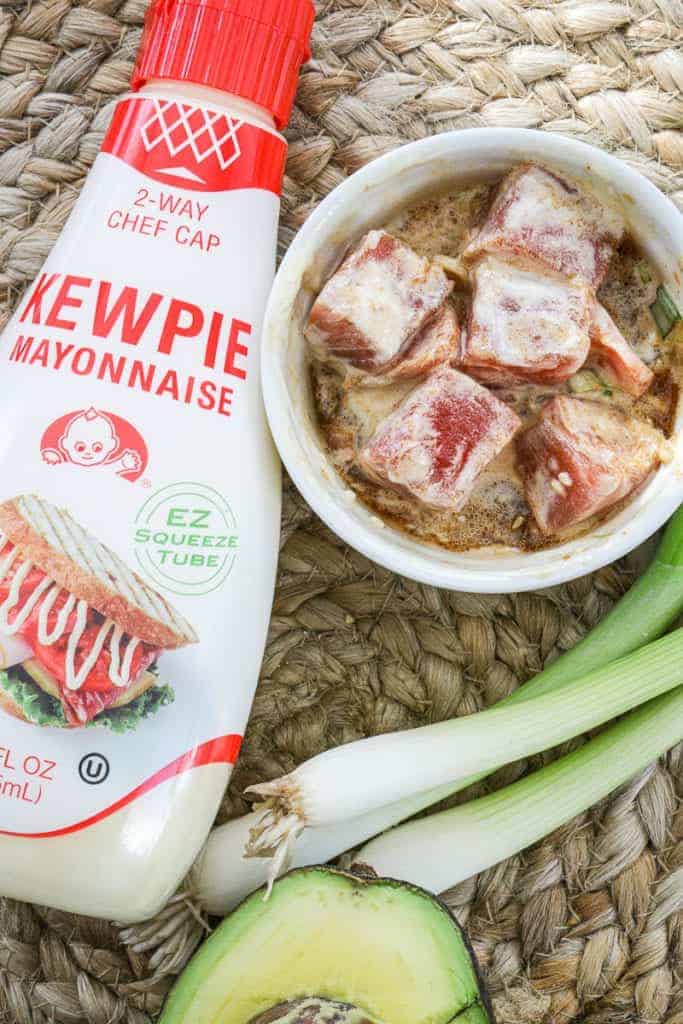 How to make a tuna poke bowl
So, what'll it be? A spicy ahi poke bowl? A tuna poke bowl with avocado? Whatever tuna poke recipe you create, the steps are the same.
First, you'll want to marinate your fish. Take that beautiful sashimi/sushi grade tuna, cut it into bite-size cubes, and marinate it with all of the spices for one hour in the fridge.
Next, spoon your marinated fish over a bed of fresh rice (or brown rice, zoodles, quinoa, cauliflower rice, etc.).
Finally, add your toppings and finish your poke bowl with a flourish of sriracha or spicy mayo. That's it! You're ready to serve.
Salmon poke recipe
A salmon poke recipe follows all of the same rules as a tuna poke bowl. If you're torn between the two fishes, consider the differences in flavor and nutrition.
If you like a stronger fish flavor, salmon is the way to go. Nutrition-wise, salmon packs more healthy fatty acids, while tuna has more protein.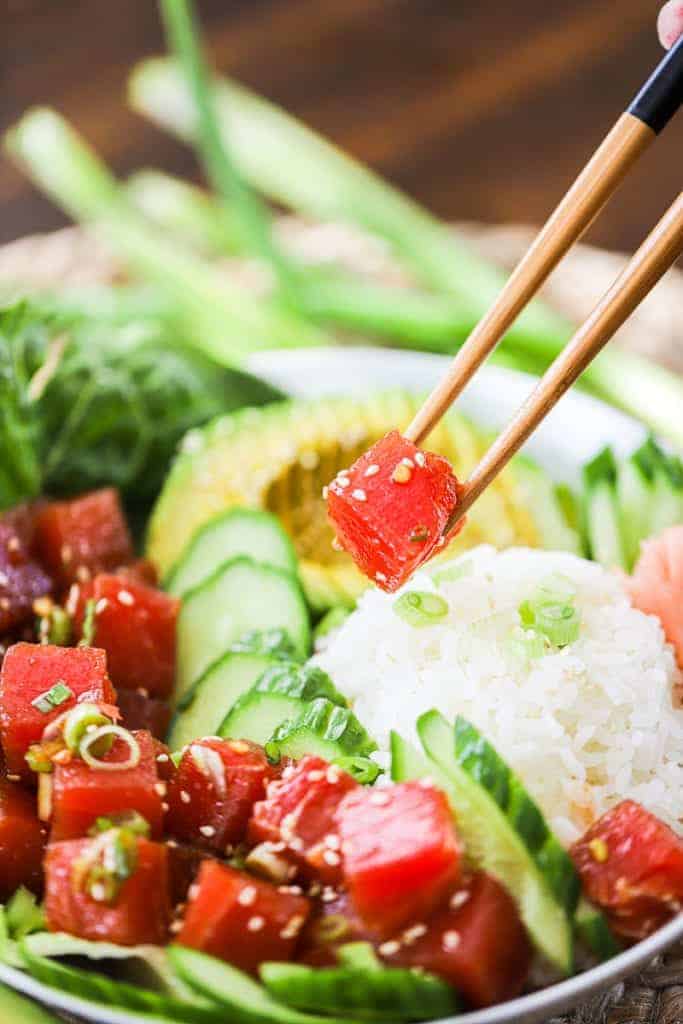 Tuna poke appetizer
Picture this: sophisticated, tiny bowls filled with poke salad; colorful skewers striped with deep pink tuna and bright green cucumber and vibrant yellow peppers.
Poke isn't just an easy entree; it's also a go-to appetizer that's deceptively simple! 
The poke skewers have no rice, so they make a great option for anyone trying to cut down on their carbs.
Asian Recipes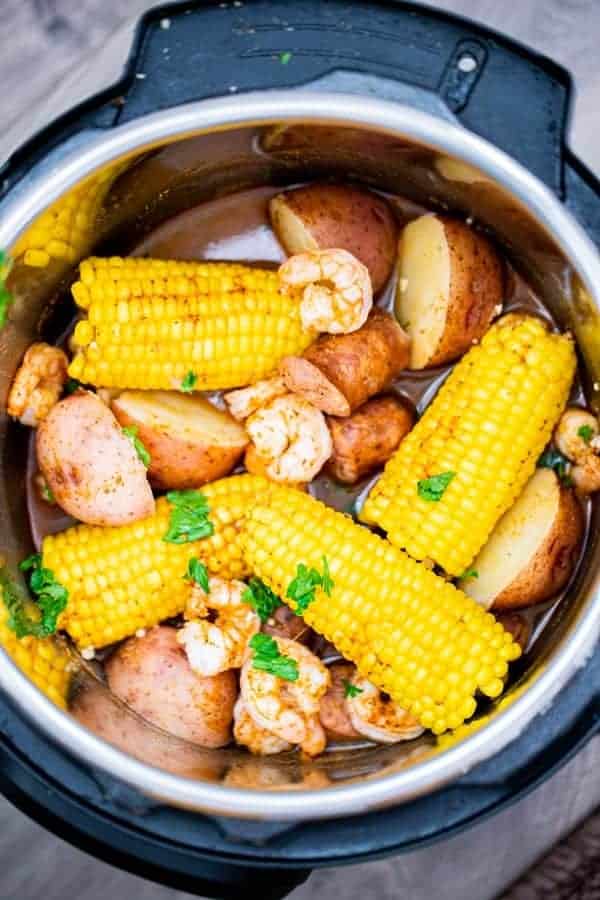 More easy appetizers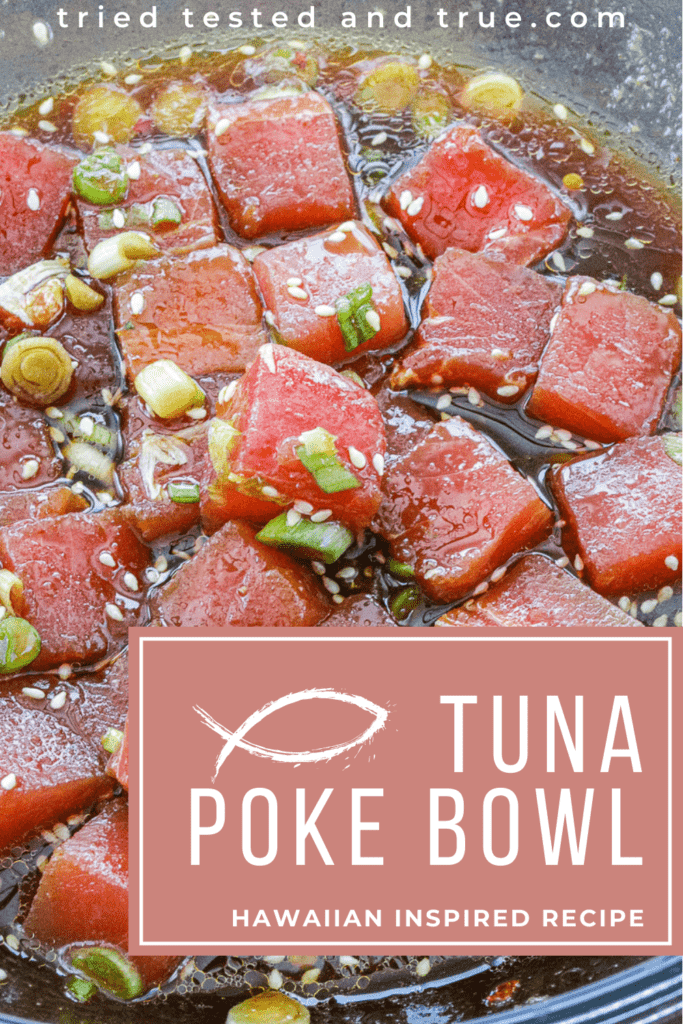 Tuna Poke Bowl
This tuna poke bowl recipe is fresh, easy, and absolutely mouthwatering. It's also incredibly healthy—packed with satisfying protein and heart healthy omega-3s, it's a dream for your taste buds AND your body!
Print
Pin
Rate
INGREDIENTS
1

lb

sashimi/sushi grade tuna

cut into 1/2 inch cubes

1/3

cup

green onions

chopped

1/3

cup

soy sauce

regular or low sodium*

2

tablespoons

sesame oil

1-2

teaspoons

grated fresh ginger*

1-2

teaspoons

Sriracha

optional

1

teaspoon

sesame seeds

1/4

teaspoon

crushed red pepper
For Serving
Hot Japanese sticky rice

Sliced or diced English Cucumbers

Sliced avocados

Sesame seeds

Spicy mayo

use Japanese Kewpie mayo with Sriracha

Sprouts

Lettuce
INSTRUCTIONS
Combine all poke ingredients and marinate in the fridge for at least 30 minutes and up to 2 hours.

Serve with rice and vegetables and enjoy!
NOTES
*Coconut Aminos may be substituted for soy sauce
Leftovers should be wrapped tightly and eaten within 24 hours.
The smaller your fish is cut, the saltier it will be. I prefer 1/2 inch cubes.
NUTRITION
Serving:
1
g
|
Calories:
337
kcal
|
Carbohydrates:
13
g
|
Protein:
32
g
|
Fat:
17
g
|
Saturated Fat:
3
g
|
Polyunsaturated Fat:
13
g
|
Cholesterol:
115
mg
|
Sodium:
1544
mg
|
Fiber:
1
g
|
Sugar:
3
g
---
---