This post may contain affiliate links, which means I earn a small commission if you purchase something I recommend - at no additional cost to you! Thank you for supporting this blog!
Egg drop soup, or egg flower soup, is a simple and nourishing soup that you can make from ingredients that you already have in your pantry. It's also perfect for the keto diet and can be easily modified to fit your macro needs.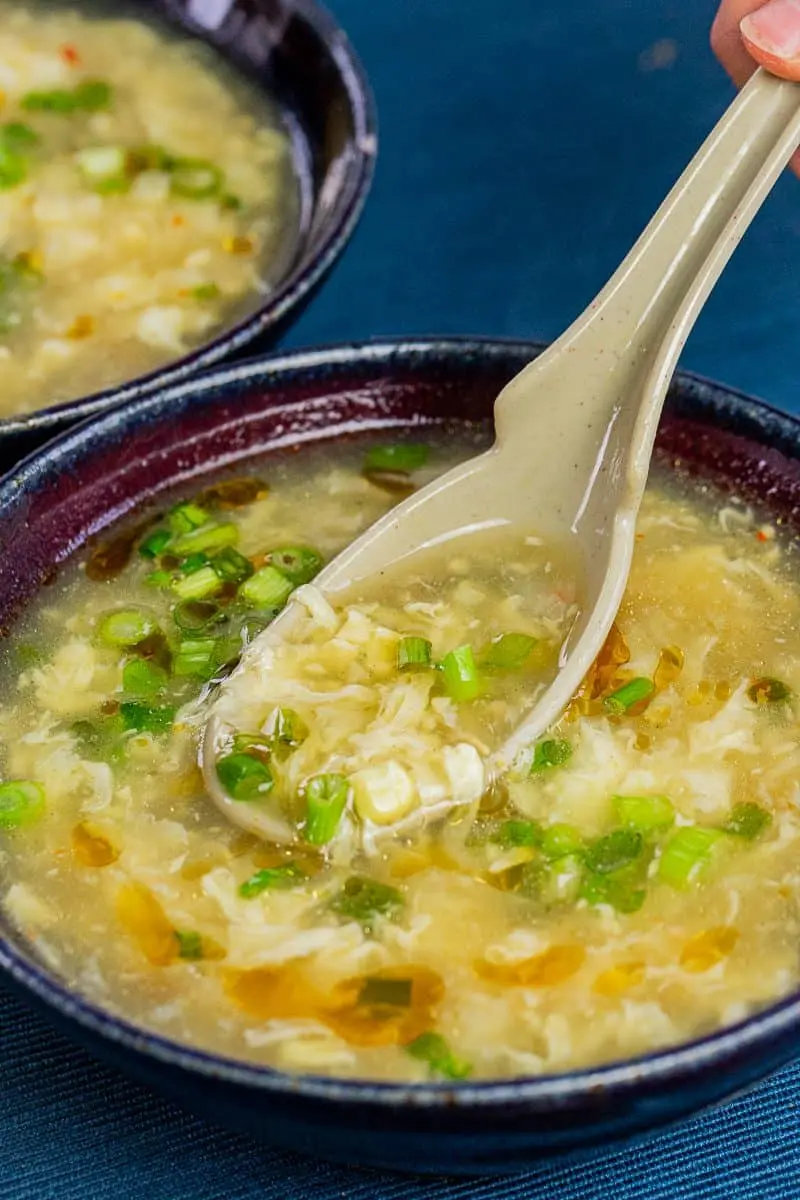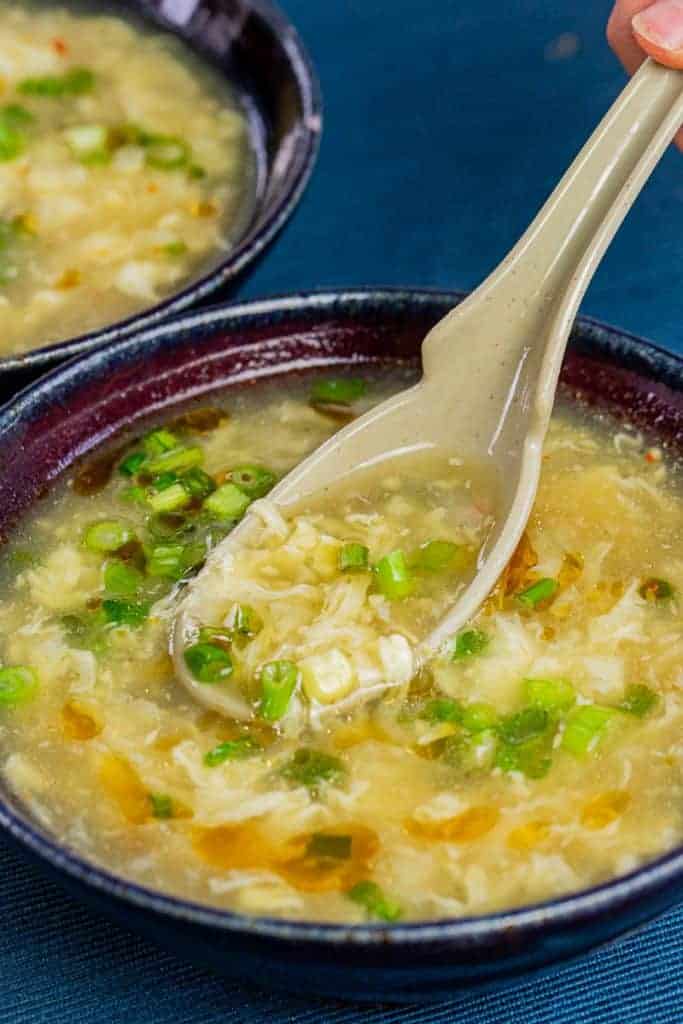 SIMPLE EGG DROP SOUP
Egg drop soup is one of those childhood comfort foods for me. I remember slurping up those silky strands of egg in the smooth, warm broth.
It's a very light, chicken broth based soup often served at Chinese restaurants. It's also commonly referred to as egg flower soup—which I love, because that name reflects how delicate this soup really is!
According to Wikipedia, this soup has a lot of different cultural variations all around the world. I loved learning more about it!
To make this soup, the chef whisks then drizzles eggs into hot broth so they make beautiful strands that make the soup both nourishing and comforting.
It's the same technique used in my Instant Pot Hot and Sour Soup recipe. If you haven't tried it yet, you NEED it!
Once I learned how easy it was to make egg drop soup, I started making it all the time. It's my go-to on cold winter mornings or whenever anyone in my family is sick. I always have all the ingredients, and I don't even use a recipe anymore. But, I've tested it and put together the perfect ratios for you. Please, don't ever use an egg drop soup packet ever again!
ASIAN RECIPES
EGG DROP SOUP INGREDIENTS
Because this egg drop soup recipe is so simple and uses very few ingredients, the quality of each of the ingredients really matters. These are the ingredients for my homemade, restaurant style egg drop soup:
Chicken broth: I use water reconstituted with low sodium, organic Better than Bouillon. I recommend using a low sodium broth.
Soy sauce: I only add a splash, but I only use the Japanese Kikkoman brand.
Fresh grated ginger: I've used powdered ginger in a pinch, but using fresh makes a huge difference. I always keep a knob of fresh ginger in the freezer, then grate off whatever I need for cooking. I highly recommend this! A knob of ginger wrapped in plastic and stored in a plastic bag lasts for months.
Garlic: I always have the minced garlic found in a large tub at Costco or the grocery store in my fridge, so I use that. If you don't have it, garlic powder is okay. Fresh minced garlic also works great. Not a fan of garlic? That's okay, leave it out. But don't leave out the ginger!
Eggs: This is a given, but you'll need a couple of fresh eggs. You can add more or fewer eggs than is written in the recipe to suit your taste. More eggs will make a thicker soup.
White pepper: White pepper is a spicy, peppery ingredient that is prominent in Asian cooking. It's what adds the "hot" in hot and sour soup. If you don't have it, simply substitute black pepper or omit altogether.
Sesame oil: This is the key ingredient in egg drop soup and you should NOT make it if you don't have any! I use the Japanese Kadoya brand because it has the best flavor and quality. You only need a little drizzle, but it makes the entire soup.
Green onions: I love having fresh green onions for my soup, but I've also used freeze dried chives or dried onion flakes in a pinch.
Crushed red pepper flakes: Adds just a touch of flavor and spice. Add as little or as much as you want to your taste!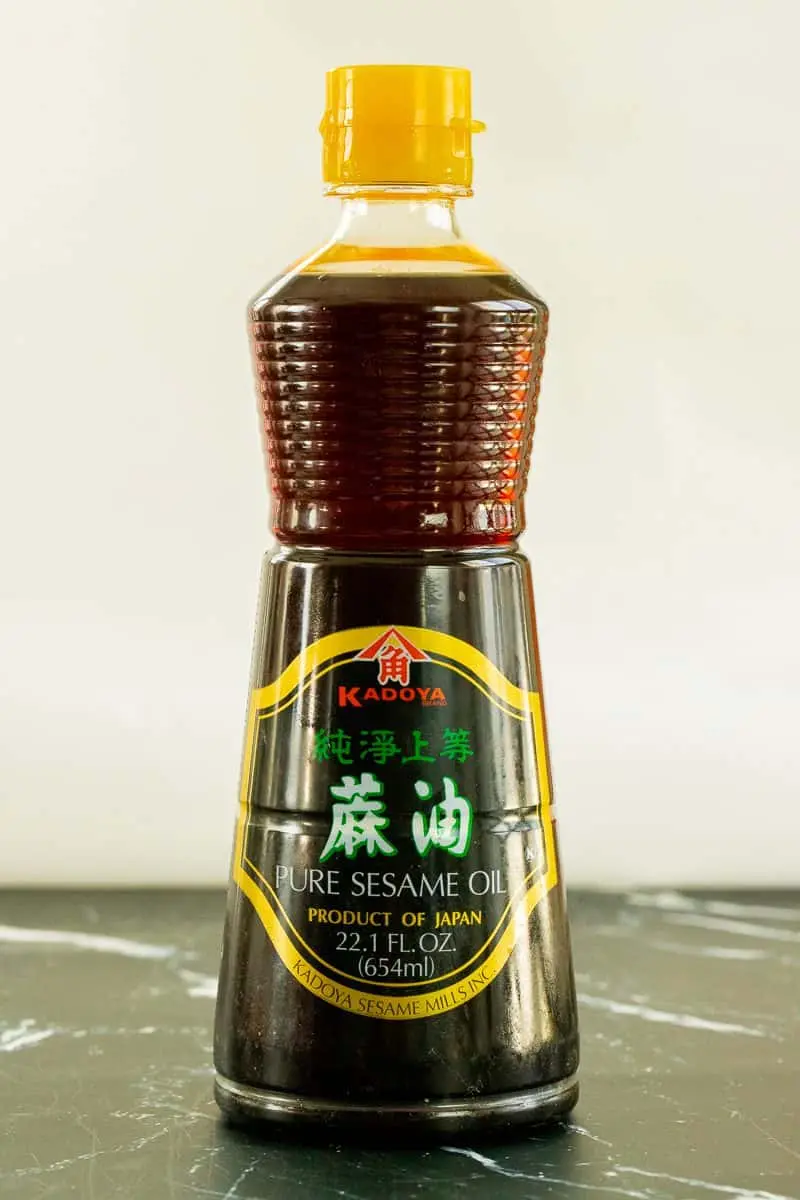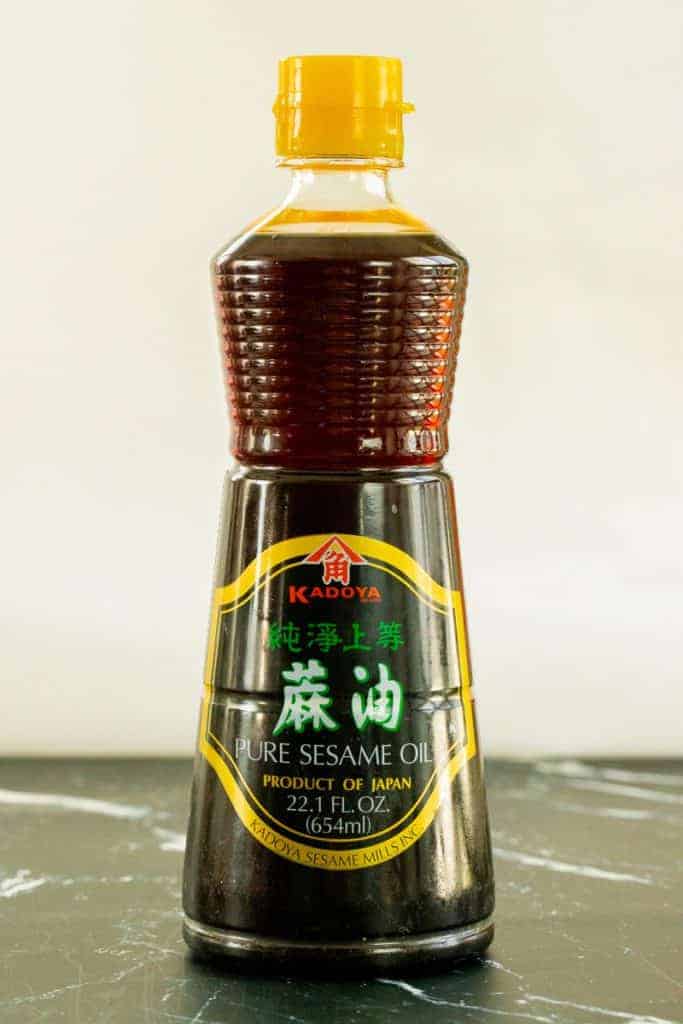 OPTIONAL, BUT DELICIOUS INGREDIENTS:
Cornstarch: My recipe includes cornstarch since most people do prefer the thicker texture. However it isn't 100% necessary if you prefer to leave it out for health or textural reasons. Don't add too much, or you'll end up with a gelatinous mess like you see at a lot of restaurants. You don't want your soup to have the texture of half-set Jello.
Corn: I always throw a little frozen corn in my soup for flavor and texture. It gives the soup some sweet little morsels and it helps bulk the soup up a bit.
Minced chicken: I hardly ever do this, but if you want your soup to have some extra protein, add some minced chicken to the soup while cooking.
I recommend "velveting" the chicken separately with a splash of soy sauce and some cornstarch to soften the chicken before cooking. Mix all the ingredients together, then throw into the soup while boiling (instructions below).
Tofu: Sometimes I'll have silken tofu on hand, so I'll cut it into small, long rectangles or squares and drop them into the soup while boiling. It's another flavor and textural element that we love.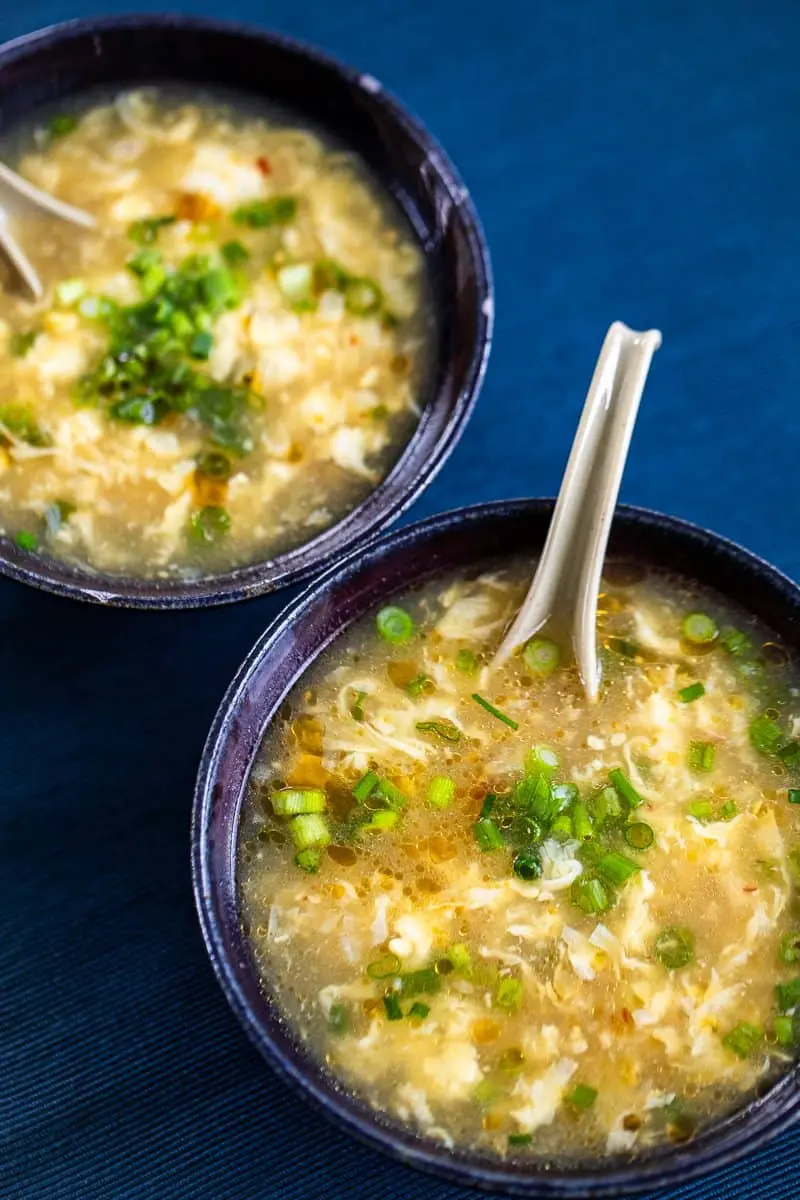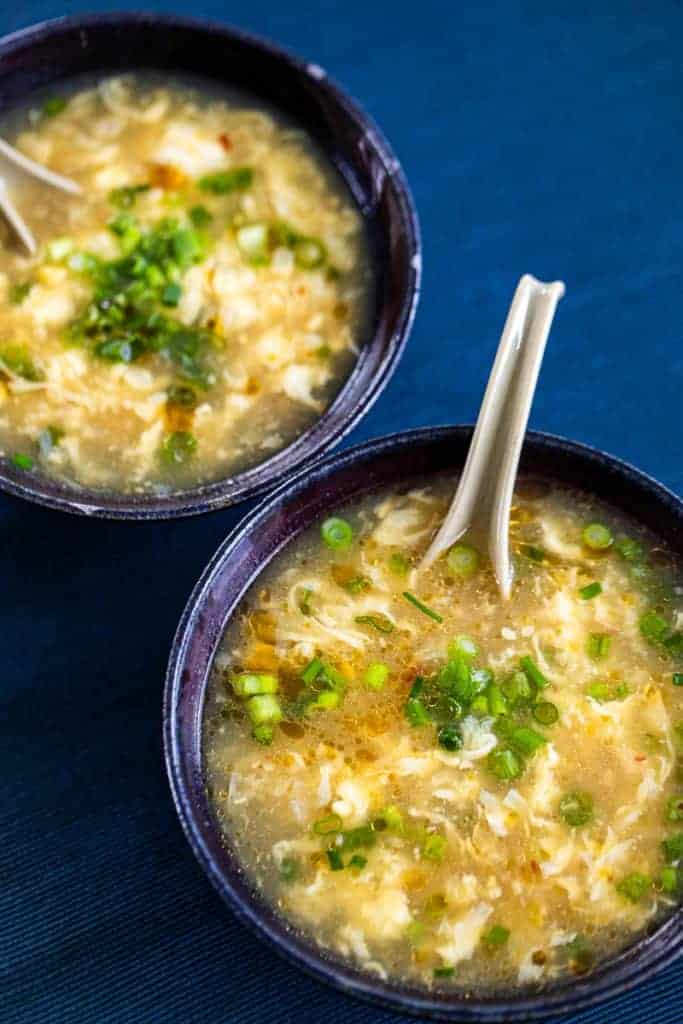 EGG DROP SOUP WITHOUT CORNSTARCH
Adding a cornstarch slurry (3 tablespoons cornstarch mixed with 3 tablespoons cold water) to your egg flower soup will help thicken the soup consistency. I'll add it maybe one out of every 10 times I make this soup because I often just forget.
This recipe is written with cornstarch added because most people like a thicker egg flower soup, but if you prefer not to add cornstarch, just leave it out.
INSTANT POT EGG DROP SOUP
Egg drop soup cooks quite quickly, and you can add the eggs as soon as the soup comes to a boil. Because of this, I don't see any advantage to cooking the soup in the Instant Pot. By the time the soup comes to a boil with a 0 minute cook time, you'll have to wait for the pot to depressurize in order to take it off and add the eggs.
That being said, if you want to make this egg flower soup in the Instant Pot, I recommend adding all the ingredients except the eggs and sesame oil to the pot and bringing it to a boil on the Saute mode (high). Turn off the saute mode right after the soup comes to a boil and then drizzle in the eggs and sesame oil.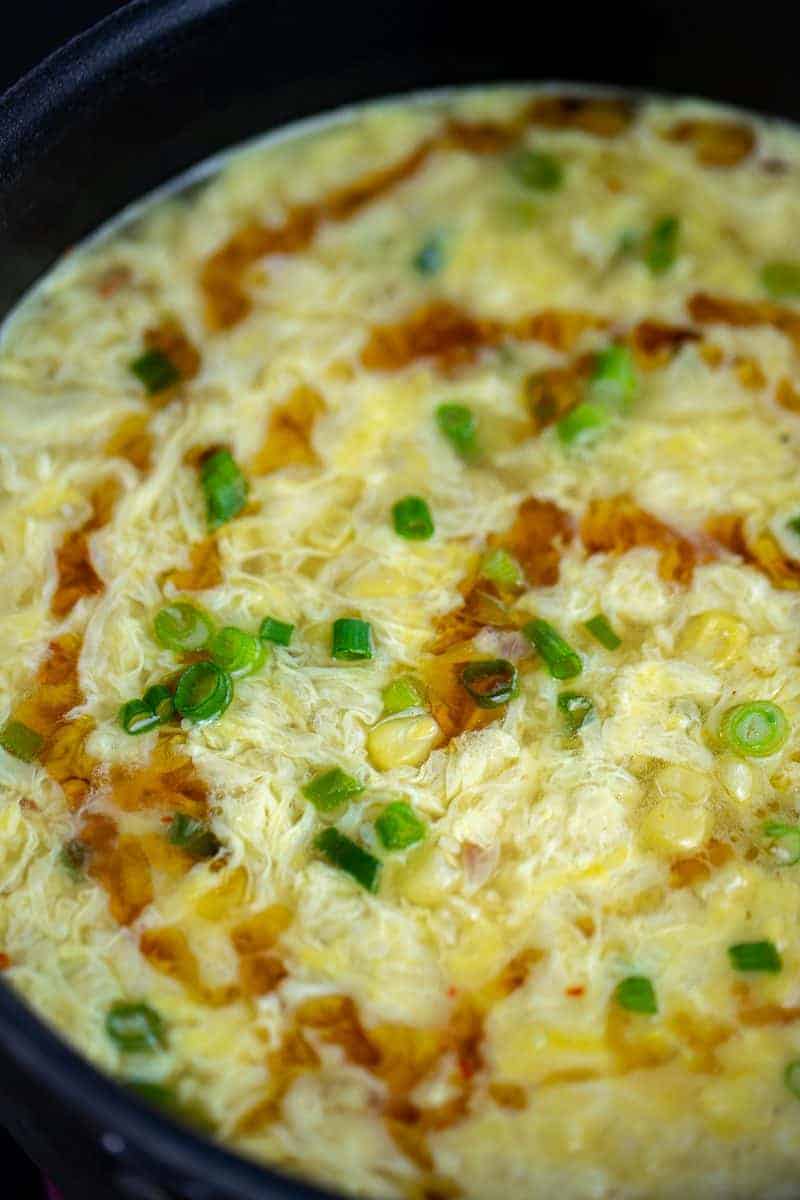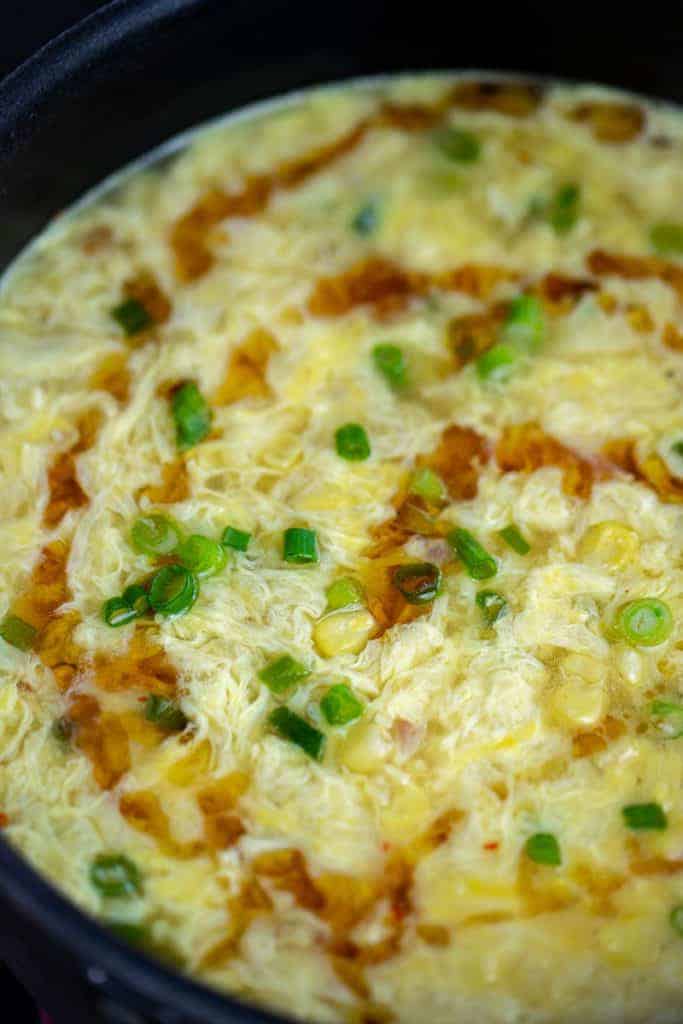 VEGETARIAN EGG DROP SOUP
Although this soup wouldn't really work for vegan modifications (eggs), you can easily make vegetarian egg drop soup by substituting vegetable broth for chicken broth. Do not use minced chicken for vegetarian egg drop soup.
KETO EGG DROP SOUP
This is a great easy keto soup recipe that is naturally low in carbs! As written, the ingredients that contain a lot of carbs are corn starch (7 grams per one tablespoon) and corn (7.9 grams in ¼ cup). To minimize carbohydrates for a keto version, omit the corn. If the thicker texture isn't as important, omit the cornstarch as well.
If you want to add more fat to this recipe, you can add extra sesame oil, or a tablespoon or two of butter.
CHICKEN EGG DROP SOUP
Sometimes, I'll have a little chicken leftover that I can add to this recipe. To add raw chicken to the soup, mince half of a raw chicken breast into very small pieces. Add 1 teaspoon of soy sauce and 1/2 tablespoon cornstarch and mix together very well. Let stand for 5-10 minutes, then stir into the boiling soup.
IS EGG DROP SOUP GOOD FOR DIABETICS?
As I mentioned earlier, egg drop soup has very few carbohydrates. I am not a medical professional and you should not take medical advice from me, so I suggest speaking to a certified nutritionist to see if this recipe works in your diabetic diet.
MORE SOUP RECIPES YOU'LL LOVE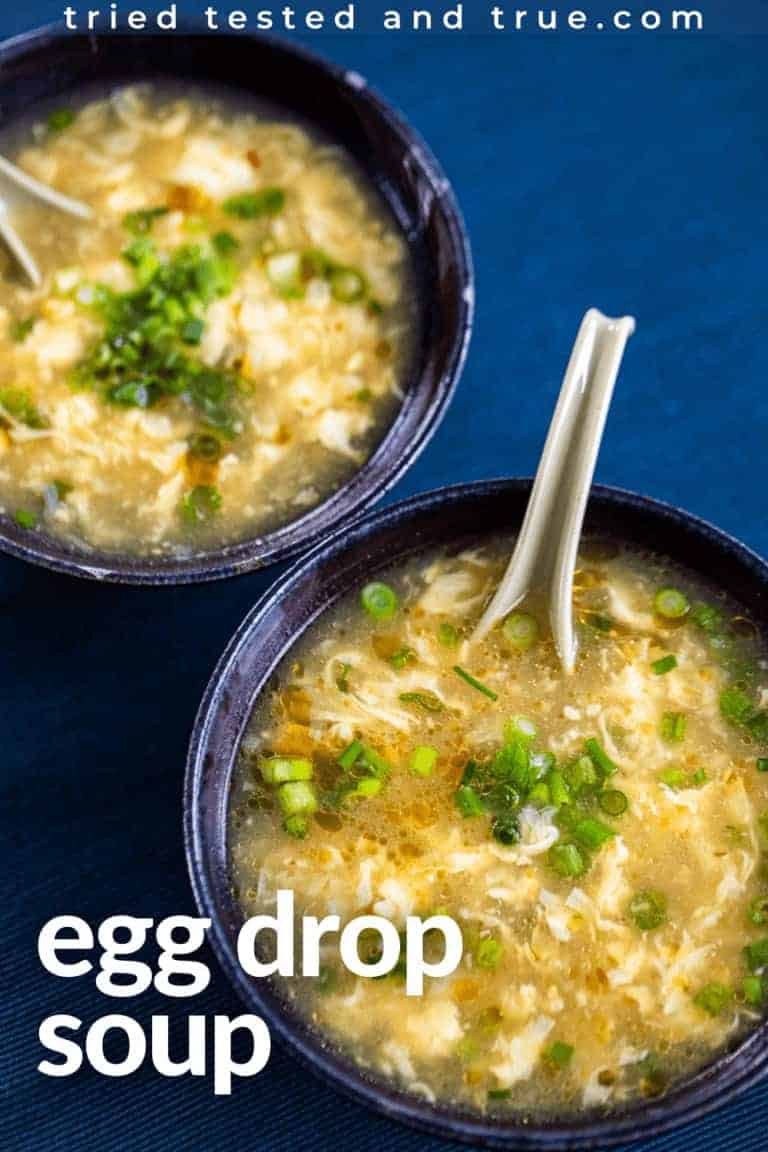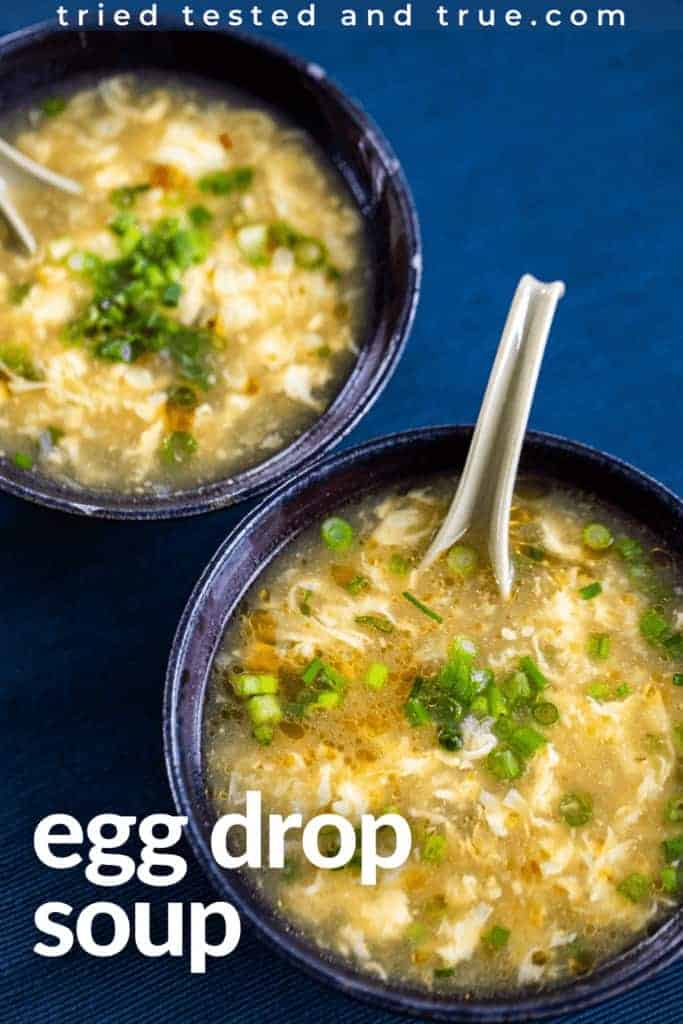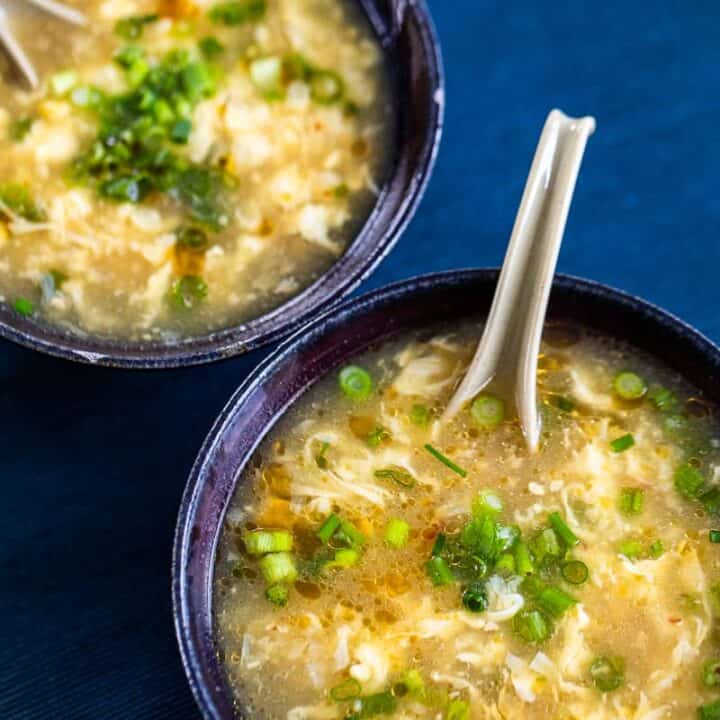 Egg Drop Soup
Egg drop soup, or egg flower soup, is a simple and nourishing soup that you can make from ingredients that you already have in your pantry. It's also perfect for the keto diet and can be easily modified to fit your macro needs.
Print
Pin
Rate
INGREDIENTS
6

cups

low sodium chicken broth

I use 6 cups water with 2 tablespoons low sodium organic chicken flavor Better than Bouillon

2

tablespoons

chopped green onions

plus extra for topping

2

teaspoons

minced garlic

1

teaspoon

grated fresh ginger

1

tablespoon

soy sauce

1/8

teaspoon

white pepper

1/8

teaspoon

crushed red pepper flakes

optional, for heat

1

cup

sweet corn

I prefer frozen to canned

3

tablespoons

cold water

3

tablespoons

cornstarch

4

eggs

1

tablespoon

sesame oil
INSTRUCTIONS
In a medium pot over medium high heat, add chicken broth, green onions, garlic, ginger, soy sauce, white pepper, crushed red pepper flakes, and corn.

In a small bowl, whisk together cold water and cornstarch.

In a separate small liquid measuring cup or small bowl, crack eggs and whisk completely.

When the soup comes to a boil, stir in the cornstarch slurry and whisk until thickened, about 2 minutes. Turn off the heat, then slowly drizzle a thin stream of the beaten eggs in a circular motion. Do not stir! Stirring will make the soup cloudy. Wait about 1 minute for the eggs to finish cooking, then drizzle in the sesame oil. Serve immediately with additional green onions, if desired.
NOTES
The cornstarch slurry may be omitted if you prefer to make the soup without it. The texture of the soup will be thinner and brothier. If you prefer it to be thicker than written, add 1-2 more tablespoons of cornstarch mixed with equal parts cold water in addition to the 3 in the recipe.
NUTRITION
Serving:
1
g
|
Calories:
149
kcal
|
Carbohydrates:
13
g
|
Protein:
10
g
|
Fat:
7
g
|
Saturated Fat:
2
g
|
Polyunsaturated Fat:
5
g
|
Cholesterol:
124
mg
|
Sodium:
267
mg
|
Fiber:
1
g
|
Sugar:
2
g
---
---

This is so easy! and our go to for Egg Drop …. Yummy … Thanks!

this is extremely easy and deeelicious! wontons added to the first stage add a bit more umph; the corn starch slurry…a go to comfort food, it's a warm hug any time of day. Thank you for sharing!!

I wanted some good clear noodle soup, I found your recipe for egg drop soup added the noodles, Taiwan cabbage, and green peas.. I promise it was sooo tasty your right the sesame oil is a must!!