*This post may contain affiliate links. This means as an Amazon Associate and affiliate for other products, I earn from qualifying purchases at no extra cost to you.
Instant Pot Chicken Noodle soup with Homemade noodles is going to be your new go-to recipe. It is creamy, thick, and chock full of veggies and homemade noodles. Instant Pot and Stove top instructions included!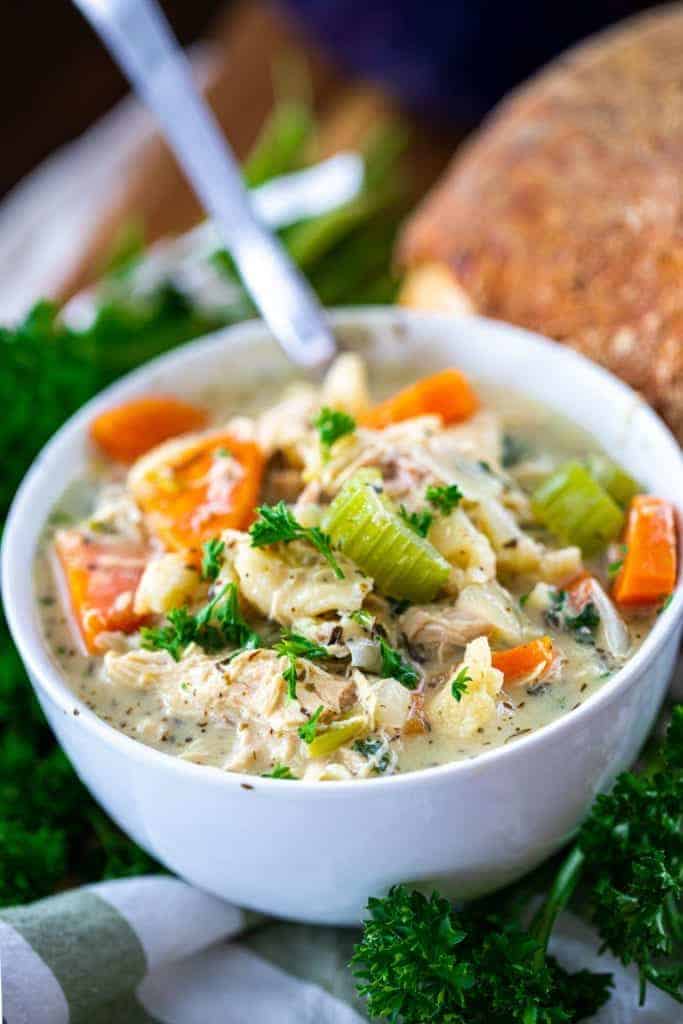 Going to a church soup potluck reminded me that EVERYONE has their own style of Chicken Noodle Soup. Some add potatoes, peas, wheat noodles, peeled or unpeeled carrots, etc.
Some add lots of herbs, some add a can of cream of something soup, some add lots of noodles, some add pasta noodles. Everyone has their recipe, and I love the variety!
Well, this is MY recipe… and uh… not to brag or anything, but it's THE BEST.
You can watch me make it step by step on my Instagram Stories, where I also have a story on making Bone Broth! You can also make this recipe one handed if you're a mama like me (see THIS post!)
What People Are Saying about my Instant Pot Chicken Noodle Soup Recipe
This quickly became a fam fav for my husband and I and our 1.5 year old. I've probably made it 4x now and it seems like it gets better and better!

We had this for dinner tonight! SO GOOOOOOD! My husband is not a soup lover but he DEVOURED this! Can't wait to share the leftovers!

I made this tonight, and WHOA. Seriously delicious. Even my picky kiddos ate it! Also used your frozen veggie hack to cool it down. I threw some frozen corn in my bowl too- WHOA! So good, thanks, lady!

Tried this last night in my first Instant Pot (recipe). I thought I was going to poop myself the whole time but no one died and it turned out amazing! Didn't do the homemade pasta but next time I will! Thanks so much!

This was AMAZING. I made it tonight, noodles and all! This was my first time ever making noodles and your directions and video were perfect! Thank you!

It really is the best! I have yet to find a person who tries it and doesn't ask for the recipe. Thank you!!

With my husband sick with the flu and daughter with strep throat I just used this product (BTB) on your recommendation and wow did it flavor my soup well!!!

Oh my goodness! I made your chicken noodle soup tonight and it was life changing!

My favorite recipe of yours, I watch this story all the time!

This recipe is worth $1800 alone!! (talking about how much money I made last year)

I have to say, I made your soup tonight- even made the trek to the grocery store for the BTB and it was SO worth it!

– People who have tried this AMAZING recipe!
How to Make Chicken Noodle Soup in Instant Pot
When I used to make this on the stove, it used to take hours. So when I was thinking about how to make chicken noodle soup in my instant pot, I made a couple of adjustments.
First, I saute the veggies and garlic in a bit of butter or oil. Then, add the frozen chicken (or fresh/rotisserie), broth, herbs, and BTB. I'll cook my chicken noodle soup in the Instant Pot for 3-10 minutes depending on the thickness of the chicken! It really couldn't be simpler!
I make the homemade egg noodles while the soup is cooking and add them after pressure cooking. If I cook with whole chicken breasts, I just need to cut or shred them and add them back into the soup.
I finish it off my Instant Pot chicken noodle soup with a generous glug of heavy cream. AH SO GOOD.
how long to cook chicken noodle soup in instant pot
The amount of time it takes to cook Instant Pot chicken noodle soup depends on how thick your chicken is. If you have thinly cut vegetables and cubed chicken, I only do a 3 minute cook time.
If I have a large chicken breast or 2 (or 3), I will cook for 10 minutes to ensure the chicken is fully cooked. Just keep in mind that the longer you cook the soup, the softer the vegetables will become.
How to Make Chicken Noodle Soup with egg noodles
My recipe has these incredibly easy, homemade egg noodles. You can definitely use dried noodles, but just promise me you'll make these at least once sometime, okay? 🙂
The ingredients are super simple- just flour, eggs, water, white pepper, and baking powder.
The trick to the noodles is to flour generously and let them rest between stages. Mix up the initial dough, REST. Roll out once, REST. Roll out again, REST. Enjoy the most satisfying bowl of soup ever, REST.
When you're ready to roll them out, you need to dust with a little flour with every step- rolling, flipping, cutting, tossing. The noodles expand while they cook, so you'll need to keep that in mind when you're choosing how big to cut them!
I add the noodles to the soup after pressure cooking on the saute feature. They take only a couple of minutes to cook up. You'll know they're done when they float to the top! Make sure you taste one to make sure it's done!
instant pot chicken noodle soup with frozen egg noodles
If you prefer to use frozen egg noodles for your chicken noodle soup in the Instant Pot, all you need to do is add them (frozen) to the boiling broth when you would normally add the fresh noodles to my recipe.
instant pot chicken soup with egg noodles
If you'd like to add dried noodles or dried egg noodles to your Instant Pot chicken noodle soup, I would boil them on the stove in water as instructed on the package first. Then, add them to the finished soup
I recommend this vs. cooking your dried egg noodles or pasta noodles in the Instant Pot because boiling the soup for 8-10 minutes after it has finished pressure cooking may make the vegetables soggy.
You can experiment by adding the raw, dry noodles to the soup before pressure cooking, but I only recommend this if your cook time is 2-3 minutes.
My Secret Ingredients for Instant Pot Chicken Noodle Soup
This one of my favorite soups to make in my Instant Pot. What used to take 2 hours on the stove, now takes less than an hour start to finish with FROZEN CHICKEN. 5-10 minute cook time!
So what makes this THE BEST Instant Pot chicken noodle soup you'll ever make? Aside from the homemade noodles, it's these three ingredients for the broth:
Fresh Parsley: It's just got this certain almost minty flavor that is to die for.
Tarragon: You can get this one dried, but it just has a deep, robust, distinct flavor that isn't something you taste every day.
Better than Bouillon: BtB is my secret weapon to make every broth, sauce, and soup taste savory, thick, and flavorful. It is a paste that you add into your liquid to make chicken broth and to intensify flavor. I like getting the reduced sodium and organic kind at Costco.
Now that I've spilled the beans on my secret ingredients to make this the best soup you'll ever make, go ahead and try it already!
Instant Pot Soups
How to Make Chicken Noodle Soup on the Stove
To a large pot, saute onion in a little oil
Add the frozen chicken, water, Better than Bouillon, and half the spices. Let simmer for 20-30 minutes, until the chicken is cooked
Make noodles while the broth is simmering
Remove chicken and shred or dice
Skim off any impurities, then add the rest of the veggies and chicken back in
Simmer for 10-15 minutes, or until the vegetables are tender
Add additional seasonings, more Better than Bouillon, and taste, taste, taste!
Bring the soup to a boil and add noodles. Boil for 3-4 minutes or until the noodles float to the top and are tender
TIP: Use the "bone broth" made from my Chicken Drumstick recipe to make this recipe. The flavor of the broth will be lovely and robust!
My Favorite Tip for Kids
Here's a quick tip I like to do for my kids when I serve hot soup. Add their portions to their bowls, then add some frozen vegetables. I like corn and peas.
Mix this all together, and let it sit for just a couple minutes. Mix again, and it'll be perfect for kids! The hot soup warms up the frozen veggies, and the frozen veggies cool down the soup.
About Lisa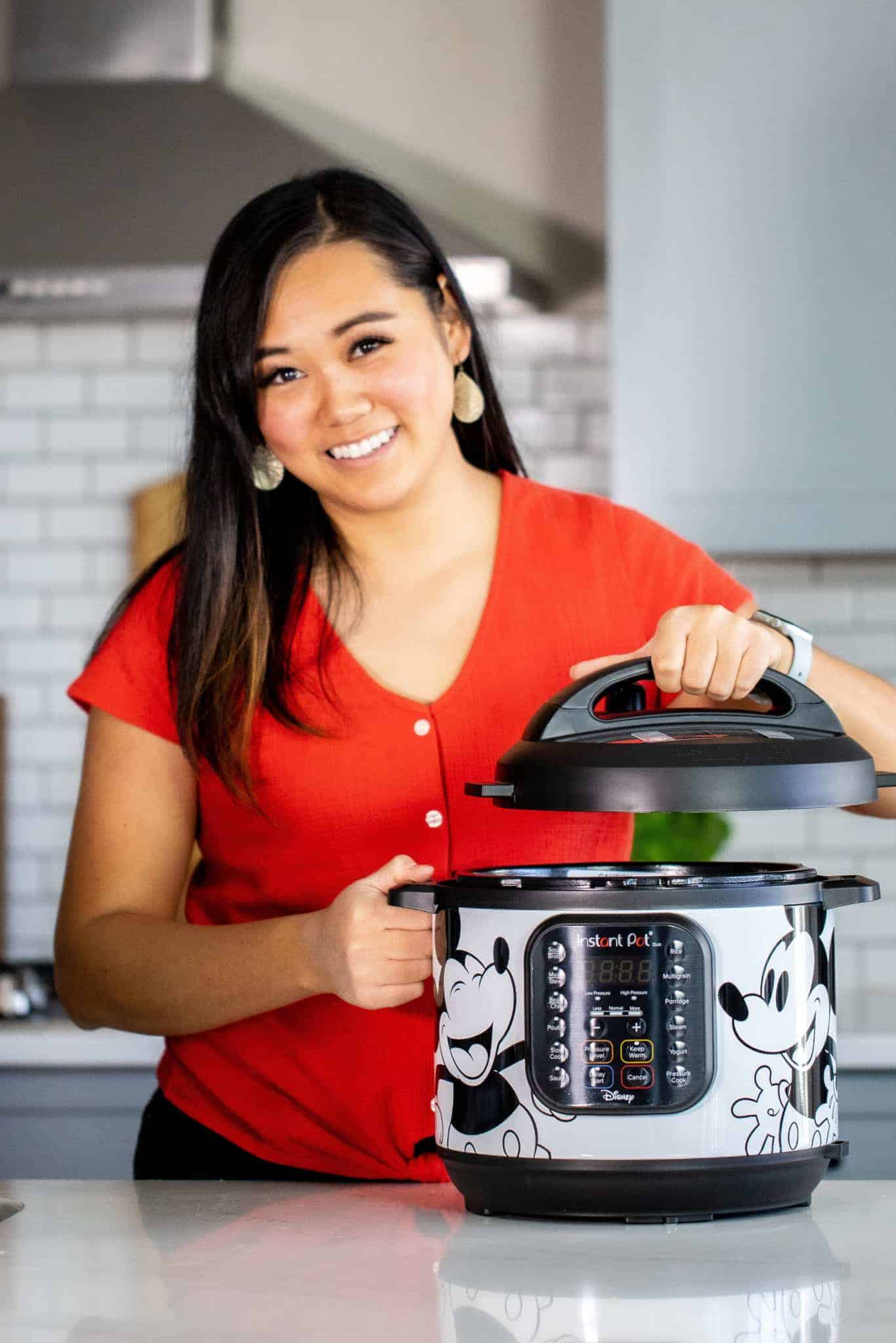 Lisa Childs is the food blogger behind Tried, Tested, and True. Join the hundreds of thousands of people each month that learn from Lisa-
Subscribe to her website, follow her on Instagram at @tried_tested_true, follow her on Pinterest, and find her on Youtube at Tried Tested and True. She is passionate about giving home cooks confidence using their Instant Pots. Make sure to sign up for our email newsletter to hear from personally from her weekly! Learn more about Lisa.
DON'T FORGET TO PIN THIS POST!
The Best Instant Pot Creamy Chicken Noodle Soup with Homemade Egg Noodles
Total Time:
1 hour
10 minutes
This quick, made-from-scratch recipe will be the best chicken noodle soup you've ever enjoyed. What makes it even better is the homemade egg noodles. The Instant Pot does all the work for you!
Ingredients
Chicken Noodle Soup
1 T. Olive Oil, Coconut Oil, or Butter
1 large Onion, diced
1 Tablespoon Minced Garlic
1 Bag mini carrots (or 3 cups chopped)
1 Bunch Celery, diced ( About 5 cups) keep the leafy tops and middle part and chop them up as well)
2-3 Fresh or Frozen Chicken Breasts (about 3 cups of chicken breast pieces)
1/2 Cup Fresh Curly Parsley, chopped
6 cups chicken broth* (I use water with Better than Bouillon)
1/4 cup Better than Bouillon (I use Organic reduced sodium Chicken)
1.5 Tablespoons Basil
2 Tablespoons Oregano
2 Tablespoons Tarragon
1 Bay leaf
1 Cup Heavy Cream
Homemade Egg Noodles
2 cups Flour
1/2 t. Baking powder
1/4 t. White Pepper or Salt
2 Eggs
1/2 cup Water
Additional flour as necessary, usually about 1/2-1 cup total
Instructions
Press the Saute button on the Instant Pot and adjust to High.
When the pot reads HOT, add a tablespoon of oil/butter. Add the onion sauté until slightly translucent. Add garlic, carrots, and celery. Mix and Sauté the veggies for just a couple minutes.
Add the chicken, and chicken broth, and 3/4 of the fresh parsley.
In a small bowl, mix together the basil, oregano, and tarragon. Sprinkle half of the herb mixture into the Instant Pot, along with the bay leaf. Reserve the other half.
Press the CANCEL/OFF button. Place the lid on the Instant Pot, turn the knob to SEALING, and cook on high pressure for 3 minutes if your chicken is fresh and cut into bite-sized pieces, and 10 minutes if your chicken is a whole breast (fresh or frozen, the time is the same).
Make your noodles while the soup is cooking.
When the soup has finished pressure cooking (the display will read L0:00), carefully release the pressure in short bursts by rocking the sealing knob from from the sealing to venting position multiple times. The pressure takes about 5 minutes to release.
Remove the lid and set the pot to high saute again.
If your chicken breasts were whole, take the chicken out onto a cutting board and cut into chunks or shred (your preference), and return to the pot.
Add the remaining herb mixture, Better than Bouillon, and the remaining fresh parsley.
Toss the noodles with additional flour and to loosen them up before adding to the soup.
When the soup comes back up to a boil, sprinkle in the noodles. Cook until the noodles are plump and float to the top, about 3 minutes. If you're using dry noodles, cook them separately and add them at this point. If you're using fresh/frozen egg noodles, add them directly to the soup to boil.
Turn off the Instant Pot and stir in heavy cream right before serving and enjoy!

Homemade Egg Noodles
In a large bowl, whisk together flour, baking powder, and white pepper or salt. Make a well in the center of the flour, and add eggs and water.
Mix all ingredients to make a soft dough. The dough should stick to your fingers a little, but not be like a batter. When the mixture gets too difficult to stir with a spatula, use your hands to work the dough together and lightly knead into a ball.
Cover with plastic wrap or a clean tea towel and let the dough rest for 5-10 minutes.
Roll out on a floured surface to 1/8 an inch. Dust liberally with flour as needed on both sides.
Cover and let rest for 5 minutes.
Lightly flour again and flip the dough over and roll out further.
Cut the noodles into long rectangular sheets using a sharp knife or pasta machine, using flour to keep them from sticking.
Cut the noodles into thin strips, 1/4 of an inch thick. Toss the noodles with more flour in a bowl and keep covered in the fridge or freezer until ready to cook. Keep in mind they will expand as they cook.

Notes
*If you choose to omit the heavy cream to keep this soup dairy free, use 7 cups of chicken broth.
We like lots of noodles, so this recipe makes enough to give everyone a generous portion. If you don't want to use all noodles, just freeze them in a Ziploc bag with more flour to use next time. You can just throw them in the soup frozen!
Here's a quick tip I like to do for my kids when I serve hot soup. Add their portions to their bowls, then add some frozen vegetables. I like corn and peas. Mix this all together, and let it sit for just a couple minutes. Mix again, and it'll be perfect for kids! The hot soup warms up the frozen veggies, and the frozen veggies cool down the soup.
Recommended Products
As an Amazon Associate and member of other affiliate programs, I earn from qualifying purchases.
Nutrition Information:
Yield:

6
Serving Size:

1 grams
Amount Per Serving:
Calories:

200
Total Fat:

15g
Saturated Fat:

8g
Trans Fat:

0g
Unsaturated Fat:

6g
Cholesterol:

46mg
Sodium:

1945mg
Carbohydrates:

6g
Fiber:

1g
Sugar:

3g
Protein:

10g