The Ultimate Cream of Coconut Guide
---
This post may contain affiliate links, which means I earn a small commission if you purchase something I recommend - at no additional cost to you! Thank you for supporting this blog!
Cream of Coconut is sweet, luxurious, and loaded with coconut flavor. Not to be confused with coconut cream, or coconut milk, this guide will share everything you need to know about the ingredient Cream of Coconut.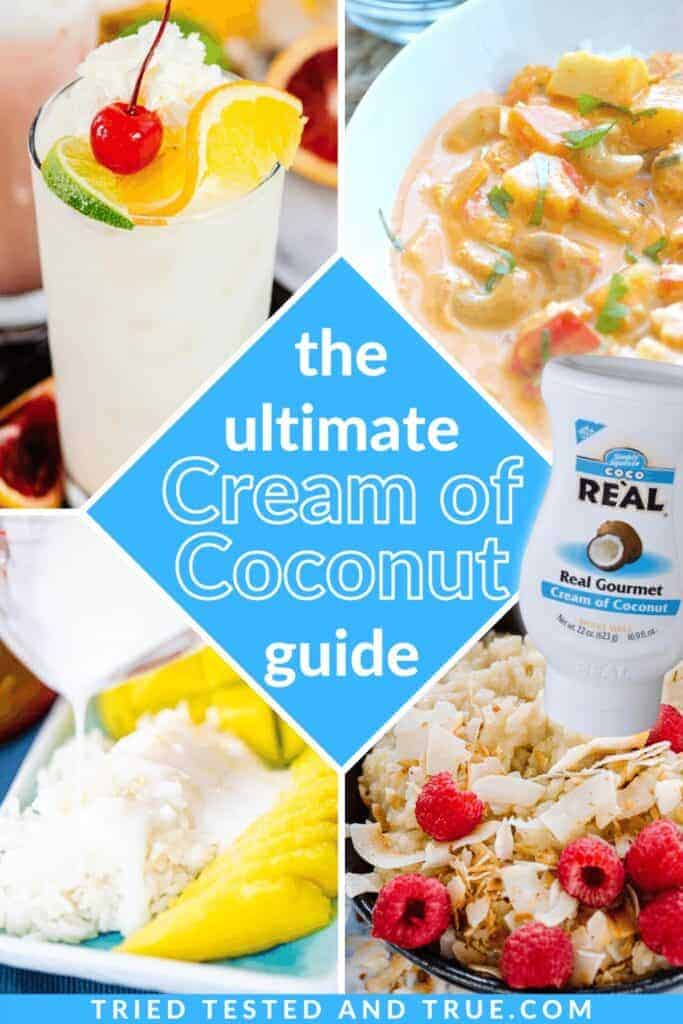 The Ultimate Cream of Coconut Guide
We decided to write this ultimate Cream of Coconut guide because we always get so many questions about this amazing ingredient! What is it, is it the same as coconut cream or coconut milk, and what can I use it for?
All of those questions and more will be addressed in this post.
WHAT IS CREAM OF COCONUT?
Cream of coconut is a sweet, thick, syrupy liquid. It's typically used in mixed drinks like pina coladas or smoothies. It is not the same thing as coconut cream or coconut milk.
Cream of coconut is pureed, concentrated coconut that's been sweetened—kind of like sweetened condensed milk is just condensed, sweetened milk.
You can use Cream of coconut straight out of the bottle or can and it does not need to be cooked to be consumed. You can mix it into foods and drinks, or use it as an ingredient or sweetener. I like to use it in marinades and in curries.
Coco Lopez has a couple different recipes on their website as well.
IS CREAM OF COCONUT THE SAME AS COCONUT MILK?
No: Cream of coconut is NOT the same as coconut milk! Nor is it the same as coconut cream.
Coconut milk, coconut cream, cream of coconut—the names of these three foods are confusingly similar, so let's break down the three:
Coconut milk is made in a similar manner as almond or oat milk: coconut flesh is blended with water, then strained. The resulting liquid is coconut milk. Coconut milk is milky and slightly thicker than cow's milk. It can be purchased canned, or in a refrigerated carton. The refrigerated variety often as thickeners and sweeteners added, just like almond milk.
Coconut cream is specifically the part of the coconut milk with the highest fat content; just like cream rises to the top of a bottle of whole milk, coconut cream rises to the top of a can of coconut milk. You can separate the coconut cream from whole-fat coconut milk, or you can simply buy a can of pure coconut cream. Coconut cream has the texture of softened vegetable shortening. It can be whipped into dairy free whipped cream, or used to add a creamy texture to soups. A lot of people have told me they've used a little coconut cream in my Zuppa Toscana recipe.
Cream of coconut is condensed and sweetened coconut puree. It's thick, smooth, syrupy, and decadent. While it's usually intended for sweet things, if you're careful, it can be a fantastic addition to a curry or other sweet-savory plate!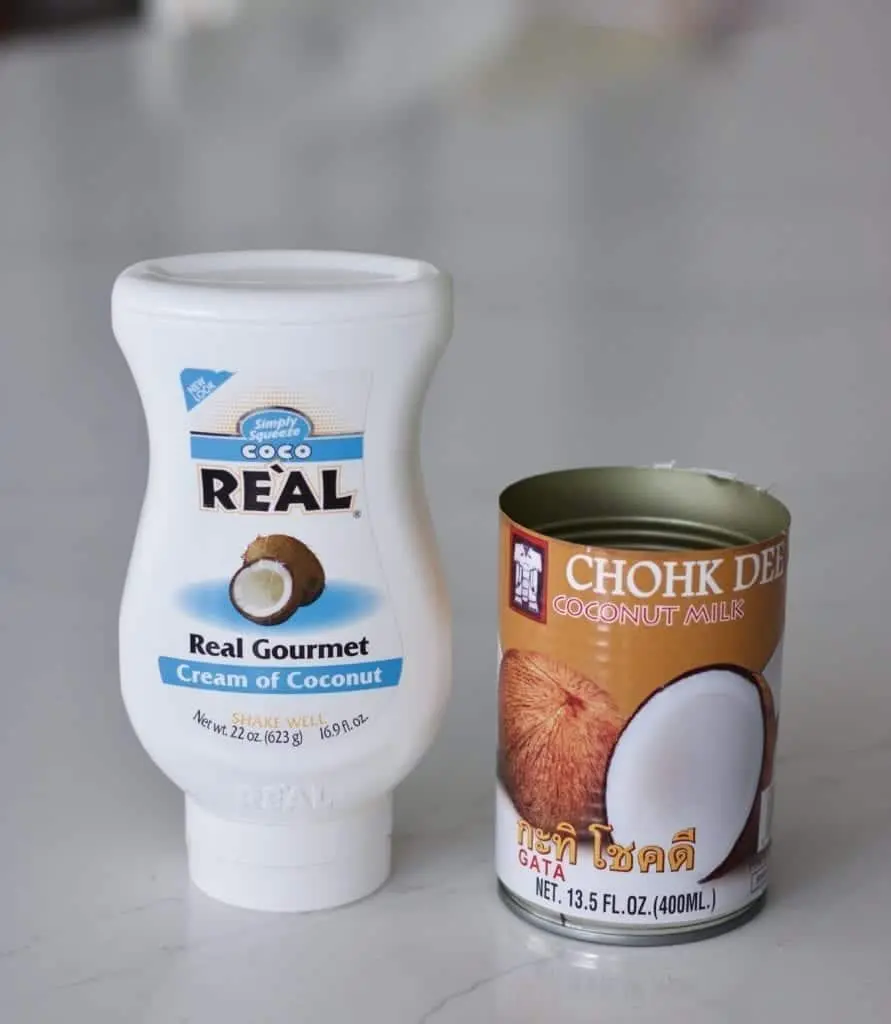 IS CREAM OF COCONUT DAIRY-FREE?
Cream of coconut IS DAIRY-FREE. There is some confusion and misleading information on the internet, but I did my research and talked directly to a leading cream of coconut producer (Simply Squeeze Coco Real) three times to confirm that cream of coconut DOES NOT contain dairy.
Of course, it's always wise to check each individual brand's ingredients to ensure your specific container of cream of coconut is dairy-free.
If you think about it from a technical perspective, it makes sense that cream of coconut is dairy-free. Because the base ingredient is just coconut, no actual dairy "cream" is ever added. Rather, the "cream" part is coconut meat that's been mashed to a yummy, fatty, creamy texture!
Since we don't include the nutritional information from every manufacturer of Cream of coconut, please check your packaging for specifics if you need something dairy free.
CREAM OF COCONUT VERSUS COCONUT CREAM
We broke down the differences between cream of coconut and coconut cream above, but this section will explain the difference between the two in a bit more detail.
A foolproof way to tell between the two is to look for sugar in the ingredients: Cream of coconut has sugar, and coconut cream does not have sugar. Here's a simplified list of the ingredients of each:
Cream of coconut: coconut, sugar, and usually a few preservatives and a thickener such as xanthan gum.
Coconut cream: coconut, water, and sometimes a thickener (like guar gum)
As these ingredients reflect, the key difference between Cream of coconut and coconut cream is the sweetness level: coconut cream has no sugar and is not sweet.
There's also a distinct texture difference between the two. Cream of coconut tends to have a looser, syrupy consistency, while coconut cream is more reminiscent of a softened vegetable shortening or butter.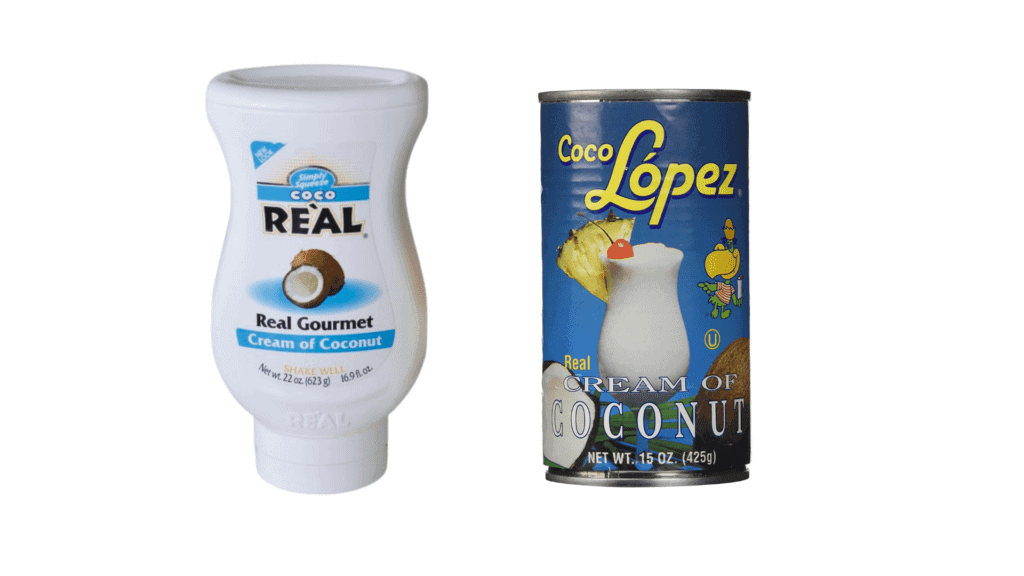 DOES CREAM OF COCONUT NEED TO BE REFRIGERATED?
Cream of coconut is shelf-stable when unopened, but it should be stored in the refrigerator after opening. You will need to shake or stir it before using since it usually separates a little bit during refrigeration.
WHAT CAN I SUBSTITUTE FOR CREAM OF COCONUT?
What you can substitute for cream of coconut depends on the type of recipe you're following. Recipes that rely on cream of coconut's viscosity and sweetness should try to stick with the original product.
Conversely, recipes that are simply benefitting from the flavor of coconut can use substitutes such as coconut syrup, coconut milk, coconut emulsion or extract, or coconut cream.
Depending on what type of recipe you're using it for, you could also substitute a coconut syrup like the ones used in flavored sodas and coffees.
WHERE DO I FIND CREAM OF COCONUT?
Cream of coconut does not contain dairy or alcohol. However, you will find this ingredient at the liquor store or in the liquor aisle at your grocery store! At the time of this writing, a can or squeeze bottle of cream of coconut costs between $3–5 in the US.
Simply Squeeze Coco Real has a location finder if you'd like to find that product near you.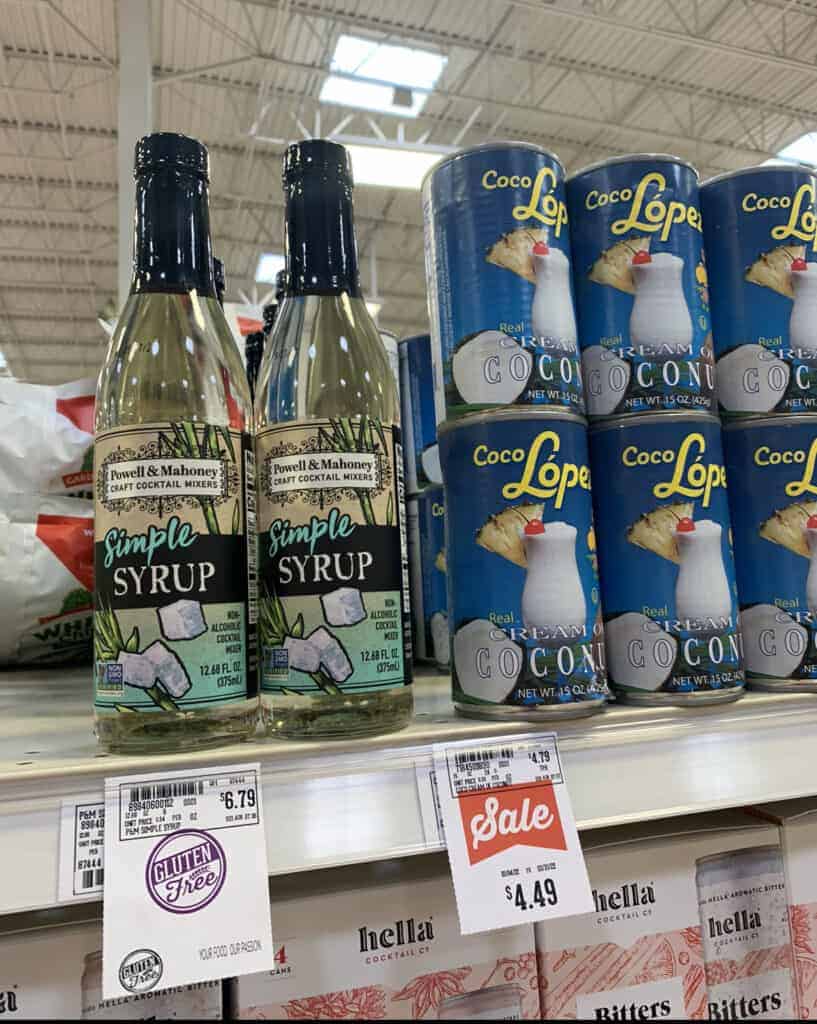 You can also easily order cream of coconut online or make it yourself using coconut cream or milk, sugar, and a thickener like corn starch. Some people like to add a small pinch of salt and/or coconut powder to intensify the flavor, but I have not tried these methods.
To make, combine the ingredients by simmering on low heat until the mixture reaches a syrup-y consistency. Serve and enjoy! You can keep this syrup in an airtight jar in the fridge for several weeks.
HOW LONG DOES CREAM OF COCONUT LAST?
When I purchase Cream of coconut in a squeeze bottle (Coco Real), I keep it in the fridge and use it as needed. I've kept it in the fridge for 3-6 months with no issues. Since there's no dairy and a lot of sugar, it does not mold or go bad quickly. If you have Cream of coconut from a can, transfer it into an airtight container with a tight-fitting lid, and store it in the fridge for months. I usually like to use a glass mason jar.
INGREDIENTS IN CREAM OF COCONUT
While homemade cream of coconut does have fewer preservatives, sometimes it's just more convenient to grab a bottle from the grocery store and stick it in the fridge to have on hand.
If you're looking for cream of coconut, the first two ingredients should always be coconut and sugar. Remember: if you don't see sugar as an ingredient, then what you're looking at isn't cream of coconut!
Coco Real:
Coco Lopez:
WHAT CREAM OF COCONUT TO BUY
The top brands for cream of coconut are Coco Lopez and Coco Real (I usually order Coco Lopez from Amazon). You may also find other brands (like GOYA) which likely work just as well. You'll be able to find more variety if you go to an Asian grocery store.
10 DECADENT CREAM OF COCONUT RECIPES
Cream of coconut is something that I love to keep on hand because it's just so versatile. Whether you're whipping up a cocktail, adding some decadence to your curry, or boosting the flavor of your favorite tropical dessert, cream of coconut is your best friend.
I noticed that it can be hard to find recipes that use cream of coconut, so I compiled this list that features 10 amazing recipes using cream of coconut. Try them out and let me know how else you use cream of coconut!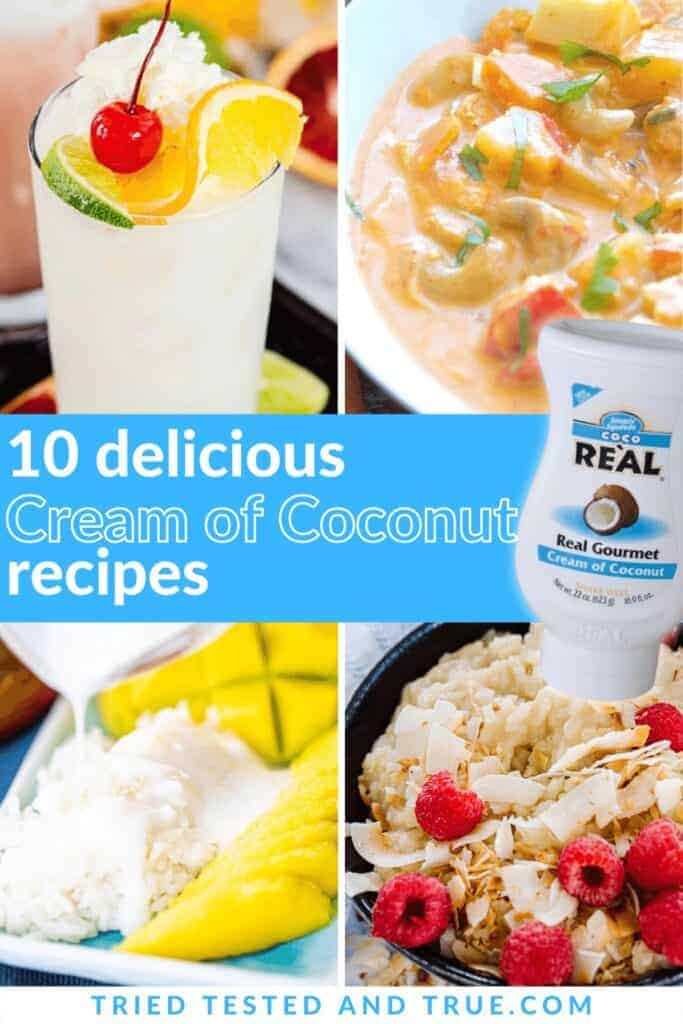 Instant Pot Oatmeal, 5 Ways!
Instant Pot Oatmeal is the easiest, no-fuss breakfast, and it's one of my favorite ways to use leftover cream of coconut.
Thanks to the Instant Pot, there's no babysitting a pot on the stove or in the microwave, hoping it won't boil over! I love customizing this basic recipe to suit everyone's favorite tastes while keeping them healthy. There's something for everyone with my 5 simple variations using regular pantry staples.
Instant Pot Pineapple Chicken Curry
Brett said this Instant Pot Pineapple Chicken Curry with coconut is one of the best things I have EVER made. EVER! So now, this Instant Pot curry recipe is going to be my new curry staple. It's sweet, spicy, dairy-free, and extremely satisfying.
Blood Orange Coconut Cream Soda
This Cheesecake Factory Blood Orange Coconut Cream Soda dupe is a sweet, coconut-y crowd pleaser. Orange and lime work together to bring a tropical breeze right to your table—whether it's January or July.
Simple Coconut Orange Soda
Simple Coconut Orange Cream Soda is the ideal spring or summer drink to perk up any occasion! It's easy and perfect for a baby shower, bridal shower, end-of-summer party, dinner drink, or just a midday refreshment.
Dairy-free Coconut Rice Pudding (Instant Pot)
Dairy-free Coconut Rice Pudding is perfectly sweet, creamy, and satisfying. And now… even better in the Instant Pot! I've been getting more and more requests for yummy dairy-free Instant Pot desserts, so I'm glad I can deliver! This is just as good as the original, with a fabulous coconut flavor.
Grilled Swordfish Skewers With Coconut, Key Lime, and Green Chile Sauce
Cream of coconut takes center stage alongside key lime juice and serrano chili in this mouthwatering recipe from Food Network. Try these skewers out at your next summer barbeque!
Instant Pot Yogurt + FAQ (2-Ingredients, Plain or Sweet!)
Instant Pot Yogurt is so easy, creamy, and dreamy! This recipe requires no special tools or equipment besides an Instant Pot with a yogurt function. And, it only has 2 or 3 ingredients. Try it plain or sweetened!
Easy Instant Pot Mango Sticky Rice
This simple and easy Instant Pot Mango Sticky Rice is a delicious dessert with minimal ingredients. Sticky Rice, Smooth Coconut Sauce, and Fresh, Ripe Mango make this a savory and refreshing dessert. It's also gluten and dairy-free.
Classic Piña Colada
This piña colada recipe from Smitten Kitchen will transport you at first sip from your kitchen to a sunny, beachside bar. And because you're making it yourself, you can rest assured that it'll turn out bursting with coconut-pineapple-y goodness—no skimping on the good stuff here!
Aries Cake
Cumin, cinnamon, ginger, and cloves combine with black pepper and anise to make this mesmerizingly-spiced cake. Add a coconut buttercream and saffron meringue and you've got a masterpiece that's guaranteed to have guests asking for your recipe!
We hope you enjoyed this Ultimate Cream of Coconut Guide! If you have any additional questions we may have missed, please leave a comment so we can add it to the post!
---
---
Thanks for the feedback! We updated the oversight.

When making a cake can you use cream of coconut in it instead of using sugar?

Hi Judith, no you can't replace COC for a dry ingredient in a cake recipe.

The problem is that the manufacturer lists among ingredients for Coco Real Cream of Coconut:
"Coconut Juice (Pressed Coconut Meat, Milk, Oil and Water (Butylated Hydroxyanisole))"
Note that it says "Milk", NOT "Coconut milk". If I were trying to sell a dairy-free product I would make d___d sure it said "Coconut milk".

The page is so encumbered with ads I can't see your content. Is there a better way to view? Thanks!

We're sorry to hear your experience on our website was not ideal. There is an option in Safari to use "show reader," which removes the ads and website fluff. Simply click the double a in the left hand corner and select "show reader." I hope this helps. Our ad density is currently on low. We appreciate the patience with ads, as it helps us provide free, quality content.