*This post may contain affiliate links. This means as an Amazon Associate and affiliate for other products, I earn from qualifying purchases at no extra cost to you.
Instant Pot basmati rice is an easy way to bring a bit of luxury to your kitchen. It's slightly chewy, a bit nutty, and delicious with just about everything. Best of all, with your Instant Pot, you can have it within 15 minutes!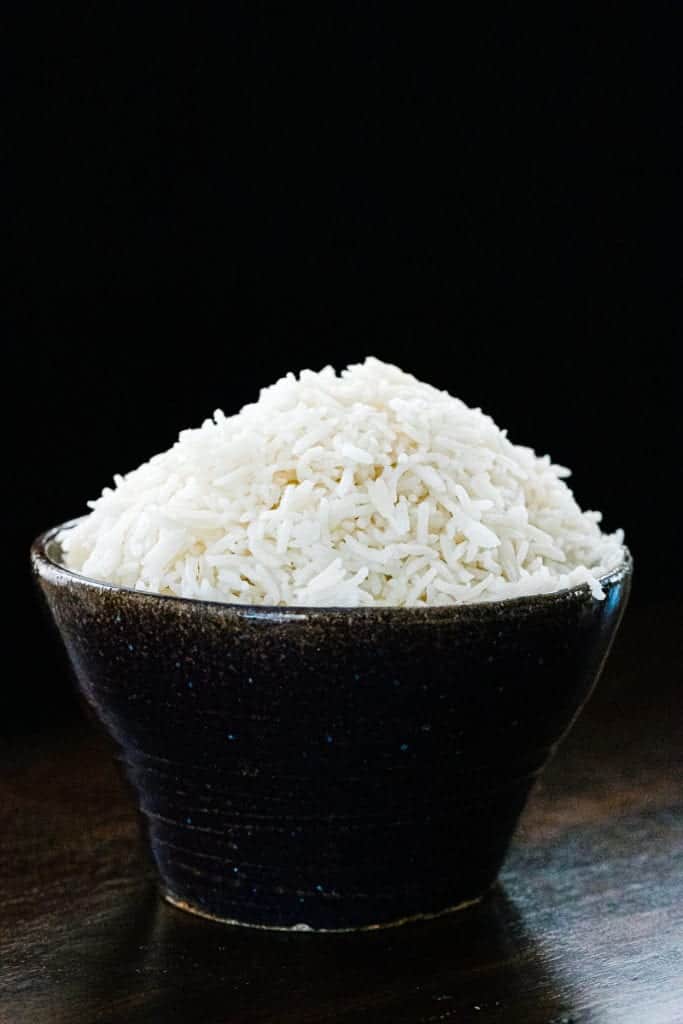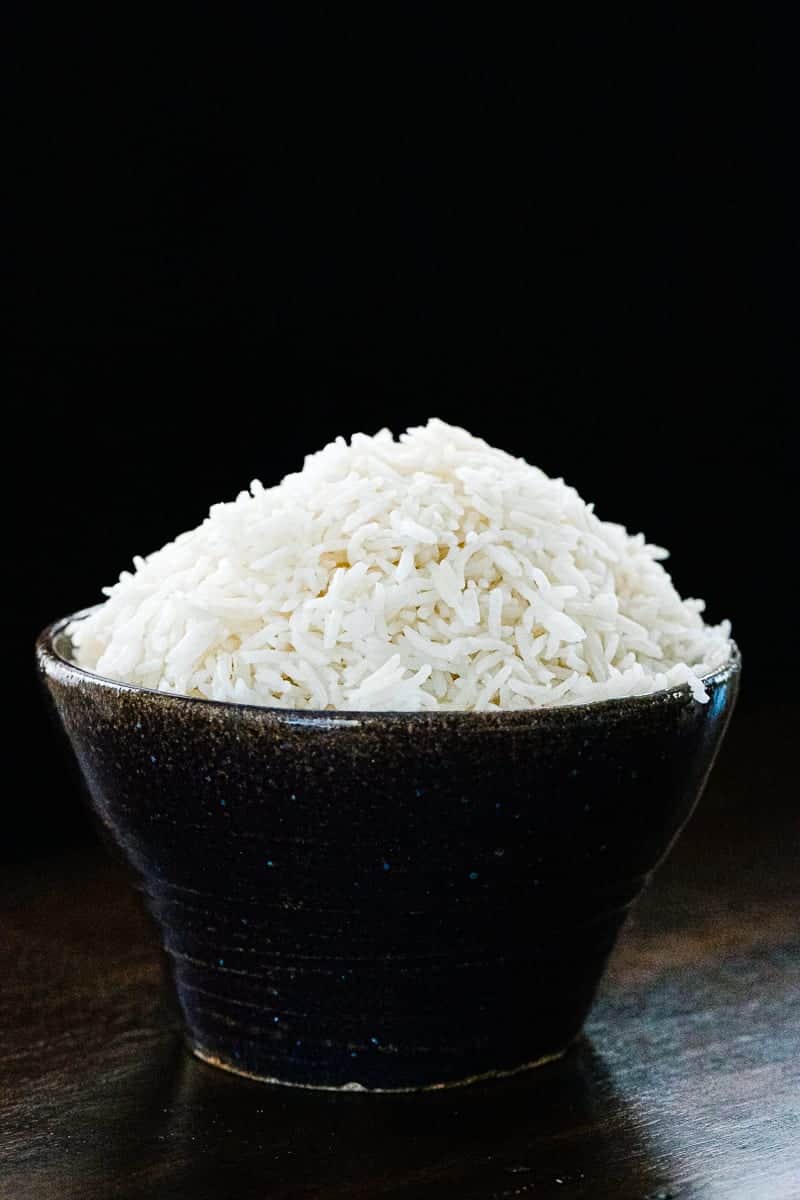 Basmati vs jasmine rice
Both of these varieties are worthwhile additions to your kitchen, but there are distinct differences. They're both mellow in flavor, but the consistency is remarkably different.
Jasmine rice is a bit shorter and is somewhat sticky, making it perfect for Thai curries (like my Pineapple Curry recipe!) and basically anything else. Basmati rice has a longer, thinner grain, and isn't sticky at all. It's extremely common in Indian and Middle Eastern dishes.
Fun fact: "Basmati" means "fragrant" in Hindi! You'll find that basmati rice has a beautiful smell when it's cooked.
How many cups of basmati rice can you cook in a Instant Pot
In a 6 quart Instant Pot, I recommend a maximum of 5 cups of uncooked rice. For an 8 quart, I recommend a maximum of 6.5 cups.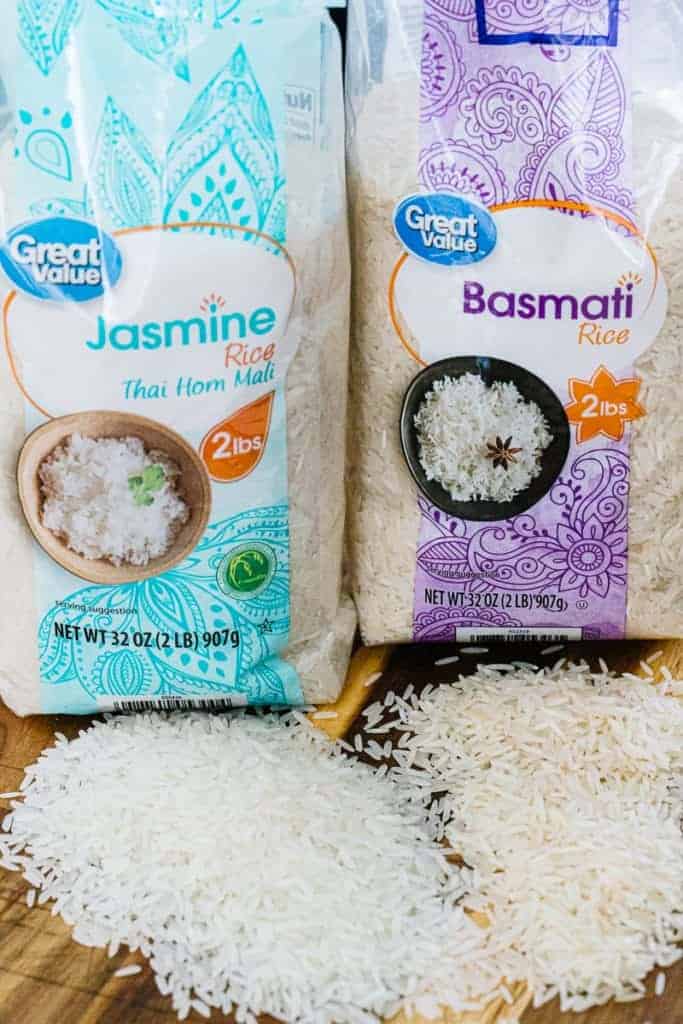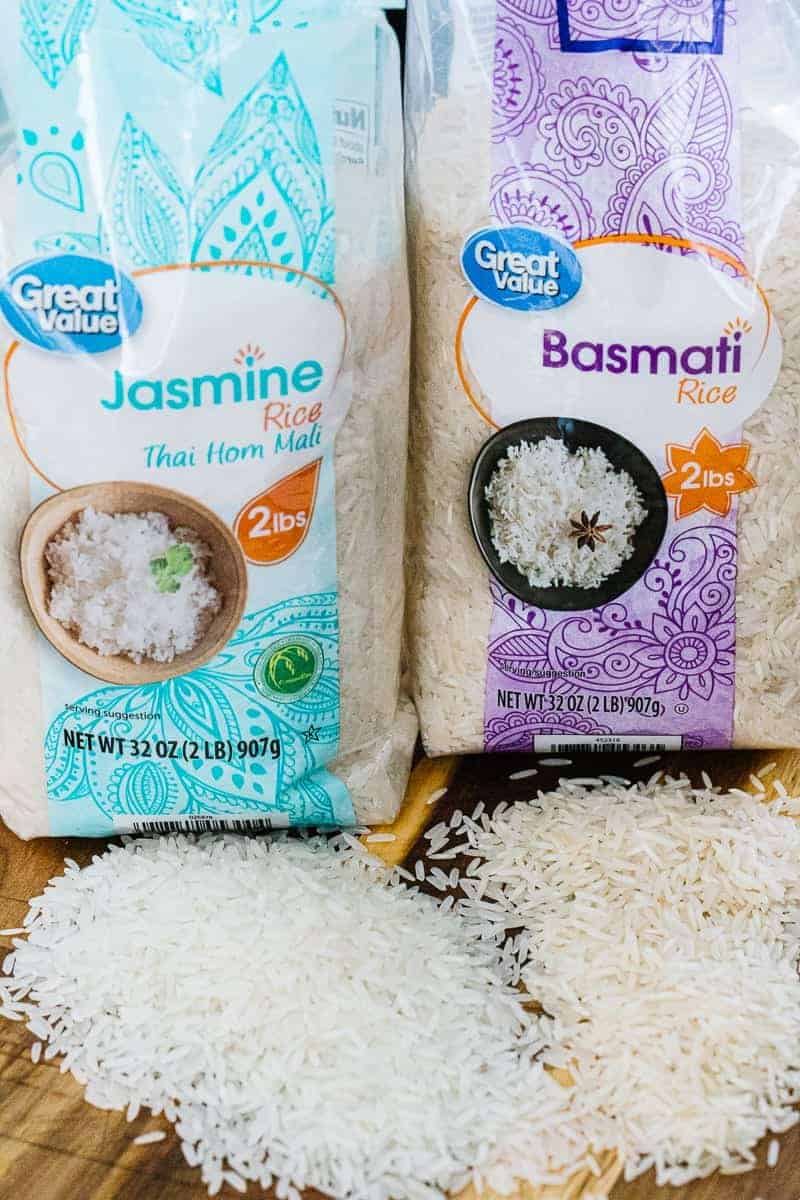 How to cook perfect basmati rice in an Instant Pot
Once you've learned how to cook basmati rice in your Instant Pot, I promise that you'll never go back! It's a game changer.
How much water should I use?
Basmati rice has a simple water-to-rice ratio that's the same whether on a stove or in your Instant Pot:
1 cup rice to 1.5 cups water
Should you soak basmati rice?
No need to soak your basmati when you're using an Instant Pot! Traditionally, basmati rice needs to soak for anywhere from 30 minutes to overnight before being cooked.
But with your Instant Pot? It's done in fewer than 15 minutes!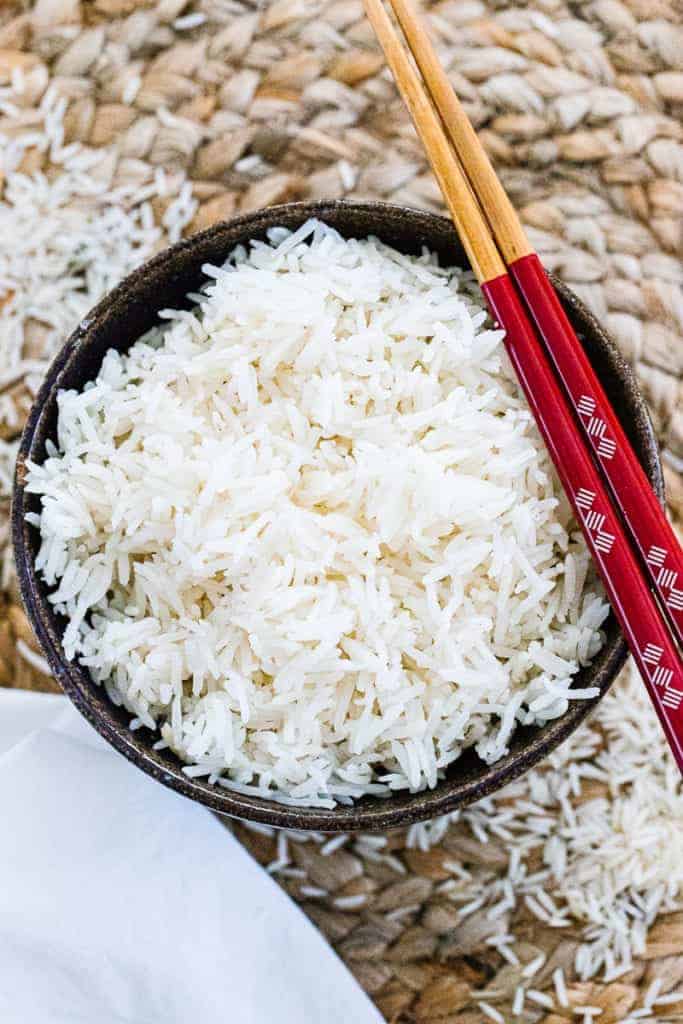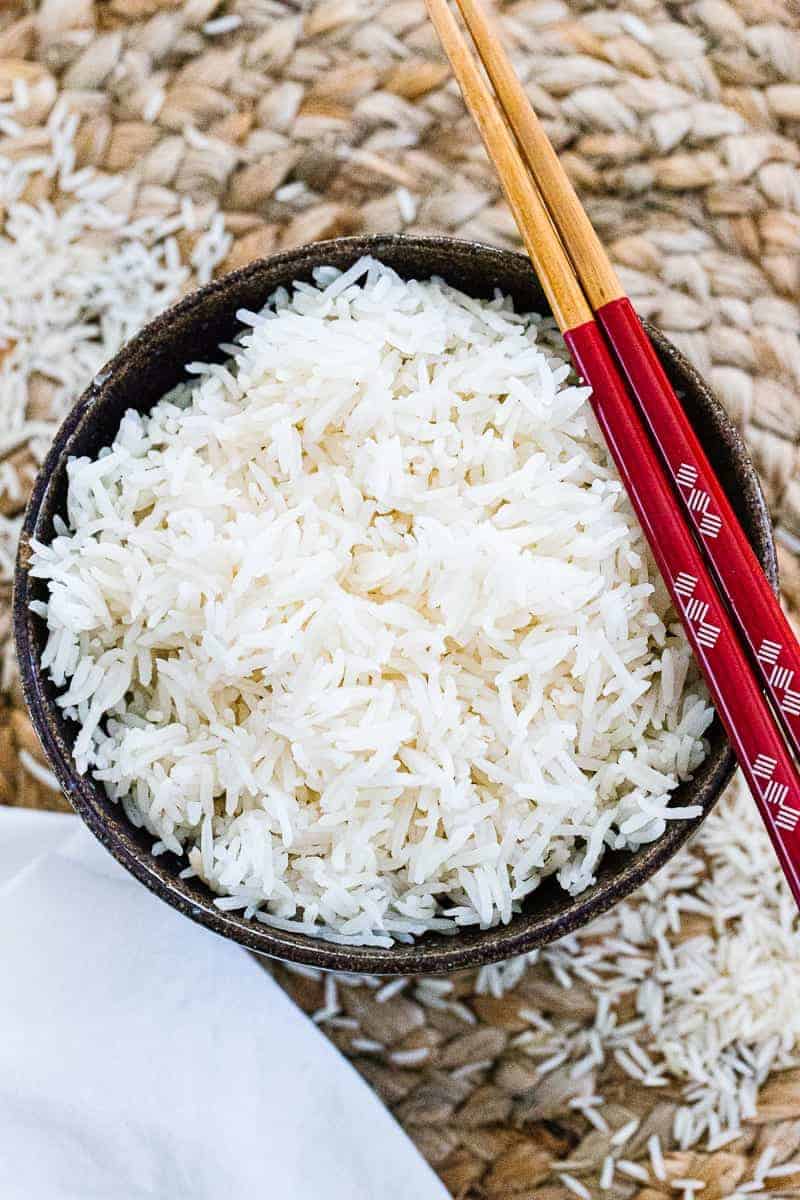 Should you rinse basmati rice
Always rinse basmati rice! There's quite a bit of extra starch on the outside of basmati rice, so always rinse it until the water is clear (or almost clear). Getting rid of that starch is healthier and it keeps your beautiful basmati from becoming a sticky mass.
One of the best things about basmati rice is that it doesn't clump together, so it's worth the extra minute to rinse it!
I love my rice rinser basket—rice slips right through my regular colander, so this has become a staple in my kitchen.
Should I add oil or salt to my basmati rice?
Both of these are totally matters of personal preference! Oil and salt both add flavor, but aren't technically necessary. Oil also keeps your rice from absorbing too much water and sticking together, so use it or skip it however works best for you!
If you use salt, you HAVE to try Redmond Real Salt. I know, it's "just" salt, but trust me: it makes a difference! I talk about it so much that Redmond Real Salt actually worked with me to give you 15% off with my code IPCOOKING.
If you're using salt, simply add the salt in alongside the rice and water before sealing your Instant Pot.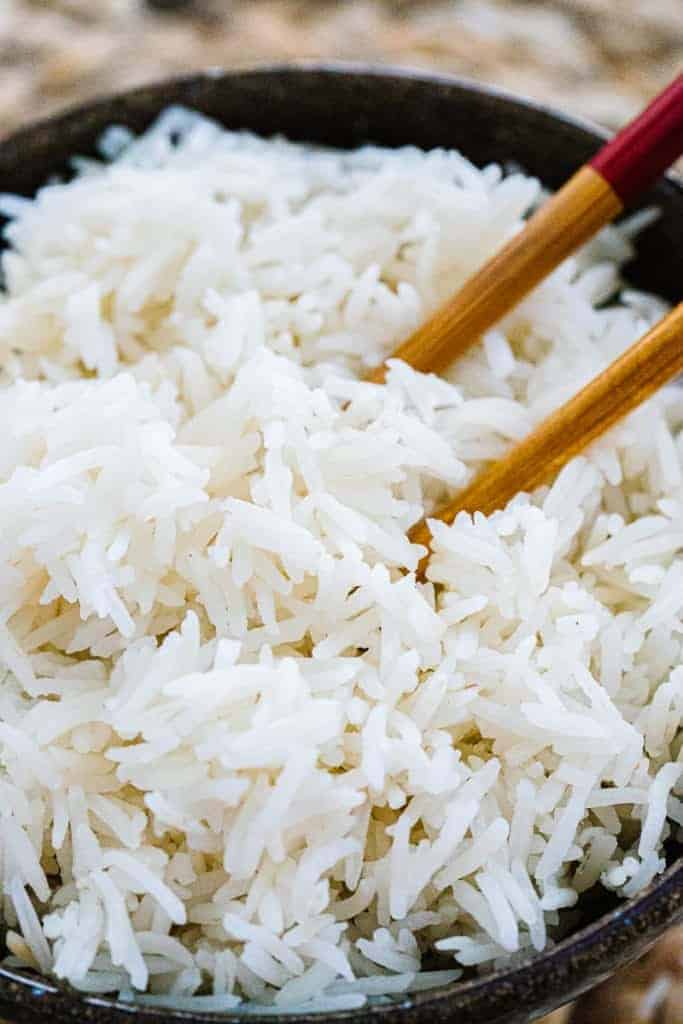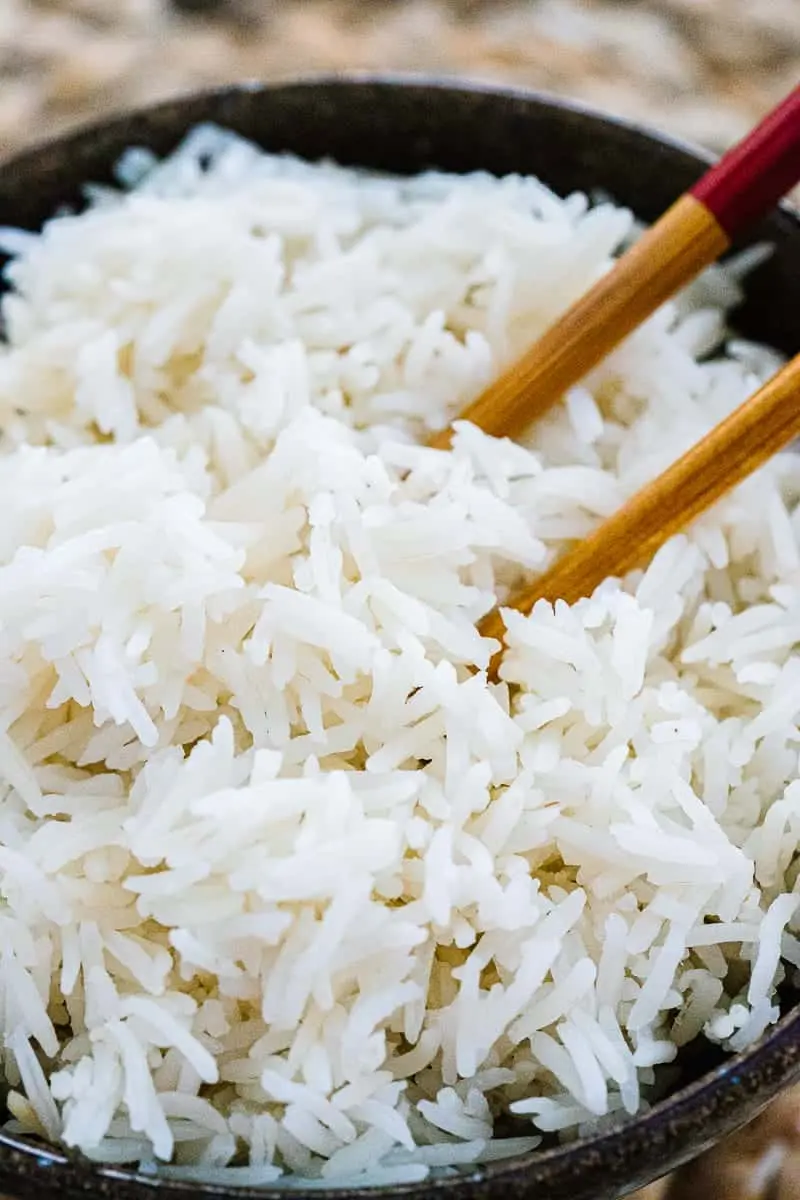 How long to cook basmati rice?
Technically, you're only going to cook this rice for 3 minutes! The magic happens during the 10 minutes after, when you let your Instant Pot naturally release the pressure before opening the lid.
How to cook brown basmati rice in an Instant Pot
Is brown rice healthier than white rice? It's an endless debate, and I'm not one to end it! What I can tell you is that brown rice is much heartier than white basmati rice, so it cooks much longer (Just like long grain brown rice and long grain white rice!)
For brown basmati rice, cook a 1:1.5 ratio of rinsed rice to water for 22 minutes with a 10 minute natural pressure release.
Can I use the Instant Pot rice setting to make basmati rice?
The RICE setting on the Instant Pot is a preset for 12 minutes on LOW pressure. You may use this setting with no issues.
However, I prefer to use the manual/pressure cook setting when making basmati rice in my Instant Pot.
Other Instant Pot rice dishes
About Lisa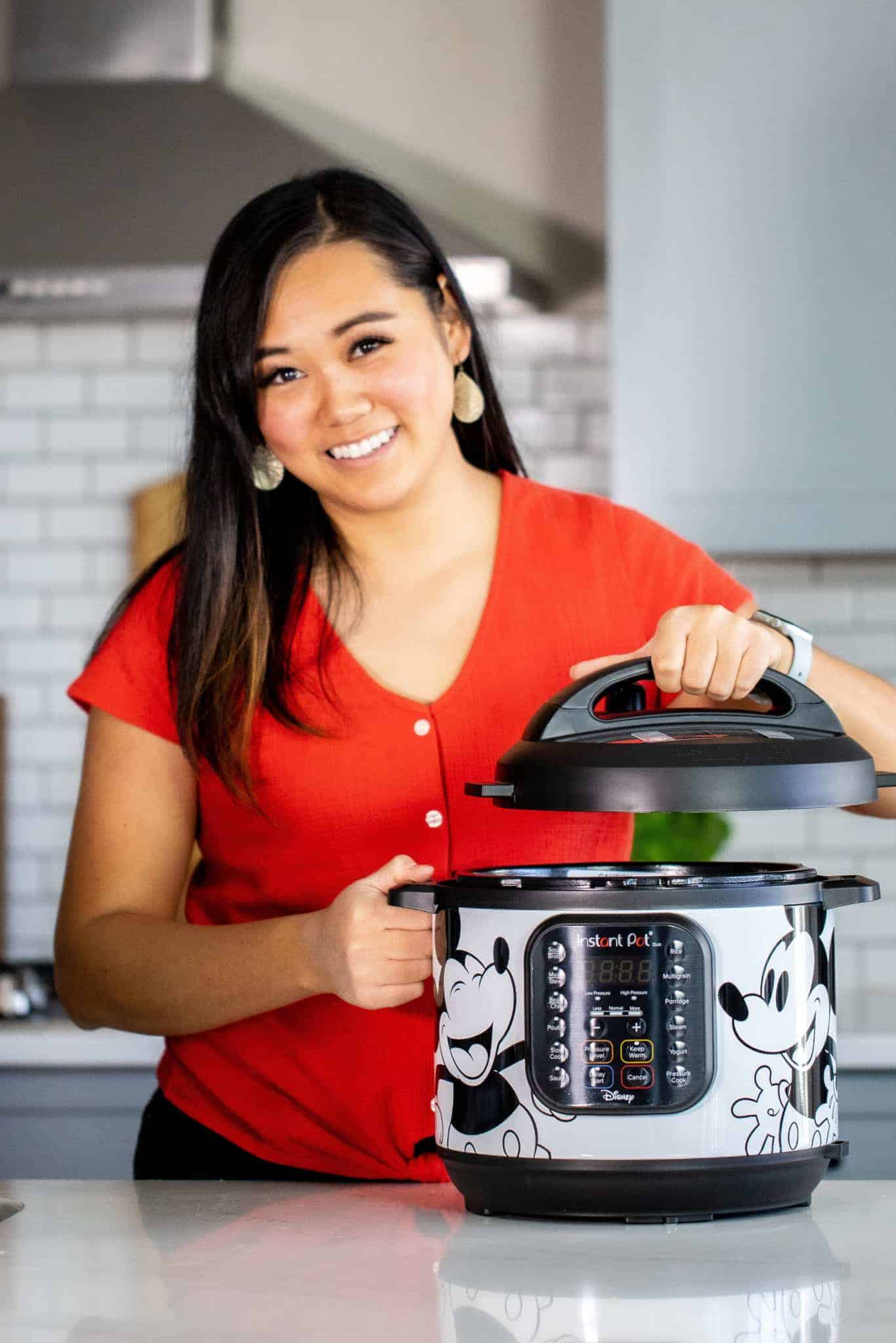 Lisa Childs is the food blogger behind Tried, Tested, and True. Join the hundreds of thousands of people each month that learn from Lisa-
Subscribe to her website, follow her on Instagram at @tried_tested_true, follow her on Pinterest, and find her on Youtube at Tried Tested and True. She is passionate about giving home cooks confidence using their Instant Pots. Make sure to sign up for our email newsletter to hear from personally from her weekly! Learn more about Lisa.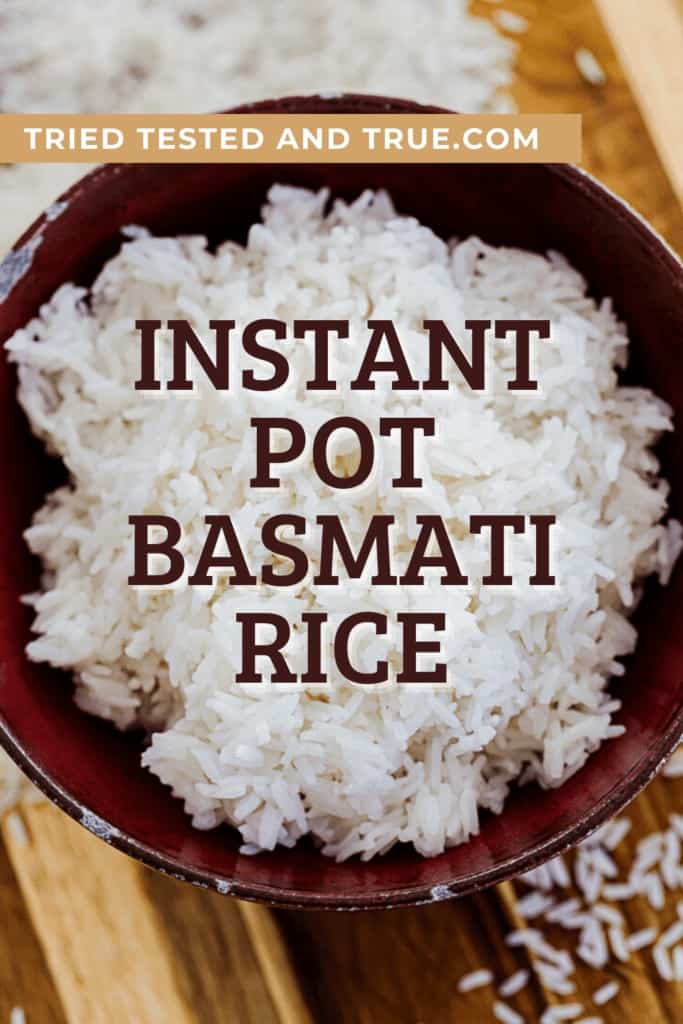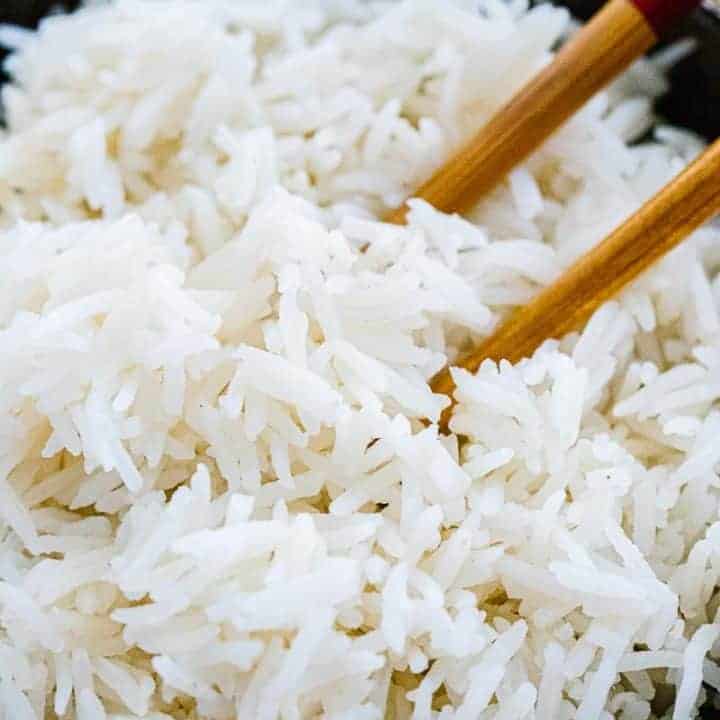 Instant Pot Basmati Rice
Basmati rice is an easy way to bring a bit of luxury to your kitchen. It's slightly chewy, a bit nutty, and delicious with just about everything. Best of all, with your Instant Pot, you can have it within 15 minutes!
Ingredients
1 cup jasmine rice
1 1/4 cup water
⅛ teaspoon salt
Instructions
Add rice, water, and salt to the Instant Pot®.
Close the lid, and turn the knob to Sealing.
Press Manual or Pressure Cook button and adjust time to 3 minutes.
When the timer beeps, allow 10 minutes to naturally release the pressure, then remove the lid.
Fluff the rice with a fork and serve.

Recommended Products
As an Amazon Associate and member of other affiliate programs, I earn from qualifying purchases.
Nutrition Information:
Yield:

4
Serving Size:

1
Amount Per Serving:
Calories:

51
Total Fat:

0g
Saturated Fat:

0g
Trans Fat:

0g
Unsaturated Fat:

0g
Cholesterol:

0mg
Sodium:

67mg
Carbohydrates:

11g
Fiber:

0g
Sugar:

0g
Protein:

1g