The BEST Instant Pot Accessories. Everyone always asks me what they are and how to use them. These are the products I love and use in my kitchen!
*This post may contain affiliate links. This means as an Amazon Associate and affiliate for other products, I earn from qualifying purchases at no extra cost to you.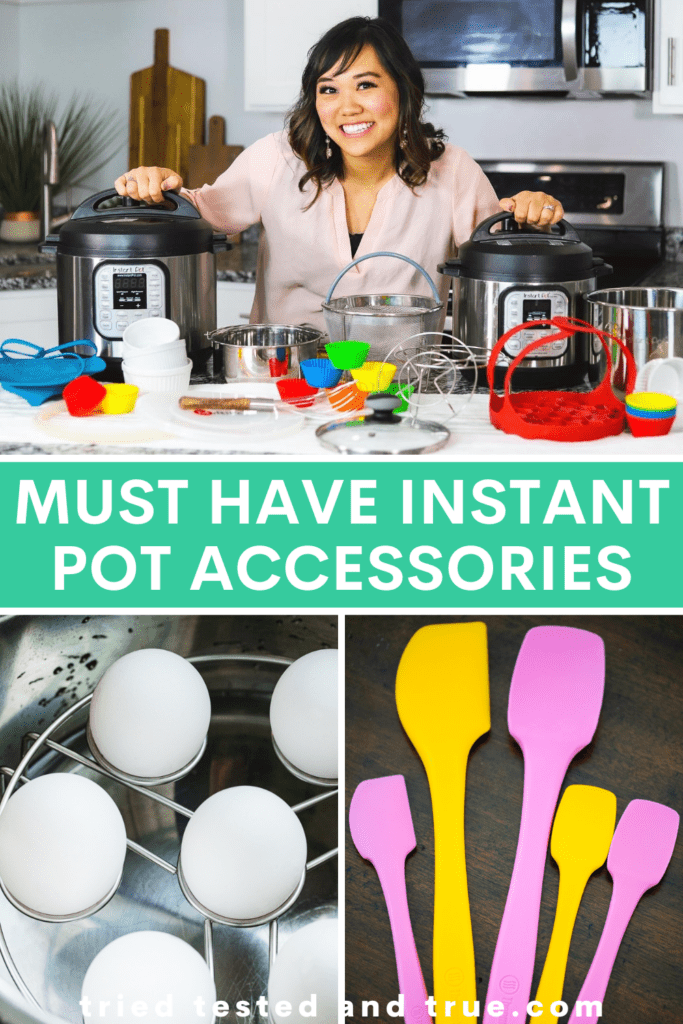 Truth be told, I didn't buy my first accessory until almost a year after I had been using my Instant Pot 3-5 times a week! I'll tell you why, and I'll give you my recommendations for the best Instant Pot accessories.
Most of these are Amazon Instant Pot accessories, but some are from other trusted brands that I've come to know and love.
WHICH INSTANT POT TO BUY
If you don't already have an Instant Pot, you may be one step ahead of yourself. Make sure you check out my post on which Instant Pot to buy before thinking about must-have Instant Pot accessories!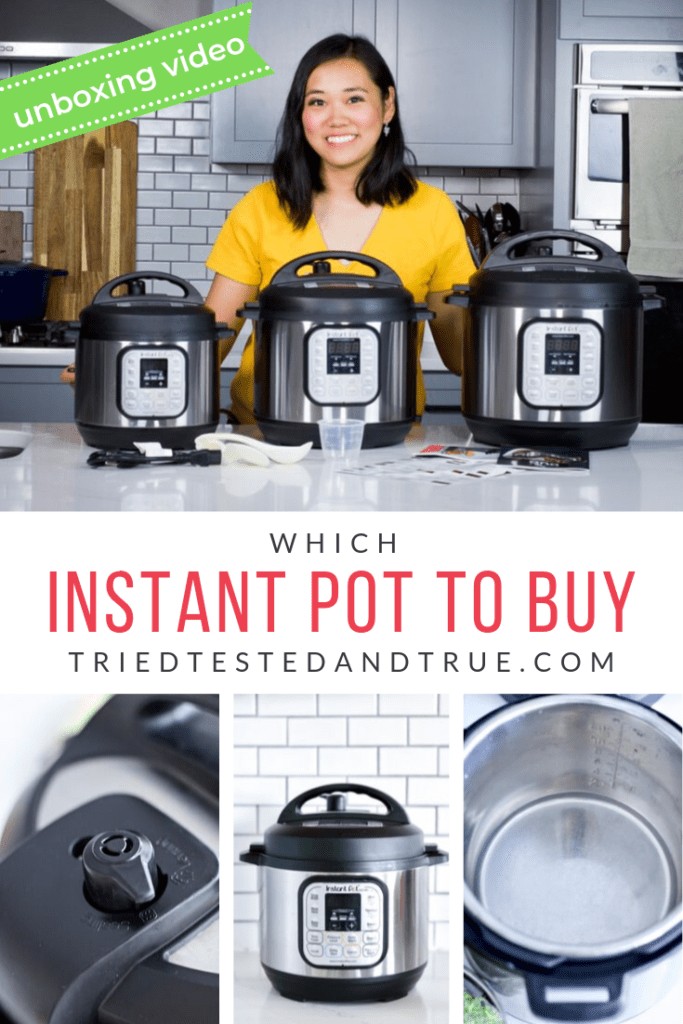 MY HONEST ADVICE ABOUT INSTANT POT ACCESSORIES
This might be weird to hear from someone like me, but DON'T go out and buy a million accessories for your Instant Pot right away! Especially if you're a beginner, I want you to get your Instant Pot, and USE it first.
I get a lot of messages that sound a lot like this: "Hi Lisa! I just got my Instant Pot and have no idea what I'm doing with it! What accessories do you recommend I buy?"
I always give the same response: none.
Figure out what you're cooking and how you're cooking! A bunch of accessories aren't useful to you if you have no idea how you're using your Instant Pot.
Get that pot out of the box, and use it! You'll quickly find out what accessories you need.
If you're finding yourself making a lot of vegetables or confident enough to make a cheesecake, you'll figure out that your cooking process could be a lot easier with a steamer basket or a specific cheesecake pan.
I improvised with what I had for a year, and I did just fine! I don't want anyone wasting their hard earned money on stuff they don't need! A huge pet peeve of mine is to waste money by buying without a clear purpose in mind.
How to Clean YOUR Instant Pot
Don't forget to sign up for my email list to receive a FREE comprehensive guide on How to Clean Your Instant Pot and how to AVOID those pesky smells!
Best Instant Pot Accessories to Buy and Avoid Video
Watch one of my top videos on the best Instant Pot accessories to buy and avoid. This is an updated version of my original video.
Watch my Youtube video on how to clean your Instant Pot! I have a whole Instant Pot 101 series on my channel, filled with all of the tips and tricks you could need to become an Instant Pot expert.
BEST INSTANT POT/ PRESSURE COOKER ACCESSORIES
These are some of my favorite accessories. I'll give a quick explanation of the pros, cons, and uses of each one in the next section.
Instant Pot Trivet
A trivet is by far the most important accessory you could buy. Because the Instant Pot requires liquid to cook, the trivet keeps food off of the liquid in the bottom of the pot. I also love to use this for boiled eggs — there's really no need to buy a special one for eggs.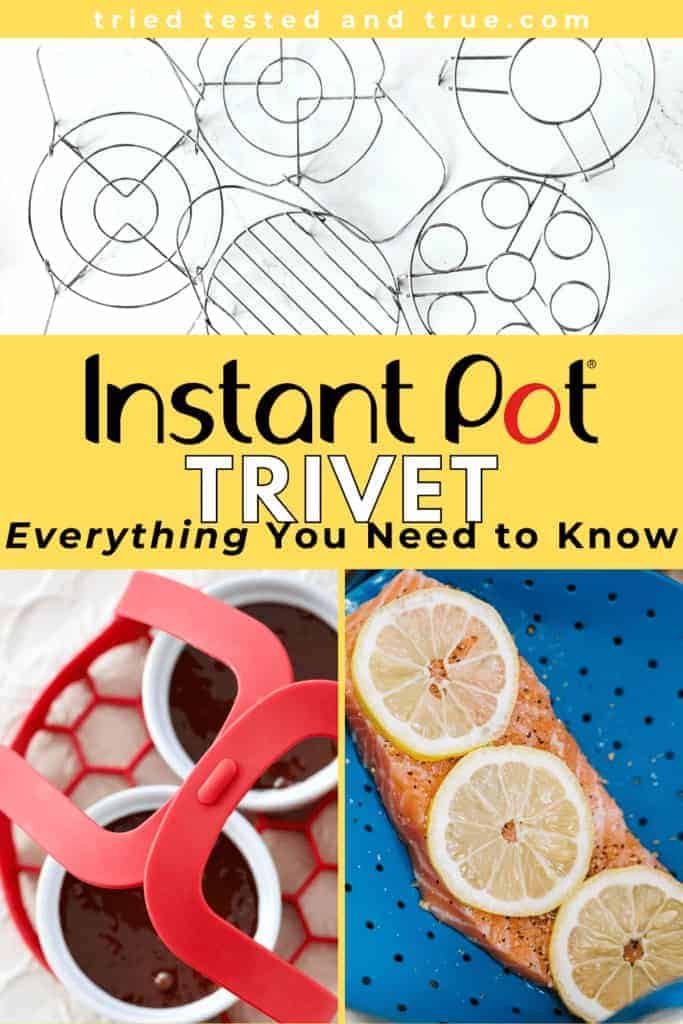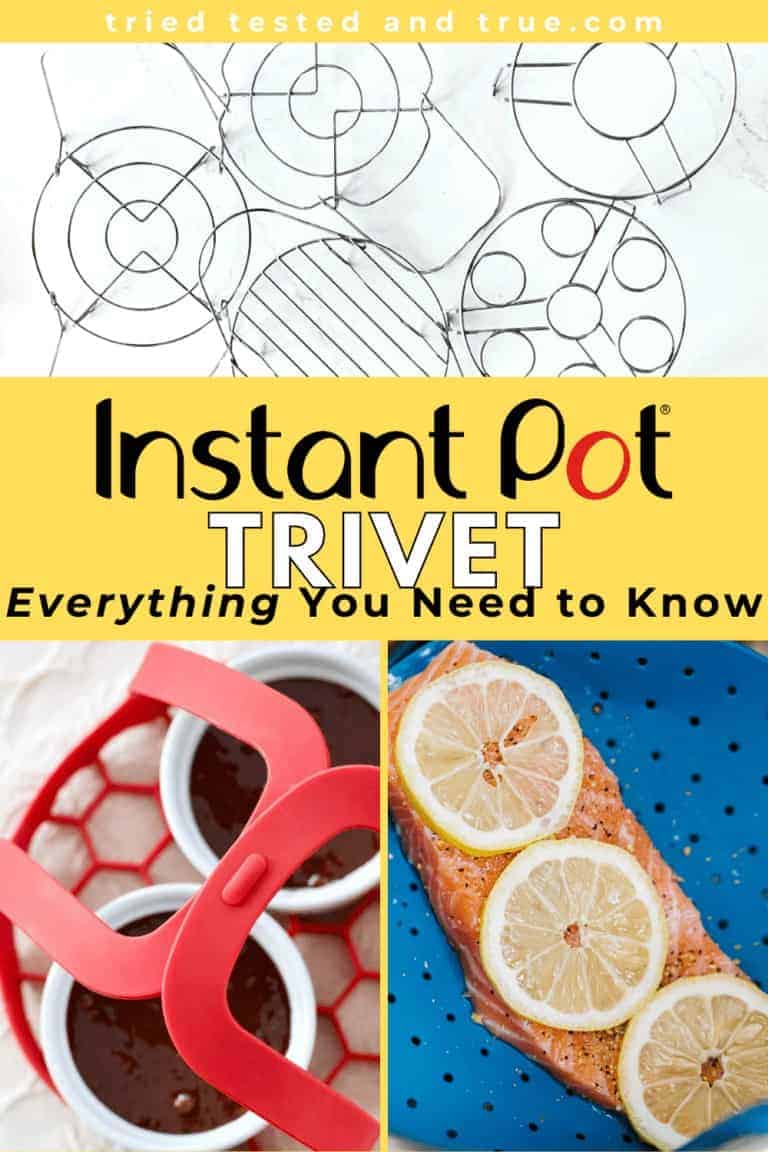 Pros: A trivet is included for free with every Instant Pot! It's that important! I find that as they can get dirty easily, it's helpful to have a few extra on hand.
Cons: The Instant Pot trivet is like a large grate that sits on top of the liquid; its gaps might be too large for some smaller foods (like veggies). So some things may fall down into the liquid and get soggy. You have to manually take food in and out with tongs.
Uses: Pot-in-pot cooking, Boiled eggs, Some meats, artichokes, veggies like corn on the cob.
BUY HERE: Instant Pot Trivet
READ: Everything You Need to Know About the Instant Pot Trivet
Tall Trivet
You can purchase a tall trivet for your Instant Pot or pressure cooker — it's a regular trivet with taller legs. I love this tall trivet as a stackable steamer insert for when I'm doing some pot-in-pot Instant Pot cooking.
Pros: Useful for pot-in-pot cooking when you have a lot of food at the bottom of your pot. You can use the shorter, included trivet to put one layer of a cake and then use the taller trivet on top of that for your top cake layer.
I use this method when I make my Instant Pot Carrot Cake.
Cons: Unless you're making a lot of Pot-in-pot dishes, you probably won't use it very much. I don't think it's an absolute must have for every Instant Pot owner, so don't give it as a gift!
Uses: Pot-in-pot cooking
BUY HERE: Tall Instant Pot Trivet
READ: Everything You Need to Know About the Instant Pot Trivet
Steamer basket
This is the accessory I use the most. If you were to only buy one accessory, I'd recommend a steamer basket. Because it is so versatile and useful for many things, I think it's the most practical accessory — you can also use this one to cook eggs! Just stack 'em and cook.
This steel steamer basket is made of a heavy duty mesh with a silicone handle to quickly wash/rinse and take things in and out of the Instant Pot.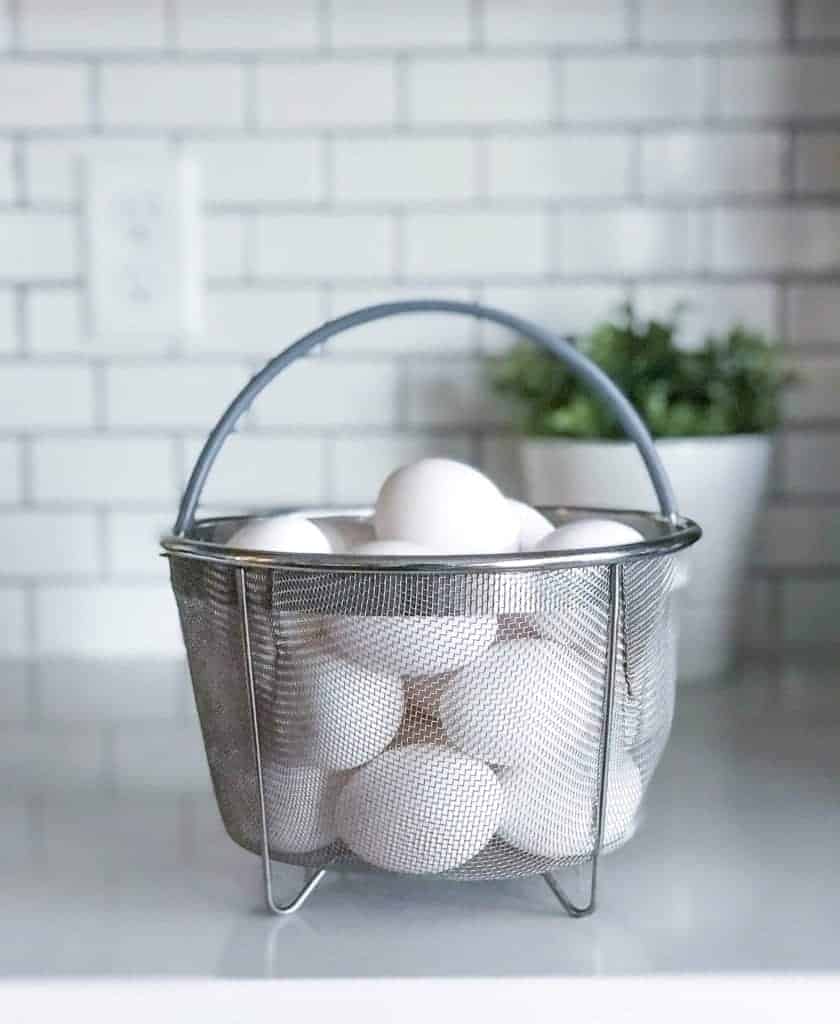 Pros: Sturdy and dishwasher safe. I like this basket because it doesn't have silicone on the little feet.
The baskets that have those rubbery things (not removable) on the feet have more crevices and gaps that sit in the cooking liquid and create opportunity for bacteria and germs to live in there.
BUY HERE: Stainless Steel Mesh Steamer Basket
Steamer Net
This was the first accessory I bought. The steamer net is different from the basket because it isn't a sturdy basket that can easily be pulled out.
This is one of my favorite 3 quart Instant Pot accessories — a basket would take up too much space, so I use it as a better solution to the trivet for small foods that might fall through the cracks.
It's also great in your lineup of 6 quart Instant Pot accessories, as it's super helpful to easily lift up spaghetti squash! I've even used it under cake pans to easily lift out cheesecake or carrot cake.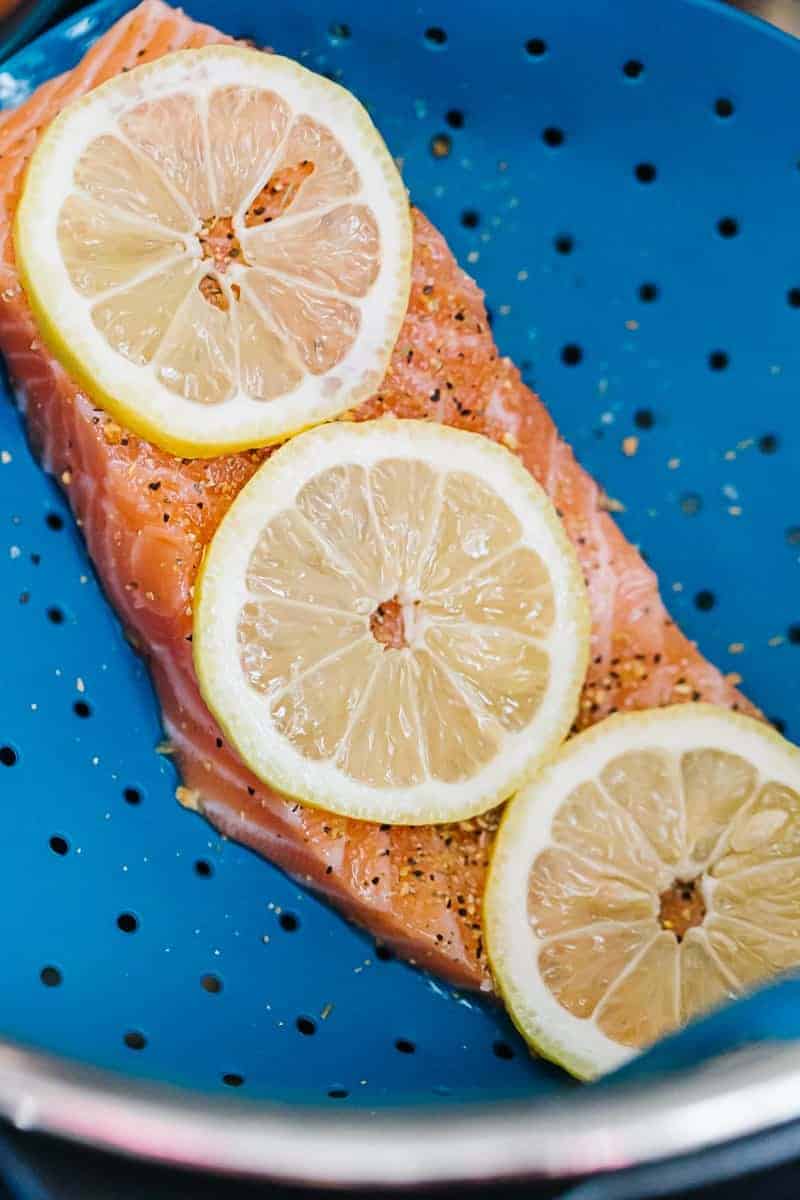 Pros: Flexible, dishwasher safe, small footprint in your kitchen, fits in 3 quart Instant Pot. It's also really inexpensive, so it's a good first "beginner" accessory if you're not really sure you want to invest in a good basket.
Cons: Not super sturdy
Uses: Veggies, large meats like Instant Pot salmon, as a makeshift pot-in-pot holder, holding large vegetables like corn or spaghetti squash.
BUY HERE: Steamer Net
Silicone Pressure Cooking Sling
This silicon pressure cooking sling is specifically made for pot-in-pot cooking to be able to lift things out of the Instant Pot. My mother-in-law gave this to me for Christmas, and I really enjoy it.
I also had a recipe photo using this sling featured on OXO's Instagram page!
BUY HERE: Silicone Pressure Cooking Sling
Instant Pot Egg Bite Mold
I recently purchased an Instant Pot egg bite mold and I actually really like it! This is a silicone mold that you can use to cook in your Instant Pot.
Pros: Incredibly sturdy, thick, nonstick, and the holes are much larger than I anticipated. It also comes with a lid.
Cons: You'll need to buy a couple if you're cooking for a crowd.
Uses: Instant Pot Cheddar Bacon Egg Bites, Pumpkin Pie bites and Mini Cheesecake bites (from my cookbook!), freezing single portions of baby food or bone broth.
BUY HERE: Instant Pot Egg Bites Mold
Instant Pot Cheesecake Pan
This is the smartest pan on the market for cheesecake. I researched high and low to find something like this because I wanted a push pan that was not difficult to remove from the Instant Pot.
Many recipes will tell you to make a makeshift sling out of foil, but you don't have to talk to many people with broken slings and dropped cheesecakes to know it is NOT worth it.
I didn't want a springform pan because I've had unfortunate experiences with them leaking.
Personally, the push pans are a better choice to me long term pan since there are less moving parts/hinges to break.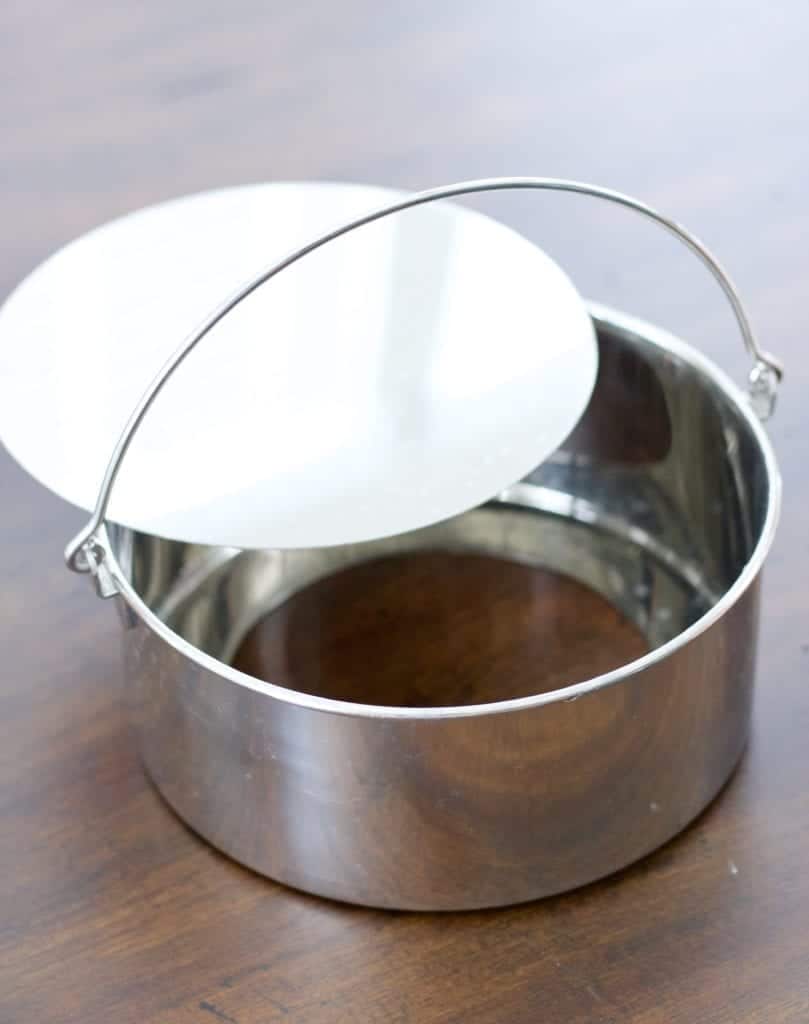 Pros: Extremely good quality! It truly feels super heavy and nice. It cooked well and the bottom didn't warp, even after 5 years.
Cons: Not a ton of extra uses
BUY HERE: Instant Pot Cheesecake Pan (This pan goes out of stock all the time so if unavailable, this other Instant Pot cheesecake pan is similar)
Ceramic Ramekins
I love ramekins. We have a lot, and Brett always asks why we have so many. Oops. They are perfect for Instant Pot cooking because they are small and you can fit a bunch in there.
Ramekins are great to have for the Instant Pot, as well as for general kitchen use!
I love them because they are super classy and great to use for toppings or as prep bowls. I also like using them to serve small portions or fruit or pasta on top of a dinner plate that would otherwise mix too much.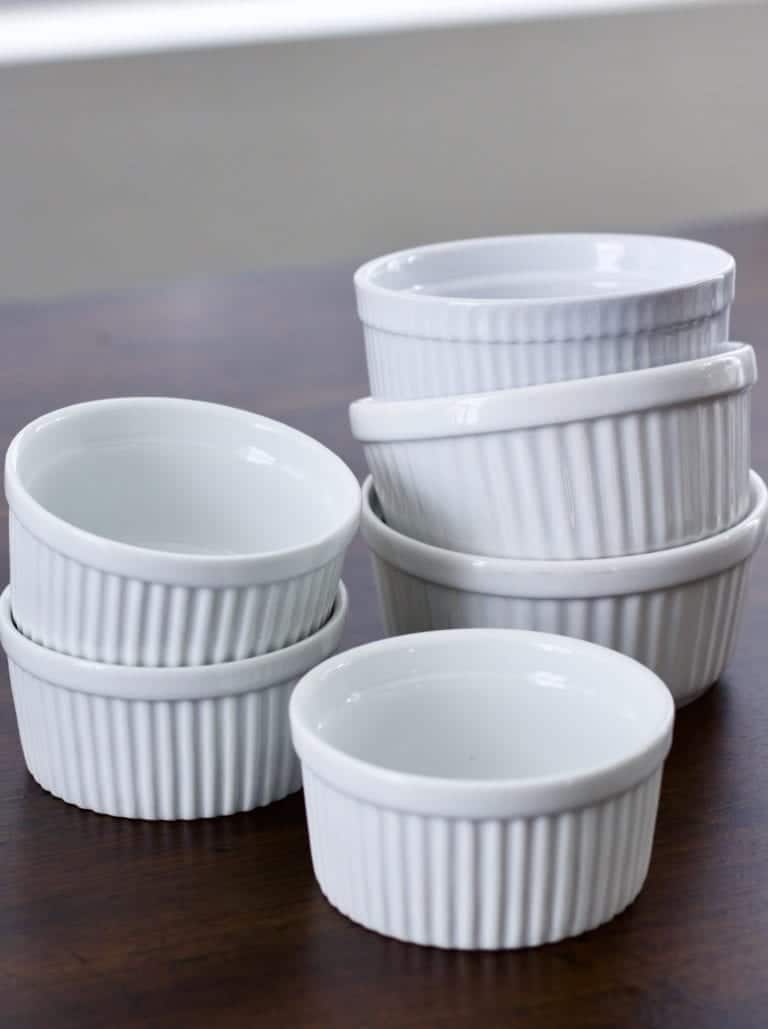 You can buy these large ones at Target for $2 each. (I have these Target ones but they are big so I can only fit 2 on the bottom of my Instant Pot.) I have found the ones I like most from Ross or TJ Maxx! They usually come in boxed sets and are quite affordable!
If you can't find them there, find them on Amazon. No matter where you get them, just make sure you get OVEN safe ones!
I saw some cute festive ramekins at Ross the other day. Unfortunately, they weren't dishwasher or microwave safe (basically just for decoration — useless for cooking!)
I make my amazing key lime pie in the ramekins. You can find the recipe in my cookbook!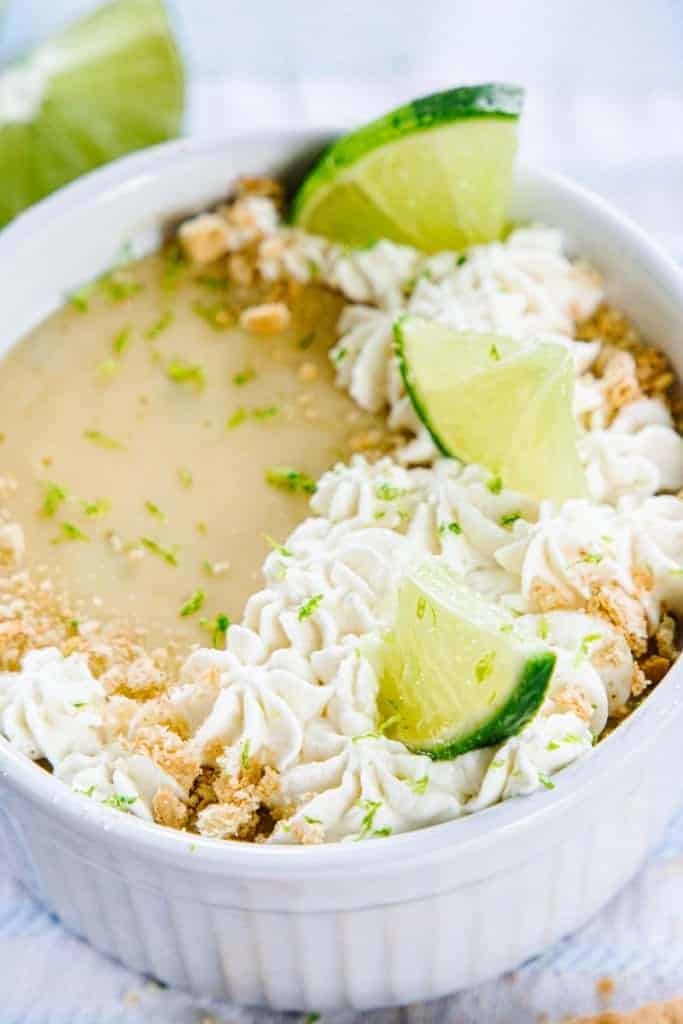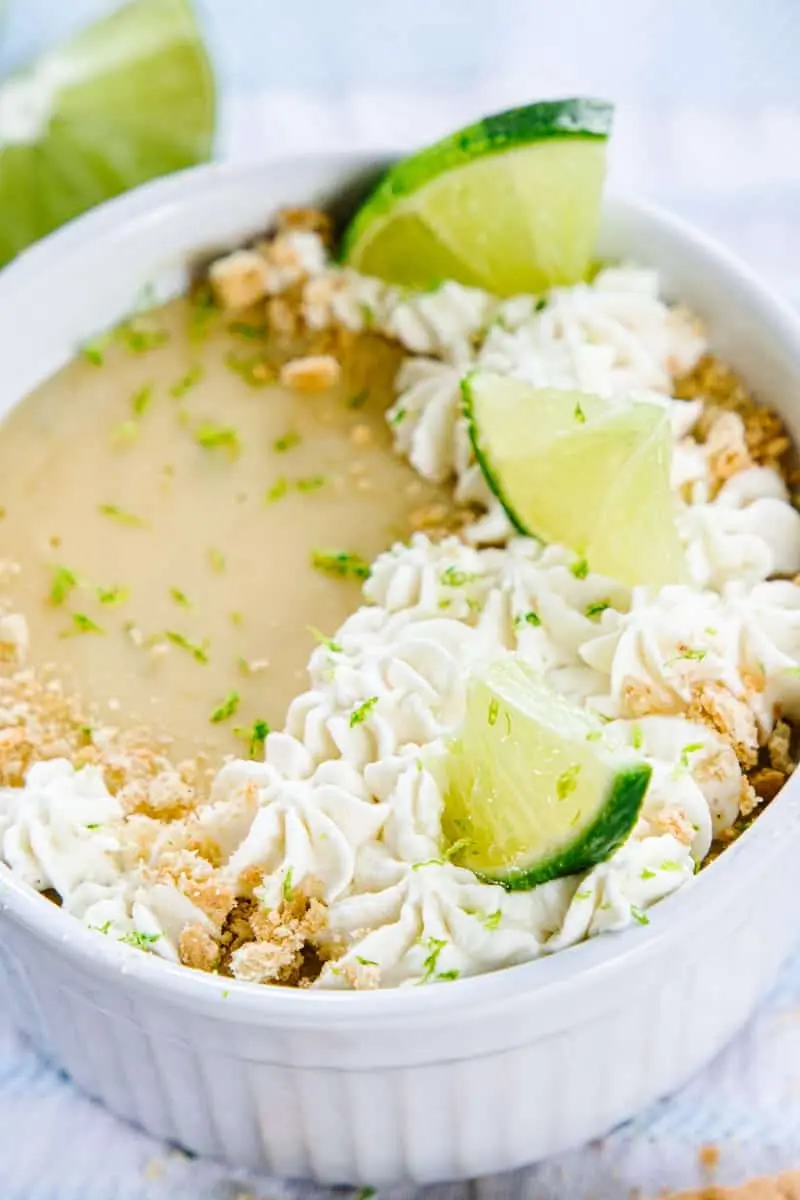 BUY HERE: Ceramic Ramekins
Cooking for One Instant Pot Cookbook
This is a shameless plug for my Instant Pot cookbook, "I Love my Instant Pot: Cooking for One."
You can pick this book up at Barnes and Noble, Target, Amazon, and anywhere books are sold. I've linked all those outlets in this page all about my book.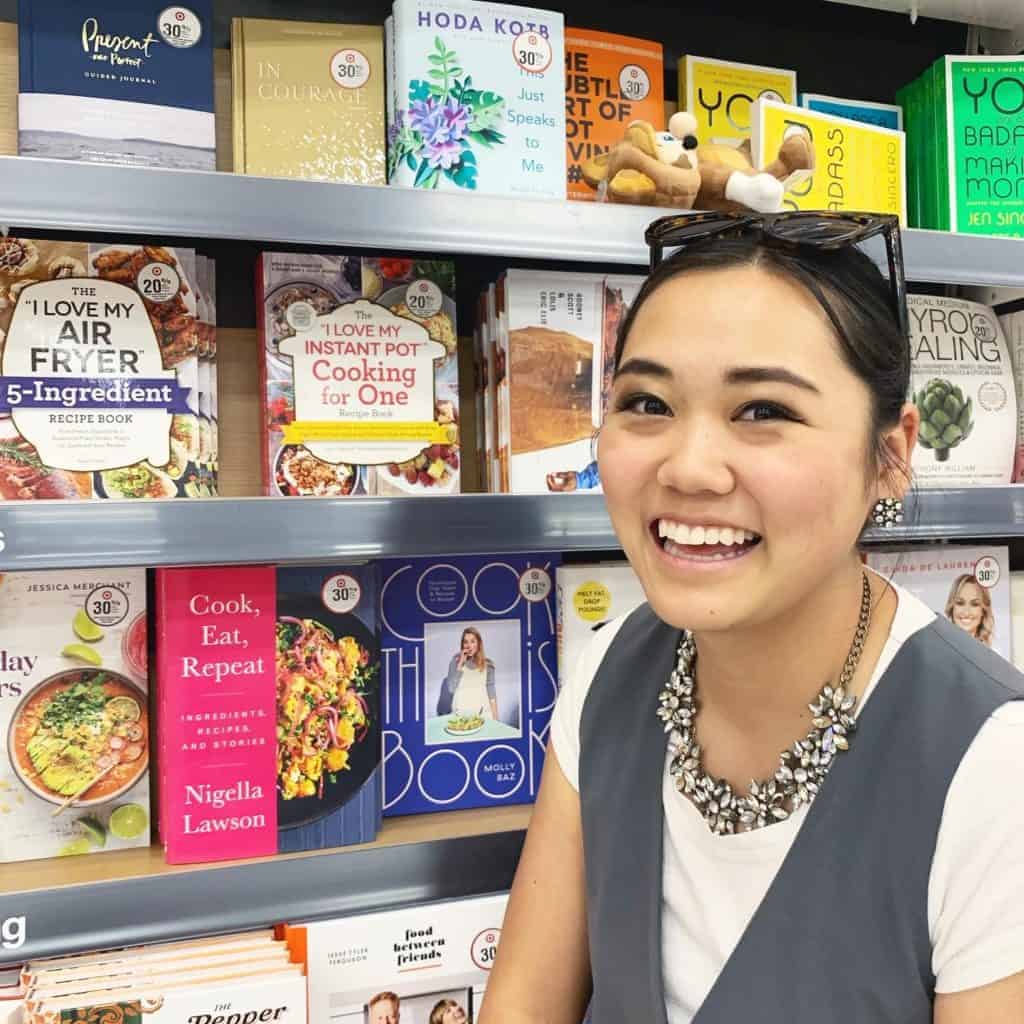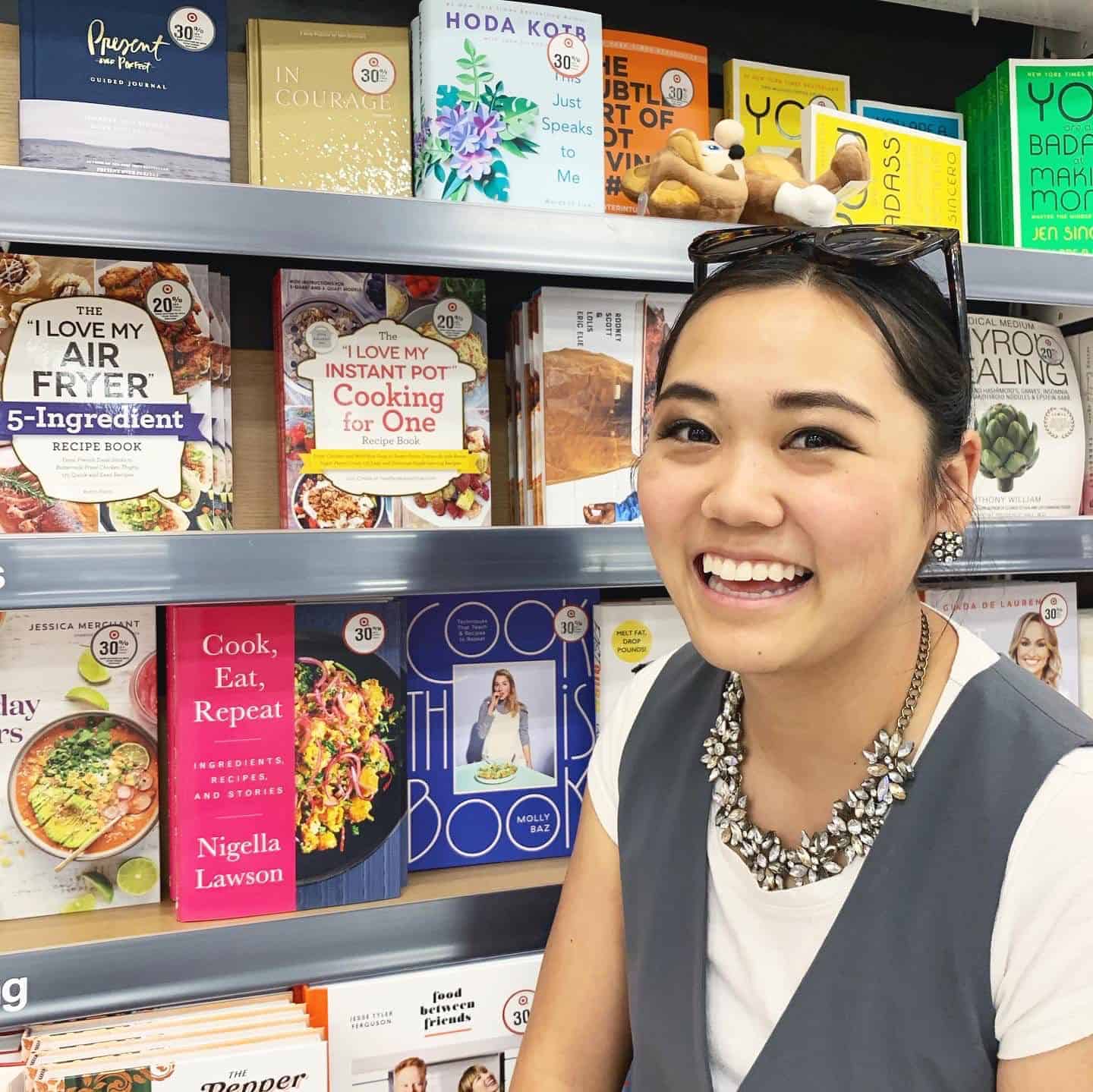 Pros: Designed specifically for the Instant Pot, single-serving recipes that are perfect for one — or easy to multiply for however many mouths you're feeding.
Cons: None!
Uses: Everything Instant Pot!
BUY AT THE BOTTOM OF THIS PAGE THROUGH YOUR PREFERRED VENDOR: "I Love my Instant Pot: Cooking for One"
Silicone Muffin Liners
I like using silicone muffin liners for my make-ahead egg bites. You can fill these liners up with whatever fillings you like! Cook them in the Instant Pot for a healthy and easy breakfast or snack to take on the go. Much better than cereal or another sugary carb-y breakfast.
These are a lower cost alternative to the egg bite molds for the Instant Pot.
Pros: Useful for general kitchen use (I use them as dividers in lunch tupperwares and for cupcakes/muffins), easy to clean.
Cons: Can be hard to get in and out sometimes. I'd put them in my steamer basket for easy transport from counter to pot.
Uses: Make-ahead egg bites, freeze portioned bone broth, freezing starter for Instant Pot Yogurt, Instant Pot baby food (just steam apples and sweet potatoes or other veggies and blend), cupcakes/muffins/snacks and other things you'd normally do with liners outside the Instant Pot.
BUY HERE: Silicone Muffin Liners
Thermoworks Silicone Heat-Resistant Spatulas/Spoonulas
These aren't just any spatula — I've replaced ALL my spatulas with these things. And yes, I know these aren't necessarily an Instant Pot-specific accessory, but if you cook, you NEED these!
I even had a TV host ask about these spatulas on my latest tv segment because they are AMAZING.
The mini sizes are the perfect size for everyday use. Said minis come in a two pack (a spoonula and a spatula). The large size ones are sold individually. They also come in a TON of colors.
Pros: Knick-free! These don't knick and rip! Heat resistant up to 600º! A strong metal rod runs all through the entire spatula, which means it'll never bend or twist. INCREDIBLE squeegee-power!
Seriously they are so good at getting every last drop out of a bowl. Also, the mini sizes are the perfect size for everyday use. The minis come in a two pack (a spoonula and a spatula). The large size ones are sold individually. They also come in a TON of colors.
Cons: Nothing. I will never use another spatula/spoonula.
Uses: Scraping batters, mixing frosting, making scrambled eggs, mixing anything, scraping out peanut butter out of a jar, etc.
BUY HERE: Mini Spatula/Spoonula Set
BUY HERE: Full-Size Spatula
Extra Instant Pot Sealing Ring
Oftentimes, pungent flavors from Instant Pot cooking can become just a little bit trapped in the sealing rings. So, just like you might have a special "onions-only" cutting board, you might consider getting a few extra sealing rings to use with pungent flavors!
It's also nice to have extra sealing rings just in case one is dirty and you don't have time to clean it right when you need it.
Lots of people prefer to have two sealing rings: one for neutral-sweet and the other for potent-savory.
Pros: Dishwasher safe, keeps food tasting the way it should.
Cons: ?
Uses: You need to use a sealing ring every single time you pressure cook.
BUY HERE: Instant Pot Sealing Ring
INSTANT POT SILICONE LINER LID
This silicone cover is essentially like a tupperware lid to the metal Instant Pot liner.
Pros: Dishwasher safe. Easily stores the pot straight to the fridge!
Cons: The lid is not a sealing lid, so you wouldn't be able to turn the pot upside down or anything.
Uses: Easily store leftovers, marinate meats right in the pot for easy and fast cooking like for Kalua Pig, Yogurt, or storing any Instant Pot Soup.
Extra Instant Pot INSERT
I love having extra Instant Pot stainless steel inserts for my pots! Oftentimes, I'm cooking 2-3 things in my pots and I can't keep up!
Especially when I'm making Instant Pot yogurt, It is SO nice to be able to put the pot of yogurt in the fridge and still be able to use the Instant Pot with another liner — these extra stainless steel inner liners just make life so much easier.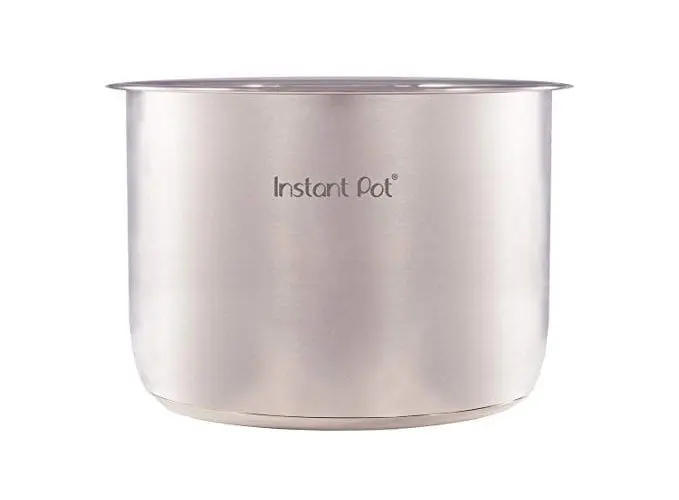 Pros: You can use your IP when the other liner is dirty or being used (yogurt chilling or soup leftovers).
Cons: More dishes to wash?
Uses: See Pros — facilitates multitasking
BUY HERE: Instant Pot Insert
Thermoworks Thermapen
I never realized how important using a reliable cooking thermometer was until I bought myself the world's most accurate thermometer! If it feels pricey, I promise it's worth it — I use my thermapen literally every single day.
Even when I just cook frozen food, I need to make sure that it's cooked all the way through in the middle. When I bake, I never have to guess if it's doughy in the middle because if it's at least 190º, I know it's cooked through!
PROS: Completely accurate, confident cooking. Each thermapen comes with a booklet with best times (I keep it in my drawer and use it all the time). Accurate temps in ONE SECOND.
Backlit, lots of colors, water resistant, and completely backed by the company with a 5 year warranty. There's not a single person in competition BBQ that doesn't use this thermometer.
CONS: Some may see it as unnecessary because it isn't like a $5 thermometer, but honestly nothing will make you more confident in your cooking than a thermometer.
USES: Grilling, cooking, baking, candy-making, taking temperature of water, flour, ingredients, etc. I use it when I cook every single time!
BUY HERE: Thermapen ONE
Instant Pot Glass Lid
Some people like to get a lid for their pots for popcorn, slow cooking, or yogurt. I personally don't find it necessary as I can just use a glass lid from one of my other pots, but many people love having a glass lid just for their Instant Pot so I've included it on this list.
Pros: Can be used for recipes that do not require pressure cooking as you can see inside the pot at a glance.
Cons: It's a glass pot lid that is branded "Instant Pot," so it costs $15
Uses: Instant Pot Yogurt (I use another pot lid or a dinner plate on my 6 quart), popcorn, slow cooking (you can use the Instant Pot lid for this so I'm not sure why you would use the glass one)
BUY HERE: Instant Pot Glass Lid
SILICONE TRIVET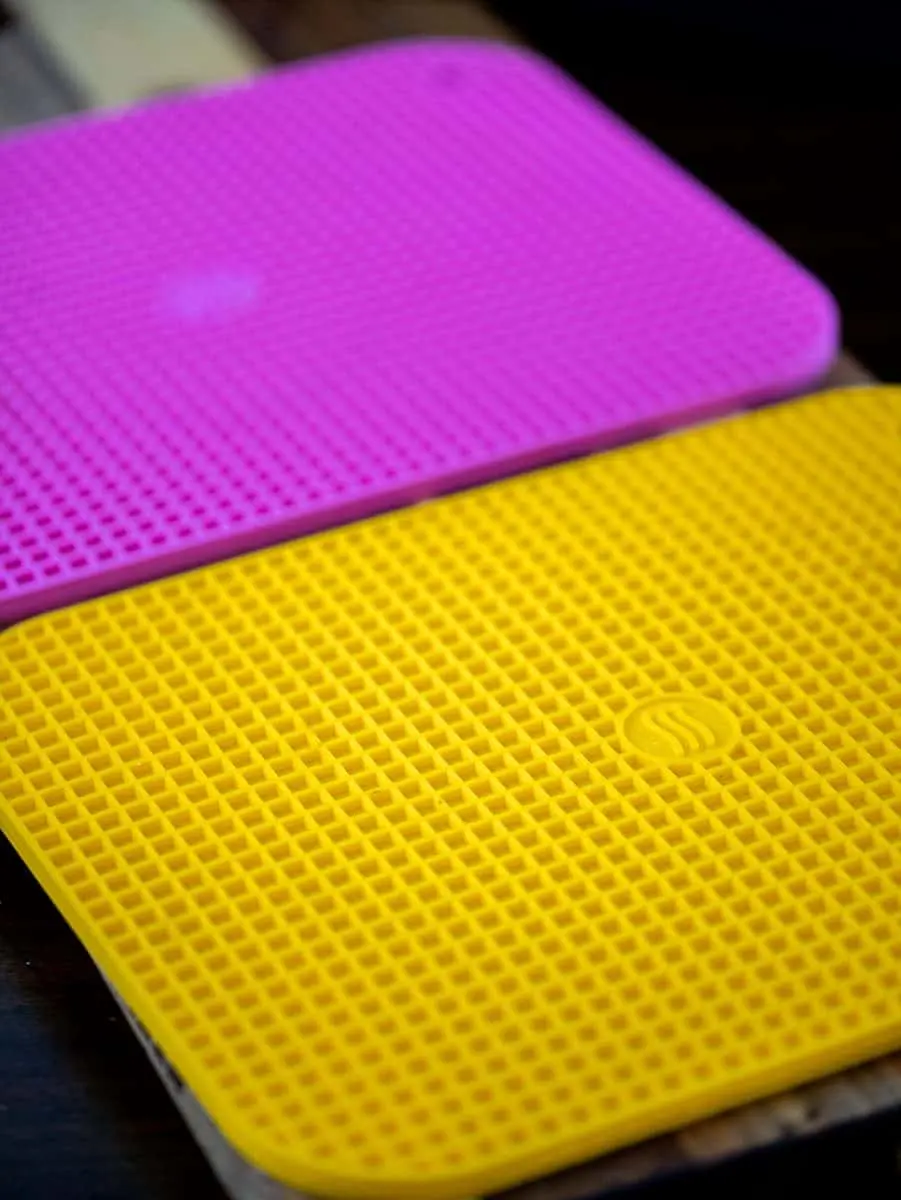 I've recently been using these amazing silicone hotpads to put under my Instant Pot while it is cooking. The bottom of the pot gets hot, so sometimes I worry when I am cooking on a surface that can't handle as much heat.
I also place my hot Instant Pot lid on top of it when I'm recording my tutorials since the lid gets in the way if I put it on the base.
These hotpads are also one of my favorite Instant Pot + air fryer combo accessories — I use them when I pull out the basket and need to put it on something.
PROS: Heat resistant up to 600º! Dishwasher safe, a good size, and comes in tons of cute colors. Helps protect your counters and surfaces. Can be used for so many different things in your kitchen.
CONS: I wish there was a slightly bigger size. It does come in a smaller circle size as well.
USES: Use it as a hot pad, to put under your hot pans or pots, lids, cookie sheets, casserole pans, etc. I use it under my Instant Pot and for my hot air fryer basket.
BUY HERE: Silicone Hotpad/Trivet
Bar Keeper's Friend
If you want to get your Instant Pot liner sparkling again, I recommend using Bar Keeper's Friend. This stuff is amazing and works on all my pots, pans, and cookie sheets.
Pros: Inexpensive, really gets pans sparkling again, works fast.
Cons: Can be damaging to some surfaces (not Instant Pot), so just be sure to read the label before using it elsewhere.
Uses: Multipurpose. Cleans Instant Pot and most other things in your kitchen and bathroom.
BUY HERE: Bar Keeper's Friend
How to use your Instant Pot
Not sure where to get started? I've compiled all of my tips and tricks into a beginner's guide. In this new video, I'll be sharing with you EVERYTHING you need to know about your new Instant Pot.
There's also several analogies to help you understand your Instant Pot. This video is for anyone who needs help understanding Instant Pot terms like QR, NPR, and an explanation of the Instant Pot interface and buttons, how to release the steam in the Instant Pot, etc. You'll love it!
What Instant Pot Accessories not to buy
Here are a couple of accessories that I don't personally recommend.
However, if you like them and they have worked for you, that's awesome! It's great that everyone has their own preferences and that there's usually something for everyone.
Instant Pot Accessory Sets
I don't recommend those sets that have a lot of different things in them. Unless you honestly know what each piece does, what you need it for, and think you'll use it, it's probably not worth it. They seem super overpriced and not useful to me!
I've been given a couple sets to try, and it just seems like each piece is low quality. I asked one company what makes their kit products different from the rest and he said, "honestly, we all get them from the same factory so it's just whatever mix of tools people put together."
I prefer to maybe pay slightly more for individual, carefully-selected tools that I know will add value to my kitchen.
Egg steamer Racks
Next up is those egg racks that hold about 6 eggs. It's just a trivet with little holes and I have no idea what advantage it has over the trivet.
Instant Pot Cooking Time Guides
I'm talking about those timesheets/magnets/charts with cooktimes — ehh. I (generally) don't think they are a good resource since every chart I've seen online doesn't seem accurate to me. Unless the guide comes from a blogger or recipe creator you absolutely trust, I wouldn't spend money on it.
Personally, I would stick with tried and true recipes and methods (like mine, hehe!)
Just my two cents!
STEAMER INSERT PANS
These pans stack on top of one another, then into the pressure cooker. I find these to be a pretty advanced Instant Pot tool, so I don't recommend you purchase them unless you are well versed at Instant Pot cooking and know you need them.
SILICONE MINI MITTS
I've gotten so many pairs of little silicone mini mitts in my pressure cookers and other accessory kits. Are the cute? Sure. Do I use them? Never.
If you have a small hand towel or an existing oven mit, I highly doubt you'll need to purchase these new.
SPRINGFORM LOAF PANS
I read that springform loaf pans are popular Instant Pot accessories. I'm not sure how many loaf-shaped recipes you'll encounter. If you do feel the need to purchase something like this, I'd recommend silicone instead.
So what do you think? Do you have some of these accessories? What would you add to the list?