This post may contain affiliate links, which means I earn a small commission if you purchase something I recommend - at no additional cost to you! Thank you for supporting this blog!
This Instant Pot Salmon recipe is a very healthy steamed salmon fillet that cooks with lemon, infusing the salmon with citrus and earthy tones. I like serving this fillet with Instant Pot broccoli, green beans, or rice.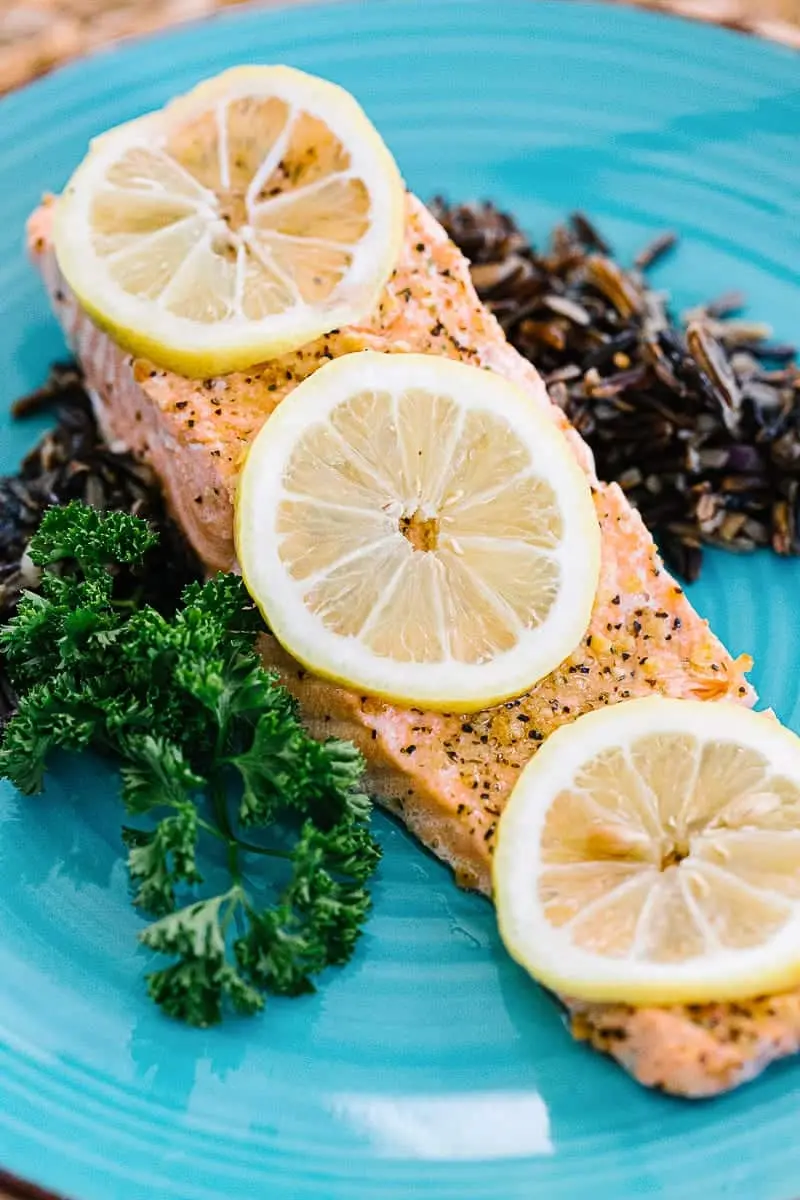 Pressure Cooker steamed salmon
This recipe optimizes the beauty of simplicity. It's pure salmon, enhanced by delicate lemon juice and lemon pepper seasoning.
Alternatively, try fresh lemon, pepper, garlic powder, and a sprinkle of kosher salt! If you're craving something a bit fancier, try these variations:
How to make Instant Pot salmon
This healthy steamed salmon is your low carb dinner from heaven. It cooks in minutes: simply season the salmon filets (my favorite is this Redmond Real Lemon Pepper.
It is the BEST lemon pepper I've ever had!), pour water (and lemon juice and dill if you want more flavor) into the Instant Pot, then place the salmon on top of the trivet in the Instant Pot.
Layer slices of fresh lemon around the salmon, and cook!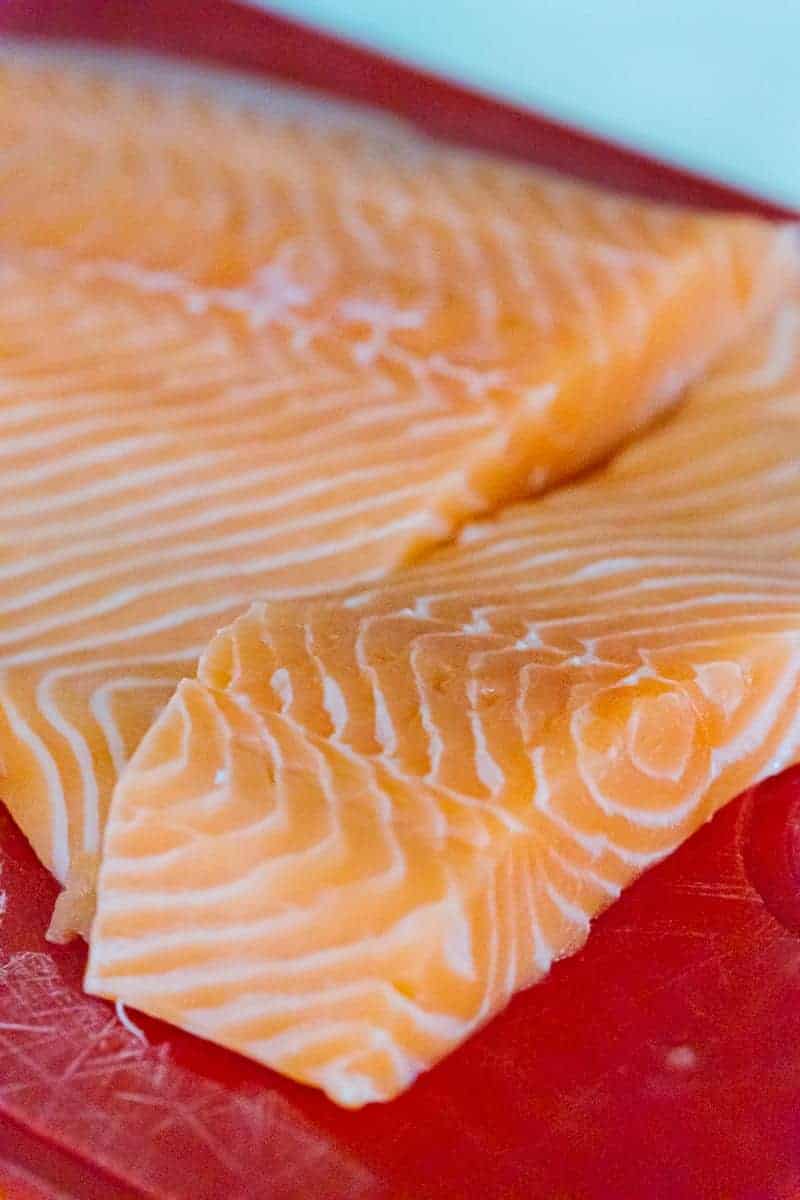 I like purchasing a large filet of salmon and cutting my own pieces. However, you can purchase salmon that has been pre-cut. The salmon for this recipe is about 2 inches thick on the thickest side.
Air fryer Salmon
If you'd like a crispier, super easy and quick salmon recipe that isn't steamed, I recommend my Air Fryer Salmon recipe. It cooks really fast and it's perfect for lunch.
I love to pair Instant Pot or air fryer salmon with Air Fryer Asparagus, Air Fried Green Beans, and Air Fryer Sweet Potato Fries.
Instant Pot salmon cook time
Salmon is a delicate fish, so you'll want to be careful not to overcook it. No one likes dry salmon!
I've found that 4-5 minutes on the Pressure Cook setting with an immediate release is the perfect cook time for making salmon in the Instant Pot.
The temperature for fully cooked salmon is 145º. I always check it with my Thermapen to make sure it is safely cooked all the way.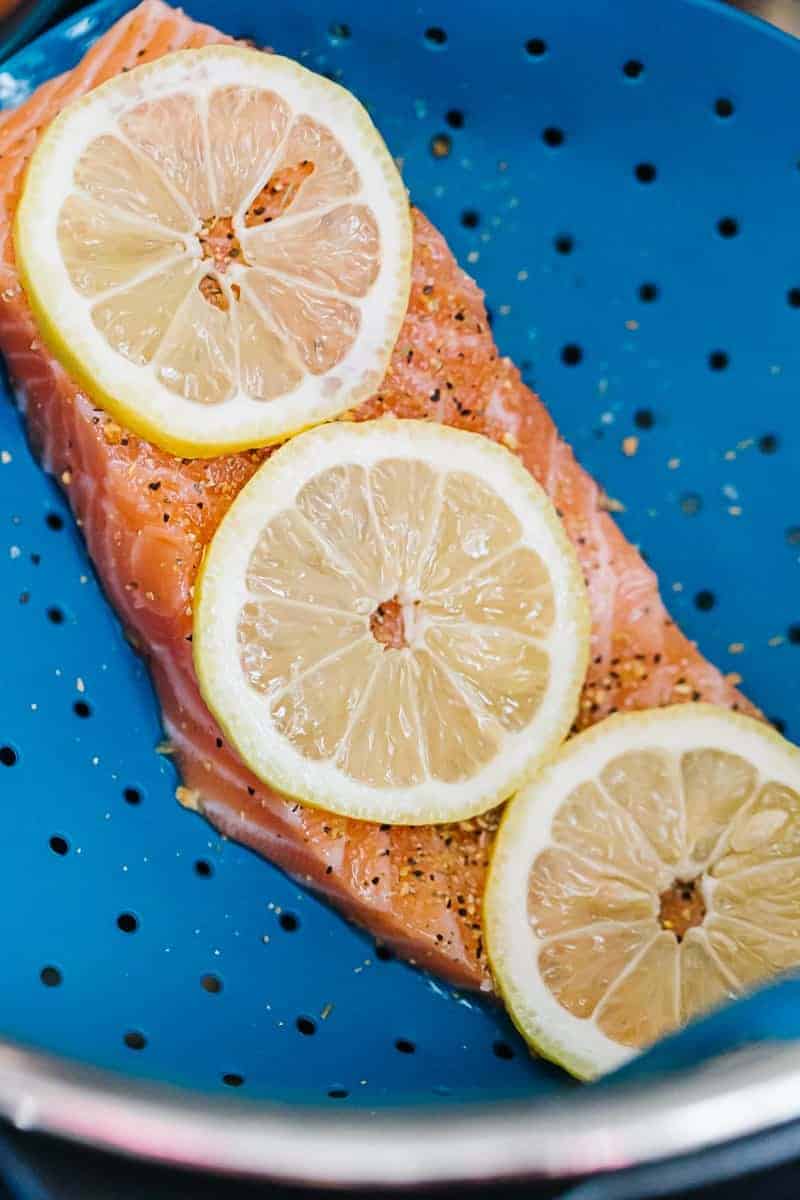 Cooking frozen salmon in an Instant Pot
Both fresh and frozen fish are always part of my dinner rotation, but each have their own pros and cons.
Fresh fish is almost always more expensive, but fresher, thicker, and heartier than frozen cuts. Frozen fish is incredibly convenient, but lacks a little of the flavor and bulk of a fresh fillet. 
Fresh fish is almost always at least two inches thick and requires 4-5 minutes of cook time than the thinner frozen variety, so keep that in mind while cooking.
Frozen salmon filets in the Instant Pot require only 2-4 minutes, depending on the thickness of the fish.
Can I meal prep this?
Yes, definitely!
This is actually one of my favorite meals to make ahead if I know that I'm going to have a busy couple of days.
Just prepare a few extra servings, pop them into tupperwares or meal prep containers, and it keeps wonderfully in the fridge for about 3-4 days!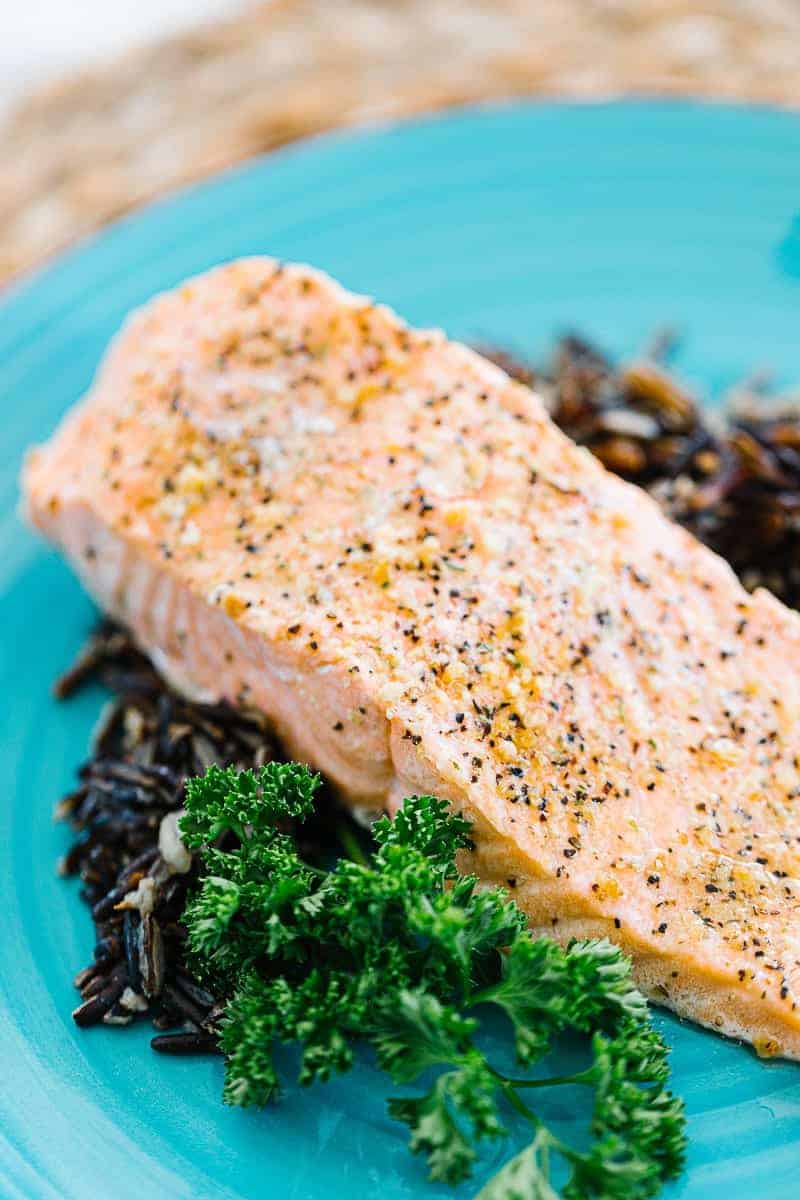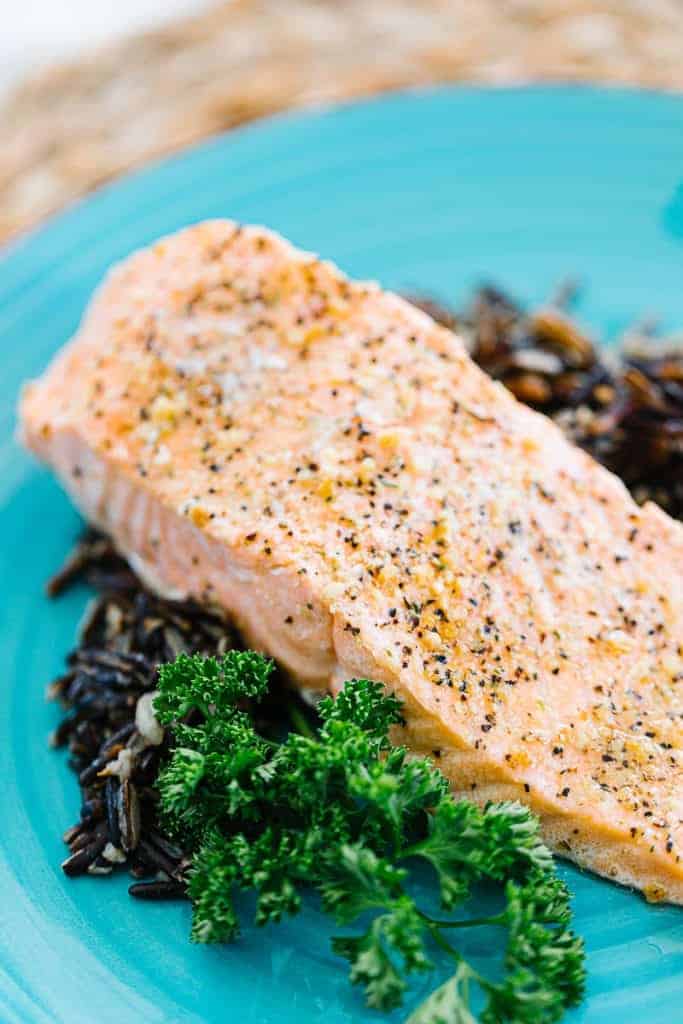 Instant Pot salmon and potatoes
Salmon and potatoes: be still my heart. I love simple salmon, but if you don't mind a few extra (healthy!) carbs, you must try this recipe for Instant Pot Salmon and Potatoes with a delicious feta dill sauce.
It's in the fish and seafood section of my new cookbook— order here!
Instant Pot Honey Garlic Salmon
Have you tried salmon with honey? It might sound weird if you've never had it, but trust me—it is good.
This recipe blends all of the savory richness of garlic with the delicate sweetness of honey, both working together to enhance the stunning flavor of fresh salmon.
This recipe can also be found in my new book!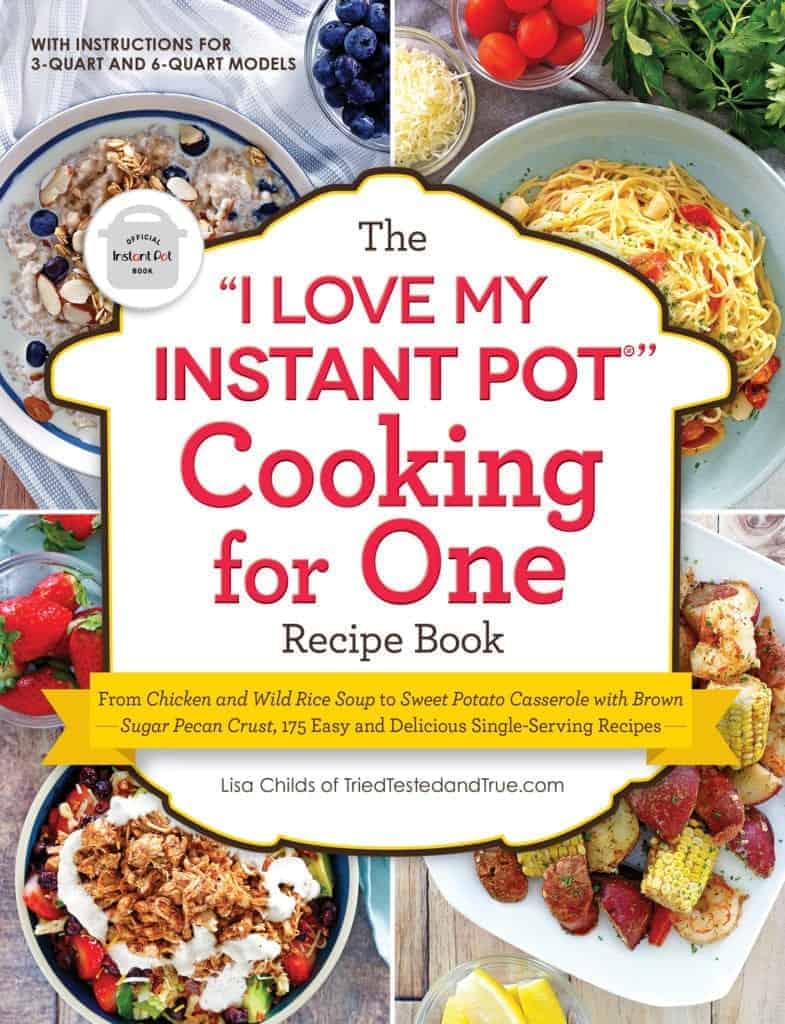 Instant Pot Salmon and rice
If I'm trying to tone down my carbs, I often enjoy a couple of filets of salmon as an entree all on their own—and quite enjoy it! Often, though, I just need some carbs. Adding rice does the trick beautifully!
INSTANT POT RICE RECIPES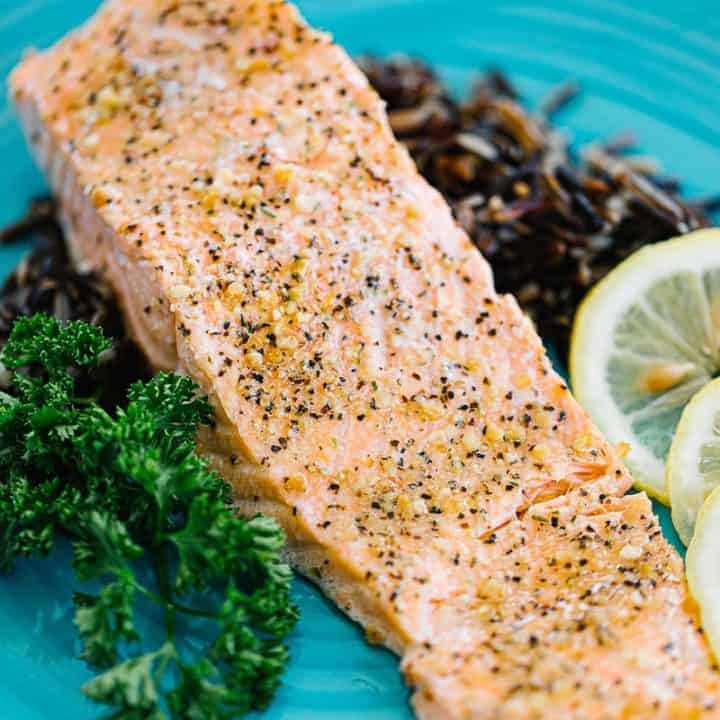 Instant Pot Salmon
This Instant Pot recipe is a very healthy steamed salmon filet that cooks with salt and lemon, infusing the salmon with citrus and earthy tones.
Print
Pin
Rate
INGREDIENTS
1

cup

water

4, 6-8

ounce

fresh salmon filets

2

teaspoons

lemon pepper

2

large lemons

about 3 lemon slices per piece
INSTRUCTIONS
Pour water into the Instant Pot®and add the trivet.

Sprinkle the salmon with lemon pepper on all sides, then place 3 lemon slices on top of the salmon. Place the salmon on the trivet.

Close the lid, turn the knob to Sealing.

Press Manual or Pressure Cook button and adjust time to 5 minutes.

When the timer beeps, turn the knob from sealing to venting, then remove the lid.

Transfer the salmon to a plate, and serve immediately.
NOTES
You can make this recipe with one, two, three, or four salmon filets and the cook time stays the same.
NUTRITION
Serving:
1
g
|
Calories:
733
kcal
|
Carbohydrates:
10
g
|
Protein:
76
g
|
Fat:
42
g
|
Saturated Fat:
8
g
|
Polyunsaturated Fat:
30
g
|
Cholesterol:
214
mg
|
Sodium:
661
mg
|
Fiber:
3
g
|
Sugar:
3
g
---
---