Instant Pot White Chocolate Candy Cane Creme Brulee
---
This post may contain affiliate links, which means I earn a small commission if you purchase something I recommend - at no additional cost to you! Thank you for supporting this blog!
Instant Pot White Chocolate Candy Cane Creme Brulee is the most luxurious, deliciously silky smooth, satisfying dessert. Best of all, it's only a handful of simple ingredients that cook in the Instant Pot.
What is Creme Brulee?
Creme Brulee is a smooth and delicate French custard dessert. It consists of heavy cream infused with vanilla bean, egg yolks, and sugar. The sweet custard is baked in a water bath in the oven and finished with a bruleed sugar shell. You crack the thin layer of caramelized sugar and the mixture of smooth with crunchy sugar is incredible!
Check out my Instant Pot Bread Pudding with Butter Rum sauce recipe that typically cooks in a water bath.
My recipe for Instant Pot creme brulee includes white chocolate and candy canes instead of the sugar shell on top. Creme brulee is typically offered at high end steak houses. Thanks to the Instant Pot, this recipe can be enjoyed on a weeknight in or for a home holiday party.
We served this dessert at our wedding luncheon (held at a steakhouse, actually!) It's one of my favorite touches from that day because it is one of our favorite desserts.
The TTT Difference
​My version combines my favorite dessert and adds a seasonal twist. I add white chocolate to the custard, and use candy canes instead of sugar to make a peppermint shell. Of course, I cook it in my Instant Pot to make it easy!
I hate having to use a water bath (also called a bain marie. It requires handling a large, boiling, hot, and fragile pan in the oven. The water bath can be intimidating to deal with the entire time. Cooking in the oven also takes up to 35-50 minutes! The hardest part of my version is waiting several hours for the custard to chill before devouring it!
My KSL Studio 5 TV Segments
I was so excited and grateful to be invited back to KSL's Studio 5 to share this Instant Pot White Chocolate Creme Brulee recipe. After the first recipe segment, I got to do a second segment on my favorite Instant Pot accessories we well. I absolutely loved my time at the studio and can't wait to go back.
WATCH MY COOKING SEGMENT FROM KSL'S STUDIO 5 KITCHEN!
WATCH MY SEGMENT ON BEST INSTANT POT ACCESSORIES!
My Favorite Instant Pot Accessories
My second segment on KSL's Studio 5 was talking about some of my favorite Instant Pot accessories!
Update: I edited this post so the accessories could have their own standalone post- read The best Instant Pot accessories to buy and avoid!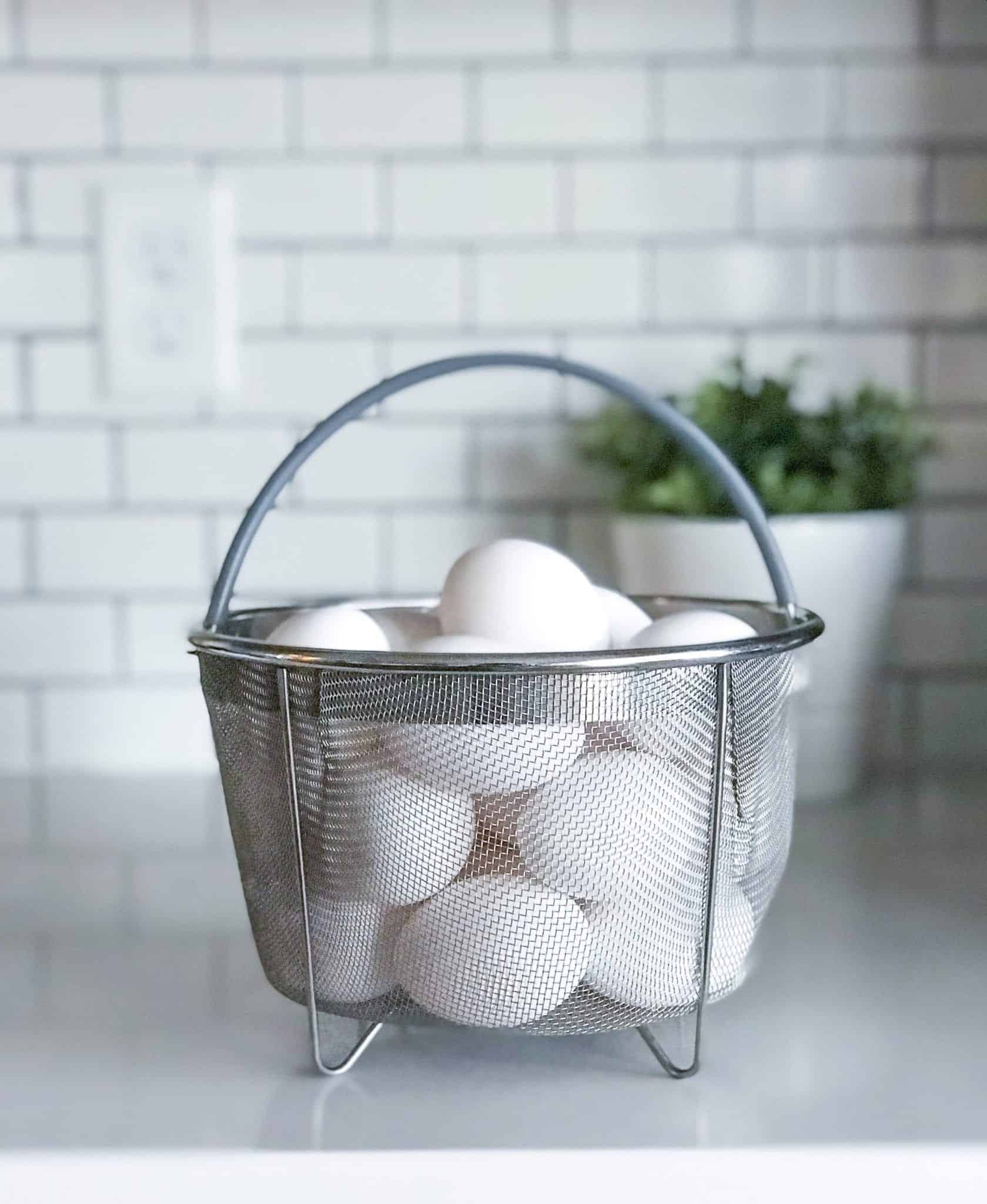 My Online Shopping Trick for CASH BACK
Don't forget to use EBATES to get CASH back on your Amazon and online shopping purchases this holiday season! Be sure to use my link HERE to sign up! You'll get an additional $10 mailed to you as a check or deposited into your PayPal account. Get money back just for buying things online like you were anyways!
Prices don't change for you at all, you just get a cash rebate. I LOVE using it to get some extra cash back! I've made a couple hundred dollars just off of purchases I was already making. So if you buy any of these accessories, be sure to use it. Ebates has thousands of online stores like Old Navy, Target, Walmart, and Amazon where you can get cash back!
If you make this recipe, don't forget to make traditional Instant Pot creme brulee anytime of the year!
DON'T FORGET TO PIN THIS POST!
Instant Pot White Chocolate Candy Cane Creme Brulee
This creamy, luxurious, and perfectly sweet dessert will become a holiday staple!
Print
Pin
Rate
INGREDIENTS
1

C.

Heavy Cream

⅓

C.

White Chocolate Chips

not almond baking bar or dipping chips

3

Egg Yolks

1 ½

T.

Sugar

1 ½

t.

Pure Vanilla or Vanilla Bean Paste

3

Candy Canes

crushed or blended to a fine powder
INSTRUCTIONS
In a small to medium pot, heat the heavy cream over medium low heat just before it boils. Do not boil. The cream may begin to slightly bubble around the edges and it will start steaming, which will indicate it is ready.

Take the pot off the heat and add vanilla and white chocolate chips. Let stand for a couple minutes, then whisk completely until the chocolate is completely melted.

In a separate medium bowl, whisk the egg whites and sugar together until the egg yolks turn a pale yellow.

While whisking, pour a thin stream of the hot cream into the egg mixture, about a third at a time until fully combined. If desired, strain the mixture through a fine mesh strainer.

Pour the mixture into 4 ramekins. Cover each with a square of foil. Skim the foam off the tops of the custard.

To the Instant Pot, add 1 C. water and the trivet. Stack the ramekins evenly on top of the trivet for maximum air flow.

Cook on manual LOW pressure for 10-13 minutes (depending on how big large your ramekins are), with a 5 minute Natural Pressure Release. followed by a quick release. 

Remove the ramekins with a pair of tongs and place on a heat proof surface. The middles should be jiggly, but not liquid. If they are still liquid, return them to the Instant Pot and cook for 1-2 more minutes on low pressure with a quick release.

Let the creme brulee cool at room temperature for about 1 hour, then refrigerate for at least 4 hours or until completely cool.

When ready to serve, top each ramekin with about 2 teaspoons candy cane powder in a thin, even layer.

Using a kitchen torch, evenly brulee the tops until the sugar is evenly browned. Alternatively, adjust your oven rack to the top shelf and place the ramekins on a cookie sheet and. Allow the sugar to harden, about 5-10 minutes, then enjoy! ​
NOTES
I like to do all the mixing in a large liquid measuring cup so I can easily pour into the ramekins Be sure to get the best ingredients you can because it is such a simple dish. If you don't have ramekins, any heatproof dish or bowl will work like a small mason jar or Pyrex. Be sure to check if your ramekins will fit before you start the dish- some ramekins are bigger than others. You can do them in two batches if needed. Be sure the sugar is evenly spread on the surface of the cream and use the torch in a circular motion all over the sugar. Don't leave the torch in one spot for too long, or you'll melt your custard and burn your sugar. A ramekin set with a kitchen torch and vanilla bean paste would be an amazing Christmas gift for the foodie in your life! Take a bite and enjoy! It will me a smooth and creamy custard with a crunchy and deep sugar crust. Yum! If it is firm and a little gritty, that means the eggs have curdled and you have overcooked it.
NUTRITION
---
---