Instant Pot Egg Bites with Bacon and Cheddar
---
This post may contain affiliate links, which means I earn a small commission if you purchase something I recommend - at no additional cost to you! Thank you for supporting this blog!
Instant Pot Egg Bites are popularized from the famous Starbucks Sous Vide Egg Bites. Now, they're easy and inexpensive to prepare at home!
what are instant pot egg bites
Instant Pot Egg Bites have taken the pressure cooking world by storm.
Egg Bites were popularized when Starbucks made their Bacon and Gruyere sous vide egg bites (and then their egg white and roasted red pepper and kale and portobello mushroom sous vide egg bites).
If you're wondering how to make sous vide egg bites in instant pot, you don't necessarily need a sous vide!
Sous vide egg bites are made in a water bath using a sous vide machine, but the flavor is just the same, no matter how you cook them!
Breakfast Recipes
Instant Pot Egg Bite Mold
First, you'll need a silicone egg bite mold. I purchased mine from Amazon, but I've seen them sold in some stores. If you decide to make them often, I would consider purchasing two molds so you can make them quicker.
I purchased the one from the Instant Pot Company because it is incredibly deep and sturdy. You don't want your molds being all willy nilly, especially when they're filled with egg!
If you're wondering how to use instant pot silicone egg bites mold in other recipes, check out this post for ideas under "silicone muffin liners"
If you don't have an egg bite mold, I've also had great success using silicone muffin tin liners. I love these!
You can put the molds on the trivet, but I always use this silicone pressure cooking sling that makes it easier.
The best Instant Pot Accessories to Buy and Avoid here!
how to make egg bites in an instant pot
First, you'll blend together your eggs, cottage cheese, salt, and butter until smooth. The cottage cheese adds tons of great protein and flavor.
Since it's such a small batch, I always use my Magic Bullet for this. This recipe makes one mold's worth of egg bites. If you want to double this recipe, double the ingredients and keep the cook time the same.
In each of the egg bite mold openings, add your fillings. I'm doing bacon and cheese, but you can get creative and add anything you like. I've made these with sausage crumbles, broccoli, cheese, tomatoes, hash browns, etc.
After you add your fillings, top each mold evenly with the egg mixture.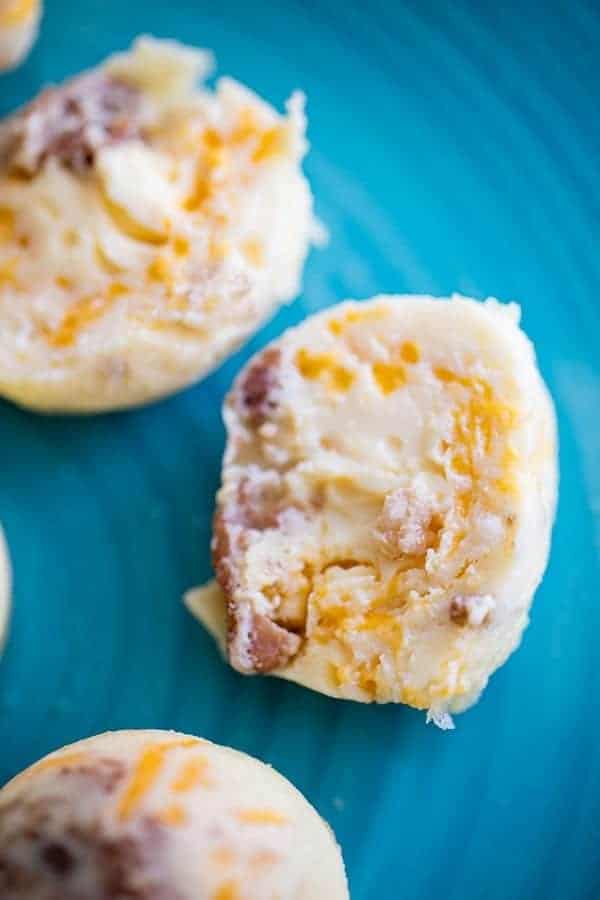 do you cover egg bites instant pot
I personally cover my egg bite molds with foil before adding them to the Instant Pot. If you have a lid that came with your molds that is pressure cooker safe, you may also use that.
can you stack egg bite molds instant pot
Yes! You can stack egg bite molds in your Instant Pot. Just make sure you place the top mold stacking on top of the bottom mold so that they don't "sink" into one another.
how long do you cook egg bites in instant pot
I cook my egg bites for 8 minutes on high pressure with a 10 minute natural pressure release. I find this to be the best time to completely cook the egg without overcooking them! Overcooked eggs are rubbery and not appetizing.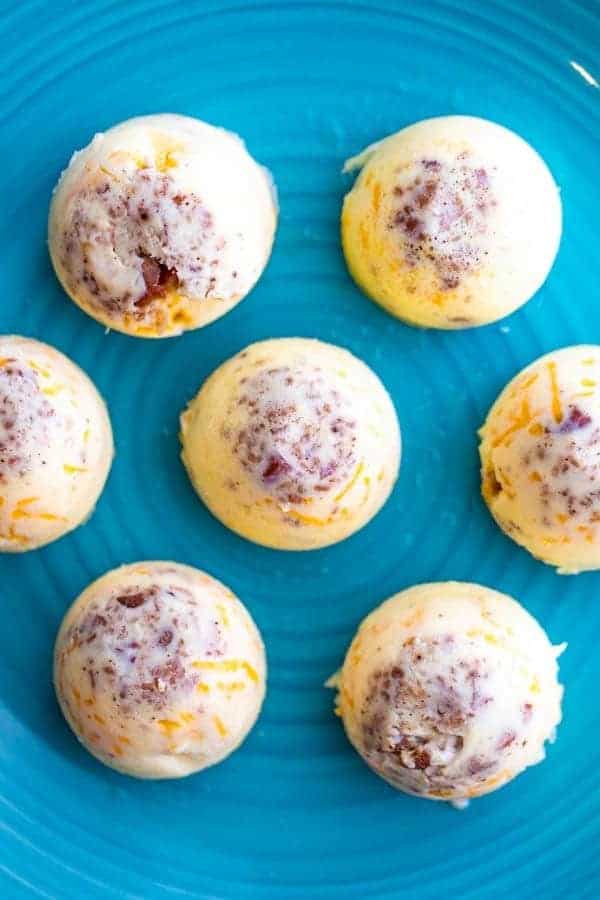 can you freeze instant pot egg bites
You can absolutely freeze egg bites. I recommend placing cooked and cooled egg bites on a cookie sheet lined with parchment paper and covering with plastic wrap (make sure they are not touching!).
After they are frozen, you can transfer them to a gallon-sized bag where they can be stored for up to 3 months.
To prepare a frozen egg bite, I would take them out of the freezer and microwave for 30-60 seconds, then flip them over and microwave again for additional 30-60 seconds.
You may have some liquid come out of the egg bites and the texture may be slightly different (reheated eggs), but they are perfectly okay to eat from frozen.
can you eat instant pot egg bites cold
I usually store my egg bites in the fridge and eat 2-3 of them for breakfast or a quick snack. I prefer to eat mine warmed up, but you can certainly eat egg bites cold.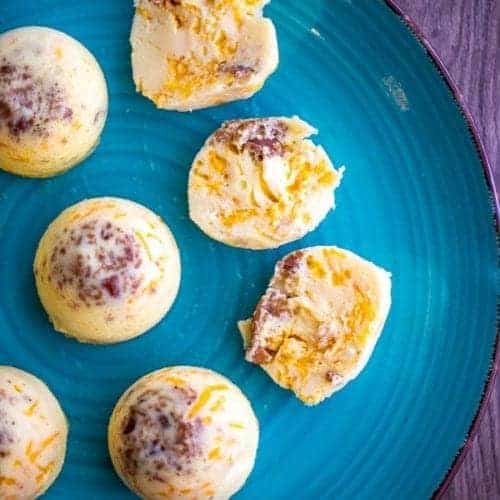 Instant Pot Egg Bites with Bacon and Cheddar
Instant Pot Egg Bites are popularized from the famous Starbucks Sous Vide Egg Bites. Now, they're easy and inexpensive to prepare at home!
Print
Pin
Rate
INGREDIENTS
5

large eggs

¼

cup

cottage cheese

⅛

teaspoon

salt

1

tablespoon

butter

melted

7

teaspoons

crumbled bacon bits

7

tablespoons

cheddar cheese

1

cup

water
INSTRUCTIONS
Blend eggs, cottage cheese, salt, and butter in a blender until smooth.

In a silicone egg bite mold, add 1 teaspoon of bacon bits into each opening. Evenly pour the egg mixture into the mold. Top each egg bite with 1 tablespoon of cheese, then cover the mold with foil.

Pour water into Instant Pot® and add the trivet.

Place mold onto the trivet.

Close the lid, turn the knob to Sealing.

Press Manual or Pressure Cook button and adjust time to 8 minutes.

When the timer beeps, allow 10 minutes to naturally release the pressure, then remove the lid.

Carefully remove the mold from the Instant Pot® and remove the foil. Invert the mold onto a plate and squeeze the egg bites out. Serve immediately.
NOTES
You can add any toppings you like into your egg bites. I recommend a minimum of 1 tablespoon of filling and 1 tablespoon of your choice of cheese and up to 3 tablespoons of filling and 1 tablespoon of cheese.
NUTRITION
Serving:
2
g
|
Calories:
269
kcal
|
Carbohydrates:
3
g
|
Protein:
18
g
|
Fat:
20
g
|
Saturated Fat:
9
g
|
Polyunsaturated Fat:
9
g
|
Cholesterol:
341
mg
|
Sodium:
516
mg
|
Fiber:
1
g
|
Sugar:
1
g
---
---
Hello! Sometimes when using a lot of fixings, and especially those that contain a lot of water or fat (vegetables and cheese), it can lower the overall temperature of the eggs and also add additional moisture. My suspicion would be that the onions and peppers did that. Next time if your egg bites aren't completely done, just ensure that the keep warm button is still on the Instant Pot and replace the lid for 5-10 minutes. The residual heat will finish cooking them.