Instant Pot Chocolate Lava cakes are decadent, rich, and EASY to make! This is a perfect simple dessert for any celebration (or Wednesday night)!
About 3 years ago, chocolate lava cakes were reallllly popular in the Instant Pot Facebook Community. Unfortunately, most of the recipes made 4-6 cakes and had me using 2 sticks of butter and separating eggs.
Since lava cakes aren't really good reheated, I set out to make chocolate lava cake for one or two people. I wanted to use whole eggs, and make it easy enough to enjoy as a weeknight indulgence after the kids go to bed.
This recipe is really flexible and adaptable. You may use any kind of chocolate chip you want for a different flavor. How about a white chocolate lava cake? Or a peanut butter one? I saw Andes Mint Chips the other day that would be SO good in this!
How to make Chocolate Lava Cakes in the Instant Pot
All you need for your lava cakes are chocolate chips, butter, powdered sugar, flour, cocoa powder, eggs, and vanilla.
I bet you have these ingredients in your pantry right now! You can even omit the cocoa powder and use all flour. Like I said, you can even melt whatever kind of chocolate chip you want.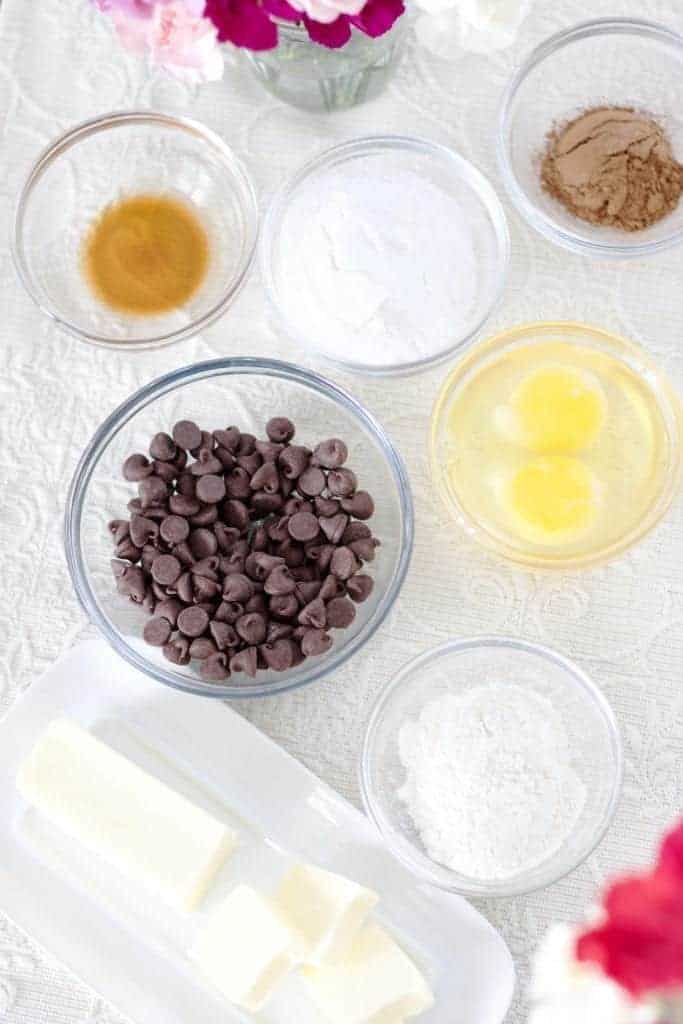 First, melt the chocolate and butter together in the microwave. Use 15-30 second intervals to avoid scorching the chocolate.
Then, mix in the eggs, sugar, flour, cocoa powder, and vanilla. Divide the batter between two greased ramekins and you're ready to cook them!
Add a cup of water to the Instant Pot, along with the trivet (or a silicone pressure cooking sling, if you have one).
After that, place your lava cakes in the Instant Pot and cook for 7-9 minutes on manual high pressure (depends on how big your ramekins are and how much lava you want!)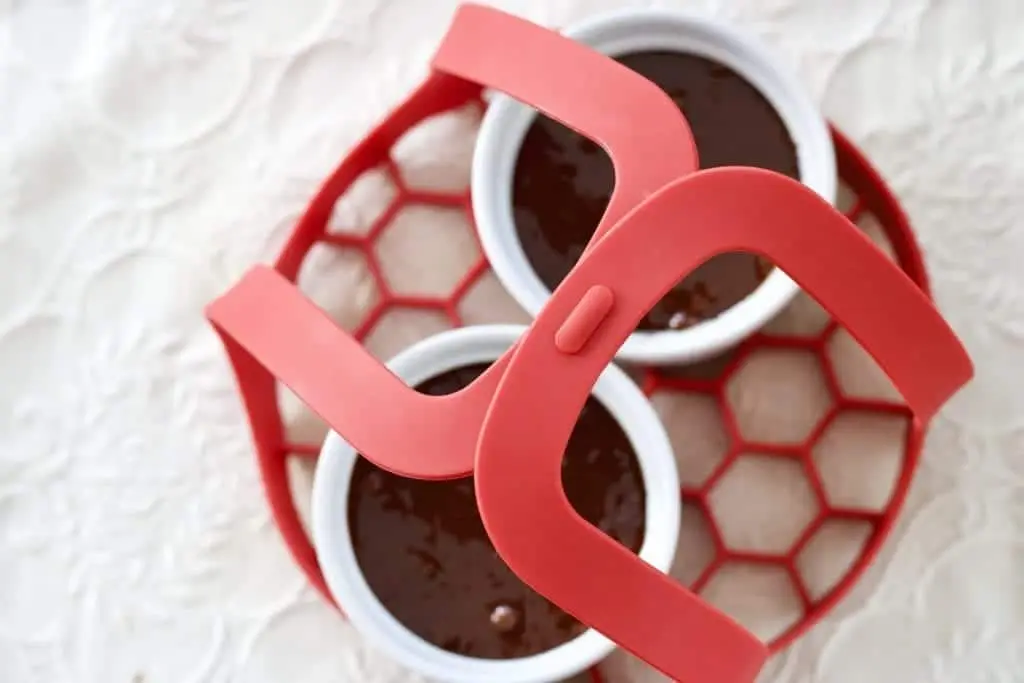 You don't need to cover your ramekins with foil. After doing a quick release, you may find some residual moisture on the top of the cake. You can simply dab it off with a paper towel.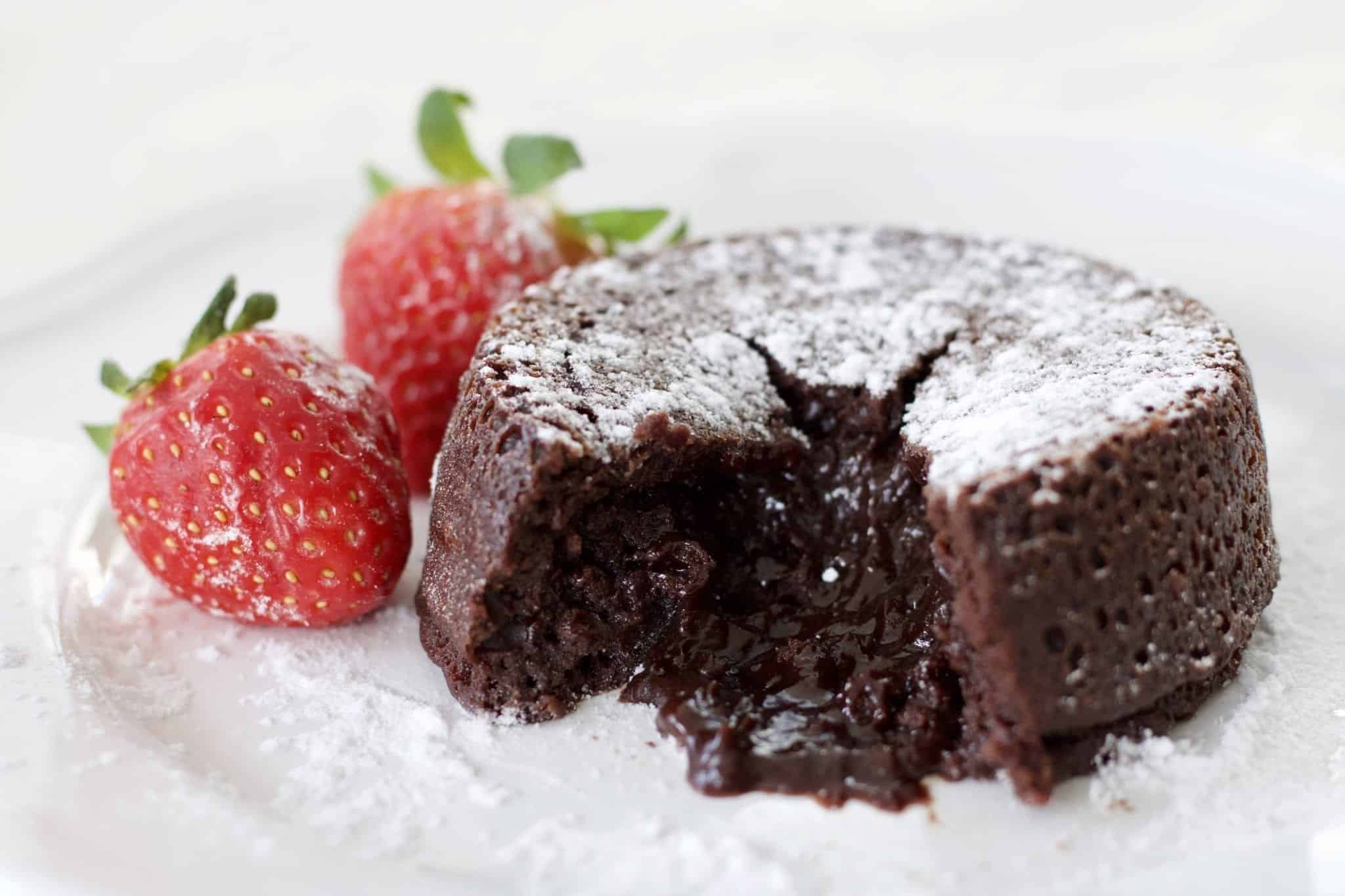 Carefully remove them from the pot with tongs, and flip them upside down on a plate. Serve with ice cream or powdered sugar! This is a suuuuper rich cake, so you'll need some milk too!
How to customize chocolate lava cakes
This is really fun, because you can add all sorts of things in. the middle of your lava cakes! Here's a list of ideas of yummy add-ins to your lava cake:
1-2 Tablespoons Nutella
1-2 Tablespoons Peanut Butter, Almond Butter, Cashew butter, etc.
Jam
A whole raspberry
1-2 Tablespoons of leftover Creme Brulee. (I've tried this and it is SO GOOD)
Pastry Cream
Marshmallow Fluff
A Reese's, Snickers, Rolo, Milky Way, or Almond Joy Candy Bar
A Ferrero Roche ball
What if I don't have ramekins?
My love for ramekins runs deep. I even recommended them on TV as one of my favorite Instant Pot accessories! You can read about some more of my favorite Instant Pot accessories in this post.
I use the ramekins for my Instant Pot White Chocolate Candy Cane Creme Brulee and my Instant Pot Bread Pudding recipes.
I love ramekins because you can use them for Instant Pot cooking, as well as general kitchen use. This isn't necessarily the case with all accessories that only have one purpose.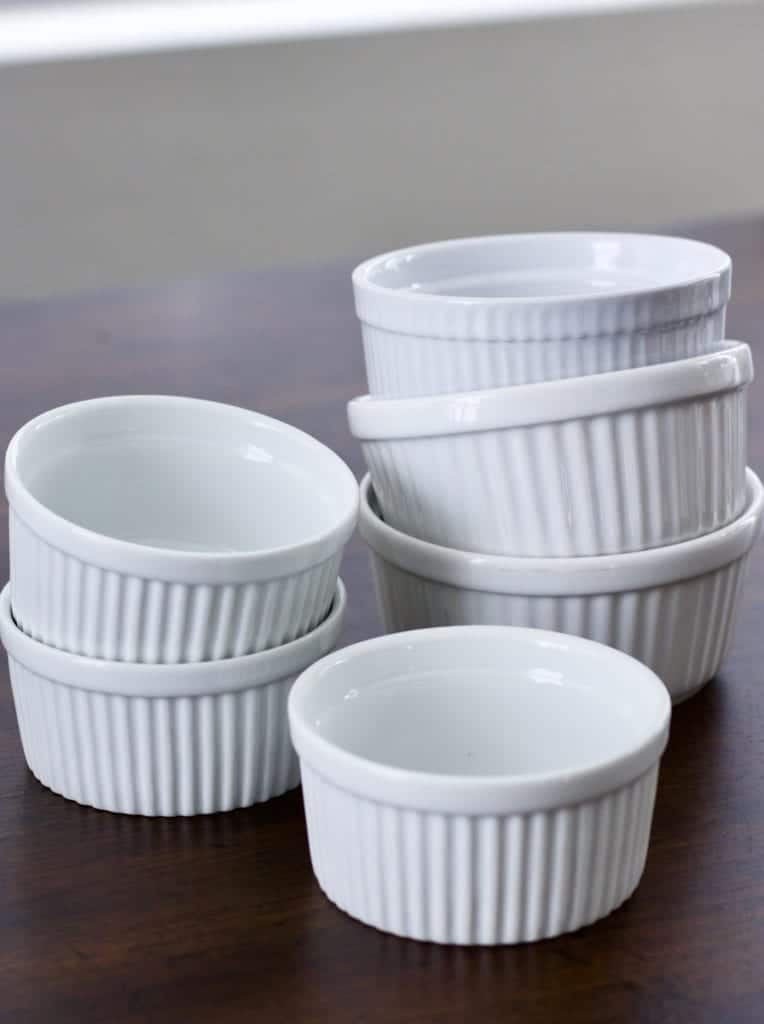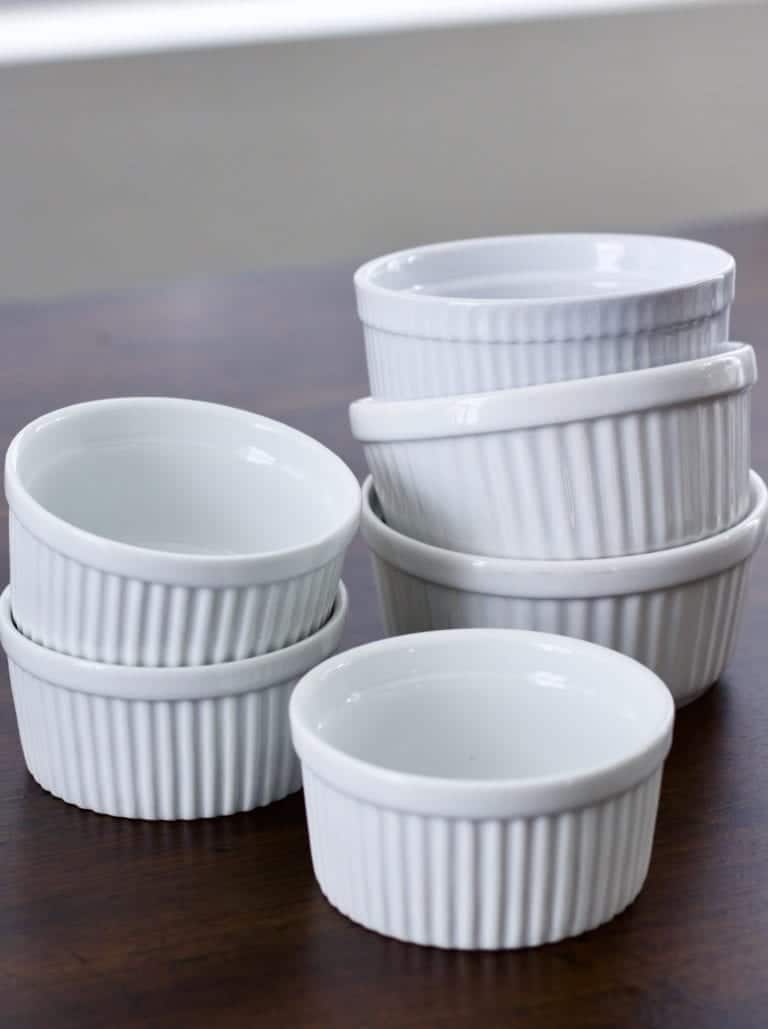 They are really classy, beautiful, and useful! If you don't have ramekins, no worries! Any ovenproof dish will work; I've had success using small Pyrex dishes before too!
As seen on Good Things Utah
Good Things Utah asked me to come showcase this recipe on their show this morning, and it was so fun! All the hosts and the crew were so kind and lovely.
Plus, the SET! Wow, their set is gorgeous. Thank you for having me, GTU! I hope I'll see you soon! Here's a link to the segment! You can watch my other TV segments on my TV page!
Instant Pot Dessert Recipes
End a yummy meal (or start one!) with a delicious Instant Pot Dessert.
Don't forget to pin this post!
Instant Pot Chocolate Lava Cakes For Two
Chocolate lava cakes for two. I guarantee you have everything you need to make these tonight!
Ingredients
1/2 cup Chocolate chips, Any kind!
4 tablespoons Butter
1/2 cup Powdered sugar
2 Eggs
2 tablespoons Flour
1 tablespoon Cocoa powder
1/2 teaspoon Vanilla
Instructions
In a heatproof bowl, combine chocolate chips and butter. Microwave in 10-15 second intervals until completely melted.
Add powdered sugar and combine until smooth.
Add two eggs, and beat until completely combined.
Add vanilla, flour, and cocoa powder.
Divide the batter between two greased ramekins. I added a Reese's peanut butter cup in the middle of the large ramekin for my husband.
Place the trivet in the Instant Pot, along with 1 cup of water. Carefully place your ramekins on the trivet. Put the lid on the pot, and set on manual high pressure for 7-10 minutes, depending on how much "lava" you like.
When the 7-10 minutes are up, do a quick pressure release. Take the ramekins out of the pot with a pair on tongs and turn over onto a plate.
If there is too much liquid on top, you can dab it off with a paper towel. If it's still too much lava in the middle, just microwave it for 15 seconds or until it is the doneness you prefer. Don't try pressure cooking it again. Serve with ice cream, chocolate syrup, strawberries, and a kiss!
Notes
- If you use a kind of chocolate chip that has a lot of oil in it, it will require more time to cook. If you use one with less, it will take less. For example, peanut butter chips have lots of oil in them and dark chocolate has less.
Recommended Products
As an Amazon Associate and member of other affiliate programs, I earn from qualifying purchases.
Nutrition Information:
Yield:

2
Serving Size:

1 grams
Amount Per Serving:
Unsaturated Fat:

0g