This post may contain affiliate links, which means I earn a small commission if you purchase something I recommend - at no additional cost to you! Thank you for supporting this blog!
Air Fryer Bacon is life changing! It's perfectly crispy and evenly cooked in less than 10 minutes with easy cleanup.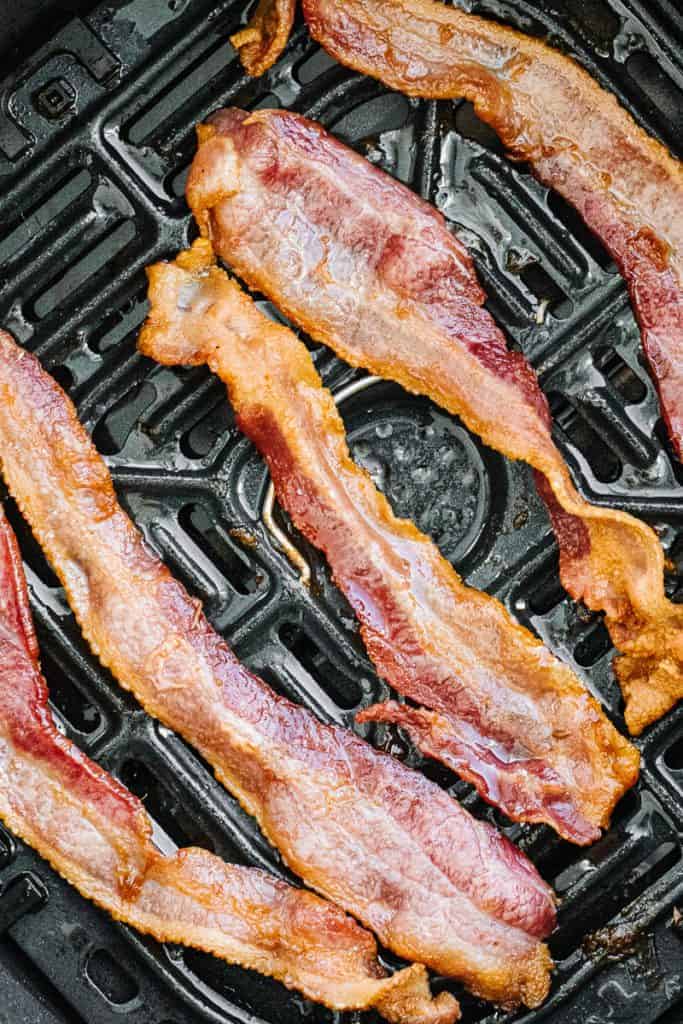 Air frying has transformed so many recipes, such as baked potatoes, cookies, chicken wings, and burgers. It makes everything quicker, cleaner, and delicious. Air fryer bacon is no exception!
Before I teach you how to make bacon in an air fryer, let me answer a few frequently asked questions about air fryers.
Breakfast Recipes
Which Air Fryer is The Best
I love my air fryer and use it daily. If you don't have one, you should! It's the perfect companion for the Instant Pot.
The Instant Pot cooks with pressurized steam. Therefore, you'll never create something crispy in an Instant Pot. I often use my air fryer right after pressure-cooking to crisp a recipe, such as Instant Pot Salt Potatoes, Instant Pot Ribs, and Instant Pot Broccoli.
Check out this post for my controversial opinion on the Instant Pot Air Fryer Lid. In summary, I prefer a standalone air fryer to the Instant Pot air fryer lid. This is my air fryer and it's amazing!
I made the mistake of buying a smaller air fryer first. Don't do this. I recommend starting with a 5-6 quart or you'll just end up buying a bigger air fryer later on.
I love using these silicone trivets to place my hot air fryer basket on. They protect my counters and I use them ALL the time.
What to Air Fry
Just between you and me, I probably use my air fryer more than my Instant Pot. I even have a special shelf in my pantry with an outlet to keep it plugged in and ready for use. Here are some of my favorite ways to use the air fryer: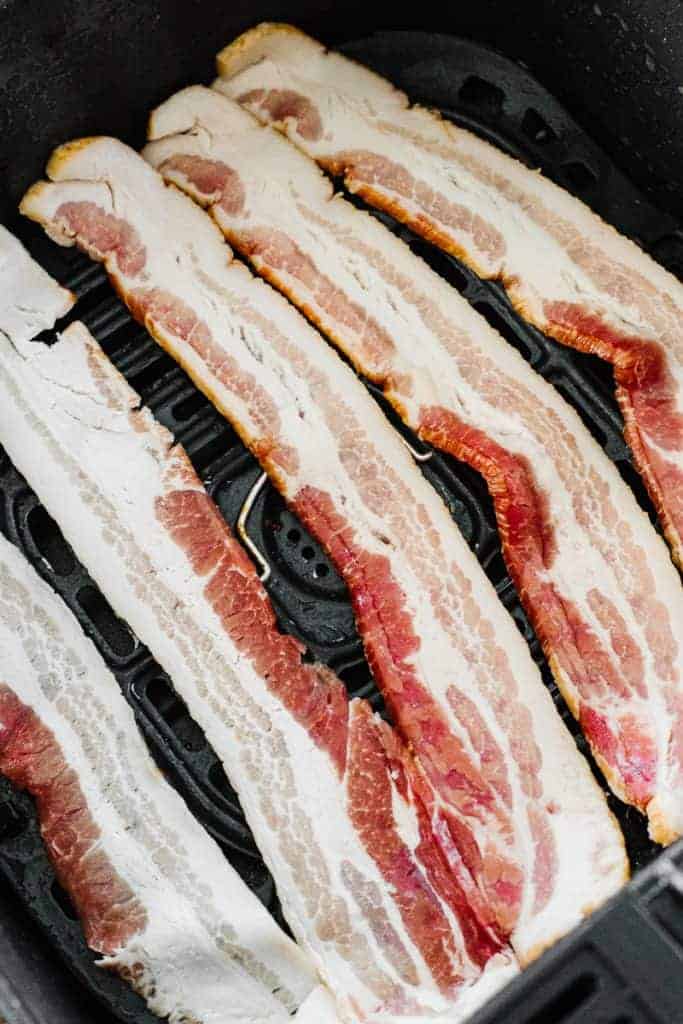 How to Cook Bacon in Air Fryer
I hate cooking bacon in a frying pan or on a griddle. It never cooks evenly and the oil splatters everywhere, burning me and staining my clothes.
I like cooking bacon in the oven more because it's easier to clean up with a parchment paper lined cookie sheet. However, the oven takes so long to cook bacon and heats up the whole house.
Air fryer bacon is the perfect solution! Bacon in the air fryer cooks in no time and contains the grease for significantly less mess. It just takes three easy steps!
Add a single layer of thick cut bacon to a cold air fryer basket.
Cook at 400ºF for 7 minutes (or 5 minutes for regular-cut). I like to flip it halfway through cooking but I've been known to forget and it still is fine!
Place cooked bacon on a paper towel, then serve!
If you like extra crispy bacon, add a few additional minutes and check every 30 seconds, according to your preference.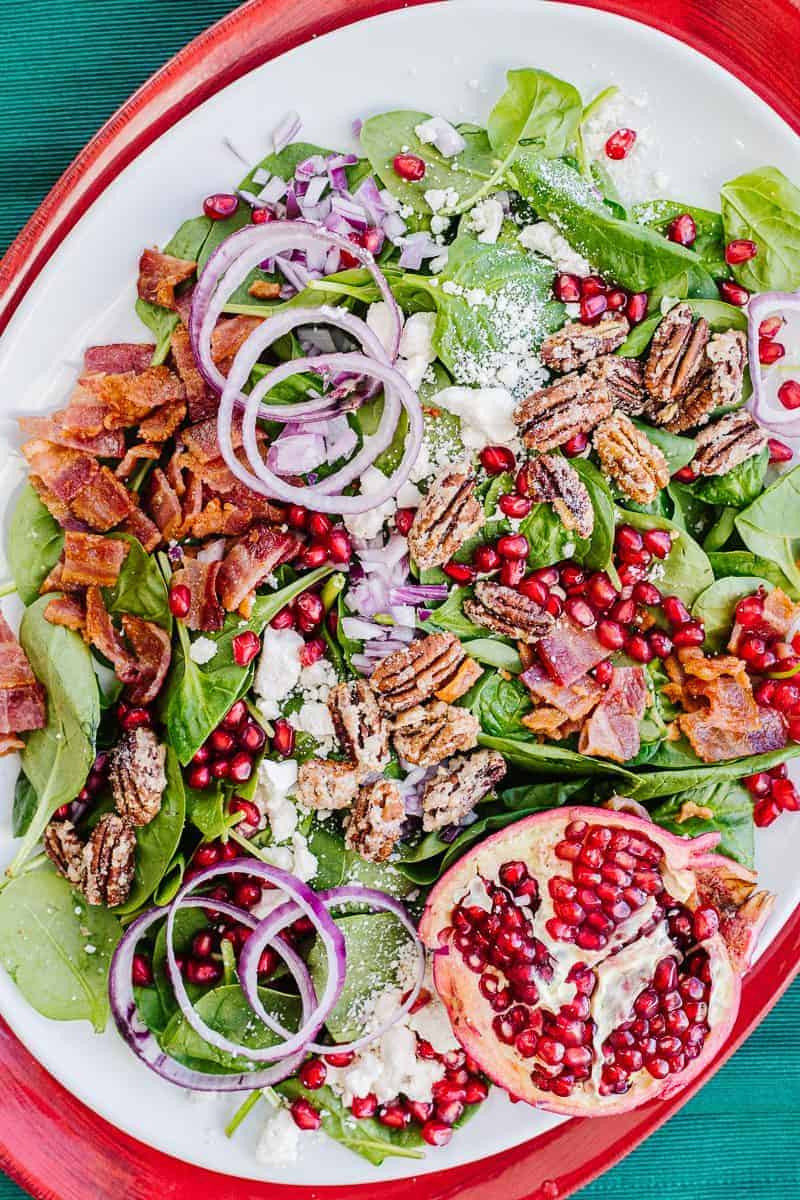 I always use the air fryer to cook the bacon for my Spinach Pomegranate Salad. It is SOOO good!
Air Fryer Turkey Bacon
Is turkey bacon healthy?
Many people use turkey bacon as a healthy alternative to regular pork bacon. Although it is still highly processed, it does contain less fat and calories. It's a good option for certain diets or individuals who can't eat pork.
How to cook Turkey Bacon in Air Fryer
You can easily replace the pork bacon in this recipe with turkey bacon! Turkey bacon does tend to cook a little faster since it is much leaner and thinner than thick-cut bacon, so keep an eye on it after 4 minutes.
Do I need to preheat my air fryer?
It isn't always necessary to preheat the air fryer, but it depends on the recipe. Always check if the recipe calls for preheating the air fryer.
I do not preheat my air fryer for bacon in the air fryer because bacon does best (whether on the stove or in the air fryer!) starting in a cold pan. This is because the bacon is mostly fat, and it will do a much better job rendering down the fat for crispy bacon.
If you prefer a chewier bacon, add the bacon to a preheated air fryer and cook until you reach the desired texture.
How to prevent bacon from smoking
Sometimes, the air fryer can get a little smokey when making bacon. To avoid it from smoking, I suggest making the bacon in batches and not overfilling the basket too much.
Sometimes when I use really thick cut bacon, there is a lot of grease and I occasionally have to drain some of the grease out during the cooking process. Do this carefully so you don't burn yourself!
Another way to avoid bacon from smoking is make sure your air fryer and air fryer basket is clean of any crumbs or leftovers from other recipes.
Air Fryer Sausage and Eggs
You can make eggs and bacon in the air fryer at the same time! My kids also love air fryer sausage patties.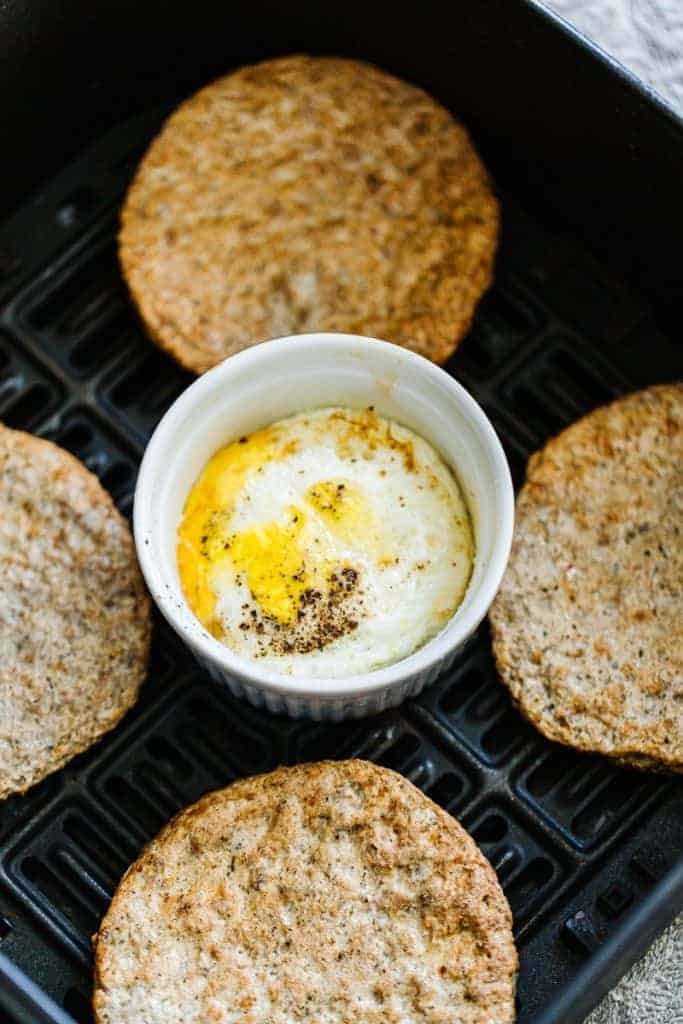 Other Delicious Recipes with Bacon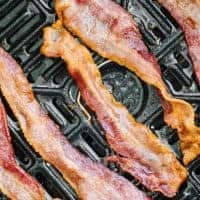 Air Fryer Bacon
Air Fryer Bacon is life changing! It's perfectly crispy and evenly cooked in less than 10 minutes with easy cleanup.
Print
Pin
Rate
INGREDIENTS
6

pieces

bacon

thick cut or regular cut
INSTRUCTIONS
Place bacon in the cold air fryer basket in a single layer.

Cook the bacon at 400º. Thick cut bacon takes 7 minutes and regular-cut bacon takes 5. Flip the bacon halfway through cooking. If you like chewier bacon, cook for less time. If you like crispier bacon, cook for an additional 30-90 seconds.

Using tongs, remove the bacon to a paper towel-lined plate and serve immediately.
NOTES
Drain the basket of any bacon grease between batches. Carefully pour it into a heat-proof container or jar.
NUTRITION
Serving:
1
g
|
Calories:
112
kcal
|
Protein:
8
g
|
Fat:
8
g
|
Saturated Fat:
3
g
|
Polyunsaturated Fat:
5
g
|
Cholesterol:
24
mg
|
Sodium:
404
mg
---
---