*This post may contain affiliate links. This means as an Amazon Associate and affiliate for other products, I earn from qualifying purchases at no extra cost to you.
German Pancakes are a favorite in our family! They go by many different names (the most popular is Dutch Baby), but we call them German pancakes. We love to serve them with homemade vanilla bean syrup.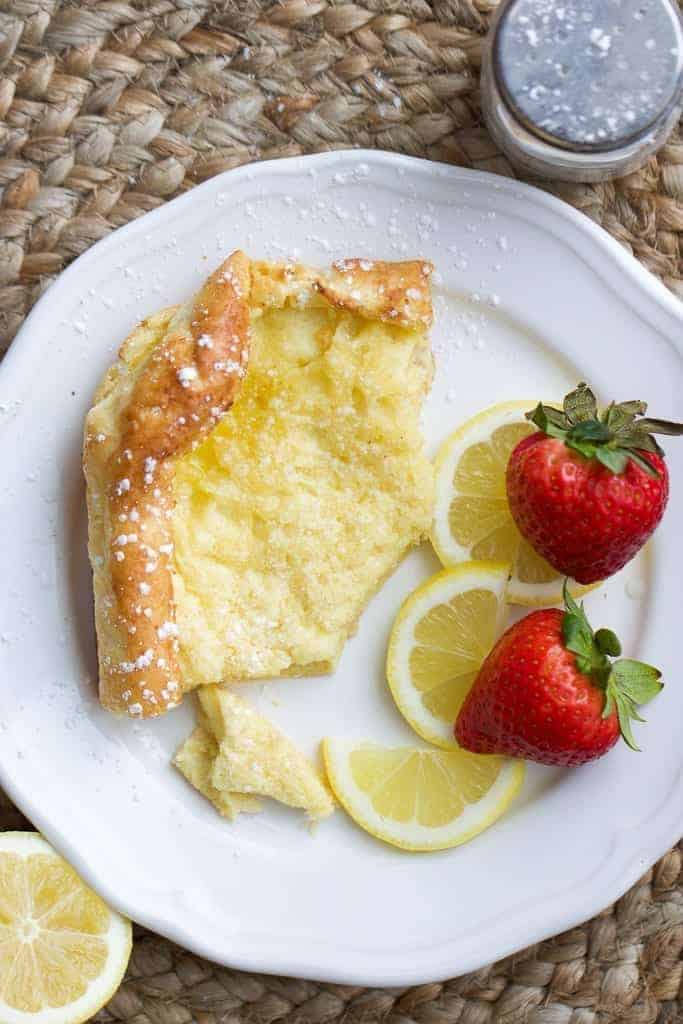 I know this isn't an Instant Pot recipe, but with only 4 ingredients, it is THE MOST simple and easy breakfast recipe that I knew you would love it.
German Pancake Names
I've asked this question on my Instagram before, and I was SHOCKED at the 100+ different responses I got!
Here are some of the responses I got:
German Oven Pancakes
Hootenannie/Hoot Nanny/Hootenanny Pancakes
Puffy Pancakes
Monster Pancakes
Dutch Baby Pancakes
Oven Pancakes
Giant Pancake
Pannukakku
Puff Over Pancakes
Popeyes
Fancy Pancakes
Fluffy Eggs
Panakuchen
Magic Pancakes
What do you call them in your family?
German Pancake Recipe
These German Pancakes are a fluffy, eggy, and puffy breakfast dish. They don't have an actual pancake texture- it's a little denser in the middle and cream-puffy on the edges.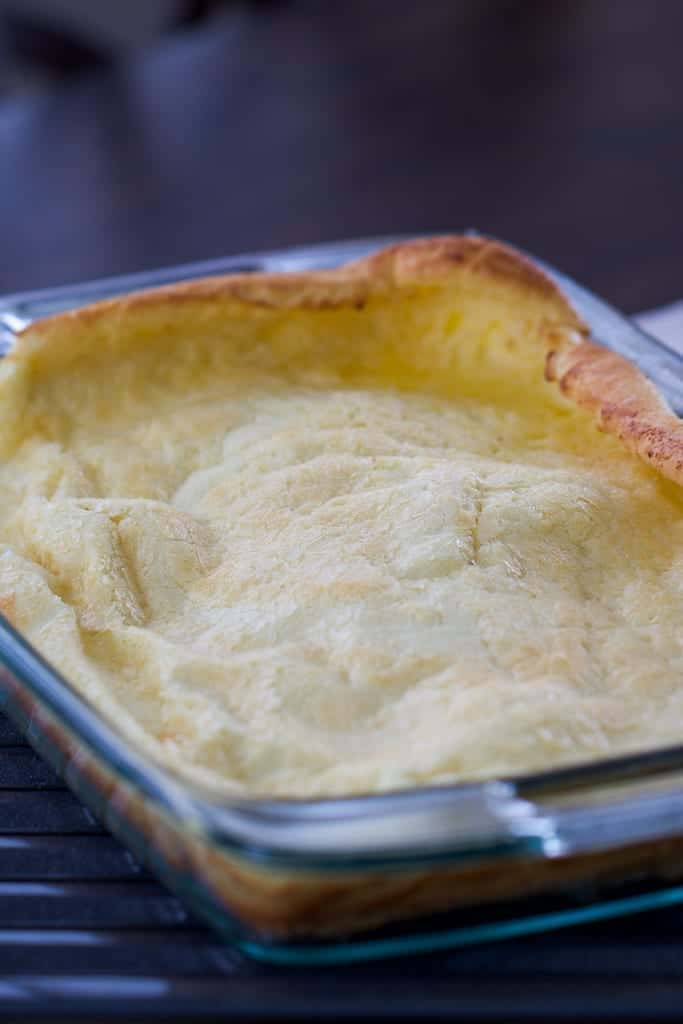 The only ingredients I use when making this German Pancake recipe are:
1 Cup Milk
1 Cup Flour
6 Eggs
Butter
You can add a dash of salt and a splash of vanilla if you like!
How to Make German Pancakes
German Pancakes are unique because they have a beautiful puff on the edges that forms from pouring the batter into a hot pan. I use a glass 9×13 dish.
You can make a Dutch Baby/German Pancake in a hot cast iron pan for a round Dutch Baby as well!
First, place a pan with 3-4 tablespoons of butter into your oven. Turn the oven to 375 and let it preheat with the pan inside. If you use a metal pan, preheat to 350.
Blender German Pancakes
I use my Blendtec blender and add milk up to the 1 cup line on the side of the blender jar. Then, I'll add 1 cup of flour and 4-6 eggs.
This dutch baby recipe is super flexible with the eggs. You can add 4 if you don't have that many eggs, or if you don't like them as eggy. If you like them really eggy and thick, add up to 8!
Pulse the batter to combine, then blend the batter in the blender (or a bowl with whisk) until smooth.
Bake German Pancakes
Open the oven and make sure the butter is completely melted and distributed throughout the pan. Then pour the batter into the hot pan. Close the oven and cook for 18-22 minutes or until puffed and golden (a little less for a metal pan).
My favorite way to serve these dutch baby pancakes is with a squeeze of fresh lemon and shake of powdered sugar. My family loves vanilla bean syrup and berries.
The pancakes collapse a little after they come out of the oven- don't worry! It's perfectly normal!
Dairy Free Dutch Baby/German Pancake
One of my readers told me that she has successfully used almond milk, rice milk, and coconut milk with good results, but the coconut milk is the only milk alternative for German Pancakes that puffed.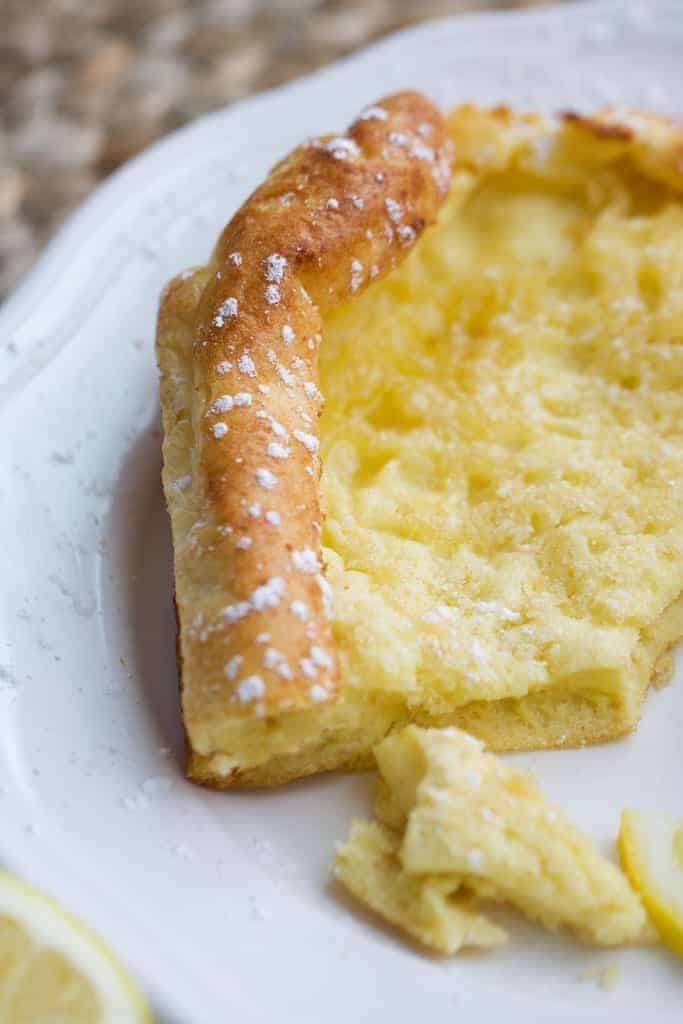 Vanilla Bean Syrup
We haven't purchased maple syrup in almost 8 years because we only make this easy, homemade syrup! Using vanilla bean paste makes such a huge difference in sweets and it's worth every cent!
Use it 1:1 in place of vanilla extract in anything!
You can use vanilla bean paste in my Instant Pot Creme Brulee, Bread Pudding, Dairy free Coconut Rice Pudding, and Vanilla Bean Rice Pudding recipes!
Air Fryer Sausage, Bacon, and Eggs
We love a yummy, hearty breakfast! I almost always serve German pancakes with Air Fryer Sausage, Air Fryer Bacon, and eggs. When it's just one or two of us, I'll even make Air Fryer Eggs.
Breakfast Recipes
Dutch Baby/German Pancake with Vanilla Bean Syrup
These German Pancakes are a favorite in our family! They go by many different names (the most popular is Dutch Baby). These pancakes are puffy, eggy, thick, and incredibly simple to make. We love to serve them with homemade vanilla bean syrup.
Ingredients
Dutch Baby/German Pancakes
1 cup Milk
1 cup All-purpose flour
4-6 Eggs, I have done as few as 4 and as many as 8 and it works. Very flexible and depends on how eggy you like it! My favorite is 6.
3-4 tbsp Butter
Vanilla Bean Syrup
1/2 cup Sugar
1/4 cup Butter
1/4 cup Milk
1 1/2 tsp Vinegar or Lemon Juice, (or use buttermilk in place of milk and vinegar/lemon juice)
1/2 tbsp Vanilla Bean Paste
1/4 tsp Baking Soda
Instructions
Dutch Baby/German Pancake
Preheat oven to 375. Place a 9x13 glass dish or cast iron pan with 3-4 tablespoons butter in the oven (you preheat the pan in the oven to melt the butter and get the pan hot). Preheat to 350 if using a metal pan (glass highly preferred)
Combine remaining 3 ingredients in a blender and blend until smooth. Pour the batter into the hot butter/pan once oven is preheated and butter is melted. Bake for about 18-22 minutes until puffed and golden.
Serve with berries and syrup or powdered sugar and lemon.
Vanilla Bean Syrup
Combine milk and vinegar or lemon juice in a medium pot and wait 5 minutes. Or, you can use buttermilk in place of the milk/vinegar mixture. I actually prefer the milk/vinegar better.
Add the butter and sugar to the pot and heat/whisk on medium/med high heat until melted. Bring to a boil for 1 minute. Take off the heat, and whisk in baking soda and vanilla. It will bubble and expand as you whisk it in so make sure your pot is big enough. This makes 1 cup of syrup. Store in fridge and microwave as needed! Syrup adapted from one of my favorite cooks, @abountifulkitchen
Nutrition Information:
Serving Size:

1 grams
Amount Per Serving:
Unsaturated Fat:

0g