Bacon Wrapped Smokies in the Air Fryer
---
This post may contain affiliate links, which means I earn a small commission if you purchase something I recommend - at no additional cost to you! Thank you for supporting this blog!
Air Fryer Bacon Wrapped Smokies are one of my most popular and highly requested appetizers for any party. The best part? They're super easy to put together and make!
bacon wrapped smokies
Bacon Wrapped Smokies (or bacon wrapped cocktail sausages, bacon wrapped weiners, or bacon wrapped lil smokies, whatever you call them!) are a popular side dish that are… exactly what they sound like!
Cocktail sausages (usually called lil or little smokies), wrapped in bacon affixed with a toothpick, and cooked. They're usually enjoyed as a yummy appetizer.
These can be cooked as is, without anything else!
Which Air Fryer To Use
I have three air fryers and an air fryer lid (watch my video on my honest thoughts about an air fryer vs. an air fryer lid) and my favorite, most powerful air fryer is actually the Instant Brand (same people who make Instant Pot)!
It's the Instant Vortex Plus Air Fryer 6 quart. With any air fryer, I recommend you get at least a 5 quart in size. Anything smaller and you won't be able to really use it for a lot.
bacon wrapped little smokies with brown sugar
My favorite way to enjoy bacon wrapped smokies are to make them with brown sugar! The brown sugar melts on top of of the smokie and combined with the bacon, it self-bastes in a savory, sweet caramel sauce.
You don't have to do anything to the brown sugar but sometimes I will add a dash of cayenne pepper and smoked paprika for a little sweet and smoky pop of heat.
how to make bacon wrapped smokies
After making these little smokies several times, here are my tips for the easiest way to make bacon wrapped smokies in the air fryer.
Use a thick, center cut bacon. Using a regular bacon like Bar-S is too thin and the bacon may burn before the sausages are warmed through. These thinner types also usually have a lot more fat in them than meat, which isn't good to eat.
Cut the bacon as big as your smokies. My bacon was able to cut into 6 pieces. You don't need a ton of bacon per smokie.
Don't over-wrap the smokies. Especially if you're using a thicker cut of bacon, you don't need to over-wrap the sausages so the bacon is wrapping over itself. This will just cause the wrapped part to get chewy and will never crisp up.
Create a blanket "over" the sausage. I have found that the best way to make bacon wrapped smokies is to just cut enough bacon so it covers the top of the sausage and not the bottom. This helps everything stay crispy, and not chewy or soggy.
Keep the bacon in place by sticking a wooden toothpick in the center of the bacon.
Instead of sprinkling the brown sugar over the wrapped smokies, I prefer to take each one after wrapping, and pressing the sugar onto the top of the bacon. I just get a small bowl of about 1/2 cup of brown sugar, and "dip" them while pressing. This prevents waste and burn.
After the smokies are done cooking, sprinkle a little additional brown sugar over the hot smokies. This creates a little bit of a "crunch" because the brown sugar will melt a little bit and harden. Plus, it gets a little bit extra sweetness on them!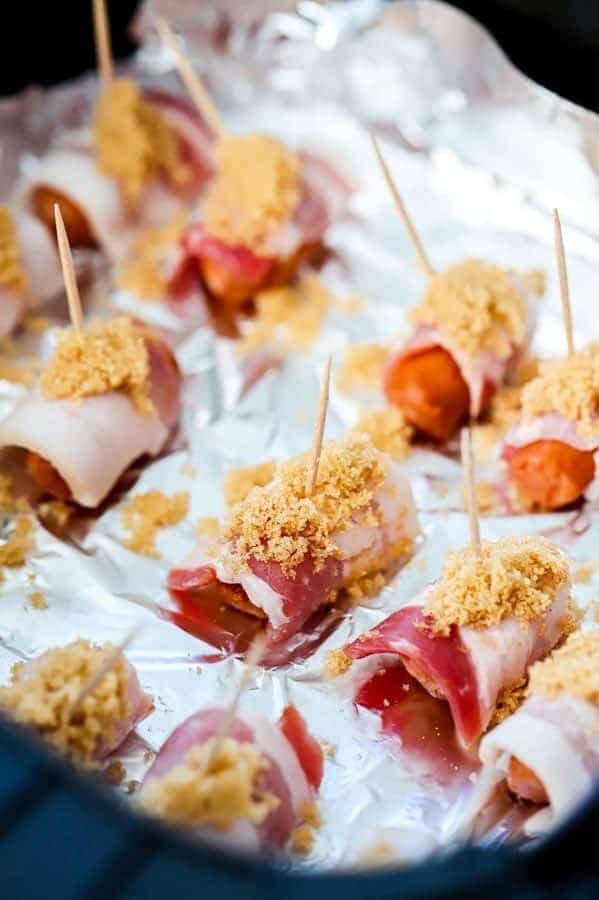 bacon wrapped smokies in air fryer
Bacon wrapped smokies are generally cooked in an oven, but I prefer to make them in the air fryer since it's so much faster and easier!
To make air fryer smokies, place a piece of foil in the air fryer basket. This keeps the sugar from melting into the bottom of the basket and burning. It also helps the smokies baste in the syrupy caramel that results from the bacon grease and brown sugar.
The foil does not have to be greased. Then, place the smokies on the foil, leaving enough room around each lil smokie so it has enough room to crisp the bacon. I prefer to do it in two batches.
If the smokies are too close to each other, they will more "steam" than bake.
how long to cook little smokies wrapped in bacon
Traditional methods of baking these in the oven will tell you it takes about 20-30 minutes. Air fryer smokies are done in 10 minutes or less!
I air fry these at 400º for 8-10 minutes without flipping! You don't need to flip them because there's no bacon on the bottom!
All air fryers will cook slightly differently, so at the 5 minute mark, check the smokies and see how they look. If they look crisp and the brown sugar is melted, you can take them out!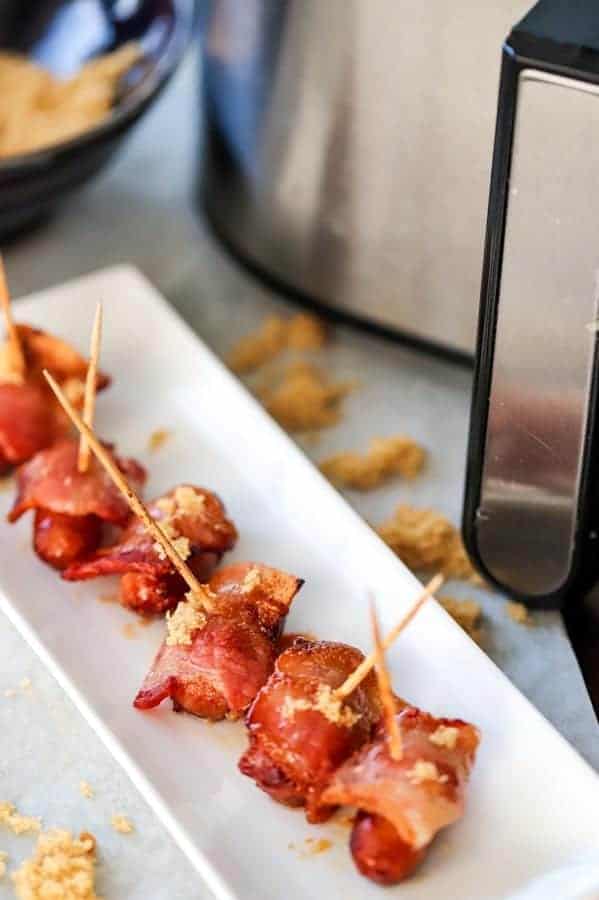 If your smokies look like they could use a couple minutes, keep cooking for 3-5 minutes. Avoid overcooking, because you don't want burned smokies or browned sugar.
can you make bacon wrapped smokies ahead of time?
The best part about this dish is that you can assemble them ahead of time by a day or two, then keep covered in the fridge until you're ready to air fry.
If you make these smokies ahead of time, add the bacon to the smokies with a toothpick, and then cover and refrigerate.
Right before you air fry, add the brown sugar. If you don't have time to dip each one into the brown sugar, you can sprinkle the brown sugar on top of the smokies and then place in the air fryer.
Try not to leave too much brown sugar on the foil around the smokies to avoid it burning.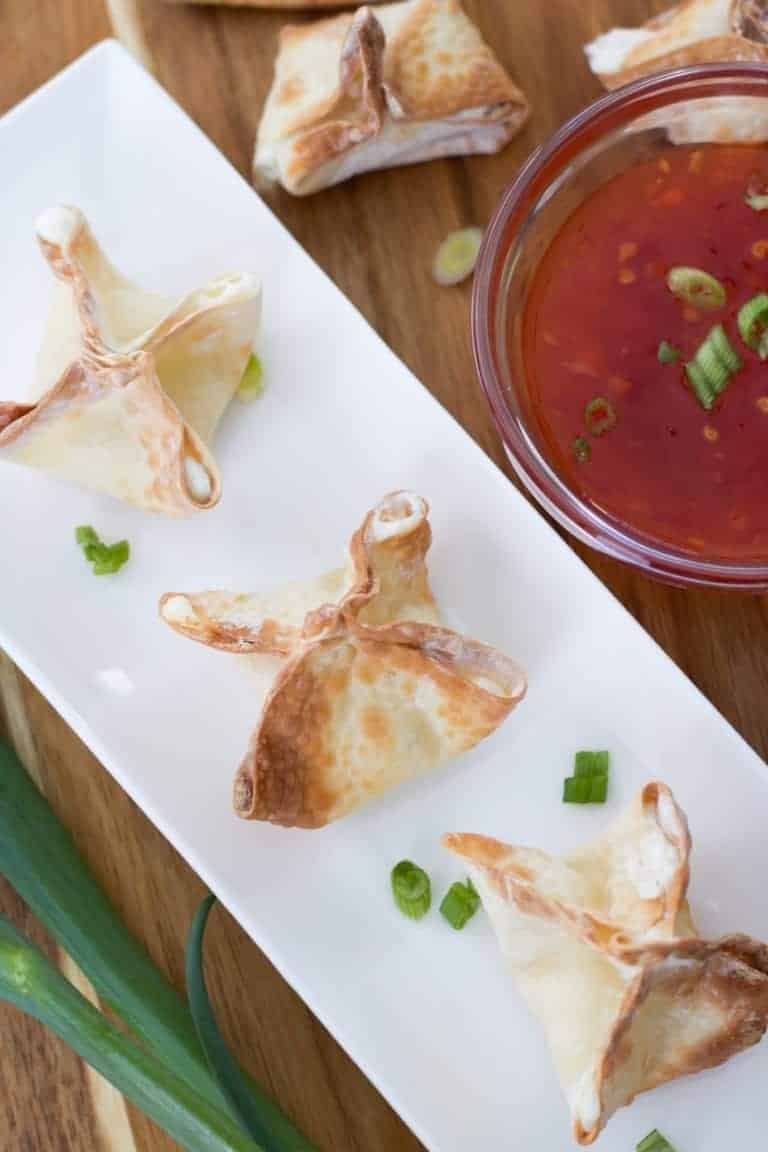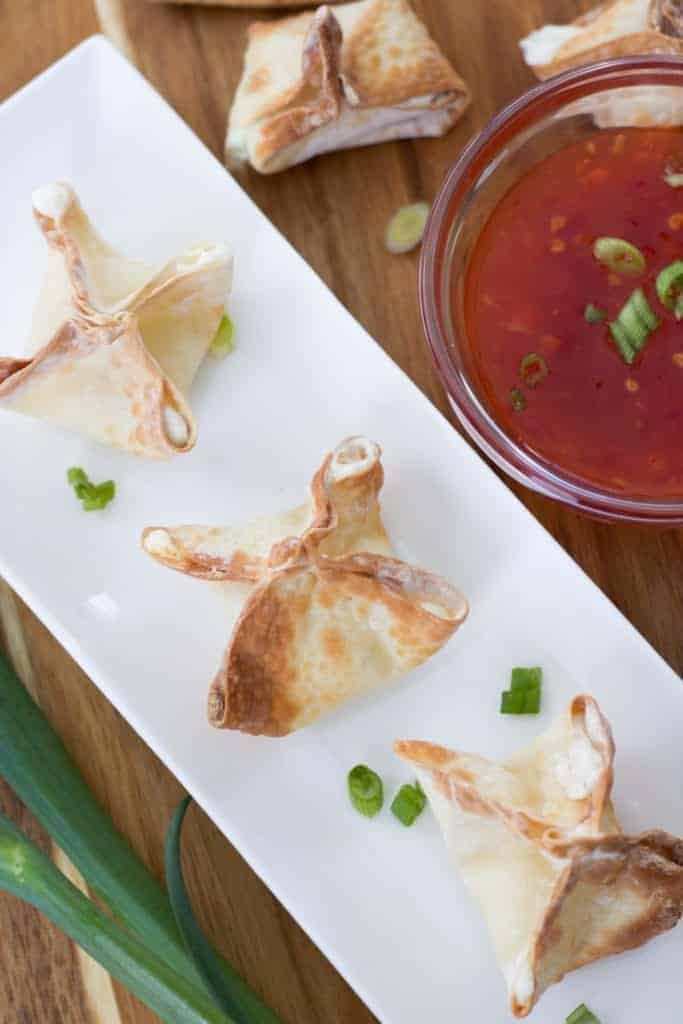 Air Fryer Recipes
If you like this recipe, you'll love my other air fryer recipes that are delicious and easy!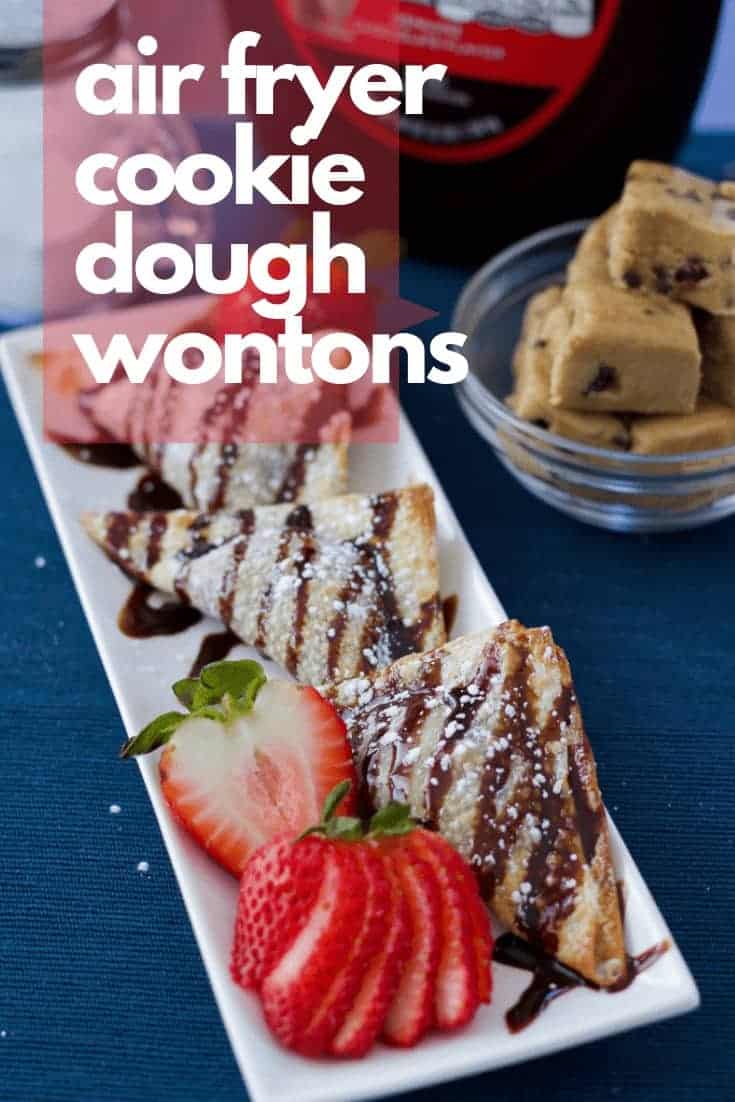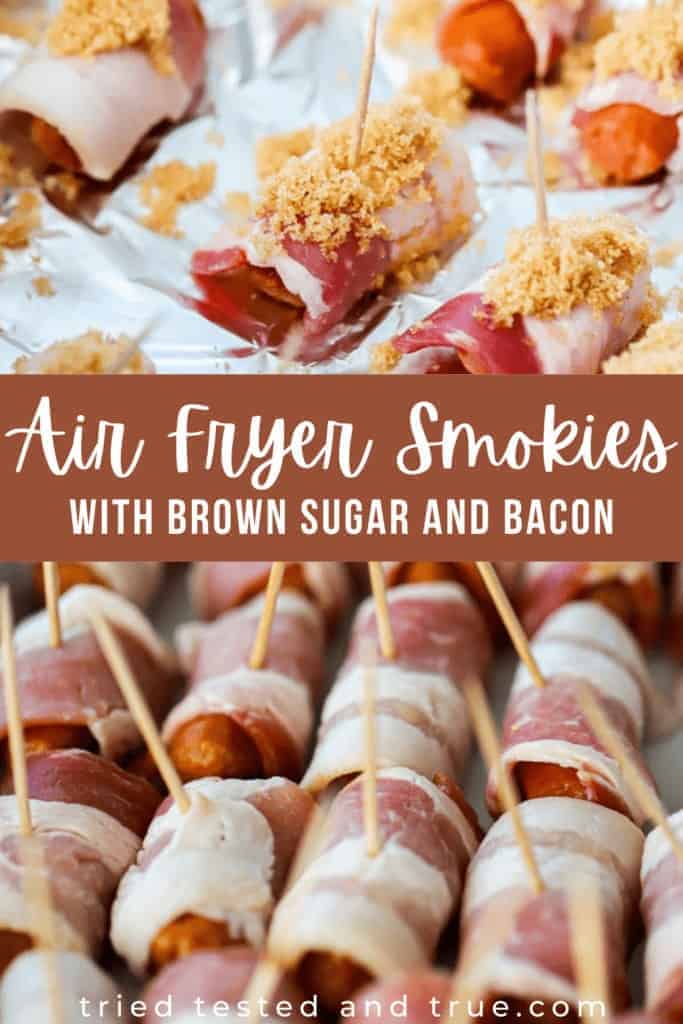 Air Fryer Bacon Wrapped Smokies
Air Fryer Bacon Wrapped Smokies are one of my most popular and highly requested appetizers for any party. The best part? They're super easy to put together and make!
Print
Pin
Rate
INGREDIENTS
1, 14

oz

package Lit'l Smokies

cocktail sausages, little weiners, etc

1

pound

thick/center cut bacon

3/4

cup

brown sugar

divided
INSTRUCTIONS
Drain the sausages in a colander to remove any additional liquid and set aside.

Measure and cut the bacon into about 1 inch pieces. Measure the size of your smokies and cut according to size. I was able to cut my bacon into about 6 pieces. Cut the pieces so the bacon doesn't wrap around the bottom, but just enough to cover the tops and sides.

Place a piece of bacon on top of the smokie and drape it over the edges. Affix the bacon to the smokie by sticking a wooden toothpick into the center so it is sticking straight up.

Place 1/2 cup brown sugar in a medium sized soup bowl, and press about a teaspoon of brown sugar on top of the bacon. Repeat with all the smokies.

Place a piece of foil in your air fryer basket and place the smokies on top of the (ungreased) foil. Make sure there is adequate room in your air fryer to allow air flow between your smokies. Place the basket into the air fryer.

Cook the smokies at 400º for 10 minutes, checking at the 5-8 minute mark. The smokies are done when the bacon is crisp and the sugar is melted.

Carefully remove the smokies to a serving plate and sprinkle with remaining sugar. Serve warm.
NOTES
You can easily prepare these ahead of time by wrapping the smokies in bacon and placing in a tupperware or covered tray. They may be assembled 1-2 days in advance. Sprinkle the brown sugar on top of the smokies right before cooking, NOT when you assemble them. Adding the sugar too early will cause the sugar to melt.
If you like, you can add a little cayenne pepper or smoked paprika to the brown sugar for an additional kick.
NUTRITION
Serving:
3
smokies
|
Calories:
327
kcal
|
Carbohydrates:
13
g
|
Protein:
17
g
|
Fat:
23
g
|
Saturated Fat:
8
g
|
Polyunsaturated Fat:
13
g
|
Cholesterol:
57
mg
|
Sodium:
922
mg
|
Sugar:
11
g
---
---