This post may contain affiliate links, which means I earn a small commission if you purchase something I recommend - at no additional cost to you! Thank you for supporting this blog!
Keto Chia Pudding is the perfect low-carb solution to replace oatmeal or sugary cereal. Serve these pudding bowls for a quick breakfast or a decadent dessert.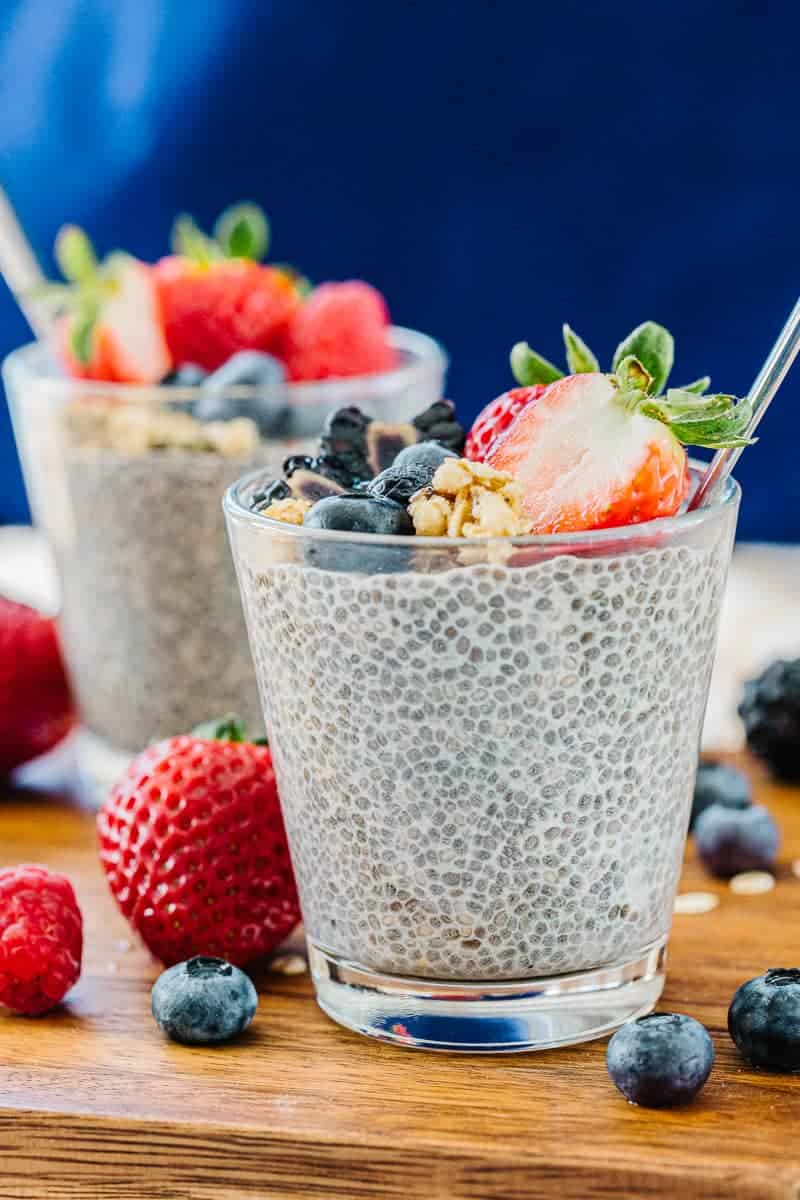 What is Chia Pudding?
Chia pudding is most similar to tapioca pudding in texture. The flavor is quite neutral, and the soaked texture is almost gelatinous. Dry chia seeds (how you'll purchase them in the store) are very tiny, black, and lightweight. They almost look like poppy seeds.
When these seeds are combined with liquid and left to sit, their composition changes into a jelly-like consistency. Chia seeds originate from Mexico and Guatemala, where they've been used since 3500 BC.
First introduced to modern society in the popular Ch-Ch-Chi-Chia pets, chia seeds rapidly gained popularity as word about their health benefits began to surface. Found in everything from drinks to protein bars, chia seeds were here to stay.
Keto chia pudding is one of the easiest (and most versatile) uses of the popular chia seeds—and it's perfect for a breakfast on the go or a decadent dessert.
Health Benefits of Chia Seeds
Loaded with healthy omega-3 fatty acids, fiber, protein, and minerals like calcium and zinc, chia seeds are worthy of their title as a superfood. They're also quite high in fiber, making them a favorite among the weight loss community.
Though no studies have definitively proven weight loss benefits, it is true that fiber-packed foods keep you feeling fuller, longer!
Chia seeds are also a complete protein, which means that they contain all of the essential amino acids that your body needs in order to keep functioning properly.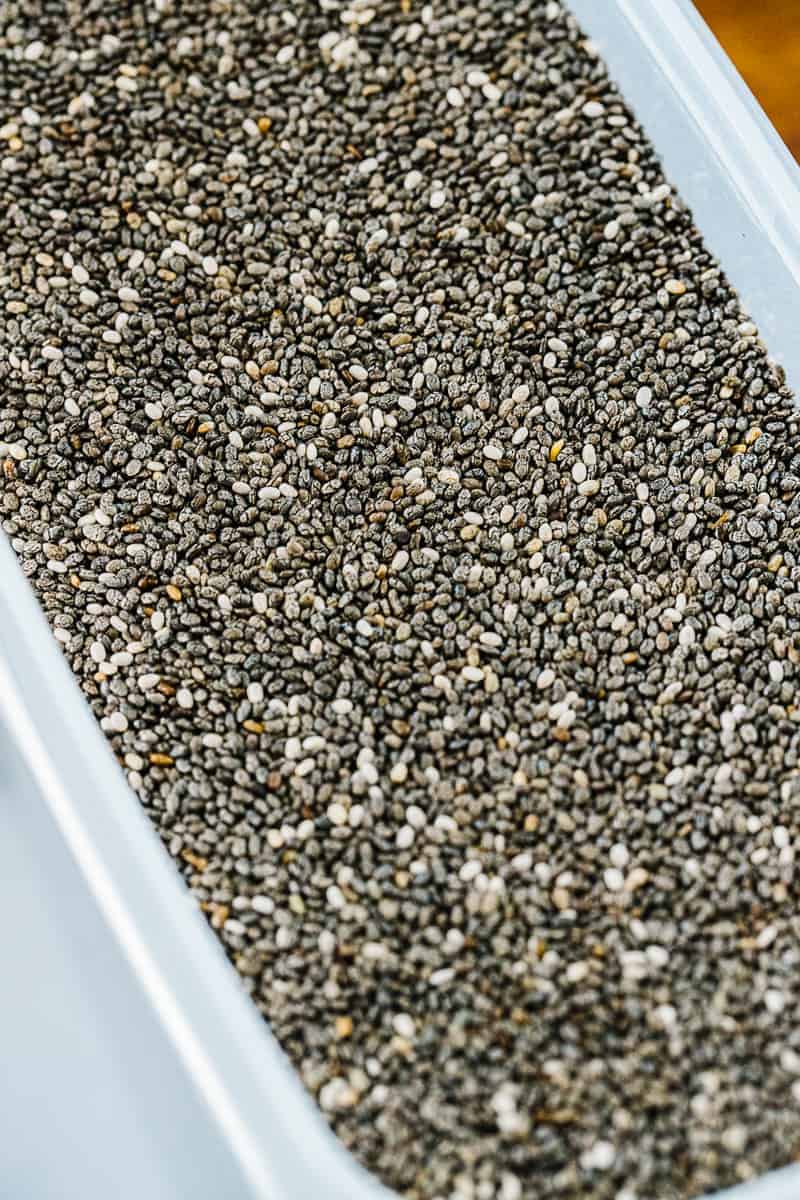 Ingredients for Keto Chia Pudding
In order to make chia pudding low carb and keto-friendly, you'll need to use low carb ingredients. These are the ingredients for low carb chia pudding:
Chia seeds (I purchase mine in bulk from Costco, but you can order online or find them in any grocery store. They're typically found in the baking aisle, rice aisle, or health/vitamin section of a grocery store).
Unsweetened vanilla almond milk
Low carb sweetener such as stevia or monk fruit (this is my favorite kind)
Keto Chia Pudding Ratio
Remember this ratio for a perfect chia pudding: 1 tablespoon chia seeds to 1/4 cup liquid almond milk.
My favorite liquid to use is almond milk. Feel free to use juice (not keto), coconut milk, oat milk, or dairy milk.
If you'd like to make chia pudding in bulk, just multiply this basic recipe by however many servings you'd like to make.
How to Make Keto Chia Pudding
Add dry chia seeds to a bowl or jar.
Add your liquid and sweetener of choice.
Stir really well; you don't want any clumps.
Let stand for 5 minutes, then stir again. The chia pudding will have thickened slightly, but you'll need to mix it again to ensure it won't clump.
Cover and refrigerate for at least 20 minutes and preferably, overnight.
Serve cold as is, or top with additional toppings (ideas below).
Is Chia Pudding Keto?
Yes! Per one tablespoon of chia seeds, you'll only net 1 carb. If you use a low-carb liquid and sweetener such as almond milk and stevia, chia pudding is extremely low carb.
Because most of the carbs in chia seeds come from fiber, they end up getting counted out of your net carb number—making chia seeds a perfect staple for a keto diet.
If you're sticking to a strict keto regimen, be sure to be careful about how you top your puddings. While the chia itself won't put you over, carb-heavy toppings might.
Try to stick with almond milk and use berries for toppings. Peanut or almond butter can also be a great keto topping so long as you don't eat too much!
Browse all my Keto and Low Carb Recipes.
Single Serving Keto Chia Pudding
I've found that the perfect single serving size of keto chia pudding uses 2 tablespoons of chia.
To make a single serving of chia seed pudding, combine those 2 tablespoons of chia seeds with ½ cup almond milk and ¾ teaspoon stevia or monk fruit sweetener.
You can really use any kind of sweetener that you have on hand. I like monk fruit sweetener or pure maple syrup—but NOT the fake "maple syrup" that you'd put on pancakes!
Once you've chosen your sweetener, it's time to assemble. Add everything to a jar and stir, then let stand for about 5 minutes before stirring again. Cover and refrigerate the keto chia pudding overnight or for at least 20 minutes before serving cold.
Popular Chia Pudding Toppings
As flexible as it is nutritious, chia seed pudding is easy to modify to suit your tastes. Here are some topping ideas to add to your pudding.
Sliced almonds
Mini chocolate chips
Cacao nibs
Berries
Banana
Granola
Coconut flakes
Cinnamon, nutmeg, or other spices
Stone fruit such as peaches, nectarines, or plums
Mango
Pineapple
Lemon curd
Yogurt
Jam or jelly
Kiwi
Pomegranate seeds
Oatmeal
Extracts such as vanilla, coconut, or almond
Oatmeal, mixed in or prepared separately and eaten together.
Chocolate Keto Chia Puddings
To make chocolate chia puddings, add 1–2 teaspoons cocoa powder to the basic chia pudding mixture. Let the chia set as usual, then enjoy the next morning (or after dinner for a secretly healthy dessert!). Just make sure to let your chia set for a minimum of 20 minutes for the best consistency.
Chia Pudding with Coconut Milk
Really, you can use any kind of milk to make chia pudding: I personally have used regular cow's milk, unsweetened almond milk, and coconut milk.
Surprisingly, I found that cow's milk was quite thin. Contrastingly, coconut milk created a very thick and creamy texture. Try experimenting a bit to see what you and your family like best!
Protein Chia Pudding
While I haven't personally tried this idea, many people like to mix some of their favorite protein powder with their chia pudding. To try it yourself, combine only about a teaspoon or two of protein powder with a single serving of chia pudding, mix well, and set as usual.
Decadent Chia Pudding
The options for chia pudding truly are endless; here are a few of my favorite (more decadent) ideas:
Raspberry chia pudding. You can use jam or chopped fruit (fresh or frozen). I consider this an eyeball kind of thing—add as much fruit as seems about right. For a single serving, I would probably add a quarter cup of fresh raspberries or a tablespoon of jam. Try stirring in some dark chocolate chunks for a decadent treat!
Maple walnut chia pudding. Maple walnut is a delicious ice cream flavor, so I figured—why not try it as a pudding? Just sweeten your chia pudding with real maple syrup and top it before eating with some freshly toasted walnuts (and maybe a spritz of whipped cream).
Tropical chia pudding parfait. Make your chia pudding with coconut milk, then let it sit overnight as usual. To serve, layer a couple of dollops of chia pudding with freshly chopped mango and some shredded coconut. Repeat the layers a few times, and enjoy.
Tiramisu chia pudding. When making your chia pudding, add 1–2 tablespoons of instant coffee or PERO to the mix. Let set as usual, then serve with a generous dollop of whipped cream and some cacao nibs. To make it even more decadent, add a layer of chocolate chia pudding before the whipped cream.
Favorite Breakfast Recipes
Keto Chia Puddings
Keto Chia Pudding is the perfect low-carb solution to replace oatmeal or sugary cereal. Serve these pudding bowls for a quick breakfast or a decadent dessert.
Print
Pin
Rate
INGREDIENTS
2

tablespoons

chia seeds

1/2

cup

unsweetened vanilla almond milk

3/4

teaspoon

stevia or monk fruit sweetener

Toppings

as desired
INSTRUCTIONS
Add chia seeds, almond milk, and sweetener to a jar and stir.

Let stand for about 5 minutes, then stir again to evenly distribute the chia seeds and avoid clumping.

Cover and refrigerate at least 20 minutes or overnight (preferred).

Serve cold with extra toppings such as berries and granola (see post).
NOTES
You may use and experiment with other sweeteners, but keep in mind that all sweeteners have varying amounts of sugars and carbs.
---
---