This post may contain affiliate links, which means I earn a small commission if you purchase something I recommend - at no additional cost to you! Thank you for supporting this blog!
Instant Pot Cabbage is savory, creamy, and packed with antioxidants, fiber, and vitamins. Whether you steam it alone or with other meats and vegetables, it's a powerhouse side that's sure to please!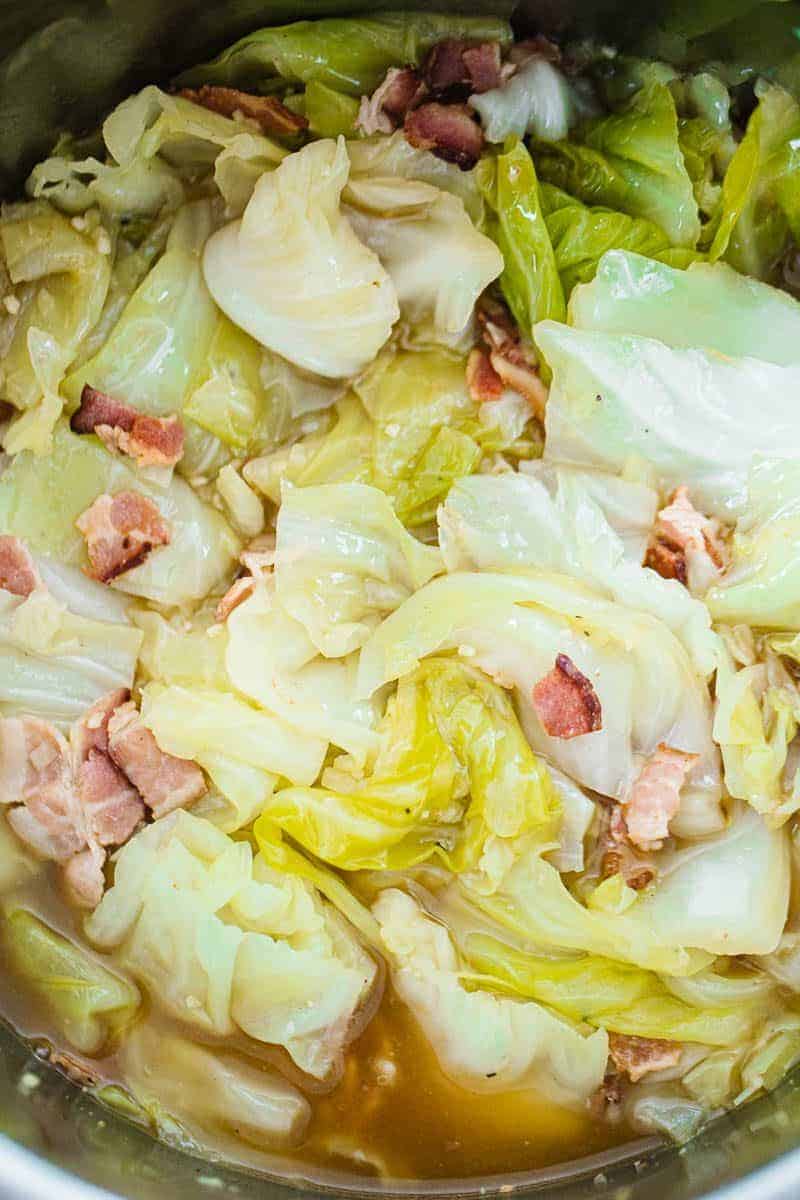 Why cabbage?
I think that cabbage often gets a pretty bad rap. And if it's not cooked correctly, I understand why! Good cabbage requires good seasoning. When done right, it's dang good. And cabbage isn't only yummy—it's insanely healthy.
Hailed for decades as the ideal "diet food," cabbage manages to pack a punch of vitamins and nutrients into a stack of low-calorie leaves. Not only that, it's satisfying enough that you can eat it as a main, or you can incorporate it into your dinner plans as a side.
How to make Instant Pot Cabbage
Here's how to make Instant Pot cabbage, step-by-step with pictures.
Cook the bacon
While the bacon is cooking, you'll prepare the cabbage.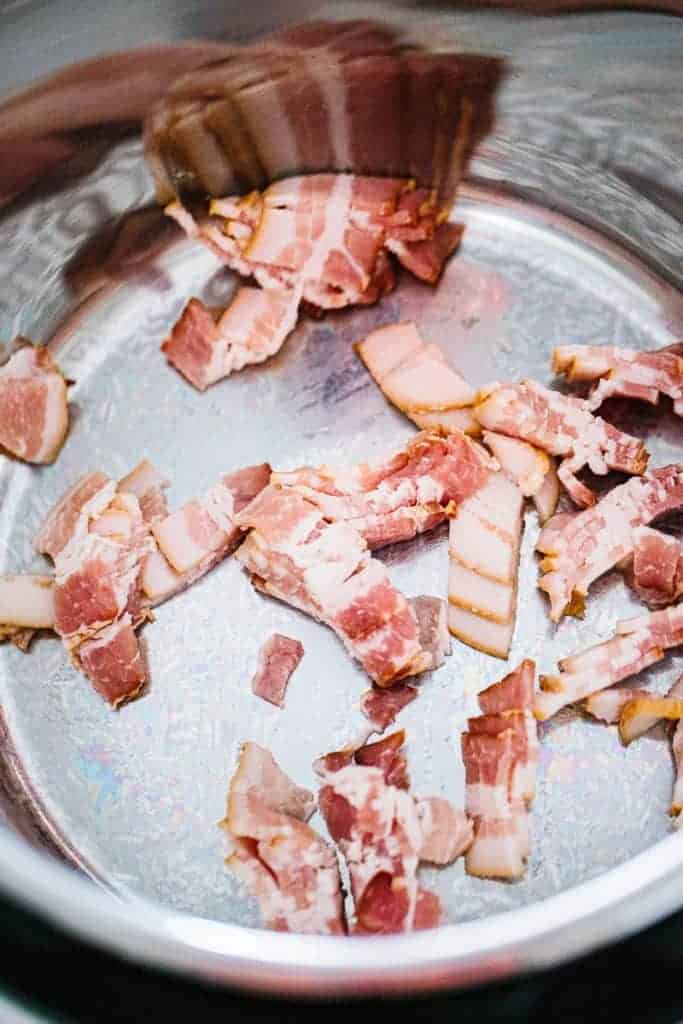 Press the Saute button on the Instant Pot to warm up the pot. Take half a pack of bacon and cut them into lardons, or, small pieces.
Add the bacon pieces to the cold/warm pot and let it heat up with the pot. Starting the bacon in a cold pot helps render the fat better than starting in a hot pan.
Cook the bacon for 5-9 minutes, or until crispy and browned.
Cut the cabbage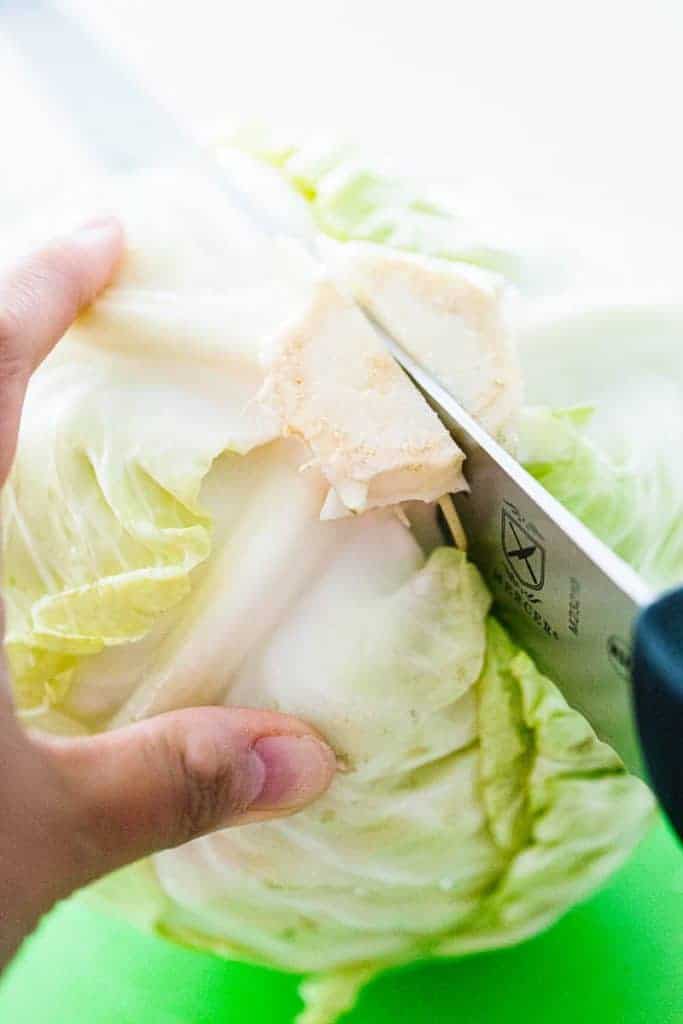 Choose a whole cabbage that is tight, green, and looks healthy and fresh. If there are any withered or browned leaves, remove them. Wash the cabbage and cut through the stem all the way down, to create two halves.
This recipe is for 1/2 a head of cabbage. If you'd like to use the entire cabbage, follow the steps below for both sides.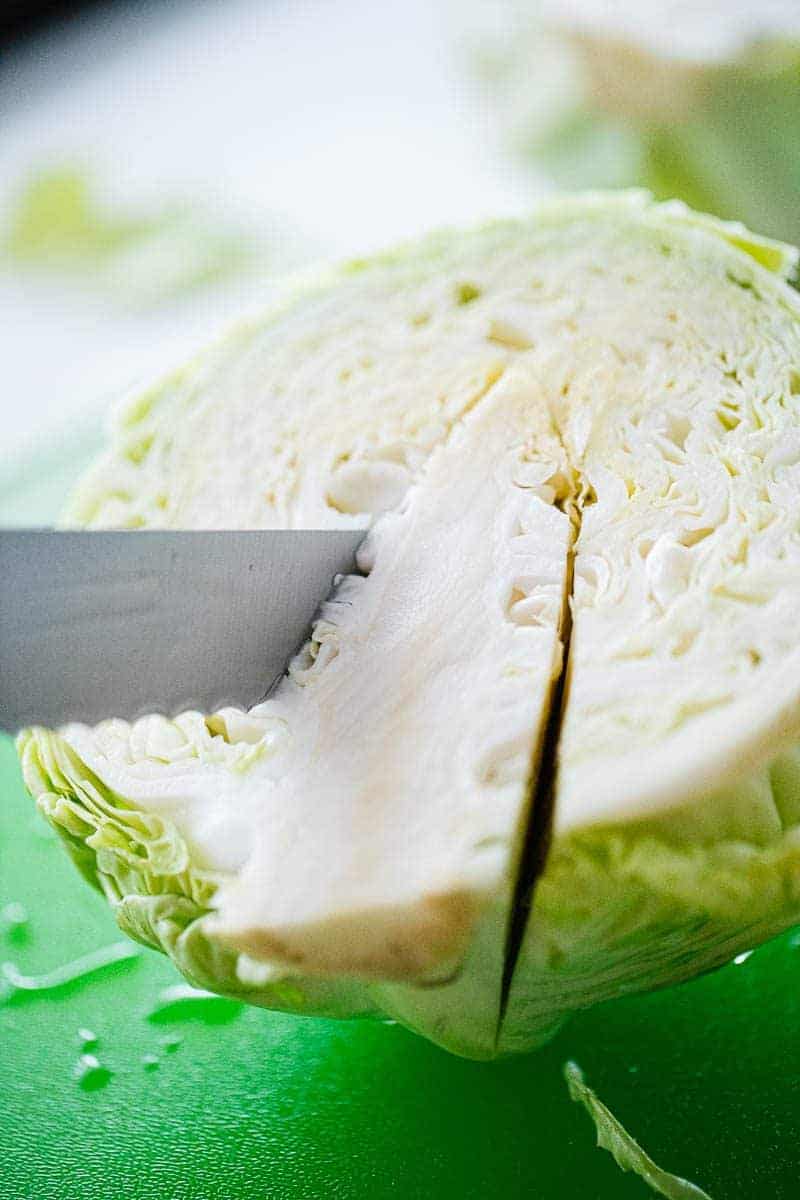 Using a sharp knife (this is my favorite knife to use right now and yes, it's a bread knife, but it is so sharp and works so well for a lot of things!), cut the tough core out of each half.
I cut a deep "V" shape on either side of the core to remove it.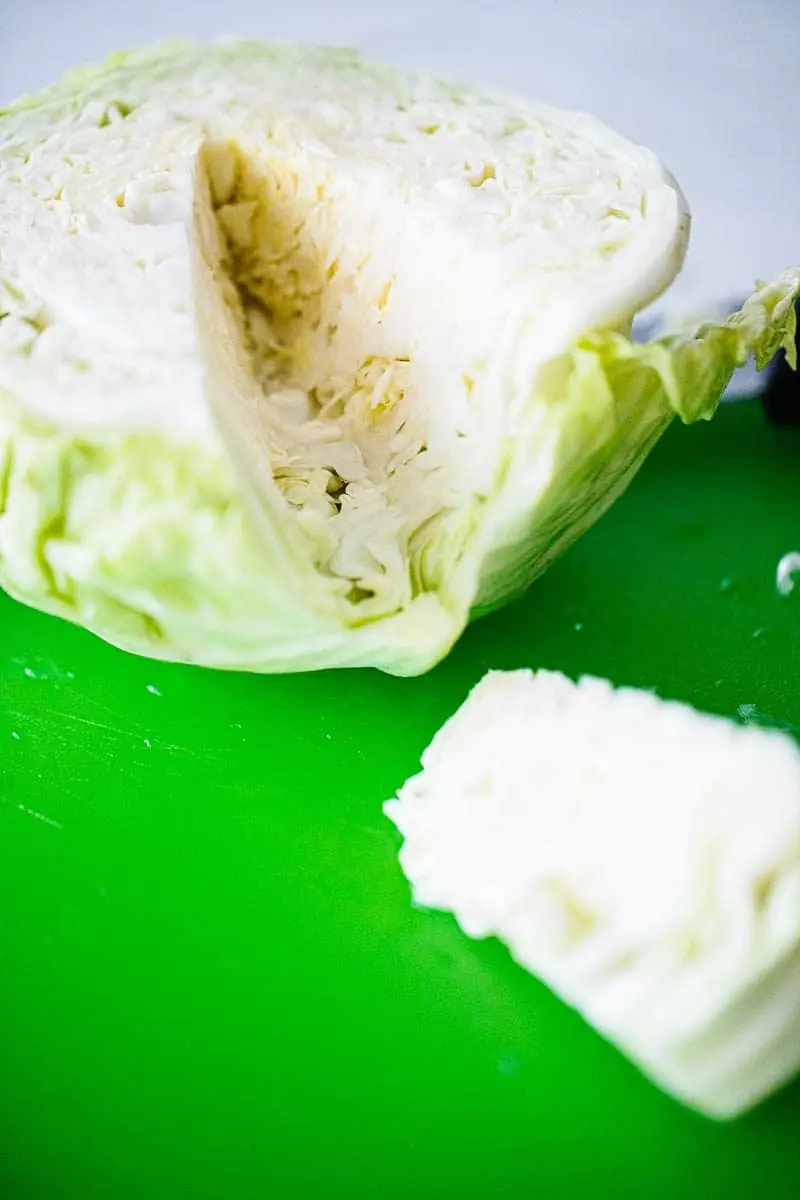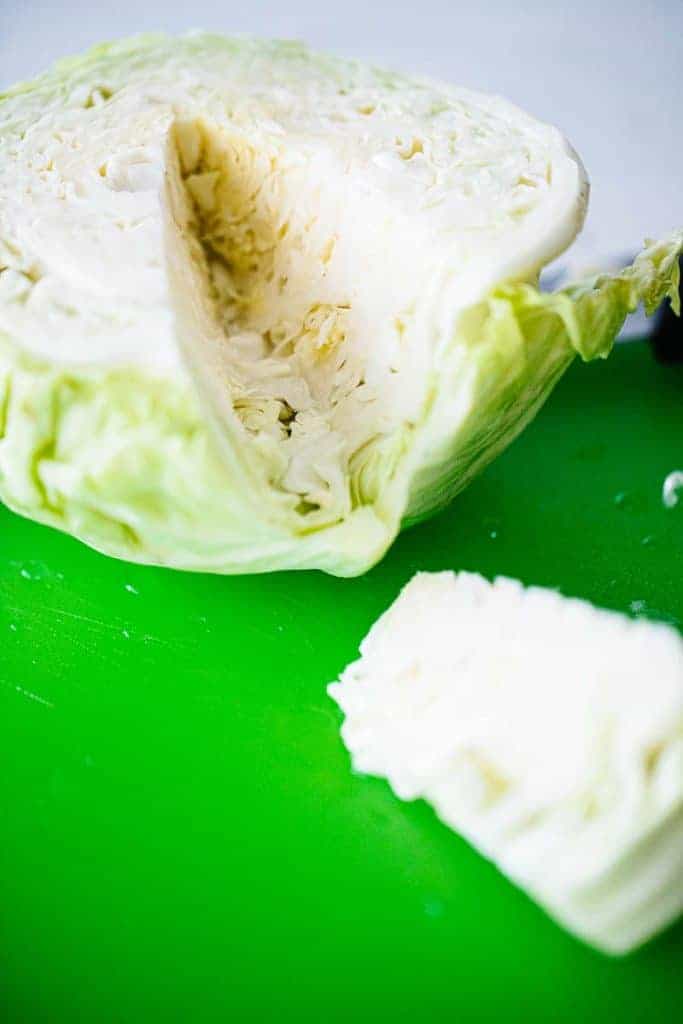 Here you can see what the cabbage looks like with the core removed.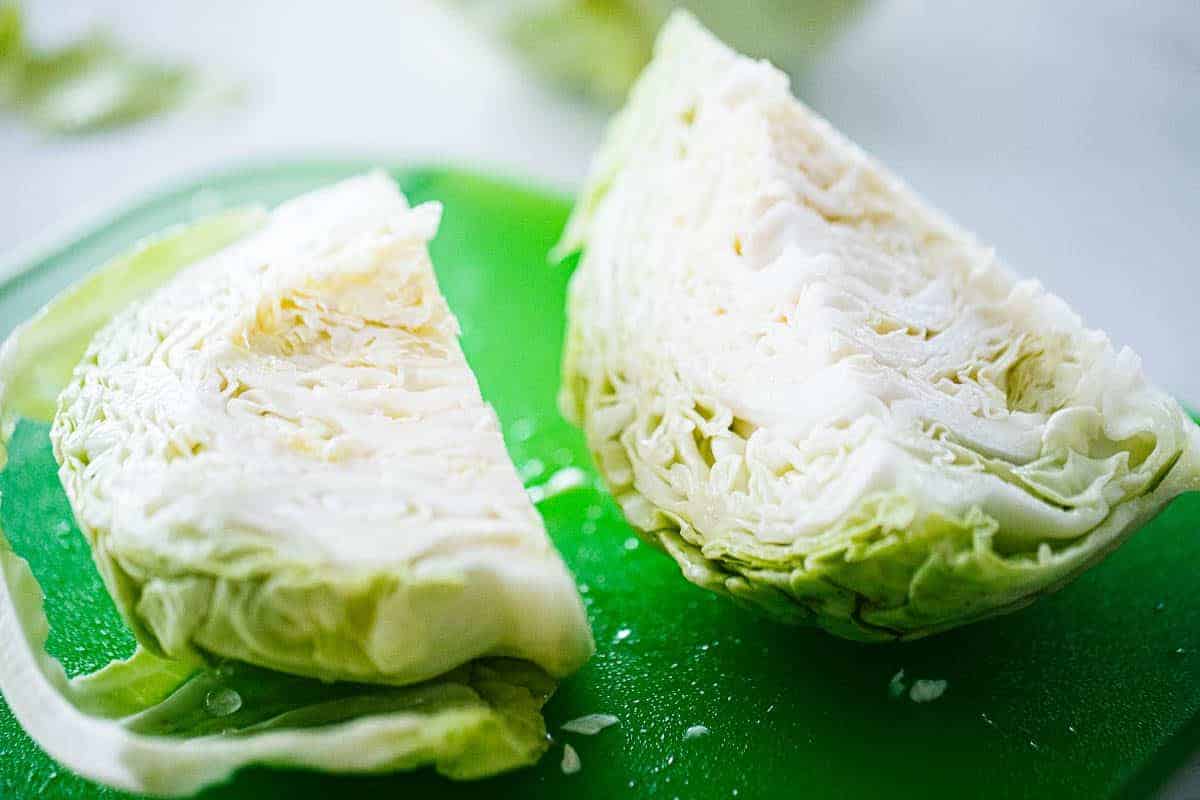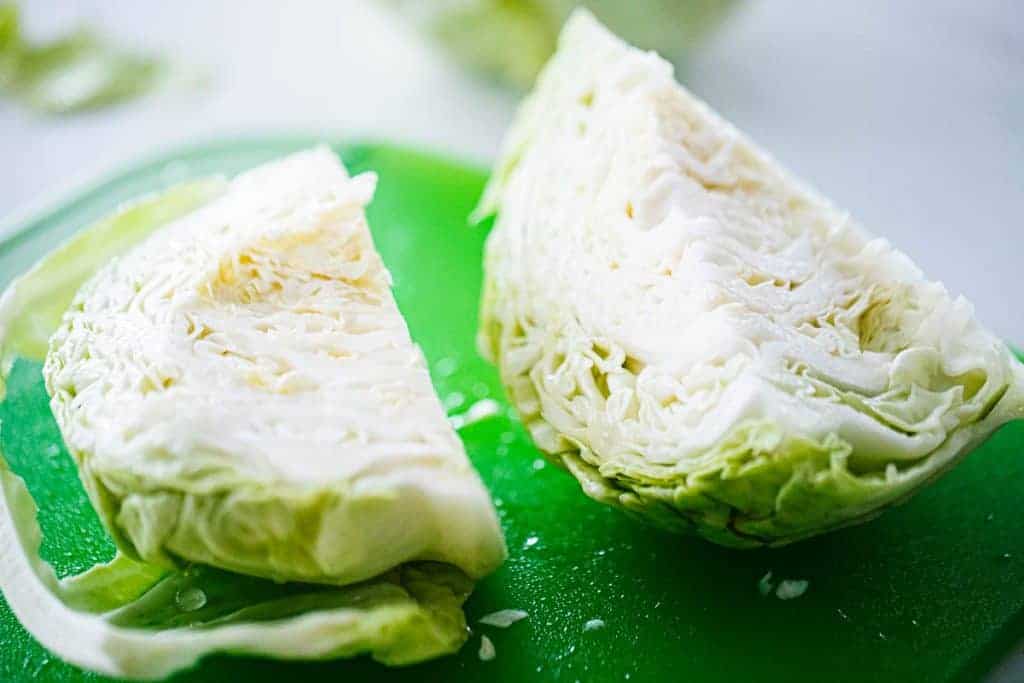 Next, make a cut directly through the center of the "V" you just cut to make two halves (so now it is a quartered cabbage).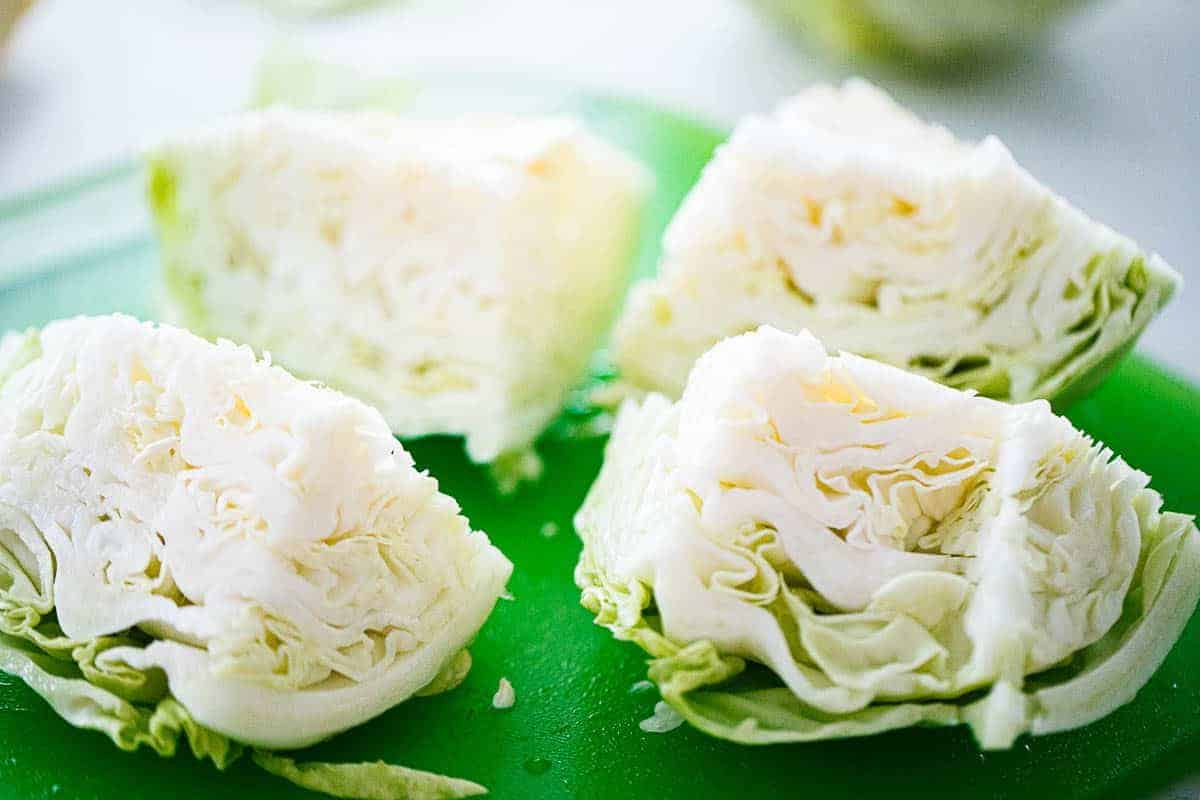 I then cut each of those halves into half again. These are eighths of the whole cabbage.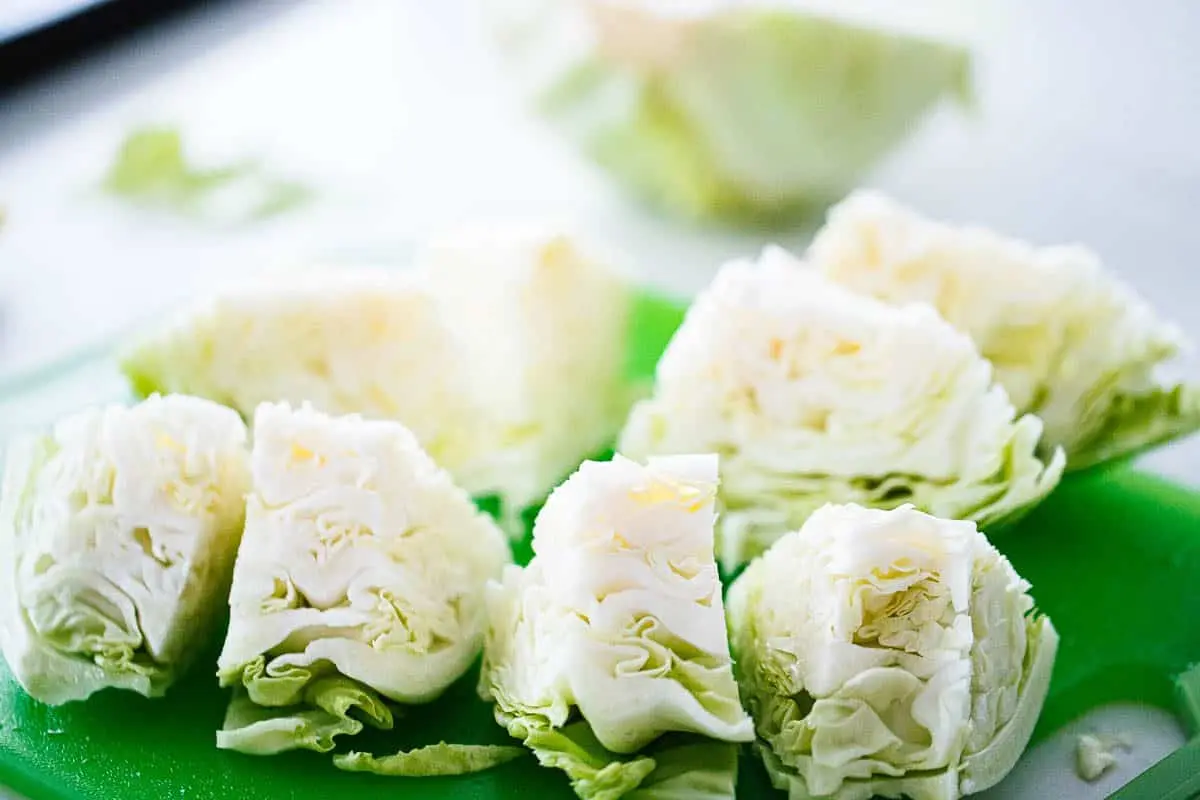 If you want smaller pieces, cut each of those pieces again into 16ths. If you'd like to cook the entire cabbage, you may have to cut them into these smaller pieces to ensure they fit into the pot.
Deglaze the pot
After the bacon has crisped up, you'll need to deglaze the pot.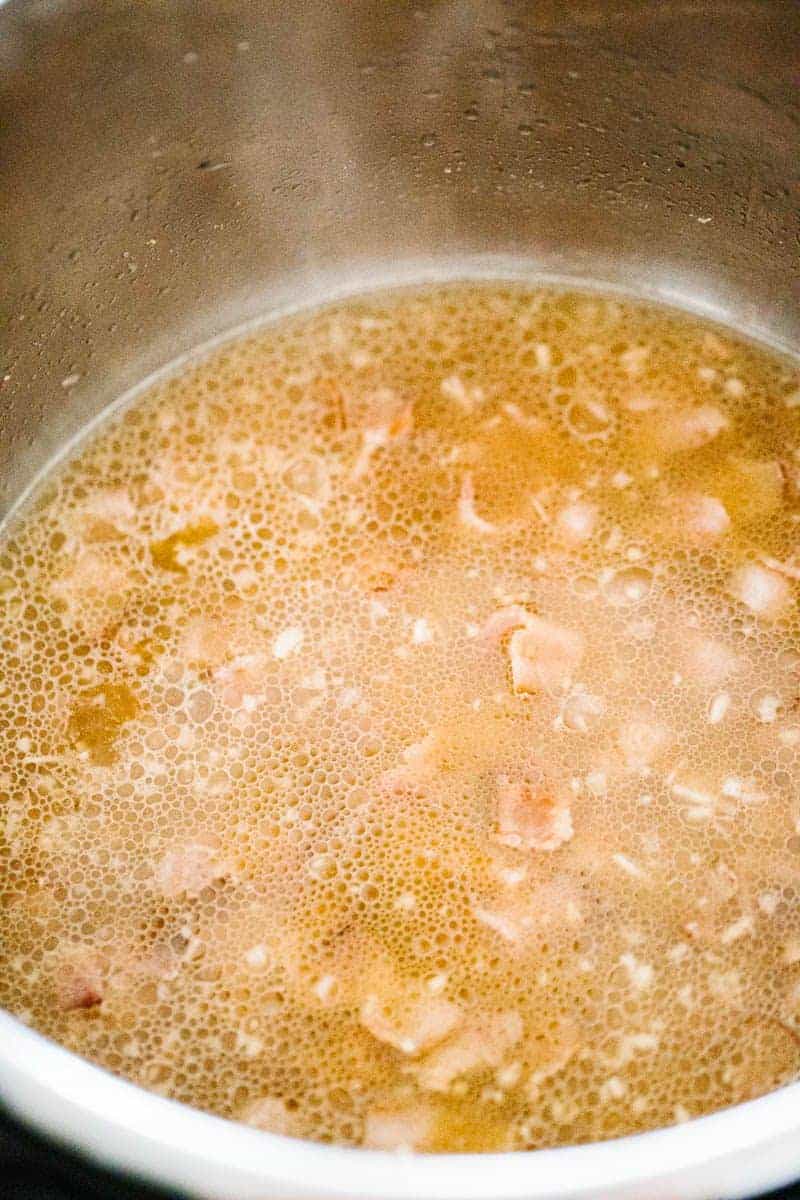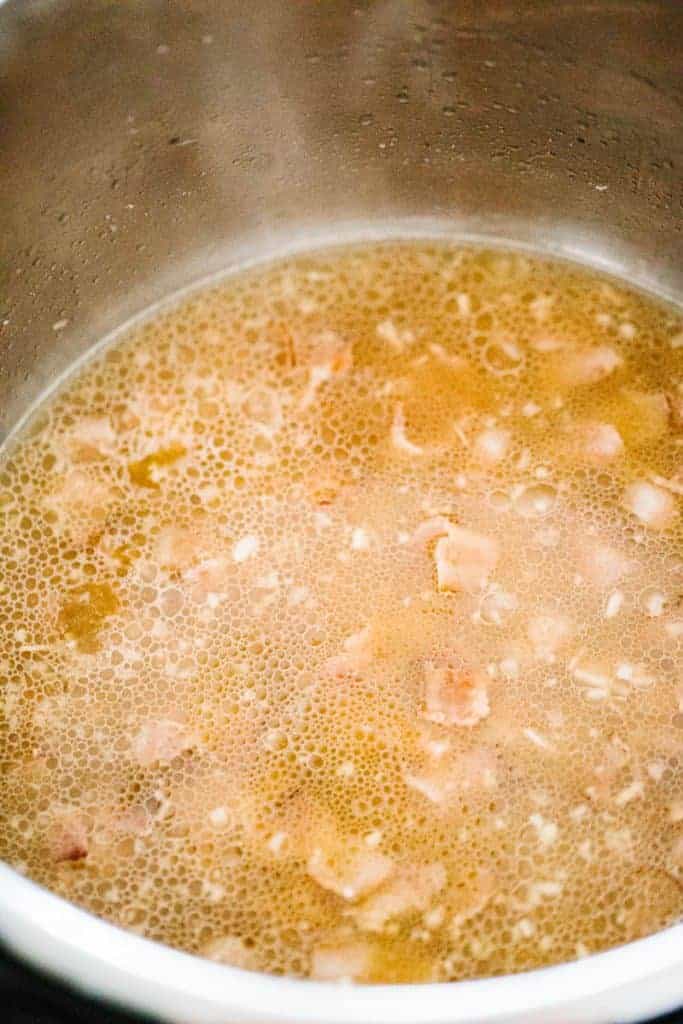 This is an important step because you don't want to get the BURN notice when pressure cooking.
Whenever you saute anything in the Instant Pot and get browned bits on the bottom of the pot, you'll need to deglaze the pot with liquid and lift/scrape everyone off the pot.
This will also infuse your dish with way more flavor, so always deglaze the pot!
I use chicken broth, but you can also add water, vegetable broth, or any other kind of liquid you like to cook your cabbage in. I also add some dried onion flakes, garlic, and soy sauce for flavor.
Add the cabbage to the Instant Pot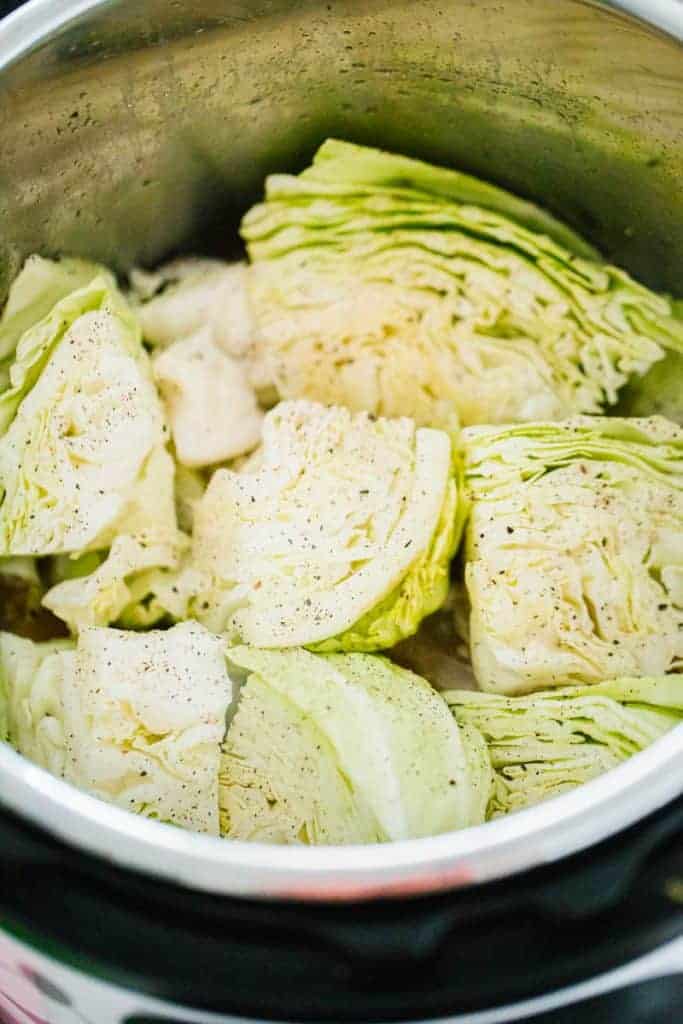 Layer the cabbage into the pot. Submerge the pieces into the liquid as much as you can.
I like to season the cabbage with a little extra salt and pepper on top of the cabbage.
Turn off the saute mode.
Pressure Cook Cabbage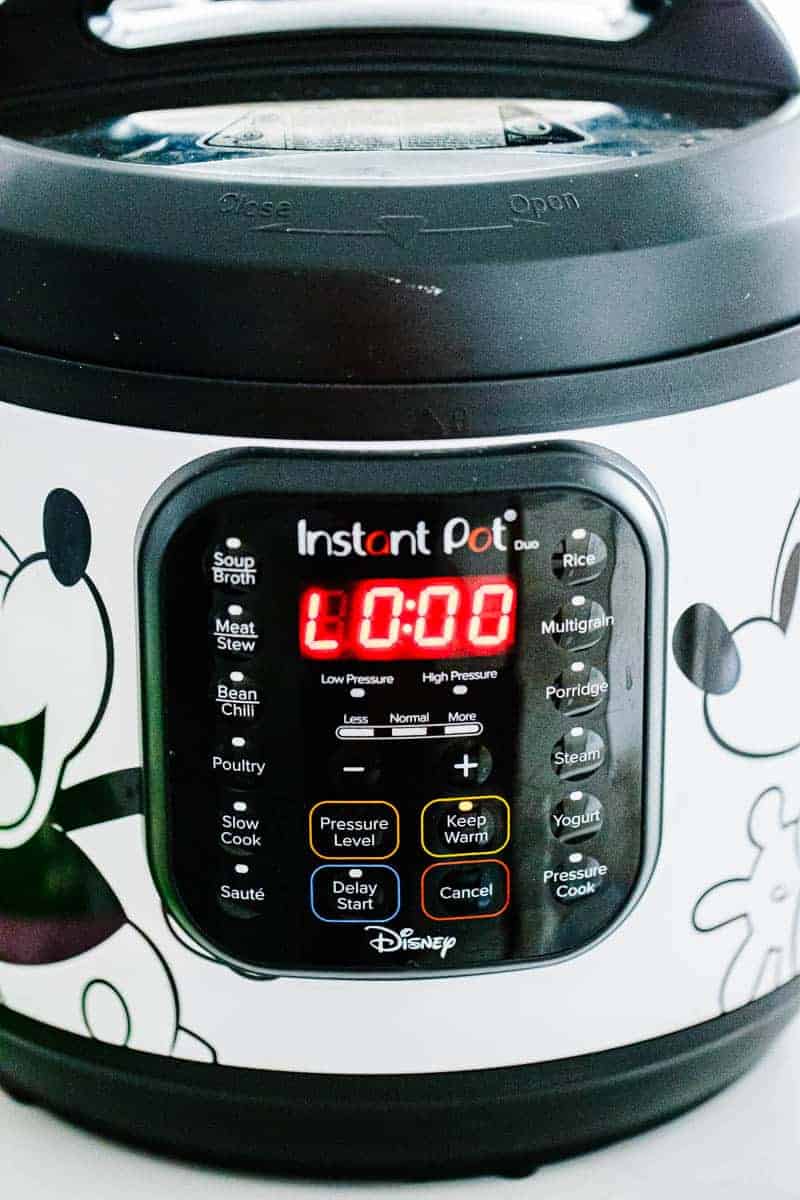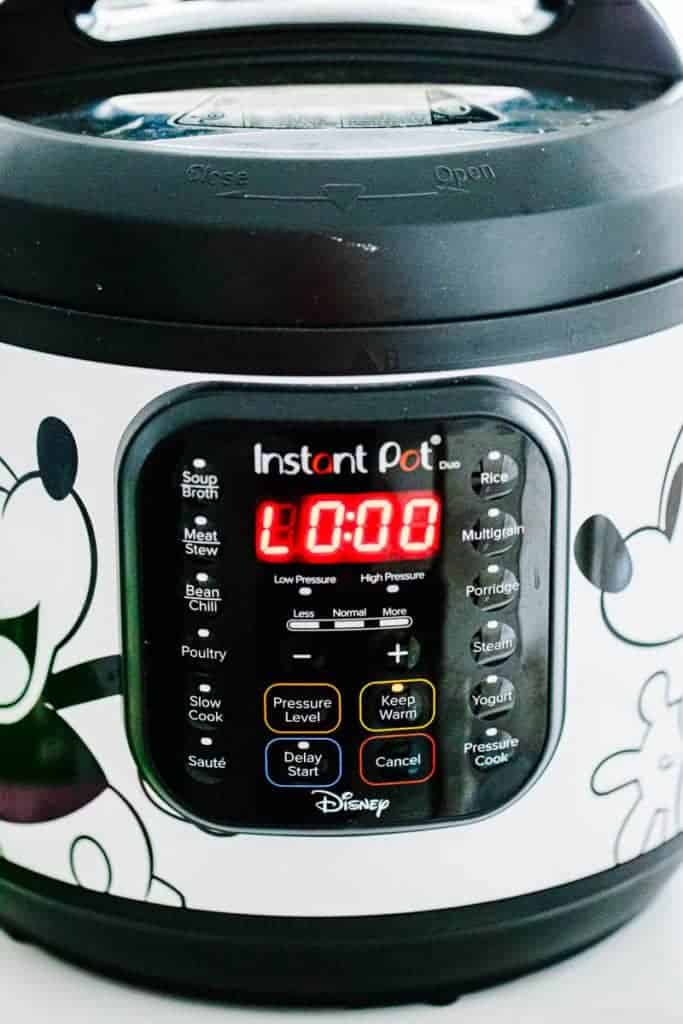 I pressure cook the cabbage for 4-6 minutes, depending on how much cabbage I'm making, how thick the pieces are, and how soft I want it.
I really liked the texture at 6 minutes, but my husband thought it was too soft for his taste.
My recommendation is to cook for 5 minutes, and then if you want it a little bit softer after you've cooked the cabbage, you can always replace the lid and let it stand for about 2 minutes.
The residual heat will continue to cook the cabbage.
Release the pressure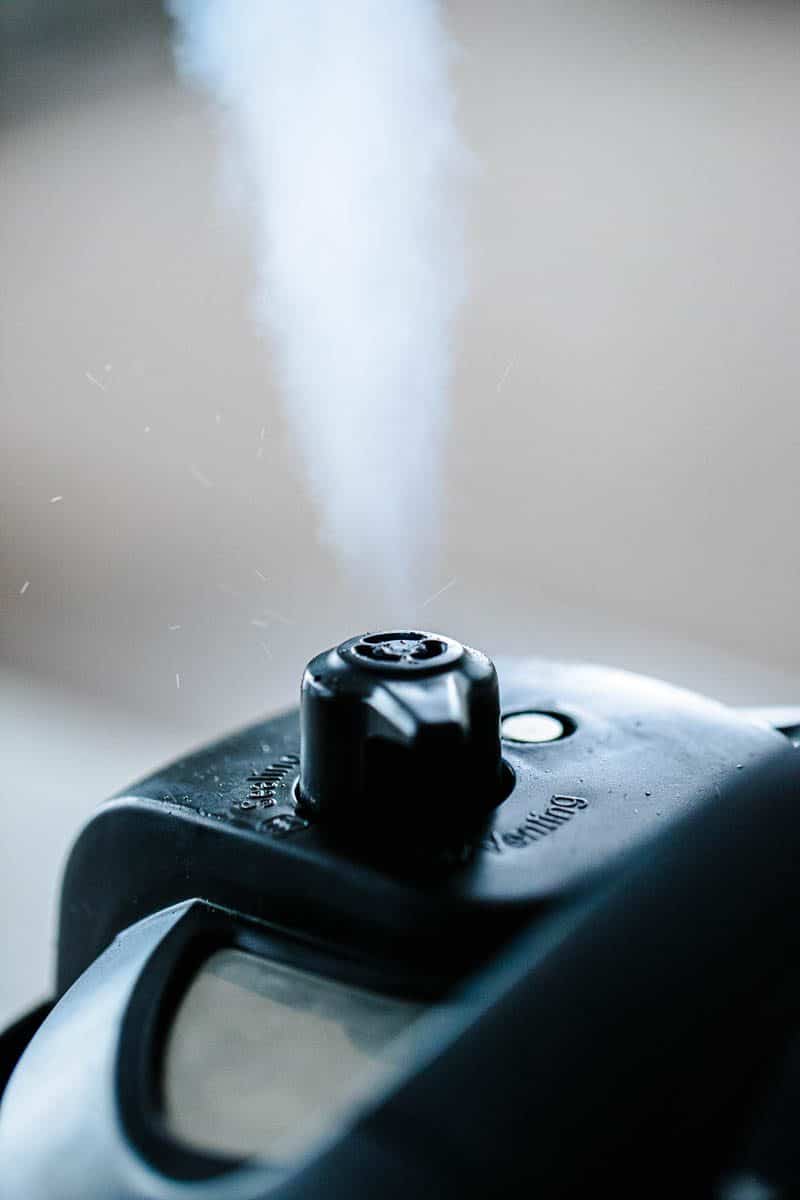 I always do a quick release when cooking cabbage. It cooks so quickly, that if you let it naturally release pressure for long, it'll continue to cook and get soggy.
When the Instant Pot says "L:00" you should release the pressure immediately by turning the knob from sealing to venting, and open the lid.
Open the Instant Pot Lid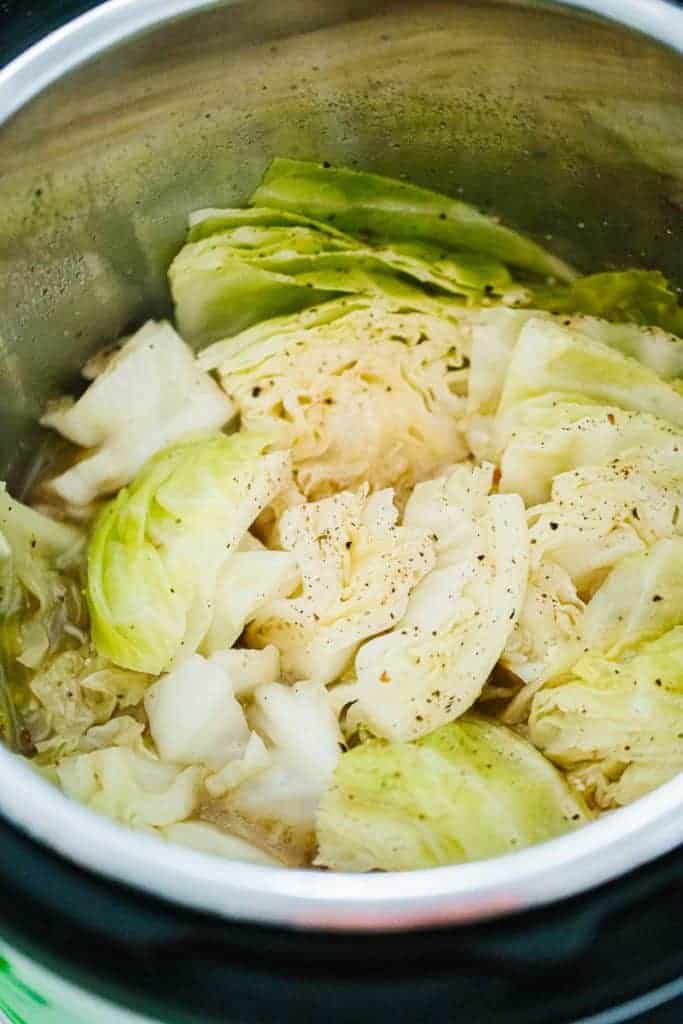 After your cabbage has completed pressure cooking and the pin has dropped from releasing the pressure, open the lid and stir your cabbage together.
You'll notice I didn't add any butter to the cabbage while it was pressure cooking. That's because I already had fat from the sauteed bacon in the liquid and you won't be eating a lot of the liquid.
If I added the butter into the cabbage, the butter would be diluted while cooking. Instead, I prefer to place a little melted butter on the table and let guests decide if they want to drizzle a little extra on it.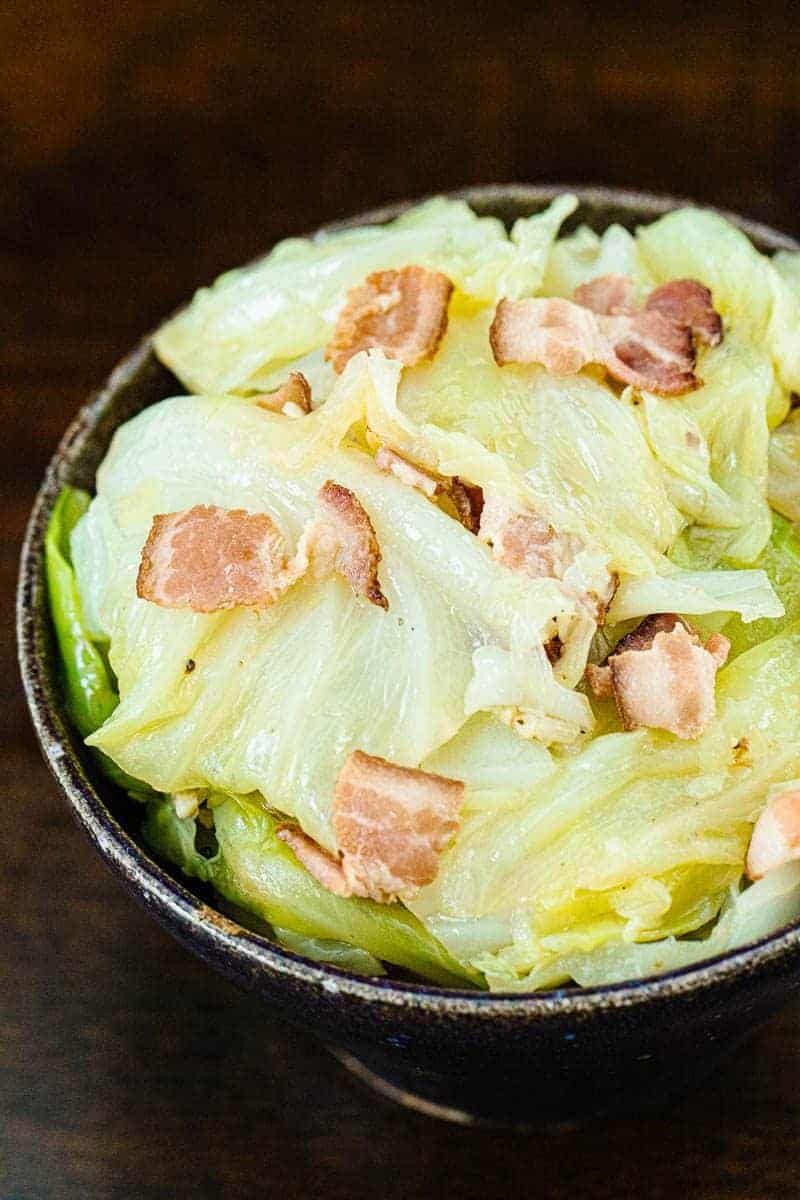 And that's it! That's how you make cabbage in the Instant Pot. Here are the steps written in an easy to digest list:
How to make cabbage in an Instant Pot
To make Instant Pot cabbage with bacon, start by sauteing the bacon in your Instant Pot until it's cooked and crispy.
While the bacon is cooking, wash and chop your cabbage. You'll want it to be in pieces that somewhat resemble bite size.
Add the water and Better than Bouillon to deglaze the pan (aka to get all of the yummy flavor off of the bottom of the pan), along with the soy sauce and minced garlic.
Add the cabbage pieces on top of the bacon mixture, toss it together, and sprinkle with salt and pepper. Lock the lid to SEALING and cook for 4-6 minutes.
Do a quick release on the lid immediately after the cooktime. Stir, and serve!
And that's it! When you transfer the cabbage to a serving bowl, make sure that you include all of the yummy bacon and broth that tend to sink to the bottom of the Instant Pot.
Instant Pot corned beef and cabbage
Instant Pot corned beef and cabbage is a classic Irish-American meal packed with delicious flavor and nutrients. I love this recipe by Amy + Jacky!
Instant Pot cabbage and sausage
This is another classic cabbage dish, and it's easy as can be. Simply saute an onion in the base of your Instant Pot, then add some sliced sausage and saute until the onions are caramelized.
Add about a cup of broth, chopped potatoes if you'd like, cabbage, and salt.
Seal your Instant Pot and pressure cook on high for 4-6 minutes, depending on how soft you'd like your cabbage. Quick release and that's it!
For a more detailed recipe, check out this one by my friend Karen.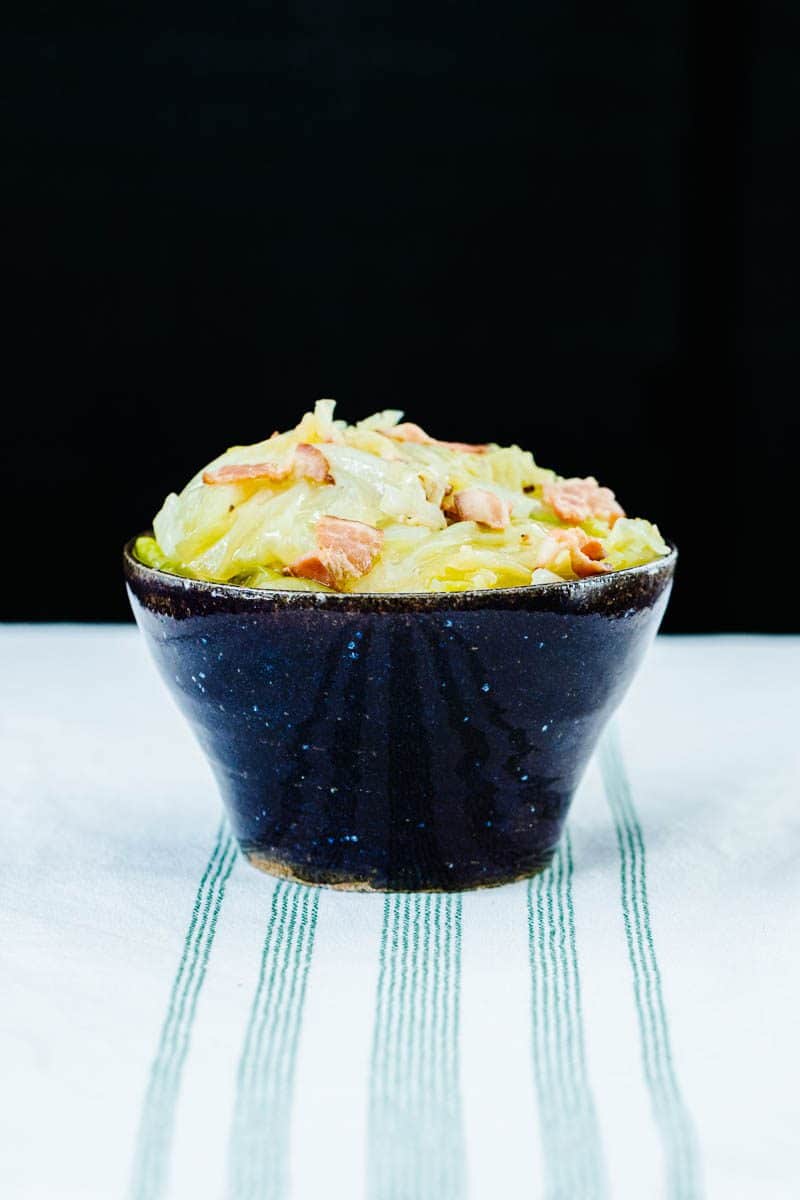 How to steam cabbage in an Instant Pot
For the simplest of cabbage recipes, you'll want simple steamed cabbage. All it needs is some butter, a pinch of salt, and some broth (though water works in a pinch).
To prepare, first pour 2 cups of broth or water into the base of your Instant Pot. Then wash the cabbage, chop it into bite-sized pieces, and lay it into the Instant Pot steamer basket.
Add 2-3 tbsp of butter on top if you'd like, sprinkle a pinch of salt (you can always add more later), and cook on high for 4-6 minutes depending on your desired softness. 
Quick release, check to see if the cabbage has reached your desired softness, and enjoy!
Can you steam carrots in an Instant Pot?
Yes, and they're addictively good! You can add carrots directly to your cabbage and steam everything together, or you can check out my recipe for Instant Pot Carrots—those are cooked with brown sugar and honey, giving them a delicate touch of sweetness that makes a perfect side for any meal.
Perfect entrées to pair with Instant Pot Cabbage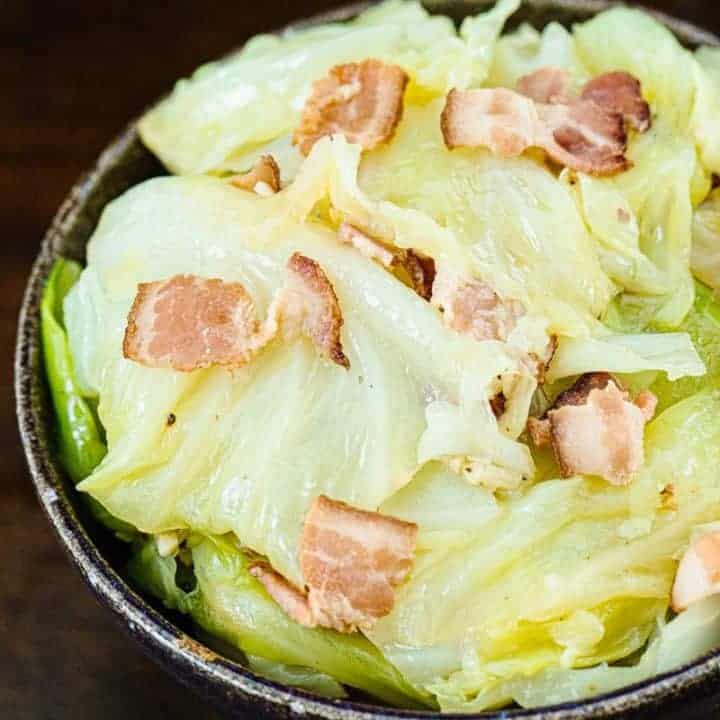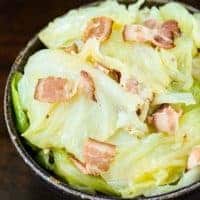 Instant Pot Cabbage
Instant Pot Cabbage made with bacon, onions, and soy sauce is a simple and savory way to steam cabbage in the Instant Pot.
Print
Pin
Rate
INGREDIENTS
5

slices

bacon

cut into 1/2 inch pieces (about 1/2 cup)

1/2

head cabbage

washed and dirty leaves removed

1 1/2

cup

chicken broth

1/2

tablespoon

dried onion flakes

1

teaspoon

minced garlic

1

tablespoon

soy sauce

salt and pepper

to taste
INSTRUCTIONS
Press the Saute button on the Instant Pot and adjust to high. Add bacon pieces to the cold Instant Pot liner and let render until crispy, about 5-8 minutes.

Cut the core out of the half head of cabbage, then cut that half into 8ths (photos in the blog post).

Deglaze the Instant Pot with chicken broth, scraping the bottom of the pot to lift all the browned bits off the bottom. Add the onion, garlic, and soy sauce.

Turn off Saute mode and add the pieces of cabbage on top of the bacon mixture. Sprinkle with salt and pepper.

Close the lid and turn the knob to the sealing position.

Press Manual or Pressure Cook button and adjust time to 6 minutes (4-6, depending on how soft or firm you like your cabbage. I cut mine into 8ths and liked 6 minutes, but other family members preferred 5 minutes).

When the cabbage has finished pressure cooking and the display reads "L0:00", turn the knob from sealing to venting to release all the pressure. This may take 2-4 minutes.

Immediately open the lid and stir and serve.
NOTES
If you prefer firmer cabbage, pressure cook for 4 or 5 minutes. If after pressure cooking the cabbage is too firm, replace the lid and let steam from the residual heat for a couple of minutes.
Serve with additional salt and melted butter, to taste
NUTRITION
Serving:
1
g
|
Calories:
76
kcal
|
Carbohydrates:
7
g
|
Protein:
5
g
|
Fat:
4
g
|
Saturated Fat:
1
g
|
Polyunsaturated Fat:
2
g
|
Cholesterol:
11
mg
|
Sodium:
596
mg
|
Fiber:
2
g
|
Sugar:
3
g
---
---
I would like to know in the "Instant Pot Cabbage" Nutrition label it says that
there is 3g of Sugar? Where is it? Thanks

Hi Audrey,
the nutritional information is automatically generated through a program. There is no added sugar in this dish, but the program chooses products that are most similar to what I've added to the program. The products chosen by the program may have trace amounts of sugar in the broth or soy sauce. But no, there is no added sugar and the nutritional facts should be taken as a guide. Please calculate your own sugars using your specific ingredients.

Do I need to double everything if I want to use the whole head of cabbage?

I would recommend just using the entire head of cabbage and not doubling the rest of the ingredients. Keep the time the same.