Cookie Dough Dessert Wontons (Air Fryer or Deep Fried)
---
This post may contain affiliate links, which means I earn a small commission if you purchase something I recommend - at no additional cost to you! Thank you for supporting this blog!
Cookie Dough Wontons are an amazingly simple, 2-ingredient dessert that's fast in the air fryer, crispy, gooey, and chocolatey!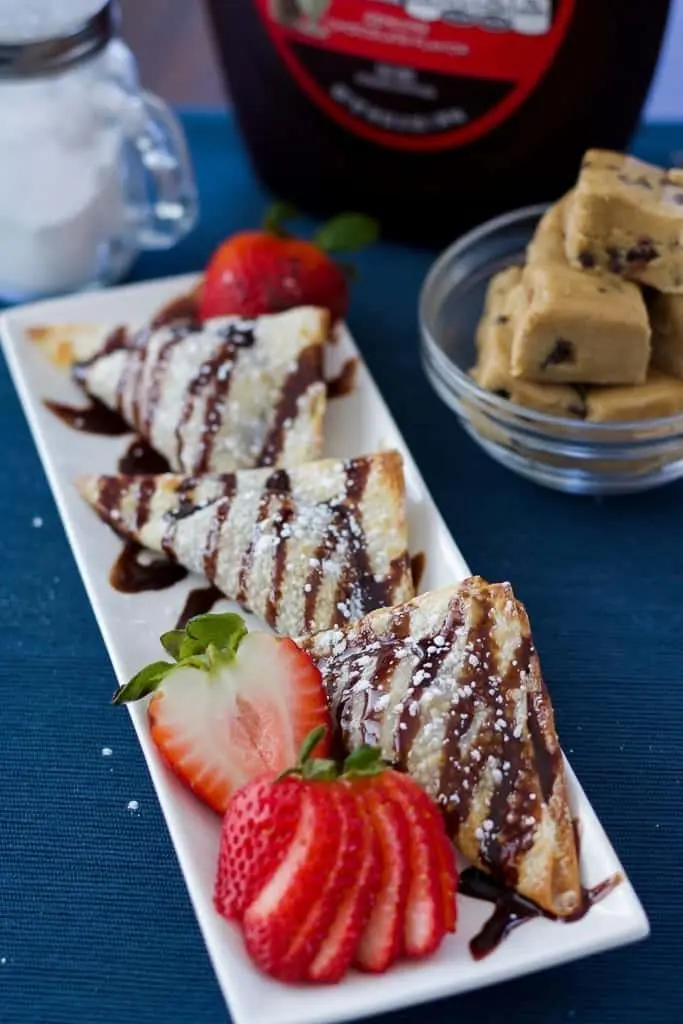 Because you all loved my original Cream Cheese Wontons so much, I've been obsessed with putting just about anything I can find into a wonton wrapper.
Wontons are the perfect shell for delivering any kind of yummy bite!
Dessert Wonton Ingredients
These cookie dough wontons are the easiest dessert wontons ever. All I do is fill the wonton wrapper with some store bought cookie dough, press, and seal!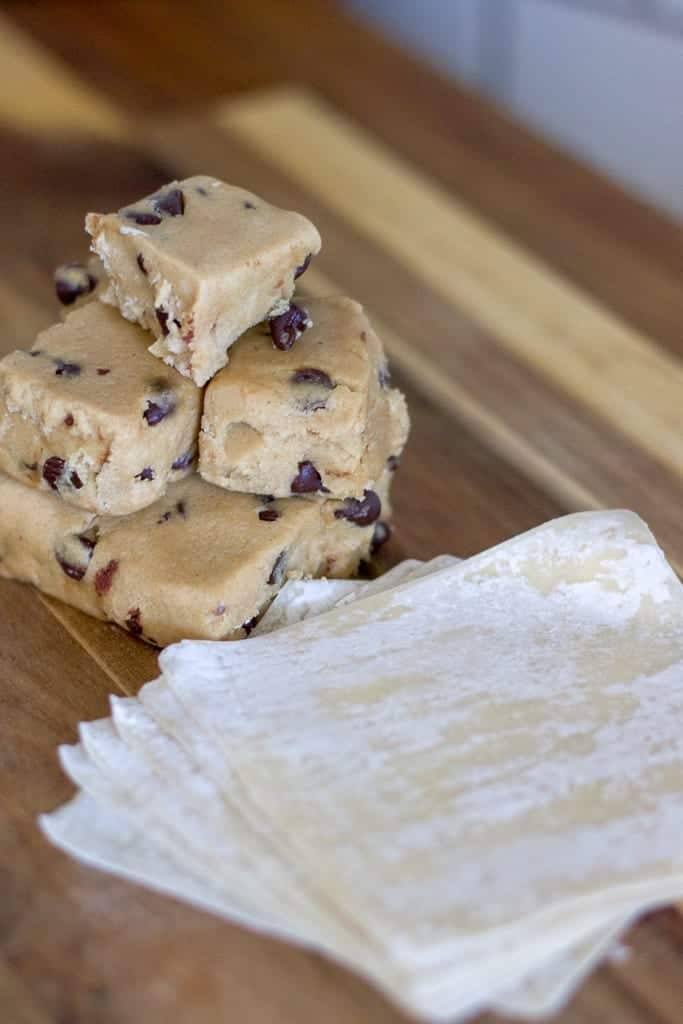 You can see some more advanced folds in my Cream Cheese Wonton post, but the simple fold is best for these dessert wontons, in my opinion!
How to make Cookie Dough Dessert Wontons in the Air Fryer
After pressing and sealing the wontons shut with some water, I placed them in the air fryer in a single layer. Personally, I like to spray them with some cooking spray to give them a more golden color. You can keep them unsprayed if you like.
The dessert wontons only cook for 3 minutes in the air fryer! You can also deep fry them using a medium pot of hot oil. Heat the oil on medium high heat, then fry for about 30-60 seconds until golden brown.
Make sure you don't overfill the wontons, or else they'll spill out.
Serving Cookie Dough Dessert Wontons
I like serving these dessert wontons with a drizzle of chocolate sauce and shake of powdered sugar. SO GOOD! The cookie dough starts to cook a little bit, but they're mostly just ooey and gooey like a half baked cookie.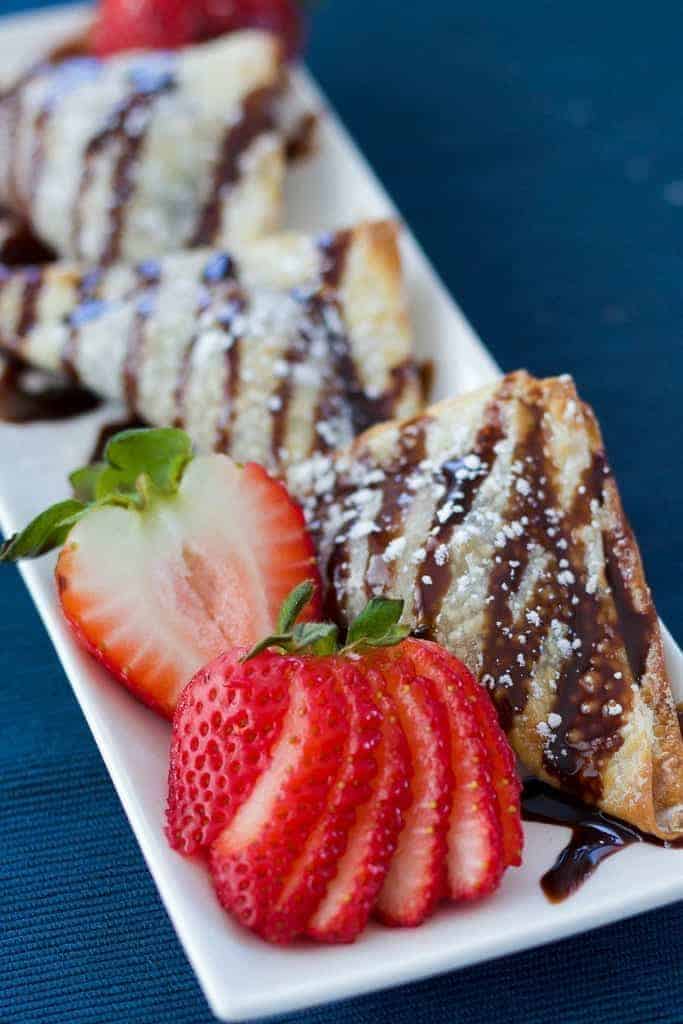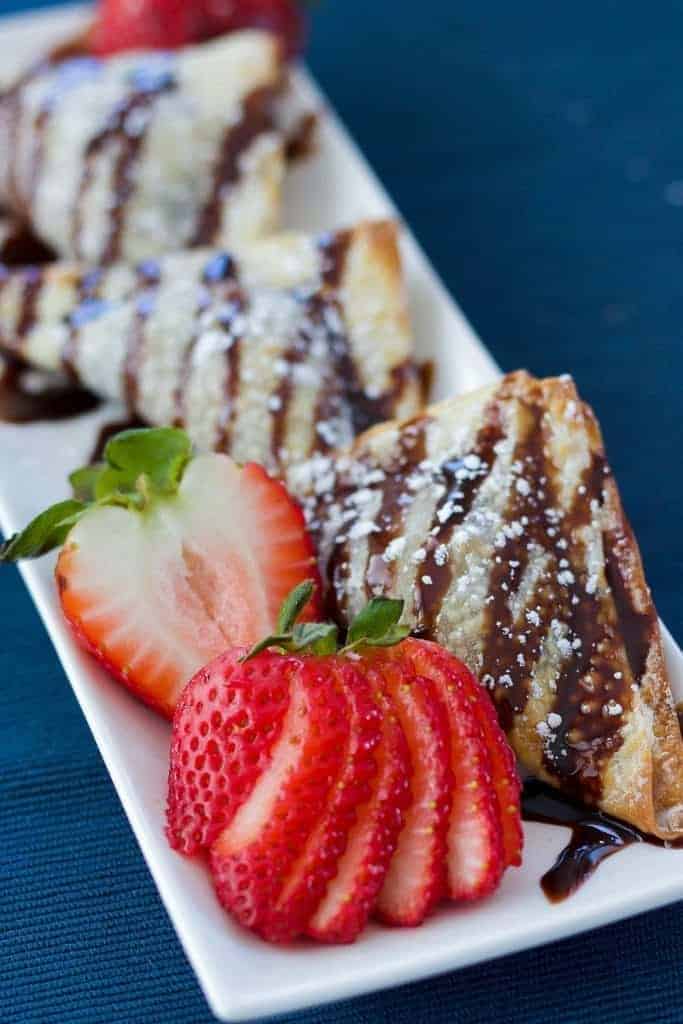 These cookie dough bites would also be delicious served with some ice cream!
As Seen on KSL Studio 5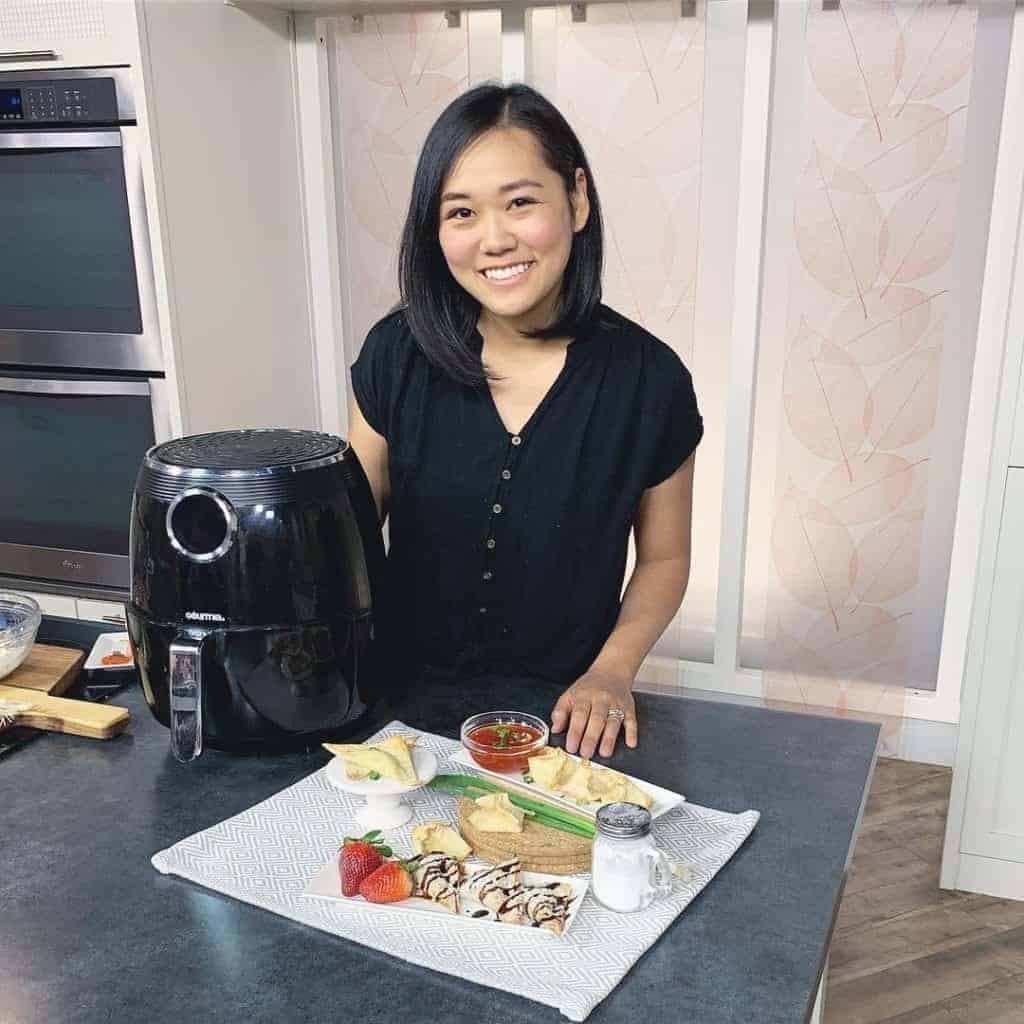 I demo'd these yummy wontons and my popular Cream Cheese Wontons during my recent TV segment with KSL Studio 5! Brooke Walker, the host, was wonderful as always and it was fun to share some education about Air Fryers for a change!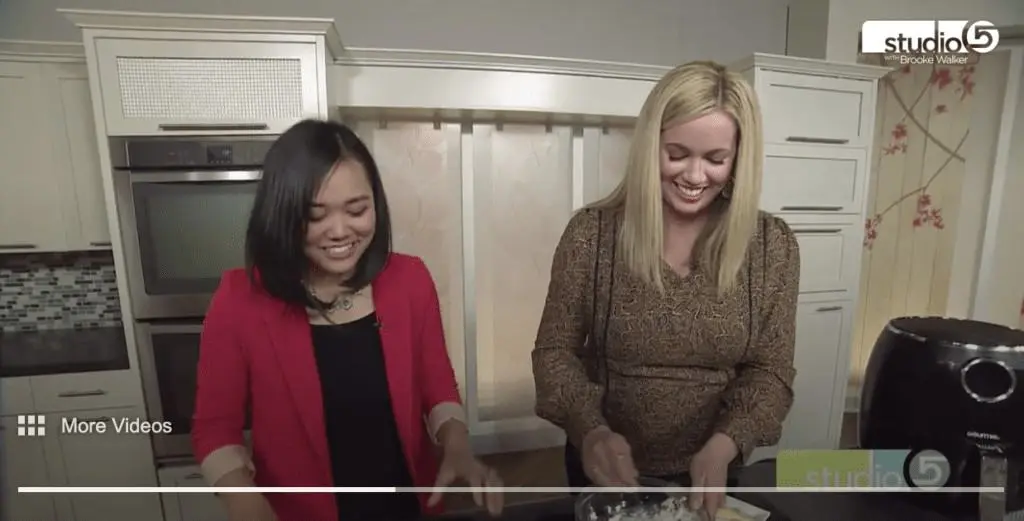 Check out all my TV Segments HERE!
Air Fryer Recipes
If you've been around here for a while, you know Instant Pot Recipes are my jam. But I LOVE cooking in any way, and absolutely love my Air Fryer. It's the perfect accompaniment to the Instant Pot and I use it almost daily.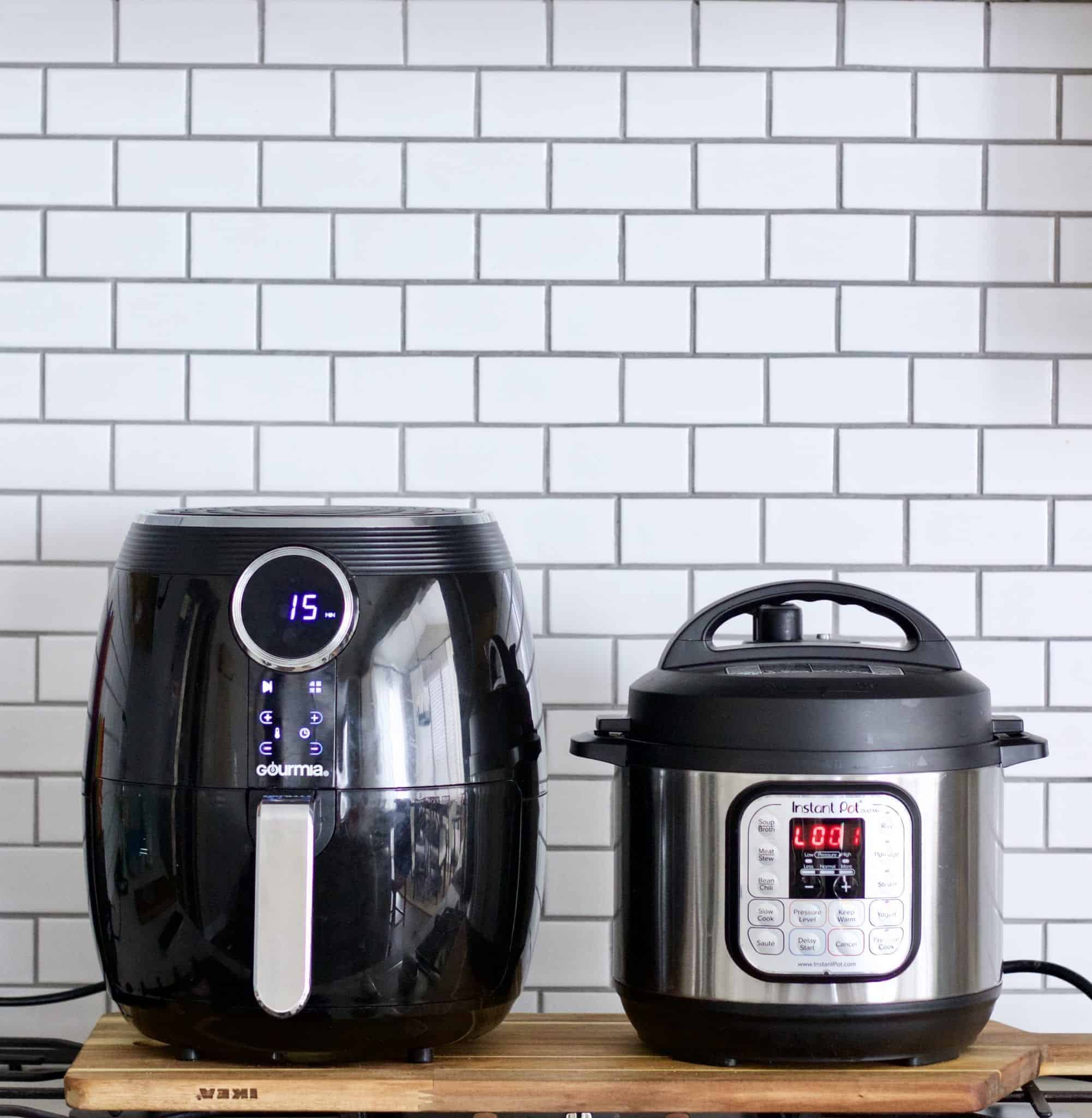 Air Fryer Recipes
Crisping up Instant Pot Salt Potatoes for breakfast the next day
Reheating leftovers, especially pizza and fries!
Breakfast sausage patties for the kids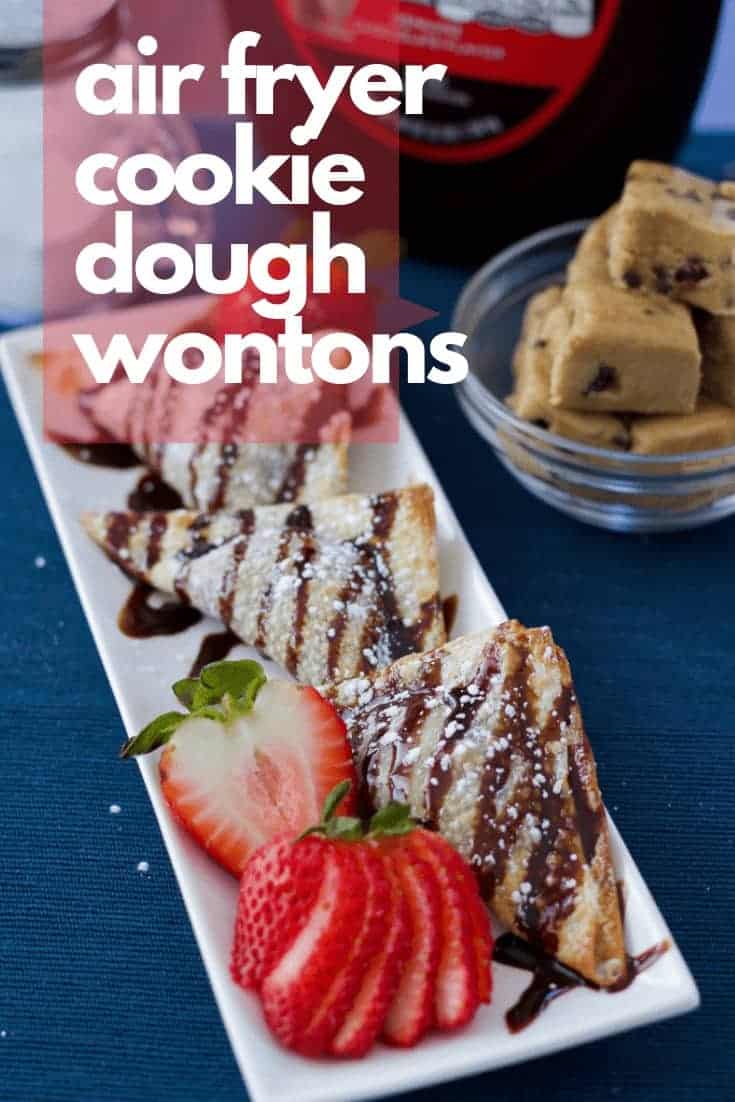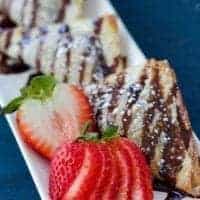 Cookie Dough Dessert Wontons
Cookie Dough Dessert Wontons only have 2 ingredients and cook for only 3 minutes in the Air Fryer! This easy dessert is simple and delicious.
Print
Pin
Rate
INGREDIENTS
30

Wonton Wrappers

1

cup

Chocolate Chip Cookie Dough*

Chocolate Sauce and Powdered sugar for serving

if desired
INSTRUCTIONS
Spoon about 1 1/2 teaspoons of raw cookie dough into the center of the wonton wrapper.

Dip your finger into the water and run a "V" shape along the bottom of the wrapper.

Fold the wonton wrapper over the cookie dough and seal the edges by firmly pressing down all around the cookie dough and edges.

Repeat with as many wonton wrappers will fit into your air fryer in one batch. Keep the wontons that are not cooking covered with a damp paper towel to avoid drying the wrappers out.

Place wontons in the air fryer basket, and spray with nonstick spray or brush with butter, if desired.

Cook the wontons at 350 degrees for 3-5 minutes, or until crispy and golden.

Serve with a shake of powdered sugar, chocolate sauce, and berries for color.
NOTES
The Chocolate Chip Cookie Dough may be store bought or homemade. I recommend that the dough be chilled/cold for best results.
Deep Fry Instructions
Heat a pot full of oil on medium heat, about 2-3 inches deep. Test a piece of a wrapper in the oil when it gets hot.You'll know it's ready when it immediately starts bubbling around the wonton. If the oil is not hot enough, the wrapper will sink and not bubble. Fry for just about 30-60 seconds, and flip as needed if your oil does not cover the wontons. Once they float to the top and look golden brown, remove them from oil to a paper towel-lined plate.
---
---
Thanks for stopping by, Sharon!! – Lisa

I learn so much from you as well! Thank you so much for sharing your helpful information.