This post may contain affiliate links, which means I earn a small commission if you purchase something I recommend - at no additional cost to you! Thank you for supporting this blog!
Homemade Instant Pot Applesauce is healthy, delicious, and flavorful. The Instant Pot makes it easy to cook applesauce with no added sugar in just 30 minutes or less.
There's nothing better than the smell of warm apples and cinnamon. Homemade Instant Pot applesauce is the best healthy snack or side for every season!
I find that store-bought applesauce often has lots of added sugar and is bland. Homemade Instant Pot applesauce, on the other hand, is flavorful and sugar-free. Try my best homemade applesauce recipe and you'll never go back to store-bought!
Before I teach you how to make applesauce in your Instant Pot, let me answer a couple frequently asked questions that will help you get the best result.
Breakfast Recipes
What apples are the best?
Don't stress about the ten different varieties sold at the store. If it's a good apple for baking, it will also work for applesauce. Blending sweet and tart apples creates a nice dimension to the applesauce flavor. My favorite combination is Granny Smith and HoneyCrisp!
Here are some other apples that are good to use:
Fuji
Honeycrisp
Gala
Granny Smith
Whatever you do, don't use Red Delicious apples! Their texture and flavor is not ideal for cooking or baking.
Check out this guide on some of the best apples to buy for applesauce.
How to make applesauce in Instant Pot
Wash the apples with clean water.
Core apples.
Cut apples into halves or quarters.
Place apples in the Instant Pot.
Toss the apples in water, lemon juice, and cinnamon.
Cook on high pressure for 10 minutes.
Do a 15 minute natural pressure release after cooking.
Due to the long cook time, you should be able to stir the apples and it will already be applesauce.
If you cut your apples larger, you may need to mash them a little. You can mash the pressure-cooked apples with a potato masher or ever a large fork. Blend with an immersion blender, if you prefer smooth applesauce.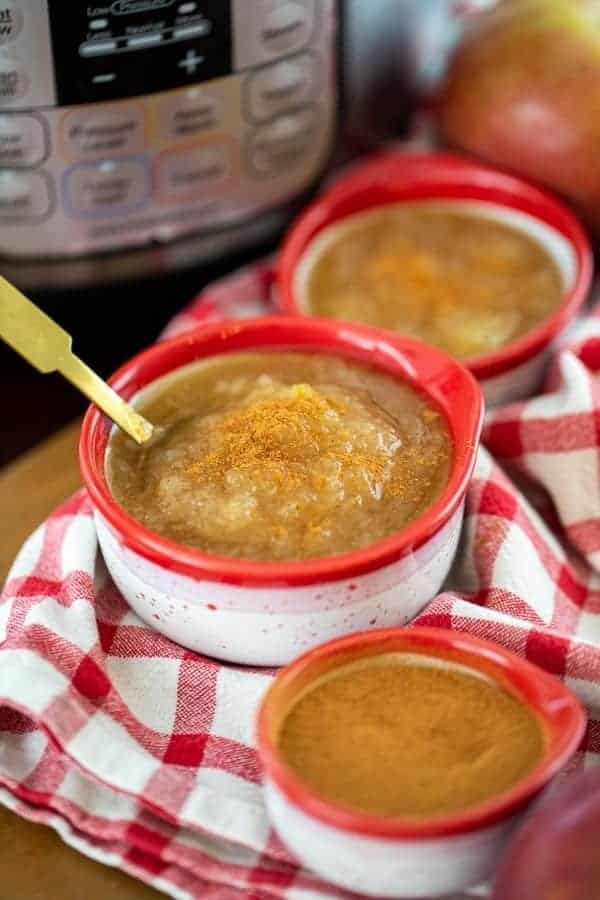 (An immersion blender is convenient because you can blend the apples right in the Instant Pot for less clean up! However, if you don't have an immersion blender, you can puree apples in a regular blender. Be careful with hot apples in a blender! Vent the steam, or blend when cooled.)
The apples cook so well in the Instant Pot, I find that usually all it takes to blend the applesauce is a good stir with a spoon.
Should you peel the apples?
You might have noticed that I didn't peel my apples for this recipe! Whether or not to peel the apples depends on preference. I find it's quicker and healthier to skip peeling.
Apple skin contains lots of nutrients and fiber. Trust me, the apple skin cooks so well in the Instant Pot it blends unnoticeably.
How to sweeten homemade applesauce?
I find that with a few sweet apples, this recipe doesn't even need added sugar! But if your Instant Pot applesauce seems too tart, you can add a little brown or white sugar. For a healthier option, instead use a little honey or pure maple syrup.
How to make Instant Pot applesauce for baby
My kids LOVE homemade instant pot applesauce. They have been enjoying it since they were babies. Thanks to the Instant Pot, making baby food at home is easy and less expensive!
The process to cook applesauce for babies is the same as above, with a few simple adjustments.
Puree the applesauce to smooth. Chunky applesauce is only safe for older children that have the teeth and motor skills to chew.
I don't add any sweetener for babies under one year old. They don't need added sugar and can't eat honey. Good thing this applesauce is perfect without sugar!
Instant Pot baby food ideas
Applesauce is a great base for baby food blends! It sweetens up the savory vegetables that babies sometimes need help enjoying. Here are a few ideas:
Check out my cranberry sauce recipe. Blend these two recipes to make apple cranberry sauce!
Check out my Instant Pot sweet potatoes. Puree the Instant Pot sweet potatoes with the Instant Pot applesauce to make a tasty and nutritious baby food!
Replace a few apples in the applesauce recipe with pears for a delicious apple pear sauce!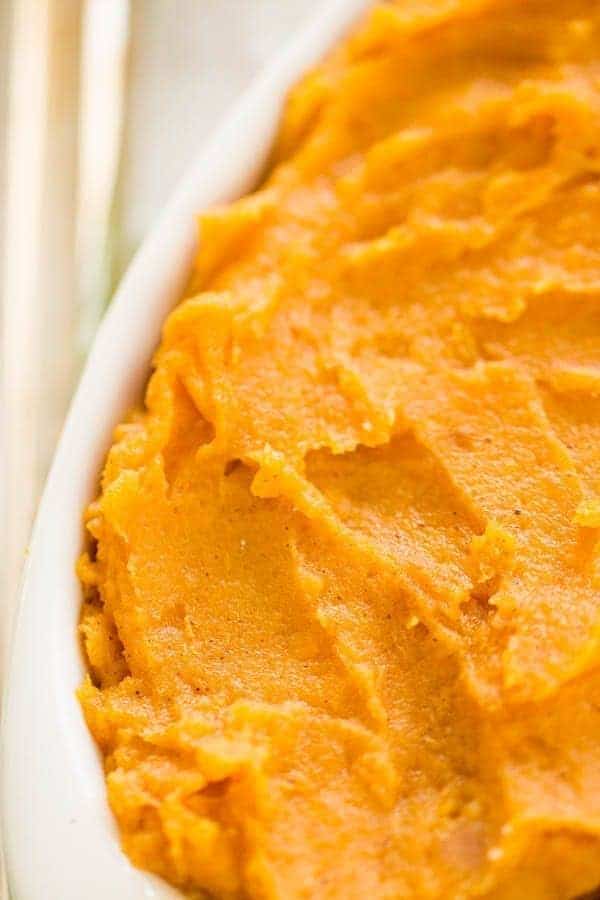 How to store homemade Instant Pot applesauce
Instant Pot applesauce can be stored in an airtight container in the fridge for 7-10 days. Here are some easy ways to store applesauce:
My kids love squeeze pouches for snacks. I store my homemade Instant Pot applesauce in these reusable squeeze pouches in the fridge.
Reusable squeeze pouches make it possible to take homemade applesauce as a healthy snack on the go! It's great for our budget and the environment. Win, win!
Can I freeze homemade applesauce?
Yes! Homemade Instant Pot applesauce can be stored in the fridge for about 1 week. It can be frozen for up to 2 months in an airtight container. Just remember that frozen applesauce will expand so leave about a ½ inch of extra room in the container.
I will make a big batch of Instant Pot applesauce and freeze it in the reusable squeeze pouches I mentioned earlier. It usually thaws just in time for a refreshing midday snack at the park.
Can dogs eat applesauce?
Homemade Instant Pot applesauce is a great snack for the whole family, even the dog.
The apple stem, seeds, and leaves are all dangerous for dogs. Luckily, this applesauce recipe removes all those parts of the apple. Plus, with no added sugar, it's the perfect homemade applesauce for your dog!
Dogs enjoy the sweet taste of applesauce, but don't let your fur baby enjoy too much!! Just a couple tablespoons are the right serving size.
Trick: freeze some applesauce in an ice tray for perfectly portioned doggy treats!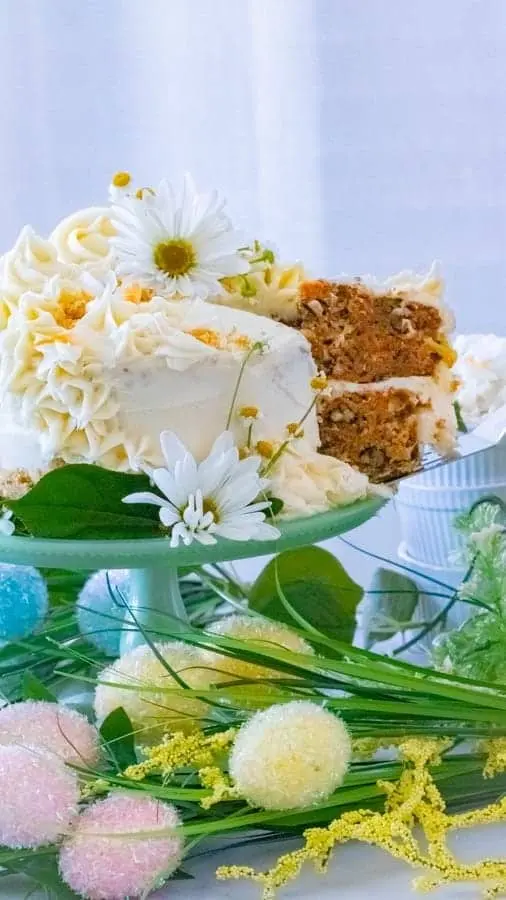 How to substitute eggs with applesauce
I love to have homemade Instant Pot applesauce on hand for baking!
It's easy to make sweet bakes vegan with applesauce! Replace one egg with ¼ cup of homemade Instant Pot applesauce. Applesauce can make the final product denser. Just add an extra ½ teaspoon of baking powder for a lighter texture.
How to substitute oils with applesauce
If you're trying to reduce the fat in your baked goods, you can substitute oil with applesauce.
The ratio is 1:1.
For example, you would substitute ¼ cup of oil with ¼ cup of applesauce. This substitution works especially well in muffins and quick breads!
This simple, one-pot recipe is perfect for beginners. It's the best homemade applesauce recipe that's delicious AND good for you!
How to make Applesauce in the slow cooker
If you'd like to make this recipe in your slow cooker, add all ingredients to the slow cooker and cook on high for 3-4 hours, or until apples are very soft.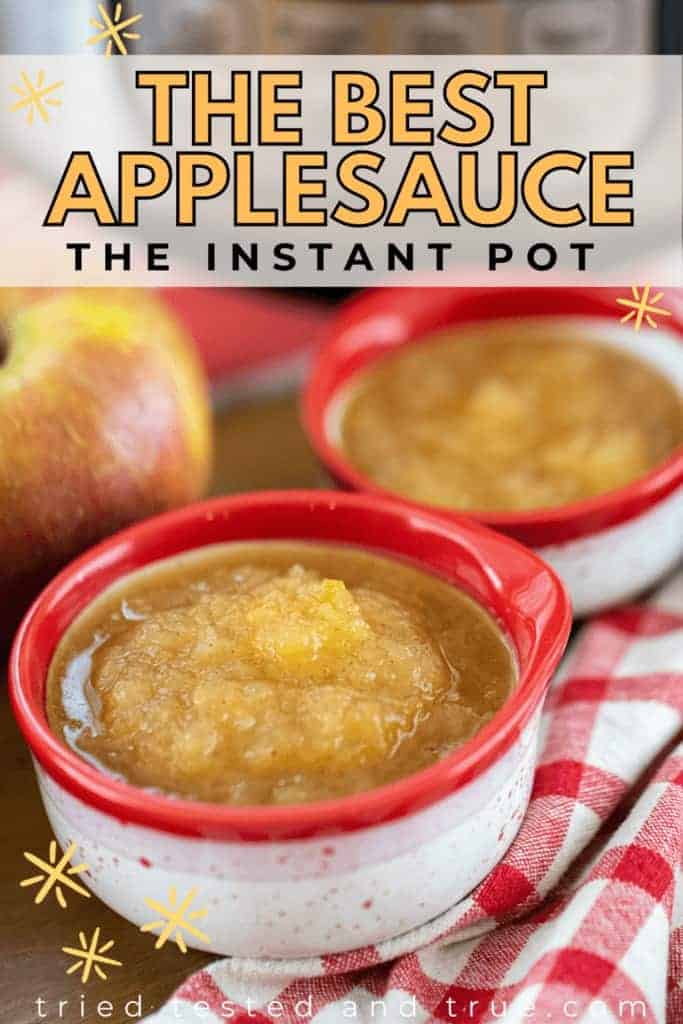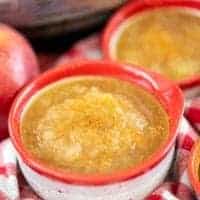 Homemade Cinnamon Applesauce
Homemade Instant Pot applesauce is healthy, delicious, and flavorful. The Instant Pot makes it easy to cook applesauce with no added sugar in just 30 minutes or less.
Print
Pin
Rate
INGREDIENTS
4

Granny Smith apples

peeled, cored, and sliced (about 6 cups)

4

Honeycrisp apples

peeled, cored, and sliced (about 6 cups)

1

tablespoon

lemon juice

1

teaspoon

ground cinnamon

½

cup

water

1/4

cup

sugar

optional
INSTRUCTIONS
Add apples, lemon juice, cinnamon, and water to the Instant Pot®.

Close the lid, turn the knob to Sealing.

Press Manual or Pressure Cook button and adjust time to 10 minutes.

When the timer beeps, allow 15 minutes to naturally release the pressure, then remove the lid.

Stir the applesauce until well combined, then carefully taste. Add up to 1/4 cup sugar or more, depending on your taste. The amount of sugar you use will vary on the sweetness and tartness of your apples.
NOTES
This recipe uses an extra long pressure cooking time so the apples dissolve completely, making blending or mashing almost unnecessary. If you'd like to cook for a shorter amount of time, cook for 3-5 minutes on high pressure for chunkier applesauce.
NUTRITION
Serving:
1
g
|
Calories:
208
kcal
|
Carbohydrates:
53
g
|
Protein:
1
g
|
Fat:
1
g
|
Sodium:
5
mg
|
Fiber:
8
g
|
Sugar:
42
g
---
---