Deviled Eggs with Bacon, Chives, and a Secret Ingredient + 10 Tips!
---
This post may contain affiliate links, which means I earn a small commission if you purchase something I recommend - at no additional cost to you! Thank you for supporting this blog!
Deviled Eggs anyone? Making hard boiled eggs in the Instant Pot is a given, but my deviled egg recipe has bacon, chive, and a crazy secret ingredient I've NEVER heard of before!
I've always been impartial to deviled eggs, but dang. These were pretty good and I ate 3. Part of the reason is because I have a hard time with mayo.
Growing up, I feel like my mom put it on EVERYTHING so I kind of have a small aversion to it now. We would use Japanese mayo called Kewpie, which, for the record, is WAY better than American mayonnaise 😉
I made these for my SIL's baby shower and they were the first things gone. Read my post on all the food I made for the baby shower in my Instant Pot and other Instant Pot Party Food ideas like my absolute favorite Chicken Salad Sandwiches and Fresh Pineapple Ginger Lemonade or Simple Orange Coconut Cream Soda.
TIP 1: Instant Pot Hard Boiled Eggs
Because of the magic of pressure cooking, eggs peel like a DREAM and it's such a delight. No more destroyed eggs and guesswork on the time!
Once you make hard boiled eggs in the Instant Pot, you will never go back. It's worth the price of the Instant Pot JUST for eggs alone!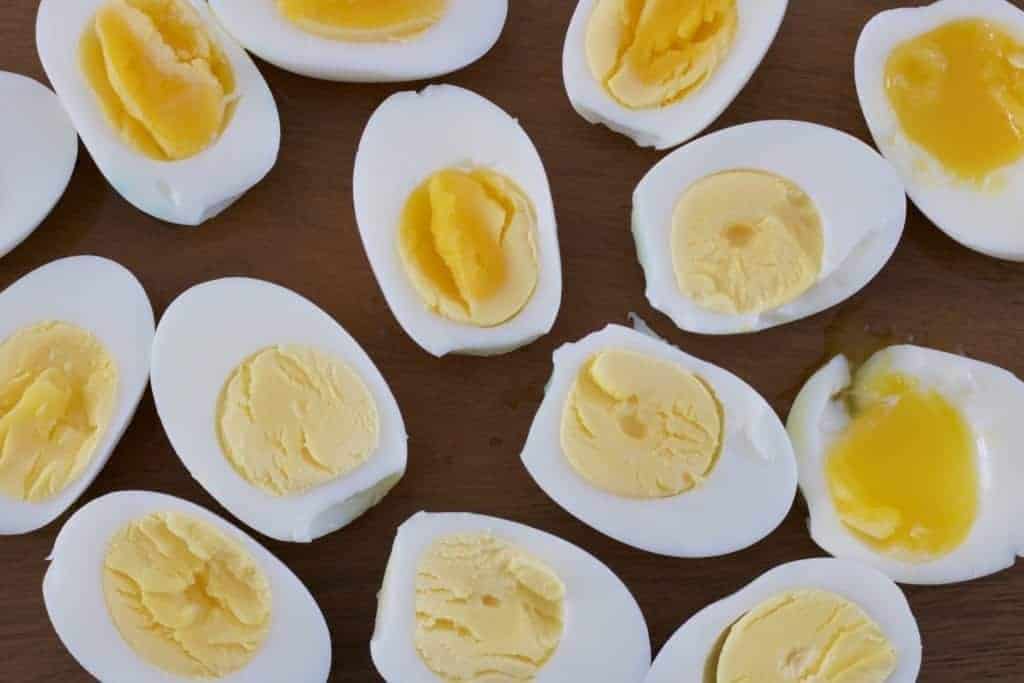 Make sure you check out my post on how to make Instant Pot Hard Boiled Eggs. In that post, I experimented with different times in the Instant Pot AND the air fryer to get the best method and time.
How to make Deviled Eggs
Deviled Eggs are probably the easiest appetizer you can take somewhere (besides chips and salsa). And for whatever reason, no one goes home with leftover deviled eggs. They always get gobbled up!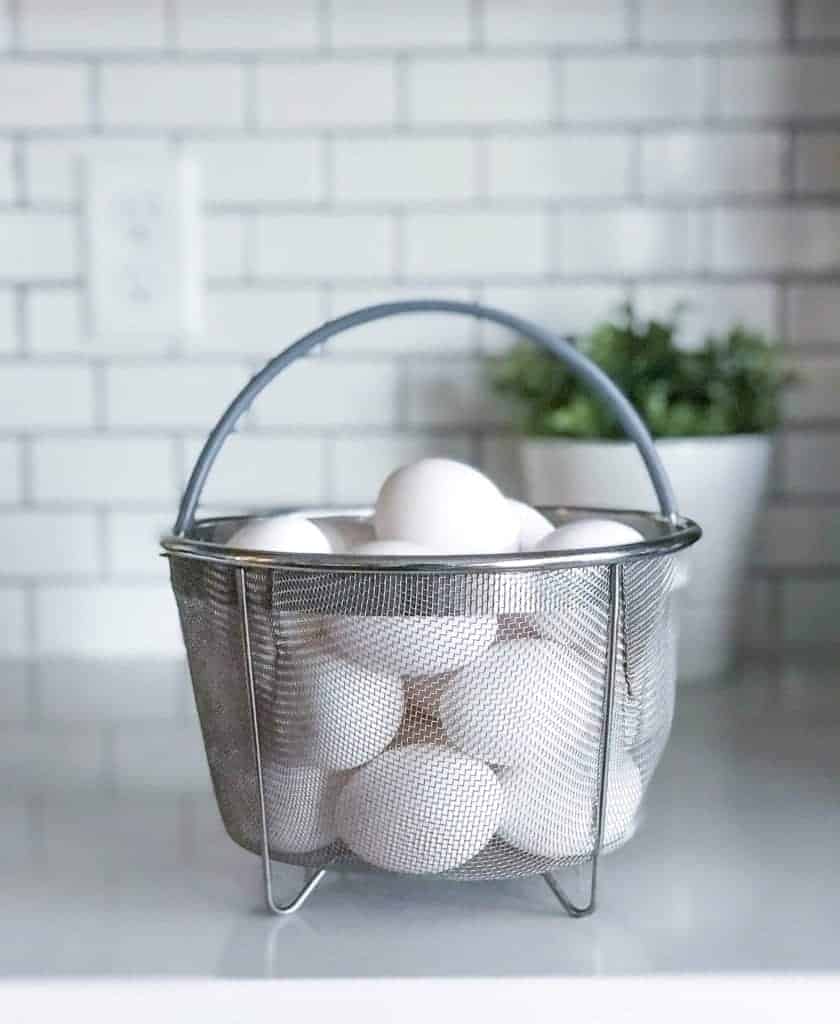 First, make a batch of hard boiled eggs in the Instant Pot. I love using my steamer basket to make it super easy. Let them cool completely, then peel.
Tip 2: Peeling Hard Boiled Eggs
I love this tip for peeling hard boiled eggs super easily. Gone are the days of those sad, ripped up boiled eggs with holes!
Simply tap each end of the hard boiled egg on the counter.
*tap tap*
Turn around
*tap tap*
Then with a little pressure on your palm, *ROLL* the egg.
Peel the egg shell right off!
Usually they come off in just 2-3 pieces! Make sure not to roll the egg too much, or else the shell pieces are too small and it'll take even longer to peel. Give the eggs a quick rinse to remove any little pieces.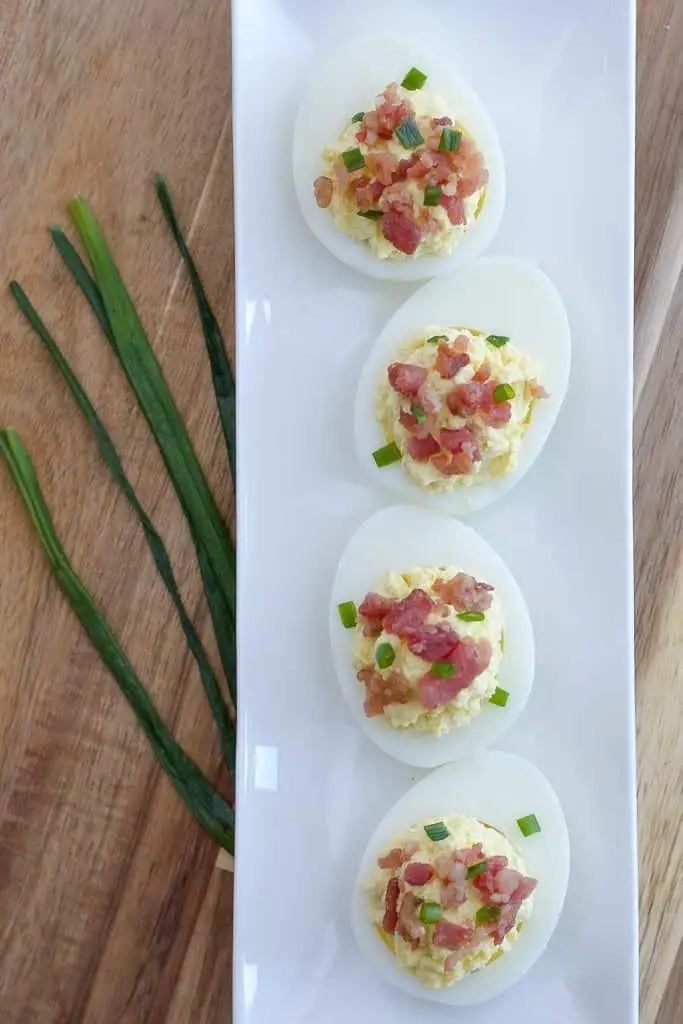 Next, Cut each egg in half, and pop the yolks into a medium bowl. Place the whites on a plate or deviled egg plate. THIS one is super cute and different!
Tip 3: Sliding Eggs and No Deviled Egg Plate?
If you don't have a deviled egg plate, you can of course put them on any tray or plate. The problem is, the eggs will slide around like crazy!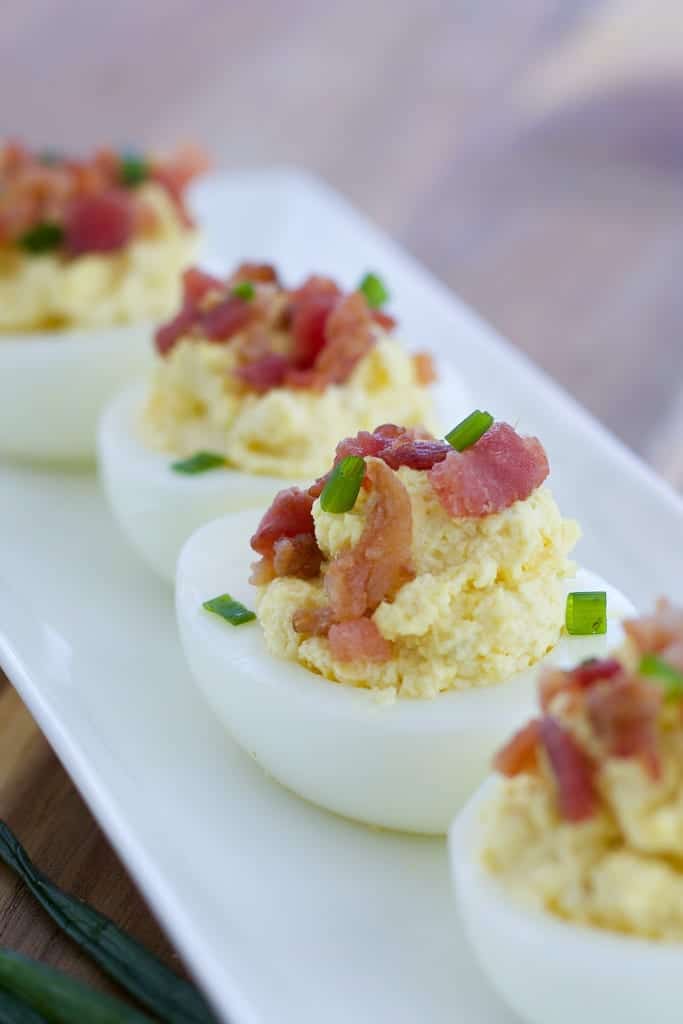 After slicing your eggs in half and before filling with the yolk mixture, take a small paring knife and slice a thin layer off the bottom of the egg white.
You don't want to make a hole, so it's just a tiny slice.
Tip 4: Super Slide-free Eggs
Ensure the egg white is as dry as possible before placing on your plate. This will create a nice base for the egg, and they won't slide around!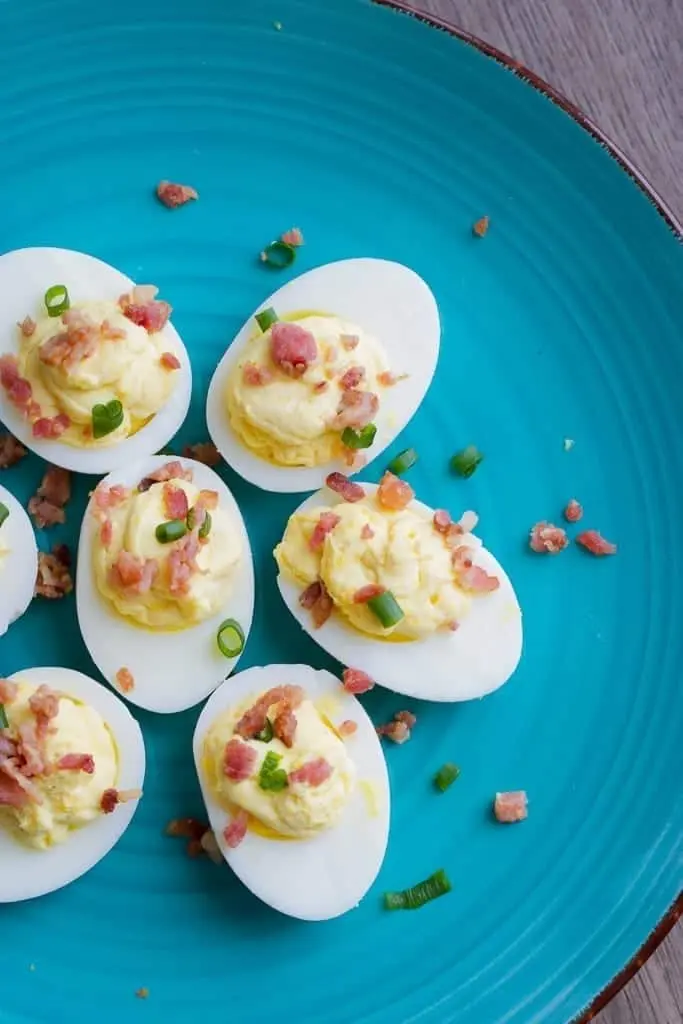 Tip 5: Avoiding Chunky Deviled Eggs
Now this part is really important to avoid chunky eggs. I really wanted to avoid saying that word because I hate it when describing food, but there really is no other way around it.
Deviled eggs that have unmixed chunks of yolk just aren't very visually appealing, or as tasty.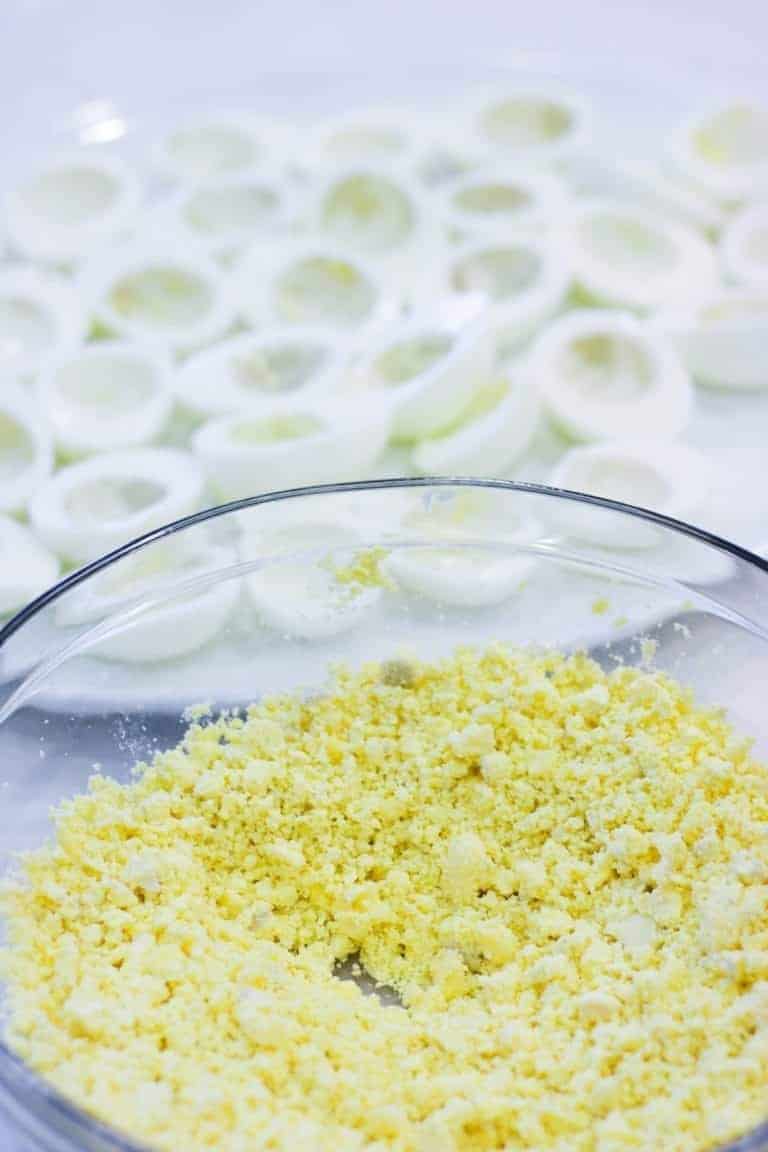 This is the most important step when making deviled eggs- you must chop up the yolks as much and as evenly as possible before adding the fillings!
I like using a small whisk (the one that came with my hand mixer) to finely crumble the egg yolks. It works just like a pastry cutter while not abusing the eggs at all! You can also use a fork or two knives.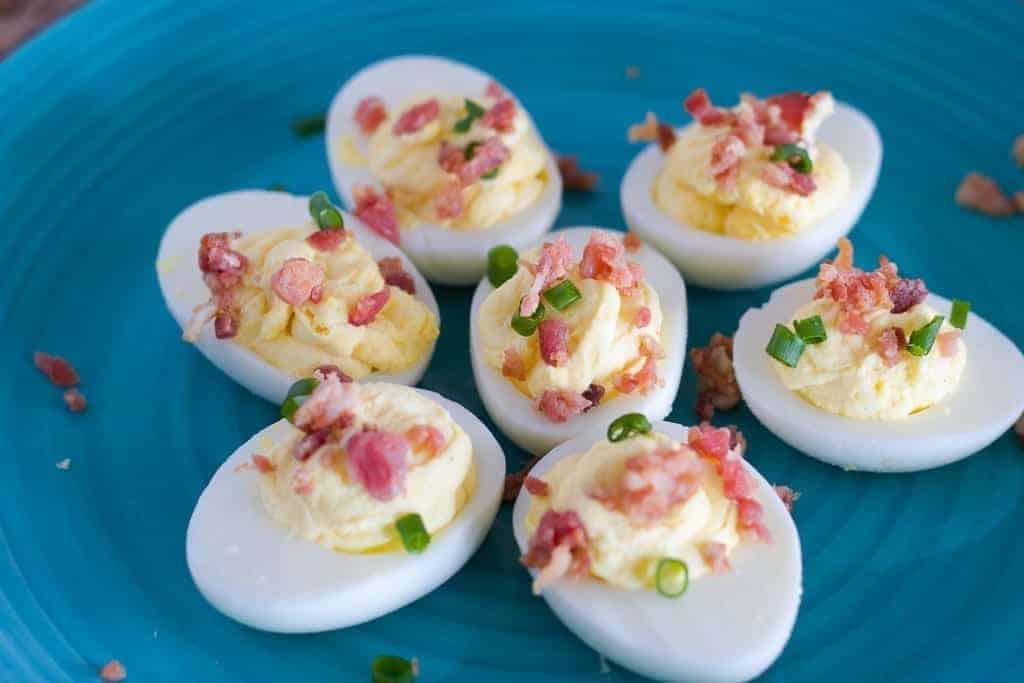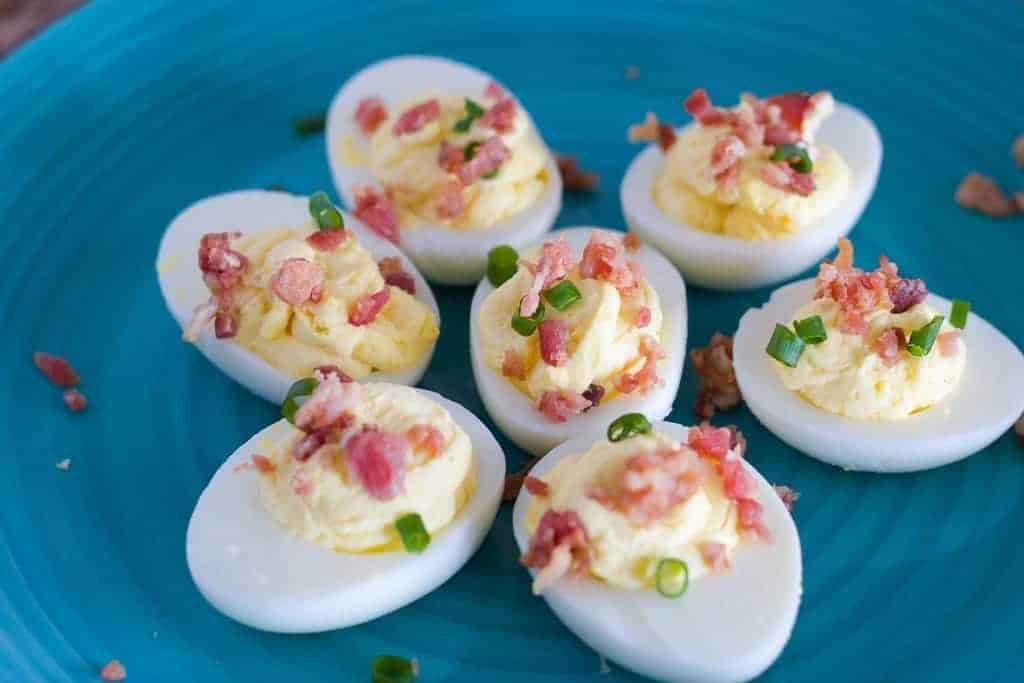 You don't want to MASH them into a paste, but you also don't need it to be like a fine-grain sand. It's just that middle ground where all the pieces look as uniform as you can.
Deviled Egg Ingredients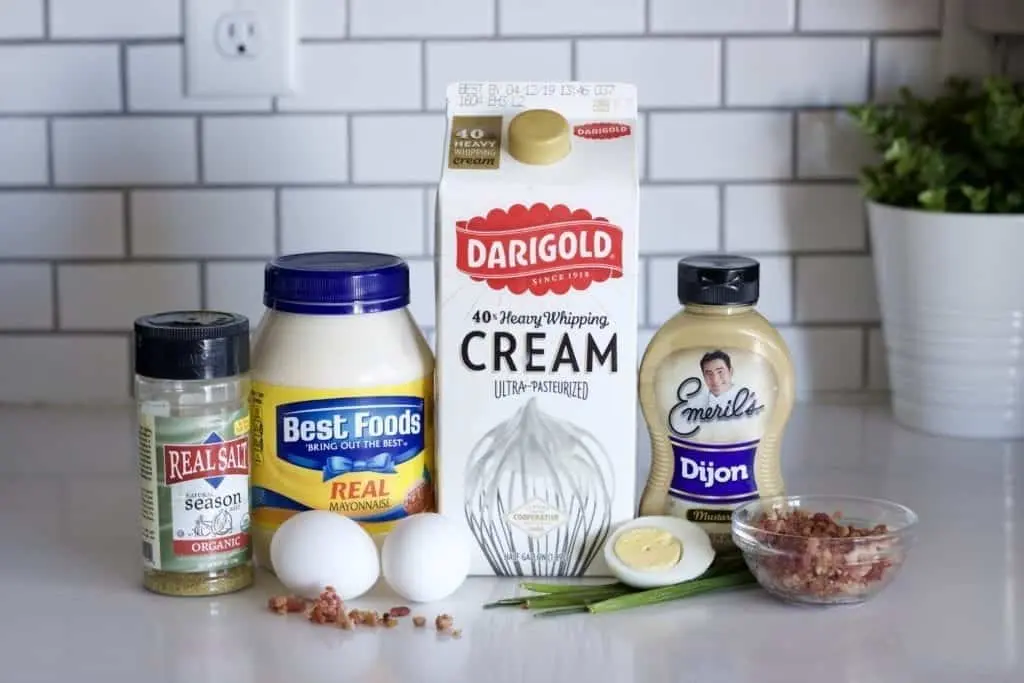 To the egg yolks, I generally like to go traditional. Just some real mayonnaise, dijon mustard, and the only seasoned salt I use. I mix these ingredients into the yolk with a spoon or rubber spatula, careful not to mash or abuse it too much.
If you go too crazy with it, it can get pasty and unappetizing. Then, I add a secret ingredient!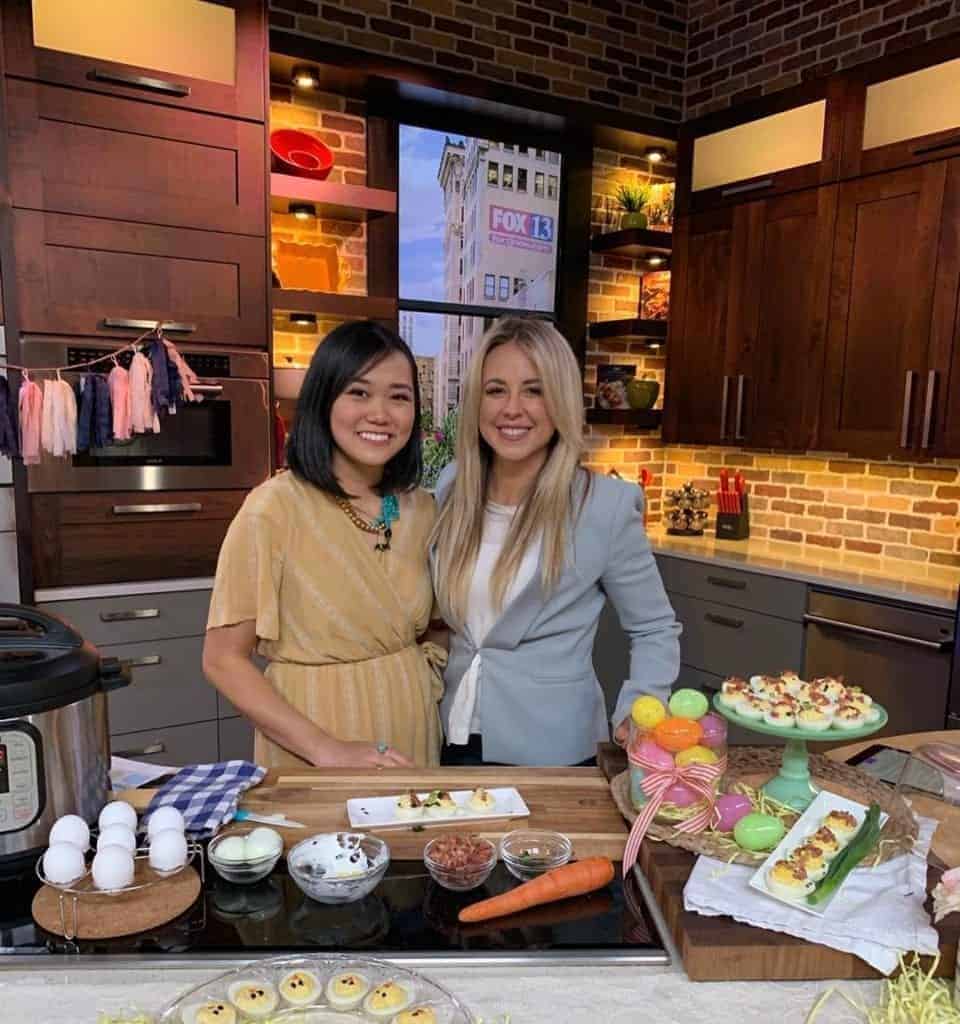 Tip 6: Secret Ingredient for Deviled Eggs
A couple of weeks ago, I was burning the midnight oil working and watching the Food Network.
Alex Guarnaschelli was talking about her grandma or someone who always made deviled eggs with unsweetened WHIPPED CREAM to make the yolk mixture super light
(DO NOT use Cool Whip or Reddi Whip! We are not making dessert deviled eggs!)
Adding whipped cream was super intriguing to me because in all my research and years of loving food, I had NEVER heard of it.
Sure, I've heard of avocado deviled eggs or fried deviled eggs… but never adding anything to lighten up the yolks! GENIUS!
Tip 7: How to make small-batch Whip Cream
I whipped up about 1/2 cup of cream into medium hard peaks, and folded it into the yolk mixture. It honestly was super light, creamy, and lovely!
When you're only making a small amount of whipped cream, simply fill a small mason jar or cup with the cream. The colder the materials and ingredients, the better.
I usually stick the jar, whisk, and cream in the fridge or freezer for a couple of minutes before whipping. Use a hand mixer with the whisk attachment, and whip it up! This is the most efficient way to whip a small quantity of cream.
Tip 8: Filling Deviled Eggs
You can spoon the yolk mixture into the eggs, or you can pipe it into the shells using a pastry bag or ziploc. Just use a large tip to make sure it doesn't get stuck!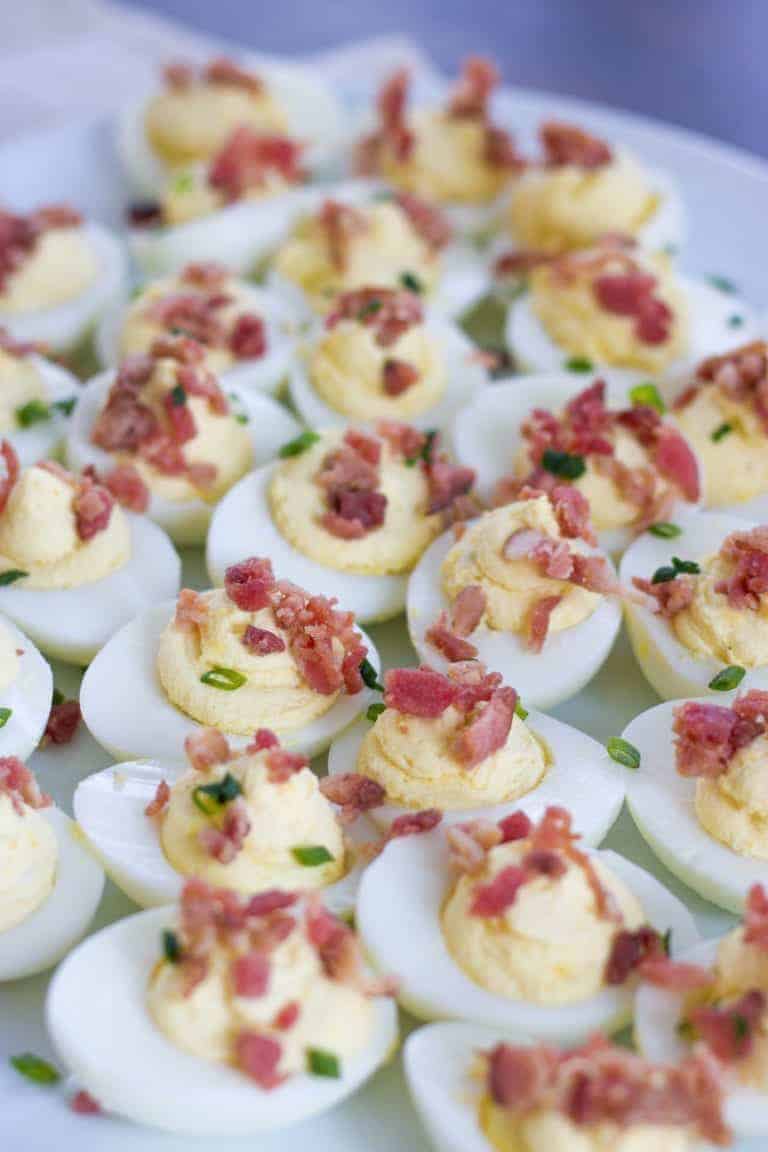 Because you added a bunch of fillings and the whipped cream, there's much more filling than there used to be and you can be extra generous!
Tip 9: Smooth Tops
If you want to smooth your deviled eggs out after filling, just dip your finger in a tiny bit of water and shake. Use your damp finger to gently shape the filling.
You can also do the same thing with a slightly wet spoon. The yolk mixture will stick to a dry spoon.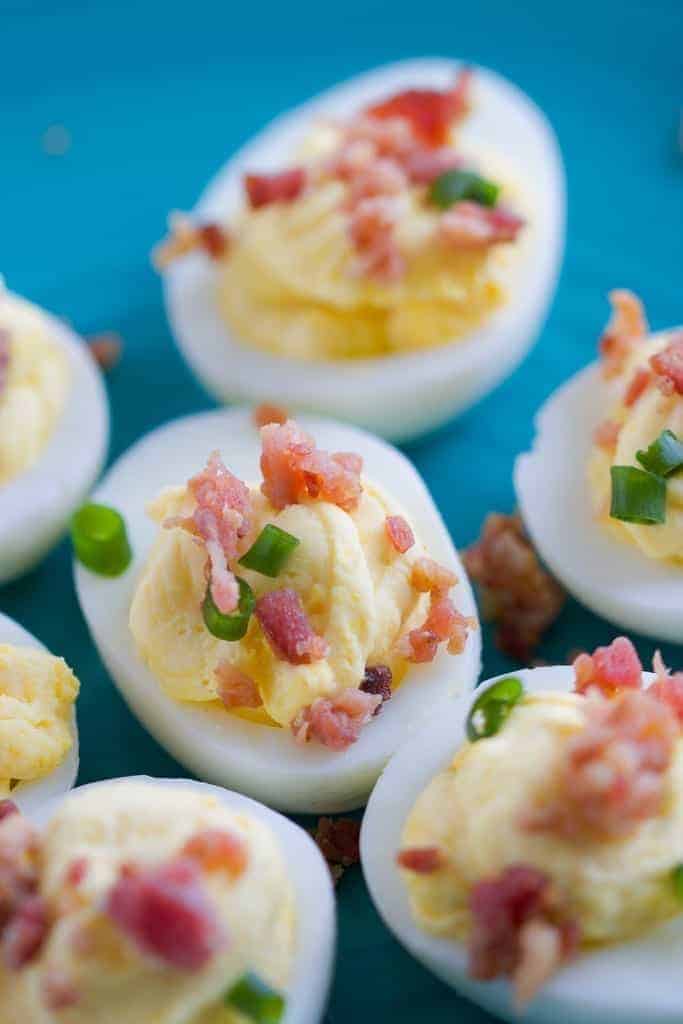 Tip 10: Baby Chick Deviled Eggs and Deviled Egg Toppings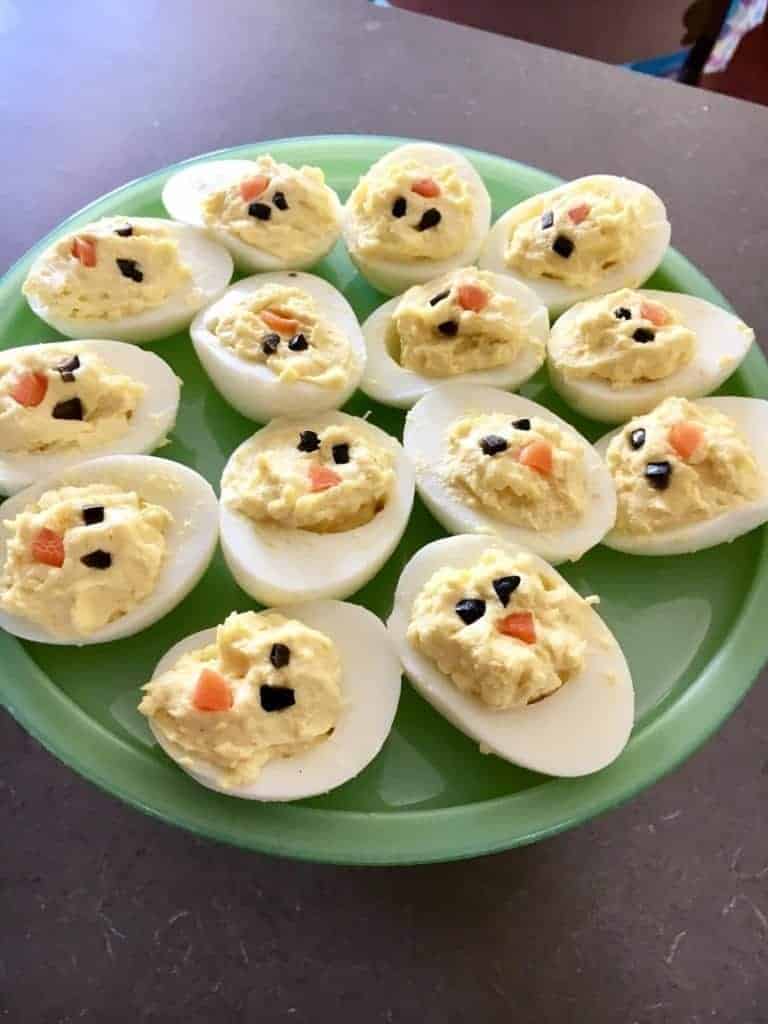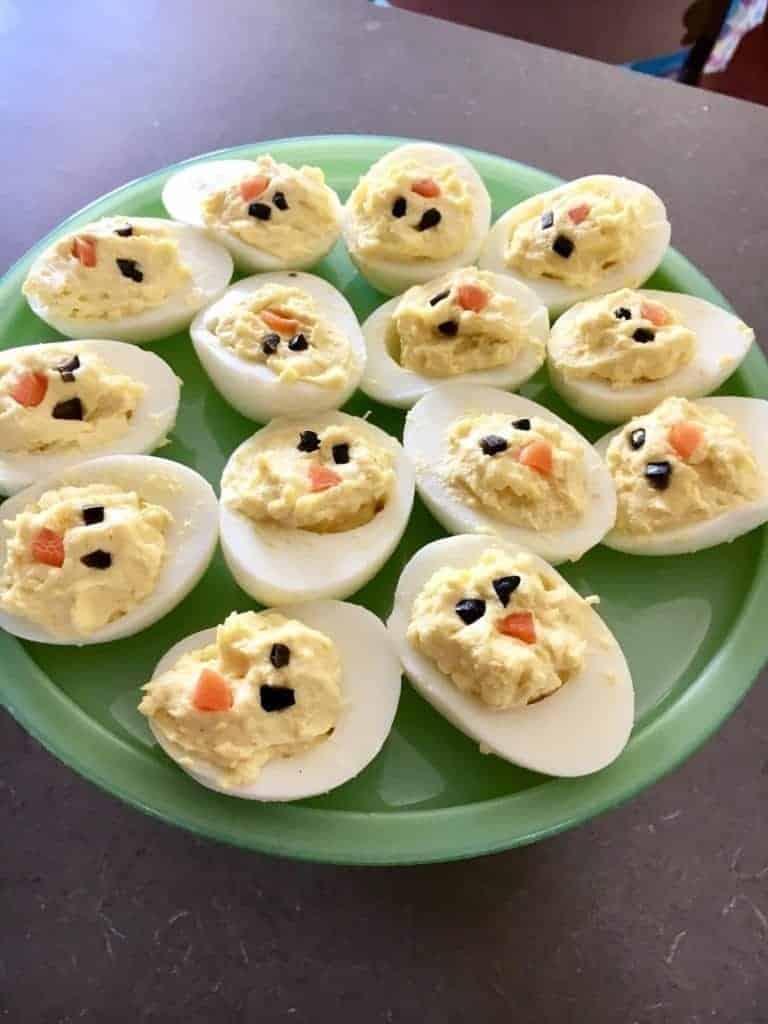 I topped mine with just some crumbled bacon and chopped chives. It was the perfect blend of flavors and textures. It may have even made me like deviled eggs!
In past Easters, I have chopped up tiny pieces of carrot and olive to make Deviled Egg Chicks! They are super cute and festive!
Bacon Chive Deviled Eggs
These yummy deviled eggs have a secret ingredient to make them super light and delicate. Topped with bacon and chives, they are the perfect texture and mixture of flavors!
Print
Pin
Rate
INGREDIENTS
12

eggs

1

cup

water

3

tablespoons

mayonnaise

1/2

tablespoon

Dijon mustard

1/3

cup

heavy cream

whipped to medium stiff peaks

seasoned salt

to taste

1/2

cup

bacon bits

2-3

tablespoons

chopped chives

for garnish
INSTRUCTIONS
Place eggs in a steamer basket. Or, place the trivet into the Instant Pot and stack eggs on top of the trivet. Pour water over the eggs (basket or trivet) and close the lid. Turn the sealing knob from Venting to Sealing, then press the Manual or Pressure Cook button and adjust to 2 minutes. Allow a 15 minute natural pressure release. Release the rest of the pressure, then immediately transfer the eggs to an ice bath (or keep them in the liner and run cold water over them for 5 minutes.) Once cooled, peel the eggs.

Cut boiled eggs in half and separate the yolks to a medium bowl. Crumble the yolks into a medium powder. You don't want to mash them or allow large chunks to stay.

Add mayonnaise, mustard, and salt and mix with a rubber spatula to completely combine.

Add about 1/4 of the whipped cream to the mixture and mix well to lighten. Gently fold in the remaining whipped cream with the egg yolk mixture until it is fully combined.

Transfer the mixture into a piping bag or ziploc bag with the corner cut off the bag. Carefully pipe a heaping tablespoon of the mixture into the egg whites. Top with bacon pieces and chive, or paprika. Best served day of making.
NUTRITION
---
---
If your egg whites are turning brown, they are being overcooked. Are you using my method? I also find sometimes the eggs touching the sides of the pot will be a little bit browned