Instant Pot Lobster Tails
---
This post may contain affiliate links, which means I earn a small commission if you purchase something I recommend - at no additional cost to you! Thank you for supporting this blog!
Instant Pot Lobster Tails are such a treat! Try cooking your lobster tails from fresh or frozen in the Instant Pot for an easy indulgence.
Instant Pot lobster tails are the perfect mix of elegance and simplicity. They're a splurge, no doubt, but 100% worth it!
And while they do require some attention to cook to perfection, there's no reason that even a beginner should fear them.
Where to buy lobster tails
While fresh lobster right off the boat is undeniably the best option, most of us don't have that option.
Frozen lobster is usually flash frozen immediately, thereby preserving the freshness of the fist. It takes about 12 hours in the fridge to thaw, after which it's ready to prepare! 
I like to get lobster from my local butcher—it's sold in single serve portions that are a lot more affordable than some of the bulk options available elsewhere.
If you're okay with an investment, though, Costco usually sells big packs of lobster tails at a great price!
And of course, you can almost always purchase lobster tails right at the seafood counter of your local grocery store.
How to cook lobster tails in an Instant Pot
Let me share one thing that I never want to try: boiling lobster.
I know that there's a technique to it and all that, but it just feels so much easier to make lobster tails right in my Instant Pot.
In my opinion, it's by far the best way to cook lobster tail. Personally, I prefer to use my 6 quart Instant Pot because it gives me the perfect amount of space for four servings.
How to cook frozen lobster tails
If you're using frozen lobster tails, you'll cook them almost exactly the same way as fresh tails.
There's one additional step: put them into the fridge to defrost for about 12 hours (I like to defrost them overnight).
While you can cook them frozen, the prep work will be a lot harder if the lobsters are not already cut for you.
To cook frozen lobsters, pressure cook them just as directed in the instructions for this recipe. You'll then pull them out of the shell after cooking.
How to prep lobster tails
At this point, if you decided to use frozen tails, they should be thawed.
Using a pair of kitchen shears, you'll cut down the whole center of the tail, crack it open, and pop up the meat underneath—don't remove the meat entirely (it should still be connected to the shell), but make sure it's far enough out that you can season it generously.
Old Bay seasoning is your best friend for these tails: it's a classic flavor profile, and it never gets old. Sprinkle it on generously.
Next, add water to your instant pot with the trivet, garlic, and salt. Place the lobster tails onto the trivet, and your prep work is done!
How long to boil lobster tails
Trick question! This is something that people ask me a lot, but it's actually a completely unnecessary step with the Instant Pot.
Rather than boiling these tails, we'll be steaming them.
Read on for a breakdown of the cooking process.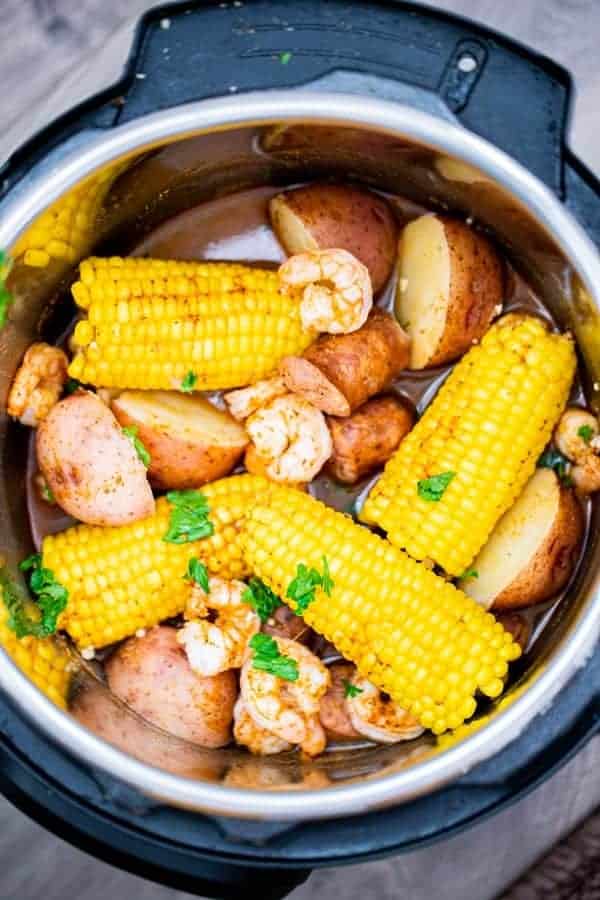 How long to steam lobster tails in an Instant Pot
This is a delicate process, but don't be intimidated! Lobster is an extremely delicate meat that doesn't need a lot of cooking. Over-cooking lobster will make it dry and rubbery.
Start by setting the Pressure Cook button to zero minutes and adjusting your Instant Pot to low pressure. When the timer beeps, turn the knob from sealing to venting, then remove the lid.
Using a thermometer, take the internal temperature of the lobster by placing the thermometer in the thickest part of the lobster.
It should be at or above 140ºF. If it is a little under, replace the lid (the knob can be on venting or sealing) and wait 2 minutes before checking again.
Lobster is extremely delicate and easy to overcook, so don't let it sit too long! 
How to serve Instant Pot lobster tails
Once your lobsters reach 140ºF, remove them to a plate and top them with fresh parsley. Serve them with clarified butter, fresh lemon, and some high quality sea salt.
Seaworthy Sides
Instant Pot Lobster Tails
Treat yourself with a gorgeous, perfectly cooked lobster tail! Lobsters can be purchased individually from your local butcher, which is perfect for single-serve cooking because it's much more affordable.
Print
Pin
Rate
INGREDIENTS
2

lobster tails

⅛

teaspoon

old bay seasoning

1

cup

water

½

teaspoon

minced garlic

½

teaspoon

salt

2

tablespoons

clarified butter

½

teaspoon

fresh parsley

chopped

2

lemon wedges
INSTRUCTIONS
Using kitchen shears, cut down the center of the lobster tail all the way to the base of the tail. Carefully crack open the lobster to expose the meat underneath, then slide your finger on the underside of the meat to loosen it from the bottom of the shell. Pop the meat up and above the shell so it lays gently on the outer shell but is still connected to the tail. Sprinkle the lobster tails with Old Bay seasoning, then set aside.

Pour water into Instant Pot®and add the trivet, garlic, and salt.

Place lobsters onto the trivet.

Close the lid, turn the knob to Sealing.

Press Manual or Pressure Cook button and adjust time to 0 minutes, then press the Pressure button and adjust to low pressure.

When the timer beeps, turn the knob from sealing to venting, then remove the lid. Take the internal temperature of the lobster. It should be 140º. If it is a little under, replace the lid and wait 2 minutes before checking again. Lobster is extremely delicate and easy to overcook.

Remove the lobsters to a plate and top with fresh parsley. Serve with clarified butter and lemon.
NOTES
All lobster tails will vary in size, freshness, and temperature. This recipe worked perfectly for small, fresh lobster tails purchased from Costco. If your lobster tails are frozen or extra large, please add more time starting at 1 minute on high pressure.
NUTRITION
Serving:
1
g
|
Calories:
259
kcal
|
Carbohydrates:
11
g
|
Protein:
23
g
|
Fat:
15
g
|
Saturated Fat:
8
g
|
Polyunsaturated Fat:
5
g
|
Cholesterol:
109
mg
|
Sodium:
765
mg
|
Fiber:
2
g
|
Sugar:
2
g
---
---
Tried & Tested? are you sure?? My instant pot duo on Low Pressure for 0 minutes gave me raw lobster tails at 80 degrees.

Of course there is always variation in lobster tail size, freshness, and temperature. This method works for small lobster tails that are fresh and not frozen at all. I'm so glad you're using a cooking thermometer for your cooking! It sounds like your lobster tails were quite a bit larger than mine, so I'd recommend adding additional time if they were still under at 0 minutes. I'd do 1 minute with a quick release, then check again. If the lobster tails are close to 140, you can replace the lid (make sure the Instant Pot is on keep warm mode) and let the residual heat warm the lobster tails through. Thanks for giving me the chance to clarify the recipe post!