ONE POT Pork Tenderloin with Creamy Mushroom Gravy and Butternut Squash Mashed Potatoes (Instant Pot)
---
This post may contain affiliate links, which means I earn a small commission if you purchase something I recommend - at no additional cost to you! Thank you for supporting this blog!
This Instant Pot ONE POT Pork Tenderloin is your next family-favorite meal!! The ultimate multitasking, one pot fast meal for your family.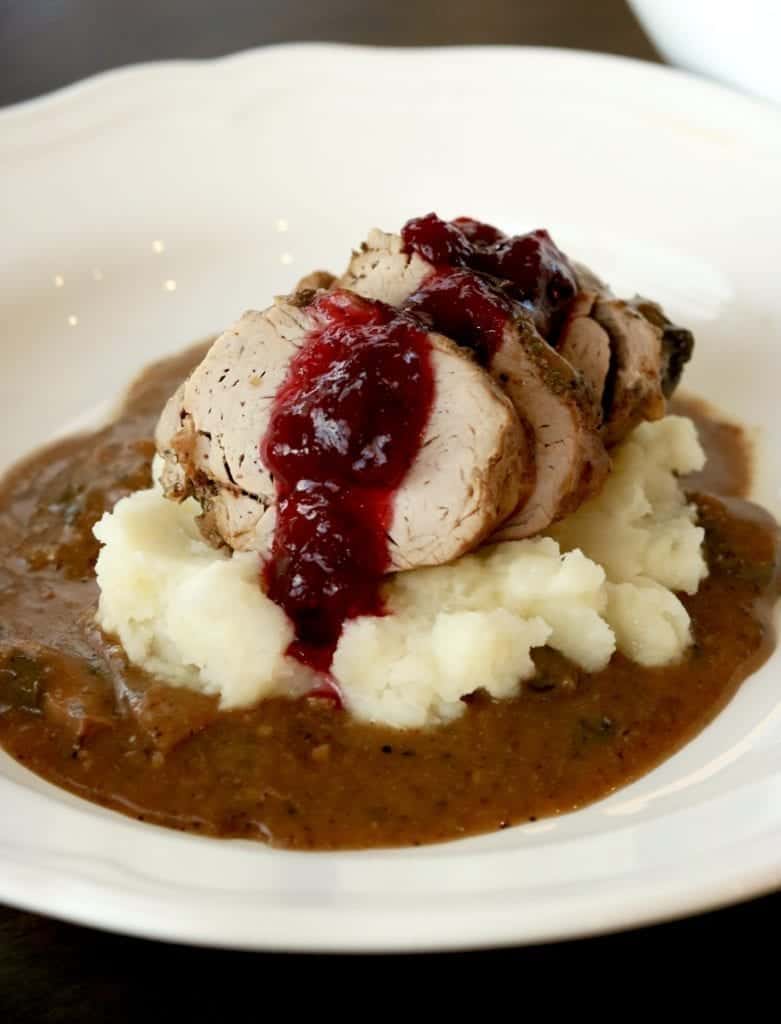 Ok can we just agree that January and February are like… the WORST? It's soooo cold, bleek, dreary, and LONG! It's the time of year when the magic of Christmas is over and it's just kind of… BLAH!
Plus, snow is SO overrated past after January 1, am I right or am I right? Getting back into the swing of things after the holidays is so hard. So is figuring out what you're gonna eat/do/wear. I don't know, I just feel so confused during this time of year!
Instant Pot Pork Tenderloin
In a season of soups, I love making Instant Pot pork tenderloin. And, it's my favorite protein to make in the Instant Pot because it always comes out tender and moist!
Pork Tenderloin is just different enough to be unique. It also pairs so beautifully with all the flavors of fall and winter that I love: cranberries, ginger, squash, and potatoes.
I also love that it's fancy enough to serve for a holiday family dinner, but affordable and easy enough to make on a weekday evening. This recipe used less than $15 worth of ingredients and will serve 4-6.
How to Make one Pot Pork Tenderloin in the Instant Pot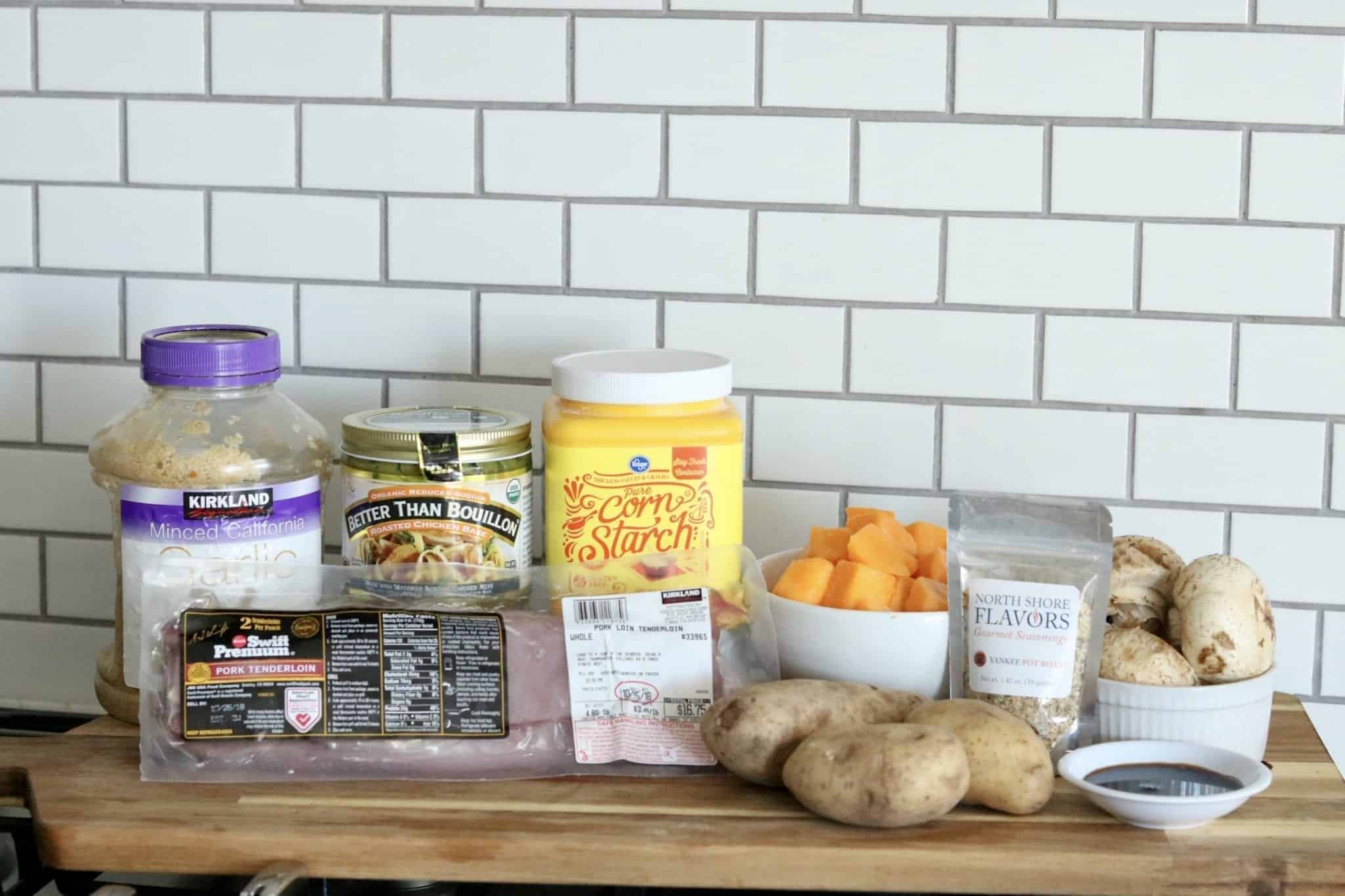 ​I've created a recipe that combines all those elements and flavors I love into a ONE POT full dinner! You season and sear the meat in the Instant Pot, then dump mushrooms and broth on top of the meat.
Add a trivet or rack and bowl of potatoes on top, then cook for 20 minutes. Take potatoes out and mash them up with cream and butter. Take the meat out and slice. Thicken up the gravy in seconds, and you're ready to eat!
​This is one of those home-run Instant Pot wins (because there are certainly Instant Pot FAILS!) that will make you so confident using your Instant Pot.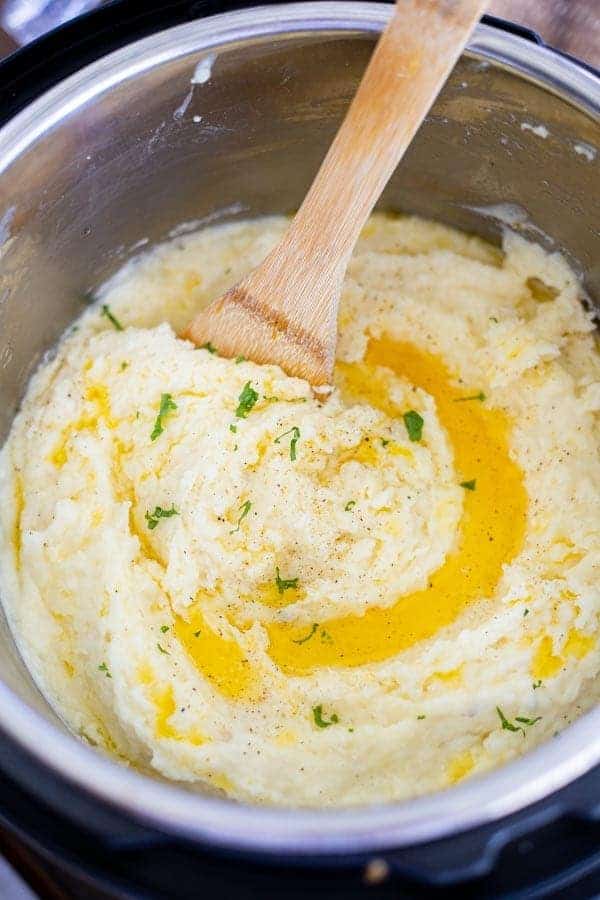 Things that maybe seem easier to buy like instant mashed potatoes (try my perfect Instant Pot mashed potato recipe!) or gravy packets can actually be easily homemade with this recipe.
You can further customize this meal by swapping the butternut squash for all russet or sweet potatoes, turnips, or a mix!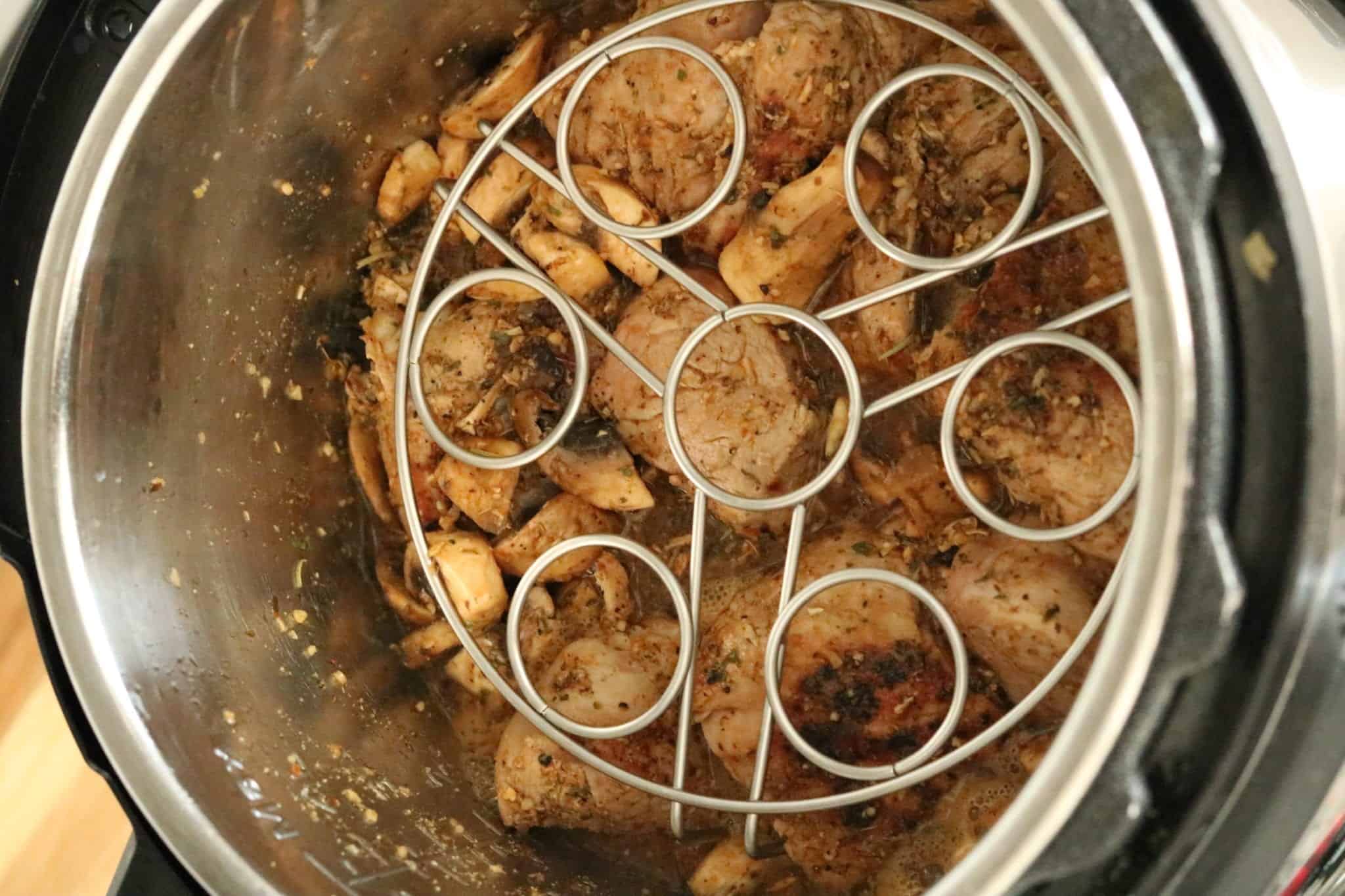 I wanted a dish that didn't use ground beef or shredded beef, since we see a LOT of that in the Instant Pot. This doesn't look like most Instant Pot meals! If you'd like to serve this with the yummmy Instant Pot cranberry sauce, you will need to make it ahead of time in your Instant Pot.
North Shore Instant Pot Seasoning
Two things make this recipe amazing- the seasoning, and the technique. I use North Shore Flavor's Yankee Pot Roast seasoning because it truly is THE BEST.
I love that their seasonings contain all natural ingredients and NO fillers. North Shore seasonings are also made specifically for Slow Cooker and Instant Pot cooking!
They have recipes for each of their blends, and they are SO GOOD. But the best part is really that they don't have gross fillers. That is really important to me. I think I am pretty good at seasoning and flavors, but these guys REALLY know what they're doing.
They take the guesswork out of it and I can cook confidently, knowing it's going to turn out perfectly. Trust me. I made this one time without the seasoning and it just wasn't even close.
Simply season the tenderloin with about half a packet of the Yankee Pot Roast seasoning, then sear in the Instant Pot. I'll add the rest of the seasoning with the broth.
Pot in Pot Instant Pot Recipe
The second reason why this is the BEST recipe is the Pot-in-Pot technique (cooking a separate "pot" of ingredients within the actual "Instant Pot"). Literally every single element in the dish is made in the Instant Pot, at the SAME time.
No starting on the stove like a crockpot, and no finishing in the oven like a lot of recipes.
I used a rack that I already had, but you can use your trivet that comes with the Instant Pot. Just set it right on top of the meat, and add your bowl of potatoes/squash to complete your one pot fast meal.
My first time cooking on TV
In the last few months, I'd really been thinking hard about some new goals for Instant Pot Cooking. One of those goals (a "someday" goal at that!) was to be on a television show, cooking.
Well, about four months ago, a producer from Studio 5 messaged me on Instagram. I saw the notification pop up on my phone while I was at Costco and my heart immediately began to race. Someone seriously just invited me to come cook on my favorite lifestyle show!
I started jumping up and down and smiling SO big and squealing in the middle of Costco. My son asked me what was wrong. I told him my exciting news, but I guess that's not very cool to a 2 year old because he didn't share my excitement.
The next two weeks were spent cooking a LOT of pork tenderloin and making the finishing touches to perfect this recipe.
My Experience at KSL's Studio 5 Lifestyle Show
Filming day arrived, and I woke up at 5:30 to get myself ready. I had gotten a little cold that week, so I was SO nervous. It was so sad… I was blowing my nose nonstop and my throat was hurting SO bad that my voice didn't even sound like mine. But the adrenaline kept me going.
I was up until about 1:30 the night before prepping everything into tiny bowls and making a finished dish/half finished dish. Bonus points: my baby woke up at 4am so I was sooo tired, but excited!
Brett and I got the kids settled at a friends house, then hauled up to Salt Lake to the Studio! But of course, not without forgetting my outfit at home and having to turn around first!
At KSL Studio 5
We got to the studio and quickly started setting things up and cooking. The set was like a giant oval with the cameras in the middle and different sets around the outsides for different types of segments.
It was very quiet with not very many people, which I wasn't expecting! The super kind staff held a little meeting while I prepped, and then they started filming the show!
​I have done films, commercials, and TV shows as a kid when I dabbled in modeling, but this experience with live TV was a bit different than what I was expecting!
The crew started with some other segments and moved the whole show along as if it were airing live, while swiveling the cameras to the appropriate set as they went.
I felt caught off guard for a moment when I realized they were filming! I even panicked a little because I had no idea when I was supposed to be up! It also surprised me that people were talking and moving around pretty loudly while they filmed.
On the other kinds of sets I've worked on, it has to be SILENT when the camera is rolling! The crew started filming the other segments and I stopped clanging around my set. My nerves were not too bad as I booked it to a dressing room to change, then get mic'd up.
It's showtime! Cooking this one pot fast meal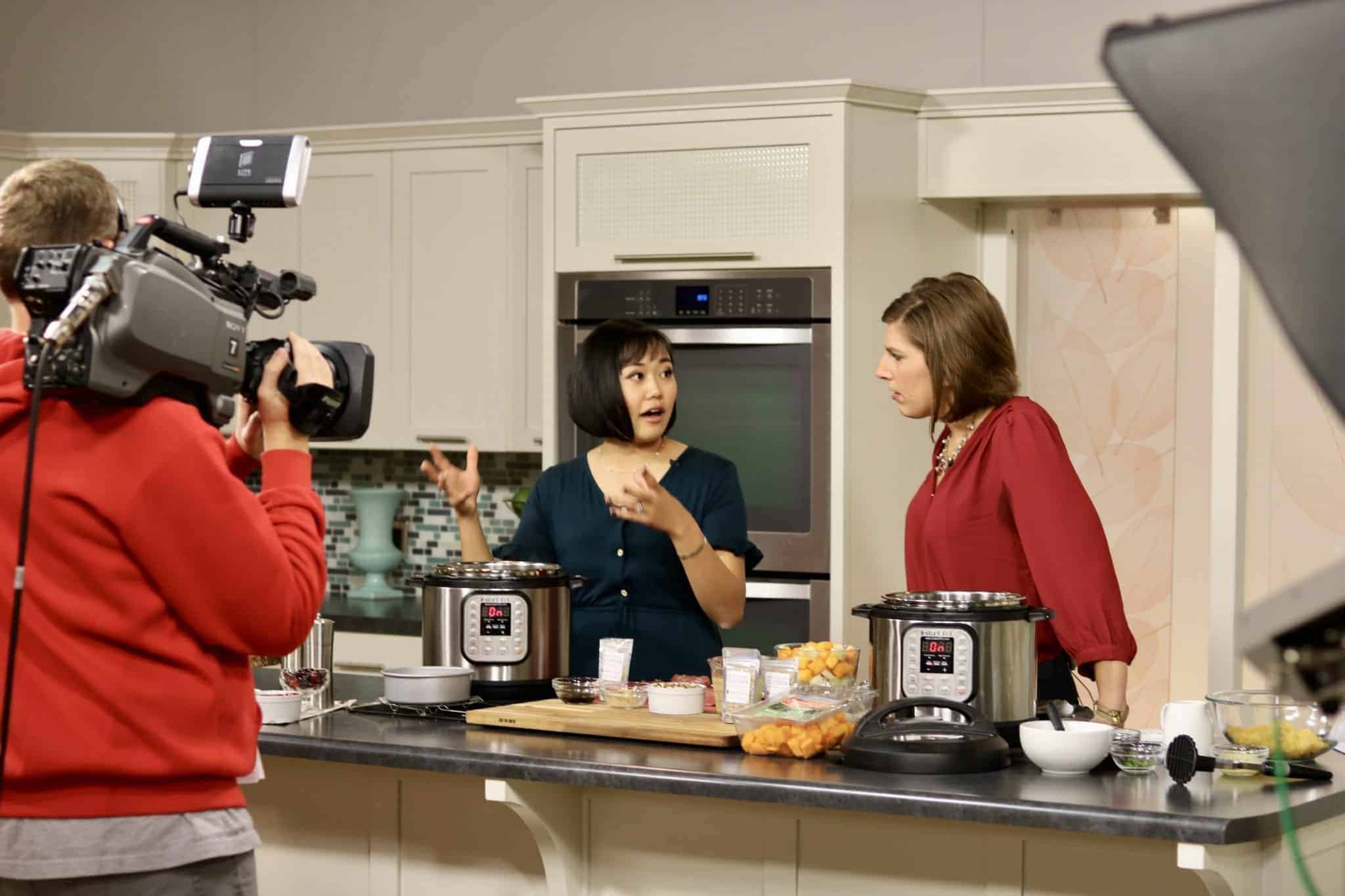 All of a sudden, Caitlin, the guest host, came over and we chatted for a couple seconds before it was time! I honestly have no recollection of what happened over the next 7 minutes.
I was totally in the moment and trying to remember the main points I wanted to address. She was such a friendly and inviting host that it made my job super easy!
I had so much fun and was just gushing with gratitude and excitement! As a kid, I dreamed of being a news reporter. I almost went to school for Broadcast Journalism
Tiffany (the set designer) and Sadie (the production intern) helped set things up so they looked beautiful! Please try this recipe out and let me know what you think about it! My best friend told me this is her favorite one pot fast meal and she makes it all the time now.
And then that was it! We cleaned up allllllll the tiny bowls and dishes, and left the food for the crew to enjoy. I actually just remembered that the mashed potatoes I left didn't have any seasoning on them, so they probably weren't that good. Oops!
I had such a fun time, and I was so grateful that I got to fulfill one of my dreams of cooking on TV. I've since been so blessed to appear on Studio 5 again and on Good Things Utah. You can watch all my TV Segments HERE.
Special thanks goes out to the producer, Daylan, for inviting me and helping me put together a great meal, as well as my husband, my friend Carissa for watching the kids, and my friend Aubrey for letting me borrow her Instant Pot. 🙂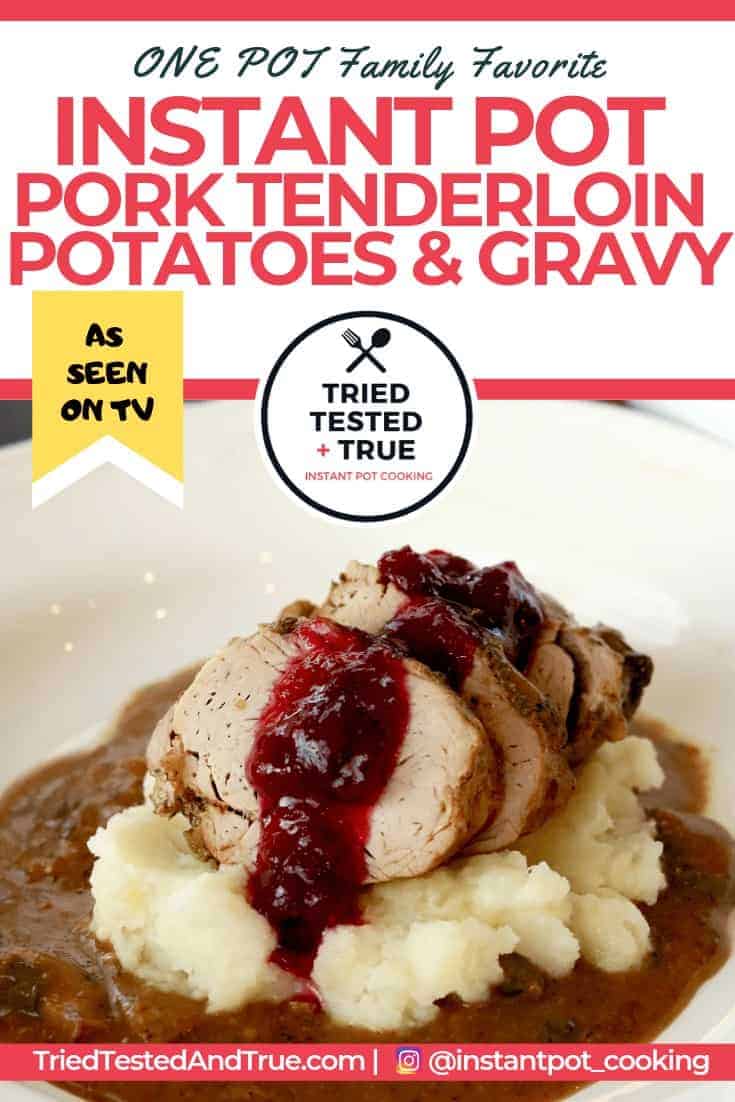 Instant Pot ONE POT Pork Tenderloin with Creamy Mushroom Gravy and Butternut Squash Mashed Potatoes
This Instant Pot ONE POT Pork Tenderloin is your next family-favorite meal! The ultimate multitasking, one pot fast meal for your family.
Print
Pin
Rate
INGREDIENTS
1

package pork tenderloin

about 2 1/2 pounds, each package usually comes with 2 separate pieces of meat (Make sure to get TENDERLOIN and not pork loin roast.)

1-2

cup

butternut squash

diced

1-2

cup

Russet potatoes

washed, peeled, and diced

4

ounces

mushrooms

washed and sliced

1

package North Shore Flavor's Yankee Pot Roast seasoning

or your favorite pot roast seasoning (I like salt, pepper, rosemary, garlic, thyme, onion flakes)

2

tablespoon

garlic

1

cup

beef or chicken broth

I tried it both ways and prefer chicken broth, though both are fantastic.

2

tablespoons

soy sauce

3

tablespoons

cornstarch

4

tablespoons

heavy cream

salt and heavy cream for potatoes

to taste

olive oil or butter
INSTRUCTIONS
Preheat the Instant Pot on High Saute.

Combine the potatoes and butternut squash in an ovenproof bowl that will fit into the Instant Pot liner. (You can do all squash, all potatoes, all sweet potatoes, all turnips, or a mix of any of the above!) Cover with foil.

Cut the pork tenderloin pieces into four even pieces (8 pieces total.)

Season the meat with about half of the Yankee Pot Roast seasoning, or, liberally with pepper, rosemary, garlic, and thyme.

Add oil to the hot pot.

Sear each piece of pork, about 3 minutes per side. You might have to do this in batches. Remove from the pot.

Add about a tablespoon more butter, and saute the mushrooms, minced onion or onion flakes (if using your own blend), and garlic until browned and fragrant.

Add hot beef broth, soy sauce, and the rest of the seasoning blend. Scrape the pot to get all the flavor into the broth (The hot cooking liquid helps the pot come to pressure much faster.)

Return the meat to the pot.

Stack a trivet/rack into the Instant Pot, on top of the meat.

Stack the bowl of squash/potatoes on top of the trivet/rack.

Lock the lid, turn the knob to Sealing.

Press the Manual or Pressure Cook button and adjust the time to 20 minutes.

When pressure cooking has completed, carefully release the pressure (a quick release), or allow a natural pressure release (whatever you have time for.)

Remove the bowl of potatoes with an oven mitt. If there's a lot of liquid in the bowl, strain it out.

Mash the potatoes in the bowl with butter, heavy cream or milk, and salt to taste.

Remove the meat onto a serving platter to rest for a couple minutes. Slice into 1/2 inch pieces, if desired.

Set the Instant Pot to High Saute.

Taste the broth and add more soy sauce, beef or chicken bouillon, pepper, garlic, or seasoning to taste.

Combine the cornstarch and heavy cream to make a paste.

When the liquid comes to a boil, whisk the heavy cream mixture into the gravy to thicken.

Turn off the Instant Pot/remove from heat immediately and serve. Enjoy with Instant Pot Cranberry Sauce or Instant Pot Steamed Broccoli!
NOTES
You can also use all potatoes, all sweet potatoes, all squash, or any combination of the above! I use a Pyrex bowl, but any oven-safe dish will work. Even a cake pan!
Since I use broth and soy sauce, I don't add a lot of salt on the meat to control how salty it is.
To save time, you can just dump the mushrooms right on top of the meat and skip the extra browning step. If you don't like mushrooms, you can completely omit them and the gravy will be smoother.
If you cut your pieces of pork into smaller pieces, you can cook for 10-15 minutes. Do not remove the pork when you get to the gravy stage and just thicken the entire thing with the cornstarch mixture. It will become like a stroganoff or pork gravy you can enjoy over potatoes, rice, or noodles.
I love this recipe because if you don't have time after 30 minutes, you can do a quick release and eat right away. If you have other things to do and it finishes up before you get back to it, it is so forgiving and doesn't matter how long you've been away. The first time I made this, I had to do some laundry, nurse my baby, and put my toddler in bed. By the time I got back to it, it had been releasing pressure for 20 minutes and it was perfectly fine. Nothing will overcook.
If you want more gravy, just add broth to get to the amount you would like. Increase the cornstarch and cream by 1 tablespoon for each 1 cup of added liquid.
I like adding soy sauce or bouillon instead of straight salt, because it gives salt, as well as flavor. If it's too salty, add water, milk, or cream to dilute, then thicken as written.
This can be made in two separate Instant Pots, if you want more of everything. Cook the pork in one for 20 minutes, and my Perfect Instant Pot Mashed Potatoes in another!
NUTRITION
---
---
Hi, Kathryn! The seasonings included in the Yankee Pot Roast pack includes dried onion flakes, garlic, salt, pepper, and I'm guessing paprika, parsley, and thyme.