Fresh Pineapple Ginger Lemonade
---
This post may contain affiliate links, which means I earn a small commission if you purchase something I recommend - at no additional cost to you! Thank you for supporting this blog!
My Fresh Pineapple Ginger Lemonade is perfectly sweet, tart, and a little bit spicy from the ginger. It's extremely refreshing and perfect for summer.
Pineapple ginger juice
I was making some mint lemonade the other day, and had the thought to add pineapple and ginger to the lemon mixture. It was absolute HEAVEN!
This drink is more of a pineapple juice with tart lemon and spicy ginger, very similar to pineapple ginger juice from Ghana or Jamaica.
The best part is that you can easily adjust this recipe to your taste with more or less ginger, lemon, or sugar.
I love serving this meal for any holiday or special occasion, especially the summer holidays. It's the perfect 4th of July drink!
Looking for Instant Pot Holiday dishes?
How to make pineapple ginger lemonade
Wash and cut all your fruit and ginger.
Add hot water and sugar (or sweetener- my favorite is Lakanto Monkfruit Sweetener) to a high powered blender. I use a Blendtec and recommend using a super powered blender, otherwise you'll have to strain your juice.
Add the fresh pineapple and ginger to the blender. I use a knob of fresh ginger that I keep in the freezer and just add a good 1 inch chunk. No need to grate the ginger. It will blend completely.
Blend the mixture for 3-5 minutes, or until completely liquified.
Add the lemon juice and pulse a couple of times.
Taste, and add more sugar or water to taste. I like it pretty concentrated, so I prefer to leave it as is and serve with lots of ice.
Serve immediately over a full cup of ice, or refrigerate and serve within 2 days. Stir before serving if you leave it to settle.
Is pineapple and ginger good for weight loss?
Fresh pineapple is not only incredibly juicy and delicious, it's also really healthy. Pineapple is one of the best anti inflammatory foods with tons of nutrients and vitamins.
Read 8 Impressive health benefits of Pineapple.
Ginger is also an incredibly healthy food to add to your diet, with lots of health benefits. I keep a knob of fresh ginger in my freezer at all times to add to all sorts of recipes like my hot and sour soup recipe.
Both of these foods are good for you and eaten in the right way, can contribute to healthy weight loss.
This drink calls for sugar, which I wouldn't say is ideal for weight loss. I regularly sub most sugar in most of my personal cooking with monkfruit sweetener – my favorite is Lakanto Monkfruit Sweetener.
Pineapple ginger lemonade Starbucks
Apparently Starbucks has a drink similar to this one. Their pineapple lemonade is based with coconut milk, which makes it creamy.
I haven't tried this variation, but I bet it would be delicious! Check out the variations for this drink I suggest below.
Sugar Free Version
While pineapple juice has a lot of sugar, you can control the added sugars by using a sugar substitute to your taste. I like using Lakanto Monkfruit sweetener most, but you can also experiment with stevia or erythritol.
Pineapple Ginger Lemonade Variations
This drink is easily adaptable to fit your taste. Here's a couple variations I think would be delicious:
Add turmeric for an added flavor and health boost
Replace all or half of the lemon juice with lime juice
Add coconut milk or coconut water in addition to, or in place of the water
Use monk fruit sweetener, stevia, or truvia to sweeten the drink vs. using cane sugar
Use store bought lemonade and pineapple juice for an easy semi-homemade version. If you use store bought, I recommend using pineapple juice from Trader Joe's refrigerated section (by the orange juice). Their pineapple juice is so delicious, and doesn't have the tinny taste of canned.
Replace the ginger with about 30 mint leaves for a super refreshing pineapple mint lemonade.
Other Mocktail Recipes
These mocktail recipes are absolutely amazing. You'll love them!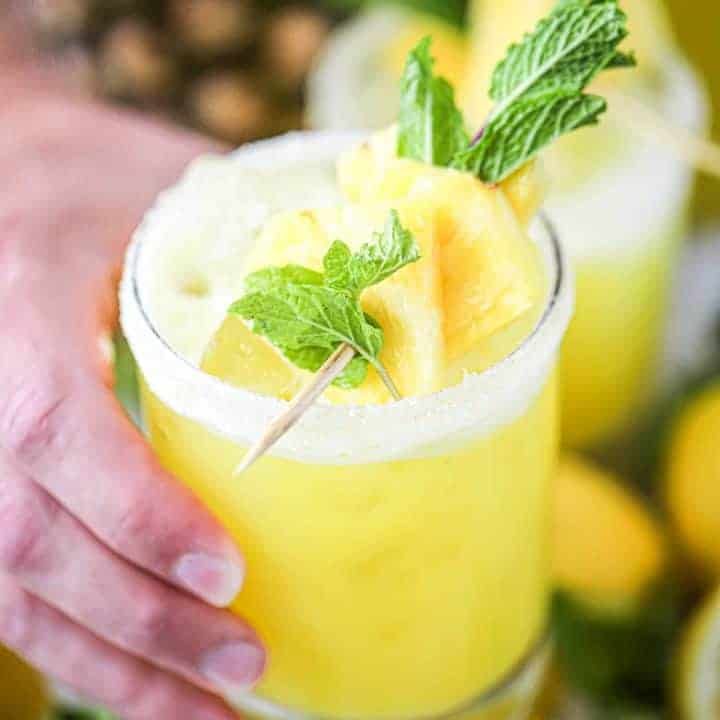 Fresh Pineapple Ginger Lemonade
This fresh pineapple ginger lemonade is perfecly sweet, tart, and a little bit spicy from the ginger. It's extremely refreshing and perfect for summer.
Print
Pin
Rate
INGREDIENTS
1.5

cups

hot water

1

cup

sugar

I like using monk fruit sweetener for a sugar-free version

4.5

cups

fresh pineapple chunks

1

tablespoon

fresh ginger

grated or whole

1

cup

fresh lemon juice

strained (about 4-5 lemons)

8-12

cups

ice
INSTRUCTIONS
To a high powered blender add hot water, sugar, pineapple, and ginger.

Blend on high speed for about 4 minutes, or until completely blended and no chunks remain. I have blended to several different consistencies, and prefer it to be completely liquified so as not to waste any pineapple.

Add the lemon juice and pulse a couple of times.

If desired, strain the pineapple mixture through a fine mesh strainer into a serving pitcher (I don't do this since I use my Blendtec. If your blender is not as powerful, you may consider straining it)

Fill a cup completely to the top with ice, and fill each glass with the drink. Garnish with pineapple spears and mint, if desired.
PRODUCTS WE LOVE
Pineapple Corer, [Upgraded, Reinforced, Thicker Blade] Newness Premium Pineapple Corer Remover, Stainless Steel Pineapple Core Remover Tool for Home & Kitchen with Sharp Blade for Diced Fruit Rings
NOTES
I keep fresh ginger in the freezer at all times. I take the entire knob and store it in a plastic bag. When I need to use it, I simple take a spoon or knife and peel the section I need, then grate it from frozen. When using the ginger in this recipe, there is no need to cut it up or grate it. It will blend perfectly in the blender. If you like your drink a little spicier, add a little more ginger.
I have not made this drink with canned pineapple juice, but I assume it would taste great, just not as fresh. I recommend using Trader Joe's fresh pineapple juice (found near the orange juice) if you would like to use store-bought.
The drink is more of a juice with all the flavors. If you prefer a more diluted recipe, feel free to add more water to taste. I highly recommend serving each serving with a cup full of ice, so it can melt down and still taste good.
The amount of sugar used in this recipe is dependent on how tart your lemons are and how sweet your pineapple is. I recommend starting at 1 cup and adding more to taste.
For a lower carb option, substitute sugar with your favorite sweetener. My favorite is Lakanto Monkfruit Sweetener.
NUTRITION
Serving:
1
g
|
Calories:
188
kcal
|
Carbohydrates:
49
g
|
Protein:
1
g
|
Sodium:
32
mg
|
Fiber:
1
g
|
Sugar:
46
g
---
---
Great research! I hope you'll be happy to learn I also do my research when writing and editing my team's work. The top ranking African and Jamaican Pineapple Ginger juice recipes have different proportions of ingredients, as well as processes. The main flavor profile is pineapple, and some recipes include apples, honey, and just a squeeze of citrus (usually lime or lemon.) The traditional recipes also mostly include boiling pineapple spears and rinds to extract the pineapple juice, or just using regular pineapple juice. My recipe blends pineapple chunks and uses a lot of lemon juice to have more lemonade flavor. You're absolutely right–I wasn't the first person to come up with this flavor combination. However, my recipe has its differences and wouldn't taste the same as Pineapple Ginger Juice, which is why it's called Pineapple Ginger Lemonade. Because there isn't one singular authority or person who owns pineapple ginger juice, I have not attributed a link to any website. As someone whose work has been stolen in an industry rampant with IP theft, I'm definitely aware of and highly sensitive to your message. Fortunately and unfortunately at times, no one "owns" the rights to a combination of ingredients or flavors just like no one owns lemonade, cookies, pancakes, mashed potatoes, or spaghetti (common recipes you'll find on most recipe websites.) I appreciate you taking the time to read and research my site. I hope you enjoy the pineapple ginger lemonade :slightly_smiling_face: It's one of my favorites. – Lisa