This post may contain affiliate links, which means I earn a small commission if you purchase something I recommend - at no additional cost to you! Thank you for supporting this blog!
Instant Pot Creme Brulee is made with just 4 simple ingredients, but tastes luxuriously more complicated than it is to make. Serve these at a dinner party or special occasion and your guests won't forget it anytime soon!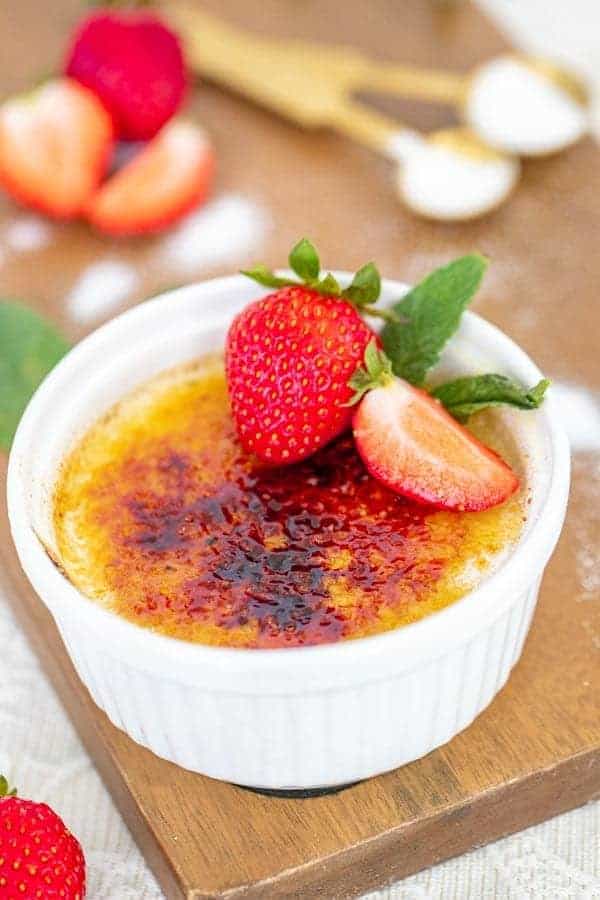 What is creme brulee?
Creme Brulee (crem-bru-lay) is a classic French dessert that consists of a smooth and simple cream custard base that is light and soft, topped with a layer of caramelized sugar that crystalizes into a burnt, crackable shell.
It literally translates to, "burnt cream."
That first crack of the sugar is the most satisfying part! This dessert is actually my favorite dessert of all time. So much so, that we served it as our wedding luncheon on our wedding day.
You won't find a single high-end steakhouse or restaurant that doesn't have creme brulee (or a version of it) on their menu!
Instant Pot Creme brulee ingredients
Instant Pot creme brulee is so easy to make with only a couple ingredients. Because there are so few ingredients, it's best to use the highest quality cream and vanilla you can find. To make creme brulee, you will need:
Heavy Cream
Sugar
Egg Yolks
Vanilla bean paste, or Pure vanilla extract
berries to garnish, if desired
Additionally, you will need four ramekins or other small, Instant Pot-proof bowls, and a kitchen torch.
Can you substitute milk for cream in creme brulee?
The flavor and texture of your creme brulee will be different if you use milk in place of cream. It won't be as thick or flavorful.
If you're interested in using milk, I recommend making the Japanese milk flan in my I love My Instant Pot – Cooking for One Cookbook.
How to make Instant Pot creme brulee
We first have to heat up the cream just before it gets to a boil- you'll know it's ready when it starts to steam and you see small bubbles appear on the edges of your pot. Remove it from the heat and add the vanilla.
In a separate bowl, whisk together the egg yolks and sugar until completely mixed together and light and creamy. Slowly add some of the hot cream into the egg yolks to temper the eggs.
Whisk in the rest of the cream, and you're ready to pressure cook! Pour the custard evenly between 4 ramekins, cover them tightly with foil, and pressure cook.
You can find the full printable recipe with times and measurements at the bottom of this post.
After they are done pressure cooking, they'll need to cool to room temperature and then be refrigerated overnight so the custard can set.
It's the hardest part about creme brulee!
When you're ready to serve, you sprinkle some sugar on top of each ramekin and melt it into a hard sugar shell using a kitchen torch.
Make sure you keep the flame moving in circles so you the don't burn the sugar in one spot.
You want to evenly distribute the heat as much as possible.
You crack into that creme brulee and all your worries disappear!
Can you make instant pot creme brulee without ramekins?
Creme brulee is traditionally served in ramekins, but if you do not have them, you can find another small dish that is rated safe to pressure cook.
You can also purchase ramekins specifically designed for creme brulee that are a little bit larger and shallower to allow a higher custard:crust ratio.
However, I recommend you get ramekins for general kitchen use, as well as Instant Pot cooking because they are so multi-functional.
You can read more about that in my post on the Best Instant Pot Accessories to Buy and Avoid!
What can I use if I don't have a creme brulee torch?
If you don't have a kitchen torch, I recommend you use an oven broiler to caramelize your creme brulee.
This method is not ideal, because it takes much longer to melt the sugar and it can start to melt the custard.
To use the broiler method, place the oven rack to the tallest position, closest to the burner.
Preheat your broiler to High, and let it get as hot as possible.
Place your cooled creme brulees on a cookie sheet, sprinkle with sugar right before you place them in the oven, and then slide the cookie sheet onto the oven rack.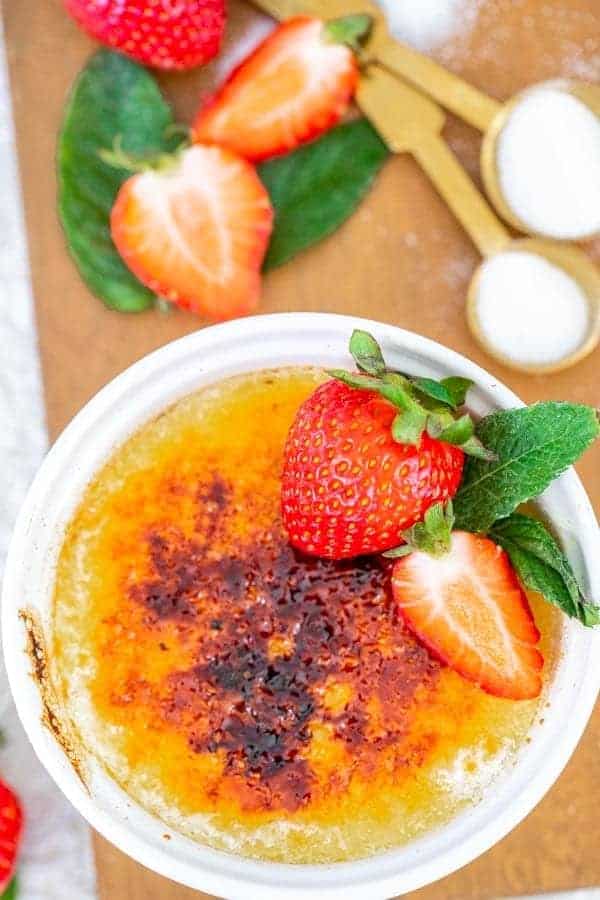 The sugar caramelizes very quickly, so don't walk away after you place them under the broiler!
Pull the cookie sheet out as soon as they start to bubble and brown, then let cool completely.
I highly recommend purchasing a kitchen torch because they're fun for so many things such as my Bruleed Oatmeal.
Can you use a lighter instead of a torch for creme brulee?
Unfortunately, the flame on a lighter or candle-lighter is not large or hot enough to torch the sugar.
Since the sugar will take so long to even melt (let along caramelize), the custard may start to burn and melt under the sugar so I don't recommend using a lighter in place of a kitchen torch (trust me, I've tried).
white chocolate candy cane creme brulee
I also have a deliciously easy and decadent white chocolate candy cane creme brulee recipe for the Instant Pot that you'll love! Make sure you pin this one for the holidays.
Other Yummy Desserts
Easy Vanilla Bean Creme Brulee
Creme brulee is traditionally baked in a bain marie water bath in the oven for an hour. With the Instant Pot, it couldn't be easier to make deliciously smooth, creamy creme brulee with that crunchy burnt sugar shell in less than half the time. Vanilla bean paste makes this dessert extra special, but feel free to use pure vanilla extract if you don't have it on hand.
Print
Pin
Rate
INGREDIENTS
2

cups

heavy cream

2

teaspoons

vanilla bean paste

or pure vanilla extract

8

egg yolks

1/4

cup

sugar

plus 1/4 cup for topping

1

cup

water

12

raspberries
INSTRUCTIONS
In a small pot over medium high heat, combine cream and vanilla bean paste until steaming. Do not boil. Remove from heat.

In a separate small bowl, whisk egg yolks and sugar until light and smooth. 

While whisking, slowly pour the hot cream into the egg yolks to temper the eggs and whisk completely.

Pour the cream mixture through a fine mesh strainer equally into 4, 8 ounce ramekins. Cover with foil.

Pour water into Instant Pot and add the trivet.

Place the ramekins on top of the trivet.

Close the lid, turn the knob to Sealing.

Press Manual or Pressure Cook button, and adjust time to 10 minutes. Then press the Pressure Level button and adjust to low pressure. If your Instant Pot does not have a low pressure button, adjust the time to 8 minutes.

When the timer beeps, allow 10 minutes to naturally release the pressure, then remove the lid.

Carefully remove the ramekins and place them on a cooling rack. Let the creme brulee cool to room temperature, then refrigerate at least 6-8 hours or overnight. 

To serve, remove the creme brulee from the fridge and remove the foil. Sprinkle 1/4 cup of sugar evenly over the top of the creme brulee and shake to distribute it evenly. Using a kitchen torch, quickly torch the sugar in small circles until the sugar is completely caramelized. Keep the torch moving to evenly melt the sugar.

Alternatively, place the ramekins on a cookie sheet and broil on high until the sugar is bubbly and browned.

Let cool for 1 minute, then top with raspberries and enjoy!
NOTES
To make this recipe low carb, swap out the sugar for your favorite sweetener and omit the sugar crust!
---
---
HI Katie! Thanks! If you split between 6, I'd lessen the cook time about 2 minutes as there is less in each cup. Thanks!