*This post may contain affiliate links. This means as an Amazon Associate and affiliate for other products, I earn from qualifying purchases at no extra cost to you.
Instant Pot Easy Mac is EVEN easier thanks to the Instant Pot. That's right. That blue box is going to change lunch time with this no drain, super easy mac and cheese that tastes like Kraft Easy Mac.
"Normal" Mac and Cheese
Now, I love homemade mac and cheese with no less than 4-5 quality cheeses and a fun, artisan noodle shape to eat. I top mine with extra sharp cheddar cheese and butter tossed panko breadcrumbs. YUM. Yeah, I like gourmet mac and cheese and I will not lie.
If I made that for my family, Brett and the kids would not eat it. When we go out and order mac and cheese, my son literally always asks for "normal mac and cheese" if it's not Kraft. How did we get here, son?!
My favorite box mac and cheese is the Annie's White Shells, but no one here will eat those either. So I've just grown accustomed to throwing that Costco-sized box of Kraft in my cart every other month with no shame. It took awhile for me to get over it, but I #pickmybattles and I don't think it tastes bad either.
Now, I make it in the Instant Pot! Read on to learn about the saga that is noodles in the IP. I'm curious to know what team you're on, so be sure to comment your thoughts at the end!
Controversial Instant Pot Foods
Soooo… PASTA. It's on the short list of highly divisive foods in Instant Pot nation. On the list are Pasta, Pot Roast, Spaghetti… Okay I feel like that's really it and two of those are basically cousins. People either LOVE it or HATE it and I get lots of passionate comments both ways.
I am on team OG, as in I think they are better off cooked the traditional method and not in the Instant Pot. Personally, I believe bulkier pasta noodles handle pressure cooking better than spaghetti noodles, so it's the more preferable.
The Instant Pot is a Shortcut
I sound like a broken record when I say this, but the Instant Pot it a SHORTCUT. Just like the microwave, it cooks things in a fraction of the time a traditional method would take, but some things may turn out slightly different.
Have you ever made a "baked potato" in the microwave or Instant Pot? Sure, it gets cooked and it gets the job done. BUT it's NOT going to be 100% the same as slathering it in olive oil with a nice coating of coarse salt and baking for an hour to get nice and fluffy inside while it gets crispy and flaky on the outside. It's just not!
You can make my Instant Pot Salt Potatoes and then air fry them for a pretty dang good similar dish though! 😉
Instant Pot Pasta
The same concept applies with spaghetti or pasta. The cooking chemistry is completely different for boiling a pot of noodles and pressure cooking a pot of noodles.
Therefore, the taste and texture IS GOING TO BE DIFFERENT. If you meet someone that tells you it's the exact same… well, I don't agree.
Scientifically, chemically, it cannot be the exact same. I find pressure cooked noodles to have a very slight, odd texture. The texture is a bit denser, and It's just not my cup of tea. But let me tell you why it's not going to be the same as boiled noodles.
Why boiled and pressure cooked pasta taste different
When noodles are boiled in a large pot of salted water, they are living the good life. They are cush! They are at a spa, releasing their "toxins" (aka starch) and swimming around freely for about 11 minutes while they plump up and get perfectly al dente.
When noodles are pressure cooked, they are covered in BARELY enough water to breathe cover, then brought to a boil in minutes.
It's like they are in a rocket ship being pummeled into space, strapped in super tight and having water and pressure SQUEEEEEZED into their little noodle astronaut bodies.
It's kind of a lot of stress, and definitely not the happy go lucky swimming detoxifying life their cousins on the stove have.
Noodles boiled in water are releasing starch while absorbing liquid over time. Pressure cooked noodles don't have time to release starch and instead get water injected into their pores.
So of course they are going to be slightly different! They have another gigantic ingredient in there! STARCH!
A little starch is ok. In fact, when I make my pasta sauces, I save a little of the starchy pasta water to add to the sauce. It's a trick chefs use to to thicken their sauces.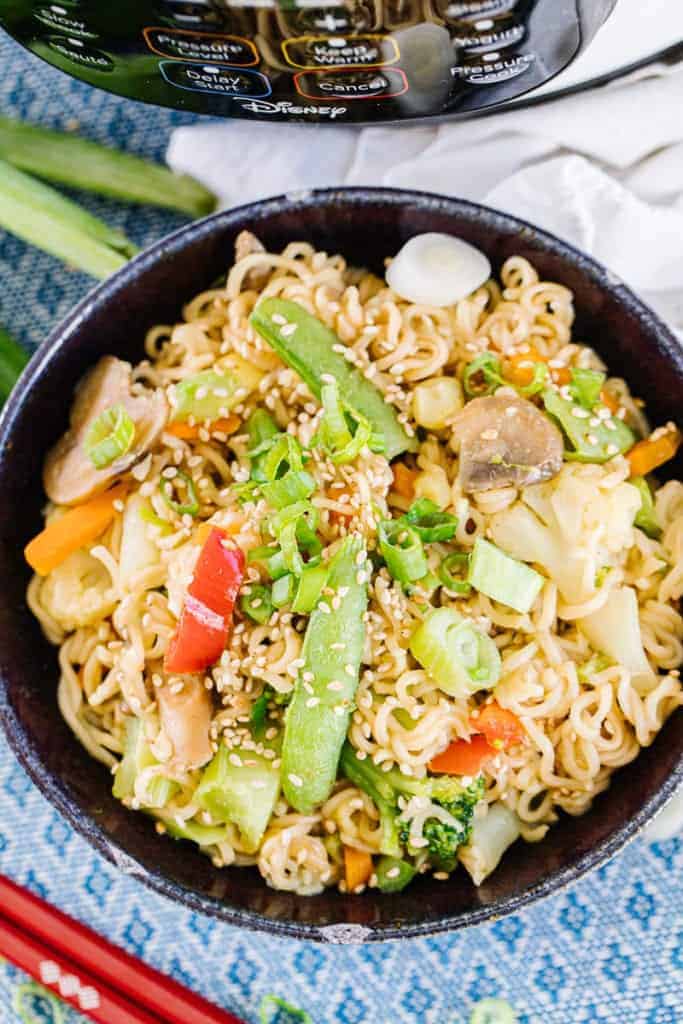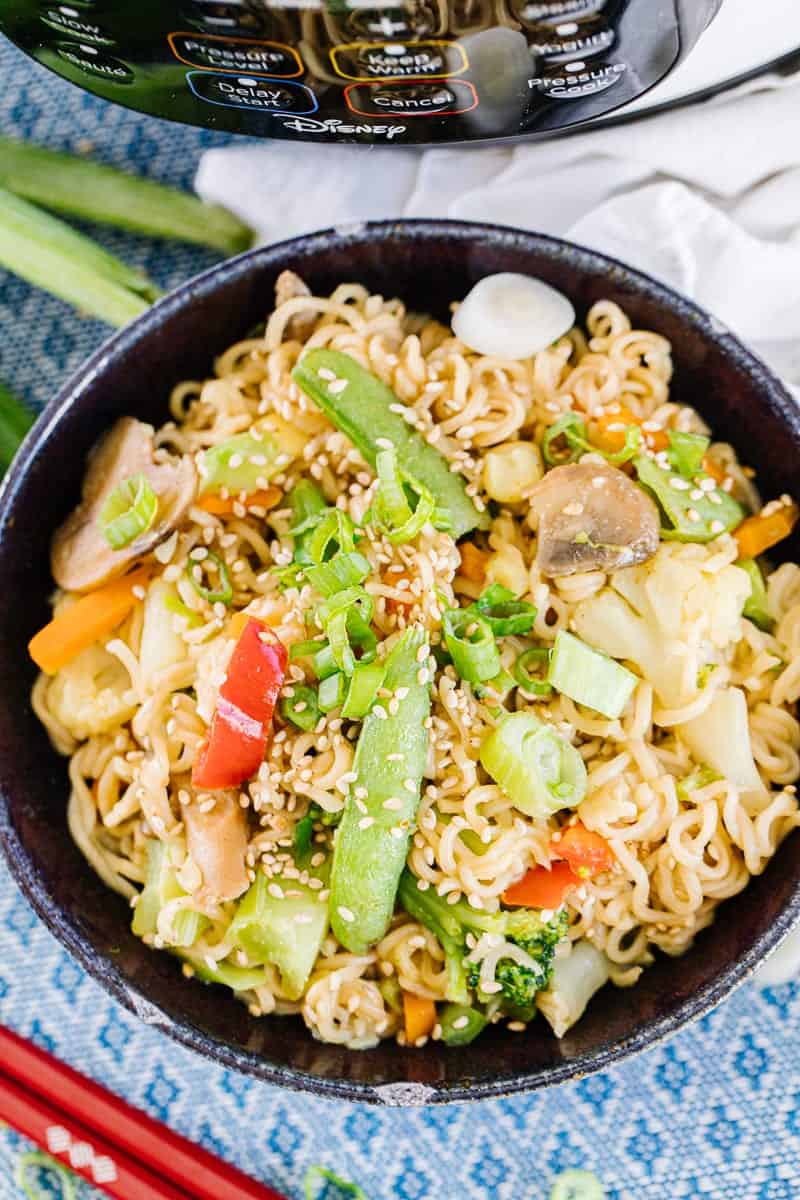 Kraft Mac and Cheese = Instant Pot Easy Mac
That being said, my kids don't care if their noodles are swimming or squeezing. They just want to EAT. And I've discovered that making Kraft Mac and Cheese in the Instant Pot is super easy and convenient.
The only difference? It tastes like EASY MAC, not stovetop. That's because Easy Mac is made with the same concept of pressure cooking. The noodles and water start together cold, and get microwaved until the noodles simply absorb the water.
No straining or boiling on the stove. That's why I'm titling this recipe Instant Pot EASY MAC, since that's what it tastes like.

NO DRAIN INSTANT POT PASTA RECIPE
I tested it so many ways to ensure this was a NO DRAIN recipe. There are plenty of recipes out there that you have to drain the water after pressure cooking, but that really didn't appeal to me at all since there had to be another advantage to making it this way to make it worth it. It does make it slightly less starchy, but like I said, I wanted to make sure it had an advantage.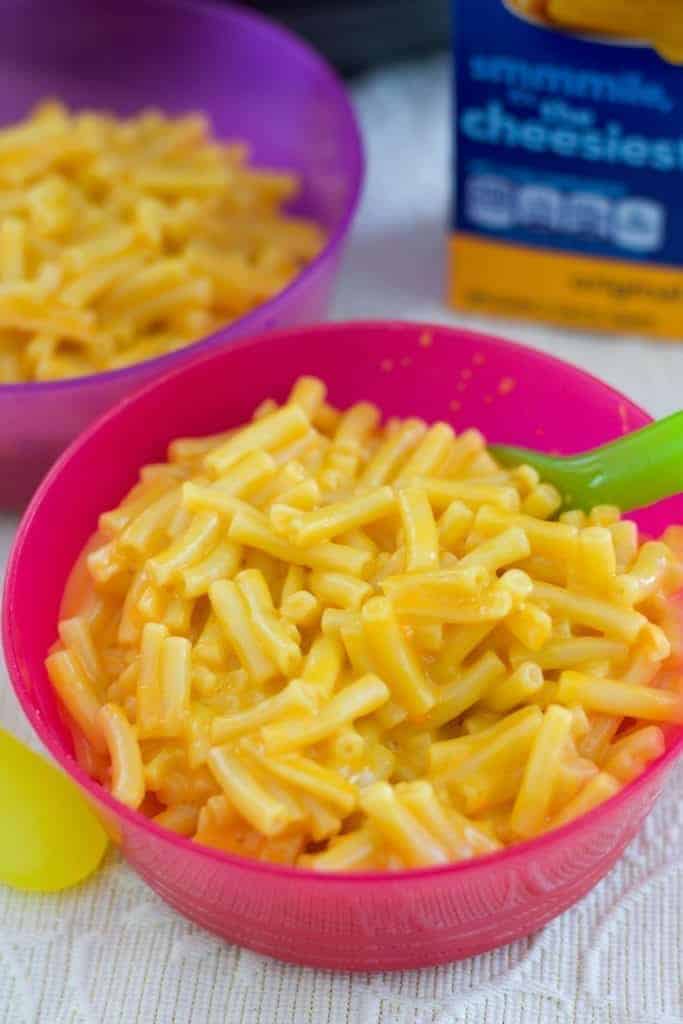 I think this is a good method for anyone using their Instant Pot in close quarters or outdoors like camping. Anyone who might be weak or elderly that can't lift a pot of boiling water to drain in a colander would love this approach.
How to make Instant Pot Easy Mac
Simply combine the water and noodles straight into the Instant Pot. Cook on manual high pressure for 3 minutes with a 3-4 minute natural pressure release.
Open the lid, and give it a stir. You'll need to break up the noodles a tad and let them absorb the remaining water for a minute or two.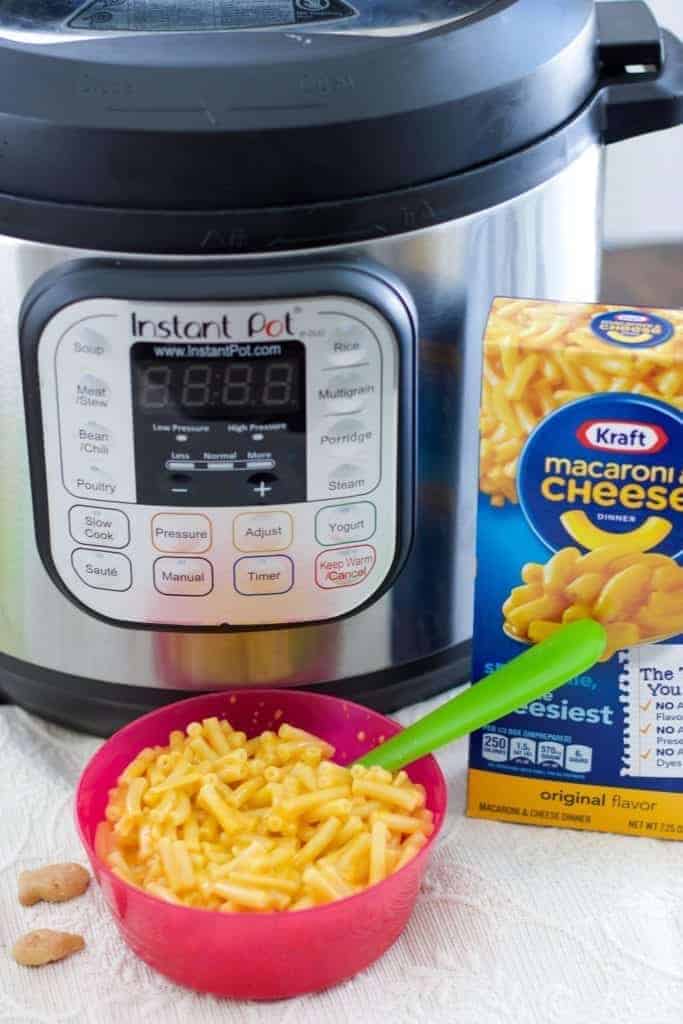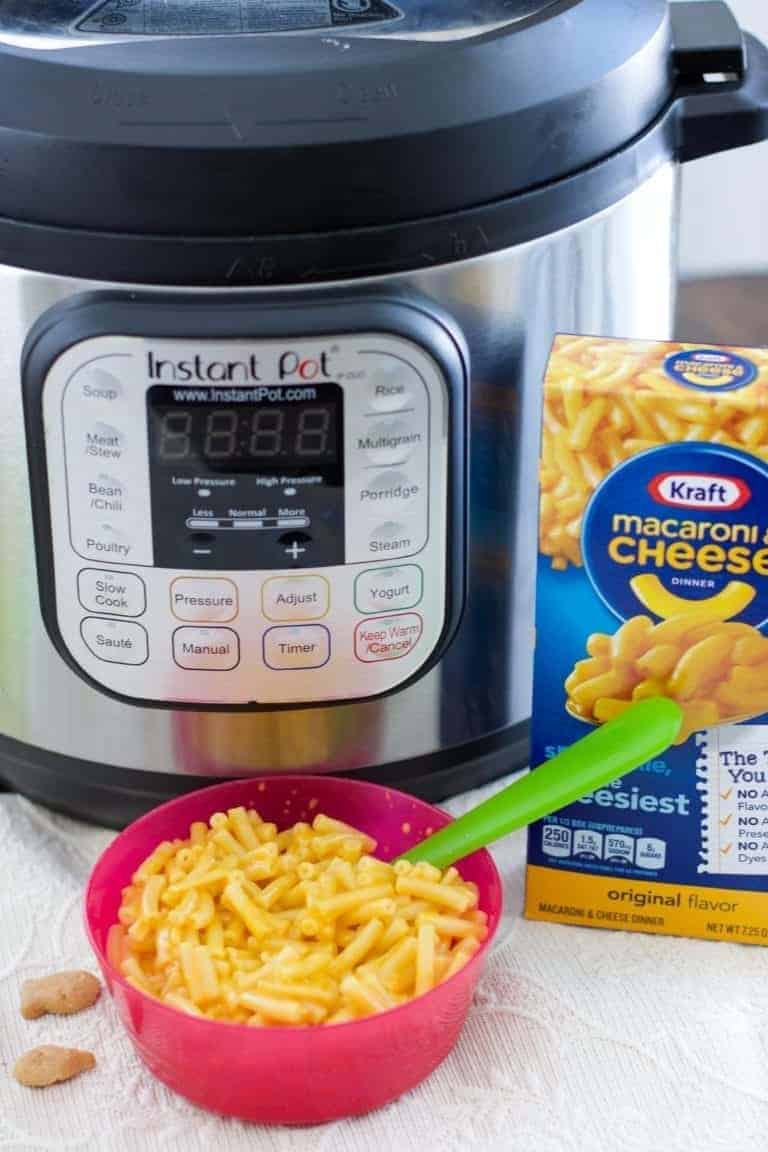 Add the called for amounts of milk and butter, and you're done! Super EASY MAC, am I right??
Doubling Instant Pot Easy Mac
If you choose to double this recipe, multiple all ingredients, but keep the cook time the same!
I have had good results doing this, but some readers have reported some issues. I suggest adding the noodles, stirring them so they don't clump, and cook them right away. Another way to avoid issues is by preheating your Instant Pot so it's warm before you start adding water.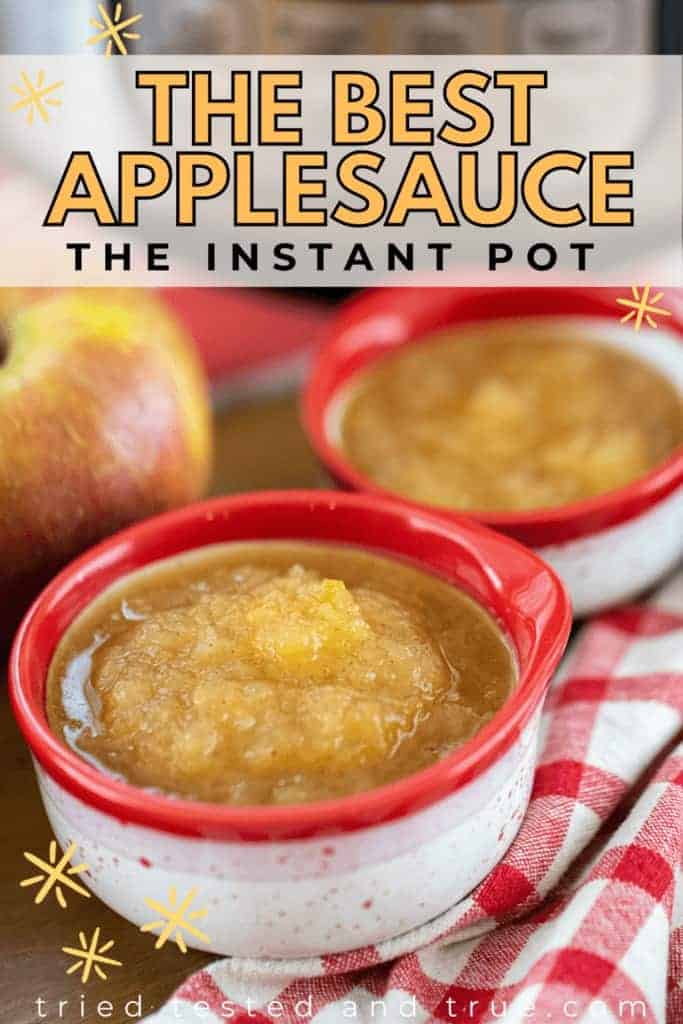 Kid Friendly Instant Pot Recipes
About Lisa
About Lisa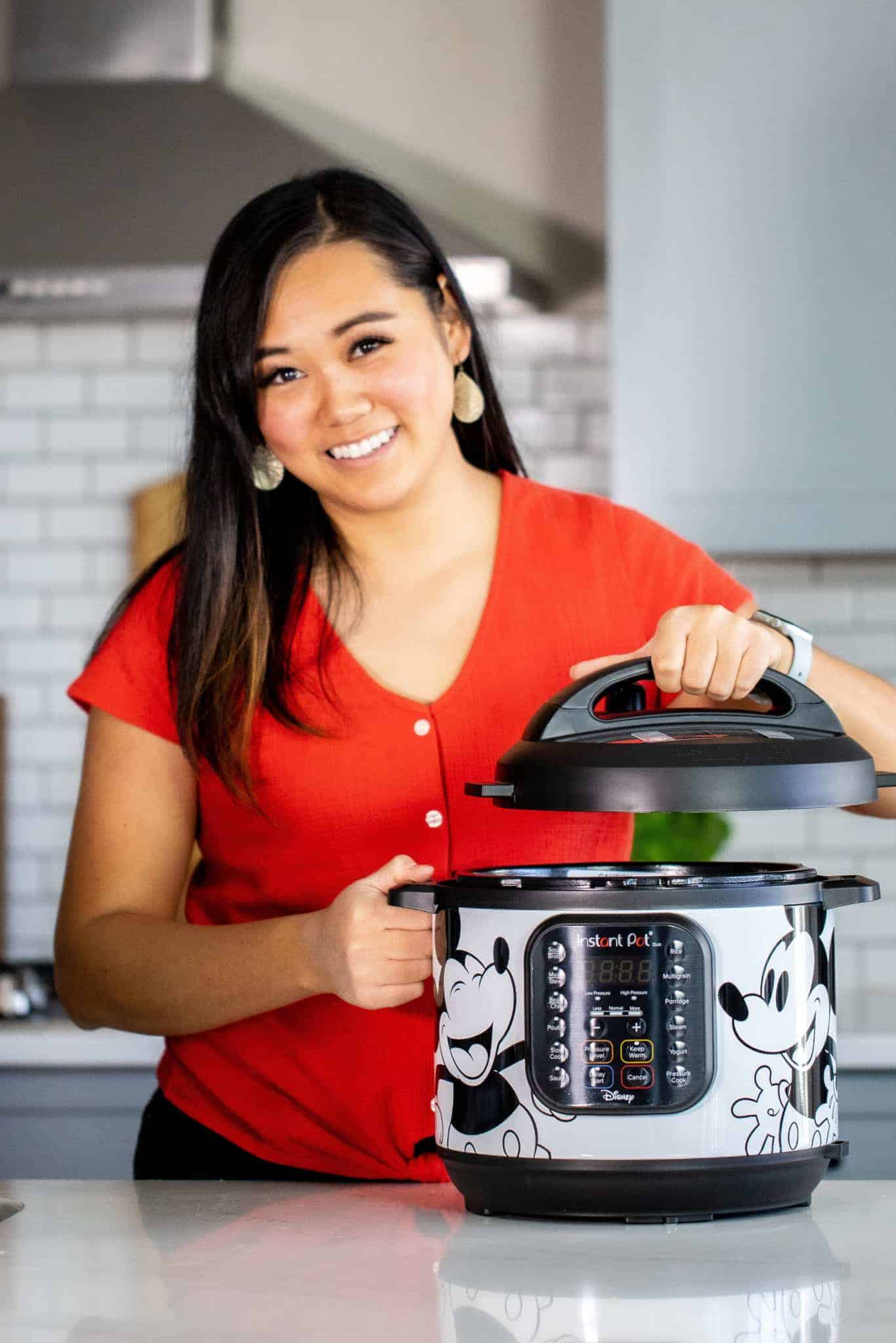 Lisa Childs is the food blogger behind Tried, Tested, and True. Join the hundreds of thousands of people each month that learn from Lisa-
Subscribe to her website, follow her on Instagram at @tried_tested_true, follow her on Pinterest, and find her on Youtube at Tried Tested and True. She is passionate about giving home cooks confidence using their Instant Pots. Make sure to sign up for our email newsletter to hear from personally from her weekly! Learn more about Lisa.
Read my recommendation on the best Instant Pot to buy and which Instant Pot accessories to buy (and avoid!). This is the Instant Pot I have 4 of, and love! Also, don't forget that I'm on Youtube where I teach Instant Pot Inspiration and Confidence!
Don't Forget to Pin this Post!
Instant Pot Easy Mac
Instant Pot mac and cheese is a popular recipe, but have you ever heard of an even EASIER, Instant Pot Easy Mac? That's right. That blue box is going to change lunch time with this no drain, super easy mac and cheese that tastes like Kraft Easy Mac.
Ingredients
1.5 Cups Water
1 Box Kraft Macaroni and Cheese (1 cup of noodles)
4 Tablespoons Butter
1/4 Cup Milk
Instructions
In the Instant Pot, combine the noodles with the water. Lock the lid, lock the lid to sealing, and cook on manual high pressure for 3 minutes. Allow a 3-4 minute Natural Pressure Release (3 minutes for more bite, 4 for softer noodles).
Release the rest of the pressure, then open the lid. Stir the noodles and break them up to absorb any additional water. Keep stirring for a minute or two until all the noodles are broken up and the noodles are cooked to your liking.
You should not have to drain any additional liquid. If you do see more liquid, it should be very little. Set the Instant Pot on low saute and let the water evaporate out if needed.
Add the cheese sauce packet, butter, and milk. Stir, and serve!
Notes
Due to inconsistent results, I do not recommend tripling this recipe. I have doubled this recipe with good results, but some readers have had trouble getting consistent results so please use your best judgement. I recommend doing two batches instead of doubling the recipe if you are worried about this.
Try adding a splash of heavy cream or replace all the milk with half and half for a SUPER CREAMY version!
Recommended Products
As an Amazon Associate and member of other affiliate programs, I earn from qualifying purchases.
Nutrition Information:
Yield:

2
Serving Size:

1 grams
Amount Per Serving:
Unsaturated Fat:

0g