Instant Pot White Chicken Chili
---
This post may contain affiliate links, which means I earn a small commission if you purchase something I recommend - at no additional cost to you! Thank you for supporting this blog!
This Instant Pot White Chicken Chili recipe is the grownup version of your grandma's recipe: healthy and delicious, it's ready to eat in 15 minutes! Dairy Free suggestions in the post.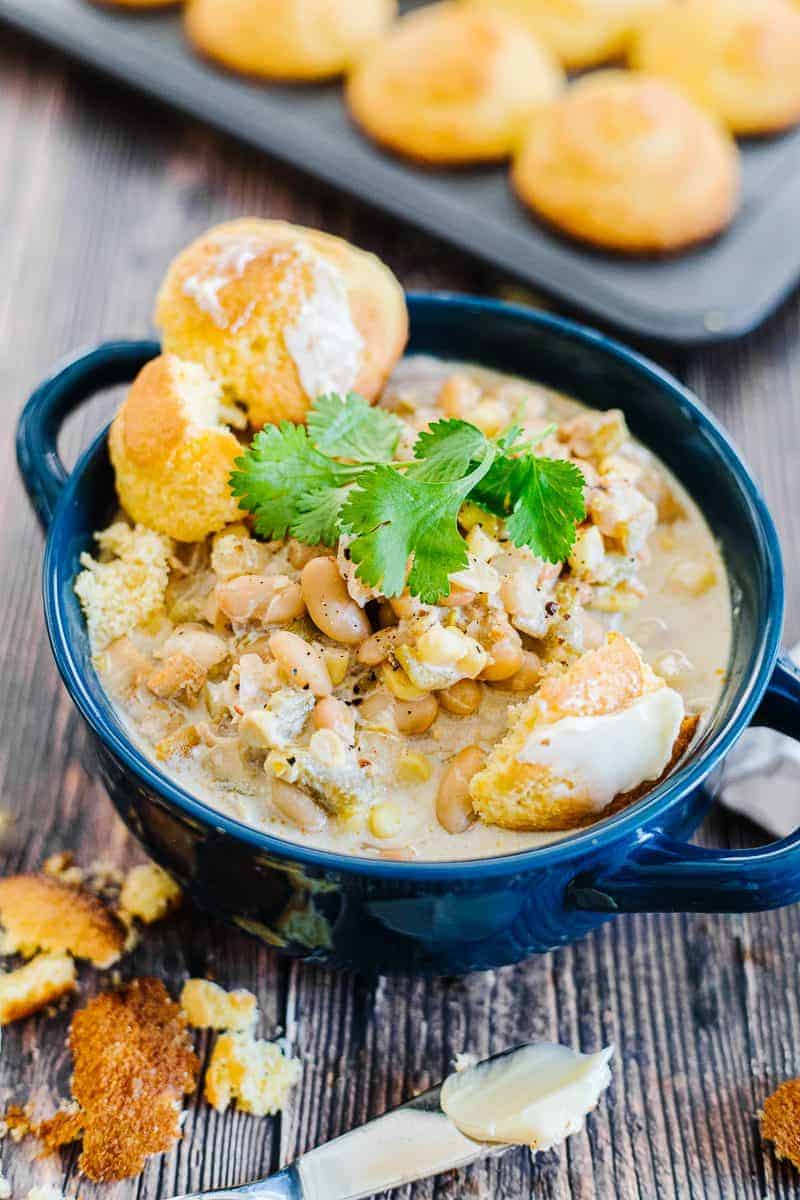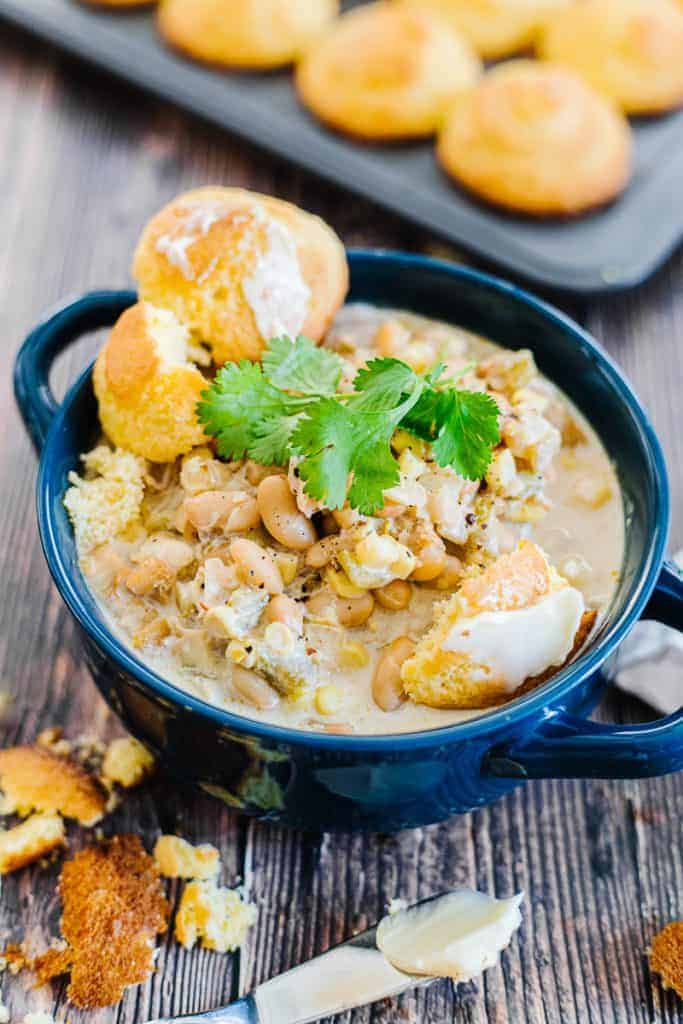 Instant Pot white chicken chili
This Instant Pot white chicken chili is probably my favorite chicken chili recipe of all time. It's a great alternative to the traditional tomato-based beef chili: where tomato chili is dark and heavy, this one is light and creamy.
It's also perfectly customizable! You can easily adjust the seasonings and heat to suit your preferences.
And as if that wasn't enough, this chicken chili recipe can be done in 15 minutes. It has protein, it has carbs, it has fiber—it is balanced—and it's ready from grocery bags to soup bowls in under 15 minutes!
Just try to tell me that this isn't the best chicken chili. 
White bean chicken chili
White chicken chili goes by many names: one of those is white bean chicken chili. As the name suggests, beans are an integral part of this chicken chili recipe! I use great northern beans. They're tender, soft, and lusciously smooth.
You can buy great northern beans in a can (that's the easiest way), or you can buy them dry and rehydrate them yourself.
I usually just buy them in a can and pop them right in, but buying the beans dry is a great way to save some cash if you're trying to reduce your grocery bill!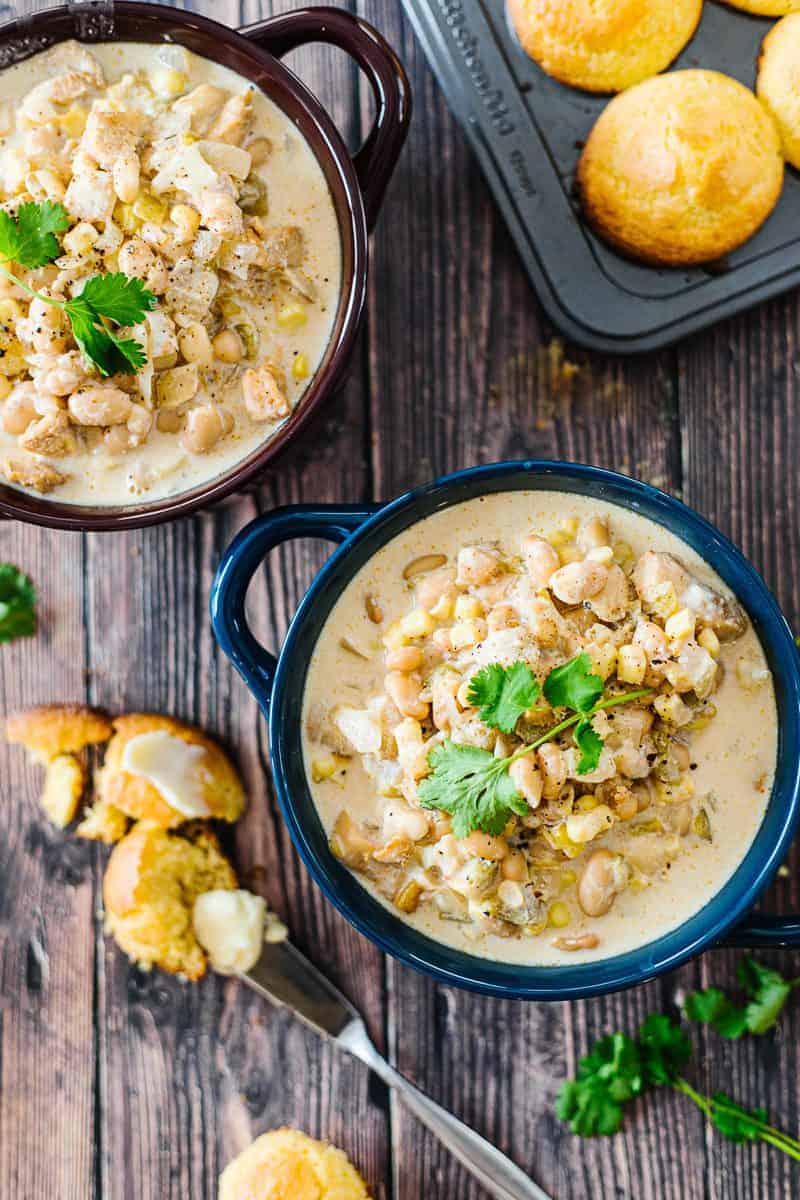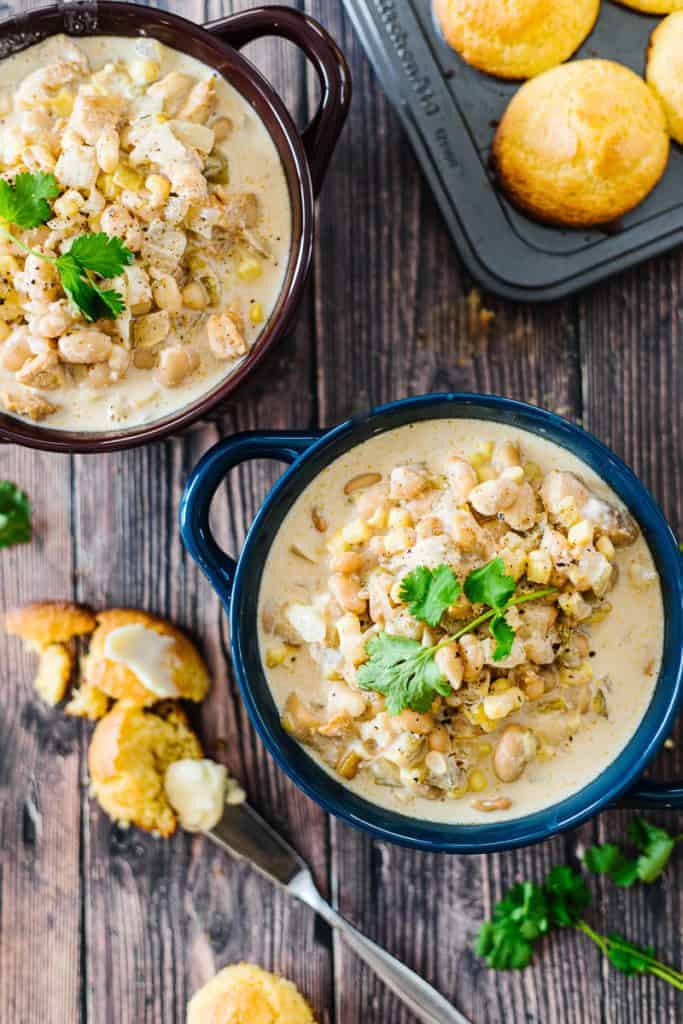 White turkey chili
You can substitute ground turkey for the chicken in this recipe. I recommend marinating the ground turkey with a little oil, cumin, garlic, salt, and pepper to add additional flavor.
Ground turkey is very lean and is a healthy alternative to red or dark meat. If you're concerned about the health difference between chicken and turkey, there really isn't one!
Both meats are great sources of lean protein. In the end, the choice really just comes down to your preference in flavor and consistency. 
Creamy white chicken chili
Some white chicken chilis get the "white" distinction from using white beans and have no additional dairy.
This recipe uses both sour cream and heavy cream to get a really creamy white chicken chili. I love the slight tang from the sour cream and the richness of the cream!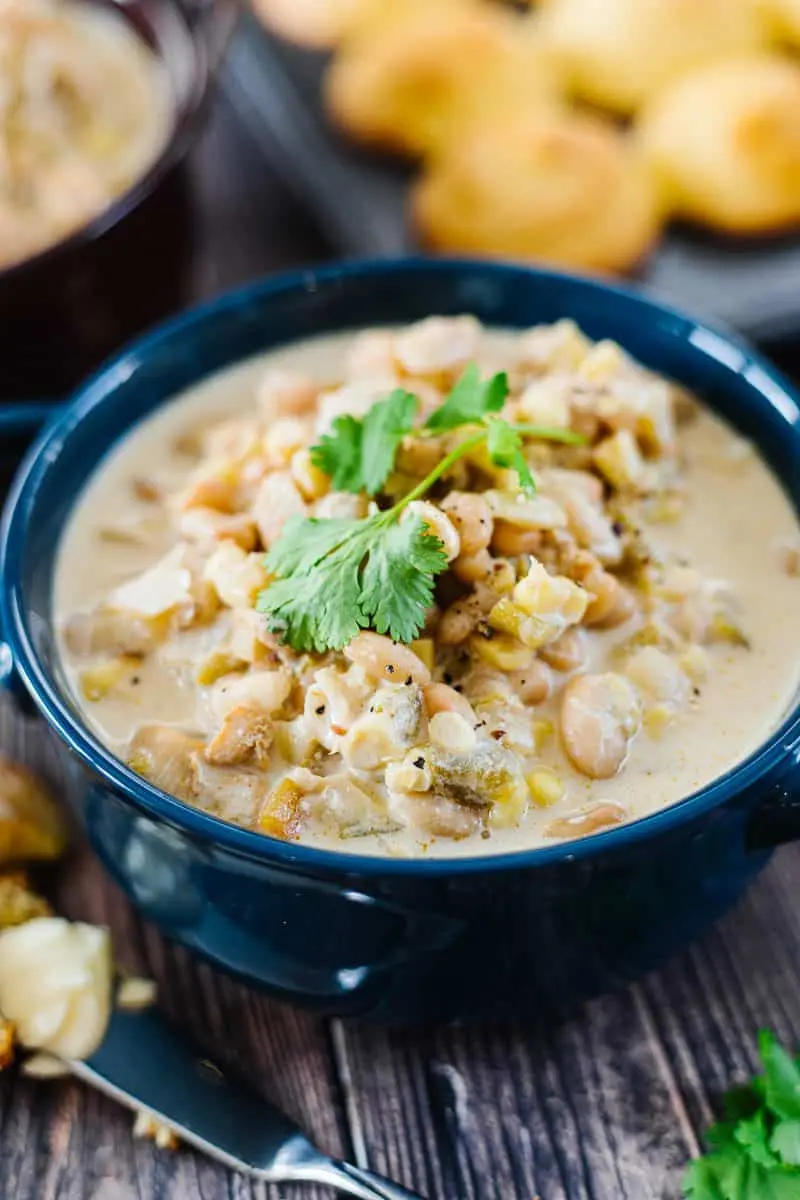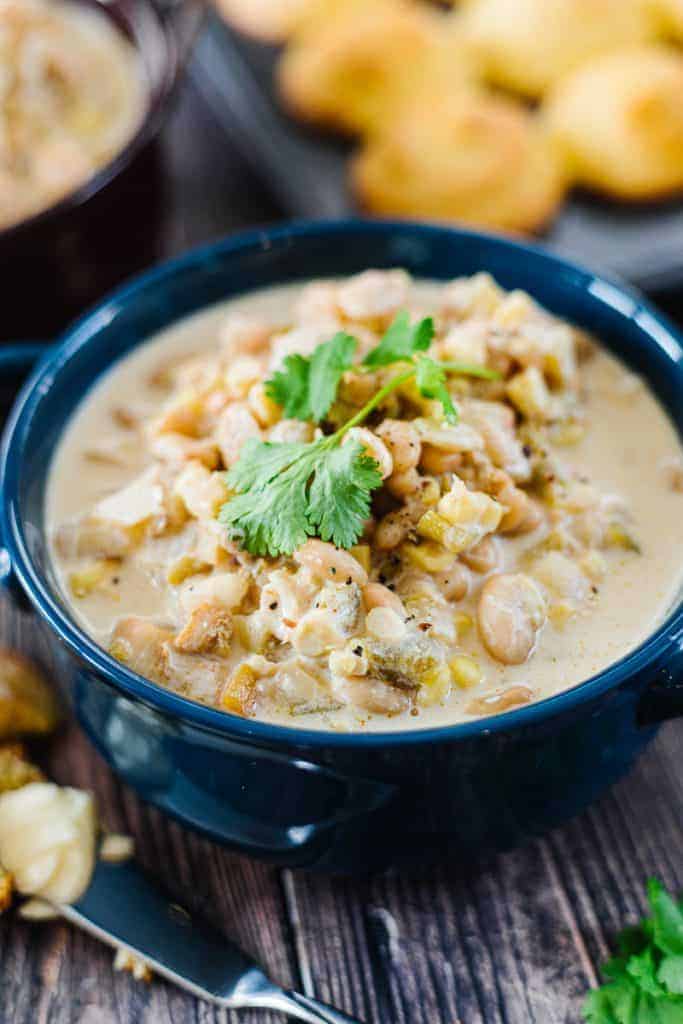 You may also substitute greek yogurt for the sour cream if you're wanting to chop those extra calories.
Dairy free white chicken chili
If you'd prefer a dairy-free white chicken chili, add an additional can of white beans and an additional 1 ½ cups of chicken broth. It won't be quite as creamy, but it's close—and it's good!
You can also pulse up some of the beans in a food processor to add a bit of additional thickness (akin to what the sour cream would have added).
How to make Instant Pot white chicken chili
It's easier to make the best chicken chili than you might think! Follow these easy 4 steps and you'll be ready to serve in no time.
If you're short on time, you can skip step one and two and just add everything except the dairy to the Instant Pot and cook as directed.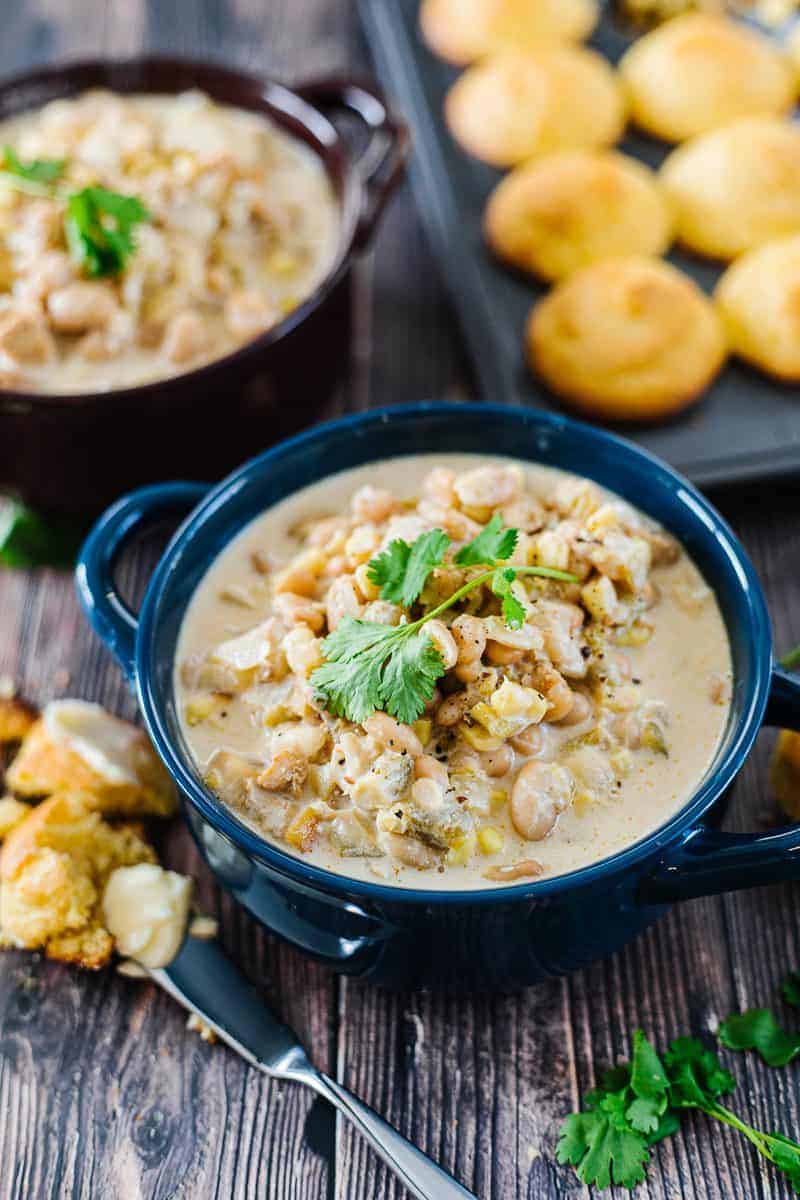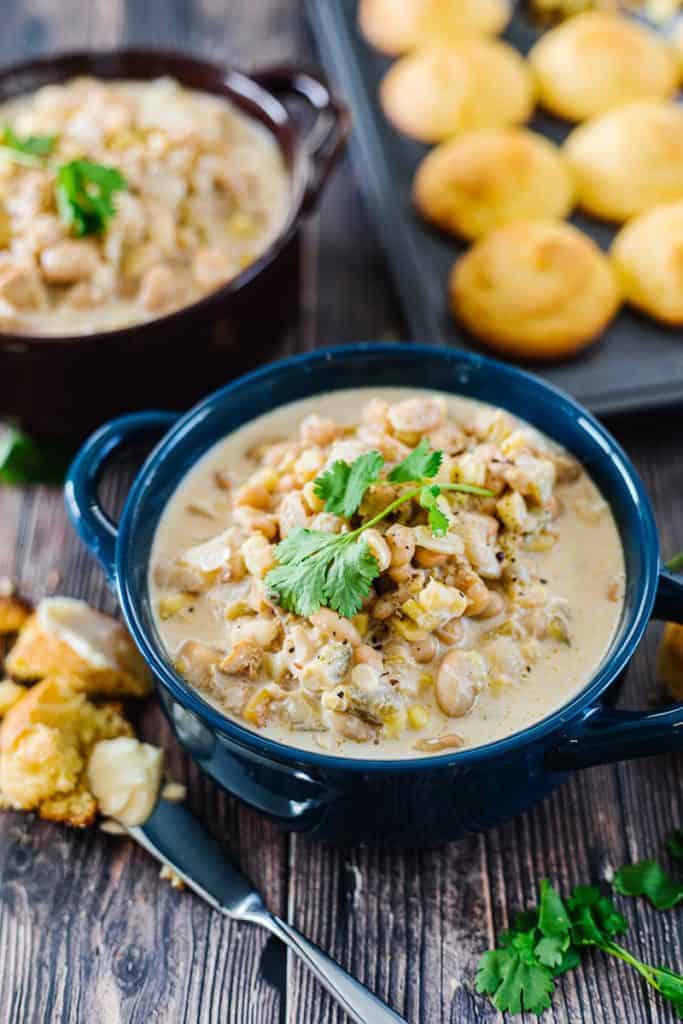 Step 1: Prep
Turn your Instant Pot to the saute setting. Once it's hot, add the butter and onion and let them cook for a bit, adding in the garlic during the last minute. Make sure to stir these constantly so that they don't burn!
Step 2: Season
While the onions are cooking, mix the remaining spices together and use them to coat the chicken.
Add the chicken to the pot and saute for an additional 4-6 minutes.
Step 3: Deglaze
Use chicken broth to deglaze the pot—be sure, as usual, to scrape off any browned bits that might've stuck to the bottom of your pan! Those would burn once the pressure cooking starts, and nobody wants that.
Turn off saute mode, lock the lid and turn to sealing, then pressure cook on high for two minutes. Follow it up with a quick release (it'll take about 5 minutes).
Step 4: Add dairy
Now that the soup is cooked, add in the sour cream and cream, stir, and serve! If you opted for a dairy-free chili, you'll be able to skip this step altogether.
I like to serve my chicken chili with a nice warm crust of bread and a sprinkle of green onions on top as a garnish. For some greens as a side, try my Instant Pot Green Beans or Instant Pot Broccoli. They're both family favorites around here and guaranteed to please.
Instant Pot Soup Recipes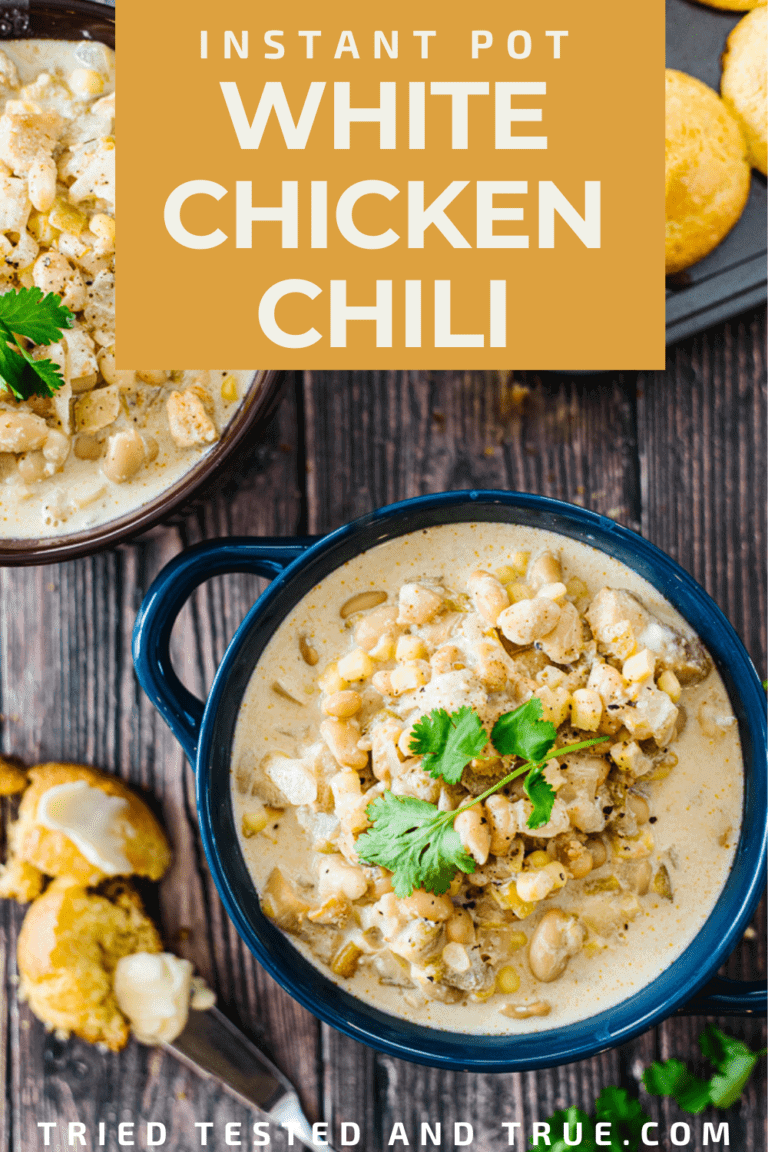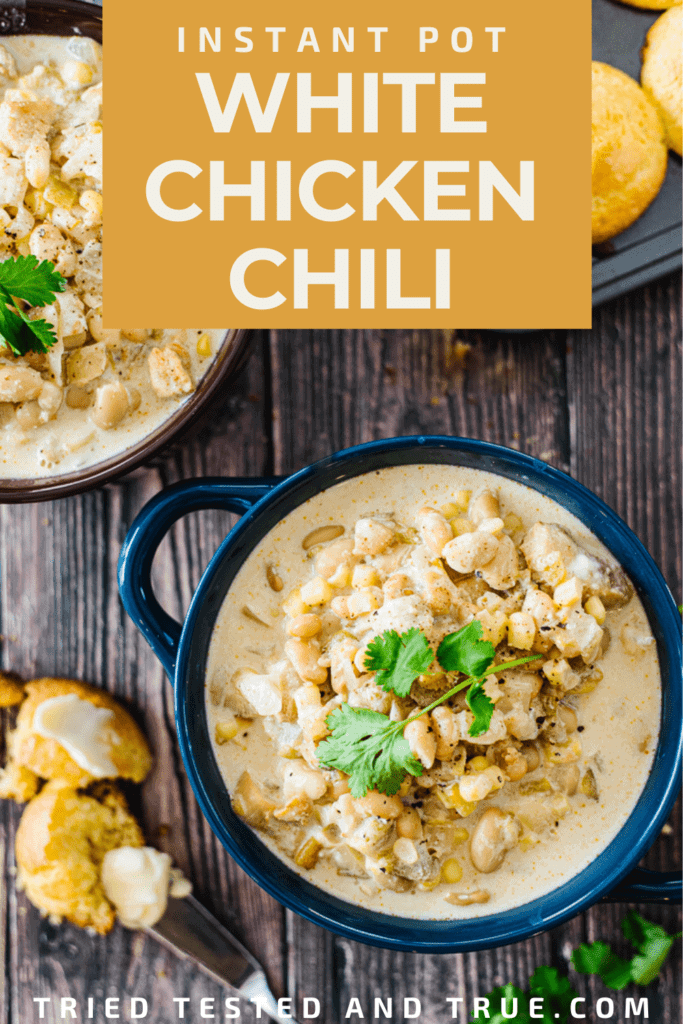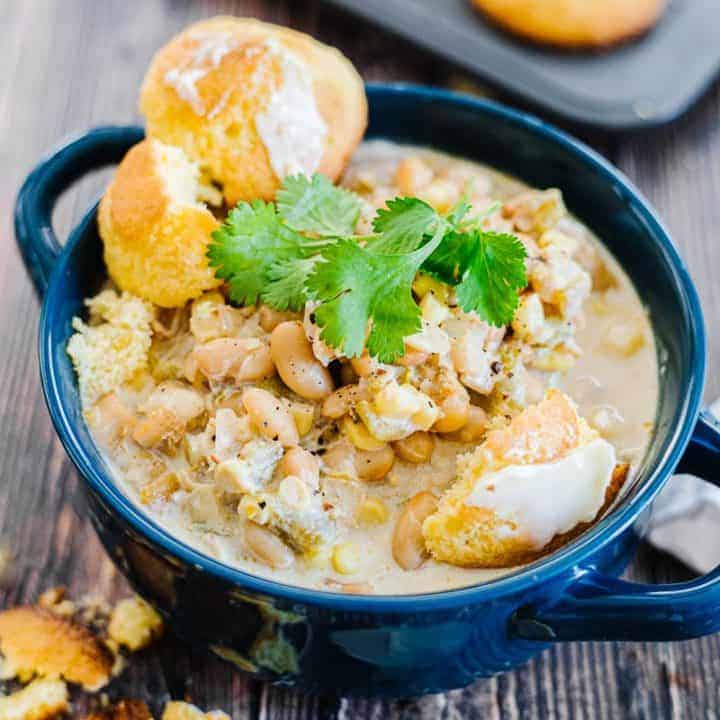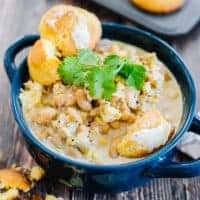 Instant Pot White Chicken Chili
This Instant Pot White Chicken Chili recipe is the grownup version of your grandma's recipe: healthy and delicious, it's ready to eat in 15 minutes!
Print
Pin
Rate
INGREDIENTS
1

tablespoon

butter or oil

one large onion

diced

2

teaspoons

minced garlic

1

pound

chicken breast

cut into bite sized pieces*

1 1/2

teaspoons

cumin

1 1/2

teaspoons

salt

1/2

teaspoon

garlic powder

1/4

teaspoon

cayenne pepper

1/4

teaspoon

smoked paprika

2

cups

chicken broth

1, 4

ounce

can of chopped green chiles

2

cans Great Northern Beans

drained

1

cup

corn

fresh, frozen, or canned

1

cup

sour cream

1

cup

half and half or heavy cream
INSTRUCTIONS
Press the saute button on the Instant Pot and adjust to high. Add butter and onion and let saute for about 5 minutes, then add garlic and saute for one minute more. Stir constantly to ensure the onions do not brown or burn.

While the onion is sauteing, season the chopped chicken with cumin, salt, garlic powder, cayenne pepper, and paprika. Mix to coat the chicken. Add to the onion, and saute for 4 minutes.

Deglaze the pot with chicken broth and scrape any browned bits off the bottom of the pot. Add the green chiles, beans, and corn. Stir together.

Turn off saute mode, then lock the lid on the Instant Pot, turn the knob to sealing, and pressure cook on high pressure for 2 minutes. Perform a quick release (takes about 5 minutes to completely depressurize).

Stir in the sour cream and half and half or heavy cream and serve immediately.
NOTES
Sautéing the onion and chicken is recommended for added flavor, but not necessary. For an even easier white chicken chili recipe, add all the ingredients to the Instant Pot except for the sour cream and heavy cream and cook as directed. Stir in the dairy products at the end as written.
*For extra protein, add an additional chicken breast (one chicken breast is usually about 1 pound.)
NUTRITION
Serving:
1
g
|
Calories:
510
kcal
|
Carbohydrates:
32
g
|
Protein:
40
g
|
Fat:
26
g
|
Saturated Fat:
12
g
|
Polyunsaturated Fat:
11
g
|
Trans Fat:
1
g
|
Cholesterol:
136
mg
|
Sodium:
1140
mg
|
Fiber:
7
g
|
Sugar:
8
g
---
---
Does this chili come out pretty spicy? Wondering if we should lessen spices since we are weak sauce 😂

I don't think this chili is very spicy. In fact, I always add extra cayenne to mine! The 1/4 teaspoon cayenne gives the chili great flavor. If you're worried about too much spice, I would use half the amount of green chilies before omitting the cayenne!