This post may contain affiliate links, which means I earn a small commission if you purchase something I recommend - at no additional cost to you! Thank you for supporting this blog!
Air Fryer Sweet Potatoes are the perfect side or whole meal. Make "baked" sweet potatoes in the air fryer without heating up your oven and kitchen!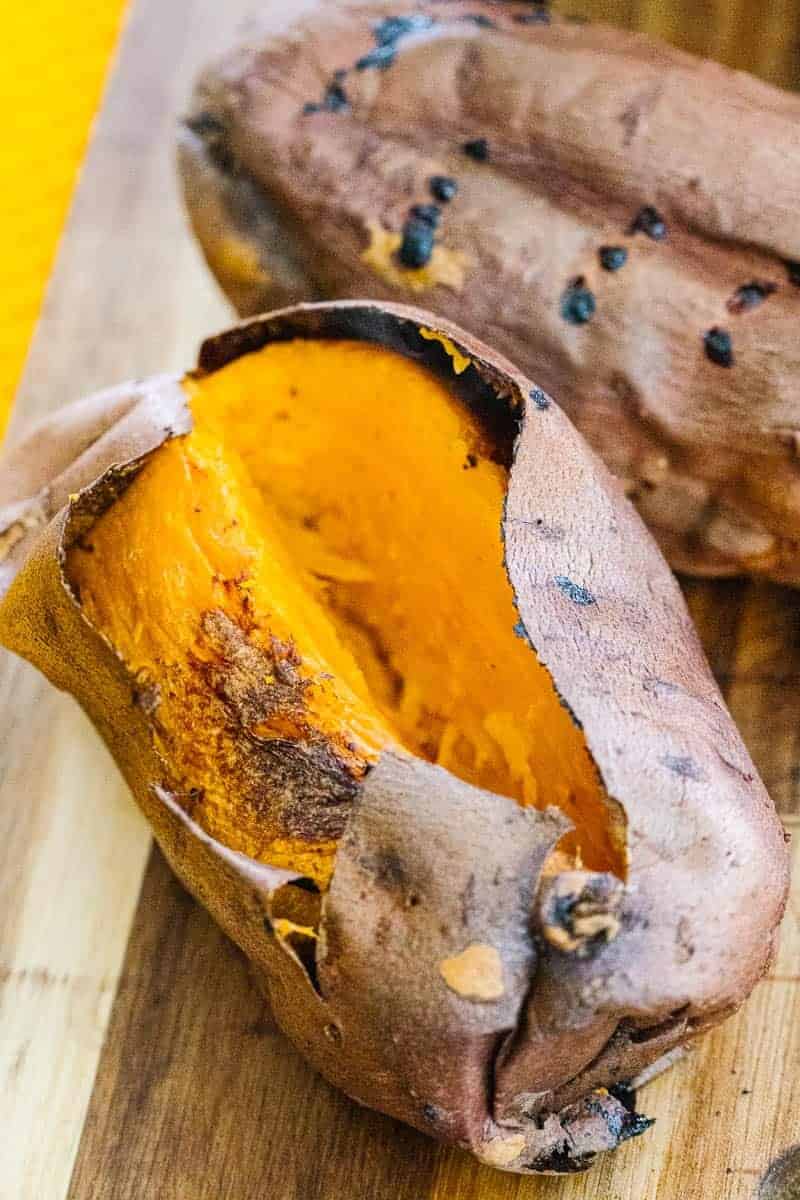 CAN YOU AIR FRY SWEET POTATOES WHOLE?
Yes! This recipe is for whole sweet potatoes in the air fryer. Air fryer baked sweet potatoes are easy and healthy.
Are you looking for air fryer sweet potato fries? Check out my recipe! Air Fryer Sweet Potato Fries are perfectly crunchy, yet tender, and not greasy.
Don't have an air fryer? Don't worry—my recipe for Instant Pot Sweet Potatoes has you covered.
Before I teach you how long to cook sweet potatoes in the air fryer, let me answer a few frequently asked questions.
CAN YOU AIR FRY SWEET POTATOES WITHOUT OIL?
Whether or not to use oil is completely your personal preference—I like to skip oil altogether!
Oil definitely results in a more crispy potato. I recommend rubbing or brushing the whole sweet potatoes using olive oil, avocado oil, or coconut oil.
If you prefer to steam your sweet potatoes, you can easily make your sweet potatoes in the Instant Pot.
In my testing, I found no significant difference between the greased and ungreased sweet potatoes. The greased one had a slightly prettier skin after cooking, but it did not affect the flavor.
SHOULD I SEASON MY POTATOES?
That's up to you! This recipe is for whole, "baked" air fryer sweet potatoes, just like if you made them in the oven. Most people do not consume or eat sweet potato skin like they might baked potato skins. Seasoning might add some flavor, but wouldn't be eaten directly.
However, if you would like to season your potatoes, simply rub them with oil and add your favorite seasoning.
Some yummy spices to experiment with include garlic powder, paprika, chili powder, cinnamon, cayenne, and brown sugar—but play around! Let me know in the comments which spice blends are favorites in your family.
Sweet potatoes can be prepared either sweet or savory!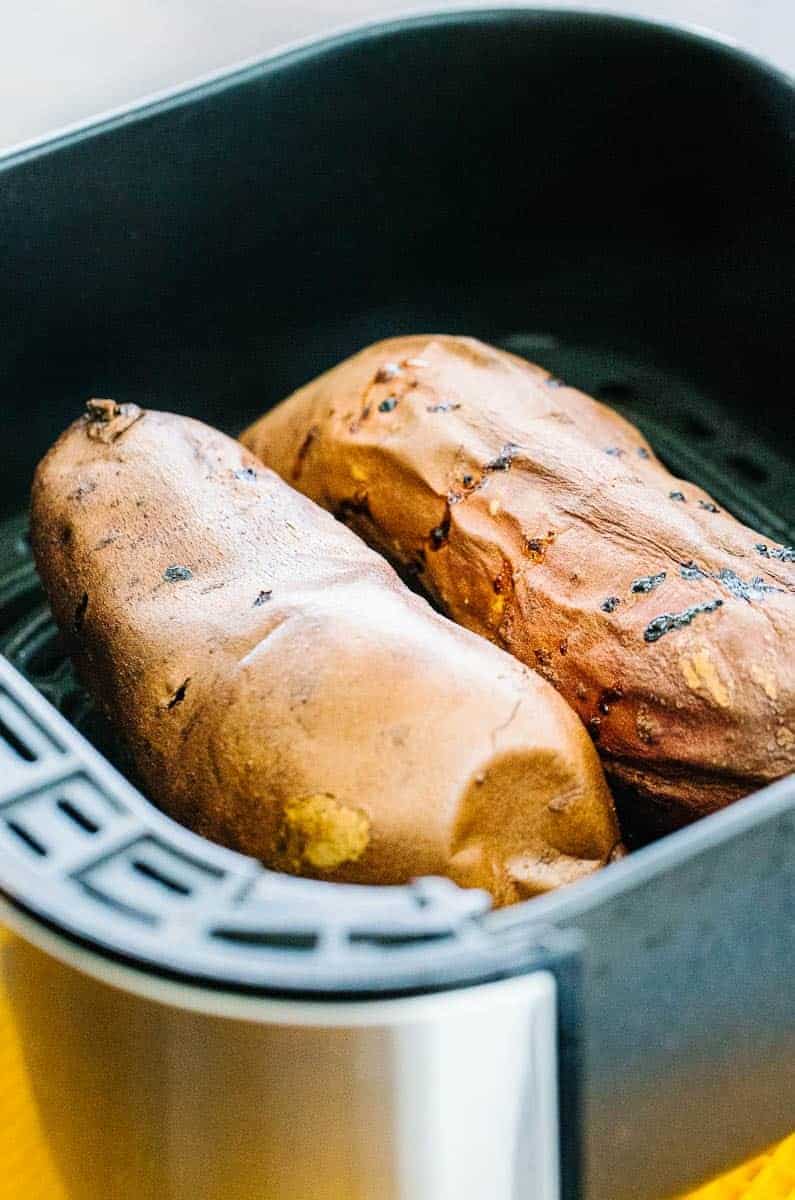 SHOULD I POKE SWEET POTATOES BEFORE BAKING OR AIR FRYING?
In the photo above, you'll see two sweet potatoes that I baked in the air fryer. The one on the left has not had any holes poked into it. The sweet potato on the right had holes poked in it with a fork before air frying.
There is no need to ever poke holes in potatoes or sweet potatoes before baking or air frying. In fact, I would advise you to AVOID poking holes in sweet potatoes. The sugars will leak out and burn. Since sweet potatoes contain a lot of natural sugars, baking sweet potatoes caramelizes the sugar inside the skin.
When the skin is poked, those sugars come out. This can affect the flavor, or even worse, burn your sweet potato.
Sweet potatoes will naturally "burst" at the natural seams if needed, but this won't hurt them or your air fryer.
WHAT AIR FRYER SHOULD I USE?
I love my Vortex Plus Air Fryer. It can do so much it's almost magical: air fry, roast, broil, bake, reheat, dehydrate—it's like an all-in-one oven, but better! Plus, the size is perfect to cook meals for my family. It's not too big, but not too small.
Alternatively, you can use the Duo Crisp Air Fryer Lid—it works like a regular air fryer, but rather than being a different appliance, it's just a lid that converts your usual Instant Pot into an air fryer!I enjoy cooking with my air fryer so much! I just keep adding to my list of air fryer recipes.
How to cook air fryer sweet potatoes
If you love sweet potatoes, you have to try my Instant Pot Sweet Potato Casserole with Pecan Streusel! It's a copycat Ruth's Chris recipe and utterly delicious.
To make these delicious whole sweet potatoes in the air fryer, start by washing the potatoes—don't peel them! Pat them dry with a towel, then rub them down with just enough oil to coat the skins if desired, and place them into your air fryer.
There's no need to wrap the whole sweet potatoes in foil before cooking, unless you want to! It makes no difference.
Wait about 40-50 minutes, and you'll be ready with air fryer sweet potatoes fit for a feast! Serve these healthy air fryer baked sweet potatoes with my Air Fryer Steak, 4 Ingredient Instant Pot Country Style Ribs, or Pork Roast!
SWEET POTATO AIR FRYER TEMPERATURE
I preheat my air fryer to 400º. Cook the sweet potatoes in the air fryer for 30-40 minutes, flipping the potatoes halfway.
SWEET POTATO WEDGES IN THE AIR FRYER
To make these sweet potato wedges, wash and pat your sweet potatoes dry, then peel and cut them lengthwise into quarters or eighths (depending on how thin you want your wedges to be.)
Lightly coat the wedges in oil and salt (and optional seasonings), then place them into your air fryer. I find that they take about 20 minutes for optimum crispiness, but this is flexible depending on how crispy you like them to be!
The trick to make crispy sweet potato fries in the air fryer is to add a little bit of cornstarch to your seasoning blend (about 2 tablespoons) and toss them up.
AIR FRYER SWEET POTATO CHUNKS
When making chunks, wash, and peel your sweet potatoes. Next, chop the potatoes into roughly one inch cubes and toss them in olive oil, salt, and seasonings if you want them.
Place them into the air fryer, and cook for about 20 minutes, shaking every 5 minutes.
AIR FRYER SWEET POTATO MASH
To make air fryer sweet potato mash, cook whole sweet potatoes as explained above. Once they're done, set them aside until they're cool enough to touch. Then skin them and add butter, milk or cream, and salt—just as you usually would with mashed potatoes.
Mash them together with a masher or a sturdy fork, but be careful not to use a mixer or overmix them! Overmixed potatoes turn out something like glue—not at all pleasant, and definitely hard to swallow.If you need some inspiration, check out my recipe for Instant Pot Mashed Potatoes!
MORE PERFECT POTATOES
These Instant Pot Baked Potatoes will change the way you prepare dinner! Fluffy, easy, and perfectly "baked"—these potatoes are done in less time than it takes to preheat the oven.
Or, try these Instant Pot Salt Potatoes. They're a huge cultural summer staple in Syracuse, New York, and so creamy, smooth, and perfectly salty.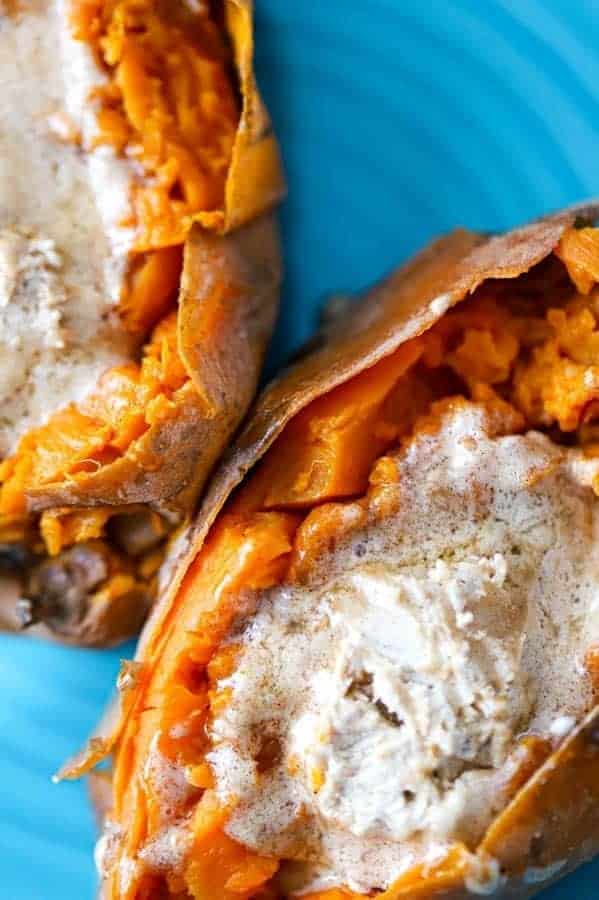 AIR FRYER BAKED SWEET POTATO HEALTHY
Sweet potatoes are highly nutritious, packed with vitamins, minerals, and fiber! This can promote good gut health and immune support. Plus, that orange color means it's good for your eyesight.
This recipe maintains all the health benefits. Cooking sweet potatoes in the air fryer results in a perfectly crispy, baked texture without added oil.
I usually make my baked sweet potatoes in the air fryer completely without oil!
MORE HEALTHY RECIPES
AIR FRYER RECIPES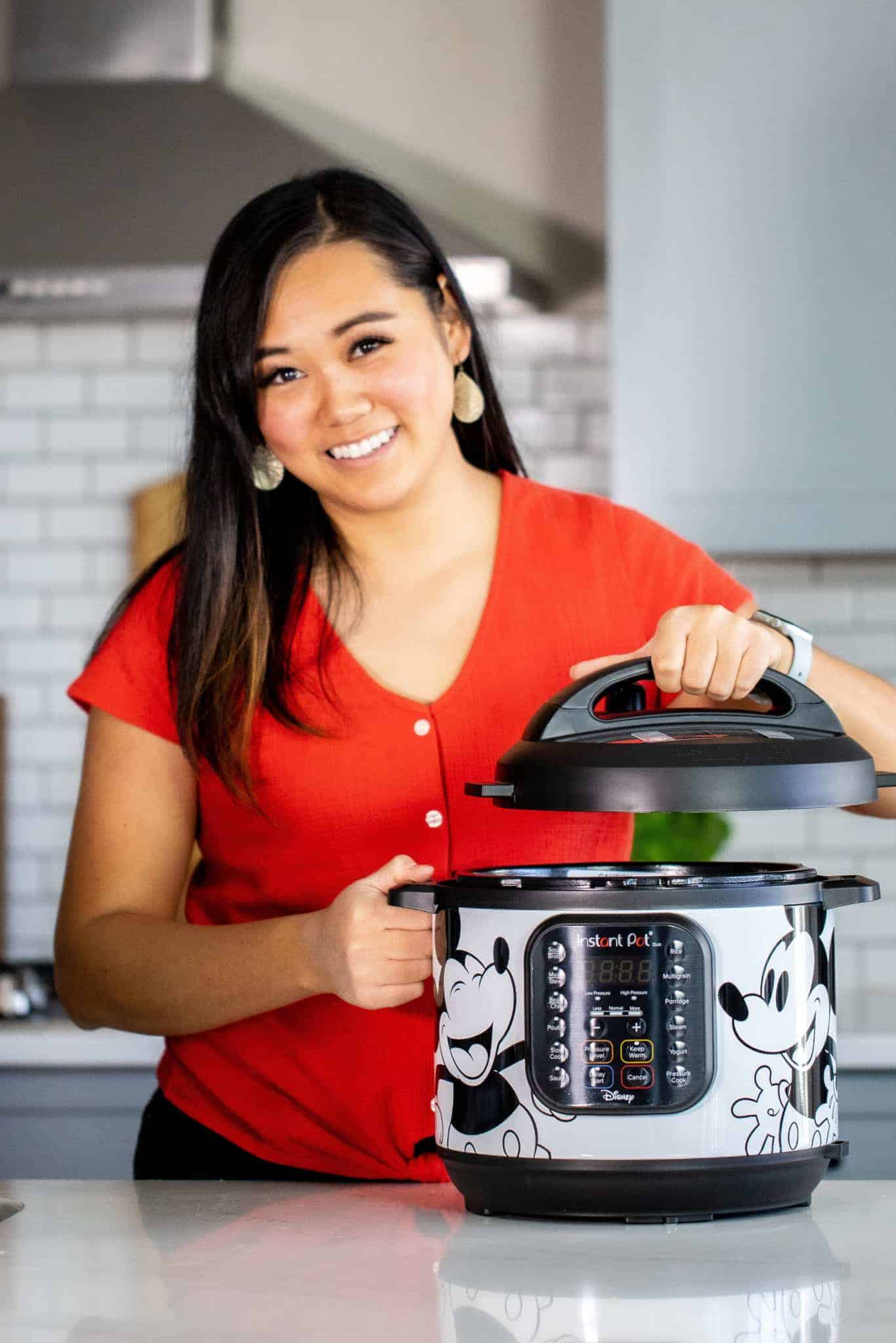 Lisa Childs is the food blogger behind Tried, Tested, and True. Join the hundreds of thousands of people each month that learn from Lisa-
Subscribe to her website, follow her on Instagram at @tried_tested_true, follow her on Pinterest, and find her on Youtube at Tried Tested and True. She is passionate about giving home cooks confidence using their Instant Pots. Make sure to sign up for our email newsletter to hear from personally from her weekly! Learn more about Lisa.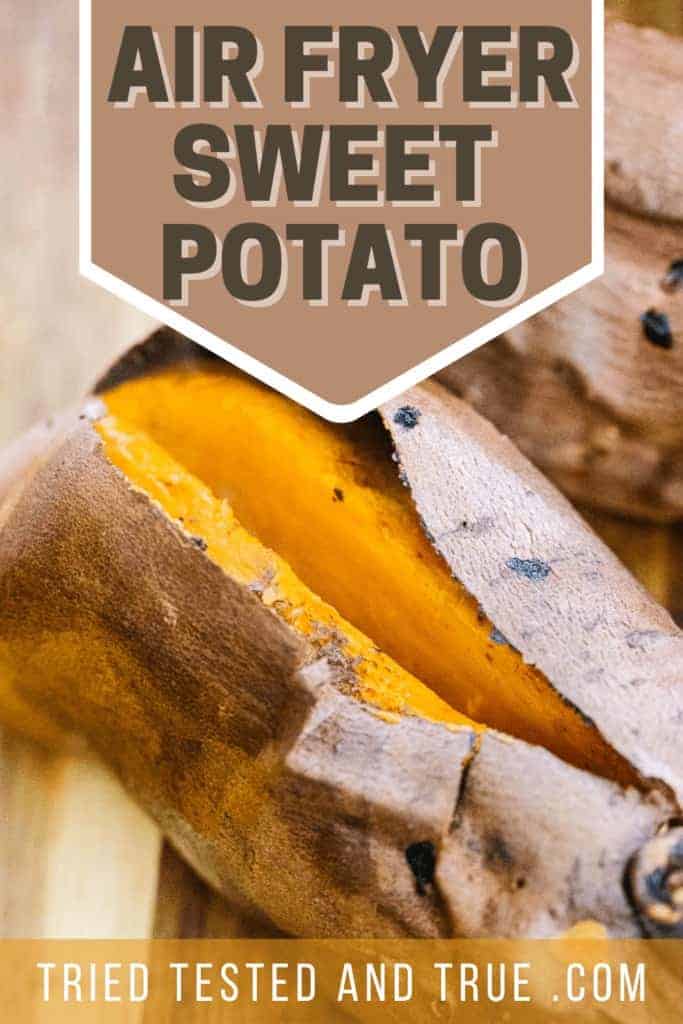 Air Fryer Sweet Potato
Air Fryer sweet potatoes are perfect as a side or as a whole meal. With your air fryer, you can make a "baked" sweet potato without heating up your oven and kitchen!
Print
Pin
Rate
INGREDIENTS
2-4

sweet potatoes

orange, washed/scrubbed and dried
INSTRUCTIONS
Preheat air fryer to 400º

Cook sweet potatoes for 30-40 minutes, depending on size. Start with 40 minutes and flip at the halfway point.

Check for doneness with a fork or knife. They will be ready to eat when the fork or knife can easily be pierced all the way through without resistance.

Carefully remove sweet potatoes from air fryer with tongs.

Serve with butter, honey butter, cinnamon, cottage cheese, or other family favorites.
NUTRITION
Serving:
1
g
|
Calories:
205
kcal
|
Carbohydrates:
47
g
|
Protein:
5
g
|
Sodium:
82
mg
|
Fiber:
8
g
|
Sugar:
15
g
---
---