Air Fryer Sweet Potato Fries
---
This post may contain affiliate links, which means I earn a small commission if you purchase something I recommend - at no additional cost to you! Thank you for supporting this blog!
Air fryer sweet potato fries are the perfect alternative to conventional fries: all the crunch with none of the grease!
How to make classic sweet potato fries in an air fryer
Sweet potato fries are a dinnertime classic. Making them in an air fryer is both healthier and less time consuming than the conventional deep frying method!
I love making whole sweet potatoes in my air fryer or baked potatoes in my air fryer and have a recipe for those as well.
Today, we're making air fryer sweet potato fries!
Start by preheating your air fryer basket so that it is hot. Then prep your potatoes by peeling them and cutting the sweet potatoes into uniform slices.
Some people prefer to leave the skin on, but I find sweet potato skin to be much tougher with roots than regular potatoes. It's up to you! 
Make sure to use orange sweet potatoes for these—the other varieties (white and purple) do work similarly, but they're a different vegetable and will not be the same kind of sweet potato fry you would get at a restaurant.
Toss them lightly with oil, salt, seasonings, and cornstarch, then lay them into the basket of your air fryer.
Cook at 380 degrees for about 12-14 minutes, making sure to shake the basket halfway through. As you're determining when to take out the fries, remember that air fryer sweet potato fries will not be quite as firm or crispy as regular potato fries.
If you like these fries, be sure to check out my Air Fryer Potato Wedges! They're the perfect hit of crispy, salty, and fluffy for when you're wanting something savory, not sweet.
Crispy air fryer sweet potato fries
Classic air fryer sweet potato fries actually aren't crispy! So if you're looking for crispy, I'll explain the secret: cornstarch.
This stuff crisps up beautifully, and if you mix it with seasonings, it also adds a lot of flavor to the fries! I have heard that arrowroot flour works as well, but I haven't tried it so I can't say for sure.
Definitely don't use regular flour, because that won't crisp. 
As far as seasonings go, feel free to use any seasoning blend. Personally, for sweet potatoes, I like flavors like cinnamon, chipotle, chili, paprika, or other similarly smoky flavors.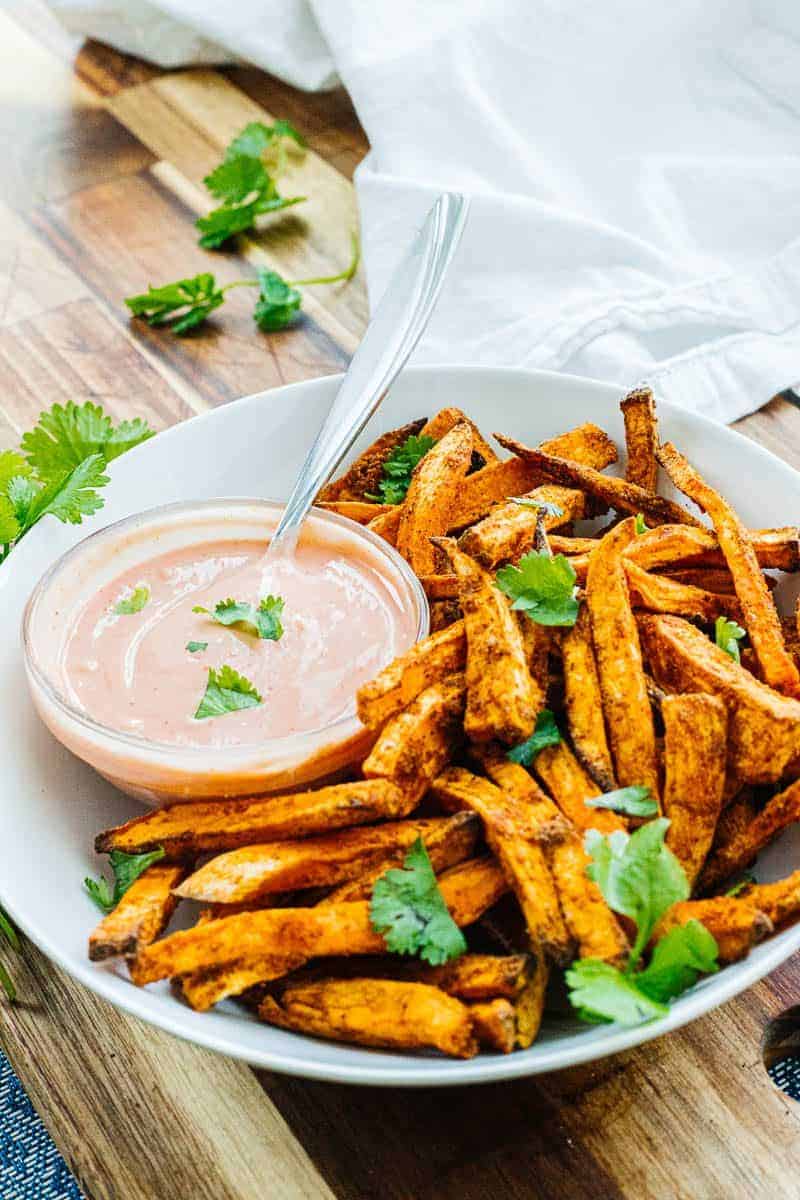 Air fryer sweet potato fries frozen
You can easily buy frozen fries and make them in the air fryer. They come pre-coated and are usually fully cooked, so you just need to crisp them up in your air fryer.
The bag usually has instructions, but if not, cook them at 390-400 degrees for 10 minutes, shaking halfway and adding more time as necessary to crisp them to your preference.
Depending on how you like your potatoes, you might add a bit of salt as you remove them from the fryer.
Sweet potato fries—no oil
You can make air fryer sweet potato fries without oil, but they will be a bit drier than if you'd tossed them with a little oil.
If you're concerned about the calories from using oil, I suggest using just a tiny bit of coconut oil or other mild oil in a mister bottle specially made for misting oil. 
I recently purchased they oil misters that I fill with my own oil of choice, so then I don't have to use cooking spray. It makes it a little healthier!
You can usually find these relatively cheaply in the oil section of your grocery store!
Other delicious recipes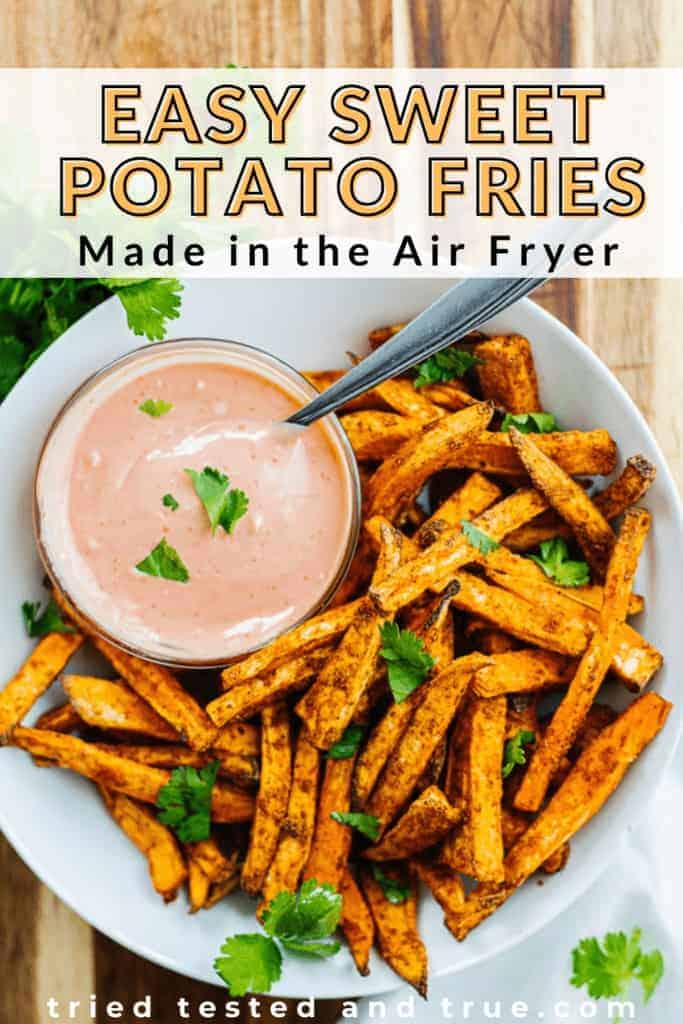 Air Fryer Sweet Potato Fries
Air fryer sweet potato fries are the perfect alternative to conventional fries without having to turn on the oven.
Print
Pin
Rate
INGREDIENTS
1

large sweet potato

.8-1 pound

1

tablespoon

oil

olive oil, coconut, grapeseed, etc

1

tablespoon

cornstarch

1

teaspoon

garlic powder

1

teaspoon

salt

plus extra for serving

1/2

teaspoon

chili powder

1/2

teaspoon

cinnamon

1/2

teaspoon

smoked paprika

1/4

teaspoon

cayenne pepper

1/4

teaspoon

cumin
INSTRUCTIONS
Preheat air fryer to 400ºF.

Wash and peel sweet potato, then cut into 1/2 inch fries.

Drizzle and toss with oil to coat.

Combine dry ingredients in a small bowl, then sprinkle over the fries and mix or toss until covered.

Pour into the hot air fryer and shake to evenly distribute. Spray with cooking spray or an oil mister, if desired. spraying with oil will help the fries from getting too dry.

Air fry for 12-15 minutes, checking after 5 minutes and shaking halfway through.

Remove from air fryer and sprinkle with additional salt, if desired.
NOTES
If you prefer unseasoned sweet potato fries, toss them with oil and then sprinkle with salt and pepper. You can then follow the directions as written.
I like serving sweet potato fries with "fry sauce," which in Utah is equal parts mayonnaise mixed with ketchup. I also like to add just a touch of bbq sauce to mine for a little smokey fry sauce!
NUTRITION
Serving:
1
g
|
Calories:
85
kcal
|
Carbohydrates:
12
g
|
Protein:
1
g
|
Fat:
4
g
|
Polyunsaturated Fat:
3
g
|
Sodium:
556
mg
|
Fiber:
2
g
|
Sugar:
3
g
---
---