This post may contain affiliate links, which means I earn a small commission if you purchase something I recommend - at no additional cost to you! Thank you for supporting this blog!
Air Fryer Steak takes the guesswork out of steak and gives you an easy dinner in no time. Pair with steak fries and some veggies for a healthy take on a classic comfort meal.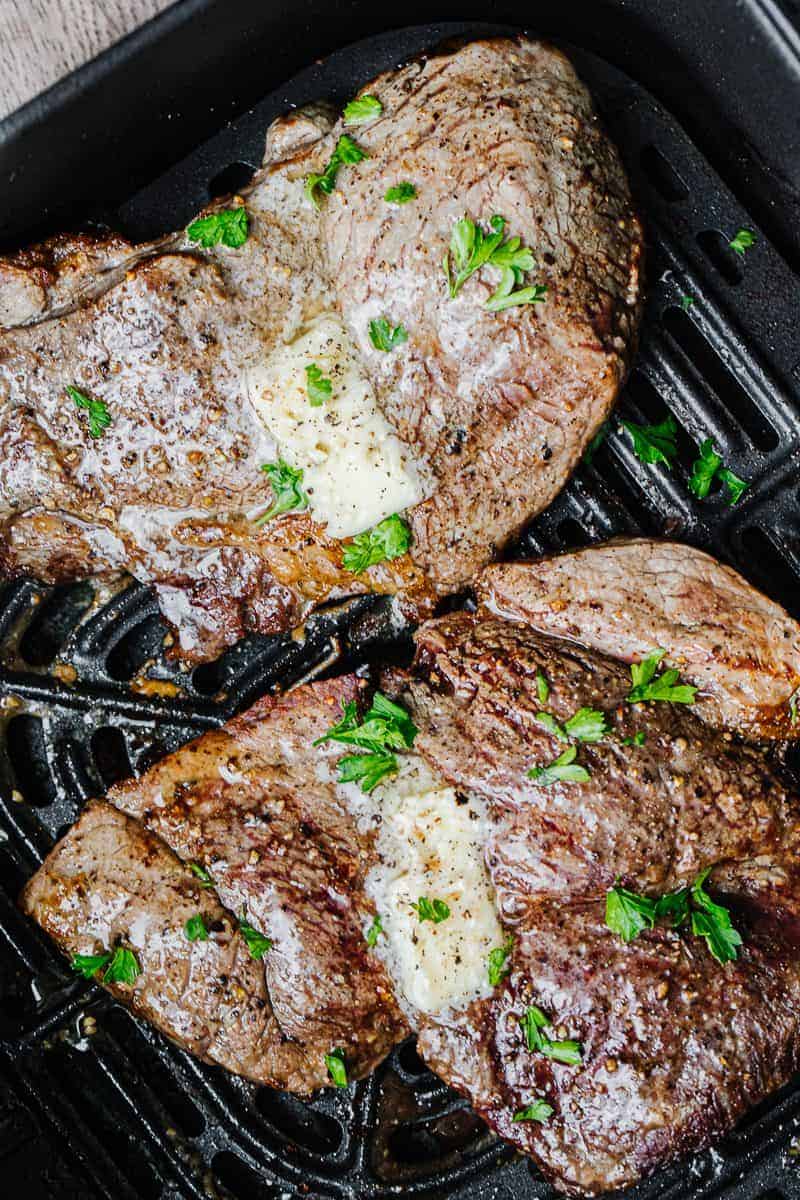 Cooking Steak in the Air Fryer
The air fryer seriously makes life so easy. I make air fryer steak fries, air fried green beans, and air fryer frozen fries and hamburgers on the regular.
It also makes incredible proteins for a main dish—like whole chicken breasts in the air fryer, air fryer salmon, air fryer bacon, and chicken thighs in the air fryer.
Cooking steak in the air fryer is just another way to cut down on time and mess. It also takes a little bit of the guesswork out of cooking if you're less confident cooking steak on the stove.
I will say that as convenient as it was to cook my sirloin steak in the air fryer, I did miss that crisp, charred sear that you can only get from a grill or pan.
Keep in mind as you take this shortcut that you won't get as much sear on your steak in the air fryer as you would on a stove or grill—but it's still delicious and more than worth trying!
What Kind of Steak is Best in the Air Fryer?
Here's the simple answer: when cooking steak in the air fryer, I prefer to use more affordable cuts like sirloin.
You could technically cook nicer cuts (like ribeye, new york strip, or filet mignon, for example), but I honestly recommend cooking those on the stove top so that you can give them the extra care that they deserve!
However, whatever steak you love to eat is the one you should be cooking!
Fresh or frozen steak?
Fresh steak is always best, but frozen steak works as well—and it's usually cheaper. Just be sure to completely thaw your steak before seasoning and cooking. I recommend letting a frozen steak thaw in the refrigerator overnight, then prepping it as usual the following day.
Tips for Making Sirloin Steak in the Air Fryer
When you're cooking steak in an air fryer, it's relatively hard to go wrong. With that said, I want to give you these tips that will make your steak just that much butter!
Bring your steak to room temperature prior to cooking. Cooking a cold steak will make it overcook on the outside while staying cold on the inside. I always take my steak out of the fridge about an hour before I want to cook it.
Salt and sit. If you're using a more affordable piece of meat like a sirloin, I highly recommend this tip I learned in a college cooking class:
Right after taking the steak out of the fridge, sprinkle a generous amount of salt all over the steak, then let it stand at room temperature for about 30–60 minutes. Pat the steak with a dry paper towel, then season with pepper before cooking. The salt draws moisture out of the steak while infusing the meat with salt and tenderizing it.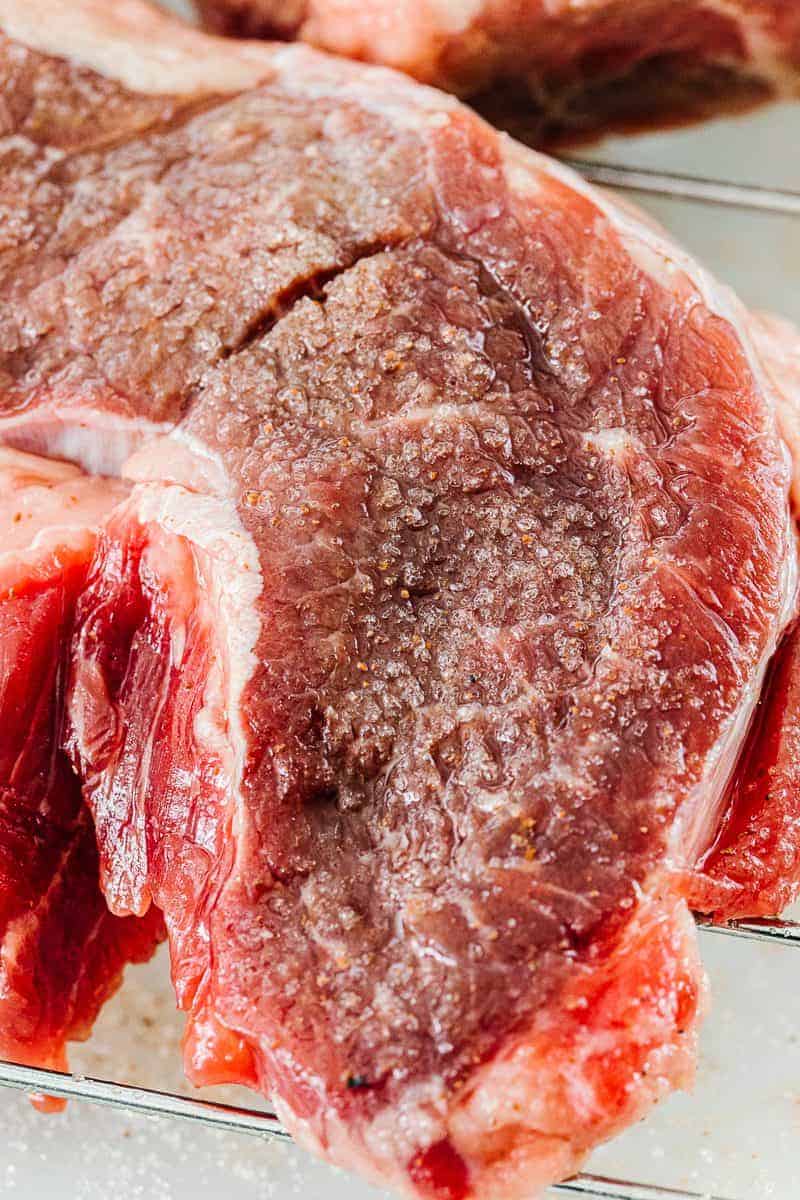 Dry the steak with a paper towel all over as much as possible before air frying. Season with steak seasoning or pepper right before cooking (and salt if you didn't rub it down with salt earlier).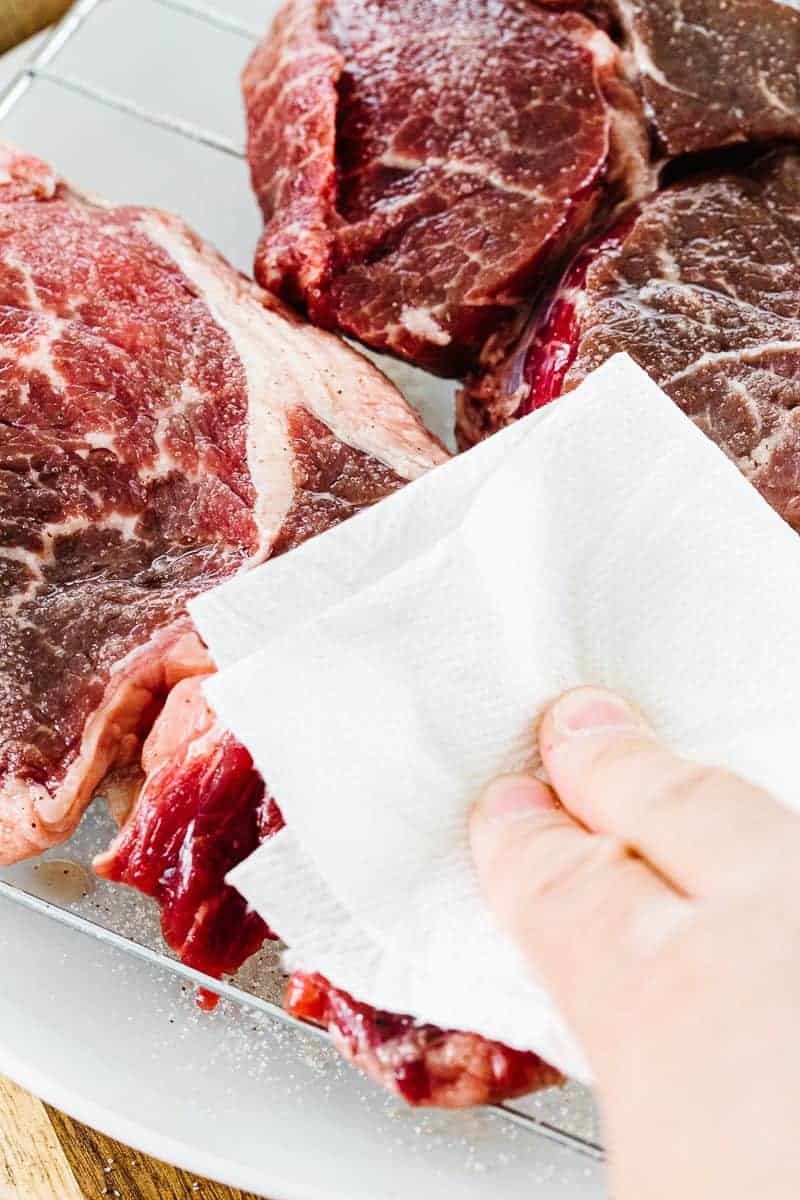 Air Frying Tips
Always use an instant read cooking thermometer when cooking. This is my favorite one I use daily. Take the steak out when it reaches the temperature you desire. Check out this temperature table for the cook on your meat. I prefer a medium (140–145º F) or medium well steak (150–155º F).
Sear it. When air frying, you won't get an amazingly crispy sear like you did on the stove. To remedy this, you can quickly kiss the steak in a searing hot pan before or after air frying (if doing it after, slightly undercook your steak in the air fryer).
Finish your steak with butter for the best flavor. You can create a garlicky herb butter or any kind of compound butter pretty easily! I like to add about a tablespoon in the pan if I'm cooking on the stovetop. Or, just add a pat of butter onto my hot steak after air frying.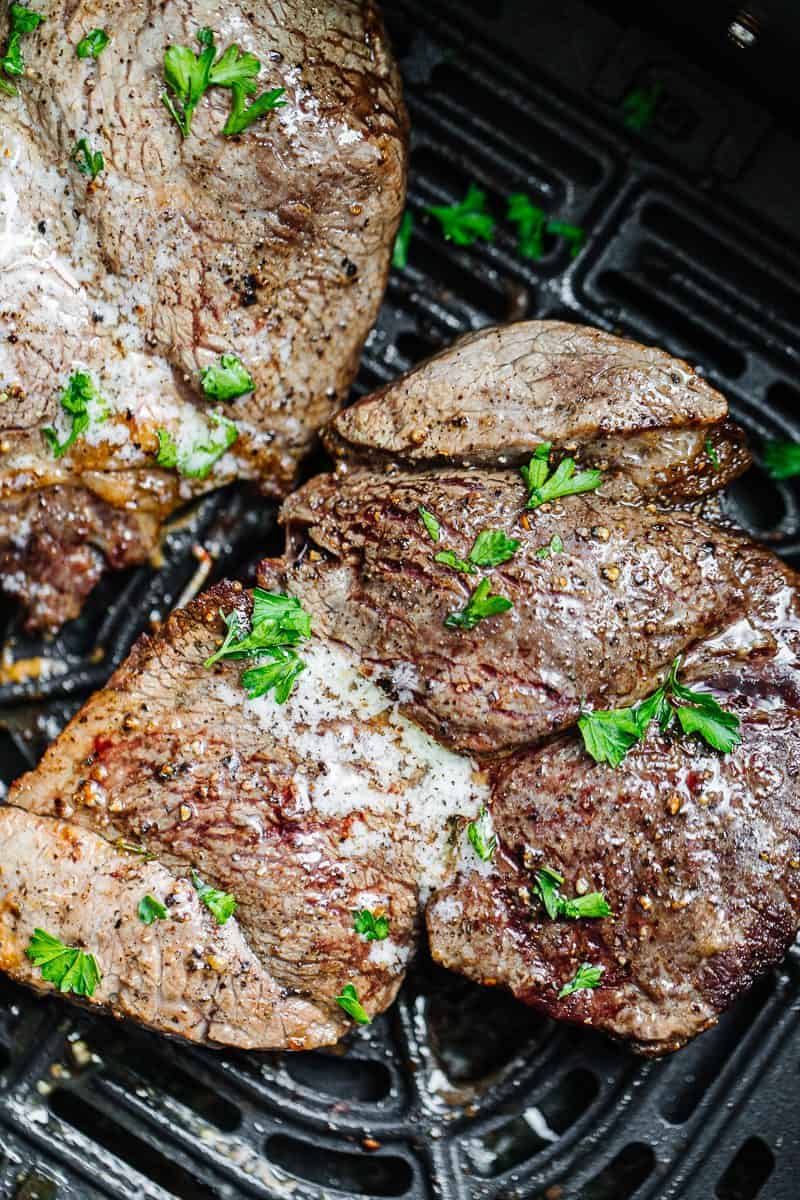 Let your steak rest after cooking. No matter how you cook your steak, let it rest! Remove from the air fryer or pan, then let the steak rest. This way, the juices can redistribute and "relax" a bit. A rest time of about 5–9 minutes is enough!
Making Ribeye Steak in the Air Fryer
Ribeye is usually either sold with a very thick cut (2 inches) OR an extremely thin cut—which is easy to overcook. You can cook ribeye in the air fryer the exact same way as sirloin, just keep watch on the temperature.
I still do the salt trick with ribeyes, but it's not as necessary since ribeye steak has a lot of fat and flavor.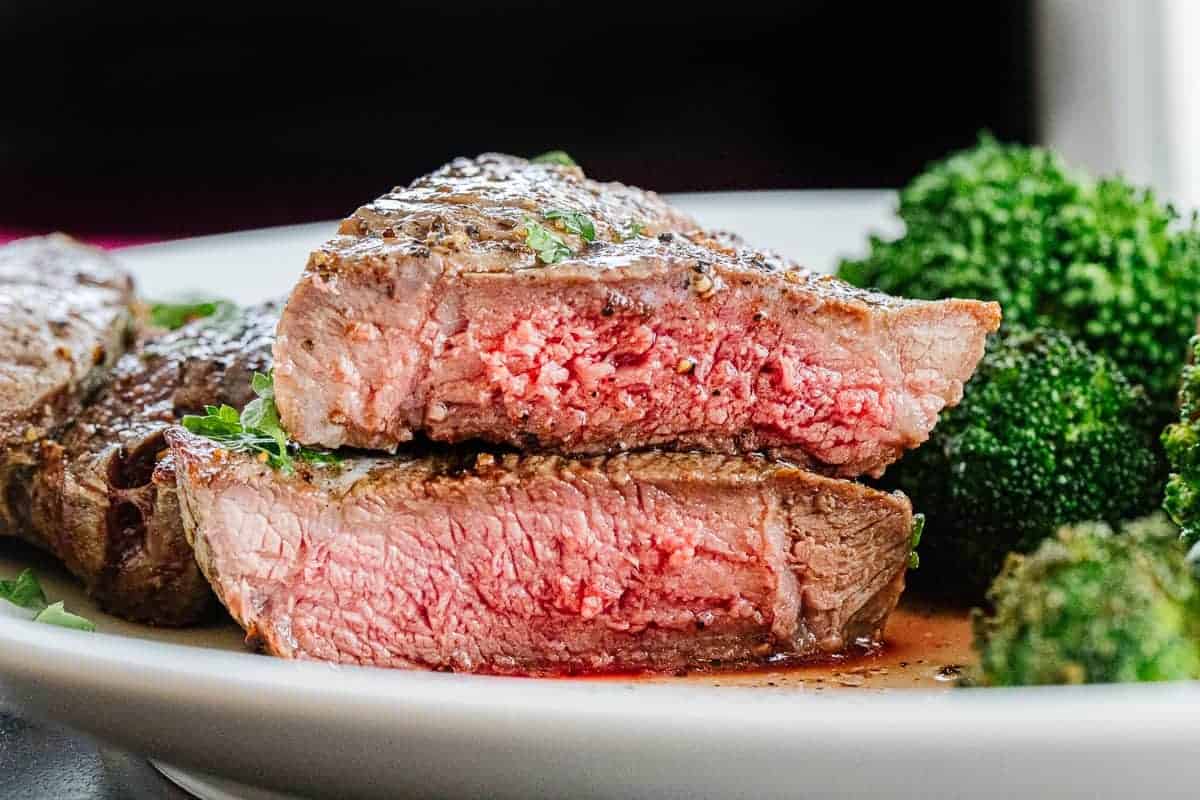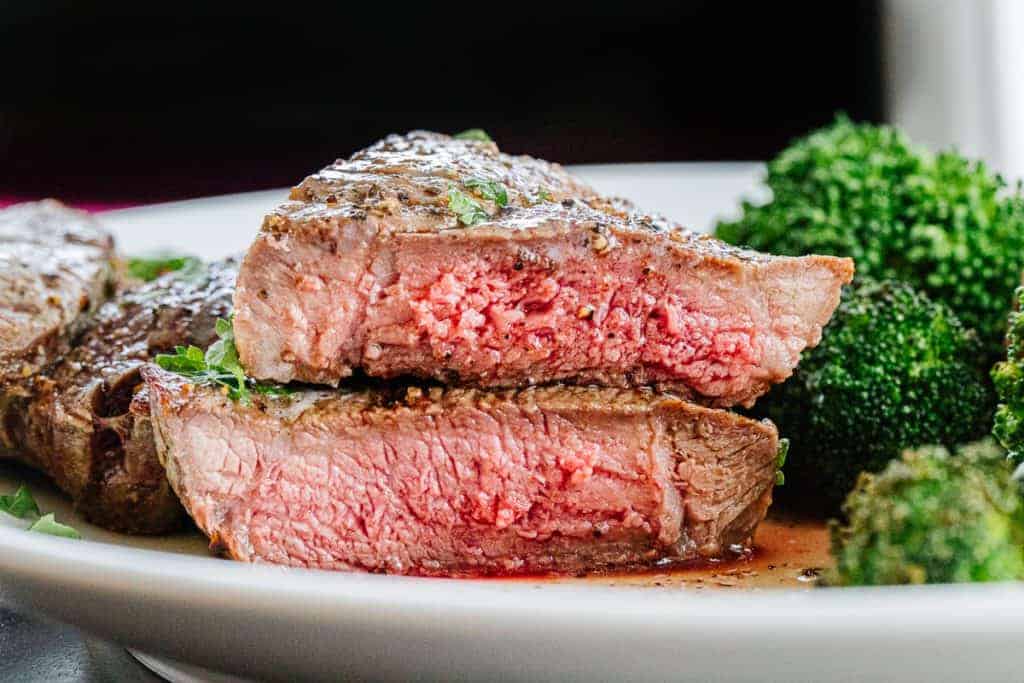 How to make Air Fryer Sirloin Steak
Remove the steak from the fridge. Salt it thoroughly—really make sure that every surface is covered. Then let it sit for 30–60 minutes to come to room temperature.
During that time, preheat your air fryer to 400º F. Right before cooking the steak, use some paper towels to pat it as dry as you can. Leaving moisture on the steak will cause it to steam, not brown. Spray or brush the steak with a little oil, then sprinkle it with pepper and/or other seasonings of your choice. I don't usually need any more salt!
Place the steak(s) directly into the hot air fryer, then cook for about 10–14 minutes. I find that 12 minutes usually creates a good medium cook, so adjust your cooking time around that number.
Don't forget to use a cooking thermometer to assure the perfect cook! Medium rare is 130–135º F, medium is 140–145º F, and medium well is 150–155º F.
When your steak has reached your desired temperature, remove it to a plate and add a pat of butter. Then cover it lightly with aluminum foil and let rest for 5–9 minutes. Slice to reveal a perfectly-cooked, mouth-watering inside, and then serve immediately.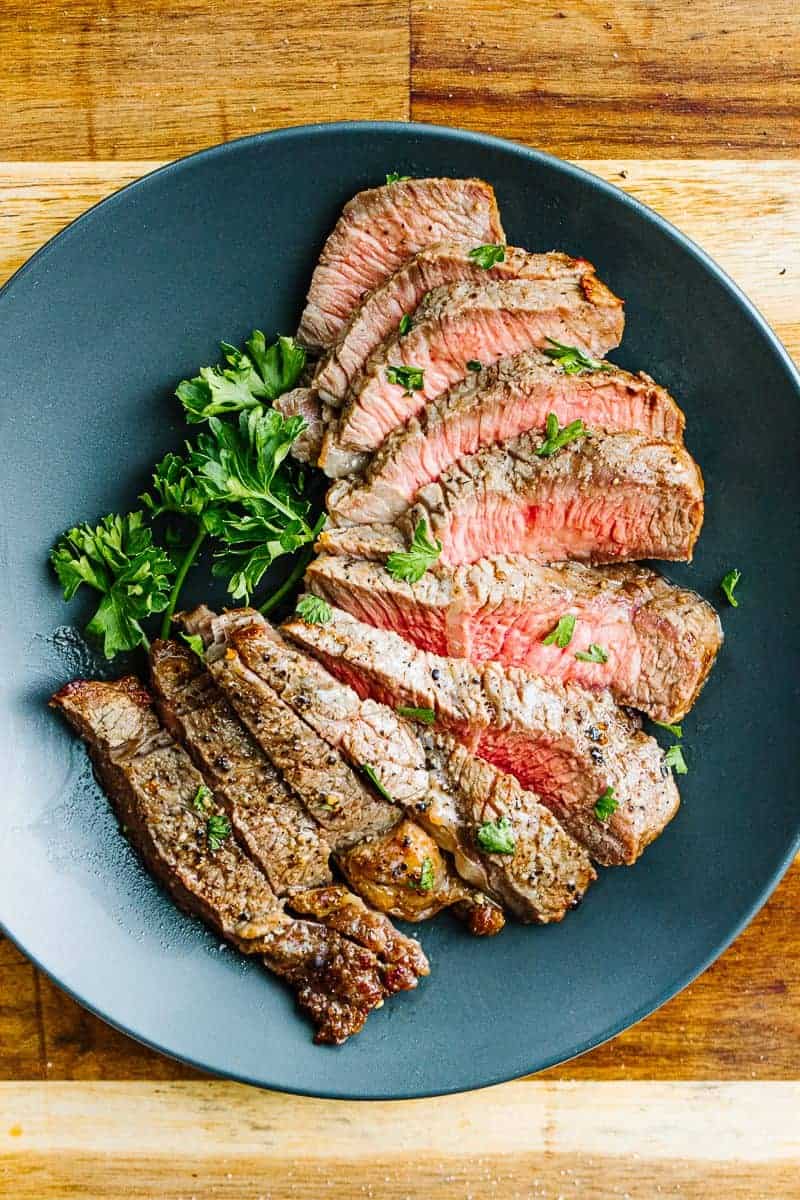 Reheating steak in the air fryer
The air fryer is the most amazing appliance for reheating any leftovers! It makes everything just taste so fresh and crispy—it is seriously life changing. I repeat: reheating steak in the air fryer is a game-changer.
If I'm reheating a cold steak, I like to cut it into uniform pieces. That way, it'll cook a bit quicker and more evenly.
If your steak seems a little dry (or if it was already cooked medium well or well-done), I recommend placing the steak bites on a piece of heavy duty foil (curl the edges up a little to make a "plate") with a pat of butter so that the steak can cook and rehydrate in delicious butter!
I've found that I can get perfectly reheated steak after only 2–5 minutes in the (preheated) air fryer.
Perfect Pairings
Air fryer steak is a perfect protein, and it deserves perfect sides. I love to serve my air fryer steak with some veggies and some starches for a healthy, classic comfort meal.
Three of my favorite recipes for easy, delicious veggies are Air Fried Green Beans, Instant Pot Broccoli, and Instant Pot Carrots. These simple veggies do an amazing job of balancing the heaviness of the steak—and they're so yummy!
For starches, you can't skip potatoes. There are so many delicious ways to make potatoes, but I think that fries are the best! Air Fryer Potato Wedges are arguably the most classic way to go, but Air Fryer Sweet Potato Fries and even frozen french fries are incredible as well. And if we're talking about potatoes, we can't forget classic mashed potatoes!
And if you're looking for a dessert to round things out, try my Homemade Carrot Cake. You can make it right in your Instant Pot. It's the perfect way to finish out a classic homestyle meal.
Other Steakhouse worthy sides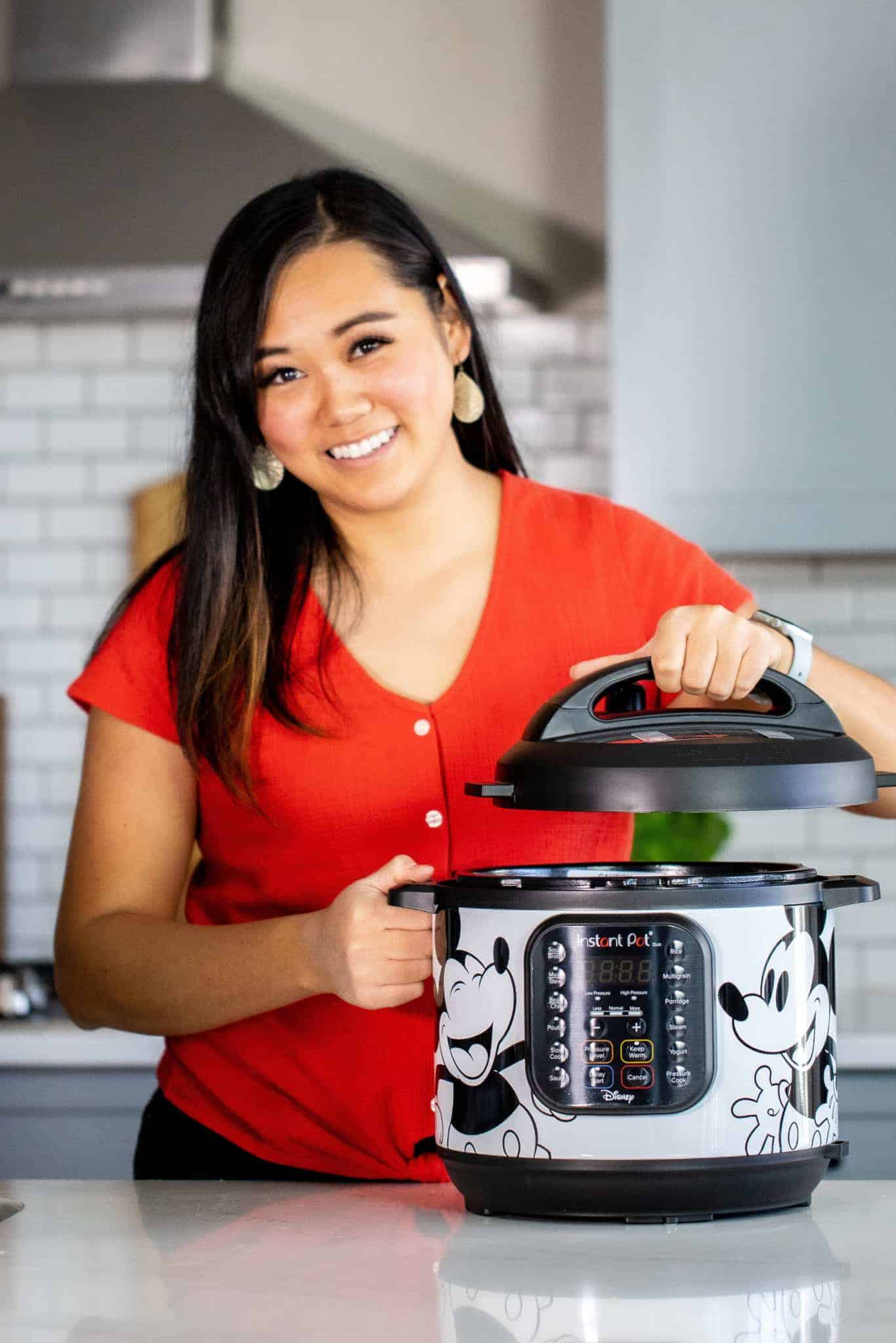 Lisa Childs is the food blogger behind Tried, Tested, and True. Join the hundreds of thousands of people each month that learn from Lisa-
Subscribe to her website, follow her on Instagram at @tried_tested_true, follow her on Pinterest, and find her on Youtube at Tried Tested and True. She is passionate about giving home cooks confidence using their Instant Pots. Make sure to sign up for our email newsletter to hear from personally from her weekly! Learn more about Lisa.
Air Fryer Sirloin Steak
Air Fryer Steak takes the guesswork out of steak and gives you an easy dinner in no time. Pair with steak fries and some veggies for a healthy take on a classic comfort meal.
Print
Pin
Rate
INGREDIENTS
2

Sirloin Steaks

2

teaspoons

kosher salt

or 1 1/2 teaspoon regular

2

teaspoons

olive oil

1/2

teaspoon

freshly cracked black pepper

1

tablespoon

butter

divided
INSTRUCTIONS
Remove the steaks from the fridge and place on a wire rack on top of a plate/cookie sheet OR on a paper towel-lined plate.

Generously sprinkle kosher salt all over the steaks and let stand at room temperature for about 30-60 minutes, or until at room temperature. Take a paper towel and dry the moisture off the steaks so they are very dry.

Preheat the air fryer to 400º.

Spray or brush each steak with oil, then sprinkle with pepper.

Place the steaks into the preheated air fryer basket, then cook for 10-12 minutes, flipping halfway through cooking. Cook until the internal temperature reaches your desired cook. Check out

this temperature table

for the cook on your meat—I prefer a medium (140–145º F) or medium well steak (150–155º F).

Remove the steak from the air fryer and place 1/2 tablespoon of butter on each steak. Cover lightly with foil and let it rest for 5-9 minutes.

If slicing the steak, cut against the grain (the direction of the muscle strands are running) and serve.
NOTES
Check out this temperature table for the cook on your meat—I prefer a medium (140–145º F) or medium well steak (150–155º F).
NUTRITION
Serving:
1
g
|
Calories:
299
kcal
|
Protein:
23
g
|
Fat:
22
g
|
Saturated Fat:
9
g
|
Polyunsaturated Fat:
11
g
|
Cholesterol:
93
mg
|
Sodium:
1352
mg
---
---
HI Eunyoung! There's no hard and fast rule of thumb about cutting times with the different air fryer modes. Every air fryer is different, so I encourage you to read the owner's manual and try and find any specific nuances you model has. Sorry I can't give you more specific info! I usually do about half of 75% of the recommended time to start when converting.