This post may contain affiliate links, which means I earn a small commission if you purchase something I recommend - at no additional cost to you! Thank you for supporting this blog!
Air Fryer Asparagus is a delicious, healthy, and classy side dish to pair with any meal! Cooking asparagus in the air fryer is such a breeze. Season it how you like for a tender, crispy, and delicious vegetable.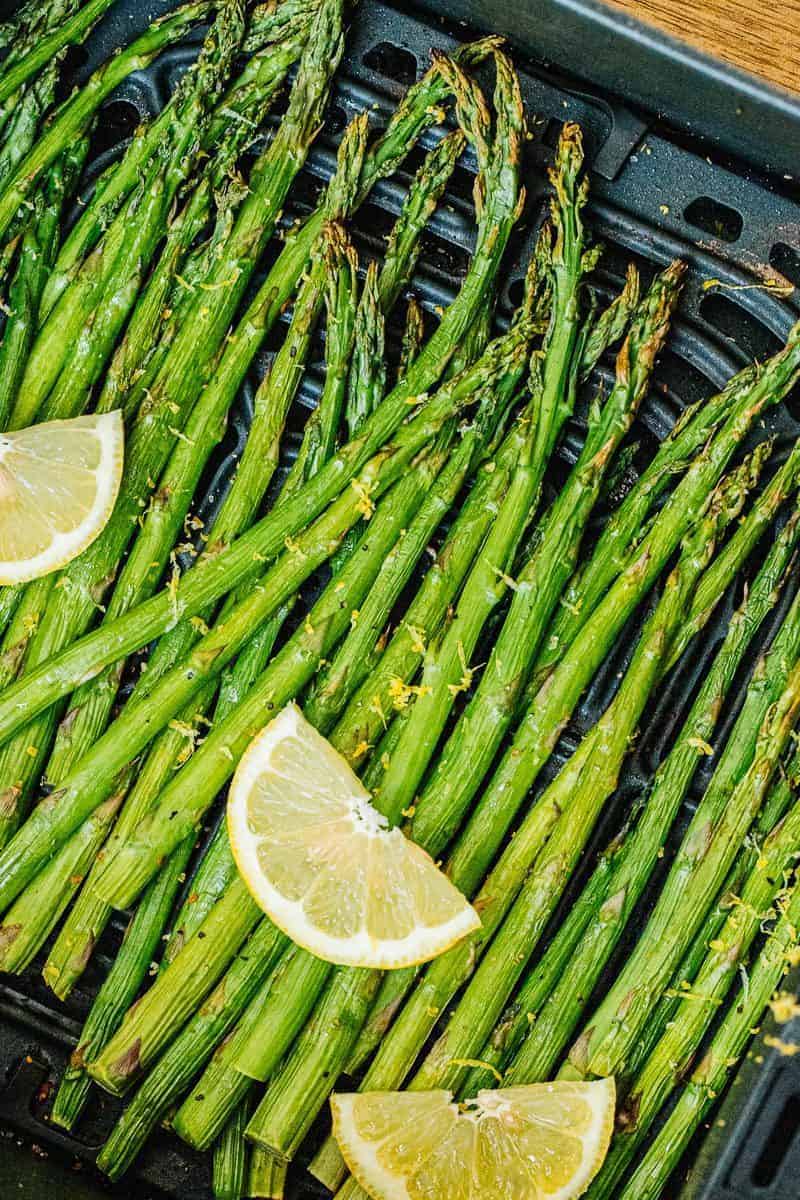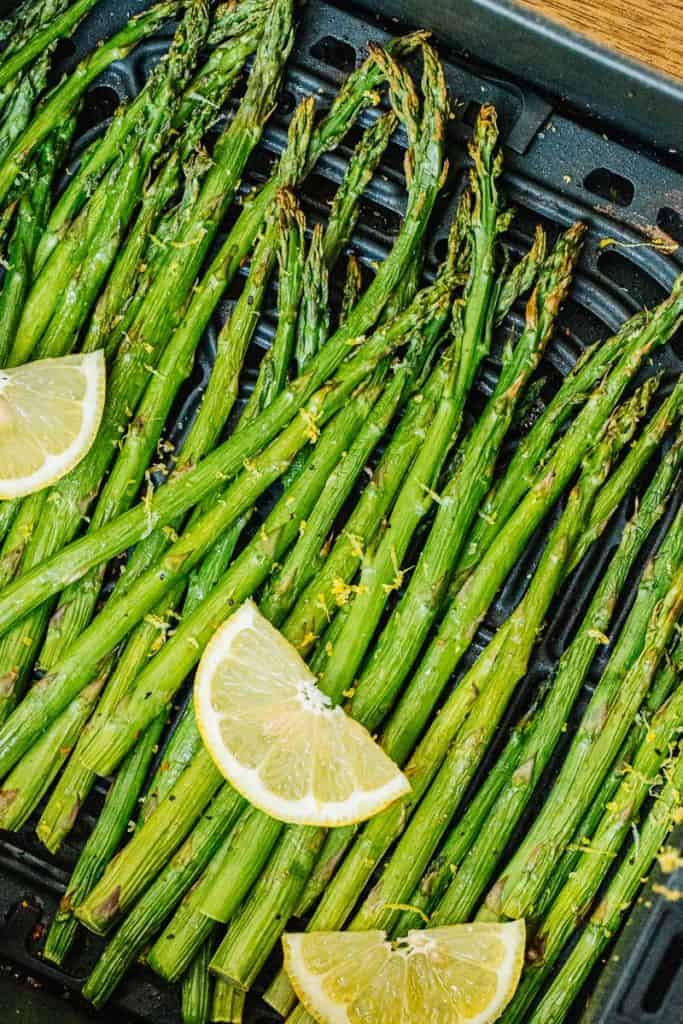 Air Fried Asparagus
I'm loving roasting vegetables in the air fryer lately! During a hectic week, it helps me make healthy foods in no time. Air fryer roasted vegetables taste like they've been slowly roasting in the oven, without all that extra time preheating and cooking.
Roasted vegetables in the air fryer have the perfect tender and crispy texture, such as my Air Fryer Broccoli and Air Fried Green Beans! Ninja foodie asparagus is no exception.
You can season asparagus however you like, but I like to keep it simple with some salt, pepper, and maybe a squeeze of fresh lemon after cooking (I like using lemon pepper). Let me know in the comments your favorite seasonings for asparagus!
Bacon Wrapped Asparagus in the Air Fryer
Bacon wrapped asparagus is a very popular and iconic preparation for this yummy vegetable! To make it, purchase a very thinly cut bacon. Thick cut bacon doesn't work as well (even though that's definitely my recommendation for Air Fryer Bacon).
Wrap each asparagus stalk in a thin piece of bacon. I like to place the bacon at a 45 degree angle on the stalk, then wrap up. Place them in a preheated air fryer basket (seam side down, if possible) and cook for 10-12 minutes at 400ºF, turning about halfway through.
Thinner cut bacon will help the asparagus and bacon cook evenly without making the bacon soggy or undercooked. Bacon wrapped asparagus is also a great low carb/keto food.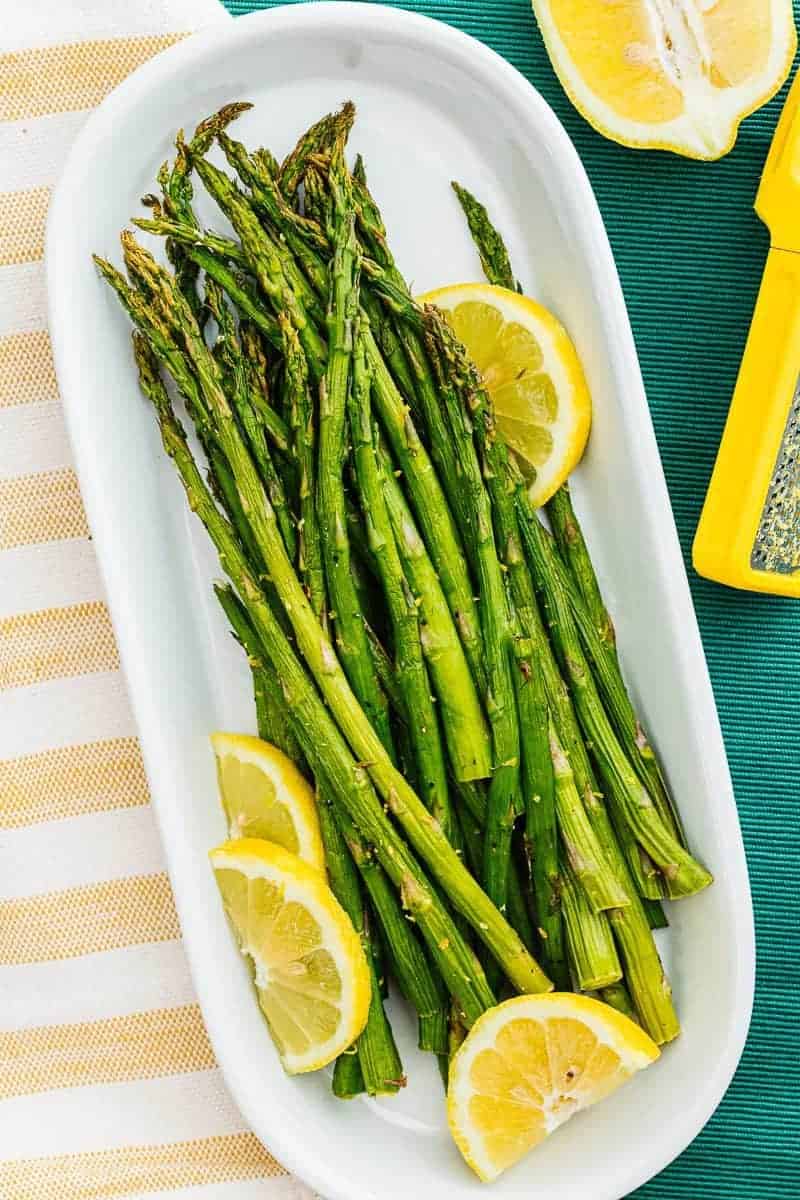 Air Fryer Asparagus Time
How you cut your asparagus will determine how long you need to cook them. Cutting the asparagus into smaller pieces will cook faster than longer stalks.
The thickness of the asparagus stalks also makes a huge difference. I have seen asparagus about the thickness of a skinny straw or pencil. Other bunches of asparagus have thick stalks, about a centimeter (or more) in diameter!
With that being said, there are a couple different ways to cook asparagus in the air fryer. You can cut the asparagus into one inch pieces, cut the stalks in half into long matchsticks, or keep the stalks whole.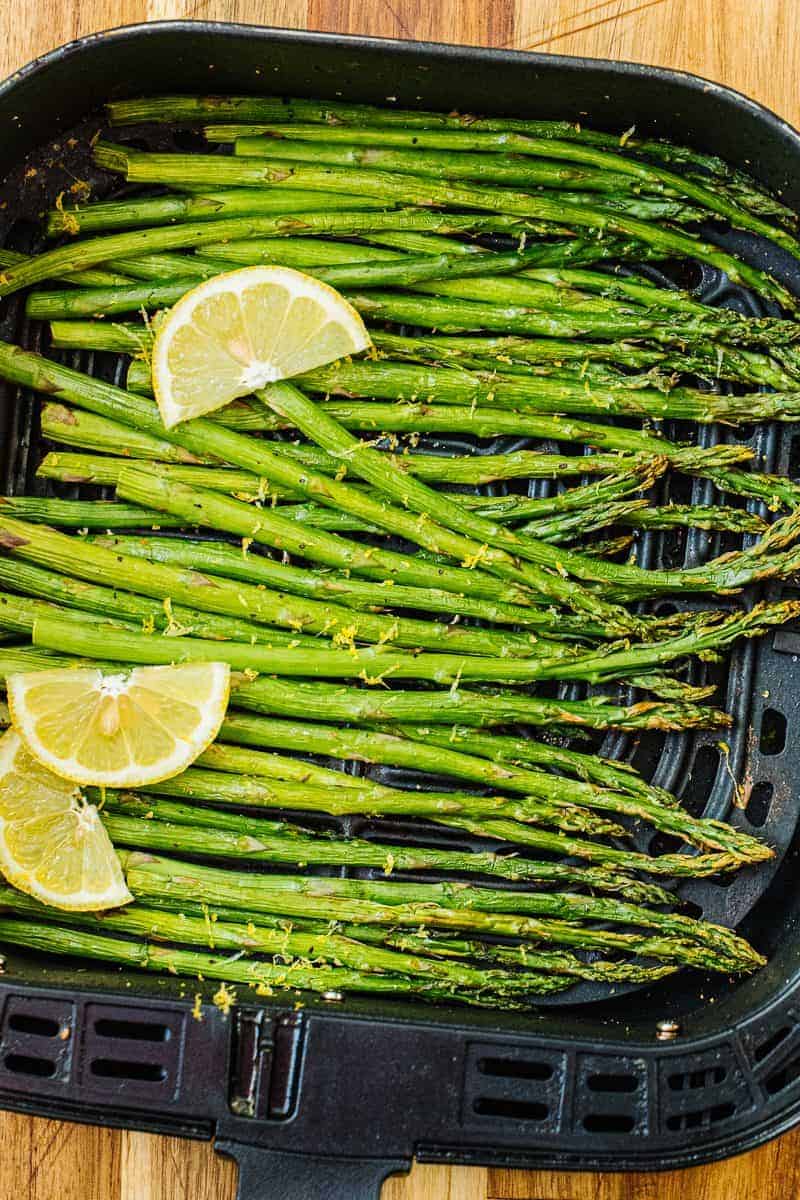 Cut pieces will cook for only 5-7 minutes, halves will be between 5-9 minutes, and whole stalks (depending on thickness) will cook for 10-14 minutes. You can always add more or less time on the air fryer depending on your taste.
How much asparagus you have in the air fryer will also make a difference in how long it takes to cook. If you have a lot of asparagus, there will be more moisture in the basket and it will take longer to crisp since it'll steam first. If you only have a handful of stalks and there is more air circulation, it will cook way faster.
How to cook asparagus in the air fryer
To cook whole asparagus stalks in the air fryer, first you have to prepare the stalks.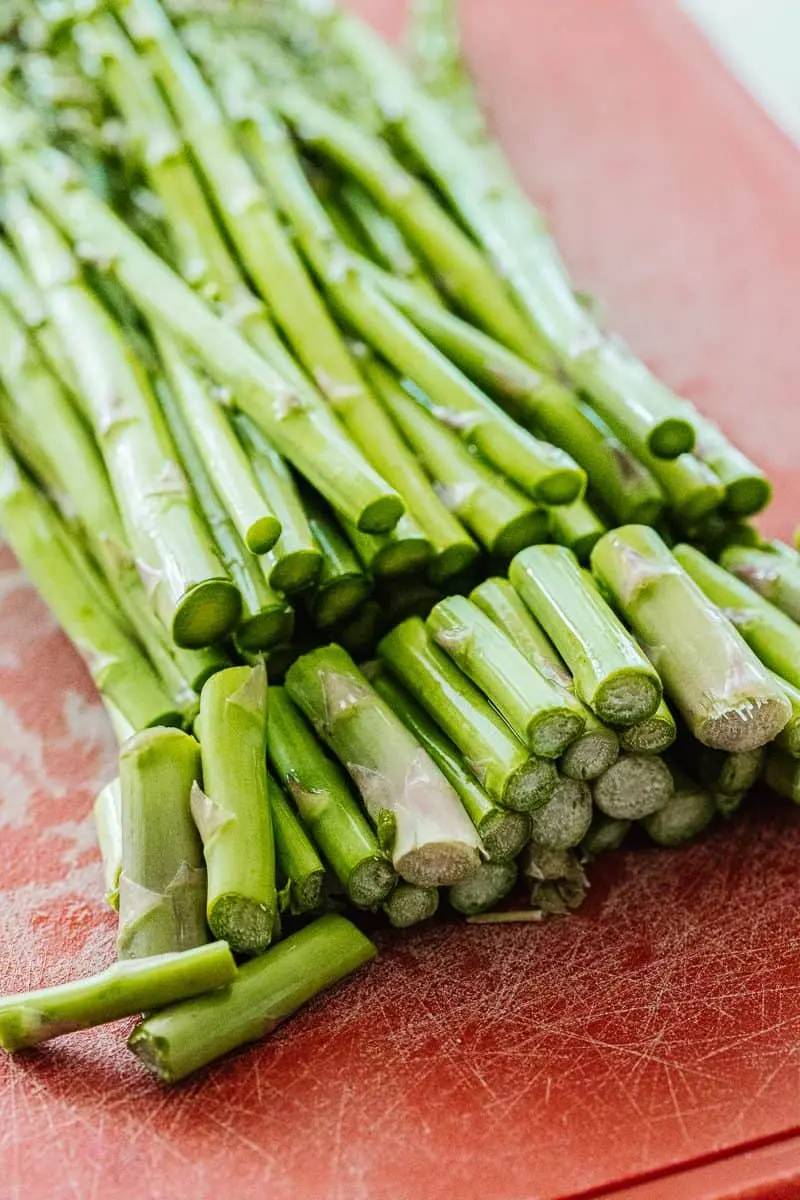 How to Trim Asparagus
Rinse the stalks under cold running water.
Then take the entire bunch and cut off the bottom 1-2 inches. The base of the stalk is usually very tough, unless you have young asparagus that is very thin.
You can also take the base of the stalk and bend it. The end will snap off at the right point where it is tender.
Toss the ends and prepare to cook the asparagus in the air fryer.
Temperature for Asparagus in the Air Fryer
I like to spritz the asparagus stalks with an oil mister or cooking spray, then season with a little coarse or kosher salt and pepper or seasoning salt like my favorite Lemon Pepper. Air fry at 400º for 10-14 minutes, shaking the basket about halfway through.
You can serve just as is, or with a little lemon wedge. You can also serve your air fryer asparagus with butter by tossing or brushing the stalks with some butter after air frying.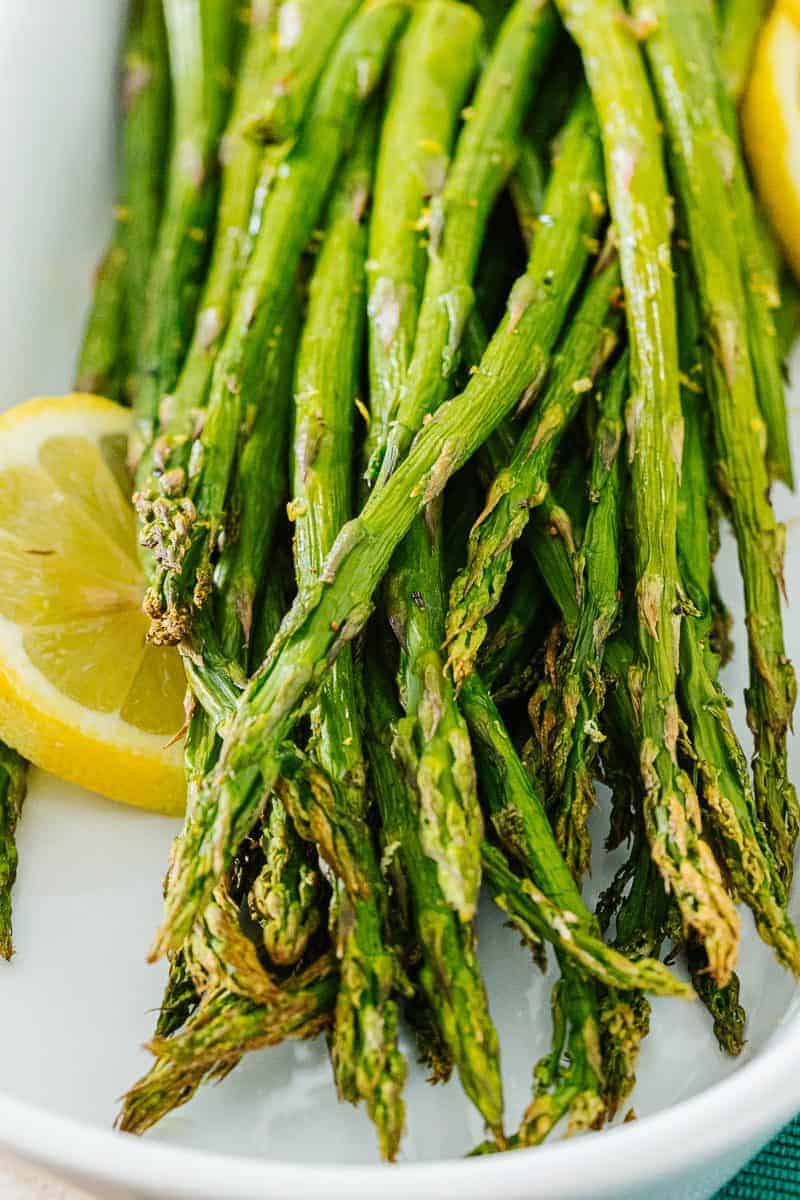 How to Store Air Fryer Asparagus
Store air fryer asparagus in an airtight container in the fridge for up to a week. I recommend reheating it in the air fryer for a couple minutes to maintain that crispy texture.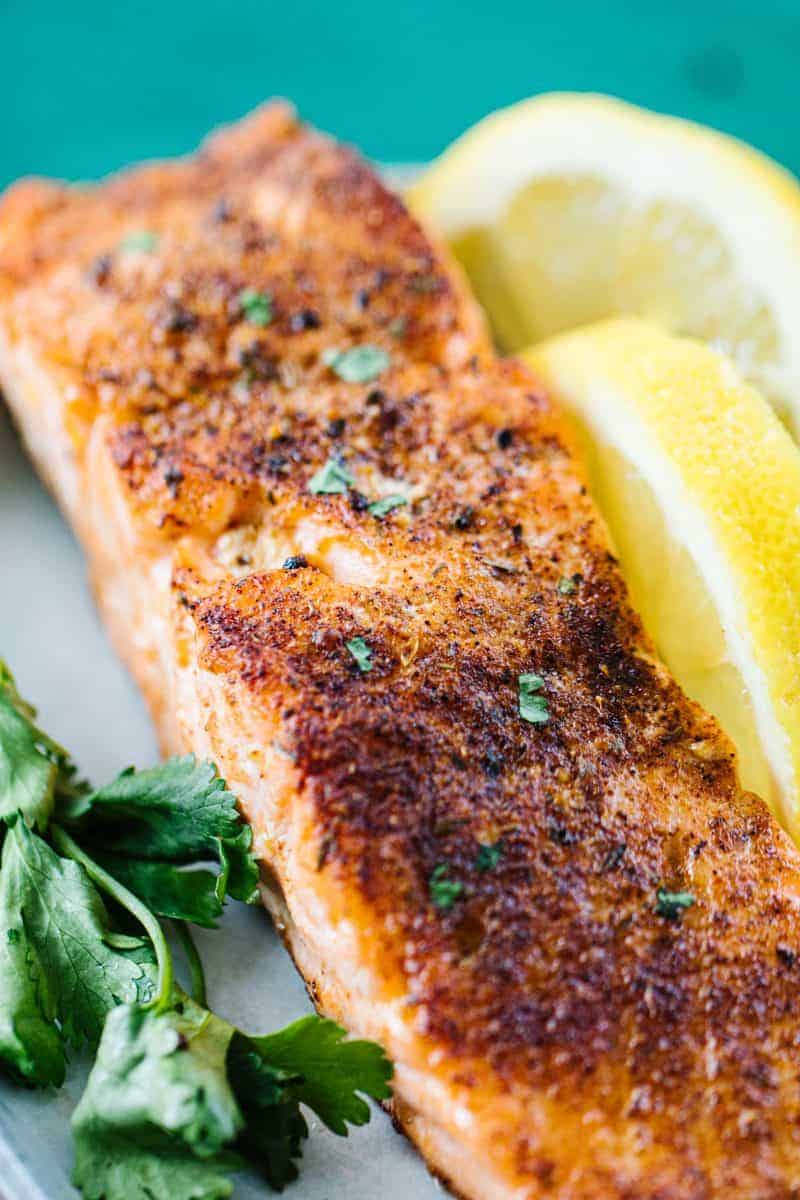 Air Fryer Asparagus would make the perfect side dish for my Air Fryer Salmon, Air Fryer Chicken Thighs, or Air Fryer Chicken Breasts! You can cook them at the same time! Now that's an easy and healthy dinner.
Easy Air Fryer Recipes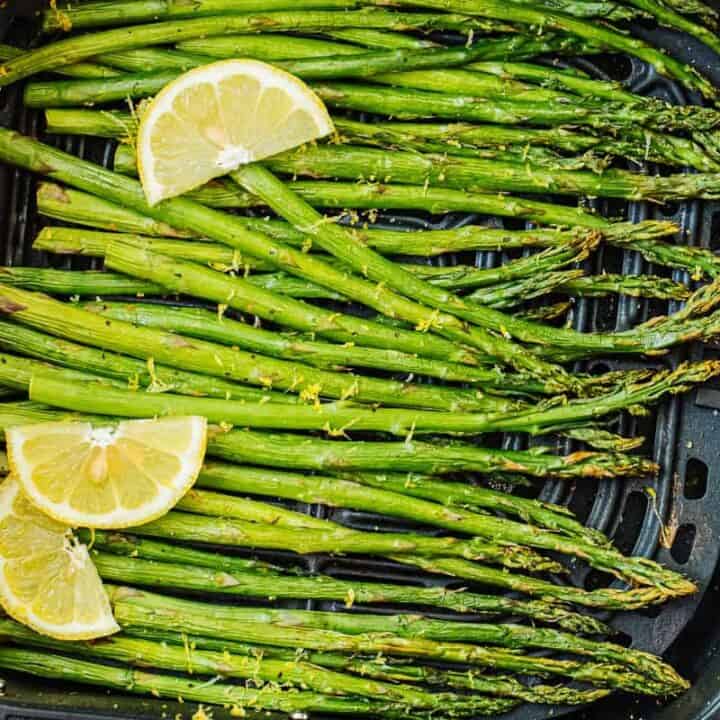 Air Fryer Asparagus
Air Fryer Asparagus is a delicious, healthy, and classy side dish to pair with any meal! Cooking asparagus in the air fryer is such a breeze. Season it how you like for a tender, crispy, and delicious vegetable.
Print
Pin
Rate
INGREDIENTS
1

lb

or 400g Asparagus stalks

I counted about 40 stalks, washed and dried

1

teaspoon

olive oil

2

teaspoons

lemon pepper

or salt/pepper

lemon zest

to garnish
INSTRUCTIONS
Preheat the air fryer to 400º.

Cut the bottom 1-2 inches off of the bundle of asparagus bundle. Alternatively, grasp the bottom of the asparagus stalk and firmly bend it. It will snap off in the natural spot where the stalk goes from tough to tender. Discard the bottom portion.

Place the asparagus into the air fryer and spritz or drizzle with oil. Sprinkle lemon pepper all over, then shake the basket or use tongs to distribute the asparagus.

Cook for 7-12 minutes, checking and shaking every 2 minutes after the 5 minute mark. If your asparagus is very thin (pencil or thinner), the asparagus will take between 7-9 minutes. Thicker stalks (straw-marker size) will take up to 12 minutes. The asparagus is done when a knife or fork pierces easily through the bottom of the stalk.

Remove from the air fryer to a serving plate and garnish with fresh lemon zest, if desired.
NOTES
You can season the asparagus using any seasoning blend, or simply just salt and pepper.
This recipe makes browned, slightly crisp asparagus. If you prefer bright green, almost steamed asparagus with little to no crisp, lower the temperature to 325-350º and cook for about 15 minutes.
NUTRITION
Serving:
1
g
|
Calories:
35
kcal
|
Carbohydrates:
5
g
|
Protein:
3
g
|
Fat:
1
g
|
Polyunsaturated Fat:
1
g
|
Sodium:
463
mg
|
Fiber:
2
g
|
Sugar:
1
g
---
---